Cities
The Rise of Brooklyn's First Supertall Skyscraper
Youtube Views

687,198

VIDEO VIEWS
Video hosted by Fred Mills.
WITH its iconic landmarks, towering skyscrapers and global appeal, Manhattan has been the defining borough of New York City for over 120 years.
But with a high cost of living and land on the island borough now scarce, nearby Brooklyn is experiencing a modern-day renaissance; attracting developers, businesses and people to the area, all culminating in a tower that will transform its skyline.
Set to become New York's ninth tallest building when it completes in 2022, 9 DeKalb Avenue will be the tallest structure in the city outside of Manhattan and the first supertall skyscraper ever built in Brooklyn.
To really understand what a skyscraper this tall is doing in Brooklyn, rather than rising in Manhattan, you need to get the history of the two boroughs.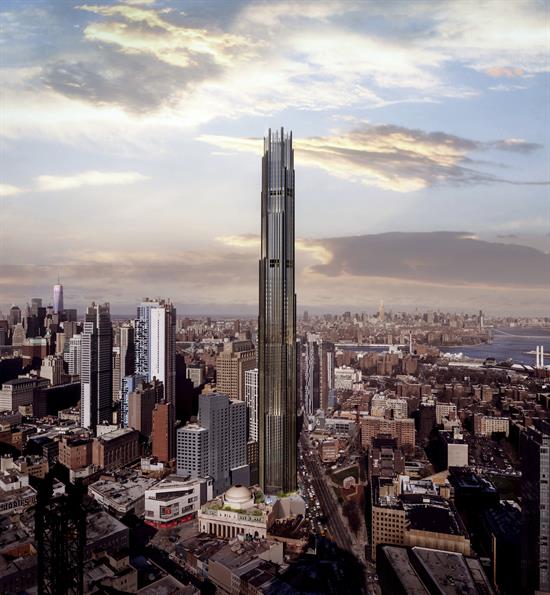 Above: 9 DeKalb Avenue will be New York's tallest building outside of Manhattan. Image courtesy of SHoP Architects and JDS Development.
Established as an independent city in the 17th century, Brooklyn was long seen as New York's twin, but with the only means of transportation between the two being via boat, day-to-day interaction between them was limited.
When the Brooklyn Bridge opened in 1883, it was met with increasing calls to consolidate the two cities with surrounding towns in an effort to maintain New York's place as the United States' largest and most important city against a rapidly growing Chicago.
In 1898 the cities of New York - which at the time included the area known as the Bronx - and Brooklyn, along with western Queens County and Staten Island came together to form the five boroughs that we know today as New York City.
The completion of the Williamsburg Bridge, subway line and Manhattan Bridge further improved connections between Brooklyn and Manhattan, giving Midtown and Downtown access to a much larger workforce and enabling Manhattan to become the de facto commercial heart of the city.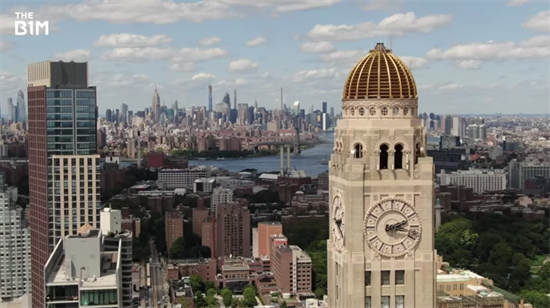 Above: Brooklyn has transformed from a civic centre into one of New York's most in-demand areas.
Brooklyn maintained its own downtown core and with the majority of commercial investment going into Manhattan, the area remained a civic centre with a low-rise commercial presence for almost a century.
But as Manhattan's cost of living continued to rise, Brooklyn became a sought-after location for those seeking the one thing Manhattan could no longer offer: space.
Despite being steadily gentrified since the 1960s, it wasn't until 2004 when Brooklyn's downtown was re-zoned to permit denser housing that the area truly transformed.
With an influx of residents and high-rise developments, Brooklyn's downtown quickly developed into a 24/7 community where people could live, work and play while still being close to Manhattan.
The wave of change spilled over into surrounding neighbourhoods and Brooklyn Heights, Dumbo and Williamsburg all underwent their own transformations.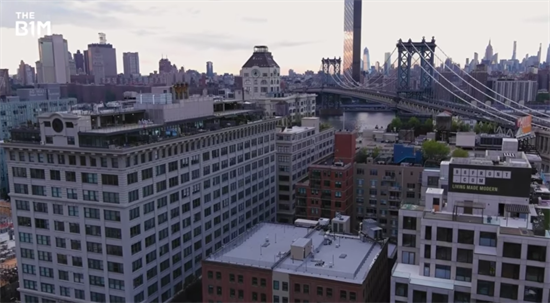 Above: Brooklyn's status has risen greatly in recent years. Image courtesy of the Dronalist.
Offering lower rents and a stark contrast to the purely commercial cores of Manhattan, Brooklyn began attracting entrepreneurs and start-ups, becoming a thriving new tech-hub - by 2013, Dumbo was home to 25% of all New York-based tech firms.
With over USD $9BN in private investment, Brooklyn evolved into one of the most desirable and in-demand areas of the city.
With such a rapid rise in prominence, it wasn't long before plans were submitted for a landmark new tower that would add Brooklyn onto the world's most famous skyline.
At 335 metres, 9 DeKalb Avenue will stand over 110 metres taller than Brooklyn's next tallest skyscraper and dominate the borough's cityscape from all directions.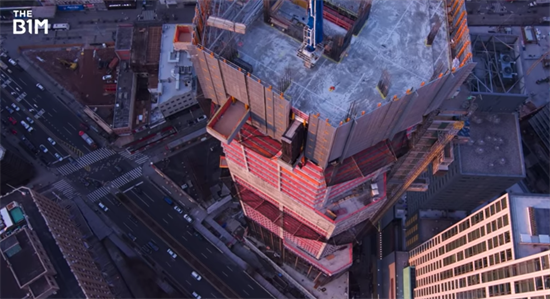 Above: 9 DeKalb Avenue's setbacks are a nod to the city's early skyscrapers. Image courtesy of the Dronalist.
Designed by SHoP Architects, 9 DeKalb Avenue marks the third collaboration between the firm and high-end developer JDS Development Group after the American Copper Buildings and the super-slender 111 West 57th Street - known as "111W57" - on Billionaires Row.
Unlike the world's thinnest skyscraper, which due to its small footprint was only able to offer luxury high-end residences, 9 DeKalb Avenue will include retail and office space as well as a commercial gym alongside 575 apartments, 20% of which will be affordable rentals.
Incorporating the historic Dime Savings Bank into its podium, 9 DeKalb Avenue's unusual shape nods to the bank's hexagonal floorplate.
It's stepped-back profile is reminiscent of the style made famous by many of the city's skyscrapers in the 1930s and the building will be clad in bronze, stainless steel and stone.
Making use of its large triangular site, the tower is set back from Albee Square allowing the Dime Savings Bank to retain its prominence on the streetscape and creating a rooftop terrace for residents.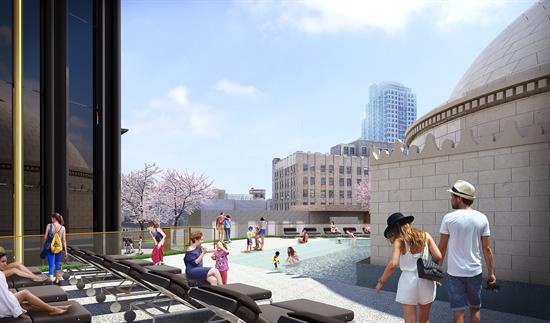 Above: Residents will be able to relax on the building's rooftop terrace. Image courtesy of SHoP Architects and JDS Development.
Construction first began in mid-2018 and the tower was just beginning to rise above ground when the pandemic first sent the world into lockdown in March 2020.

With many predicting an economic downturn, some feared 9 DeKalb might become a victim of the recession.
Despite the uncertainty, construction continued, workers began installing the facade at the end of 2020 and the building has now risen beyond its halfway mark.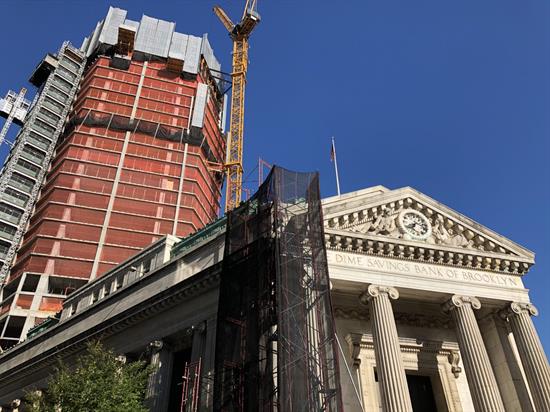 Above: Having surpassed its halfway mark, 9 DeKalb Avenue is due to complete in 2022. Image courtesy of Michael Young.
Floor-by-floor, 9 DeKalb Avenue is now making its historic entrance onto New York City's skyline - and the first supertall building outside of Manhattan is likely to ignite similar projects in Brooklyn particularly as the cost of living forces many to look beyond Manhattan.
The city that never sleeps, is also always shifting, always evolving and always offering something new.
Narrated by Fred Mills. Additional footage and images courtesy of the Dronalist, SkyscraperPage, JDS Development, SHoP Architects, OpenStreetMap, GoogleEarth and Michael Young.
We welcome you sharing our content to inspire others, but please be nice and play by our rules.
Comments
---