Cities
Building the World's Thinnest Skyscraper
Youtube Views

2,246,909

VIDEO VIEWS
SYNONYMOUS with the skyscraper for more than a century, New York City's skyline is home to some of the tallest buildings on Earth.

Continuously evolving, the 21st century has seen engineers maximise value from the small sites left on this desirable island by creating some staggeringly slender towers.
Now - with a building rising 435 metres from a site that is just 18 metres wide - the city has become home to the thinnest skyscraper ever constructed.
Located to the south of Central Park, 57th street's proximity to Carnegie Hall and The Plaza Hotel has always given it an air of prestige.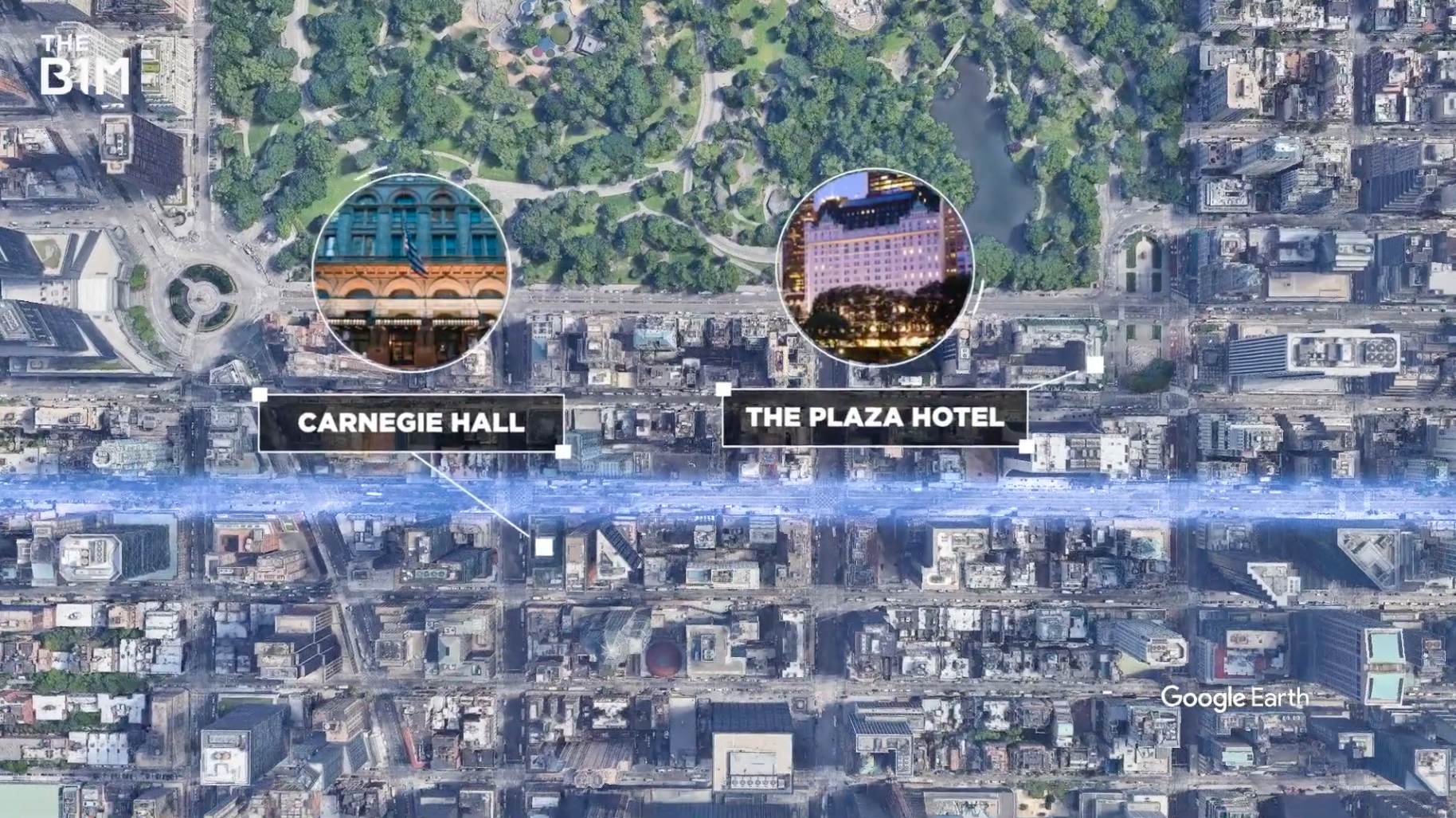 Above: 57th Street's location and proximity to New York landmarks has long given it an air of prestige. Image courtesy of Google Earth.
But with limited land available and without direct views of the park itself, property developments in the area were always encumbered.
That all changed in 2014 with the completion of the supertall "One57" - a slender residential tower that was able to rise 75-storeys from a small site to offer views of the park and healthy returns for its investors.
The team behind the project had spent 15 years acquiring air rights from neighbouring properties and stacking them onto their site; enabling their tower to rise while preventing surrounding sites from blocking the view.
Proving that enough floor area could be created on a small site to make such a project financially viable - and that park views weren't reserved for streets bordering the park itself - One57 ignited a super-slender development boom in midtown and the area around 57th street quickly became dubbed "Billionaire's Row".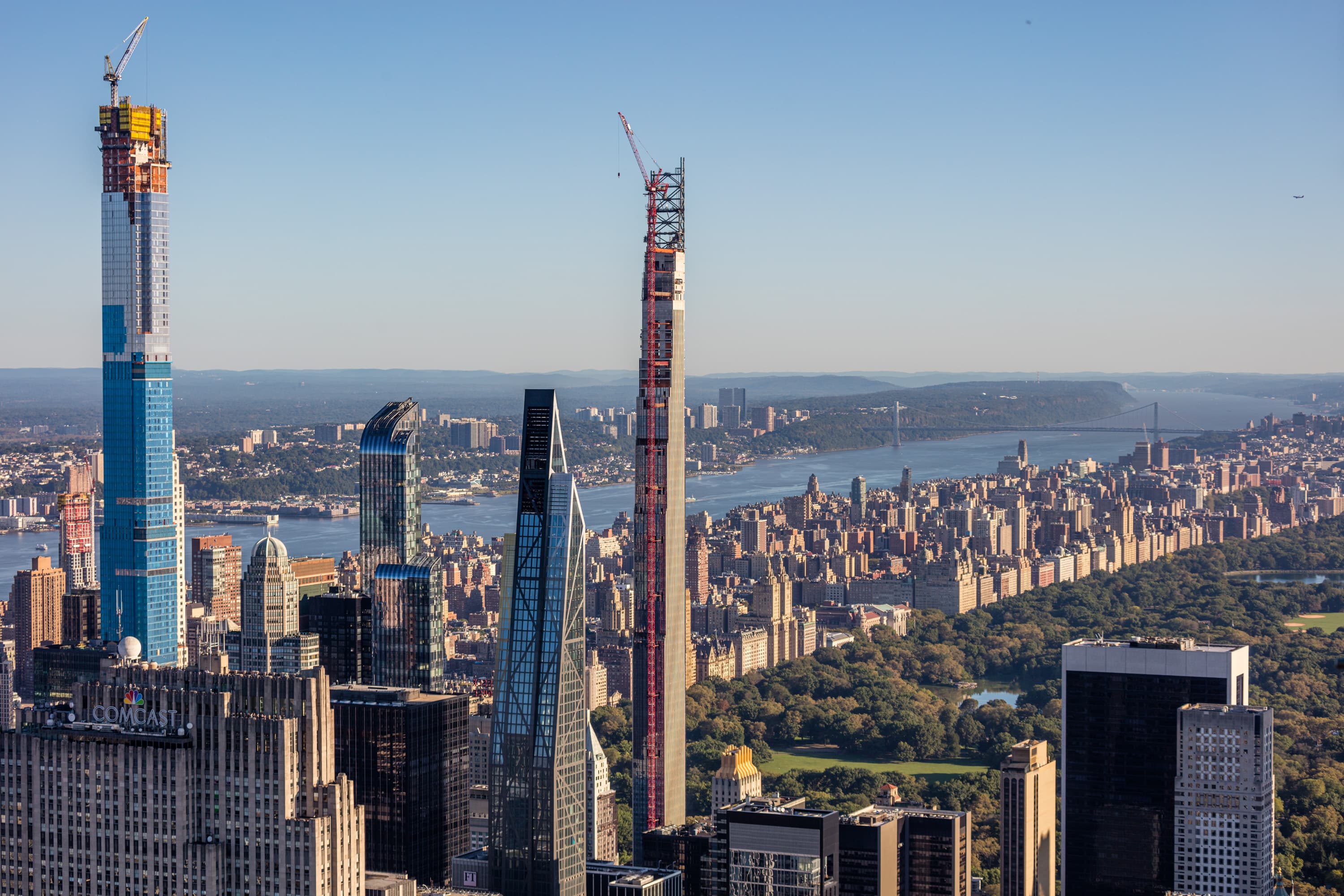 Above: Billionaire's Row has become home to some of the world's thinnest skyscrapers. Image courtesy of Max Touhey.
Though plans for a modest residential tower at 107 57th street had been around since 2005, it wasn't until the site was amalgamated with several others - including the historic Steinway Hall - that the 111 West 57th Street or "111W57" project was born.
First constructed in 1924 and now a protected New York landmark, the Steinway Hall had to be preserved and restored as part of any new development.
While other towers nearby went for contemporary designs, SHoP Architects conceived a tower that would extend the Hall's classic 1920s style onto the skyline.
Faced with such a small site footprint, engineers conceived the thinnest skyscraper ever constructed: a 435 metre, 85-storey tower with a width-to-height of ratio of just 1:24.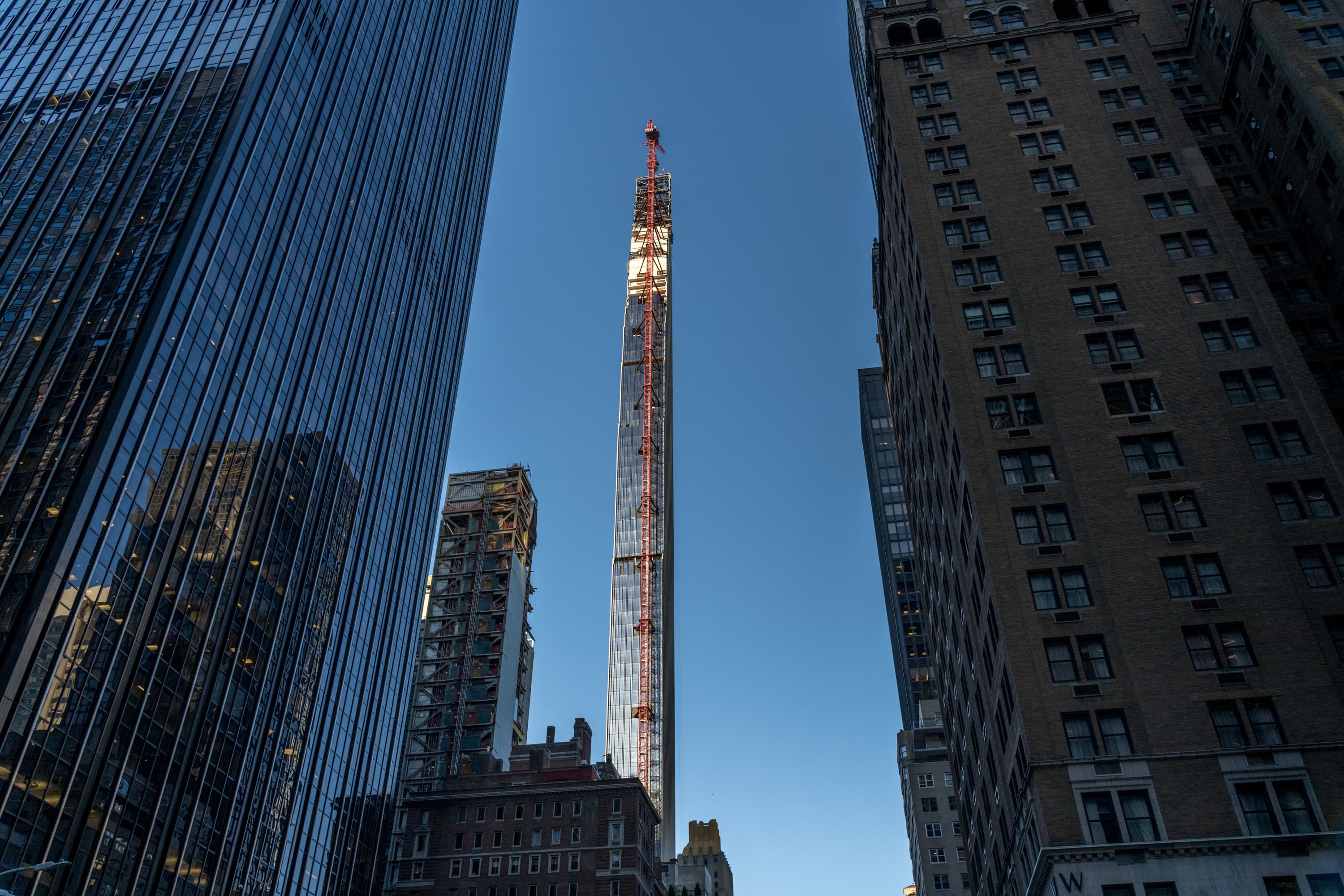 Above: At just 18 metres wide 111W57 is the thinnest skyscraper ever built. Image courtesy of Max Touhey.
Stepping back as it rises, 111W57 would nod to the iconic setback designs of New York City's most famous towers, while creating terraces for residents and an elegant profile that dissolved into the sky.

With works to restore the Steinway Hall already underway, July 2015 saw construction of the main tower commence and a 67-metre free standing crane - the tallest ever erected in New York City - was installed on the site.
The skyscraper is formed from concrete, with two shear walls on the East and West elevations rising around a central core.
Topping-out in April 2019, the concrete superstructure is capped with a steel frame crown that creates the tower's step back and houses its window cleaning systems.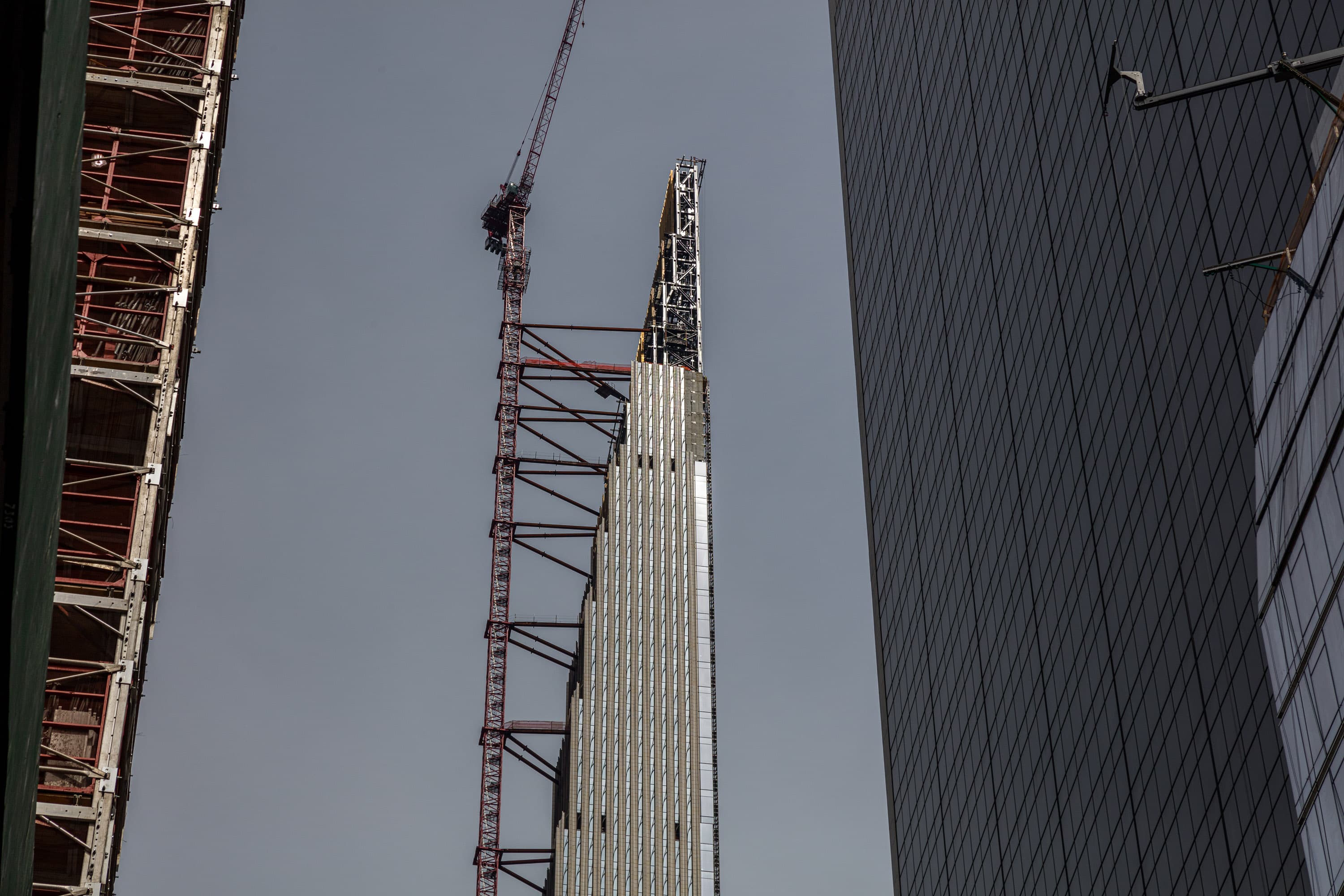 Above: The summit of 111W57 appears to dissolve into the sky. Image courtesy of Max Touhey.
111W57's extreme profile means that it is subject to forces which would largely go unnoticed in a conventional skyscraper.
As such, a series of outrigger floors are positioned throughout the tower while a 730-tonne tuned mass damper at its summit provides stability by counteracting lateral forces such as strong winds and seismic events.
The tower's structure creates floor-to-ceiling windows that offer views of Central Park to the North and midtown to the South while the Eastern and Western elevations are clad with ornate terracotta and bronze tiles.
Inside, the structure's extreme dimensions mean that only two elevator shafts are able to serve the residences.
To maximise space, the elevators open directly into each apartment and are configured as double-storey cars, with service elevators sharing the same shaft.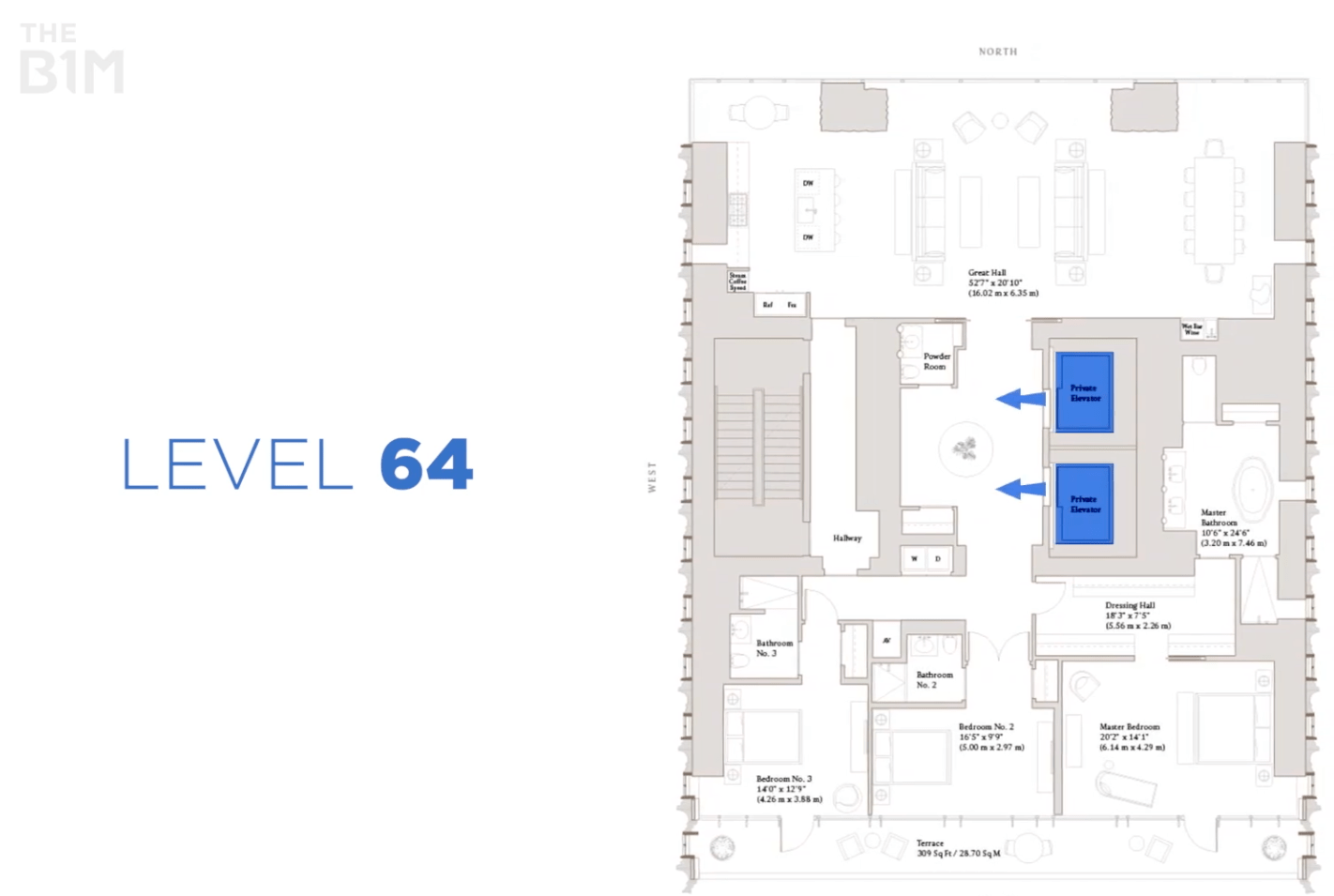 Above: 111W57 has just two elevators serving the entire building. Floor plan courtesy of JDS Development Group.
While 111W57 was initially set to take three years to construct, an array of legal and union disputes coupled with several incidents on the building site saw the construction schedule double in length and completion is now expected in 2021.
Standing-out on Manhattan's iconic skyline, the world's thinnest skyscraper caters solely for the super-rich, offering just 58 apartments alongside a range of amenities: from pools to barbershops.
There will even be a lounge area with a Steinway grand piano, further nodding to the site's heritage.
Prices start at USD $14M for an entry level apartment, and the two-storey penthouse became one of the most expensive New York residential sales of 2019 when it sold to an undisclosed buyer with an asking price of USD $58M.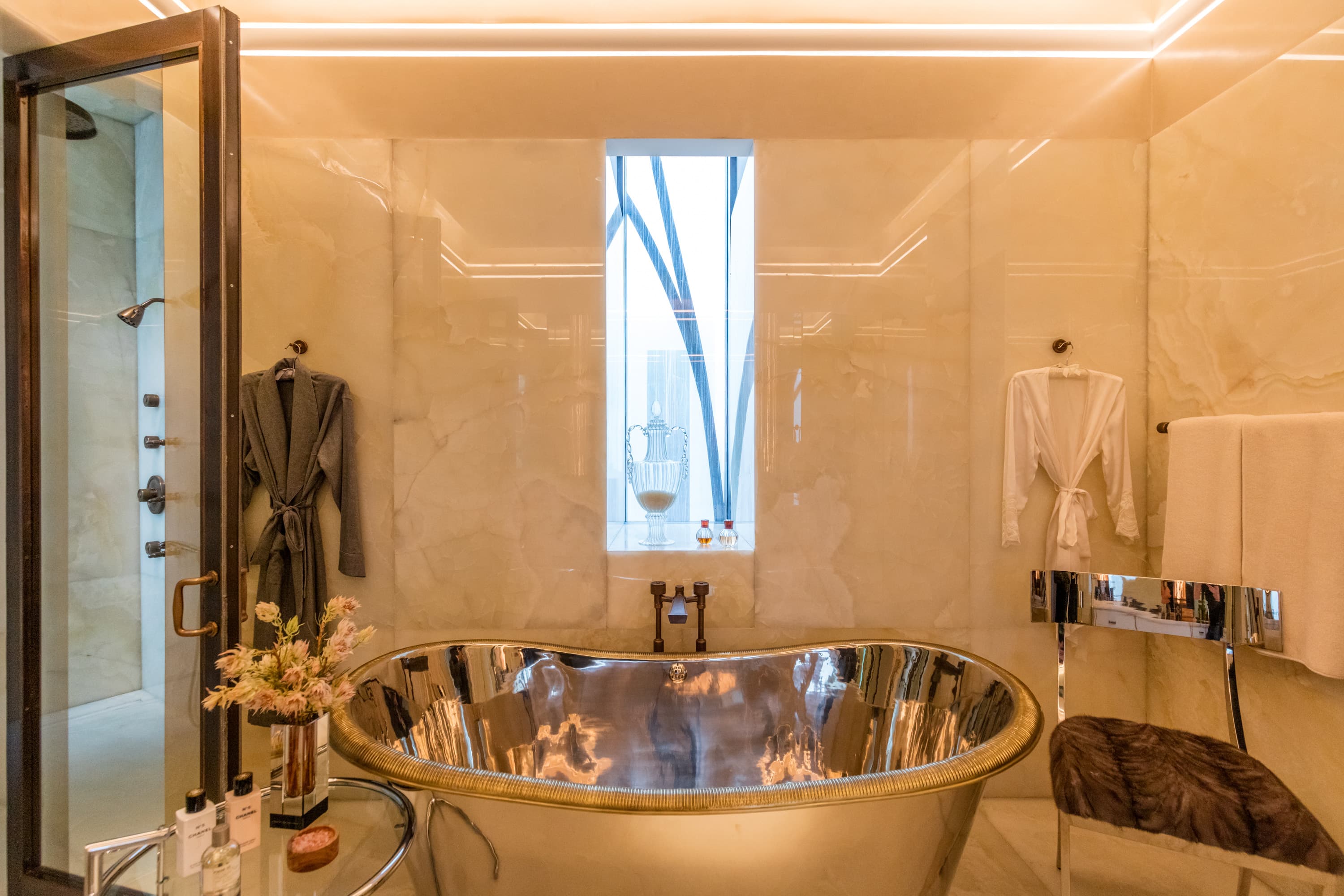 Above: The residences in 111W57 cater to the super-rich. Image courtesy of Max Touhey.
The extremes of luxury found at 111W57 and indeed the other towers on Billionaire's Row are in increasingly stark contrast to the way that the majority of New Yorkers are able to live in the city, and developments of this nature are facing criticism for driving up inequality at a time in our history when so many are advocating for the opposite.
Despite its controversies, this impressive tower has pioneered new frontiers of engineering to emerge as the world's thinnest skyscraper - all while embracing a classic style that sees it hold its own in a now crowded field of towers around Billionaire's Row.
With no further developments planned and with the US facing an economic downturn in 2020, 111W57 and the nearby Central Park Tower could well be the last of New York's super-slender skyscrapers.
Narrated by Fred Mills. Additional footage and images courtesy of The Dronalist, Max Touhey, JDS Development Group, SHoP Architects, Google Earth, Landmark Preservation Commission, James Durkin, JE Dolci, Michael Young, and Dan Cortese.
We welcome you sharing our content to inspire others, but please be nice and play by our rules.
Comments
---