Tech
How China Cloned Shanghai
Youtube Views

518,625

VIDEO VIEWS
Video powered by Unreal Engine. Presented and narrated by Fred Mills.
A TECHNOLOGY firm in Beijing has created a complete virtual clone of China's largest city.

Powered by Unreal Engine, covering almost 4,000 square kilometres and built using information from satellites, drones and sensors in the real Shanghai, the digital replica could soon have the power to simulate events in the city's future with astonishing accuracy.
The extreme rise of technology over recent decades is having a major impact on how we shape our cities.
Faced with several challenges - from the huge growth of urban populations to climate change and pandemics - these centres are now using connected digital information to improve services, plan development and optimise buildings.
But "digital twins" take things to a different level.
These models are precise virtual representations of physical assets that are kept continuously up to date and could cover anything from one small element of a building to an entire city.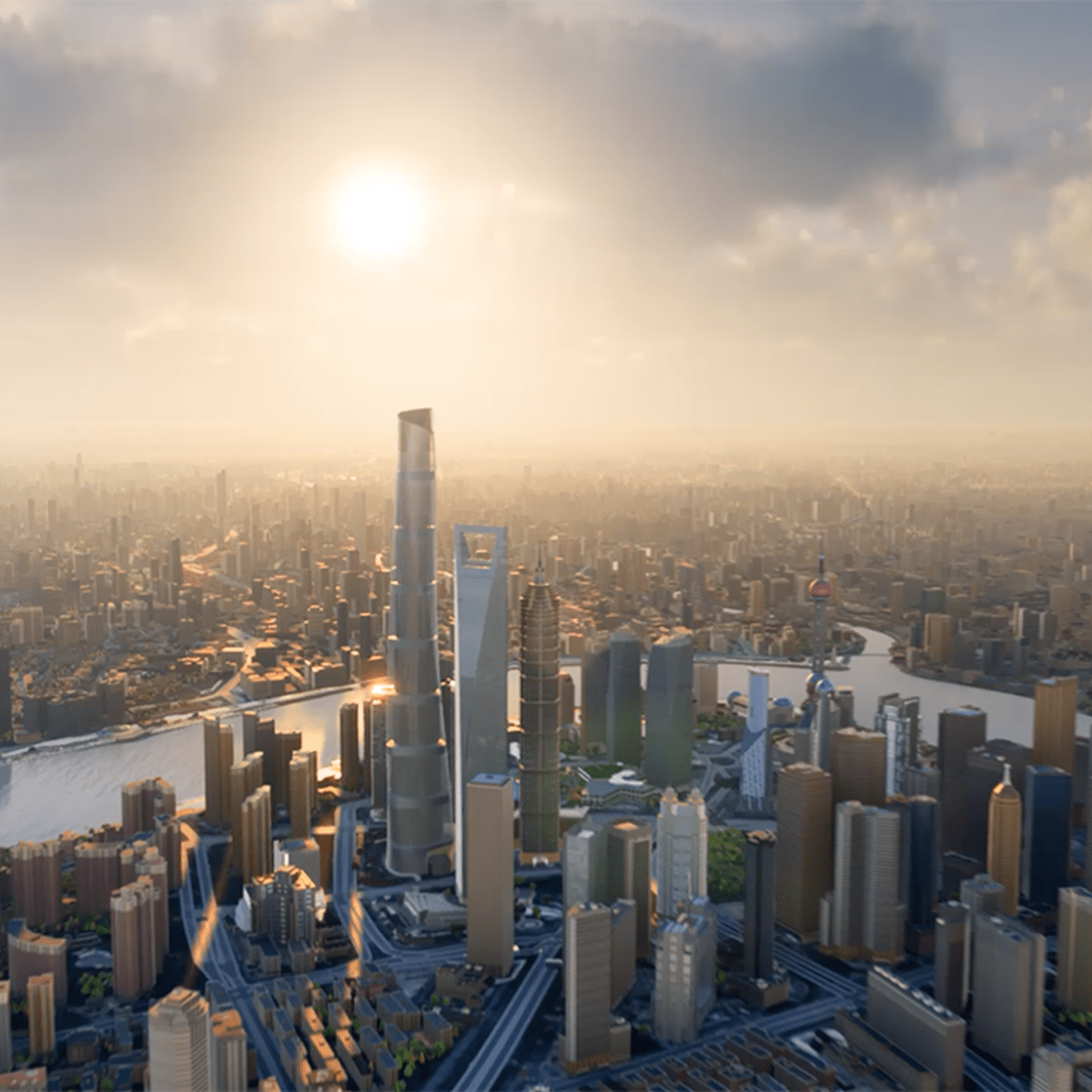 Above: 51World's highly realistic model of Shanghai. Image courtesy of 51World.
That's what Beijing-based developer 51World is planning to do with Shanghai.
Powered by Unreal Engine, the team has created a complete virtual model of China's largest city - that covers an area of over 3,750 square kilometres.
Though the level of detail varies across the model, more than 20 landmark structures, including the Oriental Pearl and Shanghai Tower were created individually.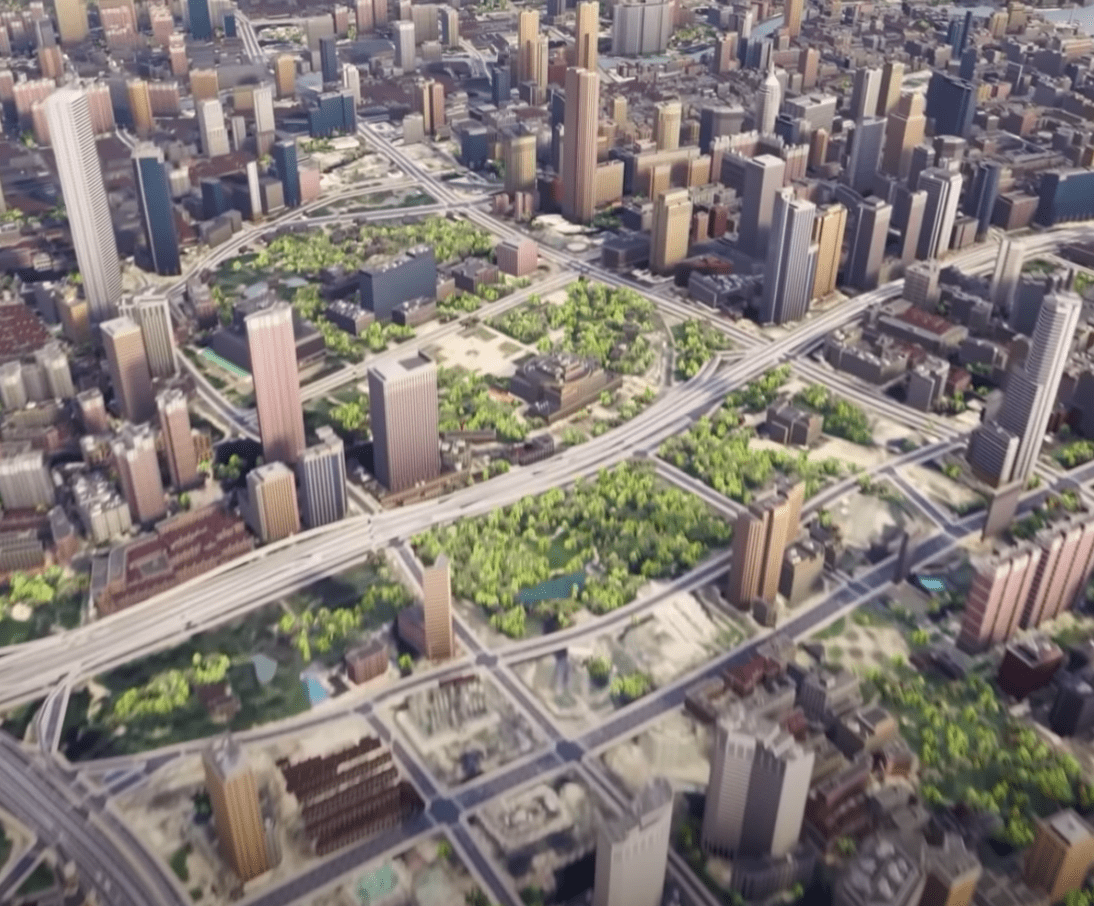 Above: Countless other buildings, roads, waterways and green spaces were made using an algorithm that converts data from a Geographic Information System into 3D information. Image courtesy of 51World.

51World's intention is to turn this model into a digital twin; a virtual reflection of the live city that is continuously updated in near real-time as it gathers data from geographic information sensors (GIS), satellites, drones and other sources.
It could allow its user to control a building's systems remotely, monitor traffic flow or show citizens how a planned new project might appear.
With digital twins, designers can simulate ideas in the live city environment, before they are constructed and the impact of decisions - from where to position a bus stop to how large a new housing development should be - can be understood in advance.
While the idea might seem far-fetched, 51World's models of other cities are already being used to create digital twins.
Perhaps its best example yet is in Singapore, where one has been built for a developer and the local government.
It allows city operators to monitor traffic, building operations, bridge maintenance and simulate floods.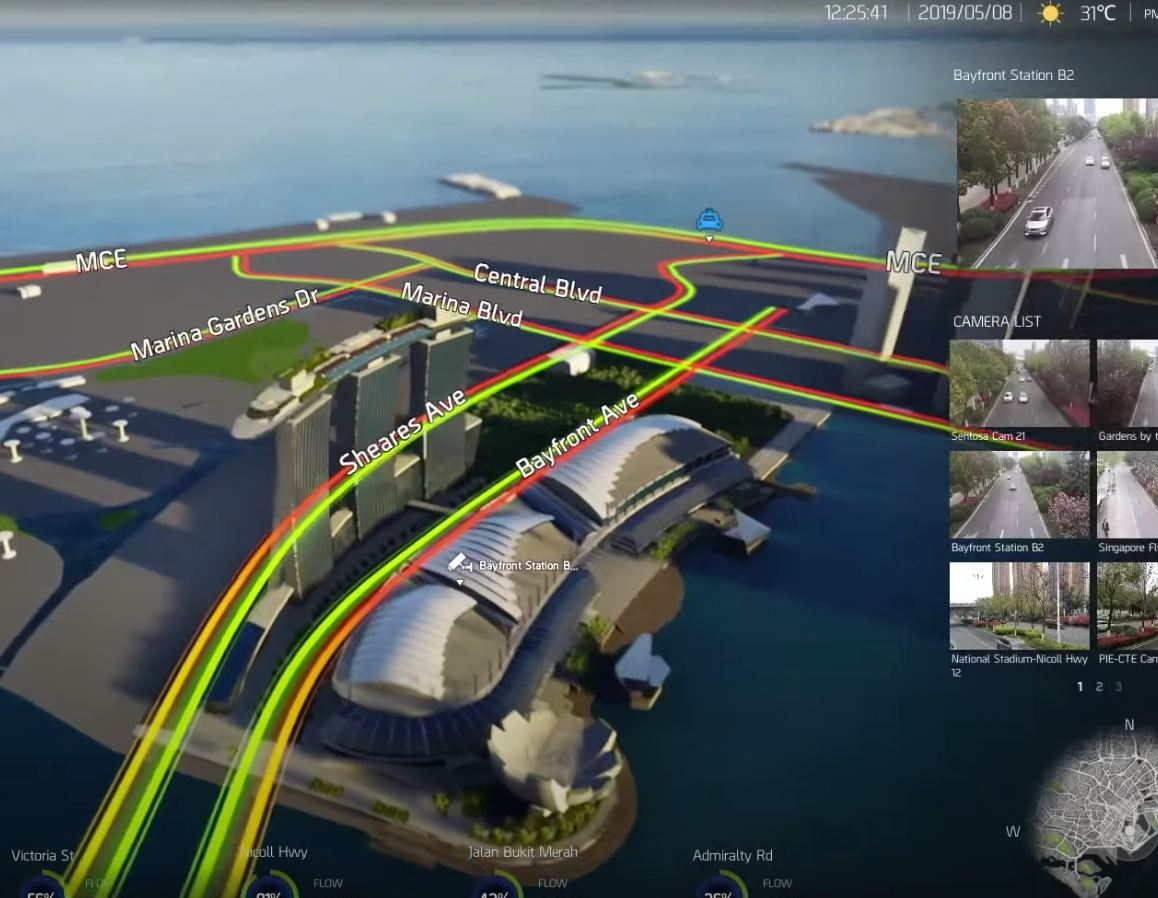 Above: 51World's Singapore digital twin integrates information on buildings, transport, parks, drainage and more. Image courtesy of 51World.
The company has also implemented several intelligent transportation projects across China, offering solutions for 3D real-time monitoring and micro-traffic flow simulation.

To optimise the efficiency of real-time rendering in the Shanghai model, as a user moves across the cityscape, the entire simulation is divided up into two-square-kilometre segments.

Closer objects appear in finer detail, showing accurate environmental reflections, soft shadows on surfaces and lifelike shading effects in accordance with the weather.

To achieve these graphics, 51World turned to Unreal Engine - one of the industry's leading platforms for creating photorealistic visuals and immersive experiences.
As well as cutting-edge rendering capabilities, Unreal Engine gave 51World a real-time lighting system that simulates the sun, photorealistic models of the city's landmarks and the ability to quickly find errors.
Digital twins in the hands of a private company or national government instantly raises questions about rights, ethics and ownership.
All of the data used in systems like this is anonymised and facts about specific individuals and their movements aren't tracked - it's more for looking at broader, trend-level information.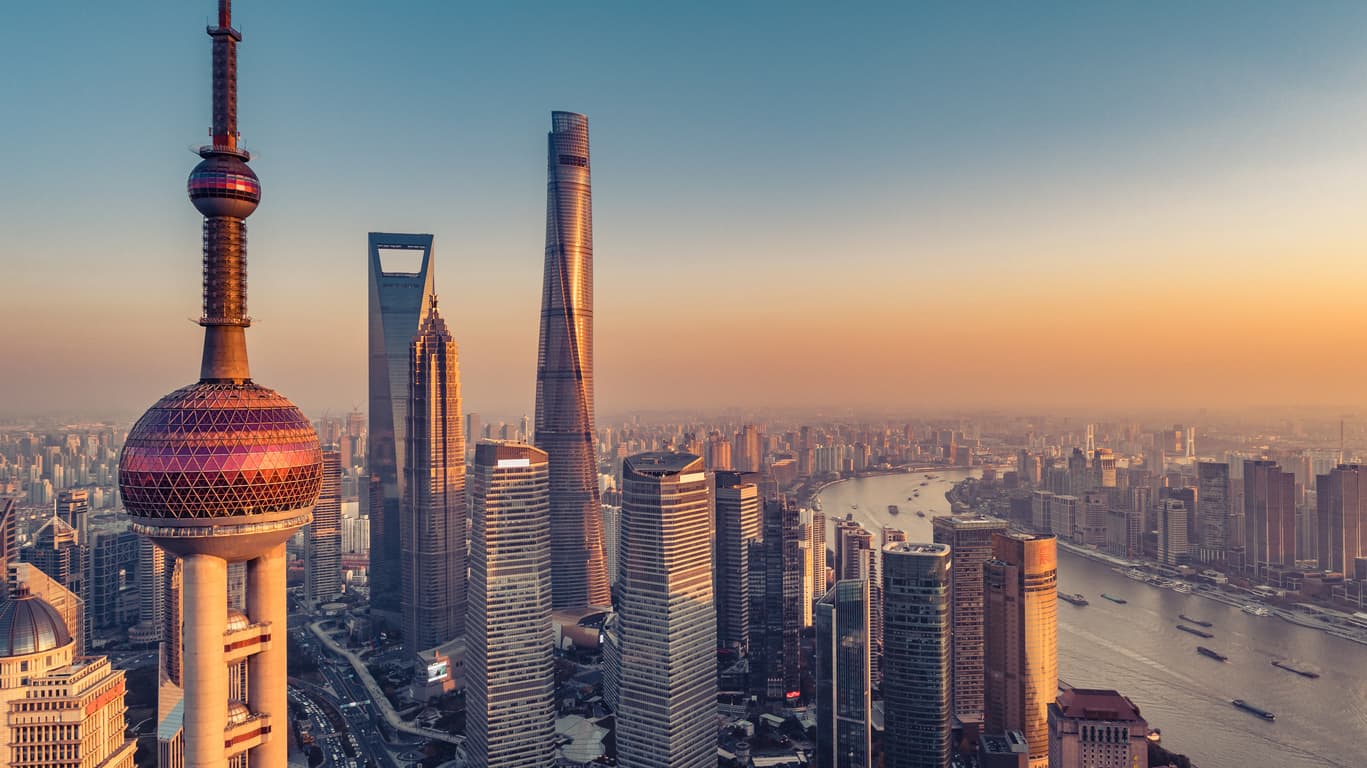 Above: The real Shanghai; China's largest city.
Though the Shanghai model is undoubtedly one of the most advanced we've seen, several other cities are now exploring this idea of virtual clones - albeit by creating advanced 3D models, rather than true digital twins.
In Finland, VR studio Zoan used Unreal Engine to create Virtual Helsinki - a digital replica of the capital that's used for everything from 360-degree virtual real estate tours to promoting the city at international exhibitions.
Meanwhile in New Zealand, Buildmedia and the city's council used Unreal Engine to develop an accurate model of Wellington. They now plan to integrate live data to create a true digital twin.
Though any SimCity or Minecraft fan will tell you that building city simulations with a gaming engine has been possible for decades, this technology is now on course to transform our real-world urban landscape.
What's more, digital twins are still in their infancy and their potential is enormous.
With future models expected to be capable of autonomous decision-making, it seems that the age of the truly smart city has only just begun.
51World's model of Shanghai was brought to life with Unreal Engine. Find out what else is possible with one of the world's most powerful visualisation tools here.
Our thanks to Epic Games (Unreal Engine) and 51World. Presented and narrated by Fred Mills. Additional footage and imagery courtesy of 51World, Buildmedia, Shapescape and Zoan.
This video and article contain paid promotion for Unreal Engine.

We welcome you sharing our content to inspire others, but please be nice and play by our rules.
Comments
---