Cities
The Skyscrapers That Will Redefine New York
Youtube Views

1,372,803

VIDEO VIEWS
Video hosted by Fred Mills.
NEW YORK CITY is renowned for its skyscrapers.

From the early towers of the 1900s to the engineering marvels of today, the city has continually set the agenda for tall building design around the world.
But while its skyline is now immortalised in popular culture, different economic cycles and the changing demands of New York's citizens mean that the landscape we are all familiar with is continually evolving.
From the luxury super-slender developments of Midtown to bronze-clad additions to the financial district and Brooklyn's first super-tall tower, these are the skyscrapers that are about to redefine New York.
111W57
Rising from a small parcel of land on New York's Billionaire's Row and already making its impact on the skyline, the super slender 111 West 57th Street (dubbed 111W57) is set to complete later in 2019.
Set to become the world's thinnest skyscraper, with a breath-taking width-to-height ratio of 1:24, the 435-metre tower is a masterpiece in both architecture and engineering.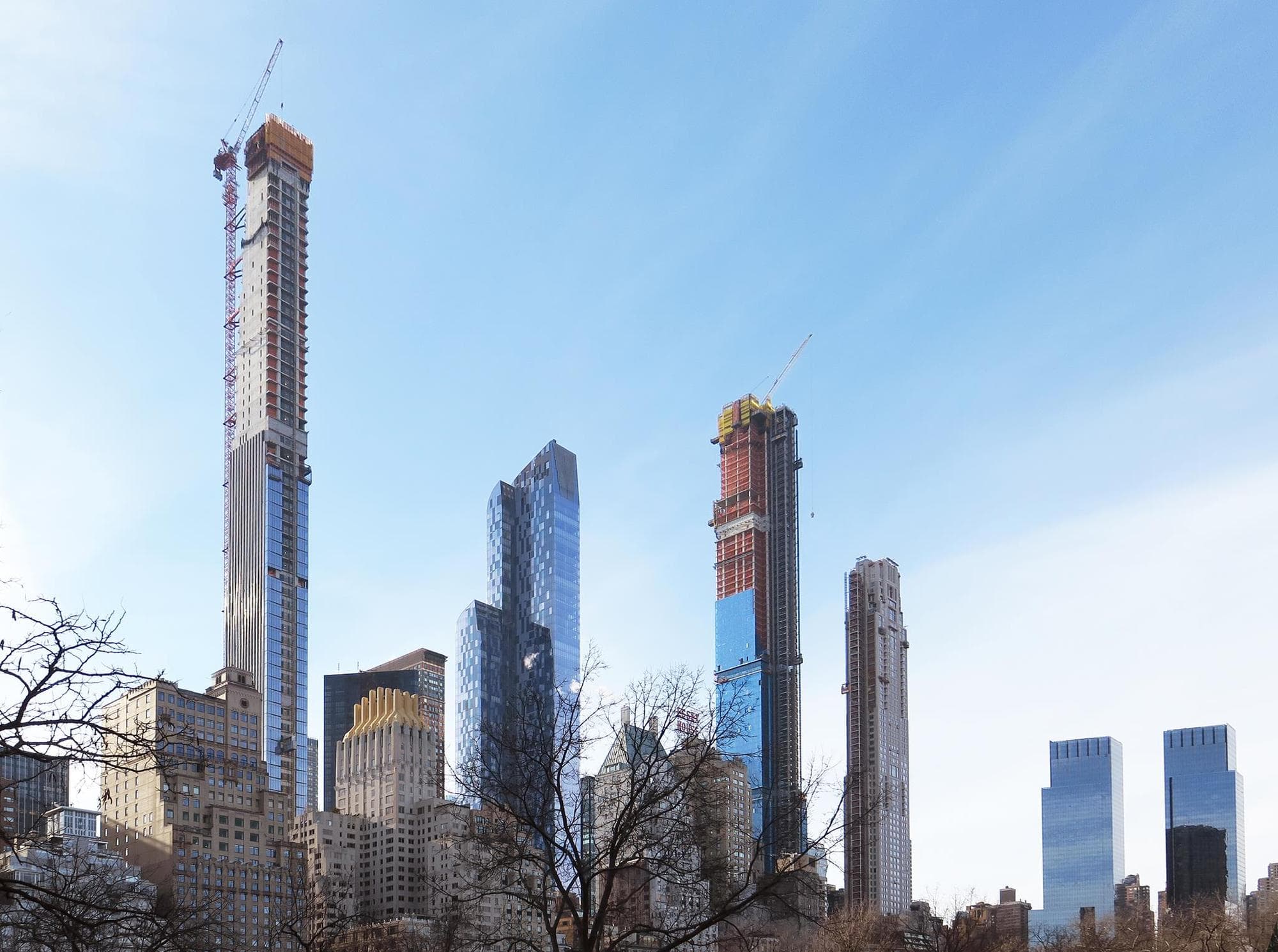 Above: 111W57 is already redefining the Midtown skyline. Image courtesy of Paul Clemence.
To ensure the stability of its extreme structure, 111W57 makes use of an 800-tonne tuned mass damper. This counteracts the effects of wind and potential seismic events which could cause the tower to sway.
While many modern skyscrapers are finished solely with glass, 111W57 sets itself apart from other luxury residences and nods to the ornamental towers of the 1900s with a stunning terracotta and bronze façade.
With just 58 residences in total – and with prices starting from USD $18 million – 111W57 is a new benchmark in Manhattan luxury.
CENTRAL PARK TOWER
When it completes in 2020, Central Park Tower will further redefine the city's Billionaire's Row district and become the tallest residential building in the world.
Originally intended to stand 541-metres tall, the structure's spire was designed-out prior to construction reducing its overall height to 472-metres.
Retailer Nordstrom is set to occupy the first seven levels of the tower, while its summit will feature a three-storey penthouse priced at USD $95M.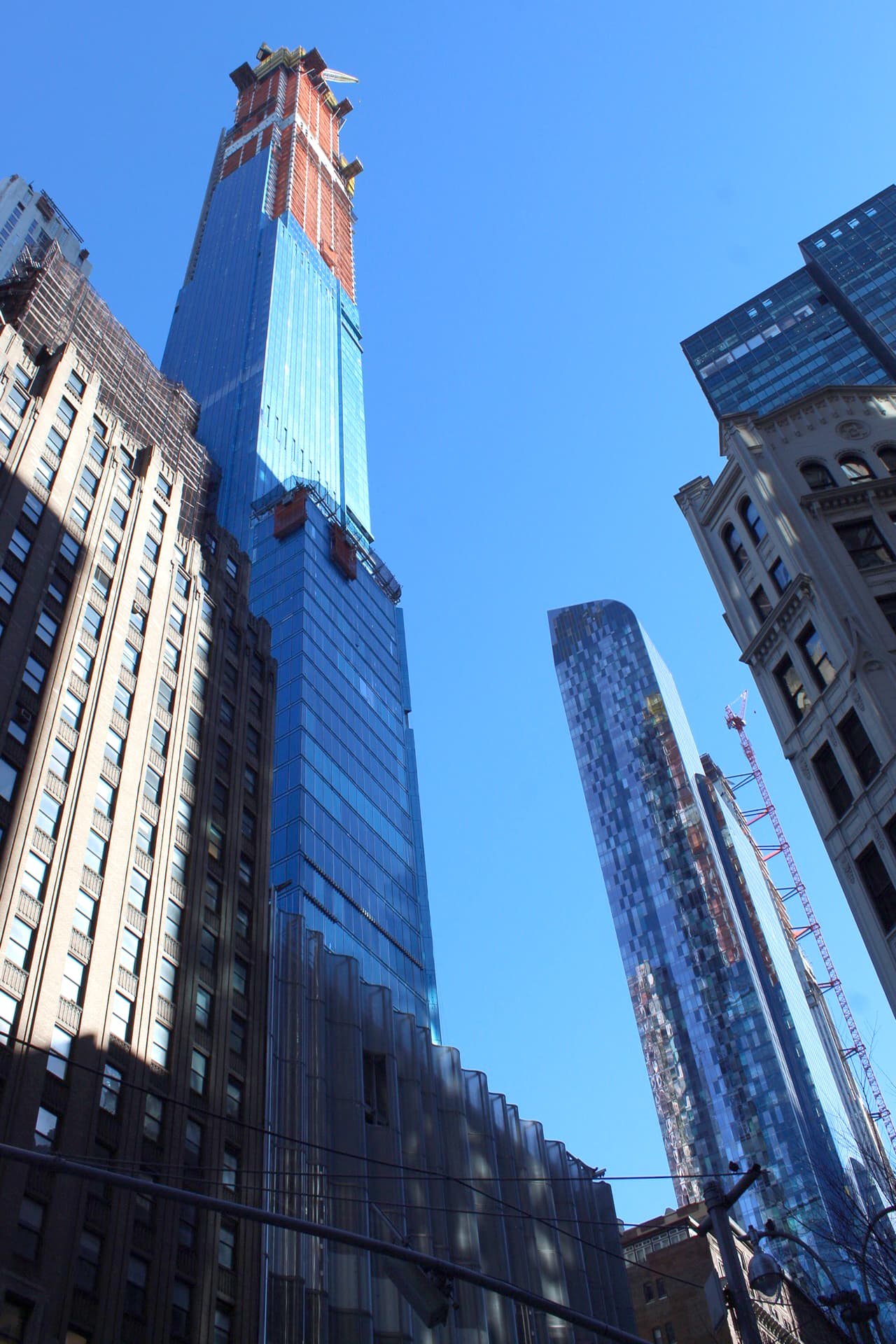 Above: Central Park Tower will have the highest roofline in the United States upon its completion in 2020. Image courtesy of Michael Young.
As Central Park Tower clears its surrounding buildings, it increases its floor area by cantilevering over the Art Students League of New York building; a move made possible after developers purchased air rights from the neighbouring property.
While it will not take the title of New York's tallest building from One World Trade Centre, Central Park Tower will have the highest roofline in the city - and in the United States - rising 55 metres higher than its Downtown rival.
45 BROAD STREET
With its striking bronze façade, 45 Broad Street will redefine New York's financial district when it completes in 2021.
Offering 150 apartments across 68 storeys, the development is notably more modest than its Midtown counterparts with apartment prices ranging between USD $1M and $4M.
In addition to its residences, the tower will also house a school and feature direct public access to New York's subway system.
Set to achieve a final height of 366 metres, 45 Broad Street will become the tallest residential tower in the downtown area, taking the title from the nearby Frank Gehry-designed Eight Spruce Street.
ONE VANDERBILT
Set to stand 109-metres taller than the Chrysler Building, One Vanderbilt will redefine iconic views from the Empire State and Rockefeller Centre when it reaches its full height in 2021.
Designed with a modern take on the famous tapering designs of the city's early towers, One Vanderbilt is the tallest commercial skyscraper to be constructed in New York since One World Trade Center in 2014.
Located immediately adjacent to Grand Central Station, the tower's development enabled underground improvements to be made to the terminal, including accommodation of the new "East Side Access" project.
THE SPIRAL
Further redefining the city's skyline in 2021, The Spiral will merge the built environment with the natural world.
Located adjacent to New York's vast Hudson Yards district – the largest private development scheme in US history – the tower will feature stepped planted terraces across its levels, wrapping the structure in a vertical garden that continues the High Line and Hudson Park into the sky.
Designed to maximise floor space and optimise views across Manhattan, the 314-metre tower contains more than 260,000 square metres of space across its 65-storeys, making it one of the largest office buildings in the world.
9 DEKALB AVENUE
Incorporated into New York in 1898, Brooklyn has historically been one of the more residential and industrial boroughs of the city.
With Manhattan absorbing much of the demand for office space, Brooklyn consisted mainly of low-rise buildings prior to 2010, with just one tower exceeding 150 metres in height.
Since then, Brooklyn has been in the midst of a skyscraper boom as developers respond to the demand for high rise living, largely exported from Manhattan.
Rising to a height of 325-metres, the 73 storey 9 DeKalb Avenue is set to redefine the borough in 2022 when it becomes the tallest skyscraper in New York City outside of Manhattan.
While these projects are already beginning to make their mark on one of the world's most iconic skylines other notable developments have already been proposed but are yet to break ground.
2 World Trade Center looks set to complete the redevelopment of Lower Manhattan's ground zero site.
Western Yard – the second phase of the Hudson Yards development – will significantly redefine an area of Midtown when it completes in 2024, and Tower Fifth looks set to dominate the Midtown skyline in the not too distant future.
Footage and images courtesy of VisualHouse, Extell, Michael Young, Paul Clemence, SHoP Architects, JDS Development Group, Andrew Nelson, Nordstrom, Zhen and Koodoo, CetraRuddy, Madison Equities, Kohn Pedersen Fox Associates, Bjarke Ingels Group, Max Touhey, Hudson Yards, Macklowe Properties and Gensler.
We welcome you sharing our content to inspire others, but please be nice and play by our rules.
Comments
---