Cities
Hudson Yards: Building New York's New District
Youtube Views

593,717

VIDEO VIEWS
Hudson Yards is the largest private development scheme in United States history. It's much more than just a project, and is effectively creating an entire new neighbourhood on the west side of Manhattan. Fred Mills takes a look at New York's new district.

THE 28 ACRE Hudson Yards site is nestled between the Hudson River, Chelsea, Midtown and Hell's Kitchen; an area that's fast becoming a hub for fashion, communications and the arts.
The vast mixed-use Hudson Yards scheme is set to provide more than 5 million square meters of commercial and residential space, an arts centre, a luxury hotel, a shopping centre, restaurants, a 750-place public school and 14 acres of open space. The development is split into two distinct phases; the Eastern and Western Yards respectively.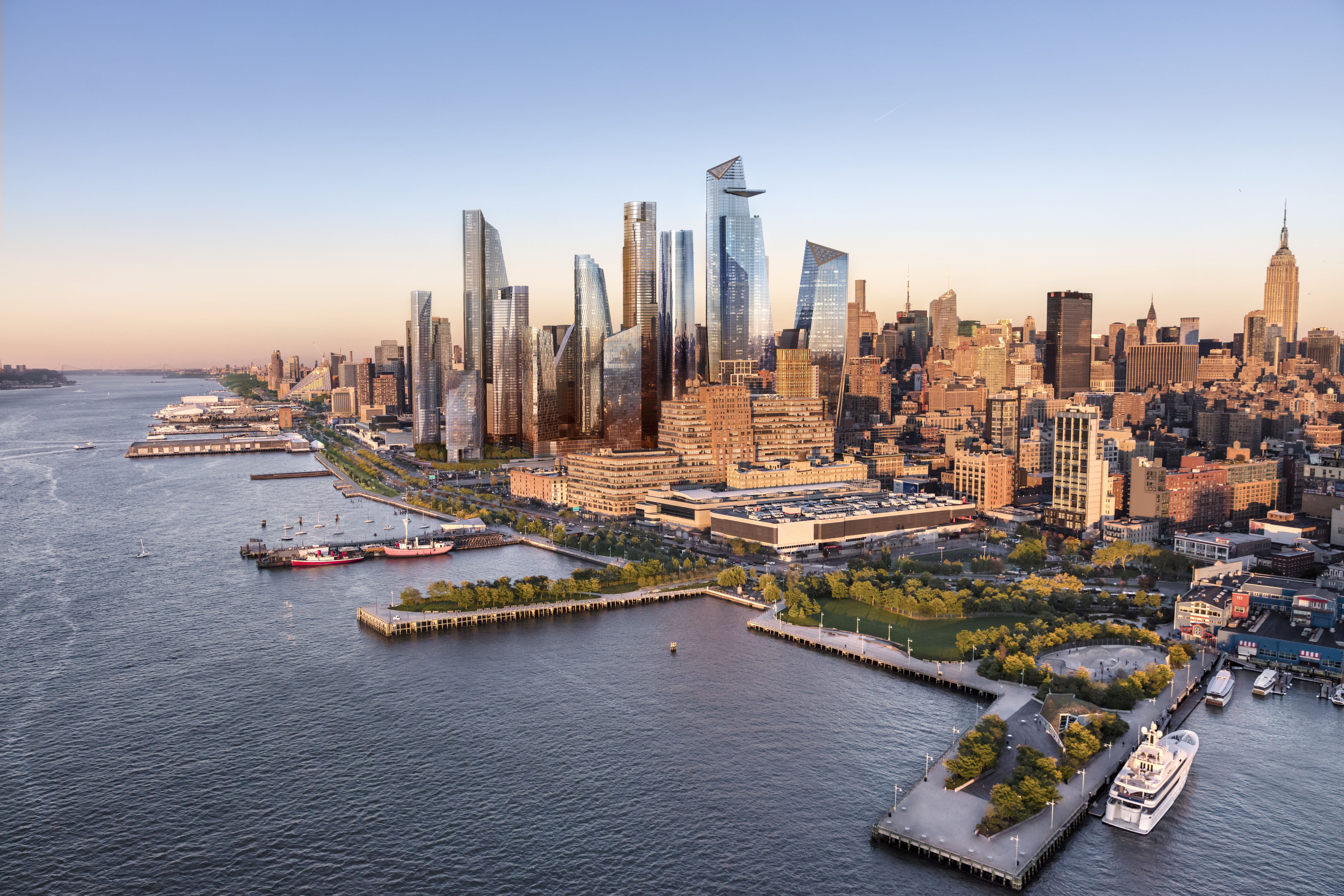 Above and Below: The Hudson Yards development is positioned on the west side of Manhattan Island in New York (images courtesy of Related-Oxford [above] and Google [below]).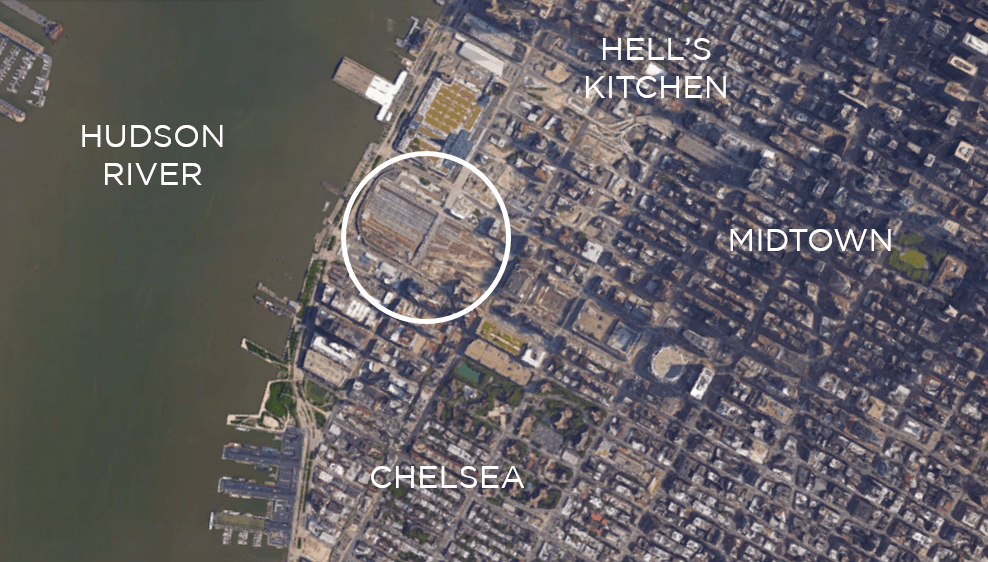 Commencing in 2012, the USD $20 billion project has gone on to create more than 23,000 construction jobs. It is due to fully complete in 2024 and by then, some 125,000 people each day will work in, visit, or call Hudson Yards their home.
The development's business case is seemingly sound. A report by Appleseed (commissioned by the developer and released in May 2016) predicts that the companies operating out of the office towers will contribute nearly USD $19 billion a year to New York City's GDP.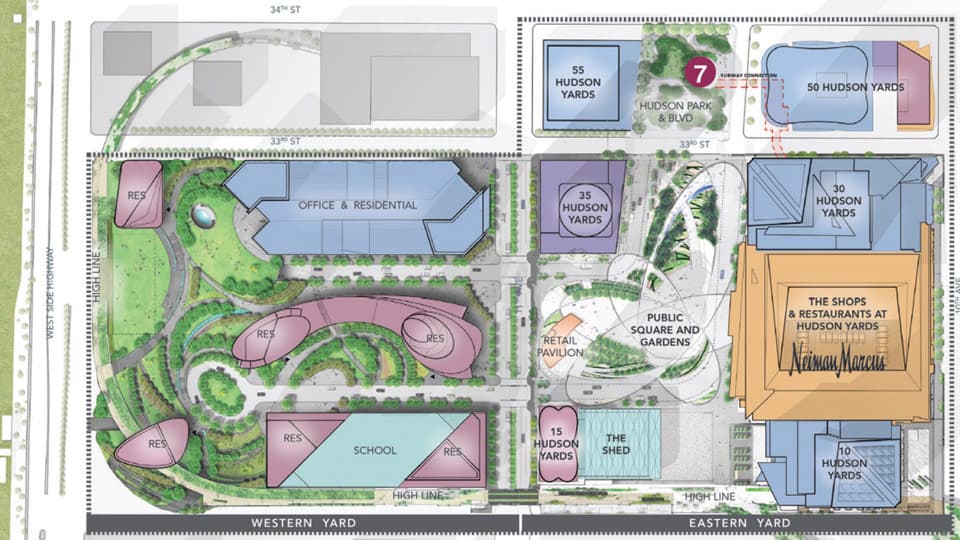 Above: The phased development is split into 'Eastern' and 'Western' yards (image courtesy of Hudson Yards).
ENGINEERING THE PLATFORMS
Perhaps even more impressive than the project masterplan is the engineering feat that it has taken to bring the Hudson Yards site itself into existence.
Demand for space on the densely-populated Manhattan Island led the development team to consider an area currently occupied by an active railyard. By forming two platforms over the yard, the clear space above it has been made available for development.
The railyard is busy space. It contains 30 active Long Island Rail Road tracks, three sub-surface rail tunnels used by Amtrak and New Jersey Transit, a passageway and the new Gateway Tunnel completed in 2014. Specific parts of the yard are able to be built upon and the team have used those spaces to strategically construct foundations and supports for the structures above.
The Eastern Yard's platform is supported by 300 caissons drilled between the railway tracks, deep into New York's bedrock. Scheduled to complete in 2016, the Eastern Yard platform alone weighs 35,000 tonnes.
Far from simple slabs of concrete, the platforms must respond to the new spaces they create both above and below them. Their surface will be planted with trees in many areas so soils have been engineered to provide drainage and nutrients. There's also a storm-water storage tank and a system pumping coolant through piping in the slab, ensuring the trees are not cooked by the heat from the train yard below. Down there, temperatures could climb as high as 65 degrees Celsius, so industrial fans will be used to improve airflow and cool the space down.

The engineering of the platforms was a joint achievement by Thornton Tomasetti, Langan Engineering and Environmental Services and Arup.
VERTICAL TRANSFORMATION
With a solid, clear site created on its platforms, the Hudson Yards development begins to soar skyward.
At the core is 30 Hudson Yards, designed by Bill Pedersen of Kohn Pedersen Fox Associates. Set to become the second-tallest office building in New York, the 395 metre tower will surpass the Empire State Building in providing the city's highest outdoor observation deck (if you're feeling brave).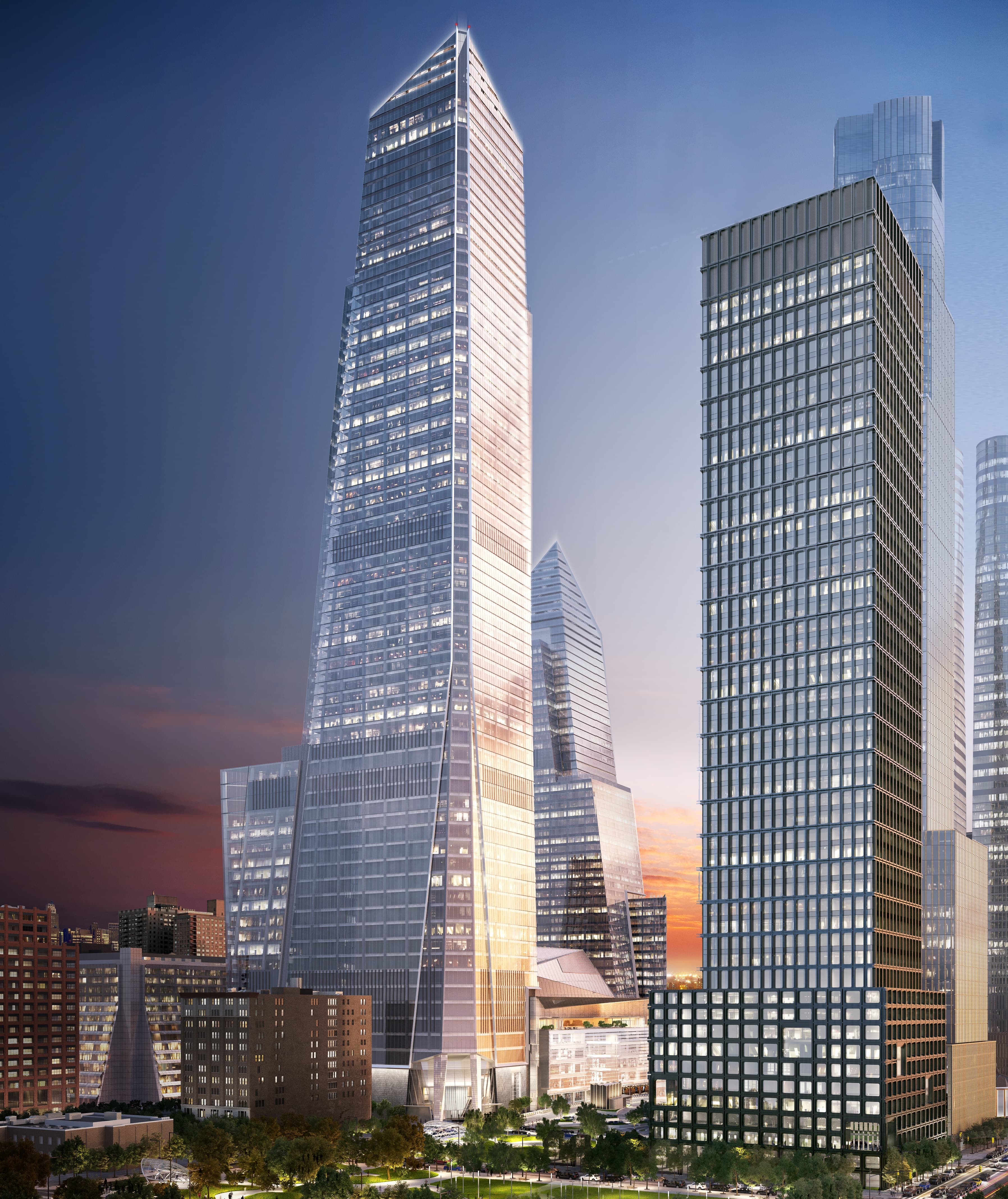 Above: 30 Hudson Yards will become New York's second tallest office building (image courtesy of Related-Oxford).
The exclusive 35 Hudson Yards tower next door, designed by David Childs and Skidmore, Owings and Merrill will house high-end apartments, a luxury hotel, a spa and further office space. At 304 meters, this will be the tallest residential tower on the site.

Across the way, 55 Hudson Yards anchors the north-west corner of the development. Opening in mid-2018, the 237 meter structure will provide further office space including an attractive open terrace on its tenth floor.
15 Hudson Yards will be the first residential building to open. Designed by Diller Scofidio + Renfro, Rockwell Group and Ismael Leyva Architects, it tapers to a height of 277 meters.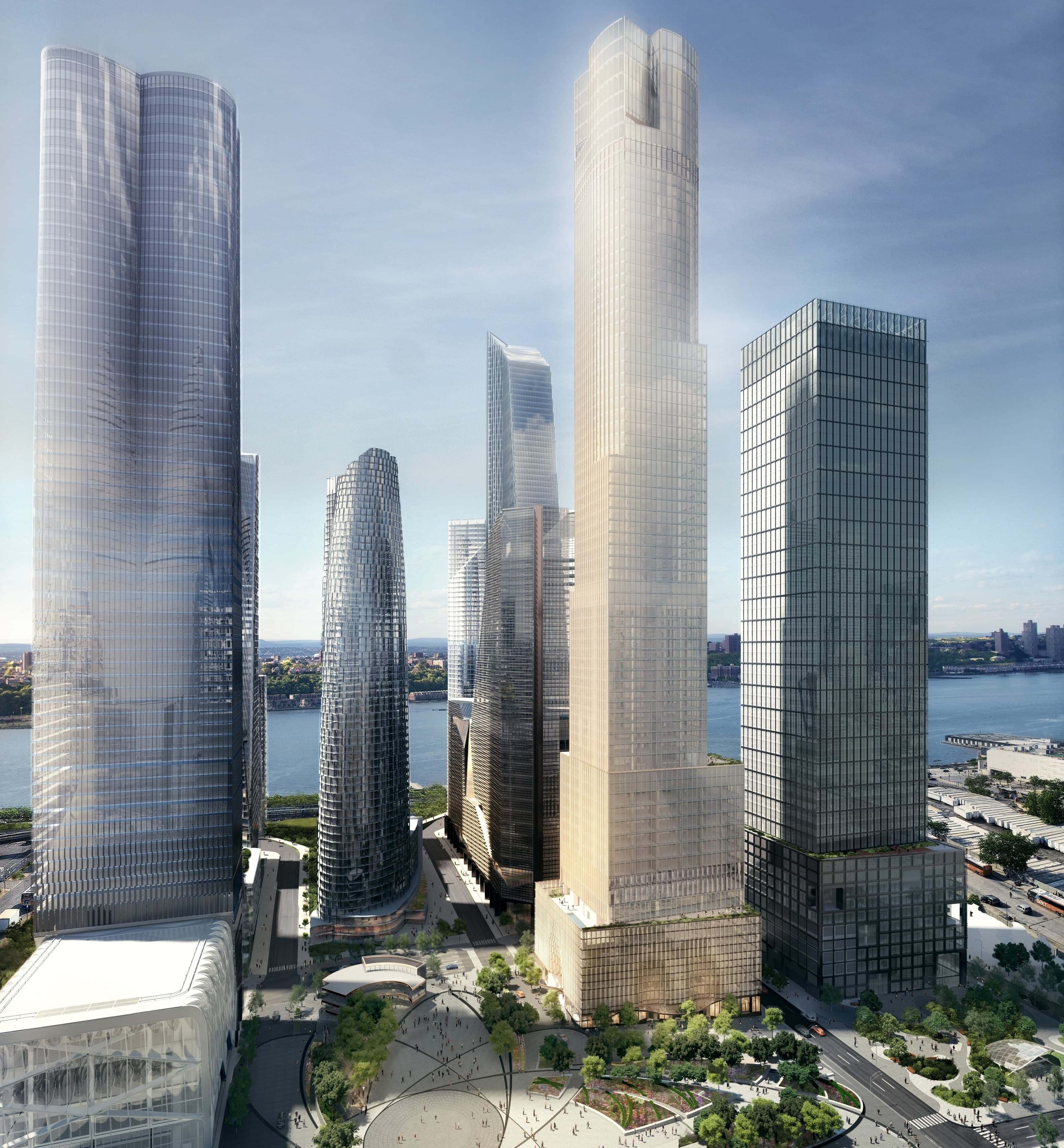 Above: A view across the Eastern Yard towards the Hudson River, showing 15 Hudson Yards (front left), 35 Hudson Yards (front centre) and 55 Hudson Yards (front right) (image courtesy of Related-Oxford). Below: Detail of the tenth-floor roof terrace at 55 Hudson Yards (image courtesy of Related-Oxford-Mitsui).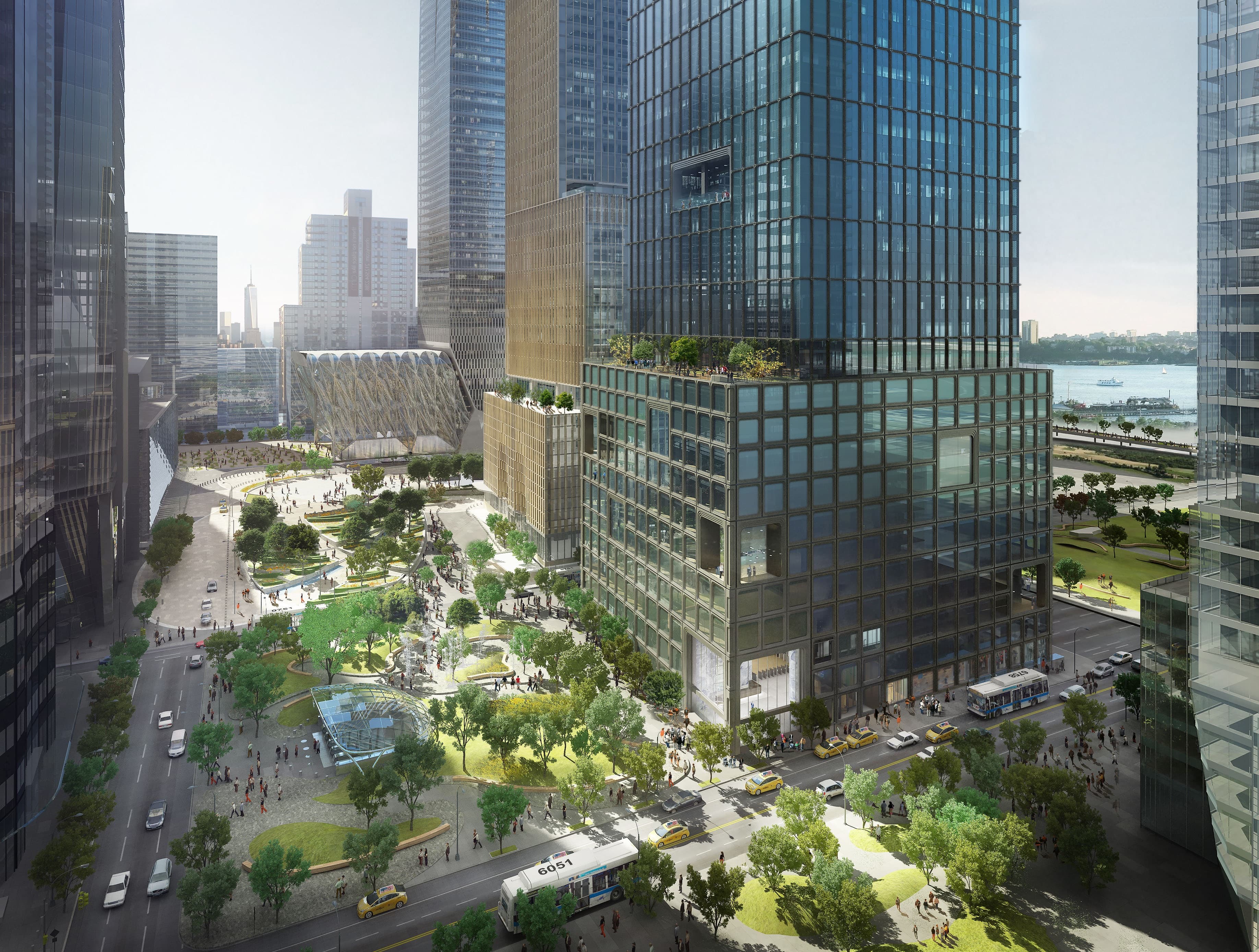 10 Hudson Yards opened in May 2016. The 272 meter tower was again designed by Kohn Pedersen Fox Associates and provides state-of-art-office space for the likes of L'Oréal. At its base, the structure sympathetically bridges part of the public space to maintain permeability.

The Shed, due to open in 2019, is an innovative new space that will act as New York's centre for artistic invention, commissioning and presenting the work of artists across various disciplines.
The Hudson Yards development also includes a hub of retail units and restaurants. This will be a key entry point offering access to both the subway and the city's High Line.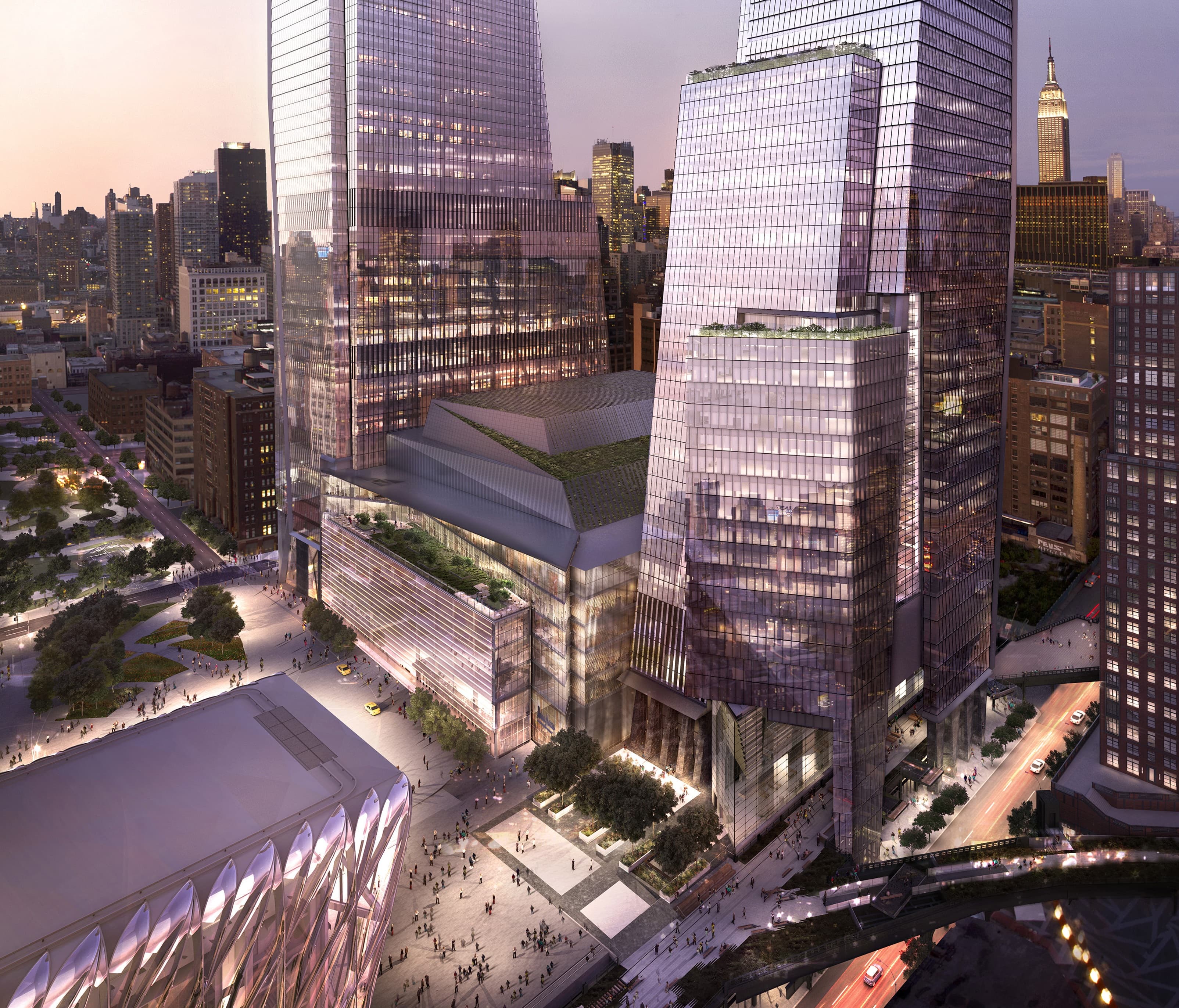 Above: The base of 10 Hudson Yards bridges part of the public space at ground-level (image courtesy of Related-Oxford).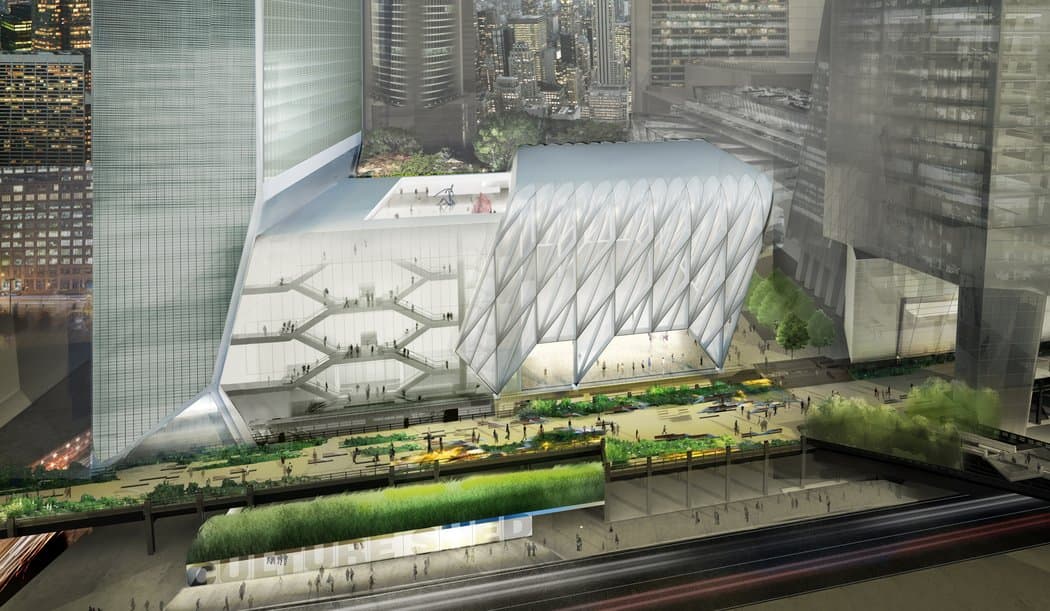 Above: The Shed, New York's new centre for artistic invention (image courtesy of Diller, Scofidio + Renfro).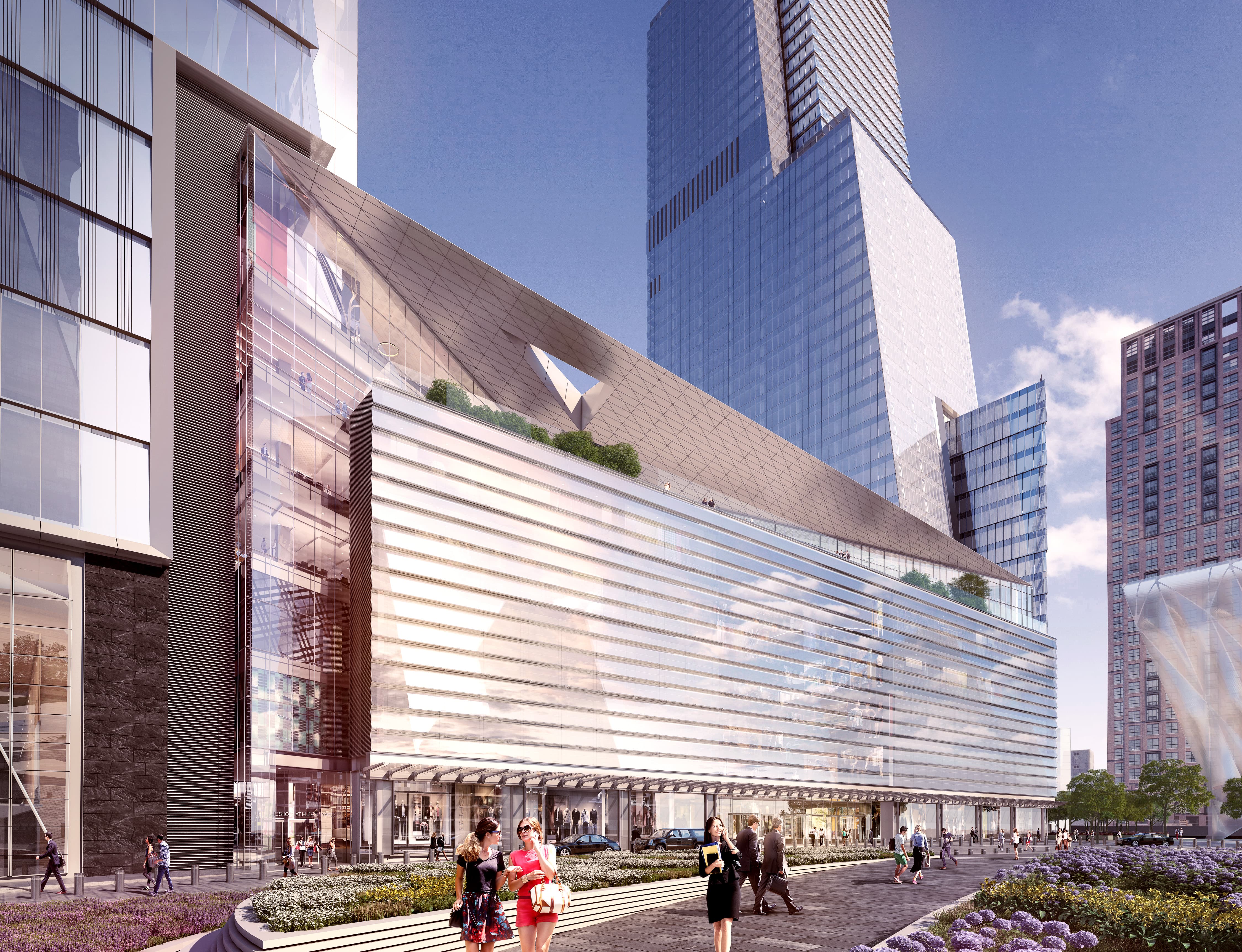 Above: The proposed hub of retail units and restaurants (image courtesy of Related-Oxford).
THE HIGH LINE
The High Line is a truly innovative public space. Historically an elevated freight railway ran along the west side of Manhattan, though it was abandoned in 1980. More recently it has been turned into a unique public park that stretches from the Meatpacking district through Chelsea and up towards Hell's Kitchen.
The park has rejuvenated and increased the desirability of these areas, driving a number of developments along its route, perhaps most notably in the form of Hudson Yards. The final portion stretches around the site and will be a key conduit between the new district and the wider city.
Below: The final portion will connect Hudson Yards to the wider city (image courtesy of Related-Oxford).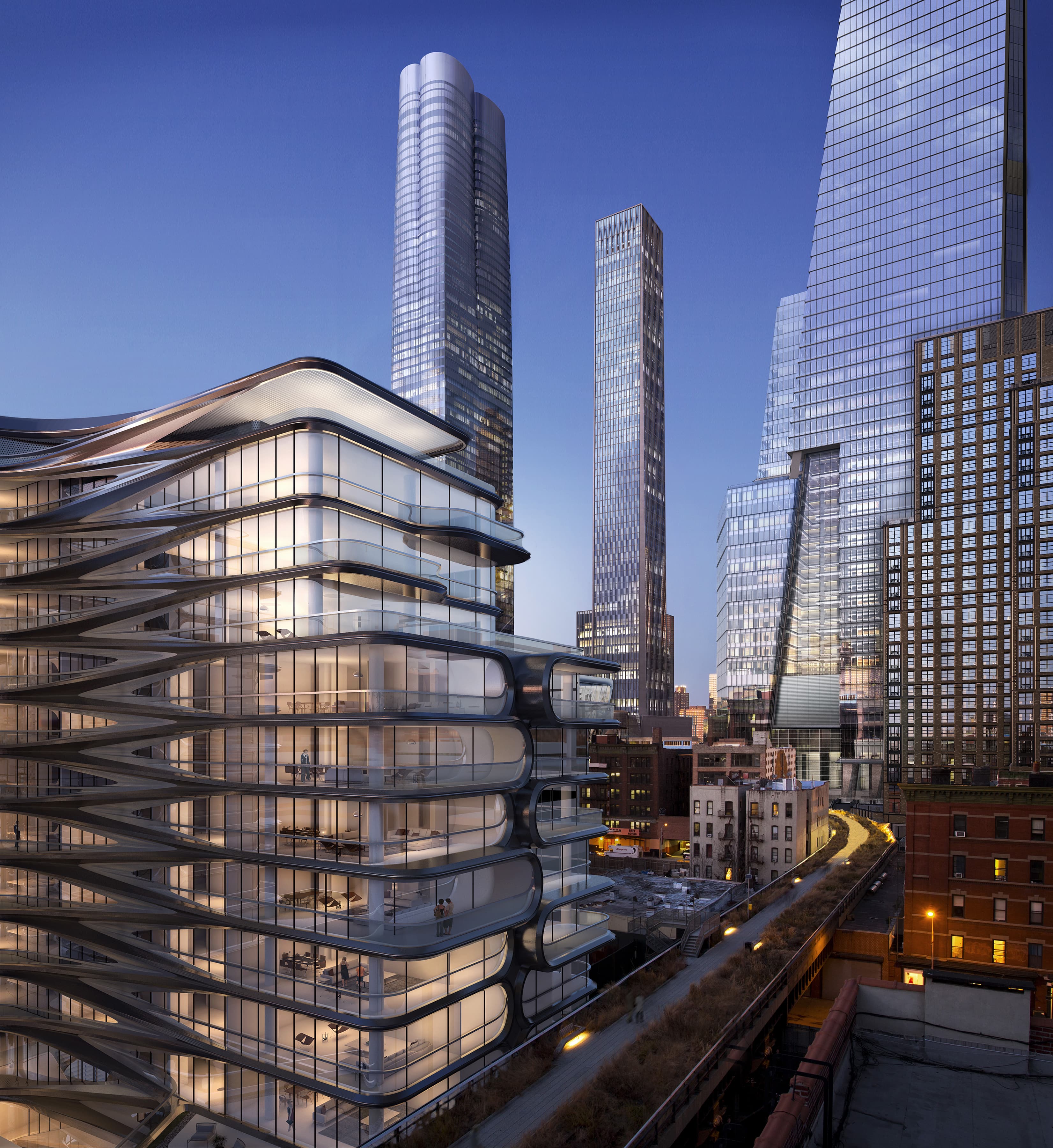 Hudson Yards is an incredible engineering achievement that will clearly make a significant cultural and economic contribution to New York City life. You can find out more about the project and its impact here.
You can learn more about Manhattan View at Hudson Yards here.
Images courtesy of Hudson Yards, Related-Oxford, Mitsui, Tyson Reist,Diller-Scofidio + Renfro, Banker Steel, Nancy Lundebjerg, Varick Shute and Google. Video thumbnail image courtesy of Tyson Reist.
We welcome you sharing our content to inspire others, but please be nice and play by our rules.
Comments
---