Cities
Dubai Has Built the World's Deepest Pool
Youtube Views

3,647,966

VIDEO VIEWS
Video hosted by Fred Mills.
IN 1999 DUBAI put itself on the map with what was then the world's tallest and first ever "seven star" hotel.
But that's now seen as a warm-up.
In the years since, the city has laid claim to the World's Largest Mall, Largest Fountain, Largest Airport Terminal, Longest Urban Zip-line, Tallest Building, World's Largest Acrylic Panel, Longest Driverless Metro System, Largest Picture Frame, Tallest Vertical Maze, Largest Man-Made Island, and, Highest Infinity Pool and Restaurant.
It's taken the title of World's Tallest Hotel from itself four times, has more supertall skyscrapers than any other city on Earth, and will soon be home to the world's tallest observation wheel.
But taller, further, larger, and higher has all become a bit same-y for the city, and the latest addition to its record-breaking rap sheet goes in a completely different direction.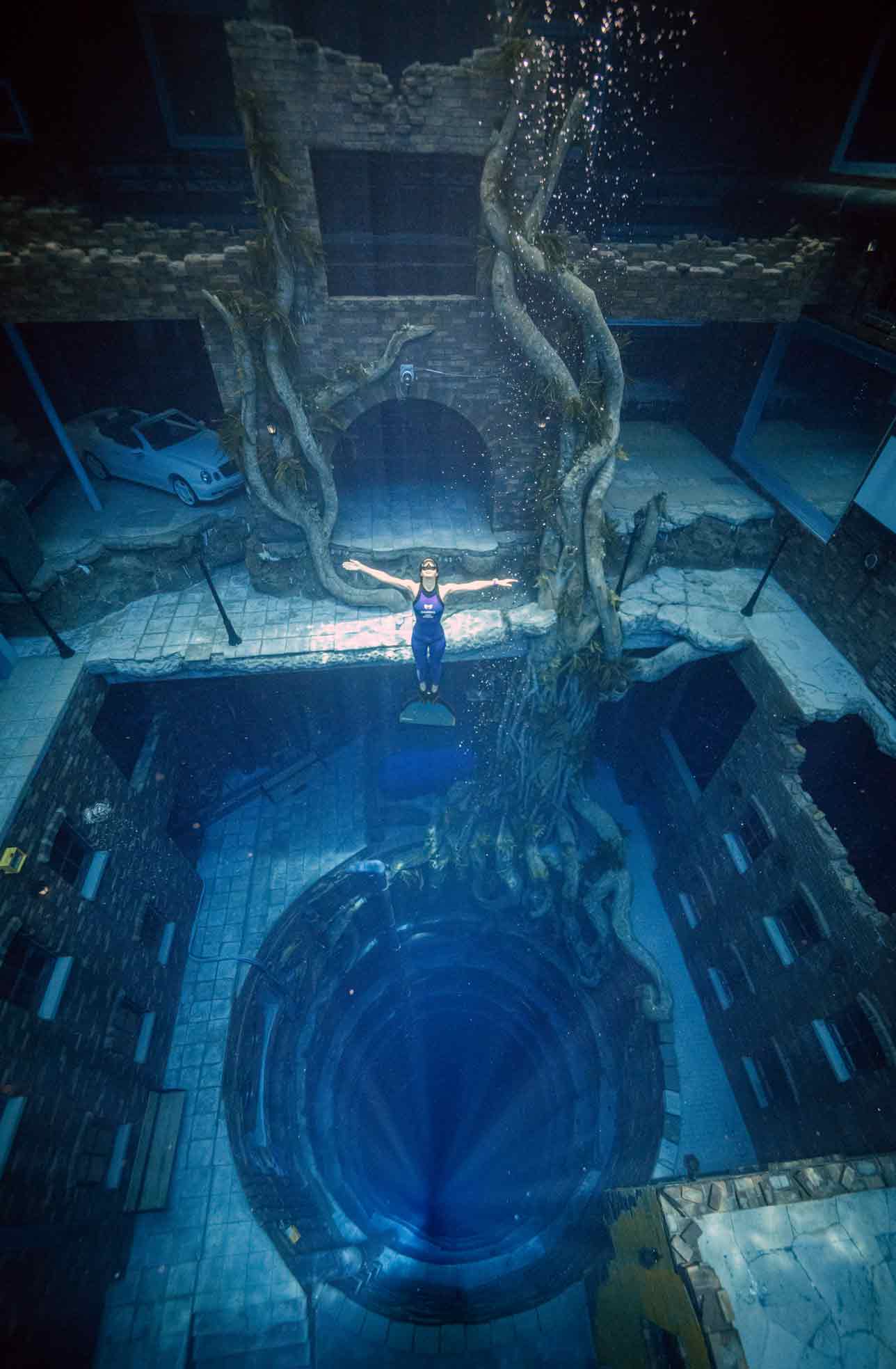 Above: Dubai is now home to the world's deepest pool. Image courtesy of Deep Dive Dubai.
Allowing divers to plunge 60-metres below the surface, Dubai is now home to the world's deepest pool - complete with a sunken city.
Just beyond the southern edge of Downtown Dubai and you'll find a strange, oyster-shaped building. It's the home of Deep Dive Dubai.
Nodding to the country's pearl-diving history and covering an area of more than 1,500 square metres, it houses increasingly deeper pool levels, all culminating in a shaft that extends 18 storeys below the surface.
Officially measuring 60.02 metres deep and holding 14 million litres of water, the pool smashes the previous record set by Poland's 45-metre Deepspot which only held the title for seven months after opening in December 2020.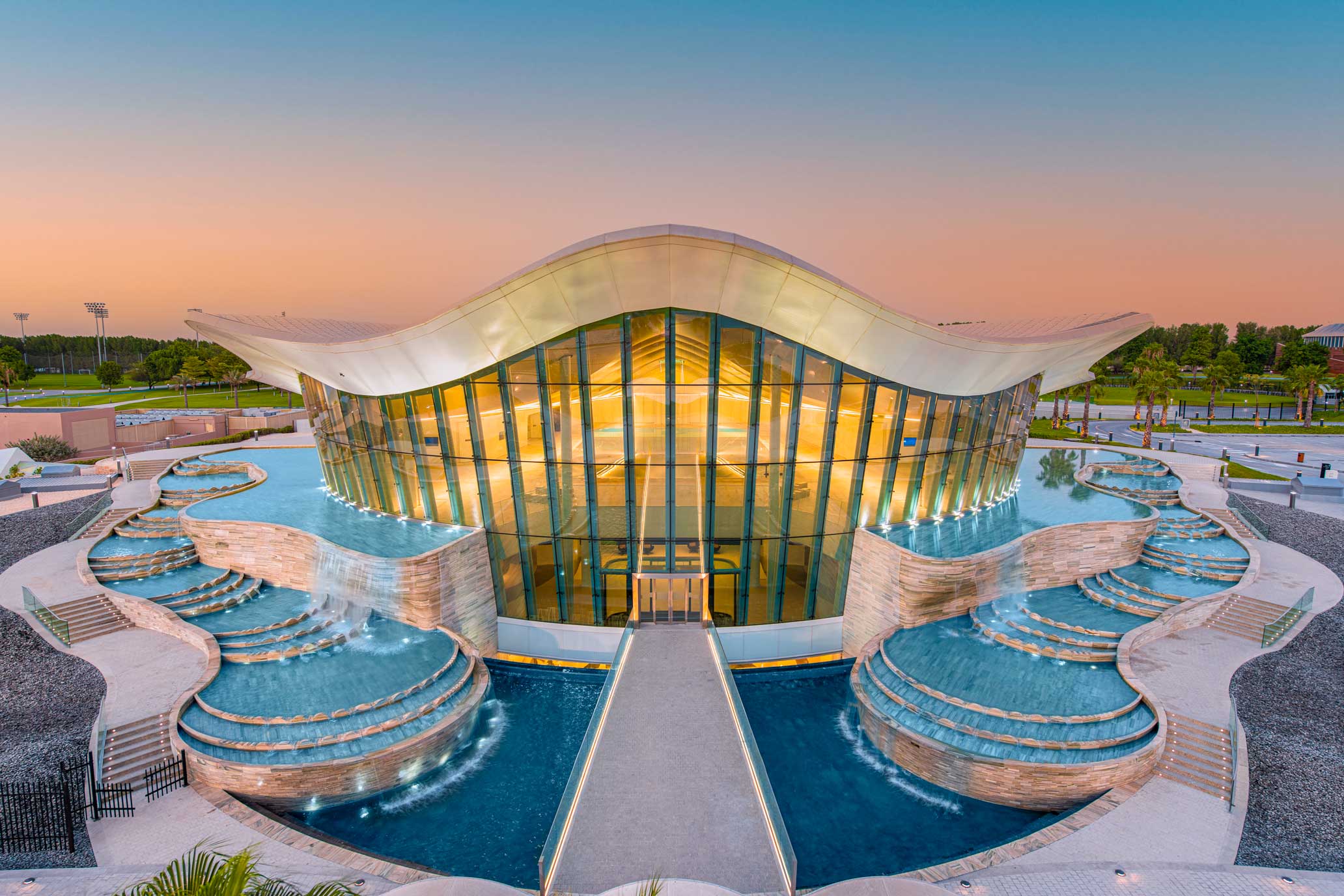 Above:The shape of the facility nods to the city's pearl diving past. Image courtesy of Deep Dive Dubai.
Perhaps even more impressive is that all that water is circulated through siliceous volcanic rock, a NASA-developed filtration system. It's also treated with UV light every six hours and holds a temperature of 30ºC for diver comfort all year round.
To call this simply a pool, kind of diminishes what lies beneath the surface.
First there are two underwater habitats where divers can explore and "resurface" within underwater dry chambers at the six and 21 metre mark.
Not to exclude those overcome with a fear of the deep, the first 12 metres can be viewed through a series of large windows - divers can wave to their friends keeping dry on the other side.
Getting deeper into things the pool starts to become a bit more Dubai.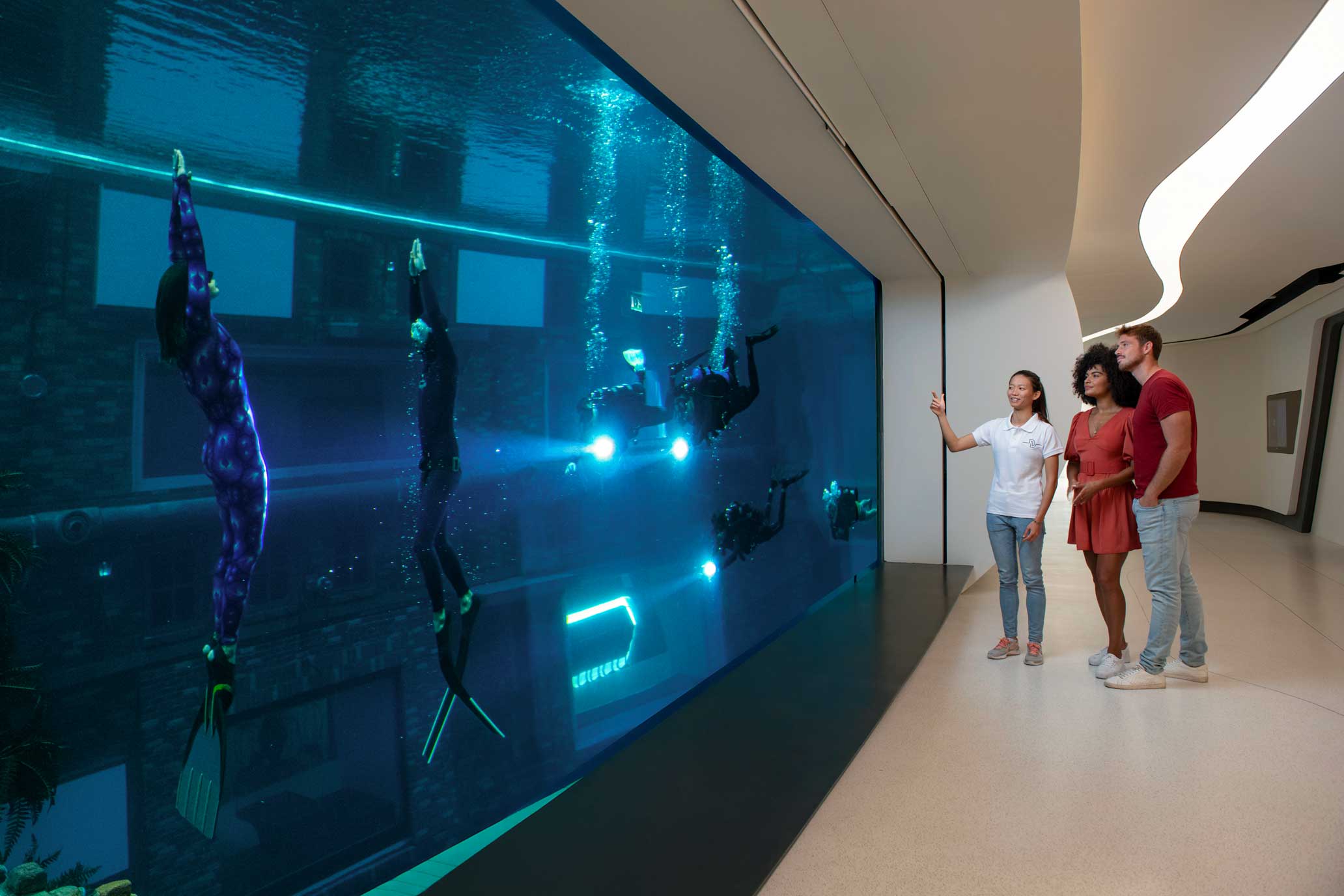 Above: Divers can interact with family and friends in viewing galleries up to 12 metres deep. Image courtesy of Deep Dive Dubai.
The post-apocalyptic-themed "sunken city" depicts an abandoned world. There's an apartment and garage connected by a flooded staircase and an entire streetscape that increasingly deteriorates the deeper you go.
Topping it all off - or rather bottoming it all out - is a 20-metre-deep plunge shaft reserved for only the most accomplished divers.
Normally only blue and green light wavelengths can penetrate this deep, but way-finding lights and speakers help provide visibility the whole way down.
There are also 56 underwater cameras, partly for safety but also playing a feed on screens around the building and capturing the experience for divers to take home once they resurface.
Speaking of resurfacing, the facility includes a Hyperbaric Chamber that can be used to treat decompression sickness for up to 10 people at a time - and all divers are advised to not travel more than 300-metres above sea level within 24 hours of visiting - so don't book your trip up the Burj Khalifa later in the day.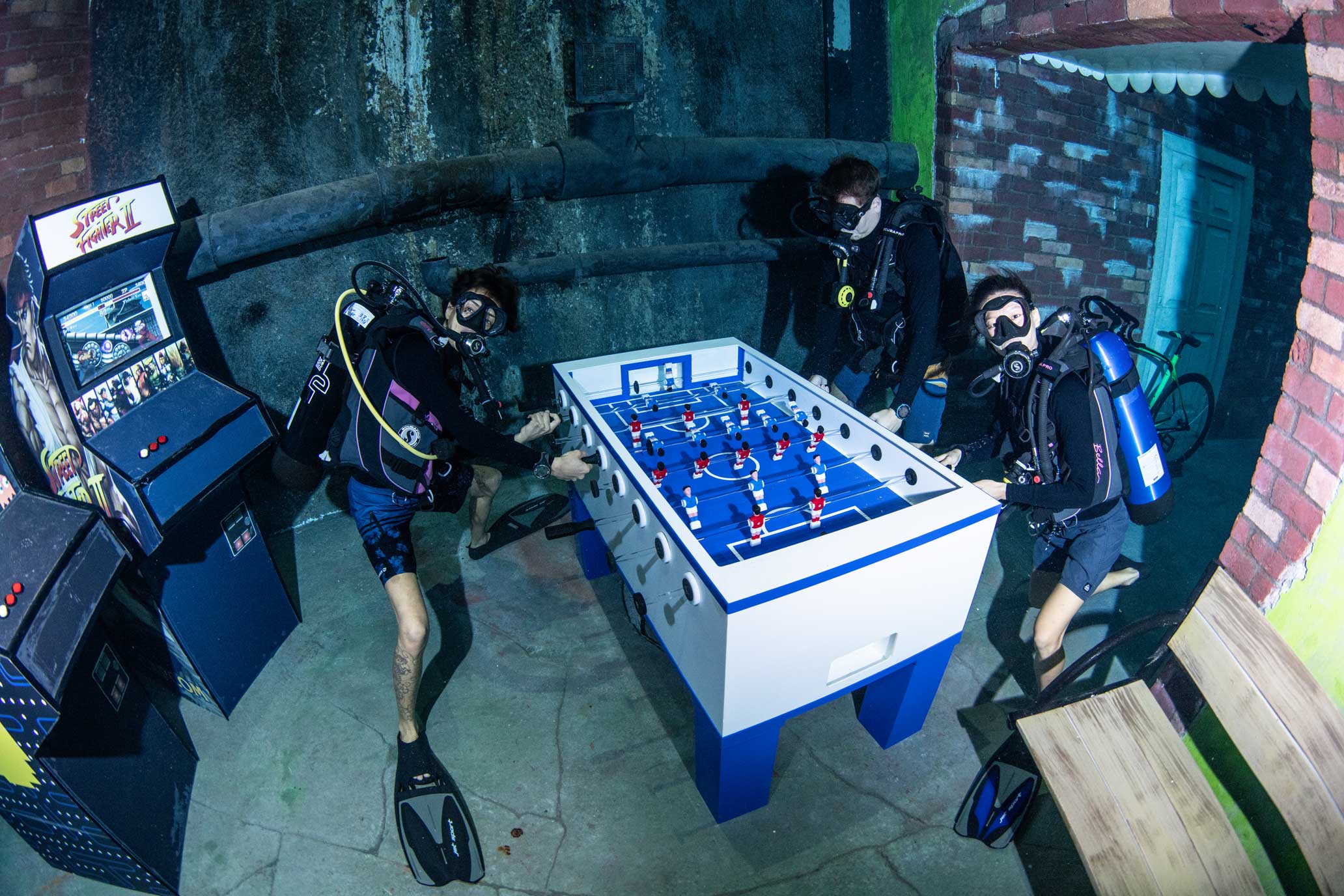 Above: The sunken city features and arcade and garage. Image courtesy of Deep Dive Dubai.
Dubai is a city that likes to shout about its achievements, but it's got there in-part by keeping things under-wraps. Developers ward off competitors by not revealing the exact height - or in this case depth - of their projects until they're finished.
Being much easier to hide away than say the world's tallest building, construction of the pool went largely unnoticed, so much so that even one of the world's most popular diving forums failed to mention that it was even on the horizon when covering the opening of Deepspot back in 2020.
Little was really known about it until Will Smith posted about his visit on Instagram, so details on how it was constructed are thin. However, when it comes to building a record-breaking pool there are some universal traits, they all share.
Working from the top down, the process is essentially like constructing "pools within pools".
As the first chamber is excavated and lined with concrete it provides the launch point for the next chamber - and those chambers become progressively smaller the deeper the pool goes, culminating in the narrow drive shaft.
Due to the amount of pressure the shaft will be under when the pool is filled, it's formed from a precast concrete tube that's reinforced with a further 1.5 metres of concrete around it. The whole is designed to move and settle in the ground once the weight of the water is added.
The pool is not just a tourist attraction, it's also now the Middle East's largest underwater film studio - complete with edit suites and video galleries - and a global research site for divers to develop their skills.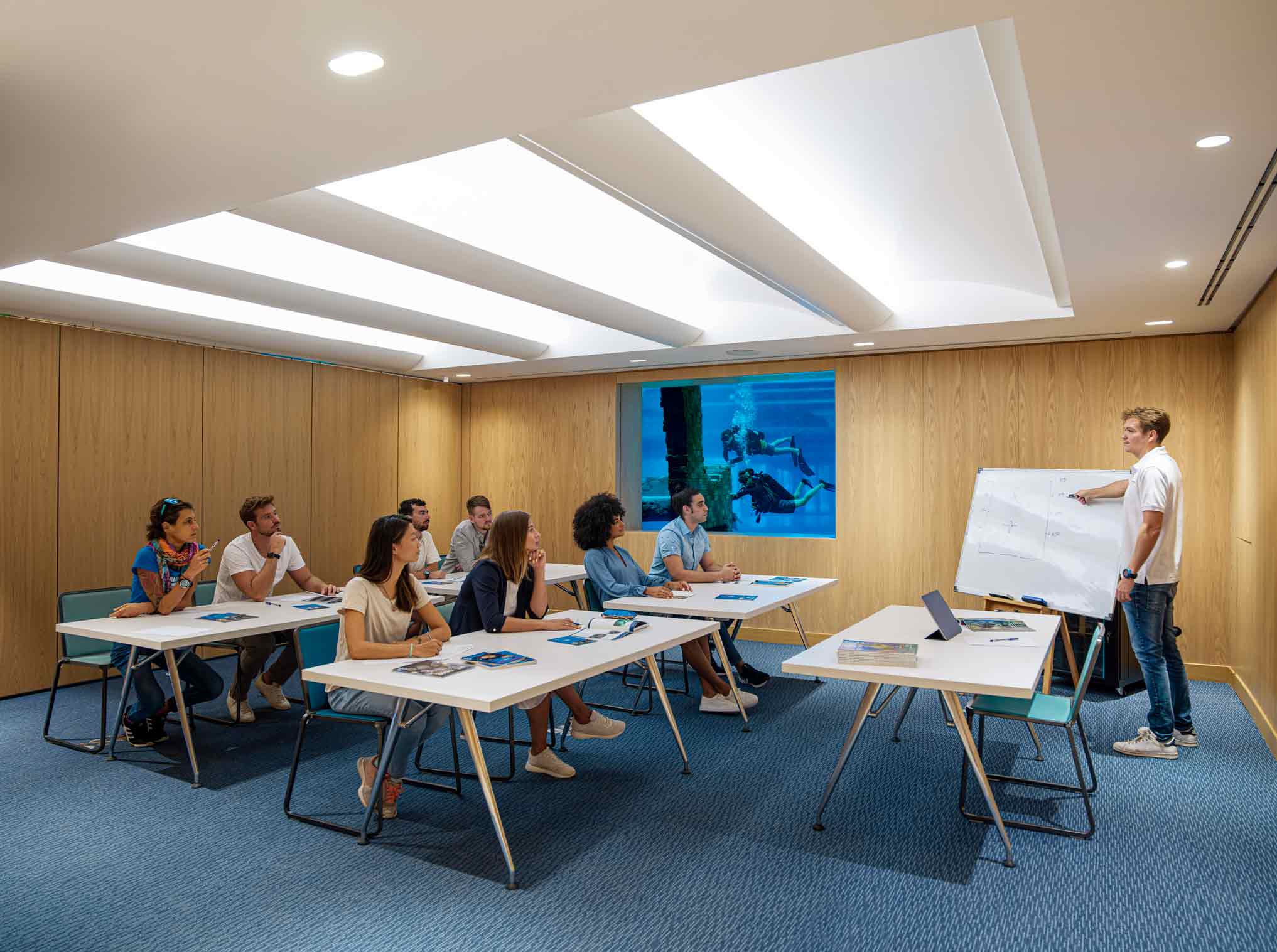 Above: Divers can visit the facility to develop their skills. Image courtesy of Deep Dive Dubai.
That's actually part of a wider trend across Dubai to further diversify the city's economy and appeal beyond tourism.
Of course, it'll be a while before we can see how effective that strategy is. In the meantime, Deep Dive Dubai will remain the latest in a long line of record-breaking construction projects - until the next one comes along.
Narrated by Fred Mills, additional footage and images courtesy of Deep Dive Dubai, Deepspot, Google Earth, Lucy Joyce, Propsearch.ae, Will Smith, Instagram and Y-40.
We welcome you sharing our content to inspire others, but please be nice and play by our rules.
Comments
---