Cities
Top 10 Projects Completing in 2023
Youtube Views

1,457,144

VIDEO VIEWS
Video hosted by Fred Mills.
WELCOME to 2023. The last 12 months saw the world of construction serve up underwater roundabouts, record-breaking bridges and a historic theatre that quite literally raised the roof.
But the year ahead looks set to be even more dramatic with the arrival of desert skyscrapers, incredible Formula 1 tracks and entire new city districts. The world's greatest industry is about to pull off even more amazing feats. Here are 10 of the most exciting construction projects completing this year.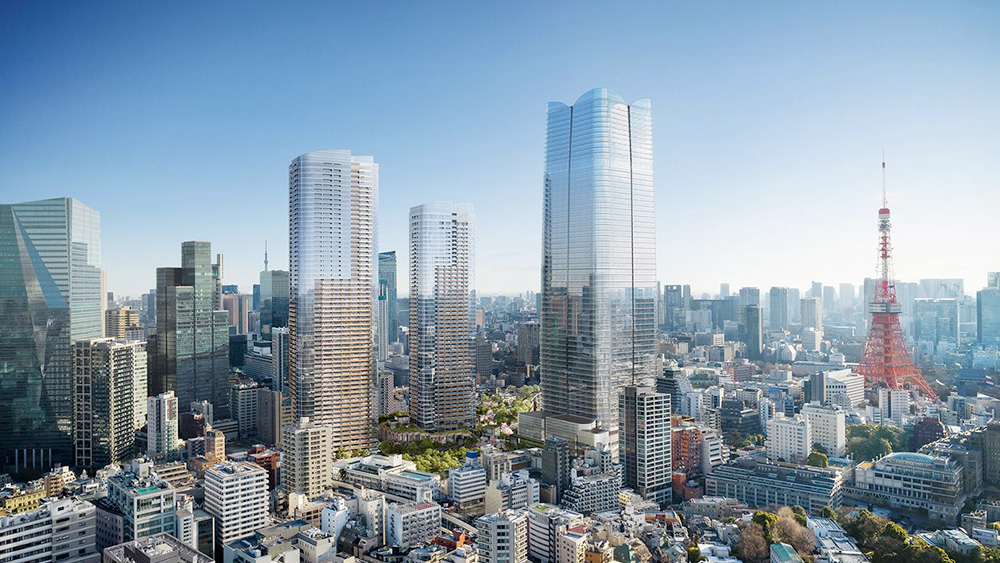 Image courtesy of Mori Building Company.
1. Toranomon-Azabudai District

Let's kick off in Tokyo, where something huge is emerging from the concrete jungle: the Toranomon-Azabudai District – a new superdevelopment in the bustling business area of Minato. The goal is to create a city within a city with three enormous, mixed-use towers and a public space landscaped by Thomas Heatherwick.
In 2022 the main tower – snappily named, The Main Tower – topped out at 325 metres and simultaneously became both Japan's tallest building and Tokyo's first supertall skyscraper. While it's common for skyscrapers to taper in towards their top, this structure keeps its huge floor plate most of the way up the building.
Tokyo is in a seismic zone and the building is so strong that it's designed to be a safe shelter to flee to and for its occupants to carry on working even if Tokyo is hit by a magnitude nine earthquake.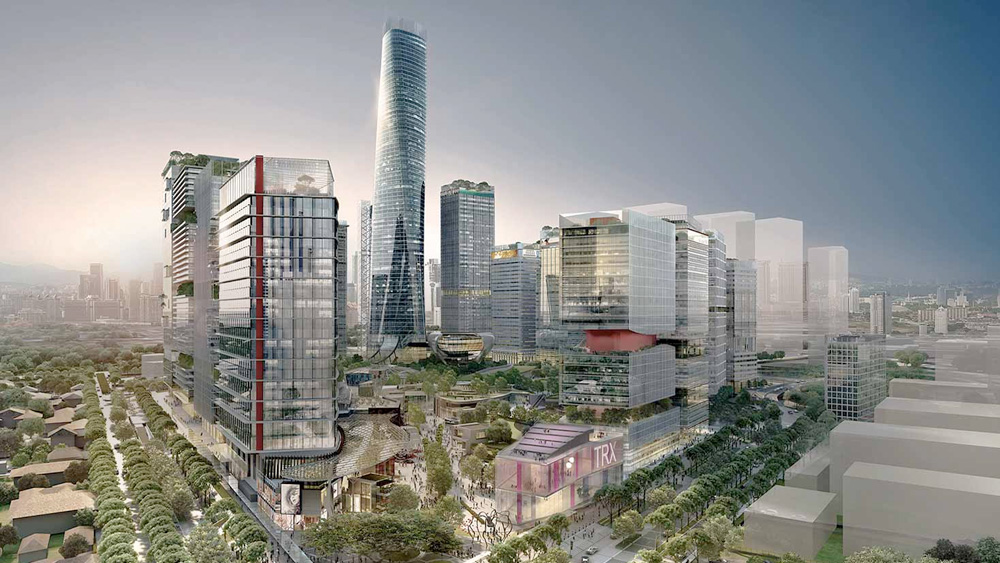 Image courtesy of Tun Razak Exchange.
2. Tun Razak Exchange

Staying in Asia, back in 2010 the Malaysian government came up with a plan to develop the nation into a high income country by 2020 (yes, now three years ago). A key part of the strategy was the Tun Razak Exchange, Malaysia's first dedicated international financial hub.
Inspired by the success of places like Canary Wharf in London, Pudong in Shanghai and Singapore's Marina Bay Sands, the Tun Razak Exchange is a hugely ambitious 70-acre district filled with some 2.5M square feet of office space, a 2M square foot mall and nearly 4,000 homes.
The project was hit hard by covid and Malaysia's strict movement control order added large delays to much of the construction. Nevertheless, in 2022 the Exchange 106, South East Asia's tallest building was completed and it's set to be joined by two huge residential blocks in 2023.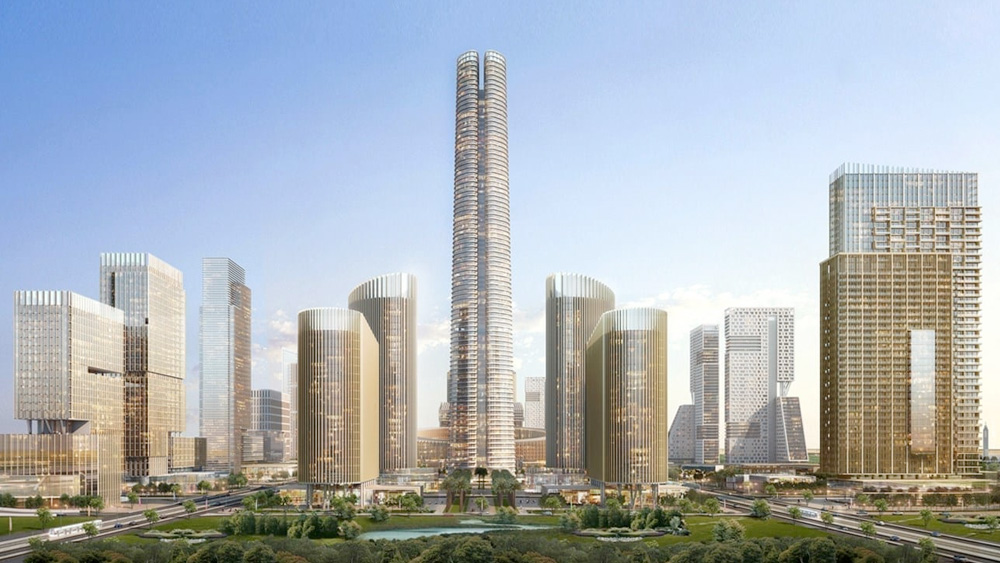 Image courtesy of Dar Al-Handasah Shair and Partners.
3. Iconic Tower

When it comes to megaprojects, few places have a better pedigree than Egypt and they have an iconic building in the desert. No, not the Great Pyramid of Giza, a new skyscraper actually called The Iconic Tower. Work began in 2019 and it topped out in 2021 at 393 metres making it Africa's tallest building and its first supertall skyscraper.
It's being built as the centrepiece of the business district of Egypt's New Administrative Capital. Long story short: Egypt's capital, Cairo, has suffered from chronic overcrowding for decades so in 2015 the government came up with the bold idea of building an entirely new city in the desert.

When the tower opens in 2023 it'll be one of 20 proposed skyscrapers in the district which are being built at an estimated cost of USD $3BN. But if they last as long as some of their neighbours the investment will probably be worth it.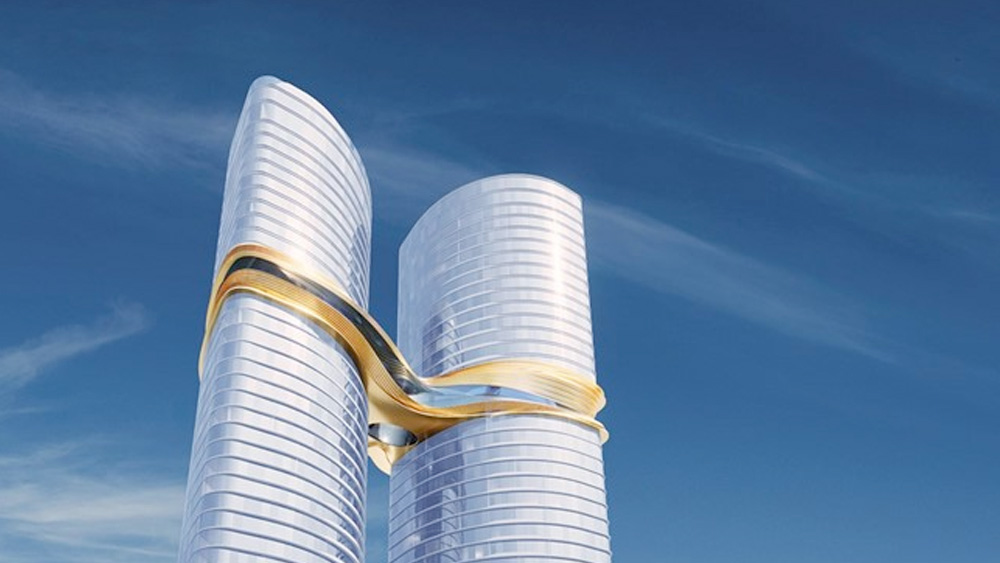 Image courtesy of S P Seita.

4. 308 Exhibition Street
But, you know what's better than a shiny new skyscraper? How about two shiny new skyscrapers. That's what's been built down under in Melbourne at 308 Exhibition Street – and joining the two towers together is one of the most elaborate skybridges we've ever seen.
Now, skybridges are nothing new, but they are becoming an increasingly elaborate way of making skyscrapers stand out from a very tall crowd. At 308 Exhibition Street an elaborate gold-trimmed skybridge will join a residential tower with a hotel tower at the 46th floor and create access between the two.
To get to this stage, the golden skybridge started off with wooden planks and a very strong stomach. A plywood deck was initially laid out using a cantilever from the shorter of the two buildings. Once in place, steel tendons were fitted between the two towers and a concrete slab was poured.
A roof was then fitted between, creating the effect of a ribbon wrapping around one floor of the apartment building and two floors of the hotel.
One side of the roof has been fitted with a movement joint to allow the bridge to flex. This provides stability to the two towers during seismic tremors and strong wind – just in case you were worried the golden ribbon was just for show.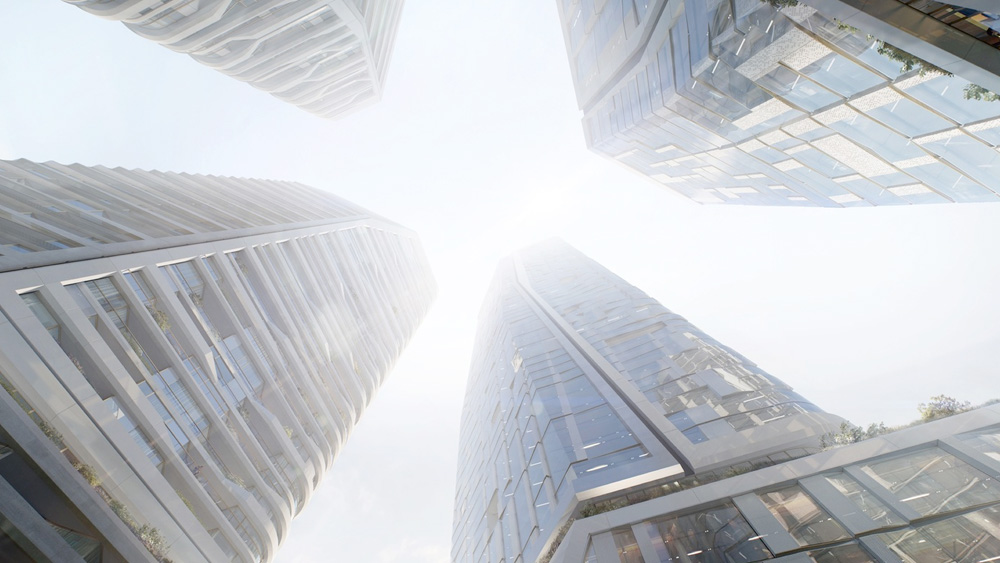 Image courtesy of UNStudio.

5. Four Frankfurt
Speaking of skyscrapers, if you were to think of somewhere that can't seem to get enough of them, you'd probably go for something like Dubai, Shanghai or New York. But, if you've been paying attention to our videos, you probably won't think of Europe, because, well, Europe just doesn't really do skyscrapers.
Except there's one place where that's not quite true. In Frankfurt, Europe's new skyscraper capital, a new development is seeing four new towers built, aptly named Four Frankfurt.
Frankfurt's historic centre and the bustling financial district have always been seen as two separate places, but Four Frankfurt aims to change that. It sits between the two and is creating a mixed-use neighbourhood with offices, a hotel and residential apartments split between its towers.
All those different uses come with different challenges for the construction team, most notably in the concrete cores. Each of the four skyscrapers turns away from the others at strategic points to maximise sunlight and to create more views for each tower. Adding to the complexity, each structure needs a different configuration of toilets, drainage pipes and columns.
That meant that each concrete core had to be constructed differently, but the team seems to have pulled it off and remains on schedule to complete in 2023.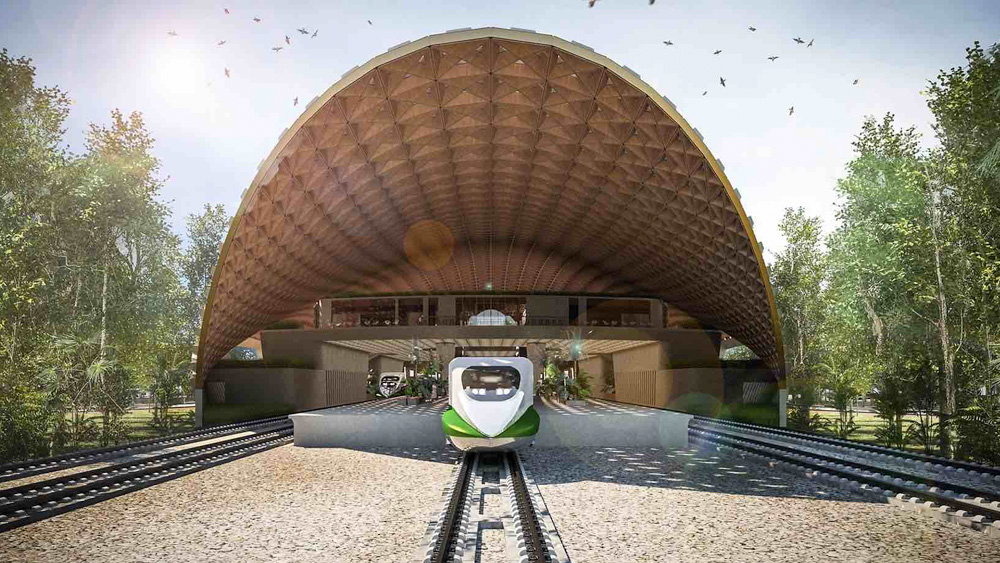 Image courtesy of Aida Studio.

6. Tren Maya
Moving away from skyscrapers to something more earthbound, there are some pretty major infrastructure projects completing in 2023. Big infrastructure comes with big benefits, but often some sizeable controversy too. For a perfect example of this, head on down to Mexico and take a look at Tren Maya.
Doing the benefits bit first, Mexico's Yucatan peninsula has been a thriving tourism hotspot since the 1970s when cities like Cancun and Cozamel started to make the most of their idyllic coastal, Caribbean locations.
But it wasn't just dreamy white beaches and impossibly blue seas that were used to lure the leisurely crowds. The peninsula is also home to some of Mexico's greatest Mayan archaeological sites such as the world famous Chichen Itza.
All of that is pretty hard to get to though, with long slow bus journeys on roads that have seen better days. The solution is Tren Maya, a USD $10BN 1,500-kilometre railway being constructed to connect major tourist sites with coastal cities and airports.
All in all, it's a great way to further develop an invaluable sector of Mexico's economy. That may be true but the land it's going through is heavily contested and largely covered with jungle.
That's prompted loads of legal fights and delays, but still the project is on track to open in December 2023. The economic benefits of the train will most likely put to rest any concerns about its cost, but the row over its construction is certain to keep going for some time to come.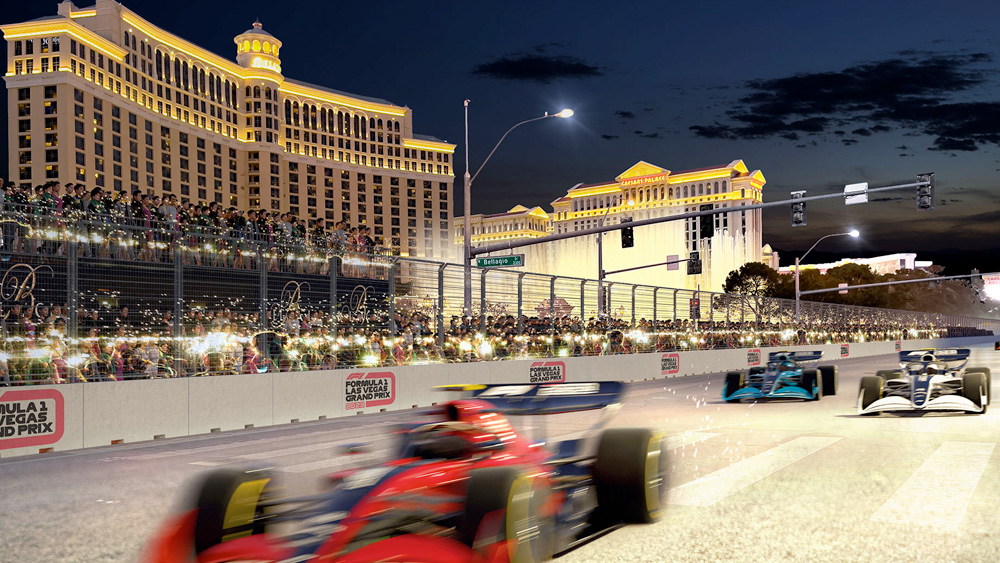 Image courtesy of Las Vegas Grand Prix Inc.

7. Las Vegas Grand Prix

From one high-speed project to another, fasten your seatbelts, because this year will see the inaugural Las Vegas Formula 1 Grand Prix.
That's right, in November 2023 we'll see some of the fastest cars in the world race down Las Vegas' iconic strip. The 6.12-kilometre route will take drivers around 17 corners, a chicane and three high speed straits allowing them to reach speeds of up to 212 miles per hour.
Now, The B1M is no stranger to Formula 1, or the difficulty of staging a race in a highly built up area and Las Vegas will be no exception. Safety is key and one of the most important jobs for construction crews is to keep the high speed action well and truly on the race track.
To do this, 4,000 concrete barriers are being constructed, each containing over three and a half tonnes of reinforced concrete. Traffic in Las Vegas is no worse than many other major cities, but for a few days later this year you can guarantee this will be one place with no traffic jams.
Image courtesy of MSG Entertainment.

8. MSG Sphere

The Grand Prix might be a new addition, but when it comes to eye-catching construction, Vegas has been in a world of its own for the best part of a century. It's full of world firsts and replica buildings. But what do you do when you've already rebuilt the Great Pyramid of Giza, the Eiffel Tower, ancient Rome, downtown Manhattan and Venice?
Well, you keep the ball rolling and build the MSG Sphere, a next generation immersive cinema that's set to open in 2023. At over 100 metres tall and nearly 160 metres wide it's the largest spherical structure on earth.
This absolute beast is made up of four concrete cores tied together with reinforced steel. On top of that, a series of tensioned ring beams were fitted, helping make up the 11,000-tonne roof.
But, surprise surprise, building a 19,000 x 13,500 pixel curved cinema screen is not easy. Due to supply chain issues and inflation it was recently reported that the cost of the sphere had ballooned to nearly $2.2BN. We'll have to wait to see if the gamble pays off.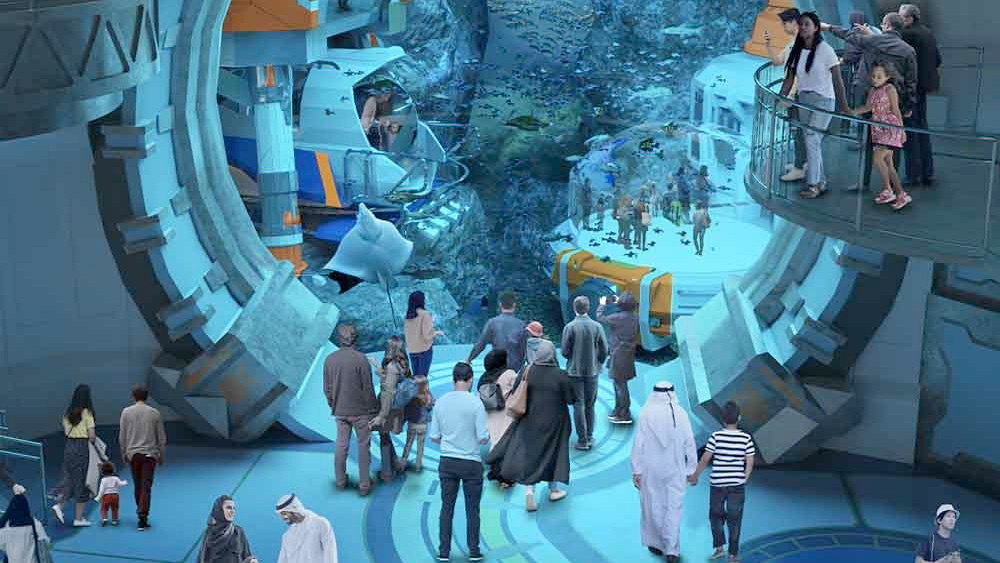 Image courtesy of Miral / SeaWorld Parks Entertainment.

9. SeaWorld Abu Dhabi
While Las Vegas might have been the original destination of choice for outlandish construction, there's somewhere that's been working hard to catch up: the UAE. The country already boasts the world's tallest building, world's deepest pool and a series of man made islands shaped like the world – but very soon it will also have the world's biggest aquarium.
When it opens later in 2023, SeaWorld Abu Dhabi will host over 150 species of marine life in 58 million litres of artificial ocean which you'll be able to see with views like the Endless Vista, a 20-metre high window into the aquarium stretching over several levels.
Now, if you've ever had a goldfish you'll know there's more to keeping a pelagic pet than just filling a tank with water and the fussy fish at the SeaWorld aquarium are no different. Just the right level of natural light will be allowed into the tanks to support marine life without preventing algae growth.
Then, there's the actual aquarium itself. How do you build a tank that big without it cracking under the enormous weight of the water? Well the secret is, you don't use glass. Acrylic is the material of choice for most aquariums as it's 17 times stronger than glass and more pliable allowing it to be bent into different shapes.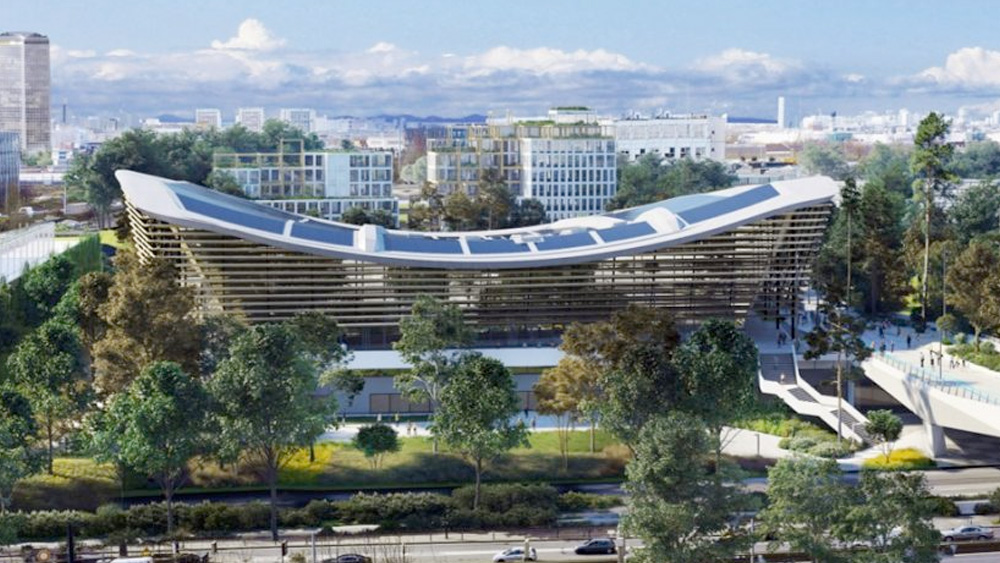 Image courtesy of Proloog, design by Venhoevencs and Ateliers 2/3/4.

10. Aquatics Centre

Finally we can't finish our roundup without mentioning the Olympics. It's one of the most prestigious sporting events a country can host … and also one of the most expensive.
Historically, host cities have been picked largely thanks to ambitious plans for monumental construction projects and citywide development schemes. But in recent years such moves have drawn criticism – especially when stadiums go on to sit empty or become white elephants.

But all that is about to change with the Paris 2024 Olympics where sustainability is high on the agenda. The Aquatics Centre is set complete in 2023 and, amazingly, it's the only permanent building constructed for these games.
Energy use is being carefully monitored and the roof is being constructed at the minimum permitted height while still enabling sight lines from the stands. The idea there is to create a smaller space which requires less heating. 90 percent of the building's energy needs will be met from renewable or recovered sources, and around a quarter of that from the roof alone.
When it comes to sustainability this is one building that will definitely make a splash.
Stay on top of all of these projects and more in 2023. Subscribe free to The B1M.
Video narrated by Fred Mills. Additional footage and images courtesy of Venhoevencs and Ateliers 2/3/4/, Proloog, Kringvarp Føroya, P/F Eystur, Og Sanddoyartunlar, Raducu P Drum, Earthcam, L+L Holding, CSCEC Egypt, Las Vegas Grand Prix Inc, Tun Razak Exchange, Mori Building Company, Tren Maya, Toho Co. Ltd, S P Seita, Matt Brown, Gross + Partner, Peri Formwork Systems, UNStuidio, Aida Studio, MSG Entertainment, Deep Dive Dubai, Miral and SeaWorld Parks + Entertainment.

We welcome you sharing our content to inspire others, but please be nice and play by our rules.
Comments
---