Infrastructure
The $10BN Railway in the Jungle
Youtube Views

1,083,008

VIDEO VIEWS
Video hosted by Fred Mills.
MEXICO. If you're looking for sandy beaches, ancient ruins, and a taco or two, then this is your place.
Every year, tourists flock to popular sites along this stretch of land called the Yucatan Peninsula. But getting here isn't easy and bus rides to some of these hot spots can take several hours at best. Until now.
Mexico is building a massive new railway across the peninsula called Tren Maya. Over 1,500 kilometres of track will run through the jungle connecting major ruin sites, beaches, and hotels.
But ever since construction began, the project has faced a serious backlash and works have even been halted on some occasions. Environmentalists and indigenous communities say the train poses a threat to the region and they want the current plans derailed.

Meanwhile, officials passionately believe that the positive economic gains will far outweigh any negatives and are running the project full speed ahead.
Welcome to the $10BN railway in the jungle.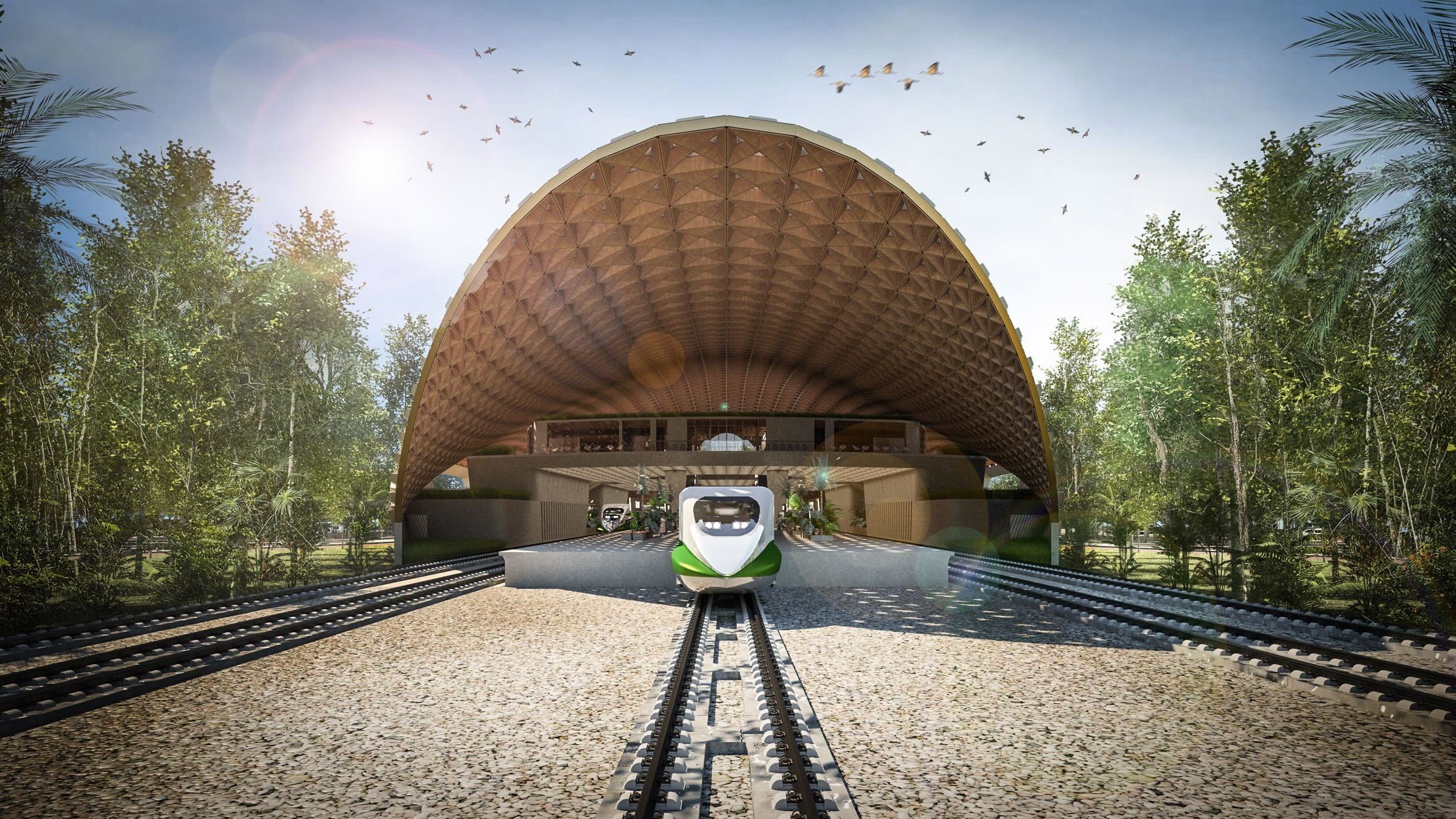 Above: The proposed station at Tulum. Image courtesy of AIDIA STUDIO.
Mexico's Yucatan Peninsula is the place to be. Nestled in the country's southeastern corner between the Caribbean Sea and the Gulf of Mexico there's white-sand, snorkelling and resorts. But it wasn't always like this.
Fifty years ago, many big cities in the region were still relatively undeveloped and much of the economy relied on agriculture. Then in the 1970s, Mexico began building hotels and airports in cities like Cozumel and Cancun. Now, millions flock here every year.
But long before the tourists arrived this area was home to one of the largest Mayan communities - a historical civilization of indigenous people dating back thousands of years. Many of the structures they built, like pyramids and temples, still exist today, and they've become popular spots for sightseeing.
Chichen Itza is one of those Mayan cities full of ancient ruins.
Tourists normally navigate these destinations through Mexico's bus network starting in Cancun. But it can all be a bit slow. The ride to Chichen Itza is a 6 hour round trip at best - and that's a lot of time to spend on a bus.
To sort this all out, in 2018 the country announced one of its biggest infrastructure projects yet - a 1,500 kilometre rail network called the Mayan Train or Tren Maya in Spanish.
It'll start from Cancun Airport and loop around the Yucatan Peninsula, stopping at places like Chichen Itza, Tulum, and the Riviera Maya - a cracking stretch of Caribbean coastline.
Most of the route will go through areas that have already been cleared for use - including over the tracks of a previous rail network that was never fully completed.
This will allow tourists to travel to all the most popular destinations in less time and arguably more comfortably than the buses.
With 21 stations, 17 stops, and 42 trains on its rails the network could transport over 40,000 passengers every day as well as cargo.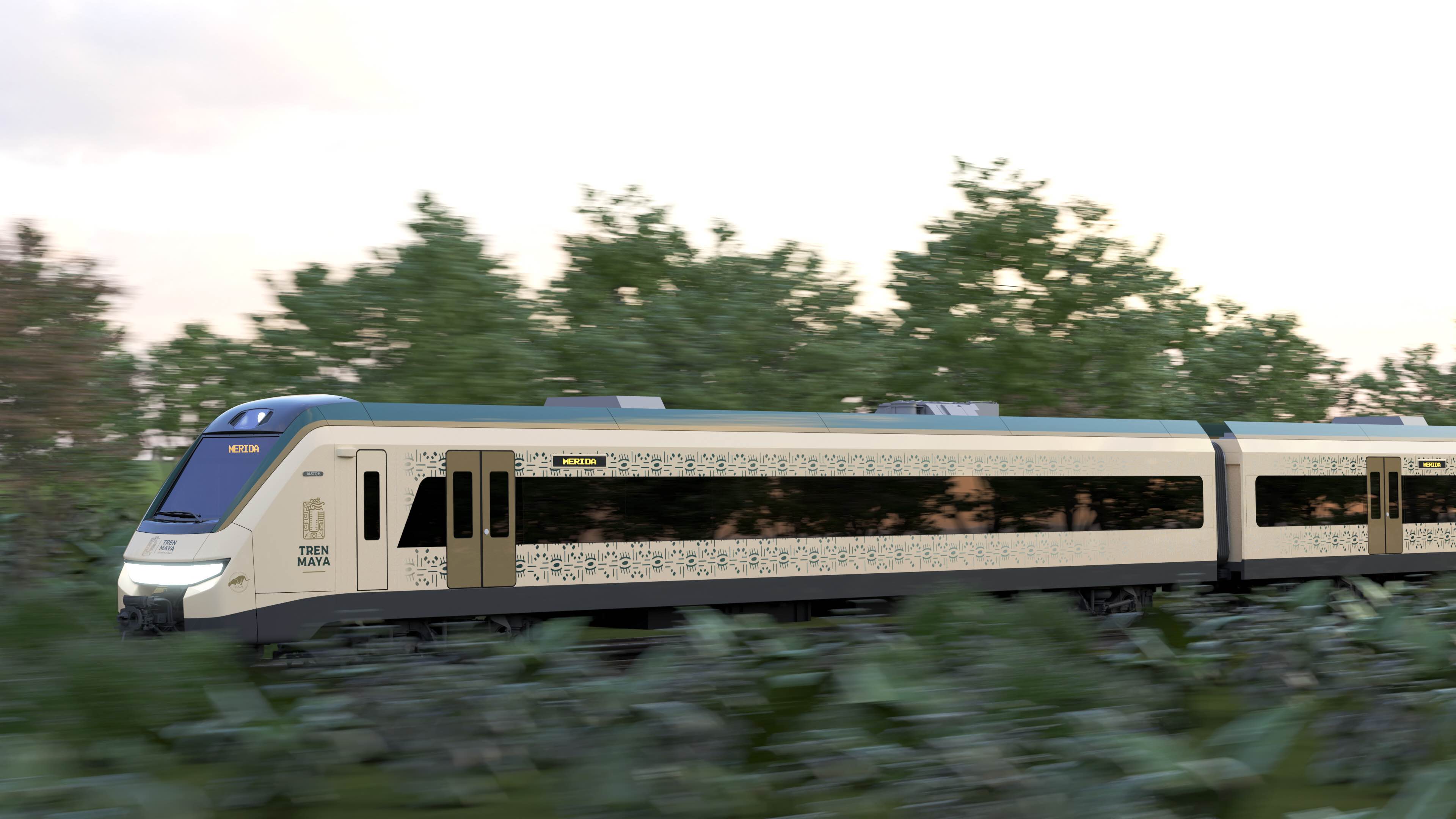 Above: A proposed train car for Tren Maya. Image courtesy of Tren Maya.
The near-$10BN project is headed by the National Fund for the Promotion of Tourism, or Fonatur, a Mexican government agency and its funded by tourist taxes.
When it opens passengers will be able to ride on one of three types of trains: Standard, restaurant, and a long term stay train. The exterior design is inspired by Mayan culture and can reach speeds up to 160 km/hr. That's quite a bit faster than a bus.
Construction started in 2020 and will be completed in seven sections across two major phases - with the first aiming to open in 2023.
The northern section will connect Cancun and Playa del Carmen while the southern run will link the southern portion of Playa del Carmen to Tulum - and this phase will be fully electric.
Construction teams are working on sites that stretch over huge distances, contending with remote locations, a jungle environment and extreme heat and humidity.
Now, despite being led by Mexico's tourism agency, the train is out to benefit more than just the tourists. It promises to generate thousands of local jobs and contribute to the economic development of the Yucatan Peninsula.
But not everyone is aboard for the ride.
Some fear Tren Maya won't economically benefit the smaller communities that it aims to connect – and will simply serve tourists and the wealthy or that only more established resorts will see gains.
While construction is making use of the previous train network, these tracks are being widened because of new train technology. And that's where the biggest controversy lies. Wider tracks means more people and more landscape being cleared to make way.
Now, many locals are pushing back. The list of legal issues people have with the project is long – over 25 injunctions have been filed so far.
Despite the train having 'Maya' in its name and design, many indigenous communities are strongly opposed to it. They say it threatens existing and potentially undiscovered historic sites.
Officials are supposed to notify communities about the project, but indigenous leaders claim they weren't fully informed of the extent of the train's impact - and that only the benefits were mentioned. They also say many of these meetings weren't presented in the locals' first language.
The Mexican government maintains it made agreements with the local communities by holding assemblies and continues to offer a permanent open dialogue.
As for the unknown sites, well a team of archaeologists from Fonatur has been working to document anything excavated along the route - and so far, they have recorded more than 19,000 artefacts and 160 burials.
But artefacts aren't the only thing being uprooted.
That Mexican government and half the last year in the Mexican government announced that they needed to evict about 3000 families in the home and Yucatan Peninsula and in competency, the there were like 300 families about to get evicted.
While some have been offered housing, many aren't pleased with that alternative.
"The housing in mayan communities are different from the Western house. They have a different design, different dynamics" says human rights lawyer, Carla Luisa Escoffié Duarte. "And sometimes there are some really strong doubts about the materials that they are using, because you can just use any material in any place because you have bad climate, weather, geography and other factors."
Tren Maya has also become a major environmental hazard.
With parts of the track running directly through rainforests, savannas, and mangroves, many activists are concerned about its impact on the peninsula's endangered species.
"If you open up a new avenue for fragmentation and for colonisation by people, that is going to destroy the jaguar habitat in that area," according to Mexican ecologist Rodrigo Medellin. "There's no place for that train to go along that route in the south of the Yucatan Peninsula."
So far, construction has already led to 120 square kilometres of jungle being cleared and nearly 9 million trees being chopped down.
"This is the largest rainforest north of the Panama isthmus. The next one is the Amazon by an order of magnitude." says Medellin. "We cannot afford to lose it to this kind of thing."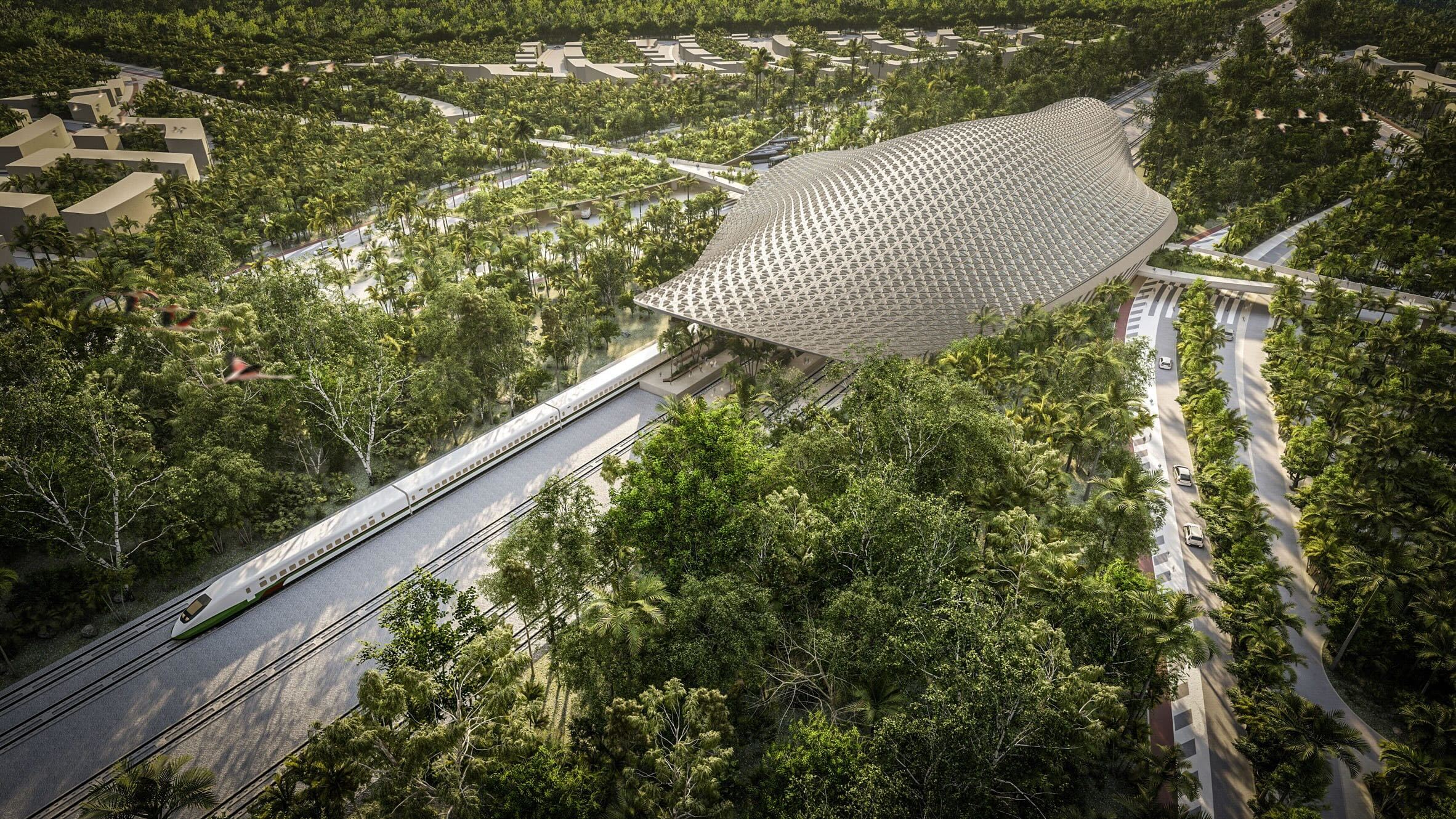 Above: The proposed station at Tulum. Image courtesy of AIDIA STUDIO.
The government argues that trains are more environmentally friendly than highways and that the railway's impact won't be too extensive because most of the route runs through existing tracks.
Officials also say mitigation strategies like overpasses and underpasses will allow wildlife to cross safely.
But that's not enough for some opponents.

Until recently, the project had shown no signs of touching the brakes – but then in 2022, Tren Maya faced setbacks when the government announced part of it would be suddenly rerouted.

The new route would go over an historic and sacred set of underwater caverns - and that could put it in danger of collapsing.
Medellin says, "That aquifer is absolutely the key for the development of life in the peninsula, human life or natural life. We lose that. That's the end of the peninsula."
People voiced their concerns, and a court ordered a temporary suspension. Not too long after that, construction of another section of the track was temporarily suspended.
While many communities have voiced their opposition to Tren Maya, several others welcome the train's promised economic impact.
Government figures show about 80% of communities are in support of the project – with many pointing out that parts of the jungle have been cleared out before for similar developments.
The United Nations Human Settlements believes the project will cut poverty by 15% and double economic growth by 2030. The train would allow local farms to transport goods more easily.
It's clear there are mixed opinions on both sides of the tracks. But despite the disagreements, Medellin hopes to meet somewhere in the middle.
"We really need to hit the brakes and think about a better territorial arrangement - of what we want to do with the Yucatan Peninsula, together with the Maya, together with everyone. Every stakeholder needs to be part of that discussion. "
Video presented and narrated by Fred Mills. Additional footage and images courtesy of AIDIA STUDIO and Tren Maya.

We welcome you sharing our content to inspire others, but please be nice and play by our rules.

Comments
---