Cities
The $5BN Mega Resort in the Desert
Youtube Views

464,407

VIDEO VIEWS
Video hosted by Fred Mills. This video and article contain paid promotion for Autodesk.
AN AREA OF DESERT the size of Belgium is about to be transformed into a mega resort.
World-renowned architects are carving villas into cliff faces, balancing hotels on glistening beach fronts, building entire towns and constructing a massive new airport so people can get there.
The vast Red Sea Project is set to create 70,000 new jobs and deliver a USD $5.3BN boost to the Saudi economy. But it will be built on land that is ecologically rich and in need of protection. The area has one of the world's largest barrier reef systems, and is home to many endangered species. Building here will be a balancing act of conservation and ambition, all while ensuring the whole project is energy efficient in one of the hottest and remotest places on Earth.

By nearly every measure, the Red Sea Project is huge. In Phase One alone 16 hotels will be built – most of them on Shura Island.
The island is surrounded by more than 170 different types of coral and these natural wonders were the inspiration for the Foster + Partners-designed resort, aptly named "Coral Bloom". The studio incorporated the colours and form of the reef into the buildings of the hotel, which look almost as though they've drifted up on shore.
A new three kilometre crossing will connect it and the other Shura Island hotels to the mainland and two further resorts – "Southern Dunes" and "Desert Rock".
Southern Dunes will feature all the luxury that you'd expect from a high end hotel, but for those of us who quite like the idea of living under a rock, its neighbour will offer something pretty different.
With villas built into the mountainside, Desert Rock boasts the kind of architecture that could only emerge from the rugged Arabian terrain.
Above: Desert Rock will be carved into the mountainside. Image courtesy of Oppenheim Architecture.

In a design conceived by Oppenheim Architecture, guests will enter through a hidden valley nestled between the mountains - the idea is to connect them with nature and the local culture of the region.
All of these hotels look great, but you've got to be able to get to them – and the answer to that is the construction of an entirely new international airport.
Inspired by desert dunes, it'll consist of a series of outward-facing shells. The idea here is to be the anti-airport airport, a stress and hassle-free environment. Passengers will be taken through a tranquil, streamlined arrival process, complete with a mini-oasis. The new airport will be strategically located within a three-hour flight of more than 250M people and within eight hours of 80 percent of the world's population.
The remote location – more than 500 kilometres away from Jeddah – means that a dedicated coastal village is being built to house the 14,000 employees who'll eventually work here. The village acts as a self-sustaining little city, with its own catering and medical facilities.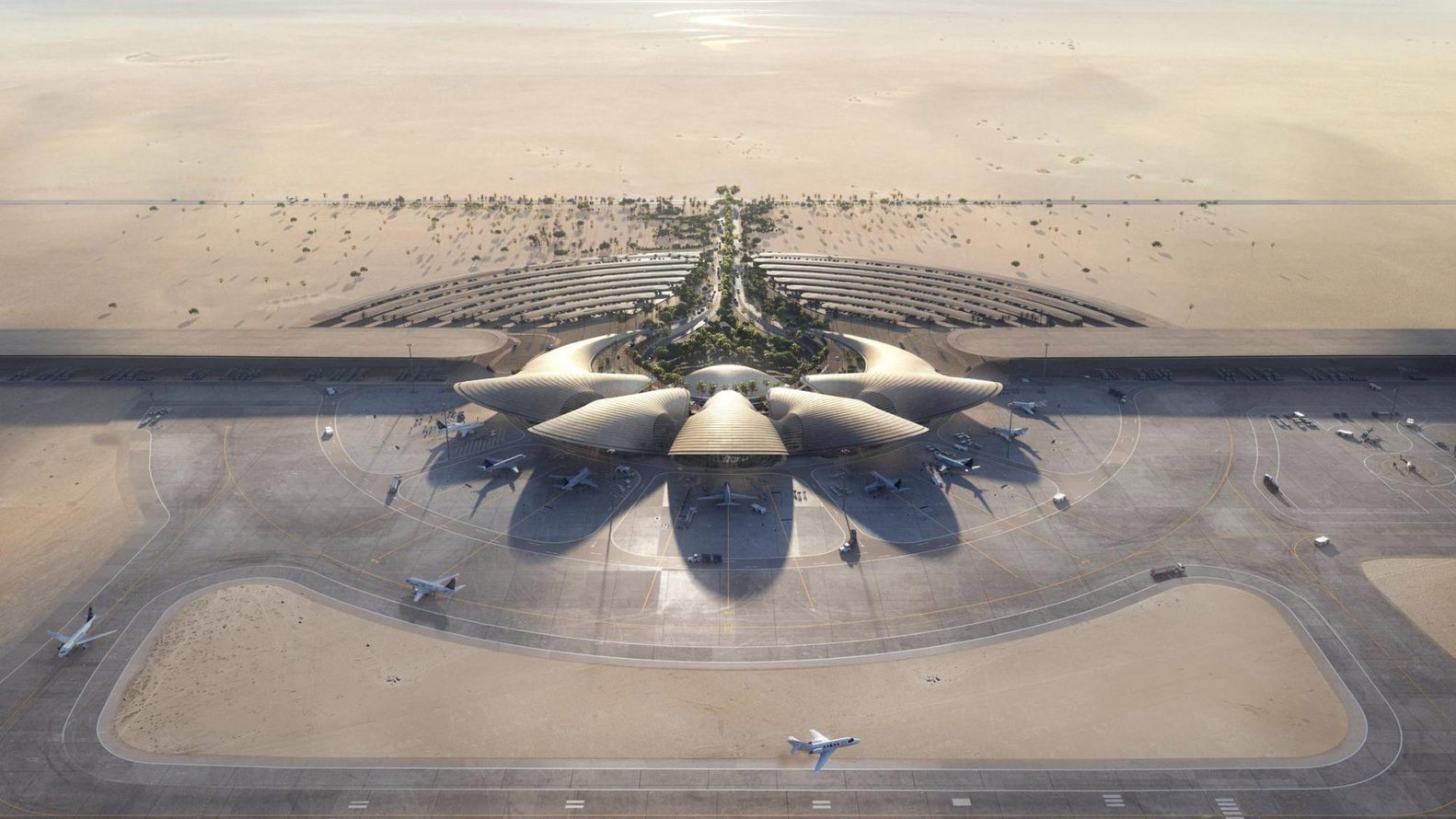 Above: The airport will be made of five outward facing shells, to optimise shading and efficiency. Image courtesy of Foster + Partners.

The Red Sea Development Company wants all of this to be created and maintained sustainably. Their goal is for the project to be run entirely on renewable energy and to minimise disruption on the surrounding environment. But is it really possible for a scheme this big, one designed to put the region on the global tourism map, to be truly sustainable? The answer is yes, but the challenges are immense.
Biological diversity is being encouraged through the strategic planting of mangroves, seagrass, corals and land vegetation. And many of the project's buildings are being designed with the environment in mind and will be optimised to reduce energy consumption.
The hotels on Shura Island will be made from lightweight materials and manufactured off-site, allowing for a more energy-efficient construction process. Their location, which at first glance seems random, is actually extremely deliberate. They are placed to not only avoid any disruption of the island's mangrove swamps, but to establish a defensive wall against erosion.
Back at the International Airport shaded areas and natural ventilation will help minimise its reliance on air conditioning. Even it's overall design is aimed at avoiding waste: it's made up of five mini-terminals which can be strategically opened and closed depending on demand.
Above: The airport will contain its own oasis. Image courtesy of Foster + Partners.
Desert Rock will draw on the centuries-old architectural practices of the region's indigenous people. By carving the buildings into the mountainside they will take advantage of the thermal properties of stone and be naturally cooler requiring less energy for air conditioning.
Many of the buildings will also help to regenerate native flora through special rainwater catchment systems placed throughout the resort, while any excavated material – including stone – will be largely reused in building construction.
While 22 of the region's islands are being developed, 75 percent of the archipelago will be left untouched, with nine islands designated as special conservation zones.
The overall project will have no connection to the national grid. Instead, the world's largest battery storage facility is being built so that the development can run on solar power.
There are special ecological considerations to be made at almost every turn too: there will be no waste-to-landfill, and no single-use plastic. Three seawater reverse-osmosis plants will be built, and where possible, the company is recycling waste water, reusing it at the landscape nursery or to create new wetland habitats.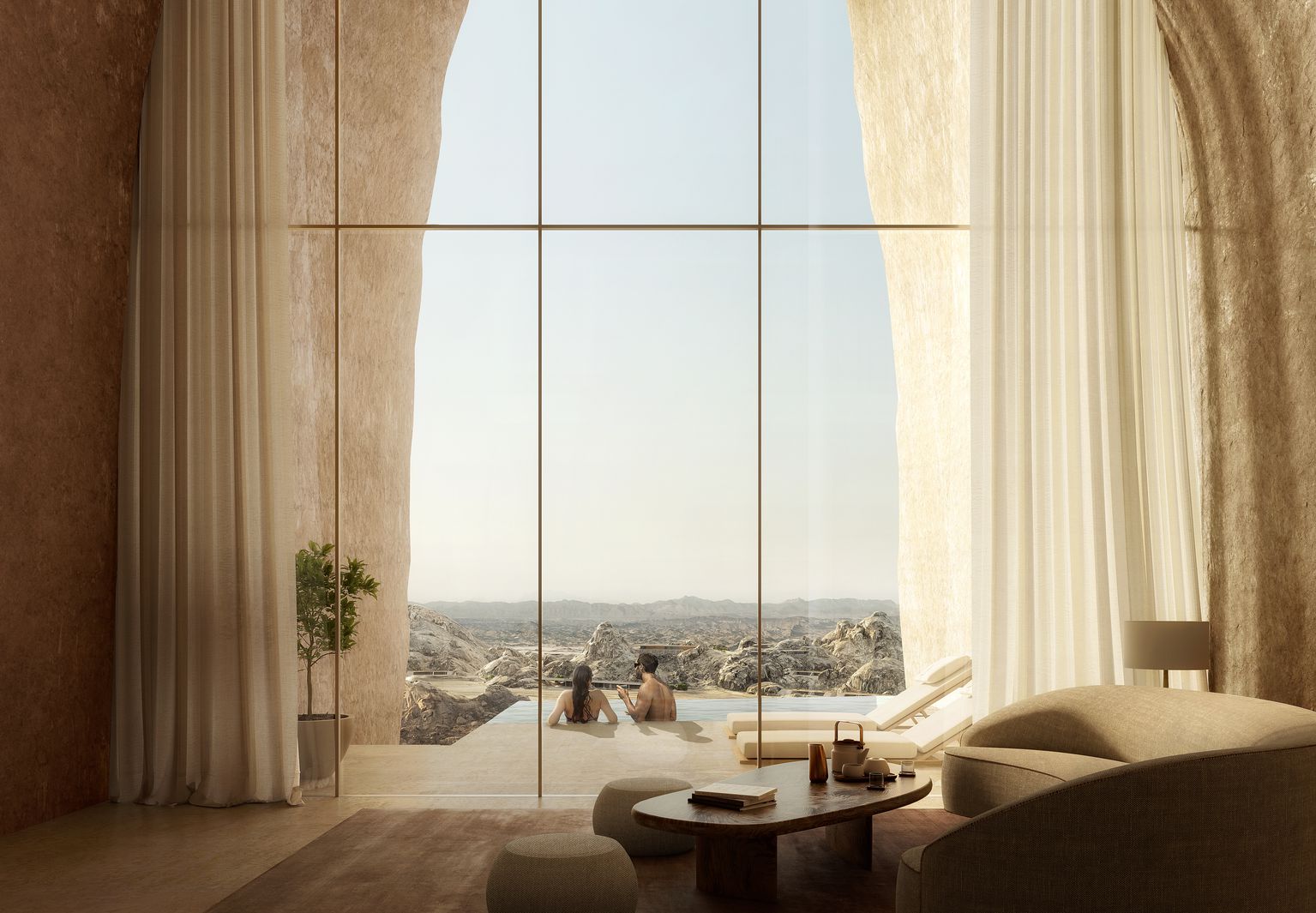 Above: The Desert Rock villas draw on indigenous architectural practises. Image courtesy of Oppenheim Architecture.

Designing and constructing a Belgium-sized development in the desert – juggling an airport, cave-hotel and whole new infrastructure system — is not easy. The engineering and design teams have to collate acres of information: from the intensity of the sun on any given day, to the erosion of island coastlines, to where best to place indigenous plants.
None of that would be possible without digital collaboration tools like Autodesk's BIM 360 platform.
For the team, being able to access the data they need in one, shared area, has meant avoiding errors, led to smoother collaboration and enabled them to get stuff done faster. For the most part there's no searching for hours to find something or confusion over the latest revision - they're all able to refer to a single source of truth.
The automation processes inside Autodesk BIM 360 have also saved the team a tremendous amount of time, removing some 1,200 hours of effort from just one project. It also allowed them to set up 13 entire projects in the cloud in just 90 days, and an additional 26 projects immediately after that.

The Red Sea Project is undeniably ambitious and has set itself some extremely high ecological and sustainability targets. If it can pull all this off then it would quite dramatically transform the region turning what was once a desert into an international destination.

Video narrated by Fred Mills. Additional footage and imagery courtesy of The Red Sea Development Group, Foster + Partners and Oppenheim Architecture.
We welcome you sharing our content to inspire others but please be nice and play by our rules.
Comments
---