Infrastructure
The True Scale of the World's Largest Airports
Youtube Views

4,340,039

VIDEO VIEWS
Video powered by Bluebeam and hosted by Fred Mills. This video and article contain paid promotion for Bluebeam.
THEY'RE some of the biggest and busiest places in the world. In 2019 - the last normal year - they collectively handled over 60 million tonnes of freight and more than four billion people.
Initially able to operate with just a few hangers and an airstrip, the advent of jet engines saw things really take off and as passenger numbers grew, so did the airports.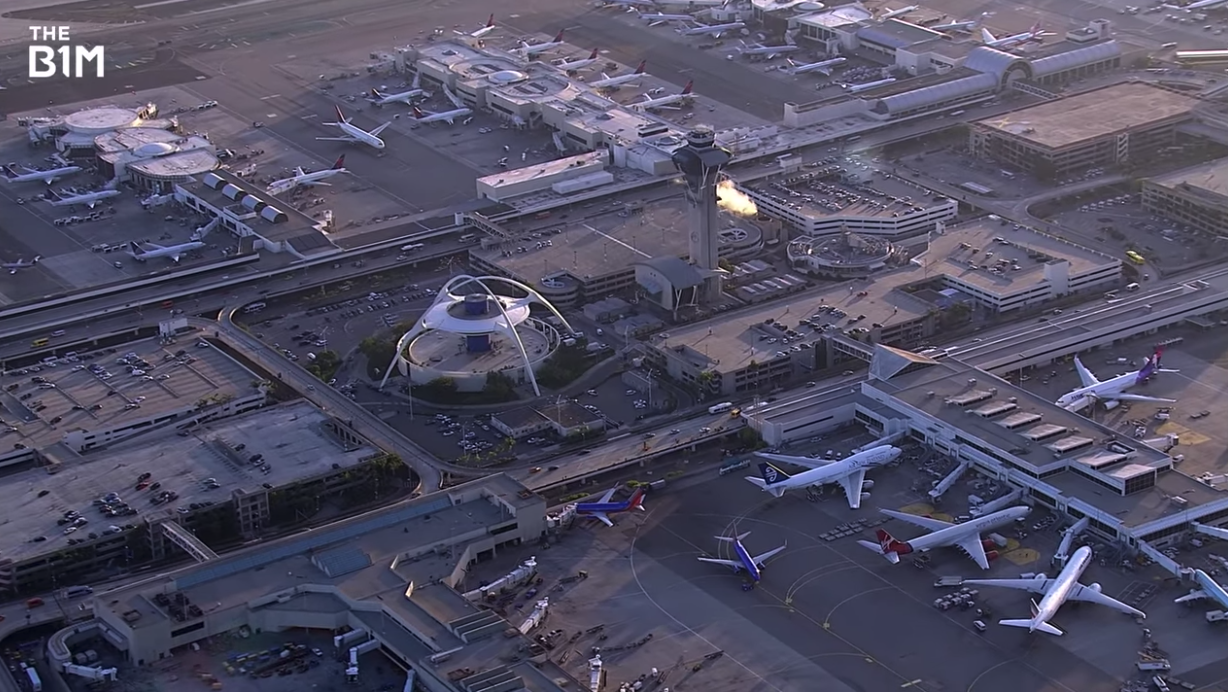 Above: LAX is one of the world's busiest aviation hubs.
Today, they're like mini-cities - with massive terminals, control towers, multiple runways, hotels, shops, car parks, maintenance hangars, logistics facilities - and a staff of thousands to keep them moving.
Such insane scale makes them difficult to really fathom, so we've done a quick "take-off" - that's a measurement joke that only people in construction will get - and compared them to easily relatable references to reveal their actual size.

When it comes to airports most of us instinctively think of the terminals themselves.
Once simple waiting areas they're now destinations in their own right and have become some of the largest buildings in the world; places that many of us have spent hours wandering between connecting long haul flights.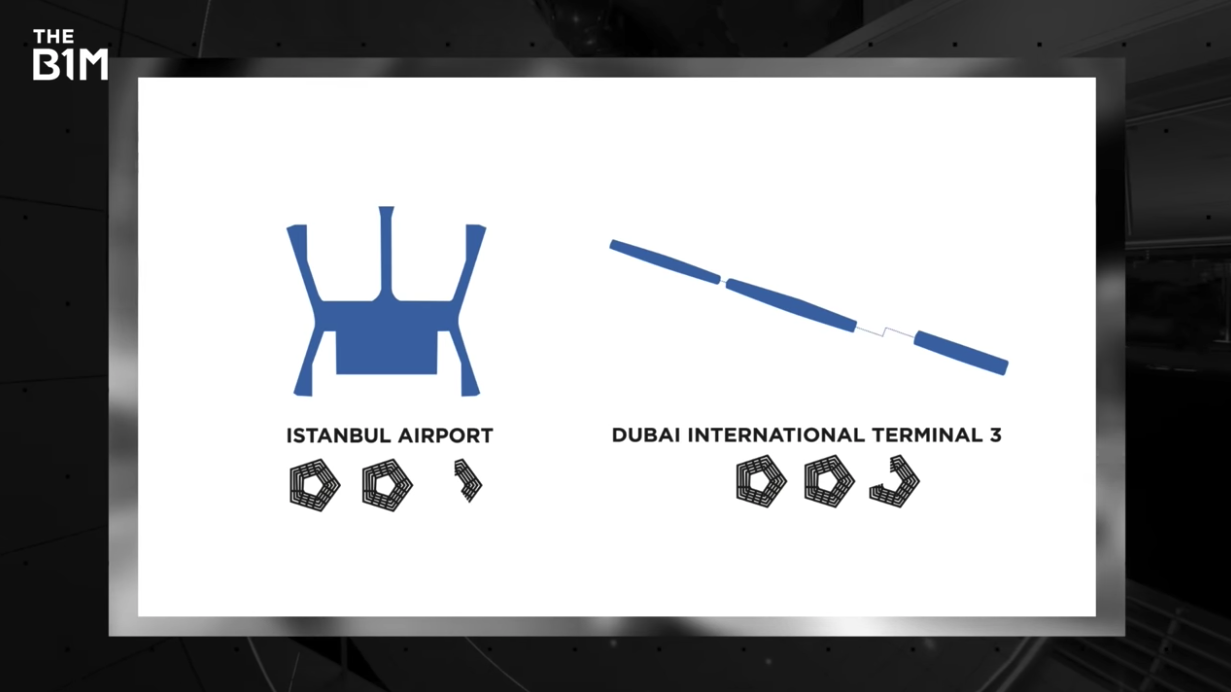 Above: The world's largest terminals at Istanbul and Dubai International Airports.
The biggest of these is the main terminal at Turkey's new Istanbul Airport with 1.4 million square metres under a single roof and Terminal 3 at Dubai International with 1.7 million square metres, spread across its three interconnected buildings. That's 2.3 and 2.7 times the floor space at the Pentagon respectively.
The size of a terminal is normally driven by an airport's capacity and that is all about its runways. Runway lengths vary, but most tend to sit between 2.4 and 3.9 kilometres long.
One exception can be found on the Tibetan Plateau in China.
In this case, the reduced performance of engines at low air density and the greater speed needed for take-off forced the little-known Qamdo Bamda Airport to construct the world's longest runway, stretching for a whooping 5.5 kilometres. That's longer than two Golden Gate Bridges laid end-to-end.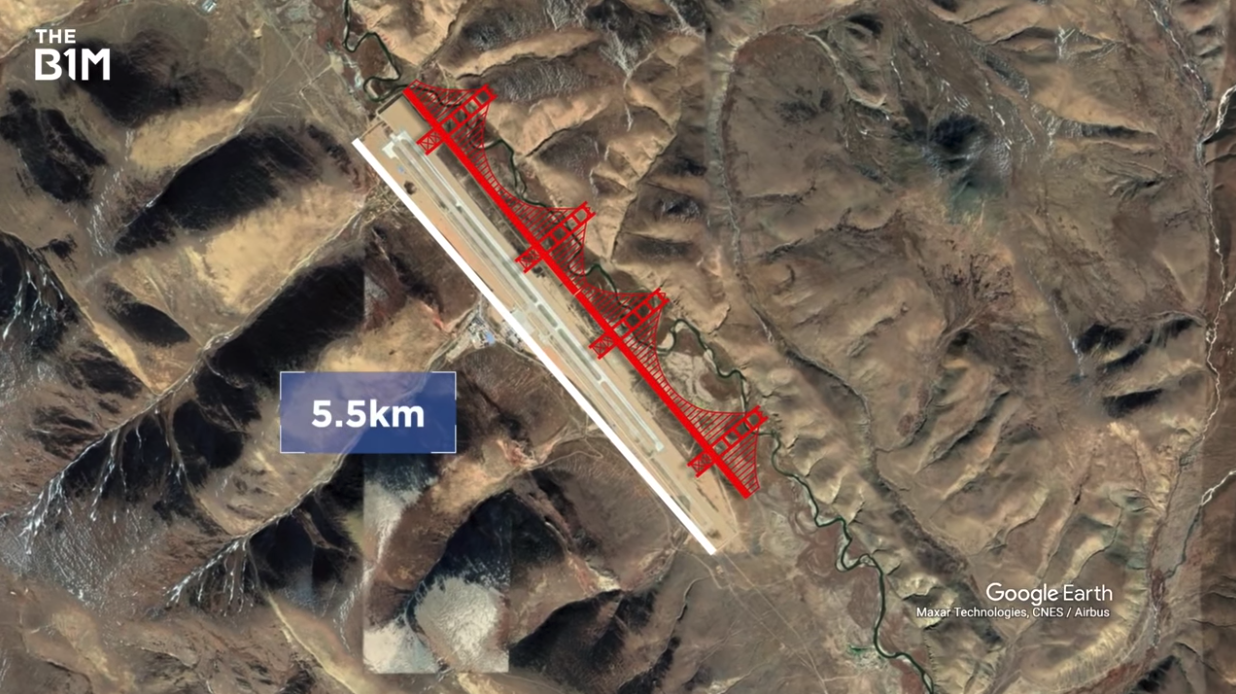 Above: The world's longest runway is twice as long as the Golden Gate Bridge. Image courtesy of Google Earth.
But, due to some extreme weathering, that runway is now closed and has been replaced with a shorter one.
The title is now in fact held by Russia: Moscow's Zhukovsky International has a 5.4-kilometre runway that's equivalent to the distance from Rockefeller Center, over Central Park and into Harlem. Alternatively, you can think of it as 61 Antonvo AN-225s lined-up wing to wing.
But whilesize is important, it's what you do with it that really matters - and the world's busiest airports aren't actually the largest.
Atlanta's Hartsfield-Jackson International was the world's busiest airport in terms of passenger traffic from 1998 until 2019 when it served over 110 million passengers – that's equivalent to the entire population of the Philippines by the way – but it lost top spot to Guangzhou's Baiyun International in 2020 due to the pandemic.

Atlanta's airport covers an area 39 times bigger than California's Disneyland, but those 19 square kilometres is kind of nothing. It's seven times smaller than the biggest airport in the US – Denver International which is more than twice the size of Manhattan.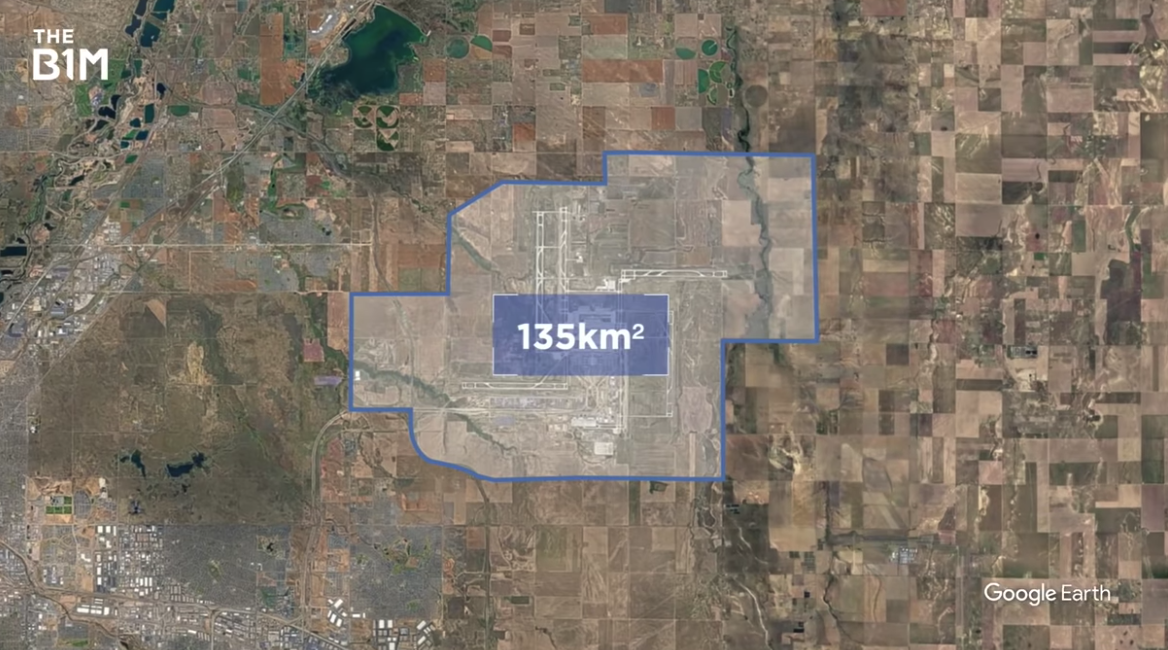 Above and Below: The largest airport in the United States is twice the size of Manhattan. Images courtesy of Google Earth.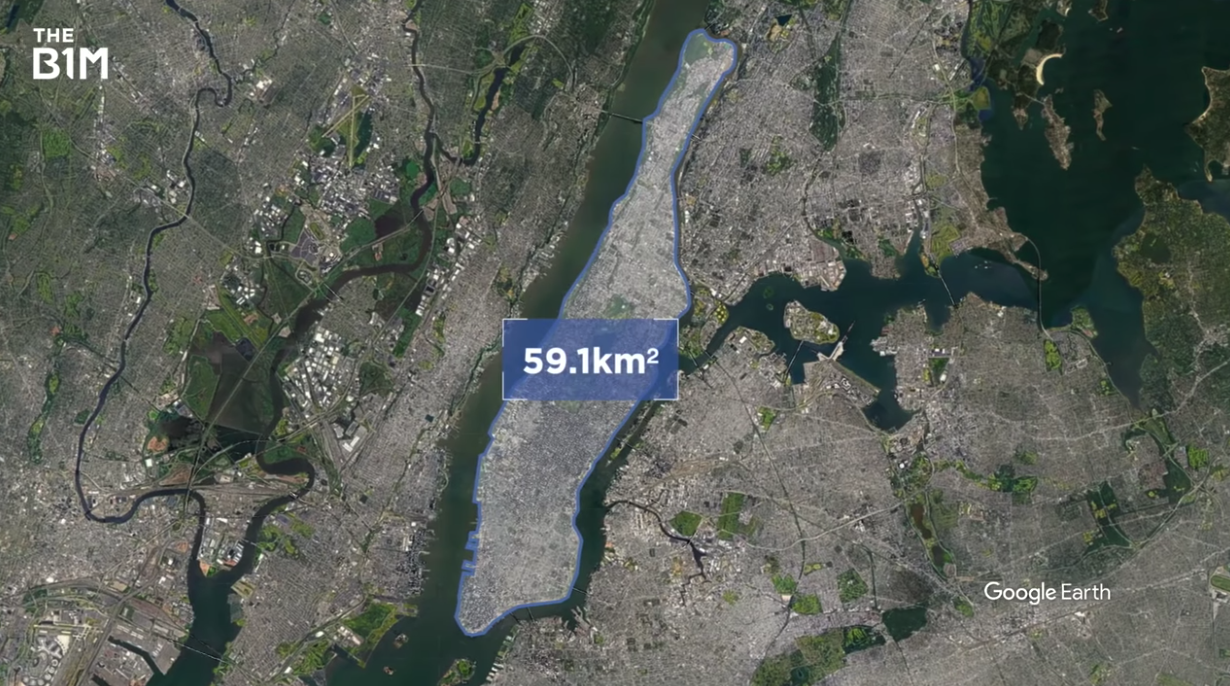 It's the same story over at one of the world's busiest cargo airports.
After reclaiming nearly 10 square kilometres of land from the ocean in the 1990s, the 12.5 square kilometre Hong Kong International represented more than 1% (1.13%) of the city's entire landmass. It was officially the world's busiest cargo airport from 2010 until 2020 when Fed-Ex's logistic Superhub, Memphis International, reclaimed the title, helped by the huge growth in e-commerce.
What's even more impressive is that with a 6.5 square kilometre land reclamation having just been completed, and with only 24% of Hong Kong's land built upon, the airport represents a whopping 7.16% of Hong Kong's entire built-up area.
Of course, not every city has the luxury of being able to easily expand its airports and for some, the answer is to have multiple sites all working in tandem.
London is a pretty clear example of this. It has six commercial airports and together they processed over 180 million passengers in 2019 - enough capacity to send every Brit on an overseas holiday three times over if only holidays were allowed.
Spread out around the Greater London area these airports cover a combined area of more than 30 square kilometres; the equivalent of everything north of the Thames - from the Isle of Dogs up to Stratford and as far west as Hyde Park. For football fans, that's 461 Wembley Stadiums.
But even the combined size of London's airports doesn't come close to the world's largest airport – one that surprisingly only serves around 10 million passengers each year and that you've probably never heard of unless you're a fan of the Guinness World Records or pub trivia.
Located in Dammam, Saudi Arabia, King Fahd International has an official area of over 776 square kilometres. It's bigger than 23 sovereign states and if it was its own country, would rank 173rd in the world, just ahead of neighbouring Bahrain (760km).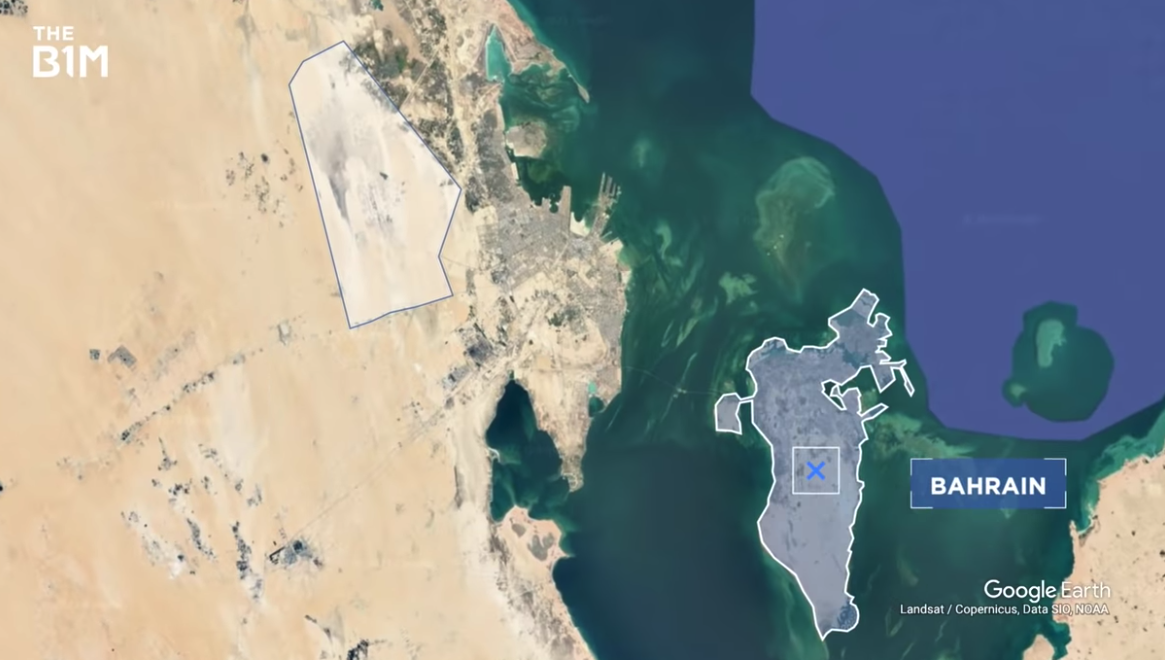 Above: The biggest airport in the world is larger than Bahrain. Image courtesy of Google Earth.
The airport got its enormous size during the Gulf War when the United States and coalition forces used it and the surrounding area as a military base and storage facility until operations could be transferred to the Ahmad al-Jaber Air Base in Kuwait.
Today, a mere 36.7 square kilometres of the airport's official land area is used for operations.
We're now hopefully not too much further away from international travel coming back after the pandemic, and with the industry expected to experience a bounce before returning to steady growth, the scale of these airports could soon be blown away.
This video was kindly powered by Bluebeam.
Narrated by Fred Mills. Additional footage and images courtesy of Google Earth and Airport Authority Hong Kong.
We welcome you sharing our content to inspire others, but please be nice and play by our rules.
Comments
---