CITIES
Inside The World's First Undersea Roundabout
Youtube Views

1,702,241

VIDEO VIEWS
Video hosted by Fred Mills.
WHEN you think of the world's most impressive tunnels, a remote archipelago between Iceland and Norway might not be what comes to mind.
But to connect 18 rugged bits of land formed from volcanic rock, the Faroe Islands have had to get pretty good at tunnelling.
Now they're working on their biggest project yet.
This so-called "jellyfish roundabout" is a critical piece of infrastructure that's cut travel time between two of the most populous islands from more than an hour to just 15 minutes.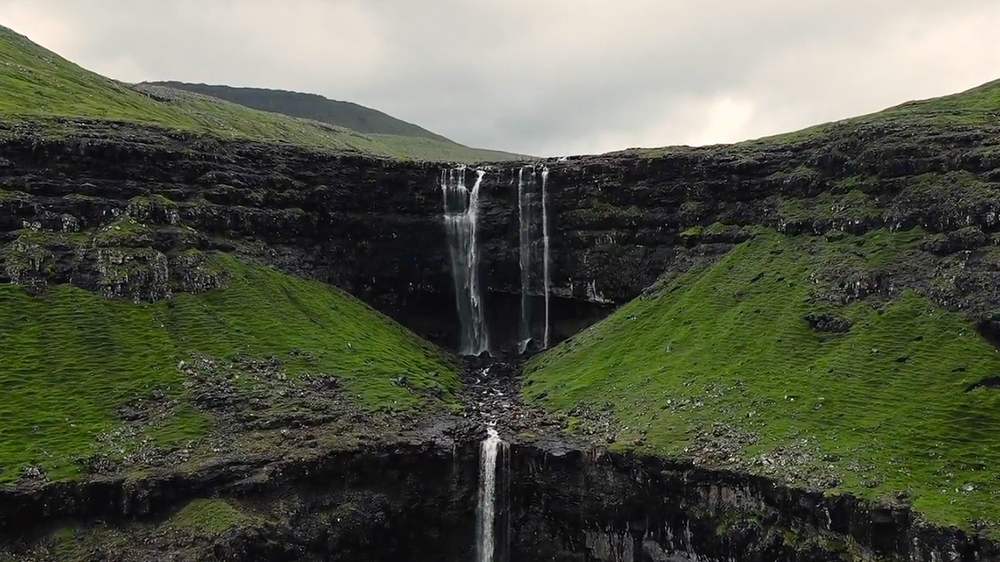 Above: The Faroe Islands are a remote set of islands between Norway and Iceland. Image courtesy of Visit Faroe Islands.
Life here in the Faroes moves slowly, but the weather moves quickly. Some people say you can experience all four seasons in a single day. That can make getting around a little difficult.
The Faroe Islands sit just between Norway and Iceland in the North Sea. They're a self-governing nation that's technically part of Denmark.
In all, its population of just over 50,000 people, and some 70,000 sheep, is spread out across 17 habitable islands.
Up until relatively recently, the only way to travel between the islands was to take a boat.
But the water out here can sometimes be a little bit rough, and the journey itself can take up to half a day depending on when you can catch the ferry, or if it's even running.
In the 1970s a bridge was built connecting the two most populous islands, turning that half-day journey into just a few minutes
But it was back in the 1960s, that the Faroe Islands began its tunnelling boom.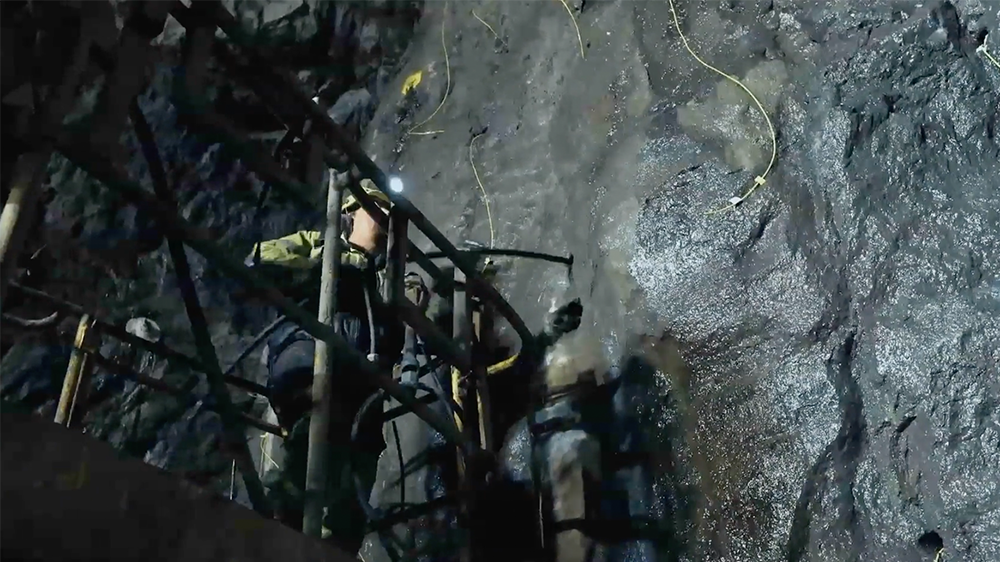 Above: Construction of the Esturoy Tunnel. Image courtesy of Kringvarp Føroya / P/F Eystur- og Sandoyartunlar.

With a little help along the way from the Norwegians, the Faroese got really good at digging tunnels. In the last 60 years, they've built twenty through narrow fjords, steep mountains, hills and the ocean.
Today, there are over 50 kilometres of road tunnels for just 53,000 people. That's more than 1 metre of tunnelling for every person who lives here.
Now, the Faroes is expanding its tunnelling system even further with two undersea tunnels. It's the biggest investment it's ever made, with a combined price tag of nearly USD $700M.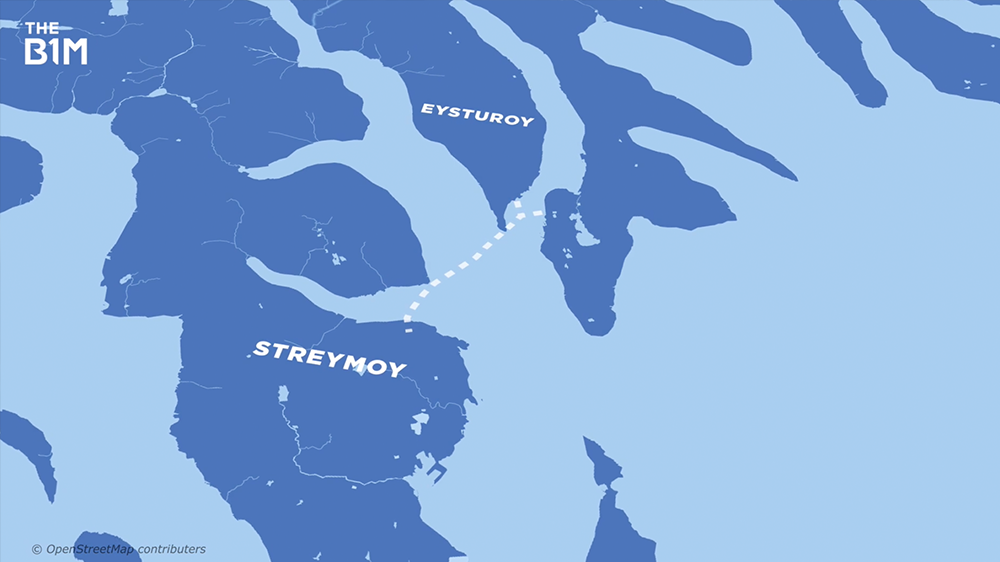 Above: The Esturoy tunnel connecting Streymoy to Esturoy.

The Eysturoy tunnel opened in 2020, and runs for 11 kilometres to connect the islands of Streymoy, where the capital city is located, and Eysturoy.
The second Sandoy tunnel is set to open in 2023, connecting the sparsely populated villages of Sandoy with the wider infrastructure network in Streymoy.
Rather than driving cars onto ferries, now people in the Faroes can simply drive under the water.
The Eysturoy tunnel connects more villages with the mainland and the islands' main infrastructure. Travel times to the capital are reduced from more than an hour to mere minutes - and adding in some epic construction makes an already stunning drive even more breathtaking.
The tunnel itself is the second longest in the world that you can drive through - and they've spared no detail.
On the 8 minute drive beneath the sea, you can listen to a radio station specially programmed to enhance your experience.
And of course, there's the roundabout. 72 metres below the surface you'll find this giant pillar of colourful rock that looks almost like a jellyfish.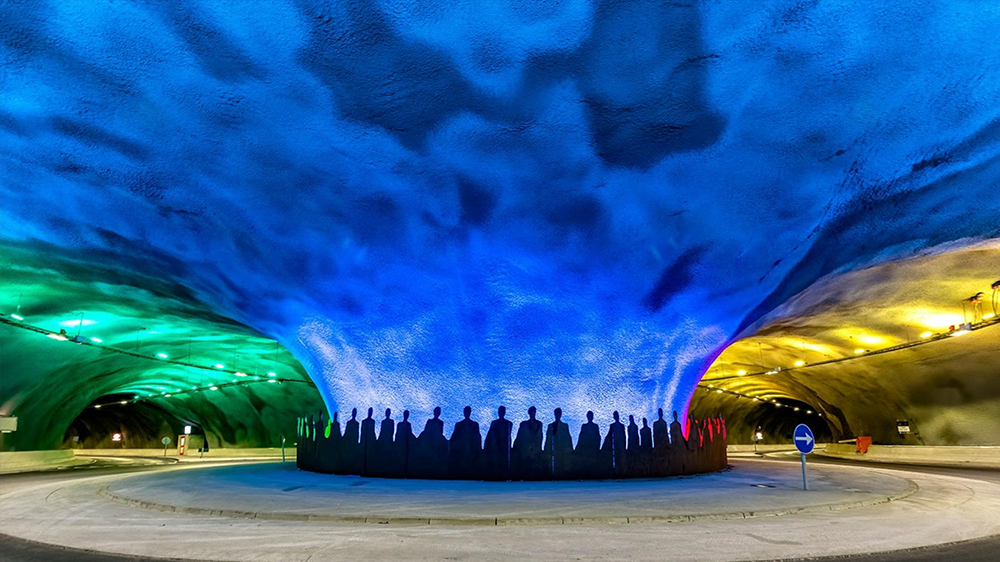 Above: The art installation at the undersea roundabout. Image courtesy of Olavur Frederiksen / Visit Faroe Islands.

The deepest part of the tunnel sits 187 metres below the water's surface.
The team used a drill and blast method to excavate the area. Essentially, a hole is drilled into the rock below the water, explosives are dropped into the hole and then the rubble is cleared out.
To make sure no water gets into the tunnel, the rock is sprayed with concrete to create a solid lining. There's also a system of gates, pumps and pipes that lead any rain or surface water away from the cars before pumping it back out into the nearby fjord.
In all, construction of the 10.5 kilometre tunnel took four years to complete – that's nothing compared to some projects in cities like New York and London which can take far longer.
Of course, there are far less people living above a tunnelling site in the Faroes, but there are some lessons to be learned in how to build tunnels quickly and efficiently.
"We are a small country, a small society where decisions can be taken quite quickly, Teitur Samuelsen, CEO of the Faroese tunnelling company P/F Eystur- og Sandoyartunlar said.
"That's one reason why we can do projects like this. And also that we have good experience doing tunnels we are using or building tunnels based on Norwegian standards and Norwegian technology."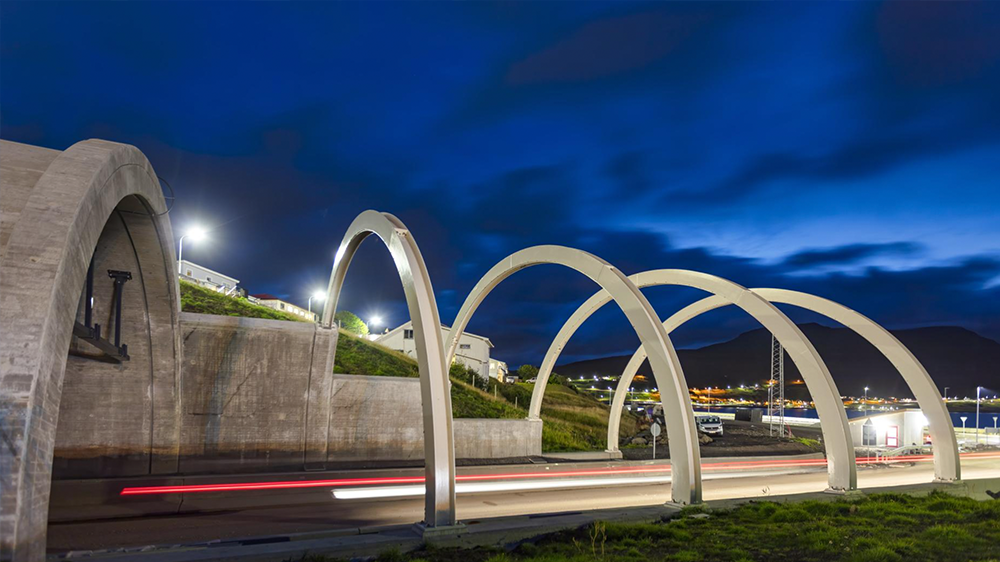 Above: The entrance to the Esturoy tunnel. Image courtesy of Olavur Frederiksen / Visit Faroe Islands.

The Eysturoy tunnel is expected to carry thousands of vehicles everyday – and it'll cost a pretty penny, at about USD $25 or $10 with an annual pass, but that roll revenue will be used to cover the cost of construction, maintenance and future tunnel projects.
The second tunnel on the other hand is expected to carry just 310 vehicles a day across 22 kilometres, making it the longest car traffic subsea tunnel in the world.
That comes with a price tag of nearly USD $500M.
It's a huge investment per capita – substantially more than other European tunnel projects. But this isn't a densely populated nation, and it's going to make a huge difference for the people it does benefit.
Right now, you have to take a ferry to get from Sandoy to the mainland. The new underwater tunnel will make a 64 minute commute just 16 minutes by car.
For a quiet nation of just 50,000, the Faroe Islands are investing a lot of time, money and skills into its infrastructure – and it's paying off.
These new tunnels can literally make the difference between getting to work, seeing family or even reaching a hospital … or being stuck on the other side of stormy waters.
With a further two new tunnels now in the works, and another 14 on the drawing board, the Faroes tunnelling boom isn't slowing down anytime soon.
Video presented and narrated by Fred Mills. Special thanks to Visit Faroe Islands. Additional footage and images courtesy of Kringvarp Føroya, P/F Eystur- og Sandoyartunlar, Alexandar Vujadinovic, Rasmus Steintórsson Biskopstø and Niels Jóhan Sigurðsson.
We welcome you sharing our content to inspire others, but please be nice and play by our rules.
Comments
---