Cities
Egypt Built a Supertall Skyscraper in the Desert
Youtube Views

1,439,809

VIDEO VIEWS
Video hosted by Fred Mills.
You may have noticed that it's a good time to be a city planner. It seems like hardly a month goes by without some fancy new renders being released of a grand new masterplan in Saudi Arabia, China, or the US. In fact everybody seems to want to be having a go, from the Vietnamese Government to Disney.
Not to be outdone, Egypt is getting in on the game with possibly the most ambitious new development yet with the New Administrative Capital, a city the size of Singapore being built from scratch in the desert.
At the centre of it all is the Iconic Tower which, when it's completed in 2023, will become Africa's first supertall skyscraper. At 393 metres it will also be Africa's tallest building by quite some margin, overtaking The Leonardo in South Africa by nearly 160 metres.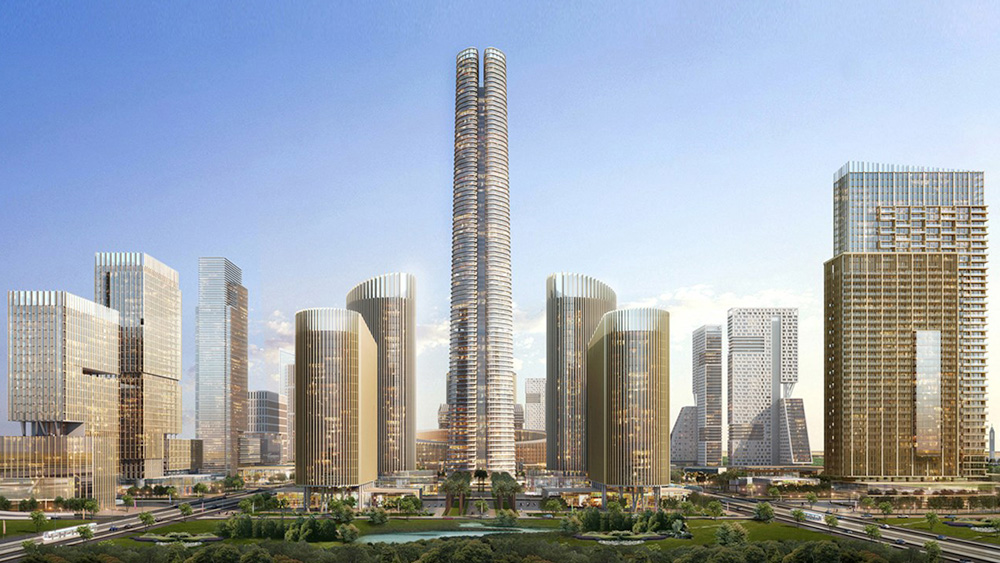 Above: The Iconic Tower as it will appear when completed. Image courtesy of Dar al-Handasah Shair and Partners.

But surely it's not as easy as all that, is it? Can anyone just spend a few billion dollars and, hey presto, a new, fully functioning city emerges? Or is there more going on here than meets the eye?
The official reason for the construction of the NAC is to relieve some of the pressure on the country's notoriously overcrowded capital Cairo, where about a fifth of Egypt's 104M citizens live.
The NAC is being built in a 700 square kilometre stretch of desert which will one day – incredibly – be home to six million people. After seven years of construction phase one is nearing completion.
This first construction phase will see the entire Egyptian government relocated to a purpose built district. A sprawling new presidential palace is being constructed, alongside a new parliament and the various government ministries are being rehoused in monumental, pharaonic style headquarters.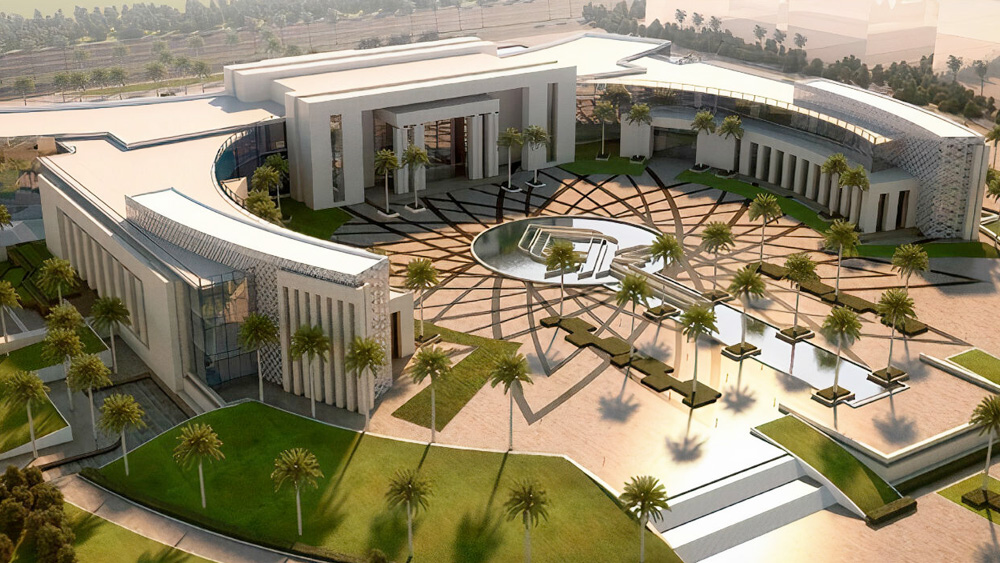 Above: The Head Quarters of the Council of Ministers. Image courtesy of Urban Design Consortium / Ministry of Housing, Utilities and Urban Communities

The military, which plays a huge part in Egyptian politics, is represented here as well. Not to be outdone by The Pentagon in Washington DC, they are having their own polygon themed building created: the Octagon.
But this new desert metropolis isn't just there to give breathing room to the Egyptian state. At a summit in 2016, China and Egypt signed a deal including the NAC in China's huge Belt and Road infrastructure project.
This investment spurred the creation of the Central Business District where that very tall tower is taking pride of place.
So how do you build a supertall skyscraper in the middle of the desert? The project is getting some help from the China State Construction Engineering Corporation who is overseeing construction of the CBD.
The biggest issue engineers faced was stopping the enormous tower from sinking into the soft desert soil. To solve this problem, a raft foundation was first constructed for the Iconic Tower – a huge reinforced concrete slab which spreads the load of a building over a wide area.
With nearly 19 square kilometres of concrete used, this became the largest foundation of its type in the middle east.
Not only was the construction big, it was also incredibly fast. The foundation slab was poured in 38 hours, nearly half the time originally expected, thanks to a specially designed concrete pumping system which poured at a rate of 785 cubic metres an hour.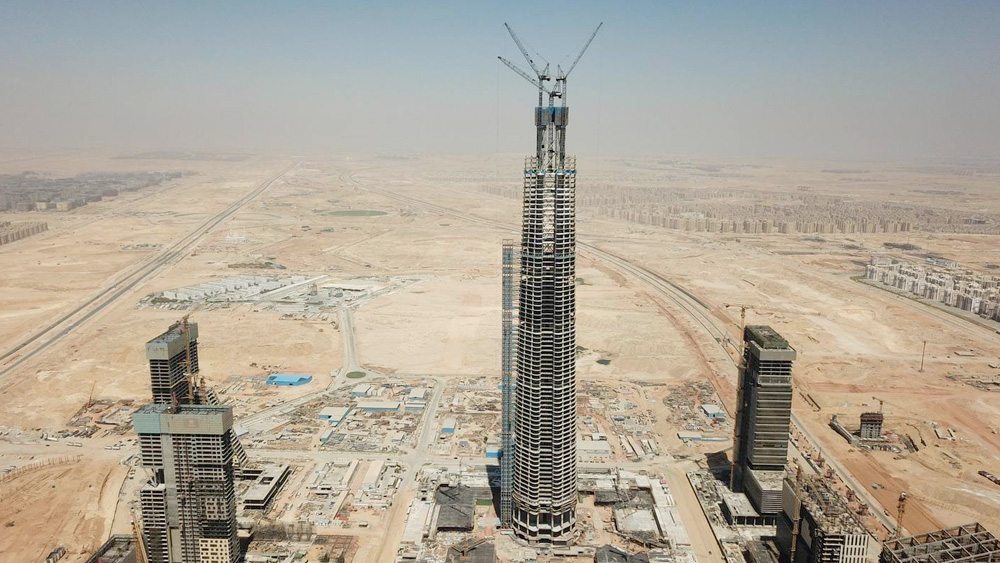 Above: The Iconic Tower under construction. Image courtesy of Dar al-Handasah Shair and Partners

That speed was kept up as the building's superstructure began to take shape. The whole concrete core shot up in 808 days and the steel framework advanced at a rate of one floor every three days until all 78 storeys were complete.
So with a large guaranteed population of workers for the government district and an economic leg up from China's Belt and Road, it may seem like this multi billion dollar gamble could pay off. But whether this city will be a success in financial terms may be a moot point. There might be a few more reasons why the Egyptian government wants to move out of Cairo.
Cairo's sprawling, overcrowded streets have long been a centre for popular demonstrations. After the occupation of the city's central Tahrir Square led to the overthrow of the second president in just over two years in 2013, steps began to be taken to ensure such dissent could not rise up again.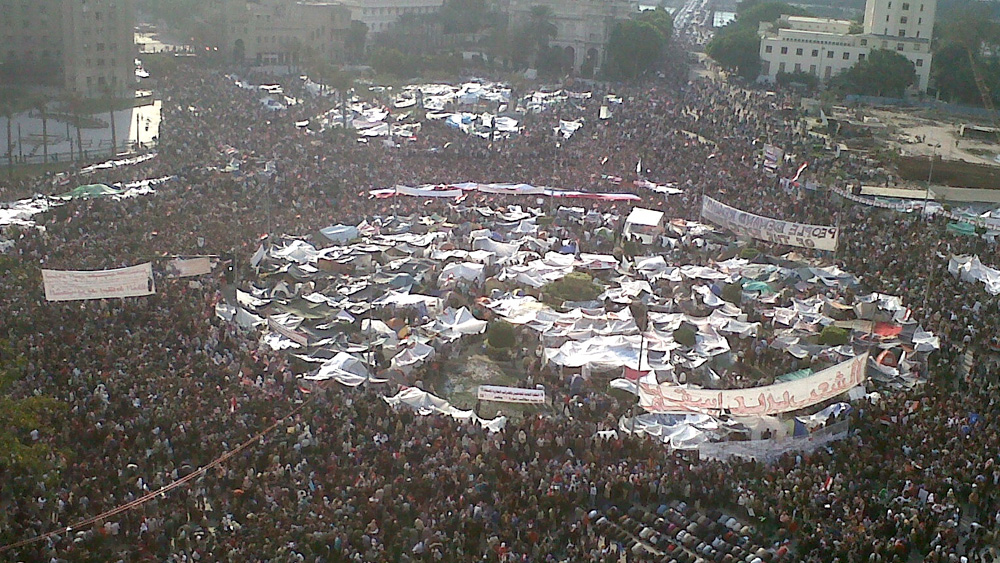 Above: Tahrir Square has long been a centre for popular unrest. Image courtesy of Mona.

Assistant lecturer in Planning and Urban Environments at Coventry University, Masha Alami Fariman told us:
"One of the things that is happening in the streets of Cairo is the massive, ubiquitous presence of security. The voices that are against the system cannot be heard in these kinds of authoritarian countries. So instead of hearing the voice of the people and dealing with their needs, the political administration is moving completely from Cairo to the New Administrative Capital."
The grand master plan of the government quarter with its wide open spaces and long boulevards may be visually impressive but it's also seen by some as an effective way to prevent protests.
While the NAC may be a financial success it appears unlikely to benefit ordinary Egyptians. The average cost of a house in the NAC is USD $60,000, that's 16 times the average household income in Egypt.
There's of course a long way to go before this ambitious plan is complete and it remains to be seen whether or not it can benefit those who need it the most. But it's clear that Egypt's ability to build big is back.
Video narrated by Fred Mills. Additional footage and images courtesy of Neom, City of Telosa, Foster + Partners, Disney, Ökoplan, Ministry of Housing, Utilities and Urban Communities, CSCEC Egypt, Dar al-Handasah Shair and Partners, HS2, UrbanPlus, Oceanix, Bjarke Ingels Group, CGTN Africa, AFP News Agency, Yayo43, US Department of State, Country Garden Holdings, Sakasi Associates, Forest City Johor, PBS Newshour, Urban Design Consortium and Administrative Capital for Urban Development.
We welcome you sharing our content to inspire others, but please be nice and play by our rules.

Comments
---