Cities
Europe's New Skyscraper Capital Isn't Where You Think
Youtube Views

1,360,460

VIDEO VIEWS
Video hosted by Fred Mills. This video and article contain paid promotion for PERI Formwork Systems.
THE FUTURE skyscraper capital of Europe isn't where you might think. We're not talking about Berlin, Paris or Madrid. This is Frankfurt.
The B1M visited four new towers that are just the beginning of a skyscraper boom that's now reshaping this city.
But what's really driving the huge surge in new construction here, how are engineers building all these towers in such close proximity and what's causing Frankfurt to construct so many skyscrapers, when the rest of Europe doesn't seem so fussed?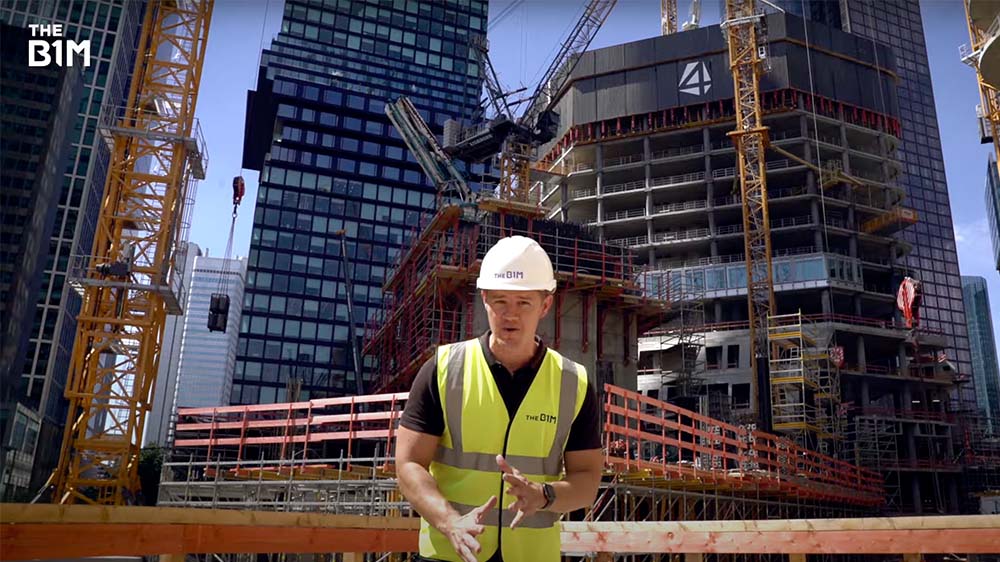 Above: The B1M's founder Fred Mills visited the construction site of FOUR Frankfurt.
Europe doesn't like skyscrapers. It has the money and the population density to support the construction of skyscrapers on the scale and volume of those in America or China, but it doesn't.
The continent has a collective GDP of around $16TN and a population over 740M – but Europeans have been notoriously stubborn in the way their cities are constructed.
Of all the skyscrapers built in Europe to date, an incredible 66% of them are located in just five cities – London, Paris, Istanbul, Moscow and Frankfurt.
There are numerous reasons why most European cities don't build tall.
There's their inclination to preserve heritage buildings, past failures that left eyesores on famous city skylines and a tendency to group what skyscrapers they do have in clusters outside of the city. Think of Paris' La Défense, London's Canary Wharf, or Moscow's International Business Centre.
Frankfurt on the other hand has built skyscrapers right smack in the middle of the city. And it's going to build even more.
Frankfurt has emerged as an odd exception to Europe's typically low-rise cities. For the longest time it had Europe's tallest building, the Commerzbank Tower, while 95% of all of Germany's skyscrapers are located here. Now, there's a few reasons for that.
Firstly Frankfurt is wrapped in a 70-kilometre "green belt" that limits development to an area roughly half the size of Venice. It prevents urban sprawl and the only option is to build up. There are also strict rules around airport flight paths, limiting development to very specific areas of the city.
On top of all that, Frankfurt was badly damaged during World War II and that led to more space for new development.
During the reconstruction of what was then West Germany, Frankfurt emerged as a financial powerhouse – and many of the world's major banks and financial institutions hold offices here to this day, making this a particularly affluent location.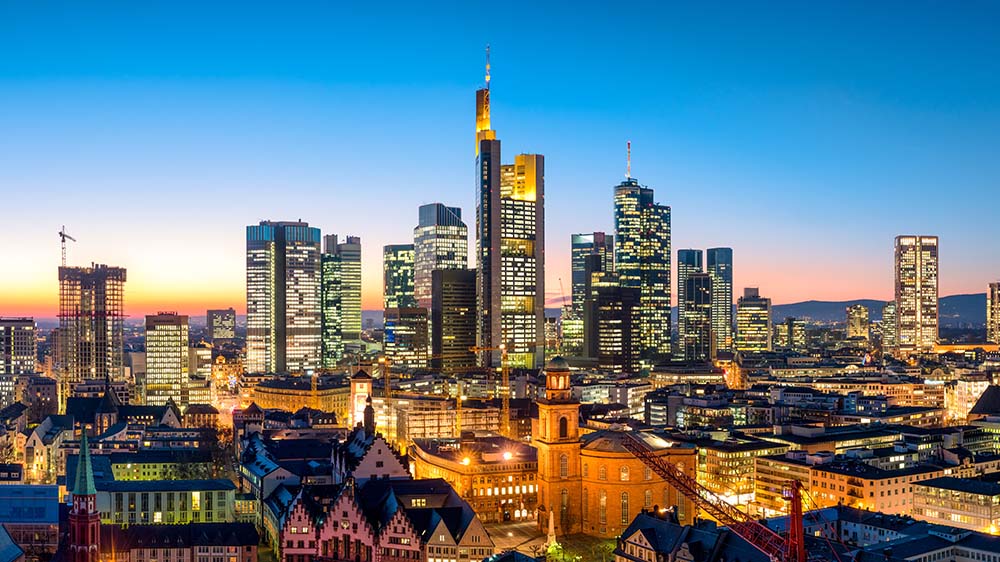 Above: Frankfurt is on its way to become Europe's new skyscraper capital. Image courtesy of eyetronic.
The city's wealth has attracted people from all over the world. So much so that 50 percent of Frankfurt's residents do not have a German passport. This might help explain an apparent readiness for a more international architectural style and larger scale developments.
There are currently more than 50 high rises either being built or planned in this city – including the 288-metre Millennium Tower, Germany's new tallest building, that's due to start construction in 2025.
Leading the charge on this construction boom is FOUR Frankfurt, a development consisting – funnily enough – of four skyscrapers that will fundamentally change the city's skyline. Designed by UN Studio, these towers will act as a complete neighbourhood within themselves when they complete in 2023.
Tower 1 will rise to 233-metres and house mainly offices. Tower 2 will hit 173-metres and contain serviced apartments. Tower 3 climbs 120-metres and features condominiums alongside a hotel, and finally tower 4 will reach 100-metres, also offering office space. There'll also be new public space, shops, restaurants and all the things you might expect.
Technically only towers 1 and 2 are skyscrapers – they exceed the Council on Tall Buildings and Urban Habitat's definition threshold of 150-metres.
Now, the unique design of the buildings maximises the amount of light that each tower gets, as well as the views from each floor. They dramatically bend away from each other and nearby buildings, increasing the distance between each structure.
For decades the city centre and the banking district have been severed. This development will reconnect them, creating a new mixed use neighbourhood in the process.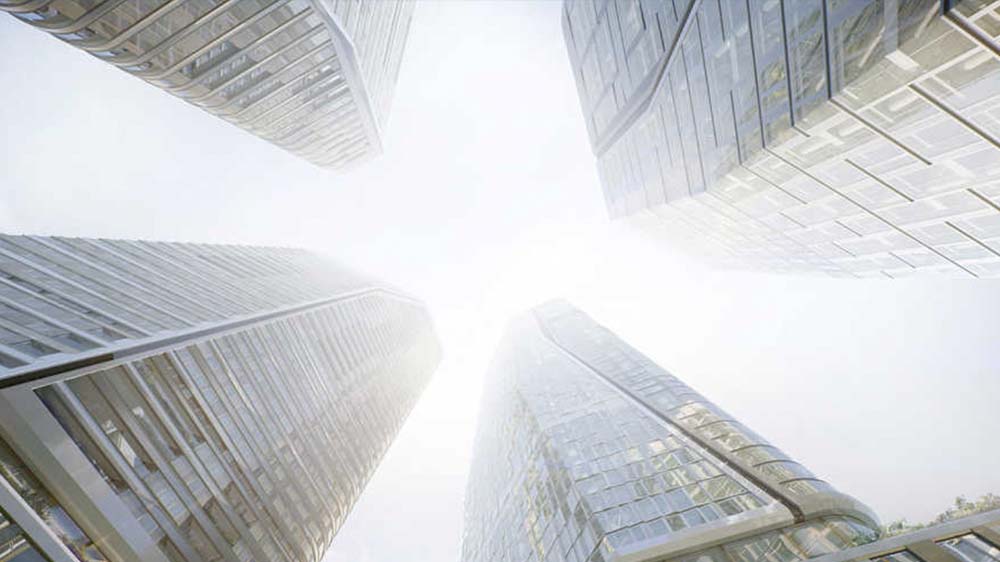 Above: FOUR Frankfurt will be comprised of four towers built on one small site. Image courtesy of UN Studio.
"In the past, this area here was closed, nobody could go there, nobody could see what was there in the past, and with these four towers we opened this area," construction site manager Philipp Schüler said.
But as if building four towers on a small site in the heart of a major city weren't challenging enough, these towers are all being constructed using different techniques.
That's because it's a mixed use development and mixed uses means very different floor plates.
The columns are in different places in each tower, the extent of glazing varies and there are a lot more bathrooms in a hotel than you'd find in an apartment – and way more than you get in an office – so the drainage pipe routes that are cast into the concrete floor slabs all vary too.
But the main way these structures differ is in an area that few of us will ever actually see: their concrete cores.
Now because skyscrapers can't stand up without them – they provide rigidity and resistance to lateral and vertical forces – cores have a habit of setting the pace of work on a skyscraper construction site.
Once the core is up to a certain floor level, the rest of that floor can be built out around it.
FOUR Frankfurt is – you guessed it – building four cores at once, and to get them up as quickly as possible the project team are using systems from PERI, tailor made for each tower.
This includes the ACS Self-Climbing System and the RCS Max. These climbing units include wall formwork and platforms that are moved-up from floor-to-floor by integrated hydraulics.
They create a safe environment for those working on the cores and have the ability to self-climb the structures as they rise, reducing the amount of time that needs to be scheduled with the project's cranes – machines that are always in high demand.
As each storey of a core is completed, the load of the formwork system from the upper working brackets is transferred to the lower climbing brackets.
Hydraulic jacks then push the entire system up to the next level. The red working brackets are secured to embedded anchors in the next pour and the load of the system is transferred back onto the red brackets.
Then, the yellow climbing brackets are released, and the hydraulic jacks bring the lower deck up to join the rest of the core system.
This sequence is repeated to the very top of each tower. The RCS Max employs a similar principle but with a rail climbing technique.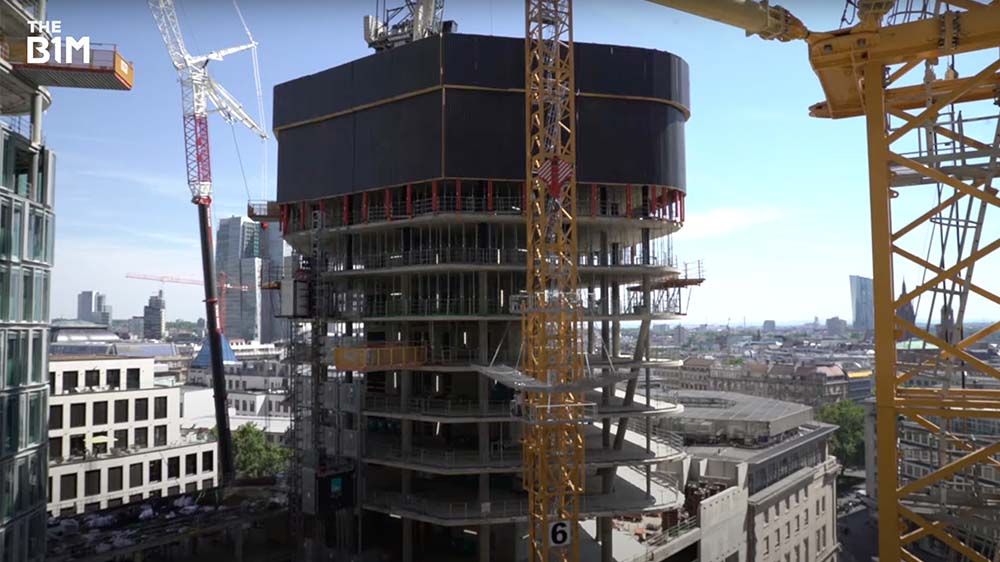 Above: PERI's formwork systems are being used to build the concrete cores at FOUR Frankfurt.
Thousands of skyscrapers around the world are built with PERI's systems and the name, if not the red and yellow system colour, will probably be familiar to you.
"We use nearly every system PERI has," Schüler said.
These systems are going to be needed more and more as Frankfurt continues its construction drive – a phenomenon that has been partly attributed to a Brexit Building Boom.
In 2017, following the result of the Brexit referendum, a number of major construction projects were announced in Frankfurt. Projects from Bjarke Ingels Group, Ole Scheeren and UN Studio – including FOUR Frankfurt.
It was seen as the city's attempt to lure banks and financial institutions away from London, businesses who were now looking to headquarter in a city that had a physical foothold in the EU.
That caused the real estate market to skyrocket. The price of luxury apartments jumped 25% in a single year and 20 skyscrapers were announced to be built within five years.
Then 2020 happened. While the pandemic slowed Frankfurt's boom, some 40 major firms did relocate here after Brexit and momentum is continuing to build now that the world is opening up again.
That won't look like that in 10 years time. Frankfurt is set for big changes over the next decade. By 2030 its skyline will be unrecognisable and it will firmly establish itself as Europe's skyscraper capital.
It shows what the amazing power of construction can accomplish, how an entire city can evolve with just a few buildings.
"The best thing will be in nearly one year when we finish Tower One and we stand on top of the last floor and look above Frankfurt, that will be a special moment," Schüler said.
This video contains paid promotion for PERI Formwork Systems. Teams use tools like the ACS Self-Climbing System to streamline projects like this, see how.
Video presented and narrated by Fred Mills. Special thanks to PERI Formwork Systems and FOUR Frankfurt. Additional footage and images courtesy of PERI Formwork Systems, Groß & Partner, Ferdinand Heide, Nightnurse, Calmmo, Skyline Atlas and UN Studio.
We welcome you sharing our content to inspire others, but please be nice and play by our rules.
Comments
---