Tech
Building a $2BN Skyscraper From Home
Youtube Views

320,418

VIDEO VIEWS
Video powered by Bluebeam and presented by Fred Mills.
RISING 275-metres above the famous harbour, Crown Sydney is about to become the city's tallest building.
With a striking form and cutting-edge engineering, the AUD $2.2BN skyscraper quickly emerged as one of Australia's most impressive megaprojects.
But as the tower topped-out and neared completion, the Coronavirus pandemic presented the project team with an unprecedented challenge.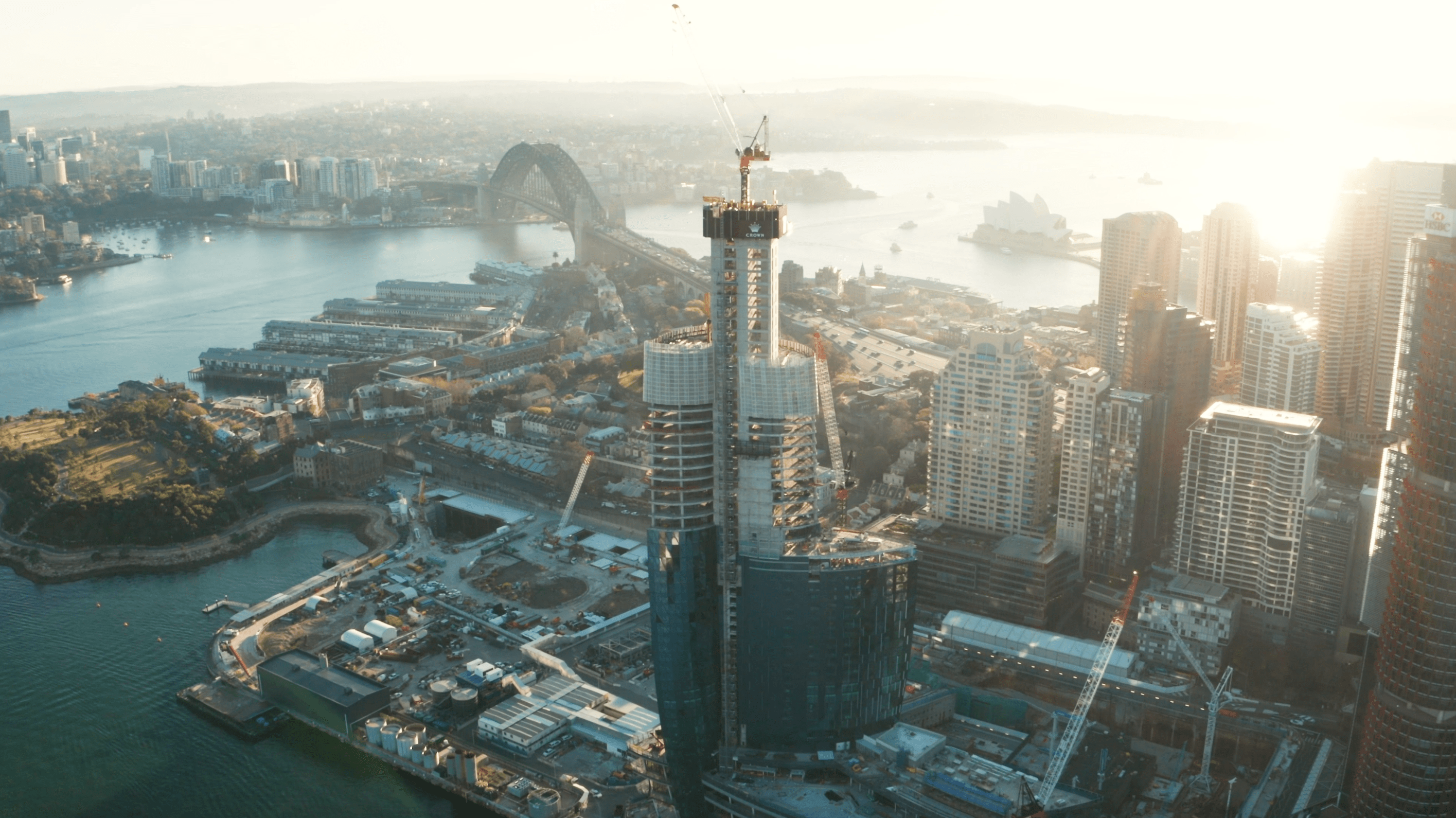 Above: The tower will offer views of the Harbour Bridge and Opera House. Image courtesy of Crown Sydney Hotel and Resort.

Rising from a former shipyard, Crown Sydney will be the centrepiece of the city's regenerated Barangaroo district.
Also known as One Barangaroo, the 71-storey structure will boast a six-star hotel, VIP casino and 82 high-end apartments - while the ground-level podium will offer shops, cafes and two rooftop infinity pools.
Designed by Wilkinson Eyre and delivered by Bates Smart, with structural engineering by Robert Bird Group, the building's curved form is inspired by nature, mimicking three petals that twist and rise together.
The result is a slender tower in which every floor-plate is unique.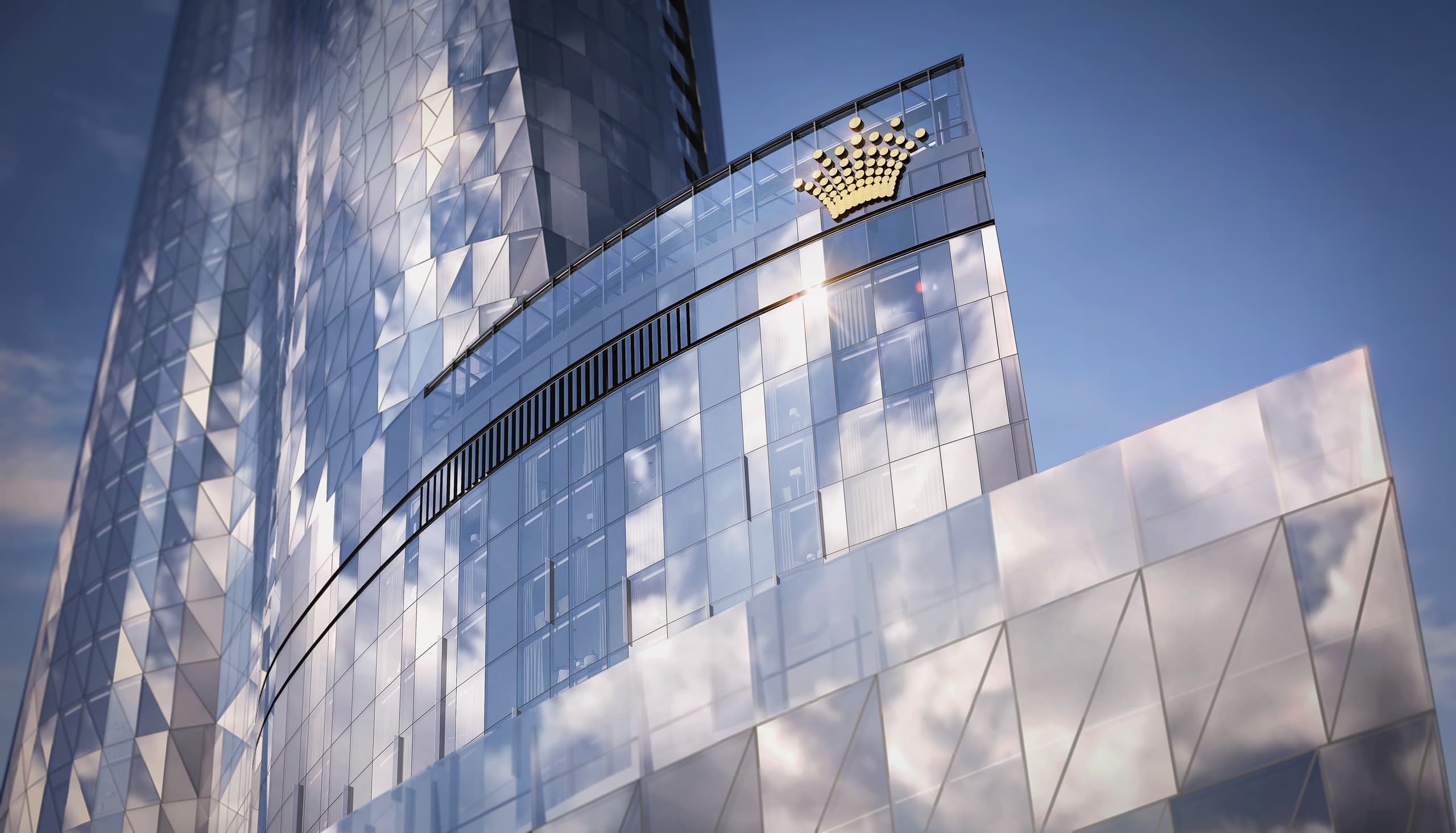 Above: The building is clad with over 7,000 individually-cut glass panels. Image courtesy of Crown Sydney Hotel and Resort.
Rising to the challenge, engineers built a concrete core surrounded with a steel and concrete superstructure.
Raking columns enabled them to achieve the tower's 60-degree twist while a 200-tonne tuned mass damper on the 70th floor ensures stability in the face of lateral forces, like strong winds.
But while most of us associate skyscrapers with vertical engineering, the most interesting part of this building actually sits below ground.
With the timeline threatened by ground contaminants and a high water table, the team built the tower's basement with the top-down construction approach.
With piles and the ground floor slab in place, works proceeded in two directions. While the skyscraper began to rise above, the basement was steadily excavated beneath, with plant and material moved through an opening in the concrete floor.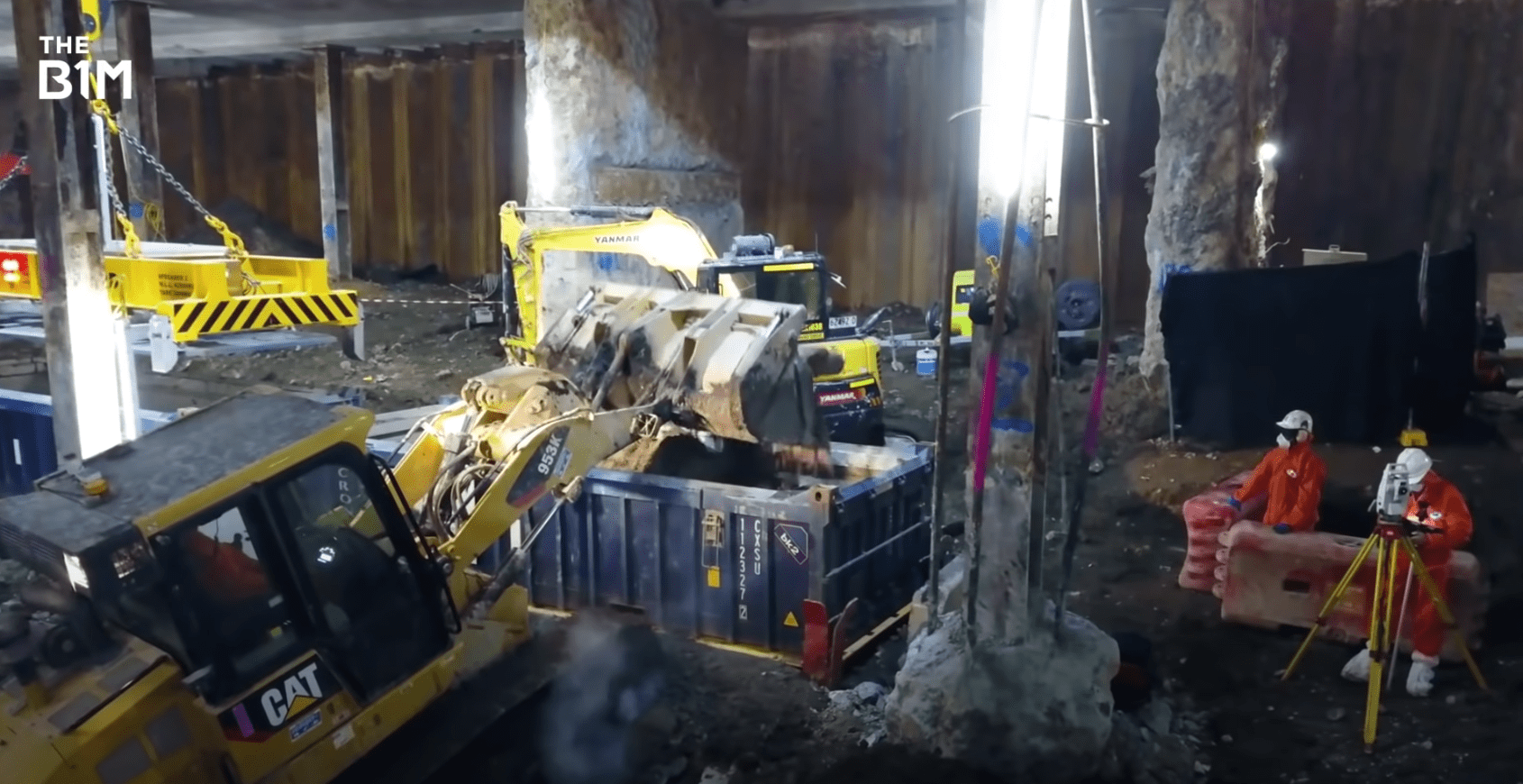 Above: Despite adding further complexity, the approach cut the project's overall build time by more than 12 months. Image courtesy of Crown Sydney Hotel and Resort.
When it topped out early in 2020, it seemed that Crown Sydney's greatest challenges had been overcome - but few could have predicted what would come next.
With Australia going into lockdown, the project team faced the daunting prospect of completing the tower's complex fit-out from their kitchen tables - coordinating different specifications between the hotel, casino and apartments across 71 unique floor-plates and all in a market where tenants' needs were quickly changing.
Thankfully, earlier investments in digital collaboration had put them in a good position.
When works first started in 2016, the team had used hand-drawn mark-ups across hundreds of physical documents.
But the tower's unique form created an unusually high number of drawings and - after somewhat drowning in their paperwork - a small group of engineers at Robert Bird Group began trialling Bluebeam Revu for mark-ups and coordination.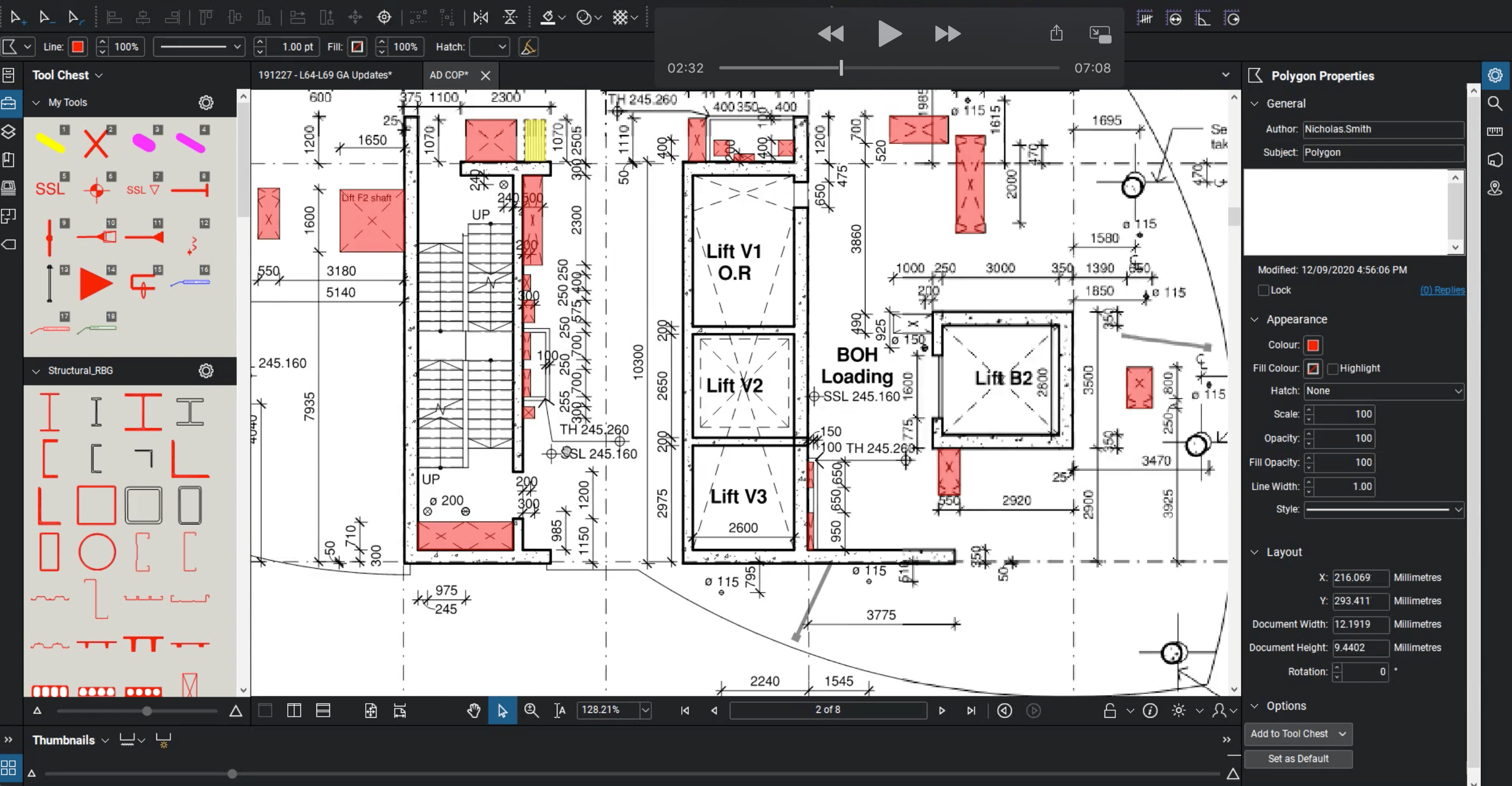 Above: Six months later, the entire team was converted to Bluebeam Revu and Sydney's tallest skyscraper became a paperless project. Image courtesy of Robert Bird Group.
When remote working was imposed in 2020, the team were able to continue communicating in real time through Bluebeam Revu, marking-up documents, flagging issues and reviewing comments in a clear and easy to track system, while works continued on site with social distancing measures in place.
The tool enabled this complex megaproject to remain on-track for completion in late 2020, navigating an unprecedented event without huge levels of disruption.
While the pandemic has of course presented a much greater challenge to other major projects and the construction sector globally, similar cases of teams overhauling their approaches with digital technologies can now be seen around the world.
Across Robert Bird Group alone, Bluebeam Revu has become commonplace, taking all kinds of projects down the paperless road; from Australia's Cross River Rail scheme to the megatall Merdeka PNB 118 in Malaysia; set to become the world's second tallest skyscraper.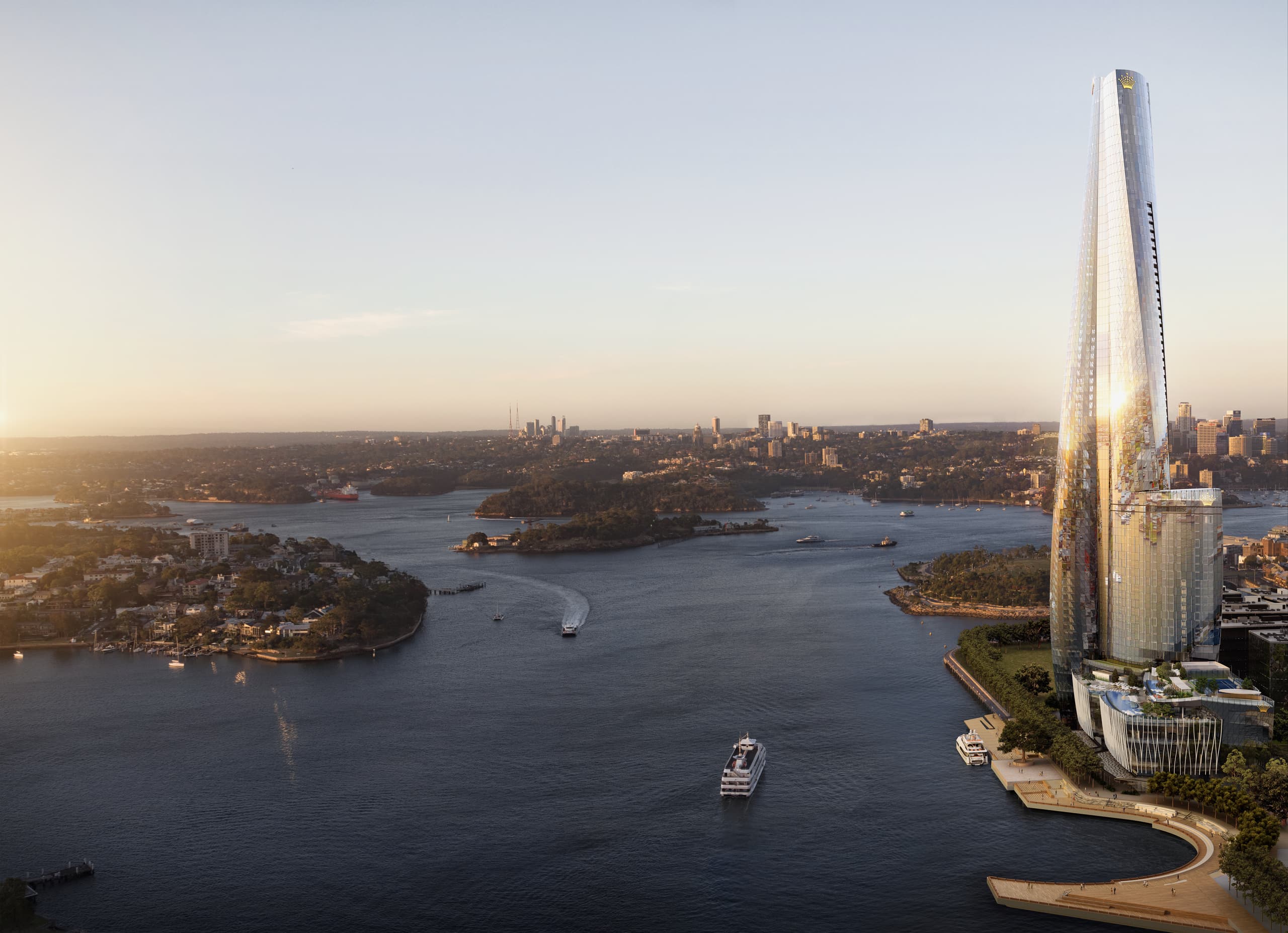 Above: This remarkably complex scheme wouldn't be approaching completion with so few missteps or delays without the use of digital tools. Image courtesy of Crown Sydney Hotel and Resort.
While many of us may not realise the scale of the challenge that remote working has thrown at the construction sector in 2020, the story of Crown Sydney is testament to the power of digital collaboration and the resilience of those men and women tasked with continuing to build our world.
The Crown Sydney project team uses Bluebeam Revu. See how the software is enabling paperless construction all over the world here.
Our thanks to Bluebeam, Crown Sydney Hotel and Resort, Robert Bird Group and Bates Smart.
Presented and narrated by Fred Mills. Footage and images courtesy of Crown Sydney Hotel and Resort, Goldeneye Media, Robert Bird Group, Gore Projects, PNB Merdeka Ventures and Styfly Studio.
We welcome you sharing our content to inspire others, but please be nice and play by our rules.
Comments
---