Cities
Building Beirut Terraces: A Multi-layered Skyscraper
Youtube Views

102,475

VIDEO VIEWS
BEIRUT has a breath-taking new skyscraper; a structure that takes inspiration directly from the rich layers of the city's culture and tumultuous history.

Designed by Swiss architecture partners Herzog and de Meuron, Beruit's newest tower is a vertically layered building, that aims to capture the complex past and bright future of Lebanon's capital city. The 119-metre structure is part of a wider masterplan to regenerate the area around St George's Hotel; the site of a devastating car bomb attack that killed prime minister Rafik Hariri in 2005.
Above: Beirut's newest skyscraper takes inspiration directly from the rich layers of the city. Image courtesy of Iwan Bann.
Looking to the future, the modern tower has been created by stacking irregularly sized floor slabs to give the building a unique irregular outline, similar to the architect's Jenga-esque 56 Leonard tower in New York.
A SKYSCRAPER OF TERRACES
To construct the skyscraper's unique form, five modular floors were repeated in different combinations. The varying sized slabs, create an interesting interplay between openness and privacy that fosters flexible living between inside and outside.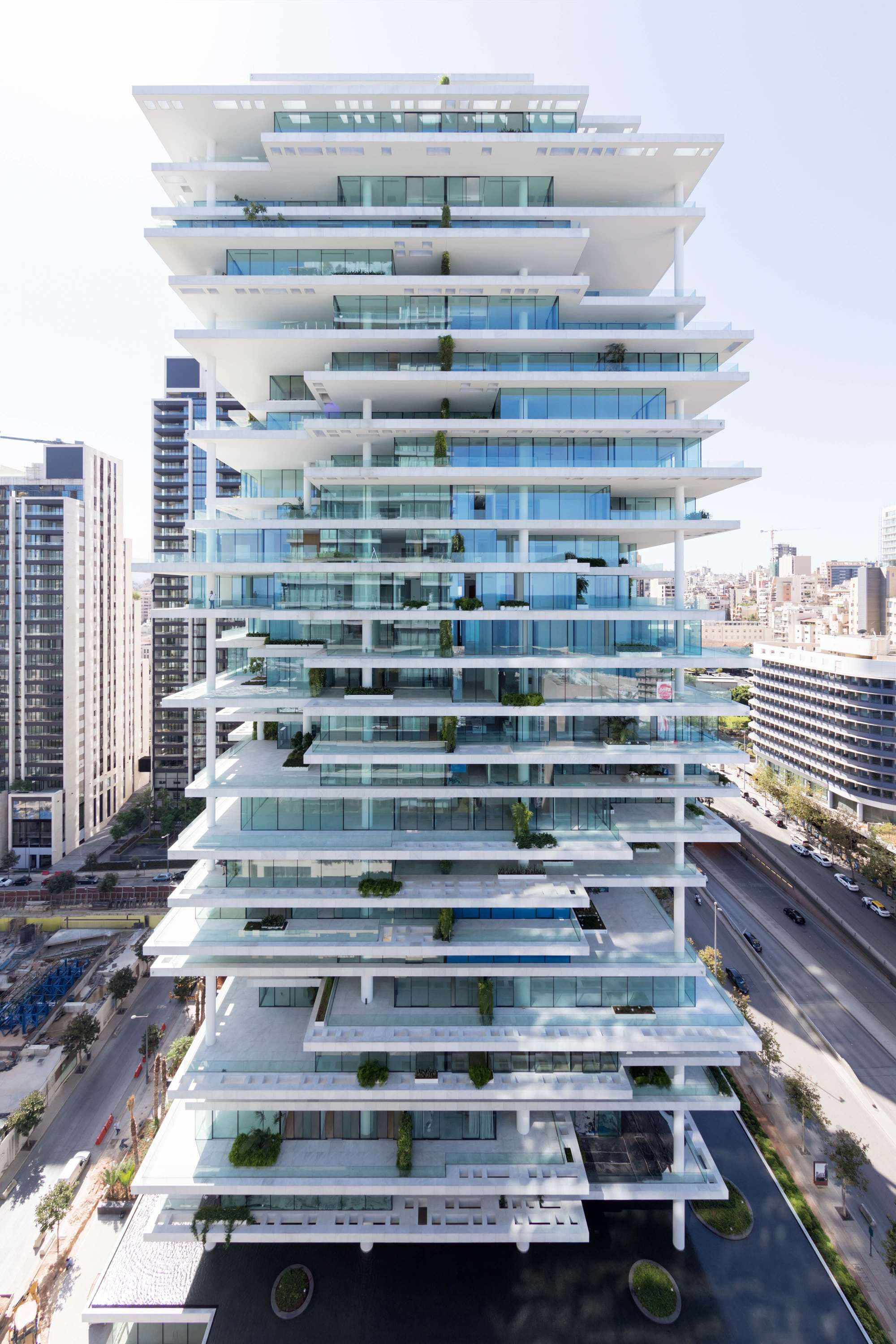 Above: Numerous cantilevers create external spaces that are ideal for the city's moderate climate. Image courtesy of Iwan Bann.
The building's floor slabs overhang all of its glazed perimeter walls to create large terraces for the apartments whilst providing shading for the residences below. Perforations in the overhangs modulate light, exposing some areas to sun, while others are cast in shadow.
Beirut Terraces has been designed to enable residents to take advantage of the city's moderate climate – a factor which has long made outdoor living an integral part of Beirut's urban culture.
A VERTICAL GREEN BOULEVARD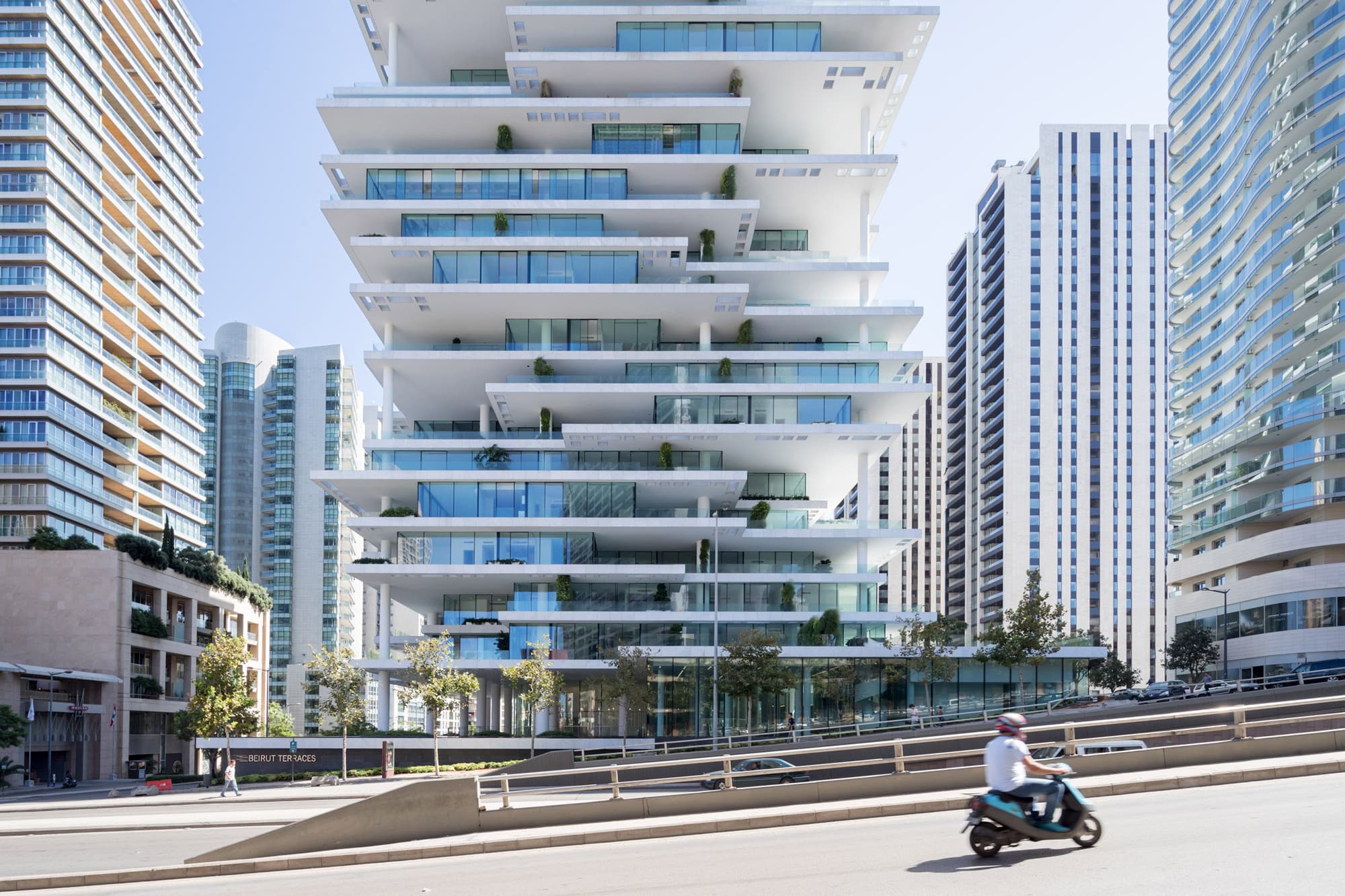 Above: Plants grow up the outside of the building to connect it to its surroundings. Image courtesy of Iwan Baan.

The trees and plants that are placed on the tower's expansive terraces add greenery to an otherwise white structure. These plants flow from the terraces to create a vertical "green boulevard" that connects the residential high-rise with its surroundings.
The planting also serves a practical purpose, acting as a screen, to ensure a degree of privacy for the fully glazed living areas while still permitting views out to sea.
BUILDING A STAGGERED SKYSCRAPER
Although the building has a complex form its structure is actually relatively simple. The five different floor plates are supported on a central reinforced concrete core and a regular grid of columns set 14.7 meters apart from each other. Such an approach reduces the extent of structural walls within the apartments, enabling unique layouts and future flexibility.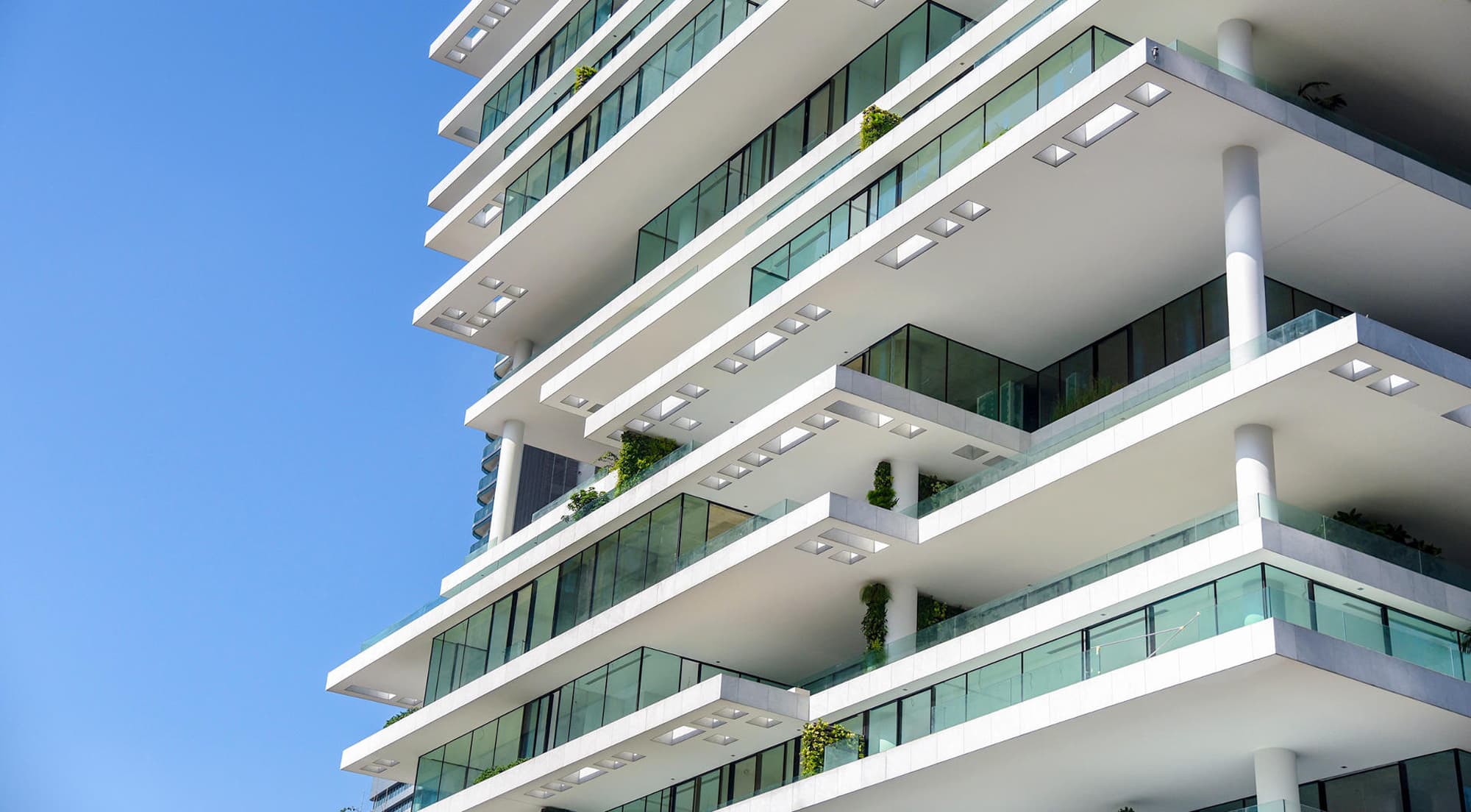 Above: The complex form has been created by using a relatively simple structure of evenly spaced columns. Image courtesy of Beirut Terraces.
The residences are distributed throughout the building, with some set over a single level and others arranged over two-storeys. Each quarter of the tower has its own lobby with elevators serving no more than two apartments at a time. For improved efficiency, two lobbies share service elevators, mechanical and electrical risers, and fire escapes. A shared viewing terrace tops the block featuring a spa, pool and sauna. A number of retail units are arranged along the eastern facade.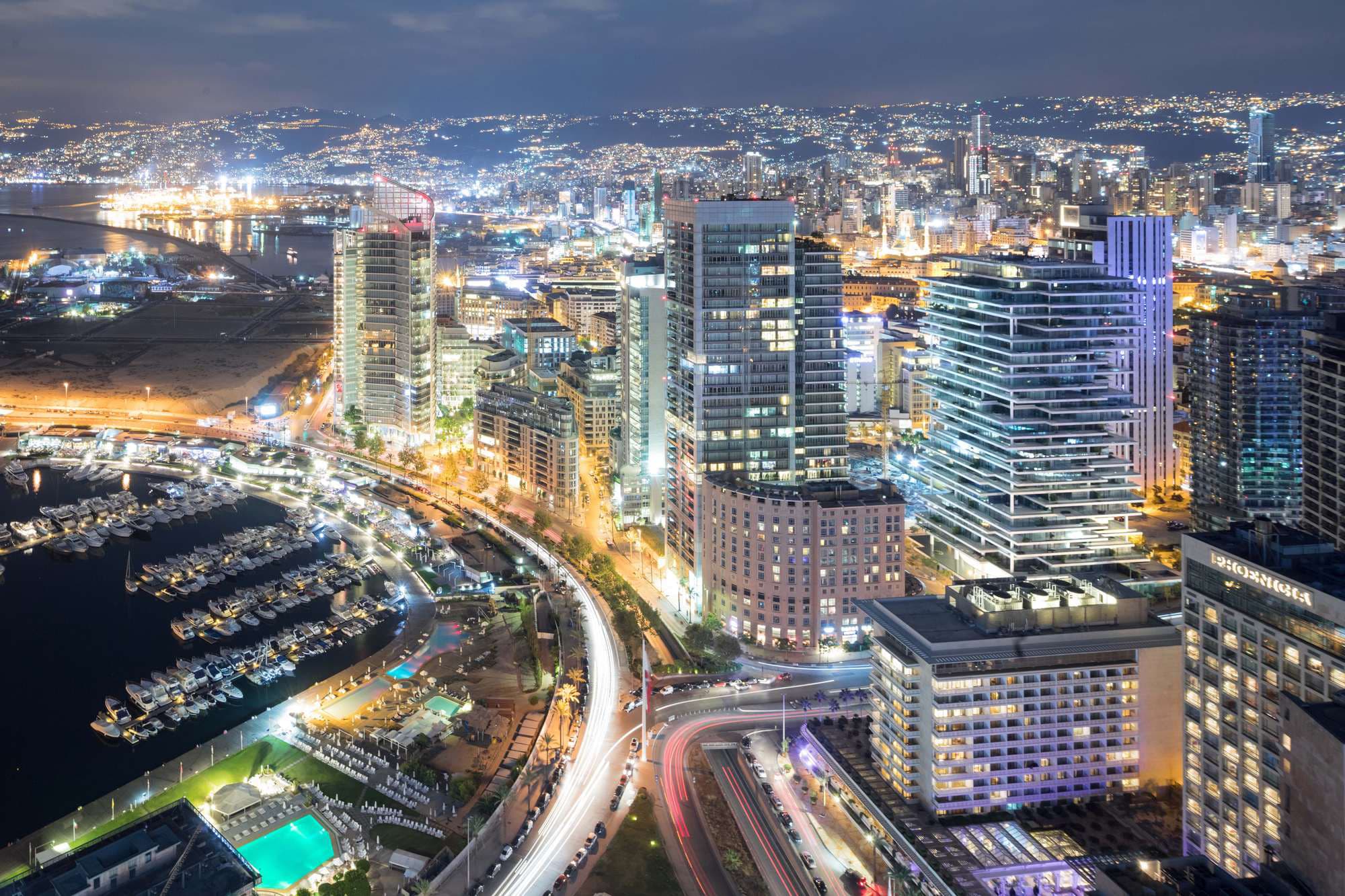 Above: Beirut Terraces is an impressive statement of intent for the future. Image courtesy of Iwan Bann.
Though a combination of a simple structure and staggered floorplates, Herzog and de Meuron have created a living environment that is entirely appropriate for Beruit's climate; a multi-layered, vertical community that speaks of the city's past, while standing as an impressive statement of intent for its future.
Images courtesy of Iwan Baan, Trevor Patt, Beruit Terraces and Benchmark Development. We welcome you sharing our content to inspire others, but please be nice and play by our rules.
Comments
---