Tech
How Tesla Builds Its Factories So Quickly
Youtube Views

2,774,896

VIDEO VIEWS
Video hosted by Fred Mills.
Now the world's most valuable carmaker, Tesla has dramatically shaken up the world of driving.
Despite initial struggles, the company now has record demand for its electric cars and is racing to scale production accordingly; enhancing processes, fine-tuning automation and building its Gigafactories with astonishing speed.
Tesla bought its first factory from General Motors in 2010 and quickly transformed the facility into one of the world's most advanced automotive plants.
In the decade since, the firm has quickly expanded in the US with large custom-built car, battery and solar panel plants - or "Gigafactories" - in Nevada and New York, and has recently broken ground on a further facility in Texas.
Above: Gigafactory 2 in Buffalo, New York - one of four Tesla factories either already built or under construction in the US. Image courtesy of Tesla.
Eyeing further international expansion and aiming for a production facility on each inhabited continent, Tesla is now constructing Gigafactories in Berlin and Shanghai at an incredible pace.
The Shanghai factory went from a bare patch of land to making its first models in under a year, and the progress now being seen at Giga Berlin could result in an even faster build time.
So, how does Tesla do this when most buildings - let alone advanced factories - take many months to design and then easily a year or more to construct?
Unlike most one-off building projects, Tesla has developed a clear template for its Gigafactories. It knows what it needs and what will work best for its business and isn't reinventing the wheel each time.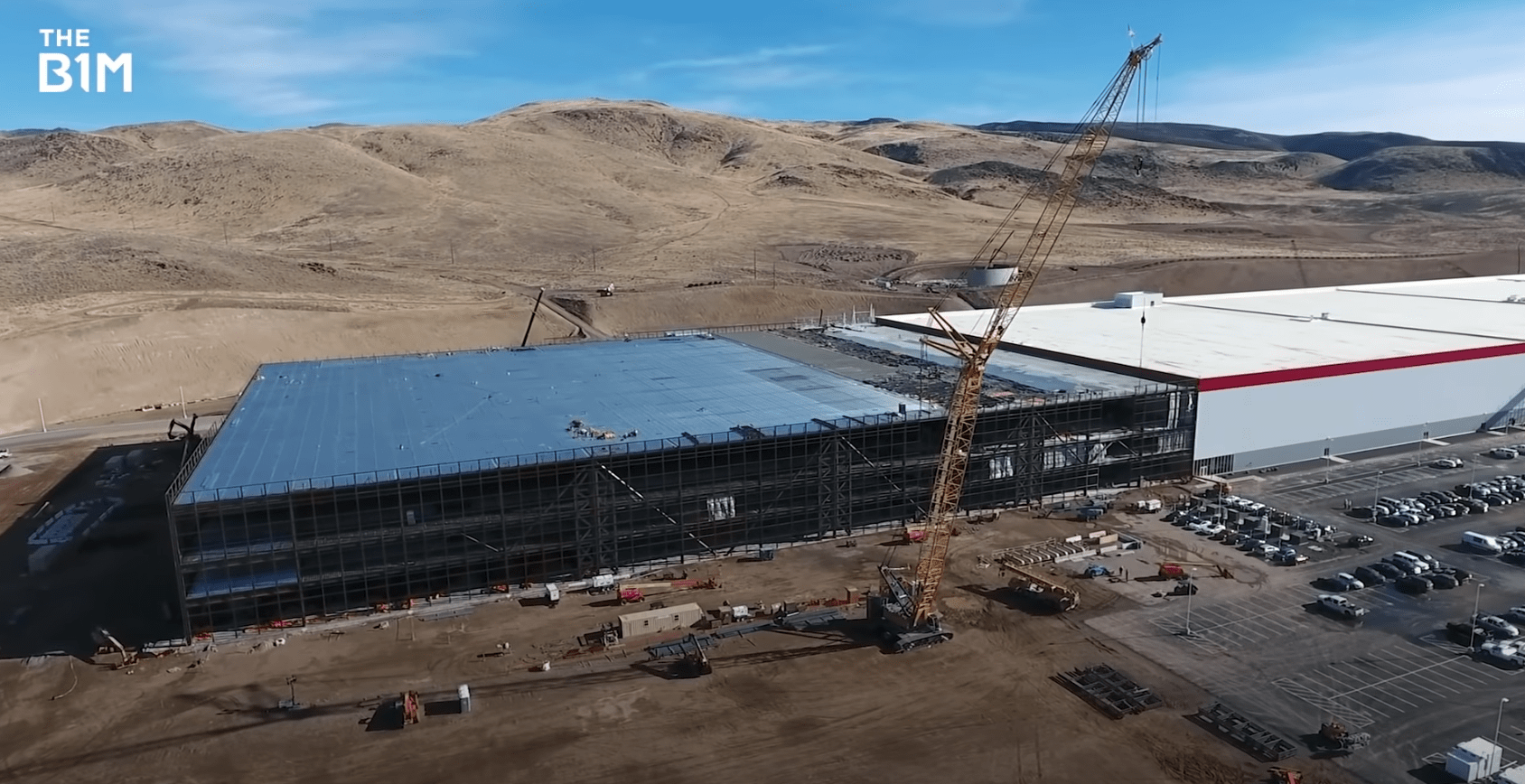 Above: Tesla's design manual can be quickly and easily adapted whatever the local site context or constraints. Image courtesy of Tesla.
These pre-honed designs are now being built using prefabricated construction techniques.
This is where a building's elements are pre-made in a factory, before being transported to the building site for assembly; saving time, cutting costs and improving quality.

Tesla knows which materials it wants to use, how its Gigafactories break down into component parts and how those parts all go together.
Its teams know the drill and aren't now creating a prototype each time they build.
During the final assembly on site, each step is carefully sequenced with teams following each other and starting the next build activity before the previous one has completed where possible.
Mindful of the need to potentially scale up capacity in the future, the Gigafactories are also designed to be easily expanded - a feature clearly visible in Nevada.
At Giga Berlin, thousands of roof and wall elements have been arriving by train, before being quickly slotted into place, whereas in Shanghai only truck deliveries were possible.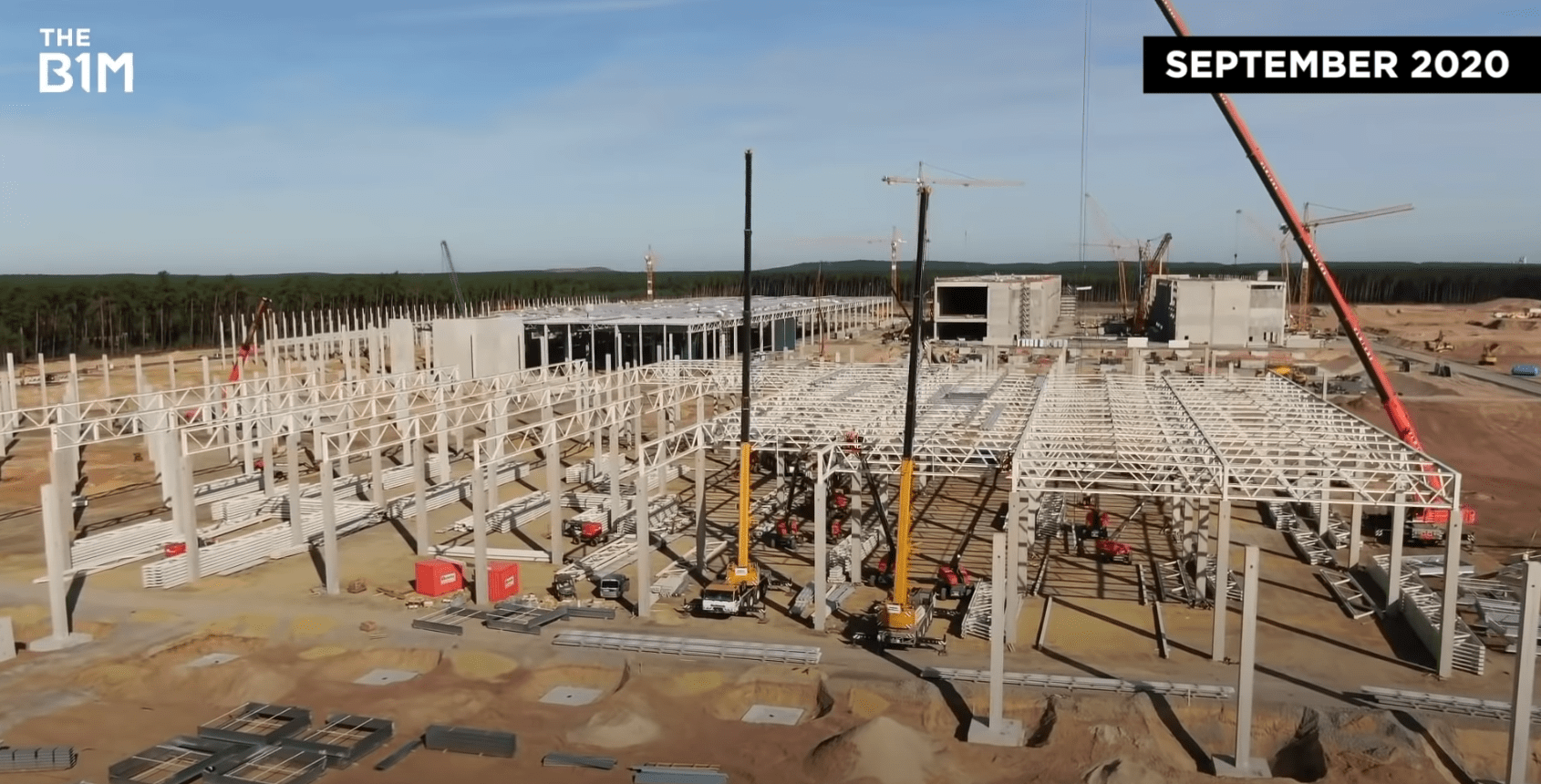 Above: It's thought that up to 1,200 tonnes of building material is being transported to the Berlin site by rail at a time. Image courtesy of Tobias Lindh.
While offsite construction is more commonly used for housing, large-scale commercial and industrial applications have been on the rise.

A Tweet from Tesla's CEO Elon Musk in July 2020 confirmed the approach, pointing out the "impossible-seeming" speed of the build and positioning Germany's construction sector as a leader in offsite.
In fact, the country is one of the world's biggest adopters, with around 9% of construction projects now using offsite techniques.
But despite the factory emerging at an electrifying speed, things haven't been entirely straightforward in Berlin.
The original design called for some 15,000 concrete piles but environmentalists raised concerns about the impact on local nature and groundwater and the firm revisited the plan, cutting the number to around 500 and constructing just the press shop on a piled foundation.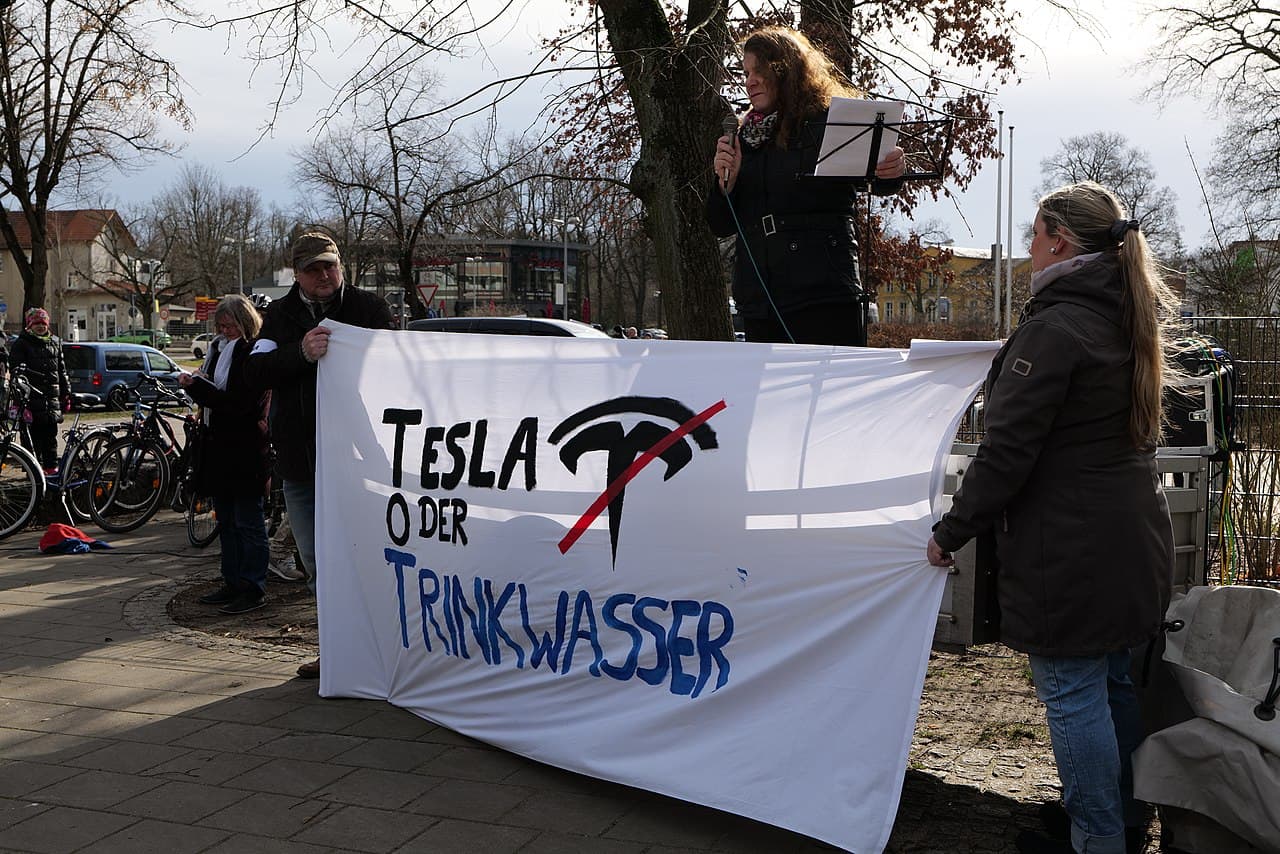 Above: Tesla has faced resistance from local activists accusing the company of environmental damage.
Tesla is also building at its own risk, with only preliminary approvals granted and the crucial final permits yet to be signed, though this issue looks likely to be resolved by the end of 2020.
Despite some arguably inevitable local hiccups, Tesla has found a formula for rapid factory building that it can repeat and perfect on future projects, moving it closer to achieving its mission of "terawatt-hour" levels of battery production that Musk believes would bring about "a fundamental shift in the world's energy usage."
The firm's approach is compelling for those already using offsite techniques on other repeatable building types like schools, prisons, hotels and homes - and for those other car giants now racing for a slice of the electric market.
Narrated by Fred Mills. Additional footage and images courtesy of Tesla, Audi, Electrek, Katerra, Texas Terafactory, Tobias Lindh and WU WA.
We welcome you sharing our content to inspire others, but please be nice and play by our rules.
Comments
---