Cities
How Apple Builds its Stores
Youtube Views

896,095

VIDEO VIEWS
WALKING into an Apple Store is different from walking into other shops.

You're hit by a clean, uncluttered, minimalist design that's the same around the world. You're struck by the incredible location or structure that you're stepping into. That ordeal of trying to find what you want, typical to normal retail stores, is instead replaced by calm.
Since 2001, Apple's stores have transformed retail unlike any other brand. Their runaway success has inspired copycats, seen the firm team-up with world-renowned architects and created new landmarks in our cities.
So, what's Apple's secret? How does it build its stores? How are they thriving when the rest of the retail world is in freefall? And, is the firm's appearance in some of our most iconic city locations a great way to preserve heritage, or a step too far?
Every Apple Store is made with the same ingredients.

They're minimalist. They emphasise natural materials, like wood and stone and they're easy to move through because they are clean and open.

Apple extends the design language of its products into the built environment. The logo glows on storefronts like the back of a MacBook. The aluminium of an iMac becomes wallpaper.

The stores, like Apple's products, represent elegant simplicity for customers.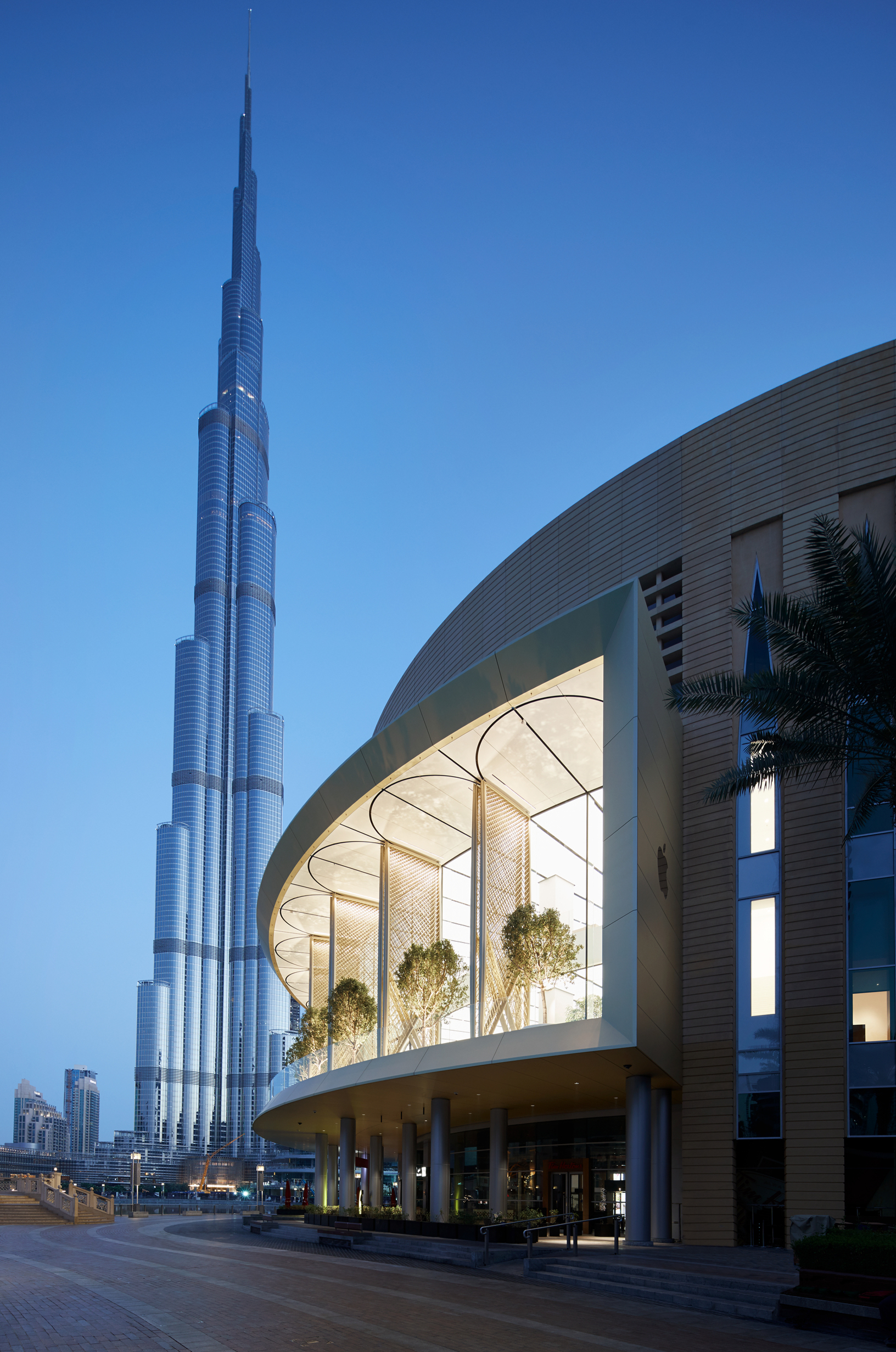 Above: One of Apple's Dubai stores. Image courtesy of Apple.

Apple Stores have never really been designed to directly sell anything, but to educate. Products are displayed more like exhibits in a museum than clothes in a department store.

They focus on the customer's experience, rather than their own objectives.
When the first Apple Store opened back in 2001, this approach set it apart from every other retailer.

Despite the industry's early scepticism, Apple's stores were generating USD $1BN of annual sales in just three years.

Other brands began copying Apple's style and soon there were Tesla Stores and Samsung stores - even McDonalds began borrowing from the company's methodology.

Encouraged by runaway success, Apple doubled down; bringing on Angela Ahrendts from Burberry in 2014 and forging a relationship with renowned architects Foster + Partners.

From there, the firm began to test and apply its "town square" principle, connecting famous landmarks and locations to its brand.

Apple's stores began appearing in the most prominent spots of our major cities; the Champs-Elysees in Paris, Covent Garden in London, Piazza Liberty in Milan and even New York City's Grand Central Station.
Armed with formidable cash resources, Apple has inserted itself into the core of many public spaces, becoming a focal point for activity.

The town square stores, though made with the same ingredients as the other outlets, employ a design philosophy of their own: larger sites are able to create "plazas" for music and events, so-called "forums" become spaces for creativity, "avenues" guide customers, while trees help evolve the genius bar into the "genius grove".

One of Apple's most famous sites is also a really clear example of this strategy.

Re-built in 2019, the glass cube on Fifth Avenue - arguably a New York landmark in its own right - now sits at the heart of a redesigned public square, with lightwells to the store beneath.

Apple's forums, avenues and genius groves await customers in what's intended as an oasis in the heart of Manhattan.

In 2020, the firm took things to a whole other level with a spherical island store on Singapore's famous Marina Bay.
Surrounded by water and reached by a 45-metre tunnel, the self-supporting glass and steel dome again houses all of Apple's core ingredients against 360-degree views of Singapore's skyline, while shading fins cleverly shield the space from intense sun.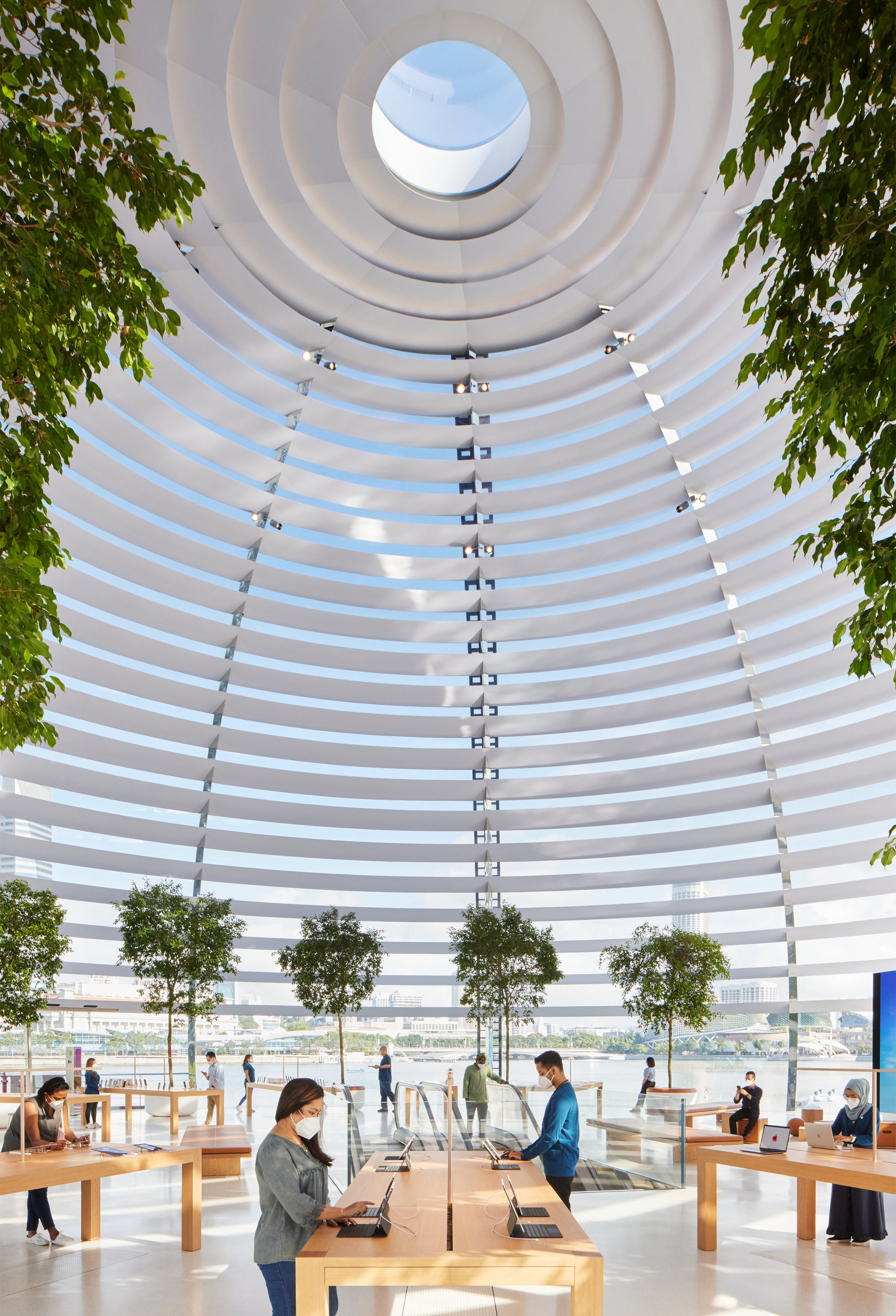 Above: Apple's store on Marina Bay, Singapore. Image courtesy of Apple.

Despite their stores' elegance, established style and notability, Apple's approach to retail has not been entirely without controversy.
Some fear the firm's encroachment into the core of our historic public spaces and question whether the world's most valuable private company should be occupying the physical heart of some communities.

Despite the firm's care in restoration - and while some argue that their involvement has in fact saved some heritage buildings - Apple's moves into certain locations has drawn criticism.

There was a minor backlash when the company opened a store inside Manhattan's Grand Central Station, and then again when it announced a new location at Washington D.C.'s Carnegie Library.
Though Grand Central Station does have space set aside for retail, Carnegie Library was meant to be just for the public.

Apple's press release said that its renovation had now "returned the library to the community" as a "centre for learning, discovery and creativity".

The firm's plans for a landmark store in Melbourne's Federation Square were ultimately withdrawn due to public opposition.

Despite the inevitable debates that go with repurposing famous sites, the way Apple builds its stores has redefined how we think about retail architecture.

While countless retailers have gone out of business or moved online over the past decade, Apple's stores have only grown in popularity. They've succeeded by understanding the potential of good design and recognising how powerful a tool the built environment can be.

Narrated by Fred Mills. Additional footage and images courtesy of Apple, Tom Horden, McDonalds and Foster + Partners. We welcome you sharing our content to inspire others, but please be nice and play by our rules.
Comments
---