NORTH AMERICA
Updated Plans for Obama Presidential Center Revealed
Youtube Views

VIDEO VIEWS
A NEW video released by the Obama Foundation shows updated plans for the Obama Presidential Center that is set to be built in Jackson Park in Chicago's South Side neighbourhood.
Initial designs by New York-based William Todd Billie Tsien Architects - that won the commission ahead of an impressive shortlist including Adjaye Associates, Snøhetta, Renzo Piano Building Workshop and Diller Scofidio + Renfro - were unveiled in May 2017.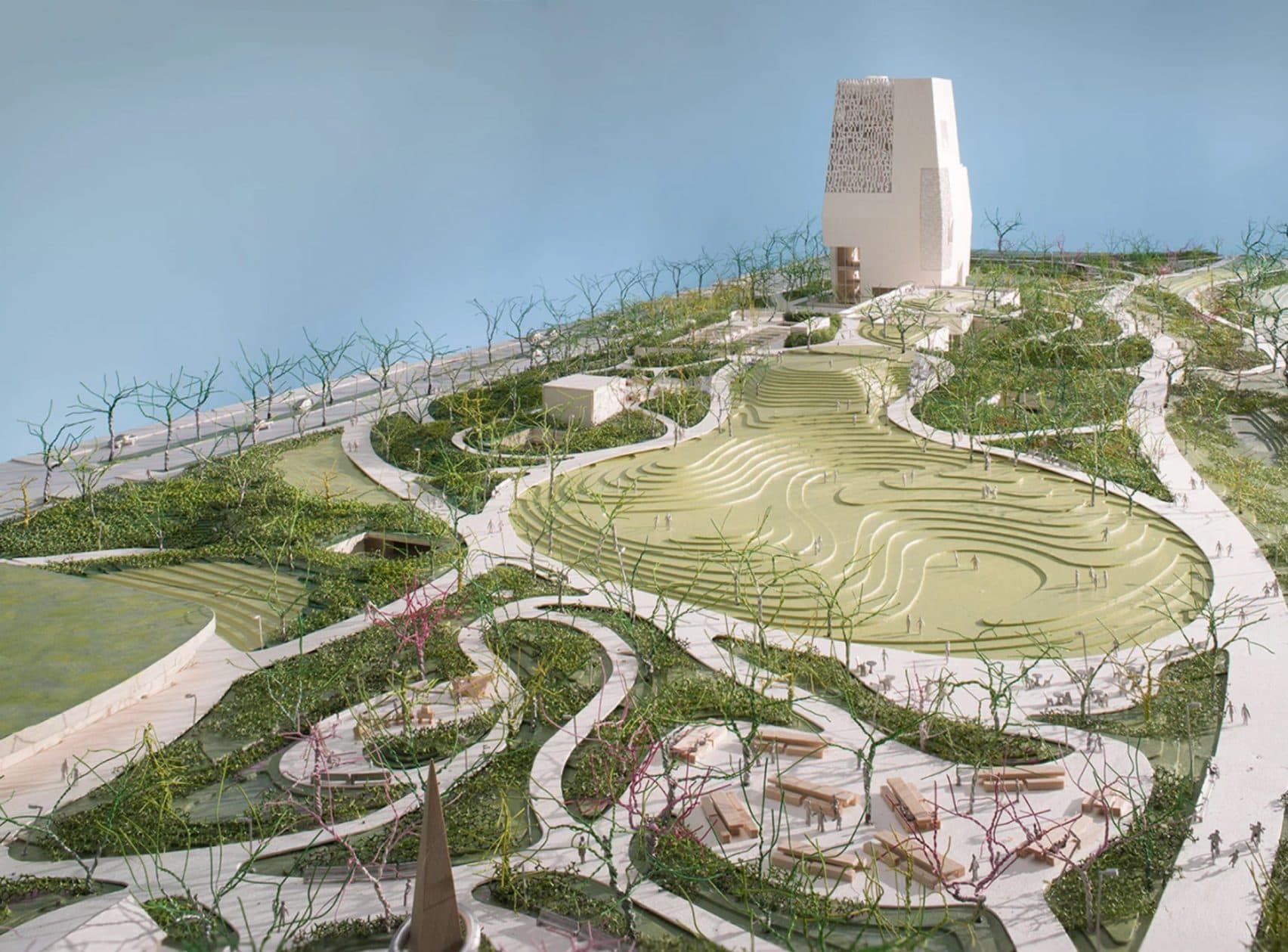 Above: A model showing the revised Obama Presidential Center in South Side, Chicago. Below: William Todd Billie Tsien Architects are responsible for the design (image courtesy of Obama Foundation).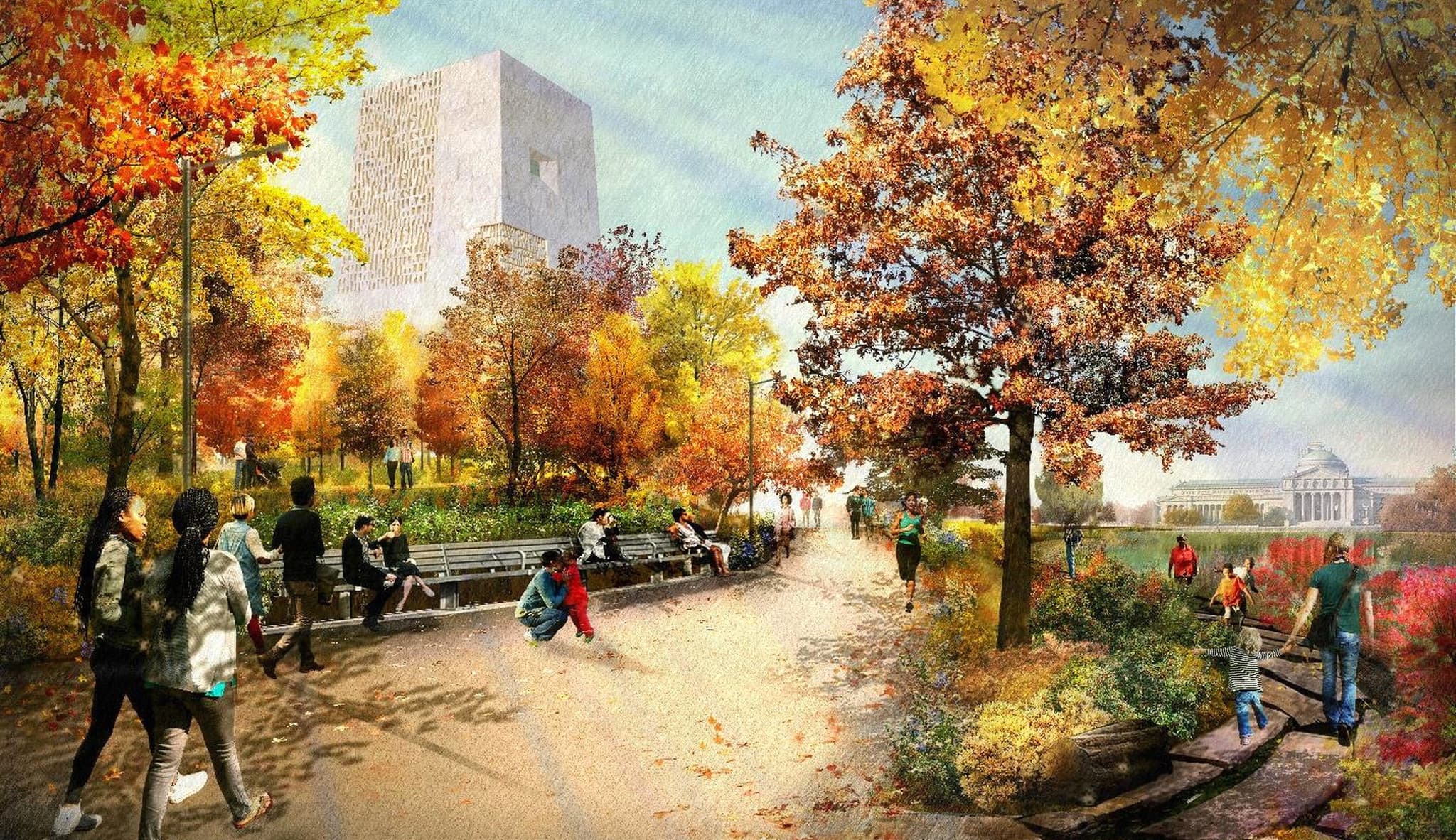 Following a series of public consultations, several elements of the plan have been amended. Most notably, the Center's main tower that will house the Obama Presidential Museum, has grown from 178 feet to 235 feet and is more slender than the initial proposal.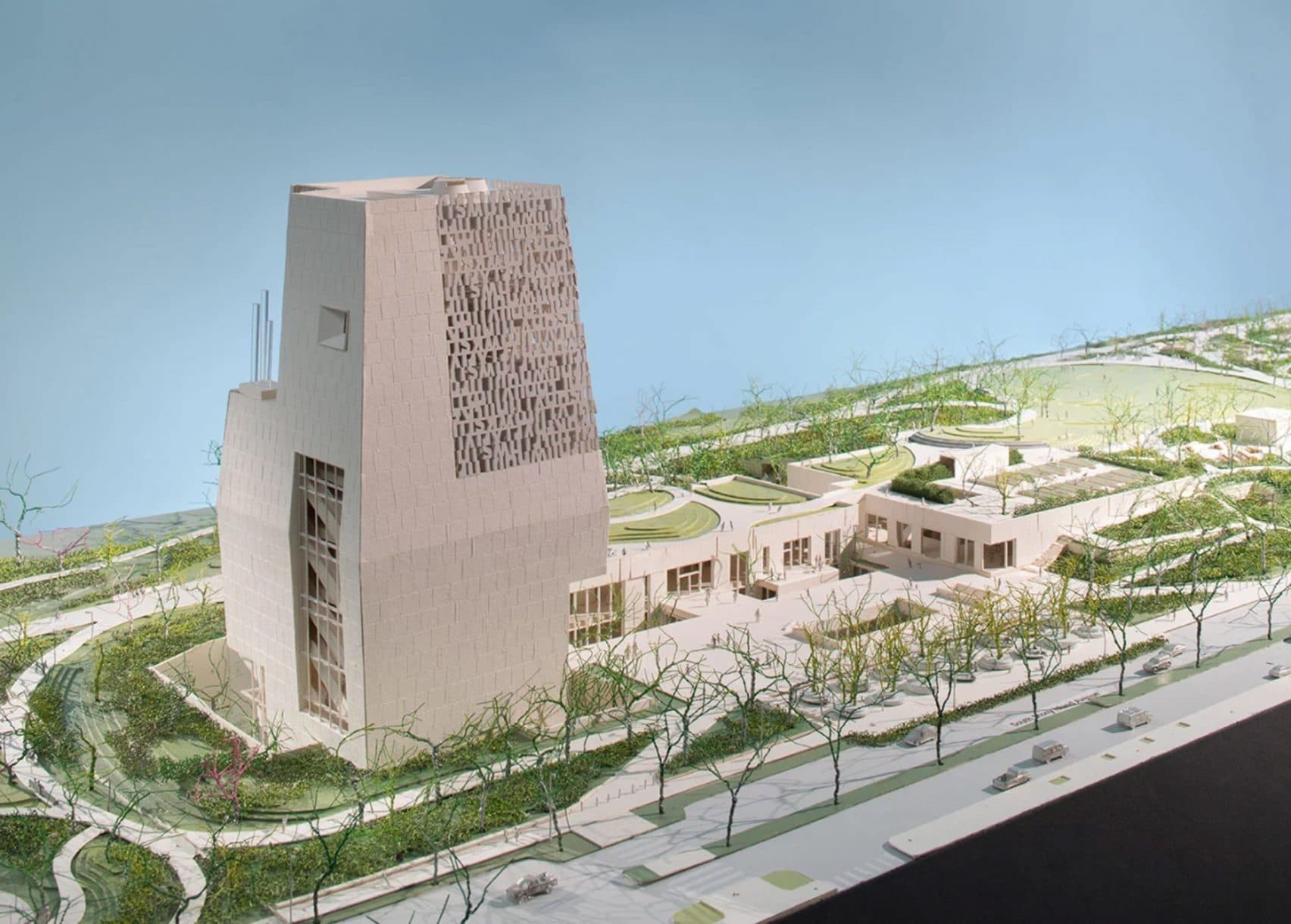 Above: Following public consultation, the Obama Center's tower was re-designed to be slimmer and taller (image courtesy of Obama Foundation).
Furthermore, a parking garage, originally planned on an adjacent lot, has been relocated underground.
The Center's landscape had been re-designed to better fit with the scheme of the historic park, which was designed by Central Park landscape architects Frederick Law Olmsted and Calvert Vaux.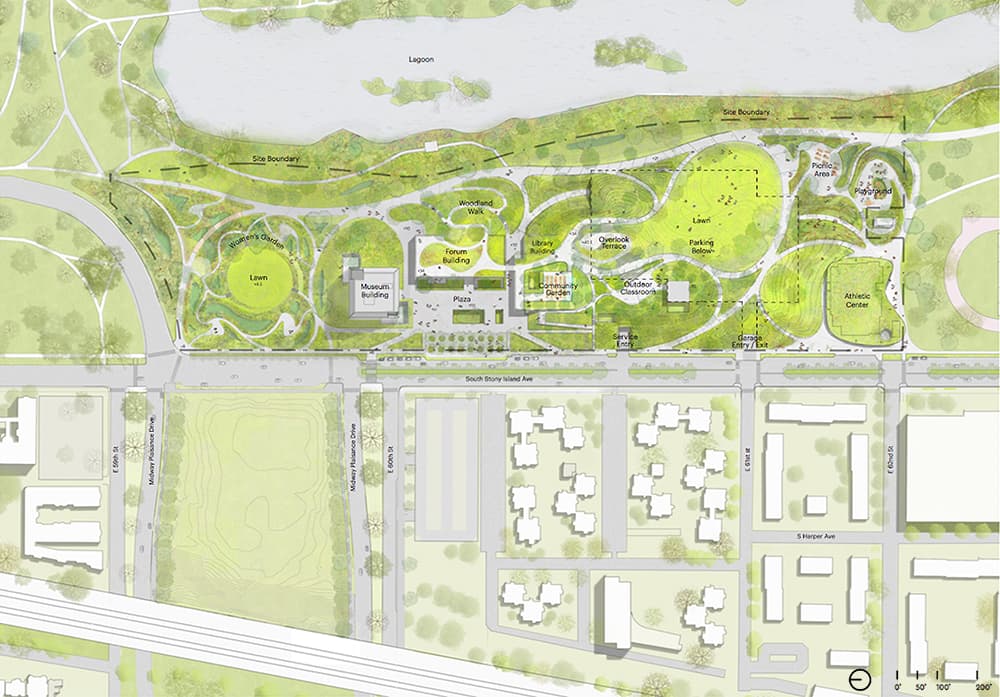 Above: The design of the landscape was amended to respect Jackson Park's original layout and residents' wishes (image courtesy of Obama Foundation).
The 325,000 square foot Presidential Centre will include a museum, a library, a 300-seat auditorium, sports facilities, recording studios, meeting spaces, to serve visitors and locals alike.
During construction 300 trees will have to be cut down, however, they will be replaced with 400 young trees once the building is complete.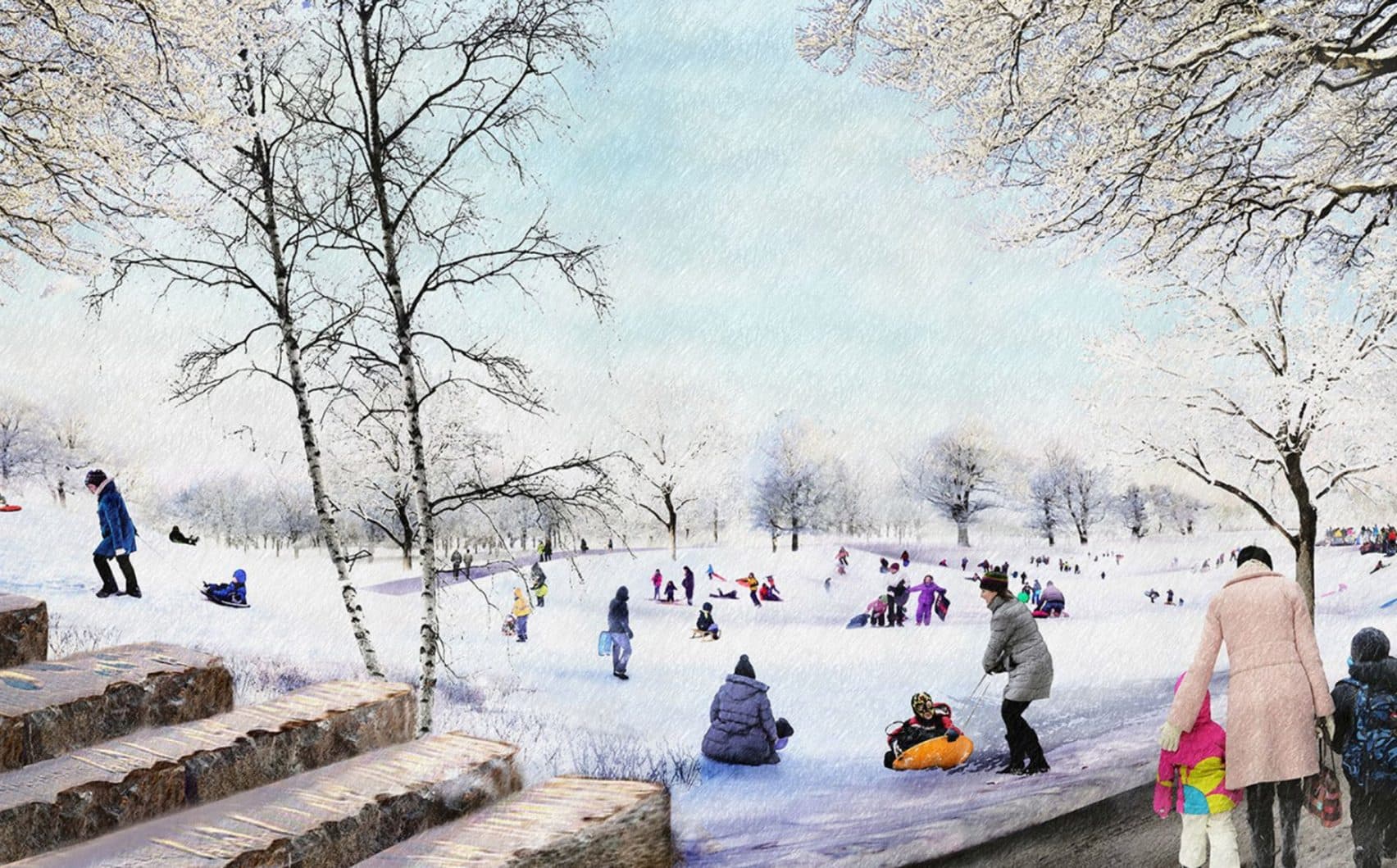 Above: The Center will feature both indoor and outdoor facilities for residents of Chicago's South Side (image courtesy of Obama Foundation).
Barack and Michelle Obama have expressed hope that the new Presidential Center will help to revitalise the neighbourhood.
It is estimated that the facility can contribute up to USD $3.1BN to local economic activity in its first decade.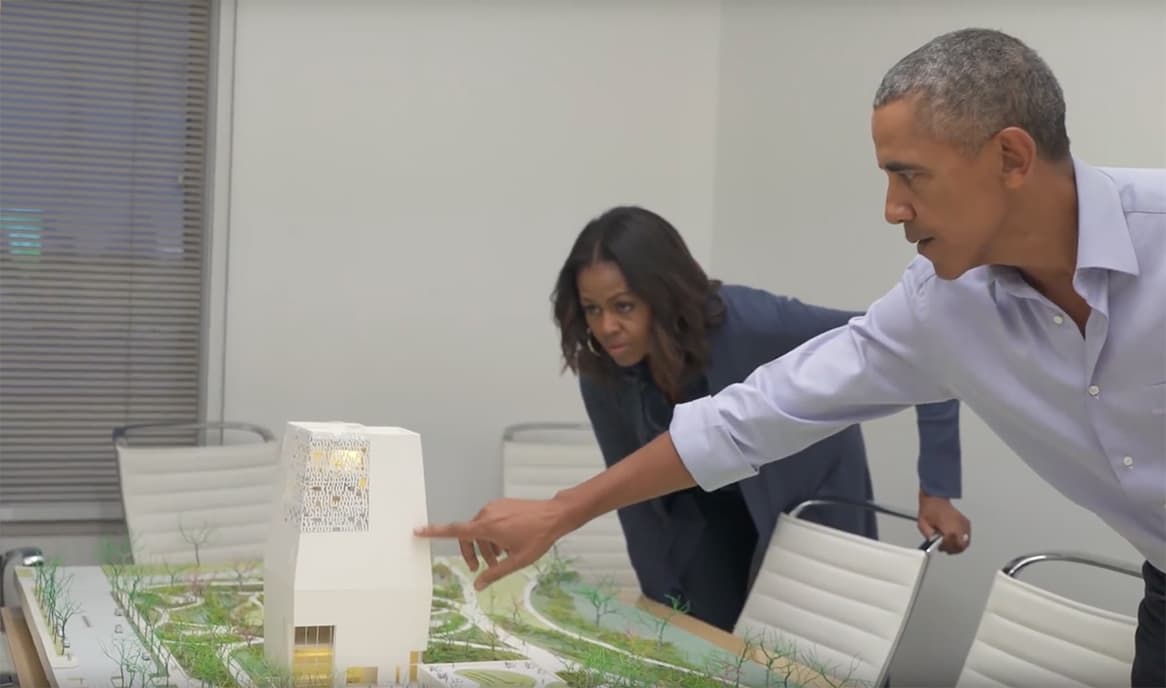 Above: The Obamas have been directly involved with the project, hoping it will benefit the immediate neighbourhood (image courtesy of Obama Foundation).
The Obama Foundation has announced it will now send these plans for planning approval, which may prove complex as Jackson Park is included on the National Register of Historic Places.
If everything goes to plan, the project, estimated to cost between USD $375-500 million to deliver, will break ground by the end of 2018 and open to the public in 2021.
Comments
---