Infrastructure
Building Trump's Wall
Youtube Views

350,599

VIDEO VIEWS
Please note: This video and its article were published prior to the 2016 US presidential election.

IF ELECTED President of the United States, Donald Trump wants to build a wall along the country's southern border with Mexico. So is it actually possible to build a wall like that and what would it mean for the construction industry?

It's worth saying from the outset that we plan to leave political debate about the rights and wrongs of building a border wall to others – we just hope that this helps to put more substance behind a key US Election issue.
THE CURRENT BORDER FENCE
The US international border with Mexico stretches 1,989 miles from the Pacific across to the Gulf of Mexico. Fencing of the border began back in 1990 but was expedited after the September 11 attacks with the passing of the Secure Fence Act in 2006.
Since then more than USD $7BN has been spent on fencing along some 653 miles of the boundary (source: Alliance Bernstein).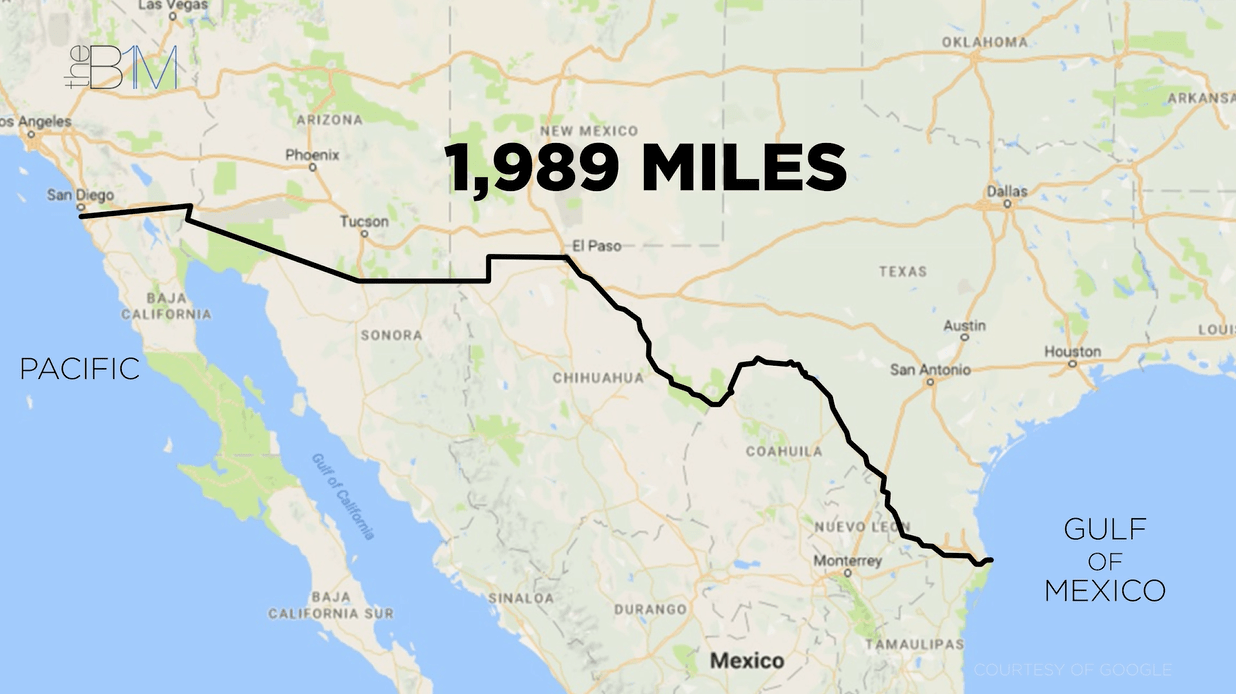 Above: The US-Mexico international border stretches 1,989 miles from the Pacific to the Gulf of Mexico (map image courtesy of Google Maps).
The fencing currently used varies between different parts of the border. In easy-to-access urban areas a 5.4m high steel barrier is used, whilst lower key vehicle fencing has been installed in more remote portions that are considered to be "low-risk".
Vast stretches of the border are formed of natural barriers – such as the Rio Grande River – and much of it passes through remote terrain; the mountain ranges of New Mexico and the deserts of Arizona. In the dunes in Southern California, a "floating fence" had to be built to allow for natural movements of the sand.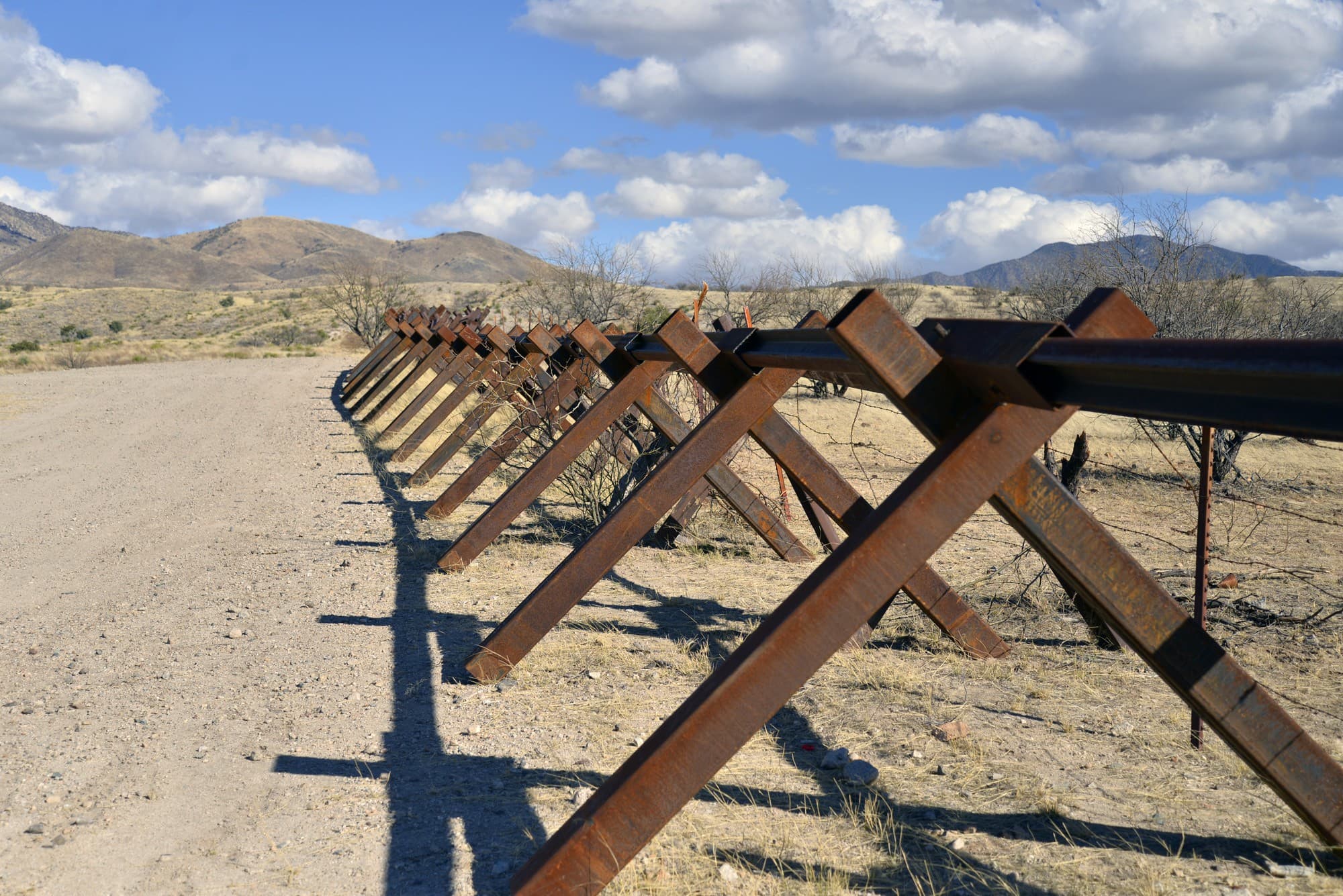 Above: Existing fencing varies along the border with lower key vehicle barriers used in some areas (image courtesy of Lillian Reed + Cronkite Borderlands Initiative).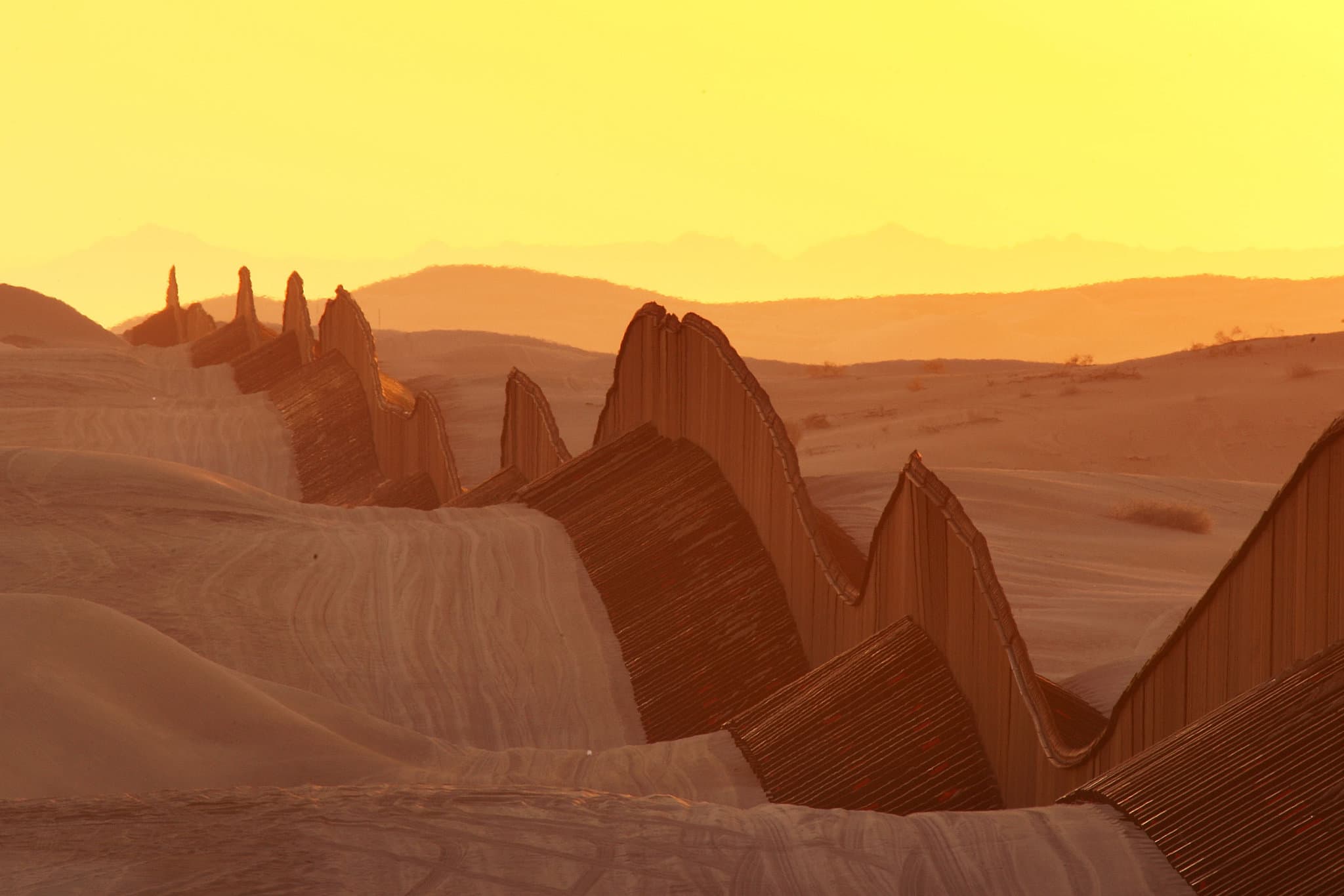 Above: A floating fence was installed across dunes in California to accommodate movement of the sand (image courtesy of David McNew/Getty Images).
TRUMP'S WORDS
In the US primaries, Donald Trump explained that he wanted to build a 2,000 mile wall. That has since been reduced to 1,000 miles in recognition of the natural barriers that exist. While the proposed wall has got shorter, it grew in height over the course of a Twitter argument and is now somewhere between 10 and 12 meters tall.
Trump believes the wall will cost USD $8BN, but that figure has been refuted. We will come back to estimates a little bit later on.
In detailed plans outlined on DonaldJTrump.com, Trump explains that he will make Mexico pay for the wall by blocking the flow of payments from Mexican Nationals working in the US back to Mexico. That equates to about USD $24BN USD (source: Alliance Bernstein). That cut off will, on Trump's logic, force Mexico into making a relatively small financial contribution to the wall, in order to release the much larger payments from their nationals.
TRUMP'S WALL
So what would Donald Trump's wall actually look like?
Well a team at Alliance Bernstein did some excellent research on this. They assumed a wall length of 1000 miles, a thickness of 250mm, and a height of 12 meters (with an additional two meters of wall below ground to deter basic tunnelling). They also assumed that a 1.5 meter wide, 300mm deep concrete strip footing would be required along the entire 1,000 mile length.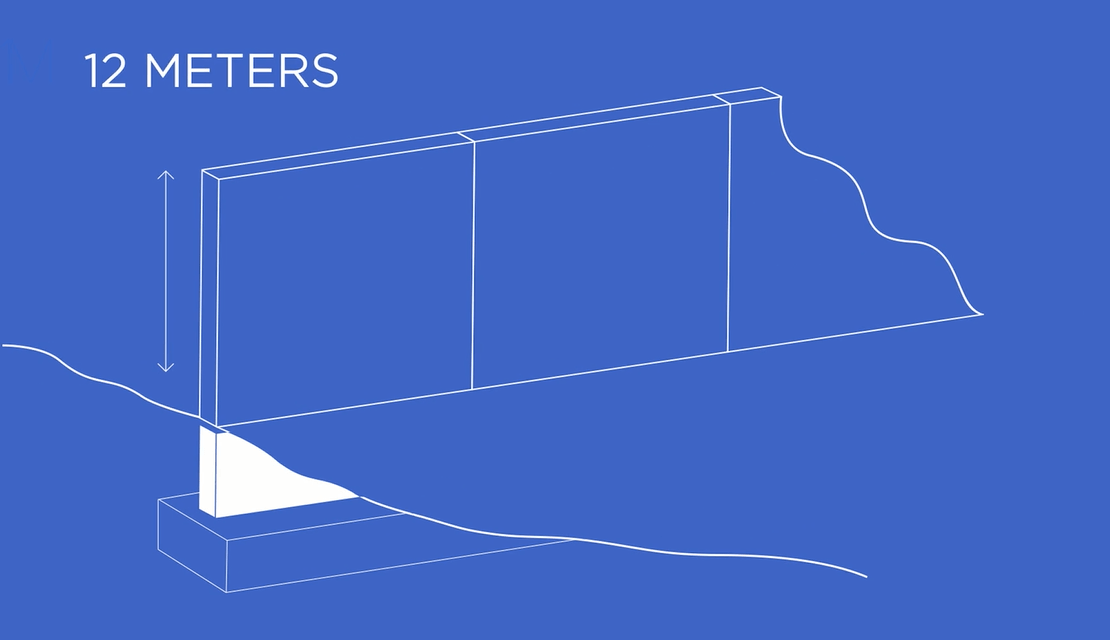 Above: Proposals for the border wall. Watch the full animation in our video at the top of the page.
Of the many materials available, several structural engineers have largely agreed that pre-cast concrete is preferable given the high temperatures along the border that preclude the use of a poured in-situ concrete solution.
Based on these parameters, Alliance Bernstein determined that the wall would require 7.1 million m3 of concrete and 2.4 million tonnes of cement (assuming a standard content).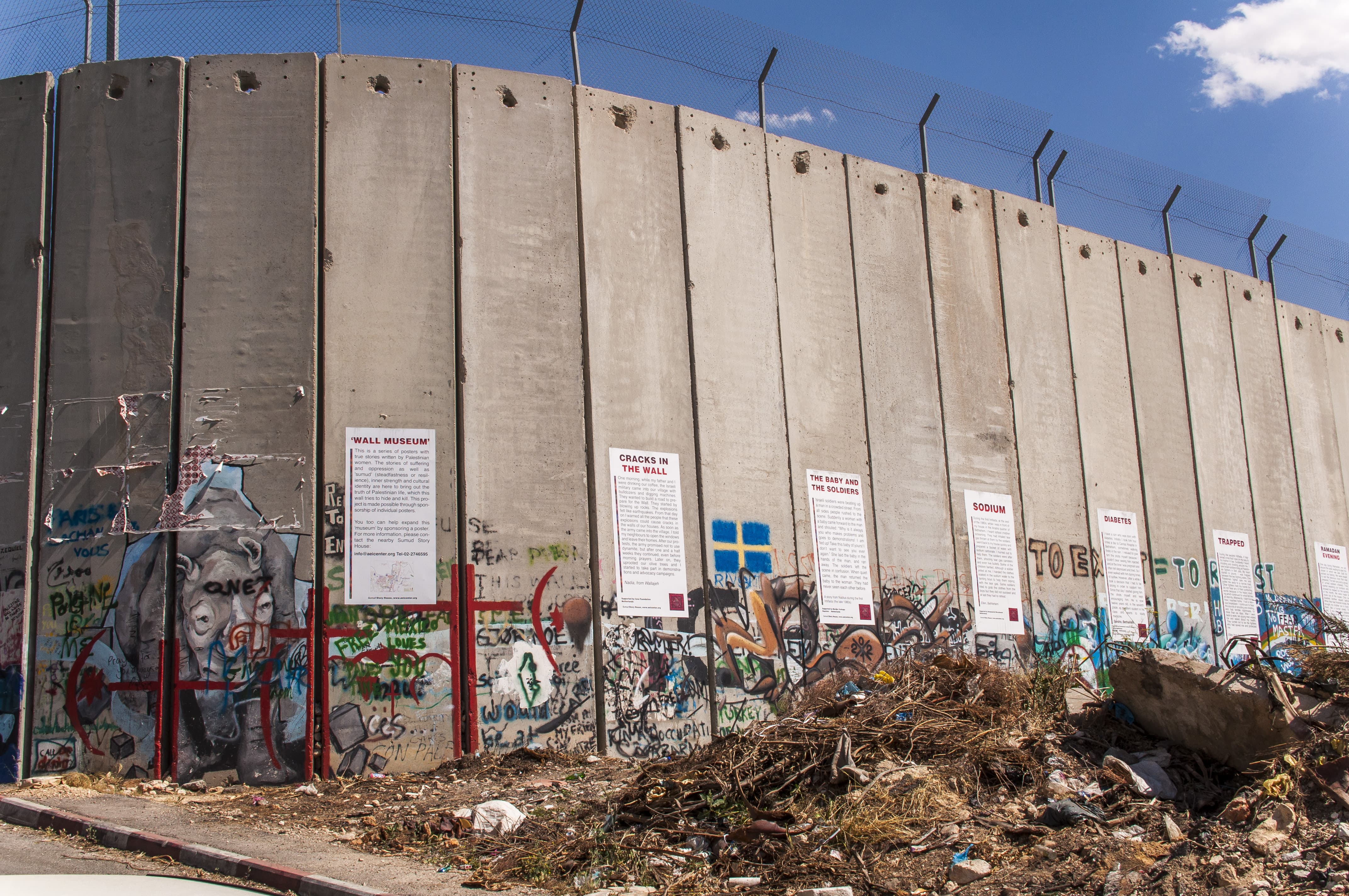 Above: The Israeli West Bank Barrier near Bethlehem used pre-cast concrete panels.
However, the wall would not look the same along its length. Bespoke engineering may be needed to deal with specific geographic features and allowances must be made for flooding as the border crosses numerous floodplains.
"Vast stretches of the border are formed by natural barriers + much of it passes through remote terrain; the mountain ranges of New Mexico and the deserts of Arizona"
The construction complexities don't end there. The formation of a more substantial barrier than exists at present would require access roads to be built, which isn't simple on a mountain range or in a remote desert. The border also passes through Indian Territory, wildlife reserves and ranches whose owners would all have to agree to sell their land to the Federal government.
Delays, surging costs and disputes with private land owners were all encountered during construction of the relatively modest existing fencing.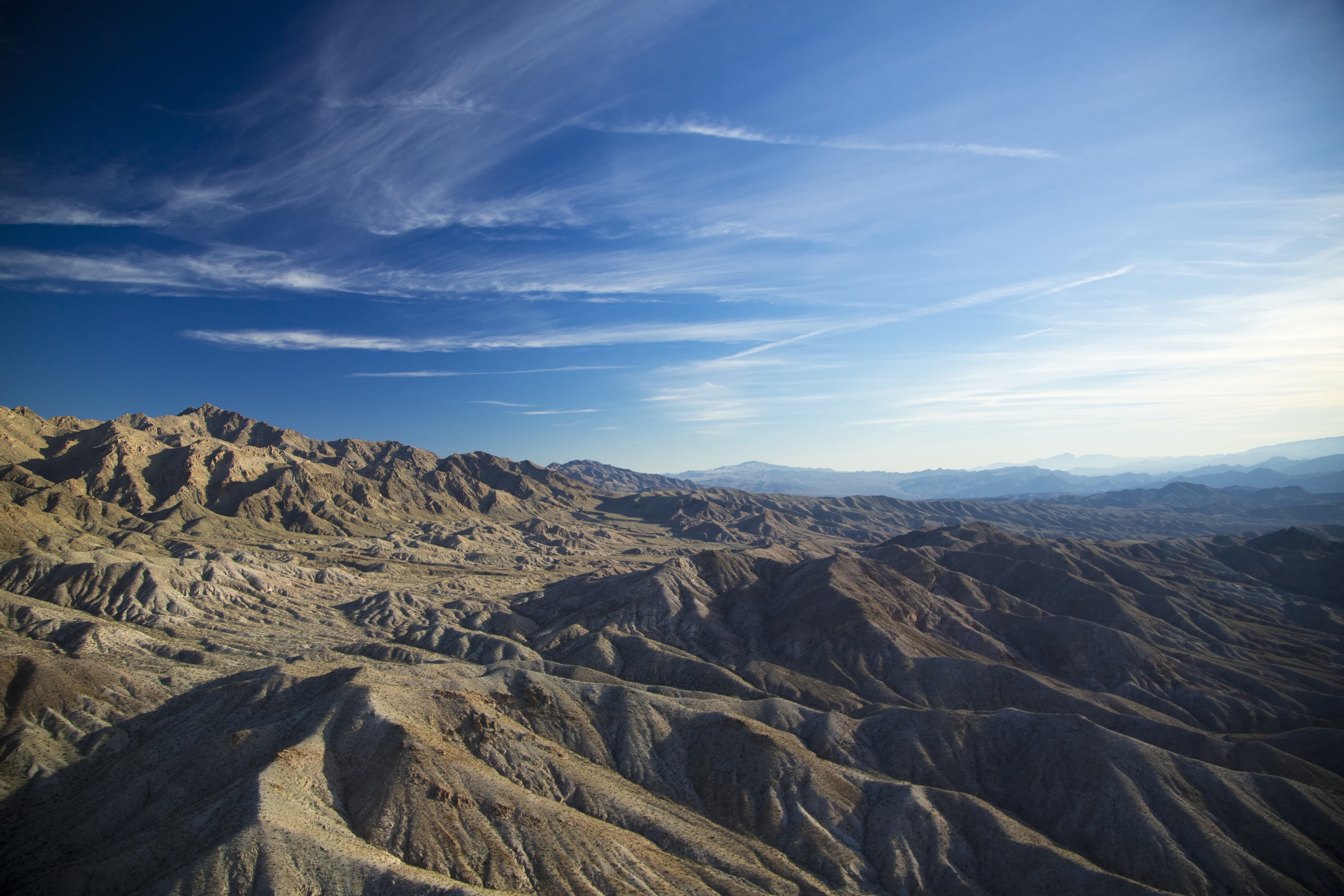 Above: The US-Mexico international border crosses extreme terrain in some locations.
HOW MUCH WOULD IT COST?
At this stage putting an exact figure on a project like this is not easy. The consensus among experts is that to construct the sort of thing that the Alliance Bernstein have assumed would cost at least USD $15BN and even as much as USD $25BN.
"The consensus among experts is at least USD $15BN and even as much as USD $25BN"
Whilst those numbers may sound enormous, it is worth understanding the wider context of US federal budget; currently sitting at just under USD $4TN.
In 2009 the US Government Accountability Office (GAO) said that the basic costs of constructing one mile of fencing averaged between USD $2.8M and $3.9M in easy-to-access metropolitan areas. These costs rose as high as USD $16M per mile in remote desert or mountainous regions.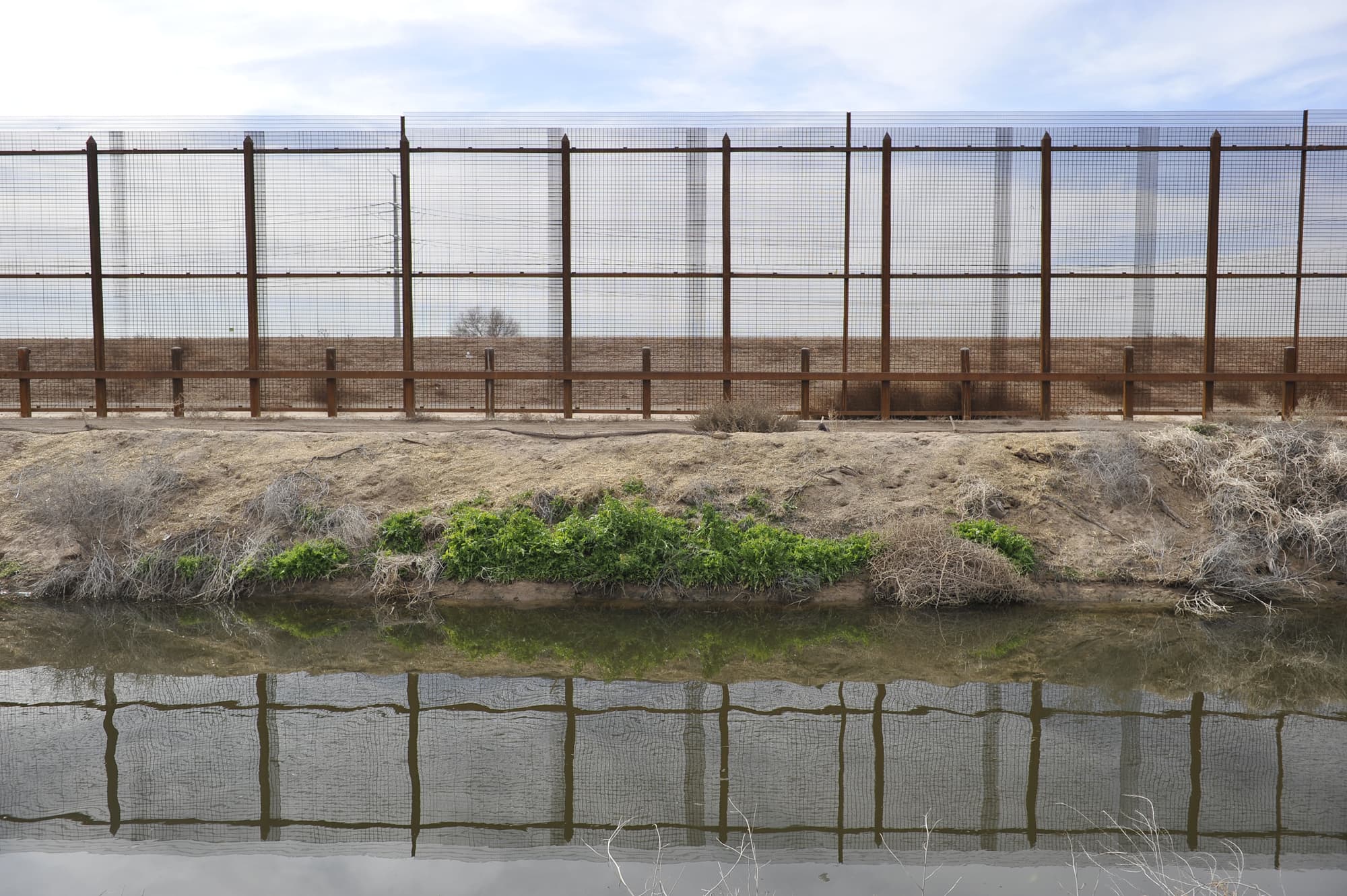 Above: Part of the existing border fence between the United States and Mexico.
On top of these basic construction costs, other fees associated with design, land acquisitions, environmental impact statements, transporting materials, labour, site setups and accommodation need to be factored-in. Once built, the costs of ongoing guarding and maintenance also need to be considered.
WHAT WOULD IT MEAN FOR THE CONSTRUCTION INDUSTRY?
The progression of such a project would be big for the construction industry. Some of the biggest value schemes on site at present include the USD $20BN Crossrail scheme in London, the USD $5.25BN expansion of Panama Canal and the USD $11BN Jubail Industrial City Two in Saudi Arabia – so Donald Trump's wall would be right up there.
If he were elected and if proposals passed Congress, planning and design work for the wall could start coming into the industry in 2017 with construction perhaps commencing the year afterwards.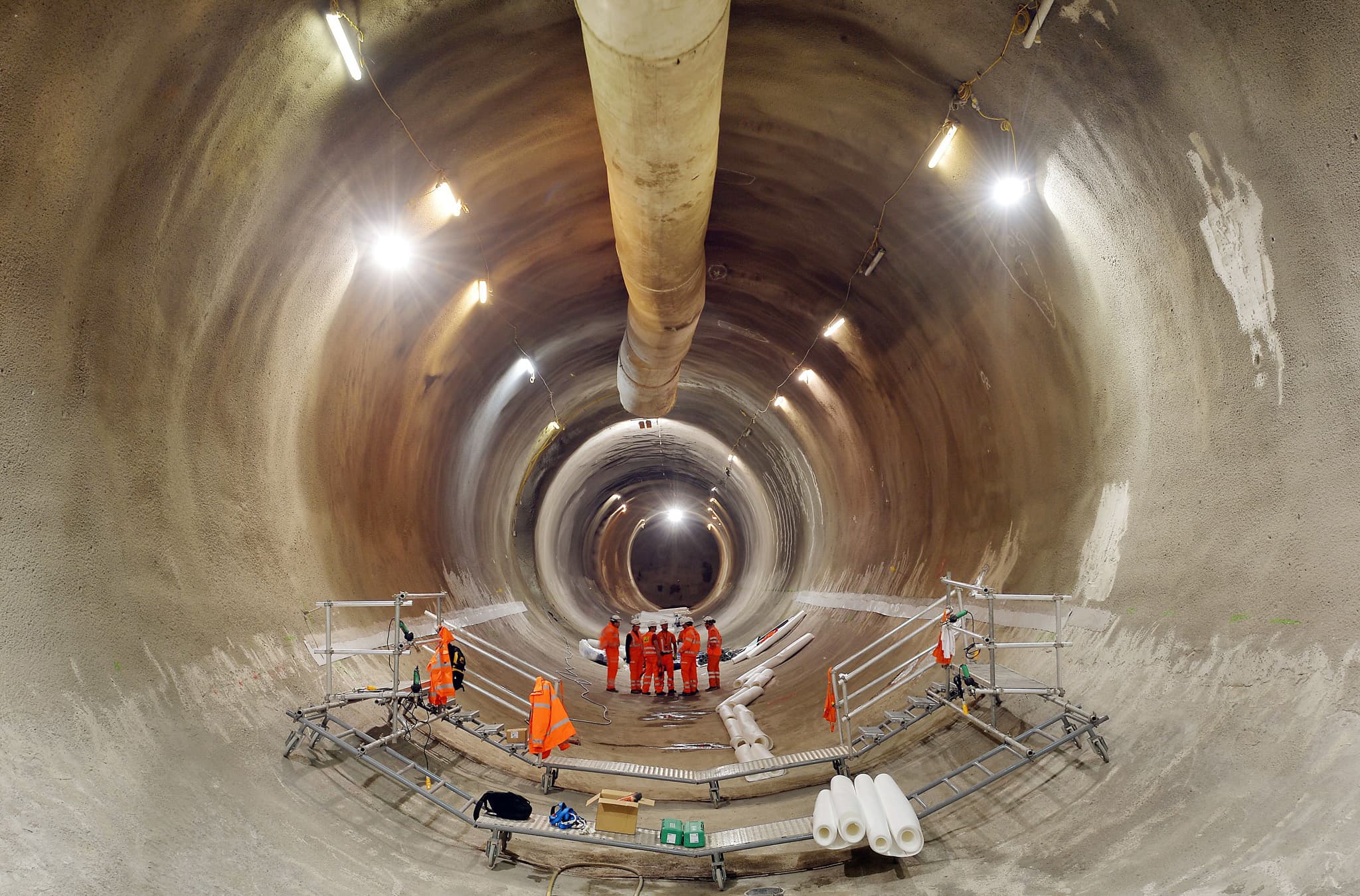 Above: Donald Trump's border wall would join London's Crossrail (pictured) as one of the world's largest construction projects (image courtesy of John Stilwell/PA).
Experts believe that construction of the wall could create as many as 100,000 jobs and given the financial pressures of transporting pre-cast concrete and cement over great distances, local manufacturers of those materials could stand to gain. Alliance Bernstein calculated that the wall could add 1.1% to US cement demand in 2018 and 2019, which would be significant for a market that currently grows by around at 4-5% each year.
Of course, if Mexico were begrudgingly paying for the wall they would be unlikely to use US suppliers and that is perhaps vice versa for the United States.
In the midst of the intense 2016 US Presidential Election, we hope this helps put some substance behind a much-publicised issue. You can learn more about the facts of the proposed border wall in Alliance Bernstein's report.

Images courtesy of Andreas F. Borchert, Bechtel, Canal De Panamá, Charlie Neibergall/AP, David McNew/Getty Images, Gage Skidmore, Google Maps, John Stilwell/AP, Lillian Reed/Cronkite Borderlands Initiative, Samuel Zeller and Tony Webster.
We welcome you sharing our content to inspire others, but please be nice and play by our rules.
Comments
---