Cities
The World's Greatest Stadium Upgrades
Youtube Views

1,552,616

VIDEO VIEWS
Video powered by Bluebeam.

AS FAN experience takes centre field, the cost of building new stadiums from scratch now frequently runs into billions of dollars.

When looking to increase capacity, improve access or raise their appeal, many venues are now choosing to overhaul their existing structures instead, bringing overall costs down.
But with complex engineering to navigate, long-term fans to keep happy and events and matches to host during the works, these projects often prove more complex than new builds.
From reimaging iconic football grounds to installing massive roofs on tennis courts and preparing for the Superbowl these stadiums are getting multi-million-dollar upgrades.
SANTIAGO BERNABEU - SPAIN
Home to Real Madrid since its completion in 1947, Spain's revered Santiago Bernabeu is now getting a USD $650M overhaul.
While the venue's 81,000 seat capacity is set to remain unchanged, the four-year renovation will enclose the entire structure in a skin of steel bands creating a surface for projections as night falls.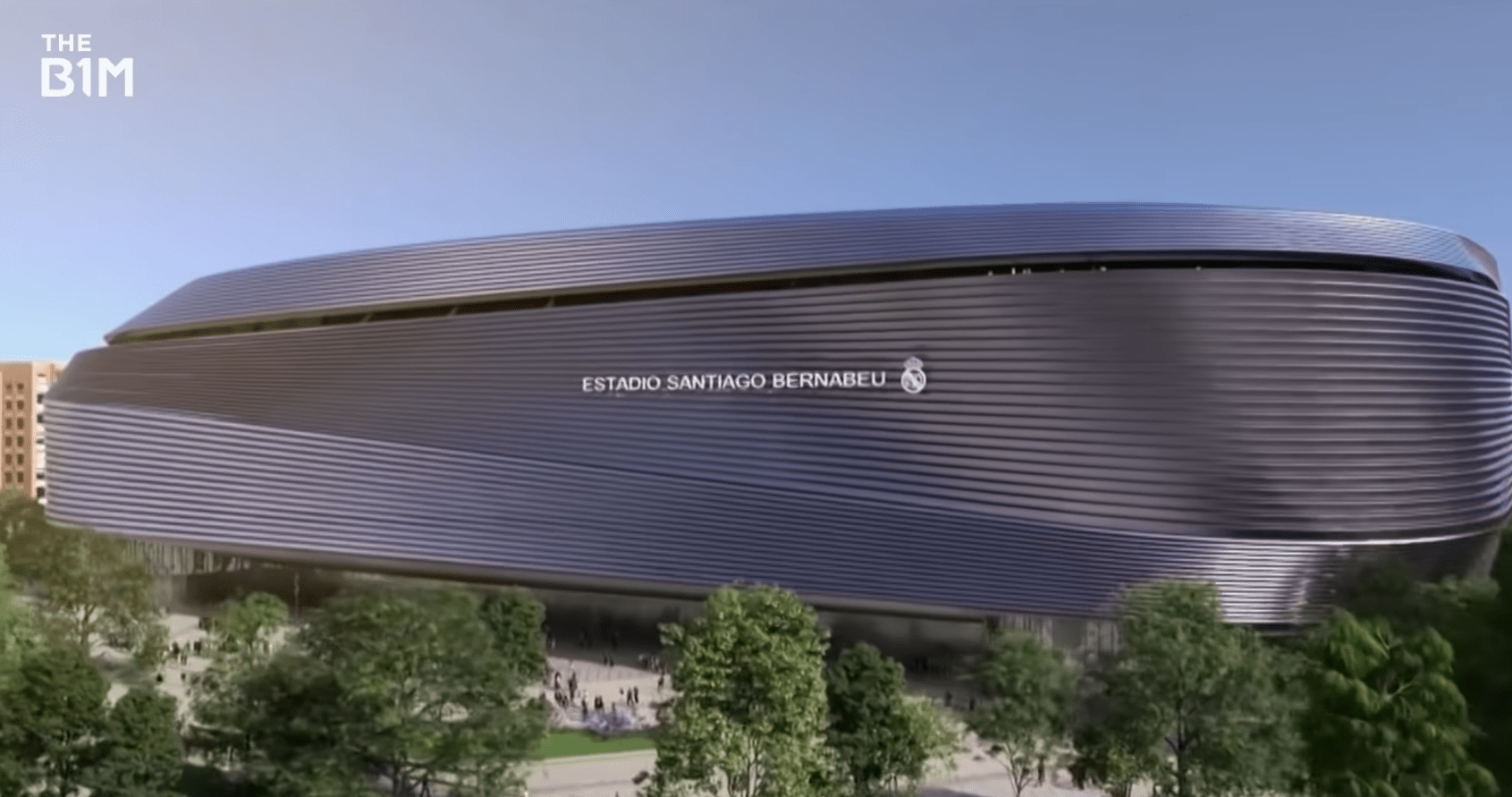 Above: The Bernabeu's upgrade will see the entire stadium wrapped in steel bands (image courtesy Real Madrid).
There'll also be a new fully retractable roof, a 360-degree video scoreboard and significant improvements to the surrounding streets and cityscape - all while the stadium continues to host matches.
Seeking to manage expectations ahead of the project's completion, Real Madrid's president has said that the improved venue would be "the best stadium in the world".
LA BOMBONERA – ARGENTINA
Widely recognised as one of the world's most iconic football stadiums, Argentina's La Bombonera has been home to the Boca Juniors since it first opened in 1940.
Steadily adapted and expanded over the years, a USD $70M scheme is now underway to construct a new stand and effectively complete the stadium, taking its capacity from 57,000 to 70,000 spectators.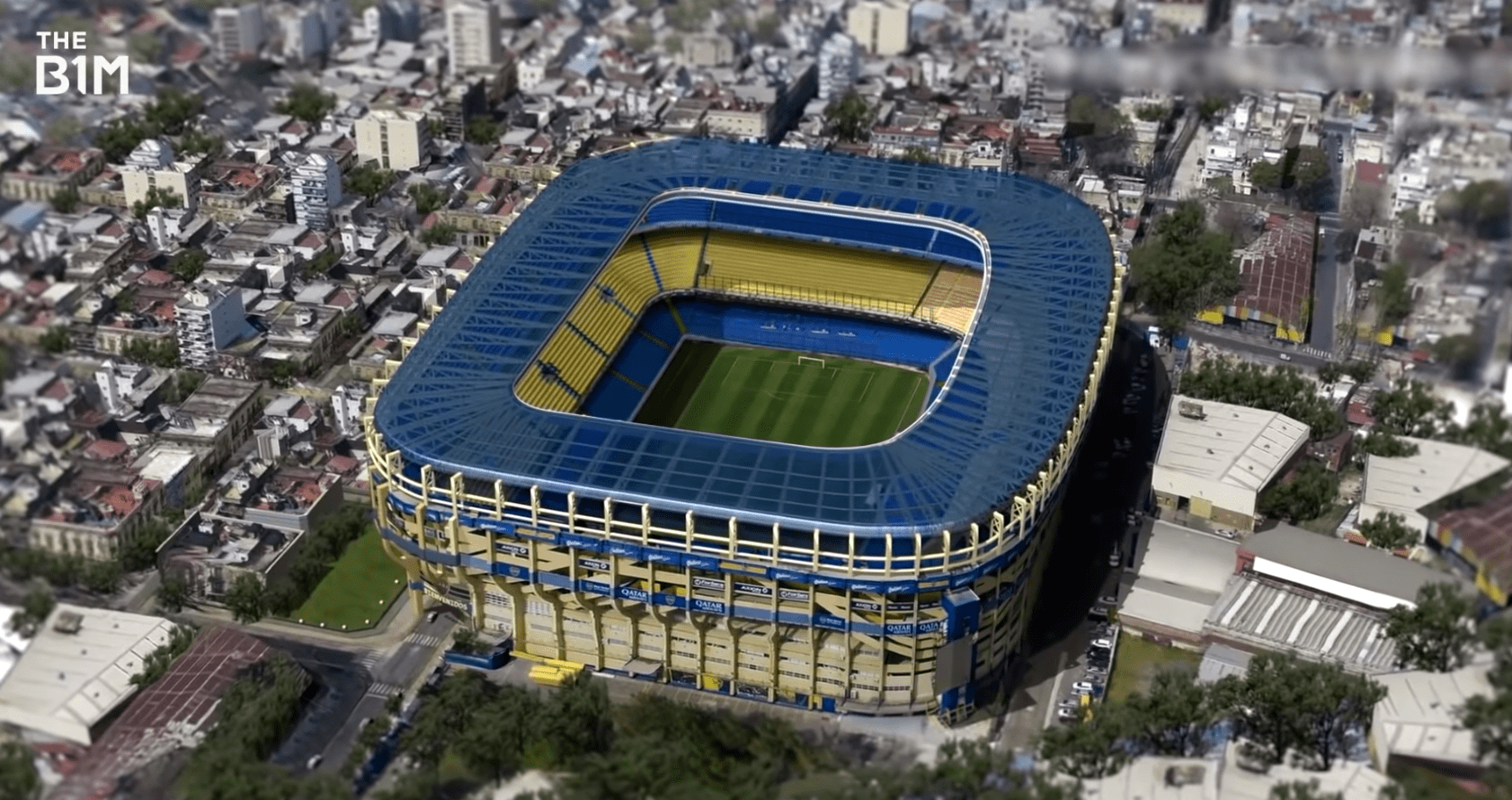 Above: The upgraded stadium will extend over a road with cars driving beneath the stand (image courtesy of Proyecto Esloveno).
Controversially, the extension requires the acquisition of 19 plots of land next to the site and the formation of a road tunnel through the stand.
Other alterations to the venue's exterior have been kept to a minimum in an effort to retain its heritage and keep long-term fans onside.
MERCEDES-BENZ SUPERDOME - UNITED STATES
Set to host the Superbowl in 2024, the Mercedes-Benz Superdome in New Orleans is now getting a USD $450M makeover.
Determined to improve fan experience, the scheme will replace existing ramp systems with three new atria, add new field-level end-zone boxes and create standing-room-only areas.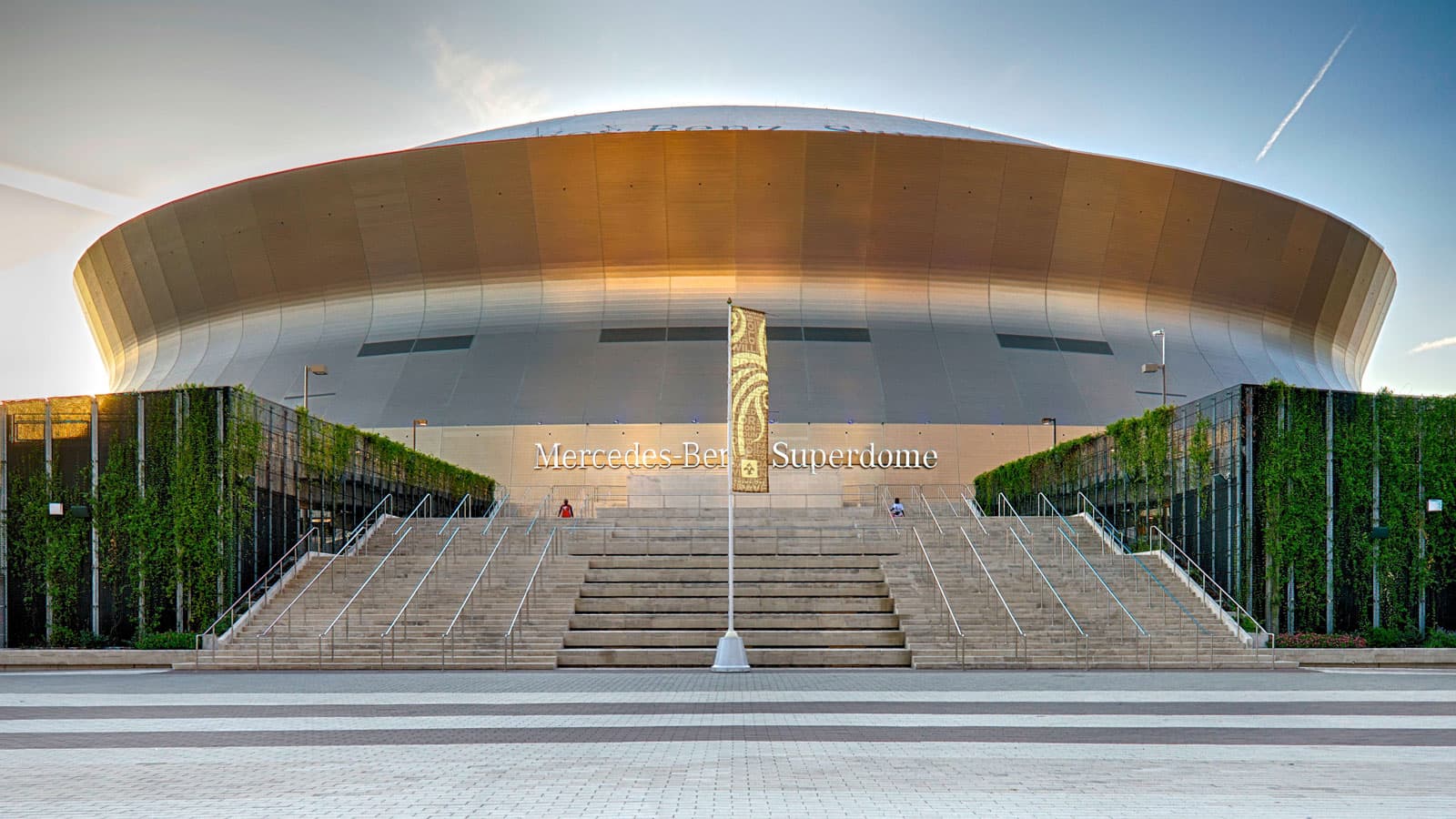 Above: The Mercedes-Benz Superdome will be upgraded to host the 2024 Superbowl (image courtesy of Trahan Architects).
The construction works are being phased so that the venue can continue to host games, concerts and other events during the upgrade.
PHILIPPE-CHATRIER COURT - FRANCE
Standing as the principal venue at Stade Roland Garros - home of the French Open - Philippe-Chartrier Court is now coming to the end of a USD $400M upgrade.
The famous clay court's structure was partially demolished and reconstructed between the 2018 and 2019 seasons, increasing capacity by 2,500 seats and preparing it for the installation of a retractable roof between the 2019 and 2020 tournaments.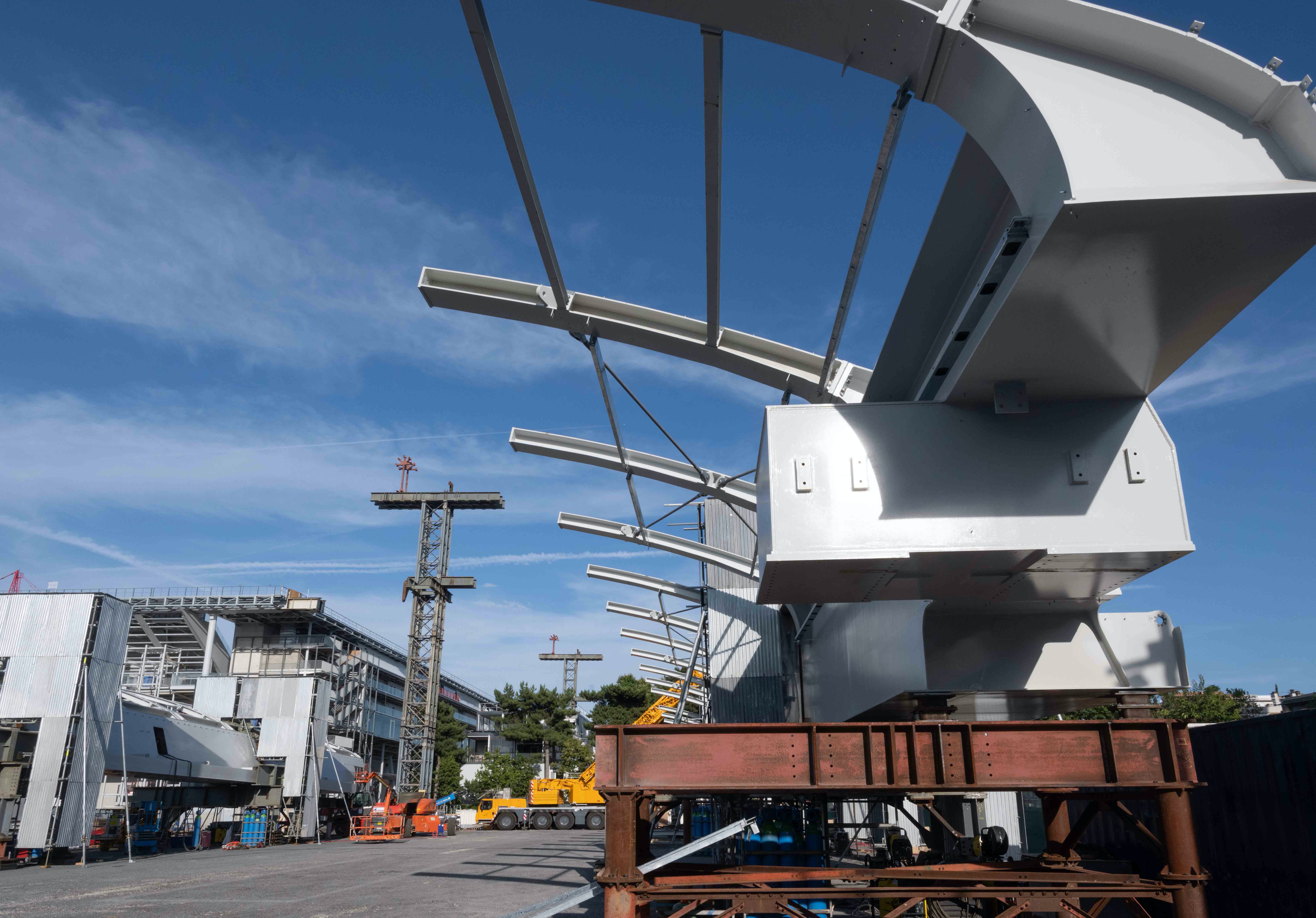 Above: One of the sections that makes up the arena's new roof (image courtesy of Christophe Guibbau).
Consisting of 11 trusses each weighing 330 tonnes, the main components of the roof's structure were manufactured over the course of two years near Venice before being transported to Paris and installed.
With the roof now completed and undergoing testing, the venue had been on-track to host the 2020 French Open in May, though the event was postponed due to the COVID-19 pandemic.
MARVEL STADIUM - AUSTRALIA
20 years on from the 2000 Summer Olympic Games, plans had been tabled to reimagine Sydney's ANZ Stadium; investing over USD $550M on major works to improve the venue's intimacy, but pandemic saw the project cancelled and the funds prioritised elsewhere.
Despite the economic uncertainty, a USD $156M overhaul of Melbourne's Marvel Stadium - also now 20 years old - has been confirmed and is going ahead.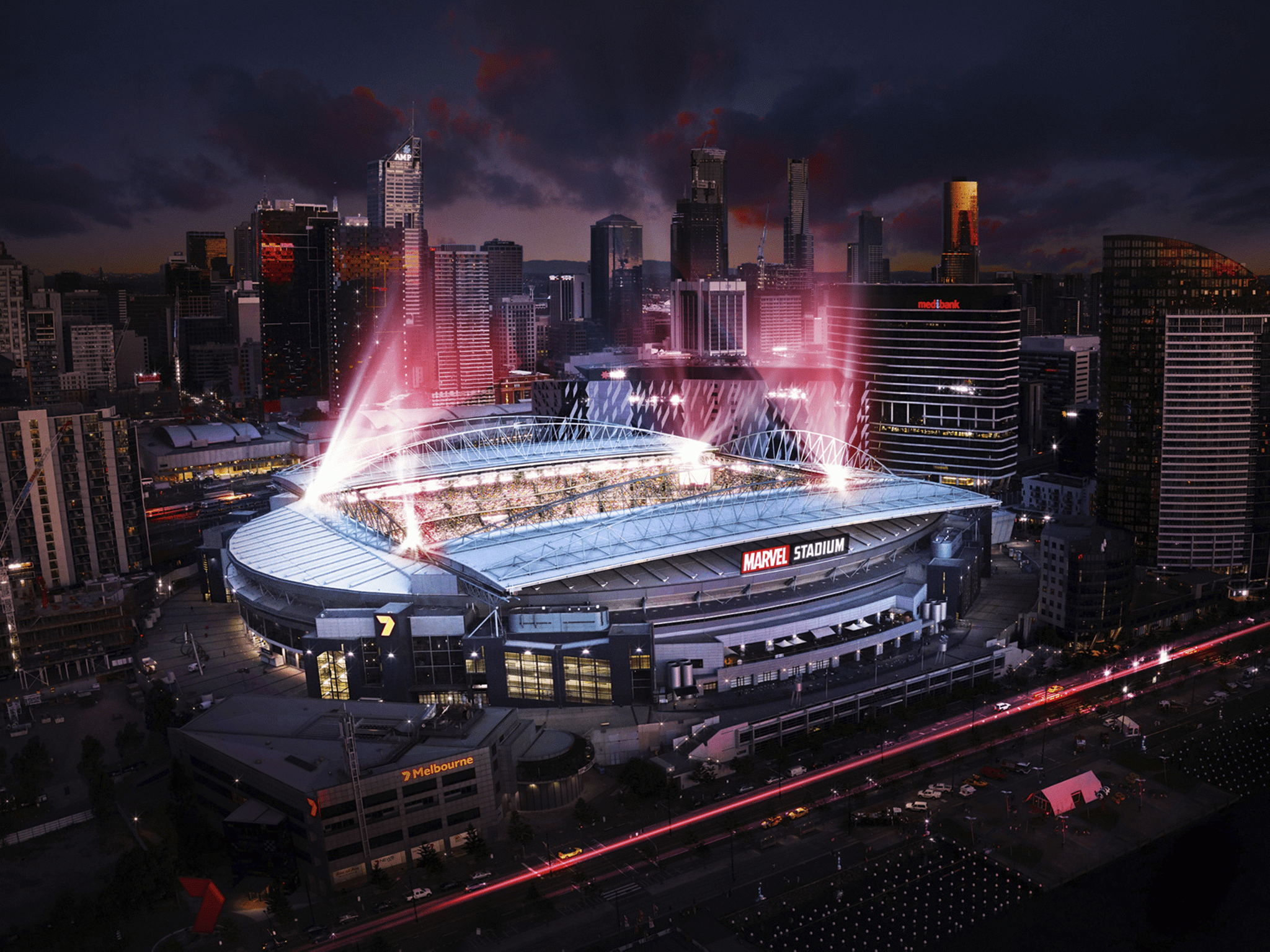 Above: Marvel Stadium will be upgraded to become a seven-day precinct (image courtesy of Australian Football League).
The 56,000 seat venue will be upgraded to include a new waterside hotel and rooftop bar, while its wings will be expanded and the surrounding public areas improved, raising overall fan experience.
This video was kindly powered by Bluebeam.

Narrated by Fred Mills. Additional footage and images courtesy of Bret Hunter (Gizmo Drones), Real Madrid, Steven Newton, Proyecto Esloveno, Trahan Architects, Christophe Gubbaud, Google Earth, Roland Garros, Populous, Infrastructure NSW and Australian Football League.
We welcome you sharing our content to inspire others, but please be nice and play by our rules.
Comments
---