Cities
Regenerating Nine Elms: London's New District
Youtube Views

469,650

VIDEO VIEWS
HISTORICALLY the district between Vauxhall and Battersea Power Station on London's south bank was a mixture of derelict wasteland and industrial facilities. Now it's the site of one of the largest regeneration projects in Europe. In this documentary we take a look at Nine Elms; London's newest district.
The Nine Elms area takes its name from a row of elm trees that once lined the road side into London. The £15BN (circa USD $19BN) new "Nine Elms on the South Bank" development covers a staggering 227 hectares; extending from Lambeth Bridge in the north, down to Battersea Power Station and Chelsea Bridge in the south.
The scheme is in fact formed of numerous projects, co-ordinated within an overall masterplan under the eyes of Rafael Viñoly, Farrells and Allies and Morrison. Commercial and retail facilities are joined by new schools, public parks, some 20,000 new homes, extensive new transport links, culture and arts facilities and a proposed new Thames bridge. All in they will support community growth and create 25,000 new jobs in what's being billed as a "vibrant new area of the UK's capital" and the "last piece of the Central London jigsaw".
Nine Elms boasts 3KM of Thames river frontage and its prime location has driven considerable investment, already lifting property prices from miles around.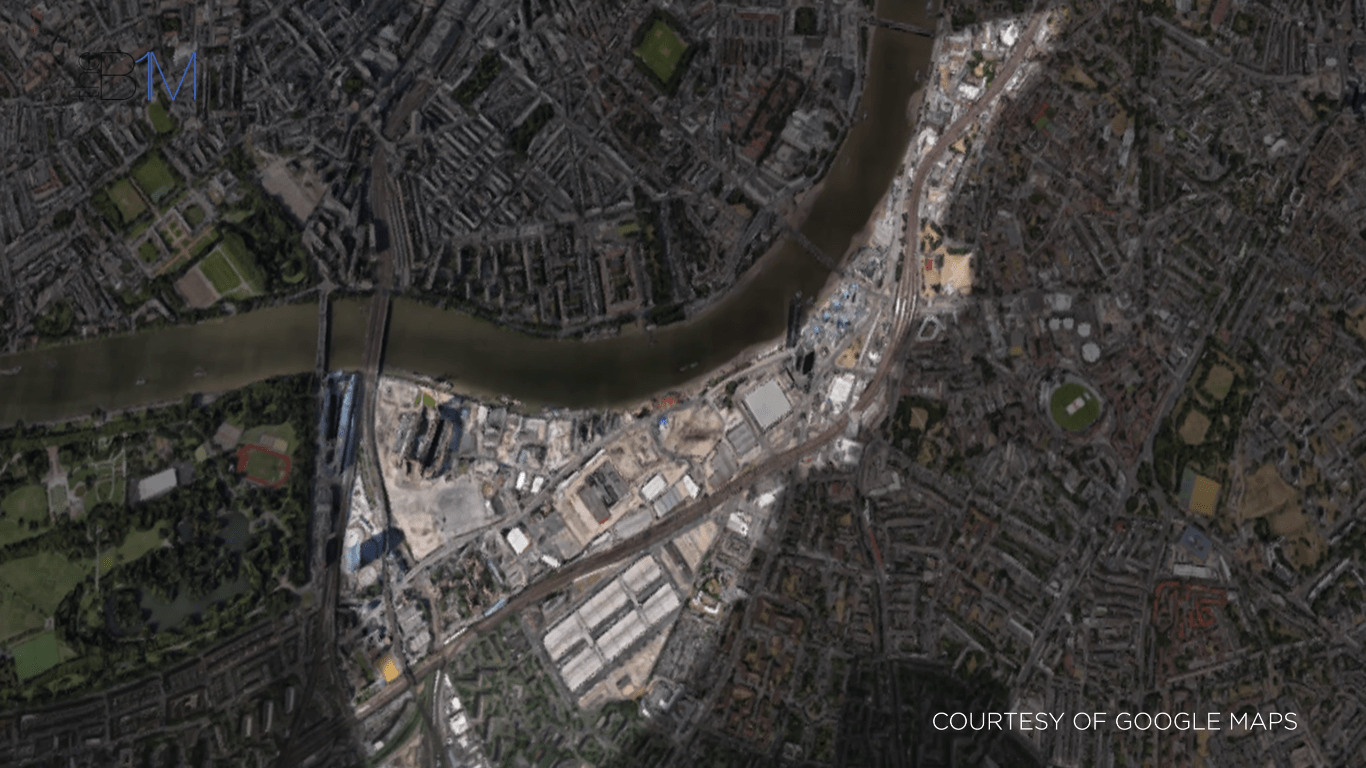 Above: The Nine Elms development covers 227 hectares between Chelsea Bridge and Lambeth Bridge on London's south bank (topography courtesy of Google Maps).
Works to construct the new district are projected to create up to 22,000 construction jobs by 2022, with employment opportunities being targeted at local residents to ensure that existing communities in the area are among the first to benefit.
"Works to construct the new district are projected to create up to 22,000 construction jobs by 2022"
The project is set to generate up to 1,000 construction and engineering apprenticeship places for young Londoners; more than the Crossrail and London Olympic projects combined (source: Nine Elms on the South Bank / Nine Elms Vauxhall).
UPGRADING TRANSPORT LINKS
Taking an under-populated area of a major city, and turning it into a densely occupied and trafficked new zone clearly demands significant transport upgrades. As such, £1BN (circa USD $1.3BN) is being invested into new links including bus services, river bus piers, cycle lanes and new footpaths. At the core of this work is the Northern Line extension.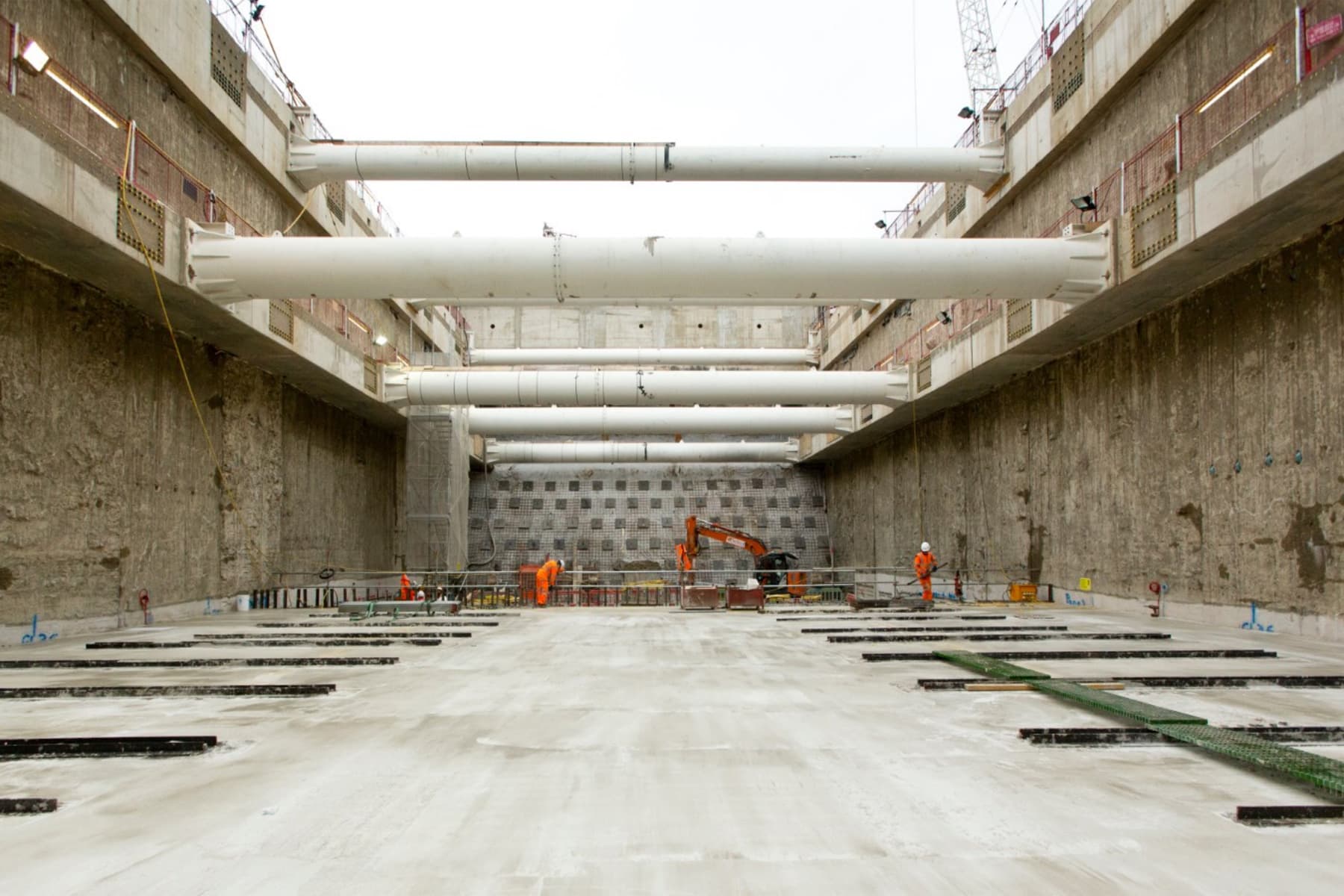 Above: Works progressing at Battersea's new underground station (image courtesy of FLO Joint Venture).
The extension takes the Charing Cross branch from Kennington and creates two new stations in Zone 1; one to be called Nine Elms and the other Battersea. An economic study by Volterra in 2011 predicted that the new link would bring £7.9BN (circa USD $10BN) in economic benefit to the area, significantly recovering the investment made in its construction.
The extension is being delivered by the Ferrovial Agroman / Laing O'Rourke (FLO) joint venture and will bring the Nine Elms district to within 12 minutes of London's square mile once completed in 2020.
Other link upgrades include a new bridge over the Thames – currently being designed by Bystrup – to connect Nine Elms with Pimlico. Its exact crossing point is still being determined.
SHAPING LONDON'S NEW DISTRICT
So what are the key projects shaping the UK capital's newest district?
The star of the show is undoubtedly the regeneration of Battersea Power Station, one of London's most iconic buildings and one of the world's largest brick structures.
Having generated power for 50 years between 1933 and 1983, the facility then sat empty for almost three decades, only spared demolition for its art-deco heritage. It fell into an increasing state of dereliction with only occasional events held on the site and several ideas for converting it falling through.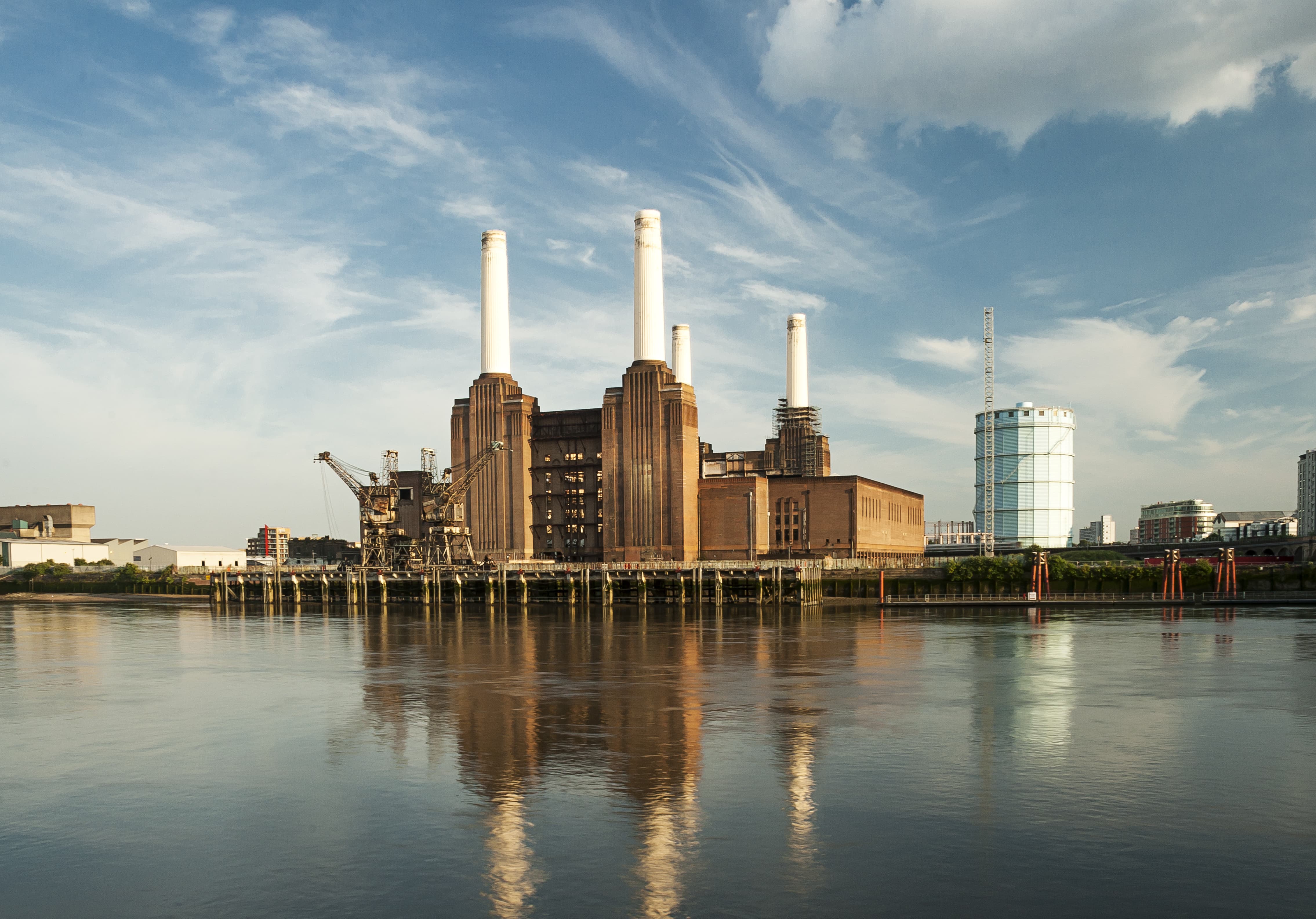 Above: The regeneration of Battersea Power Station is the highest profile element of the new Nine Elms development.
In 2012, a Malaysian consortium comprising SP Setia, Sime Darby and Employees' Provident Fund invested £9BN (circa USD $12BN) into the power station's regeneration. The new 42 acre development is managed by the Battersea Power Station Development Company and is split into several phases under Rafael Viñoly's master-plan.
The first is Circus West Village; two impressive residential blocks designed by SimpsonHaugh and Partners and de Rikje Marsh Morgan (dRMM), and constructed by Carillion. The properties are supported by several new amenities including retail spaces formed in the neighbouring railway arches. You can learn more about this Phase in our documentary on The B1M.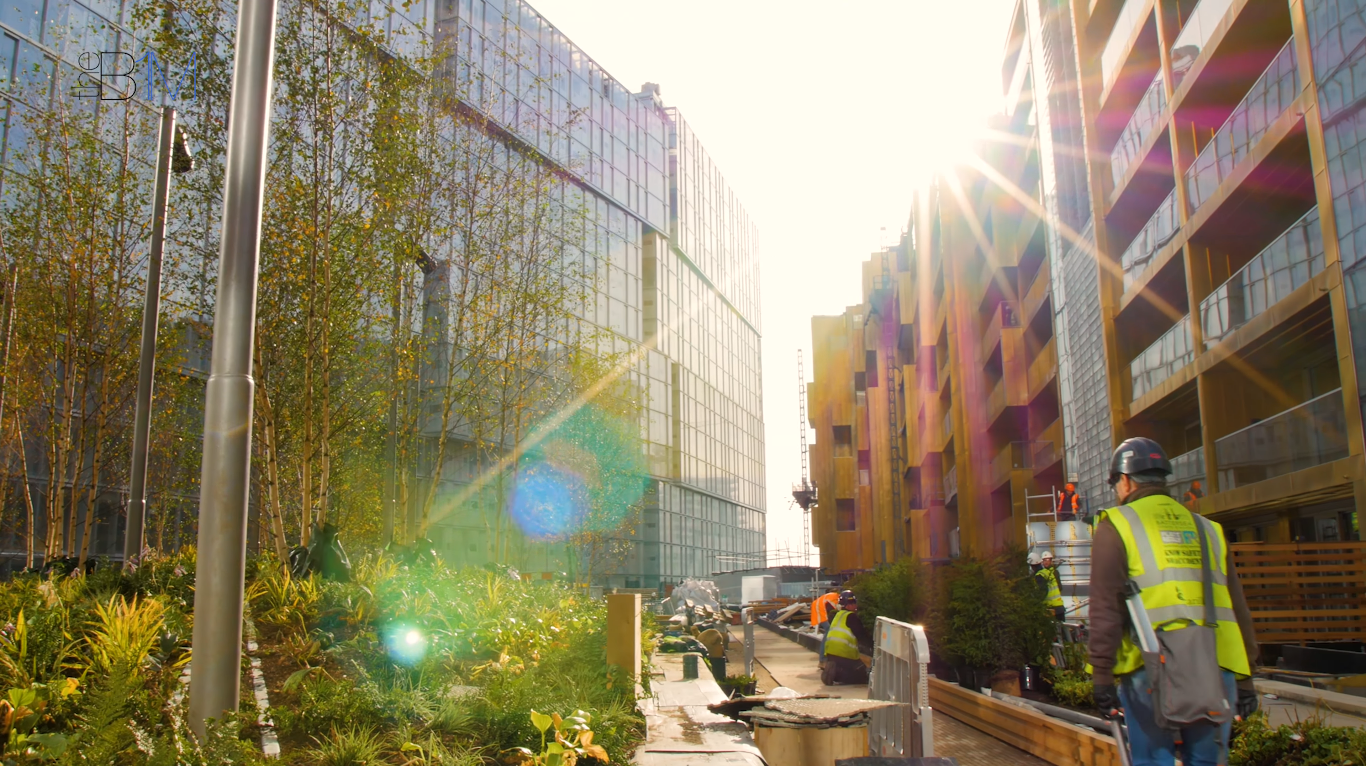 Above: Circus West Village was the focus of a recent documentary on The B1M.
Phase Two sees the regeneration of the power station itself under designs by WilkinsonEyre and main contractor Skanska. 254 new homes will be formed in and around the Power Station's structure alongside commercial office facilities and significant retail space.
The building's iconic chimneys are being carefully deconstructed and replaced like-for-like, and one will now include a lift up to an impressive viewing platform.
In 2016, tech-giant Apple announced that they would become the largest office tenant in the rejuvenated power station by 2021, moving 1,400 employees to a whole six floors of the central Boiler House.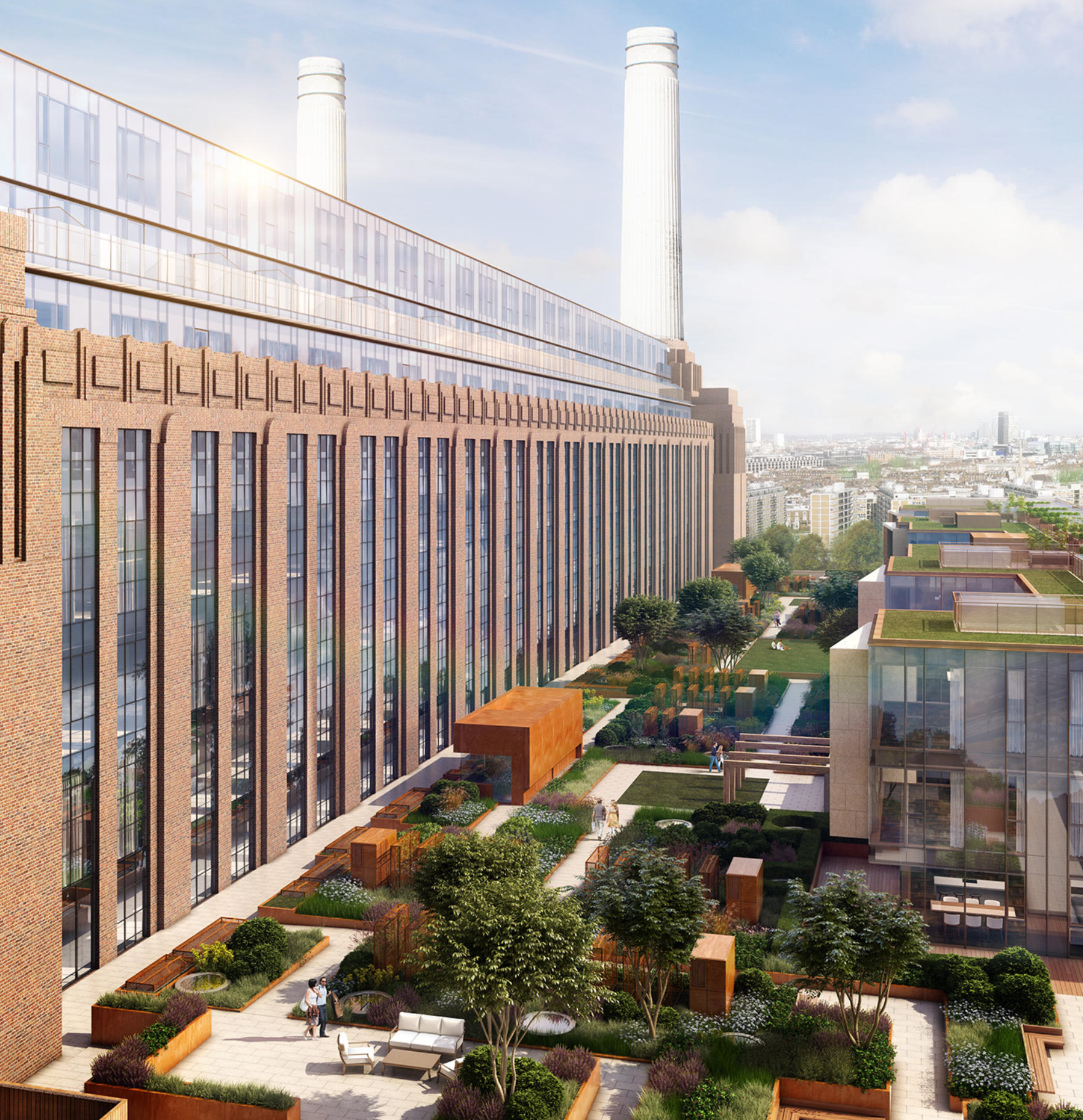 Above and Below: Proposals for Phase Two of the power station's regeneration (images courtesy of WilkinsonEyre).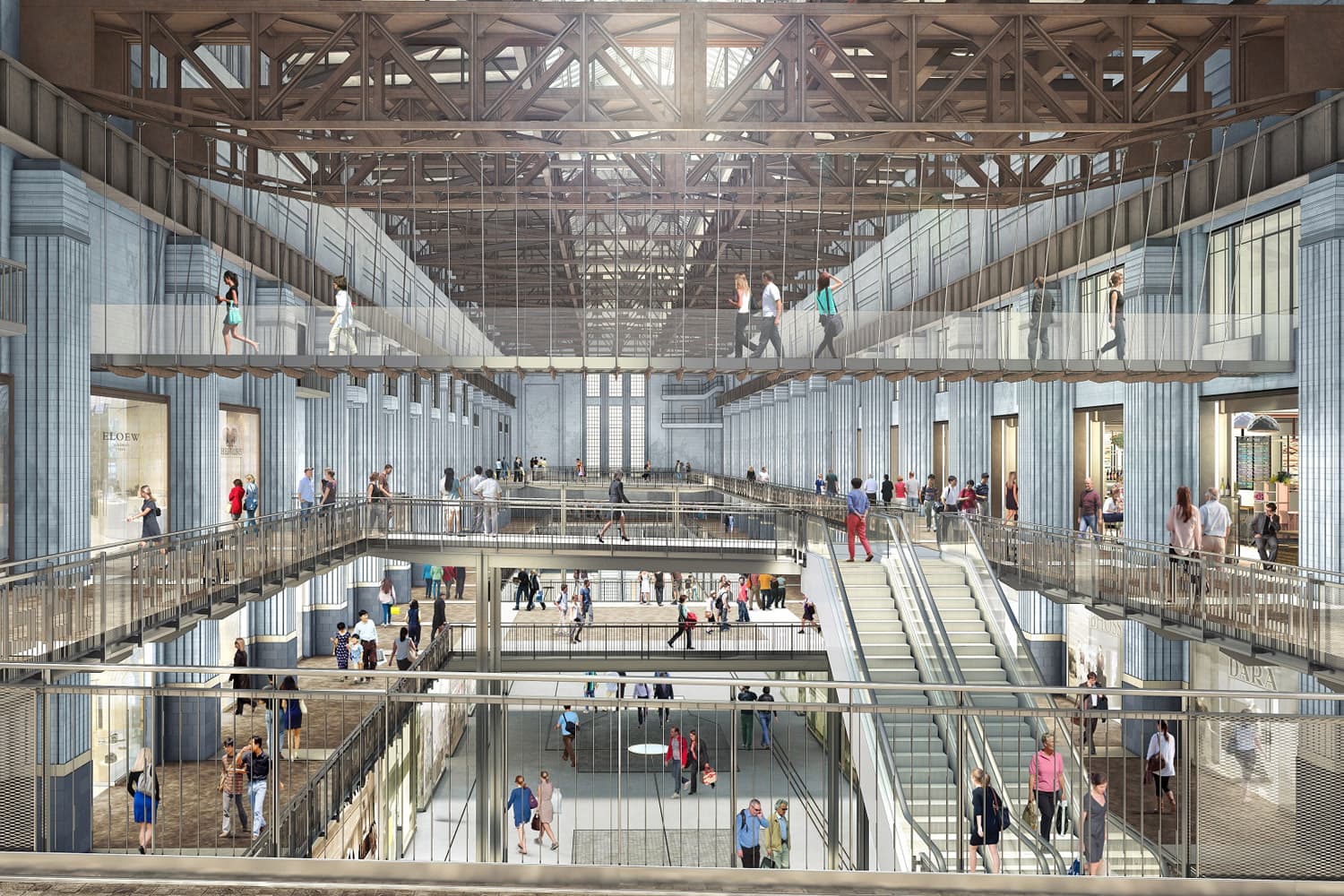 Phase Three certainly matches up to the iconic nature of its predecessors and sees Gehry Partners collaborating with Foster + Partners to deliver a further 1,300 residences, a hotel, retail and leisure facilities, and an entire new high street. That street – set to be called "Electric Boulevard" – will be the main gateway to development, connecting the new Northern Line station through to the power station.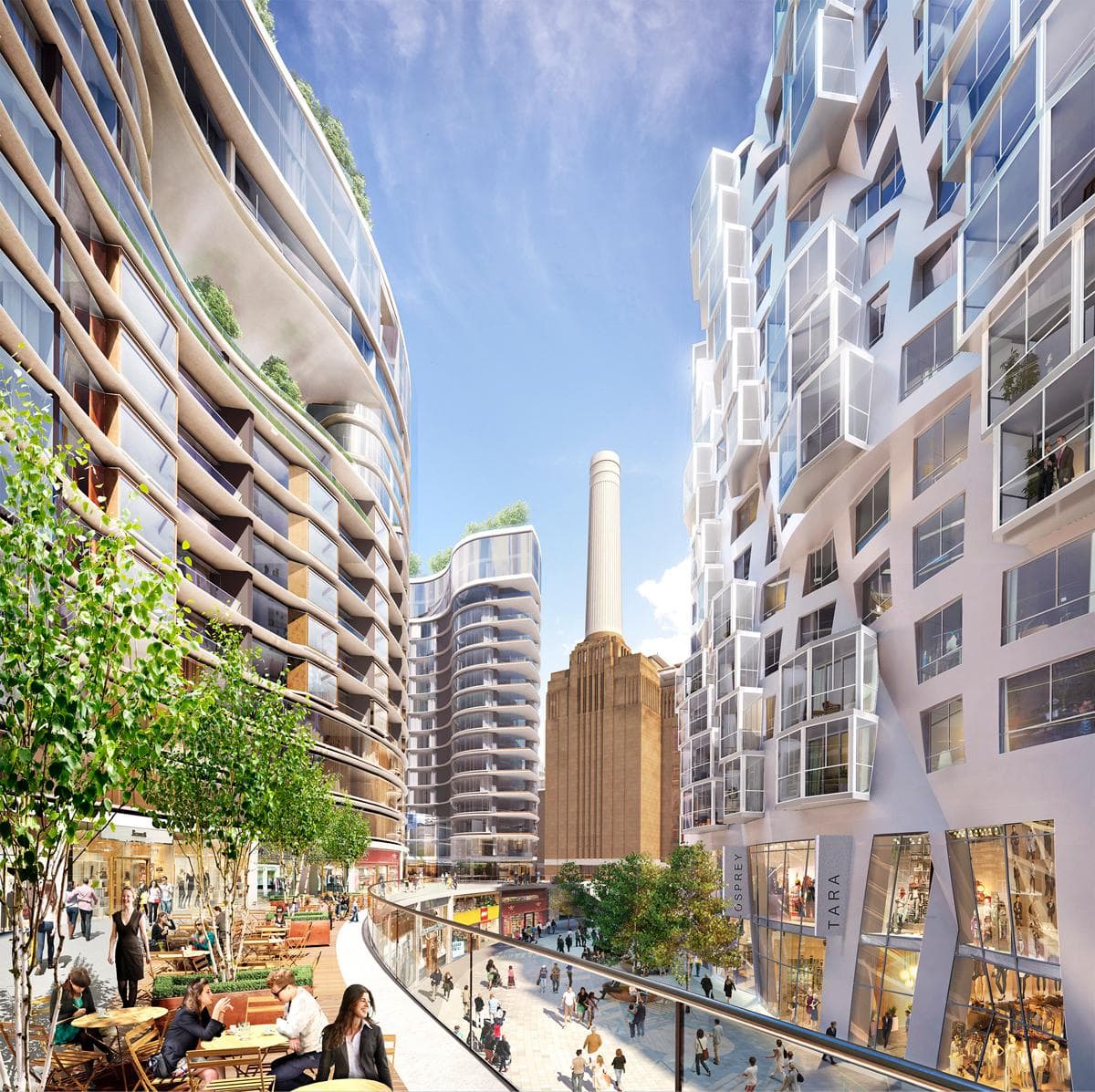 Above: "Electric Boulevard" will connect Battersea's new underground station with the power station (image courtesy of Foster + Partners / Gehry Partners).
The subsequent phases will see a significant amount of commercial office space delivered alongside additional new homes.
Leaving the power station site behind for a moment, one of the highest profile elements of the wider district will see the United States (US) Embassy relocated from its current home in Grosvenor Square to a breath-taking new structure in the Nine Elms development.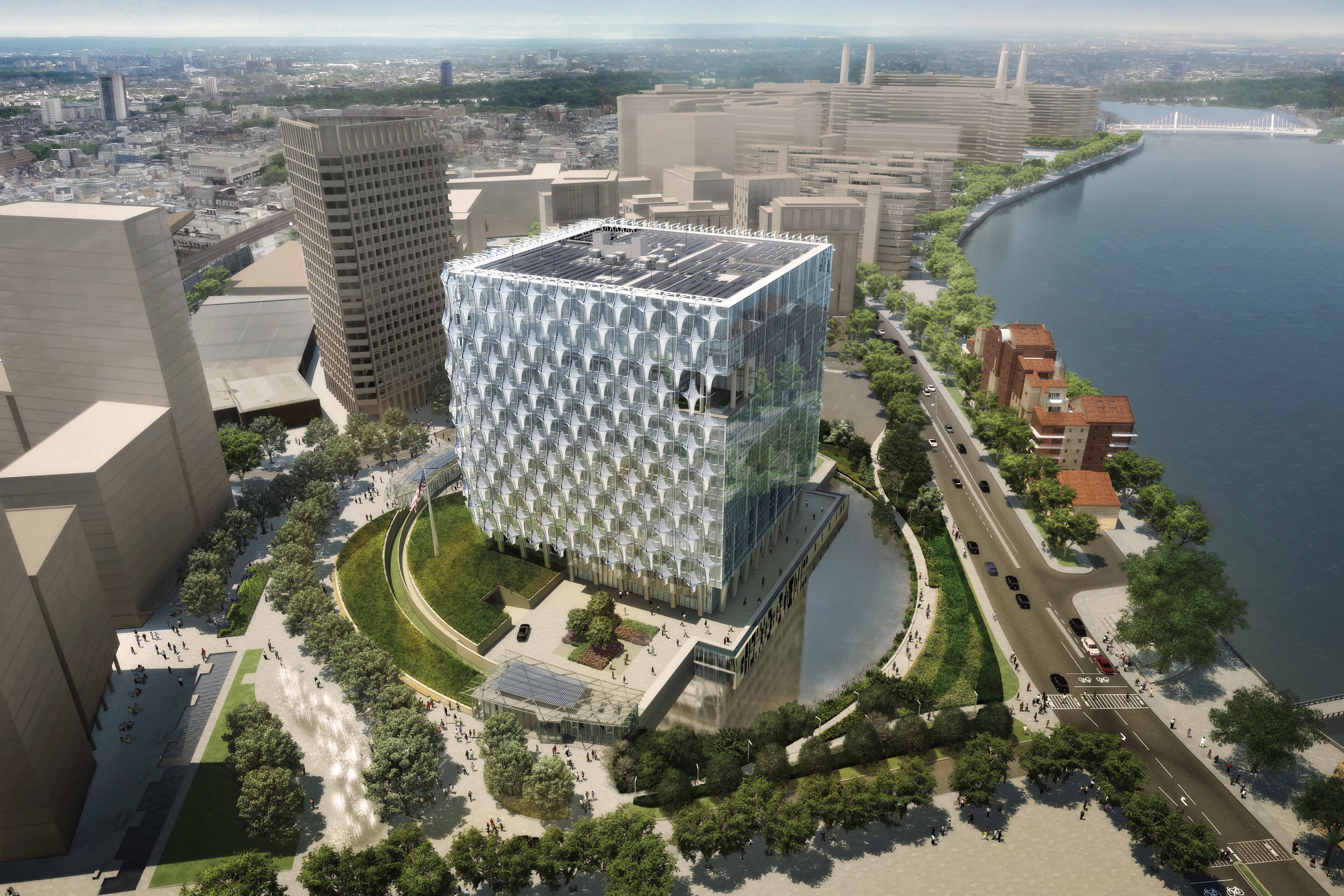 Above: The proposed new US Embassy, due to complete in 2017 (image courtesy of Kieran Timberlake).
Following a detailed review that considered a full refurbishment of the Grosvenor Square site, the US State Department determined that their goal of creating a modern, secure and environmentally sustainable Embassy could only be achieved by constructing a new facility.
"The new US Embassy's design is intended to celebrate freedom and democracy"
The new structure was designed by Kieran Timberlake and its construction is being overseen by the US Bureau of Overseas Building Operations for the State Department. Its design is intended to celebrate freedom and democracy and will be highly efficient once it becomes operational in 2017.
Mexico are off the hook for this one as the entire project is funded by the sale of other US-owned properties in London.
Close to the Embassy itself, Embassy Gardens is one of the most prominent residential elements of the Nine Elms scheme. Designed by Arup Associates and developed by Ballymore, the project provides high-end properties supported by almost every on-site amenity one could ever want, including an impressive sky-pool between two of the residential towers, the first of its kind in London.
Embassy Gardens' competition in the high-end residential stakes comes in the form of One Nine Elms, a stunning new pair of skyscrapers designed by Kohn Pedersen Fox Associates fresh from their achievements at Hudson Yards in New York. The towers rise to 58 and 43 storeys respectively and will house a 5-star hotel alongside 487 new residences.
Above: An impression of the new residences at One Nine Elms (image courtesy of KPF and One Nine Elms).
The existing New Covent Garden Market is home to over 200 fruit, vegetable and flower traders employing 2,500 people. Its set to undergo a makeover as part of the Nine Elms regeneration creating over half a million square feet of market facilities alongside an exciting new food quarter. The works will release 20 acres of land for the development of a new residential community.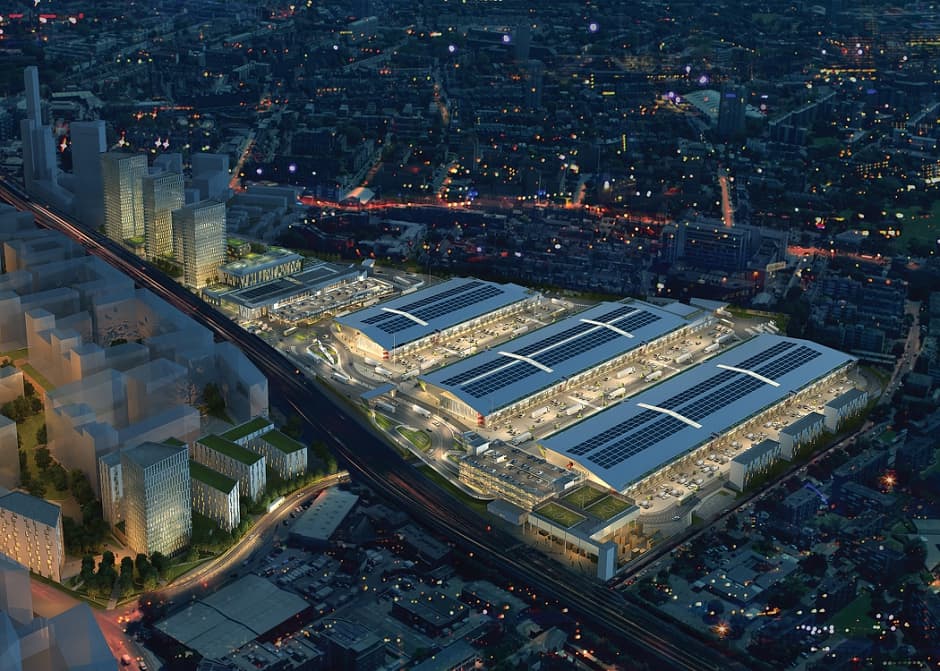 Above: Development proposals for New Covent Garden Market (image courtesy of Nine Elms on the South Bank / Nine Elms Vauxhall / BDP / SOM).
Works toward the top of the Nine Elms district, will see the Vauxhall Gyratory overhauled to create a more pedestrian-friendly experience and Vauxhall itself given a clearer identity and recognisable centre, improving its appeal as a gateway to the city.
The Nine Elms neighbourhood will feature significant areas of green public space, including an improved Thames river path. Most notable is "Linear Park", a green artery sweeping through the masterplan and appearing in phases as different projects along its route reach completion. The park is similar to the high-line park that passes through Hudson Yards in Manhattan and is intended to create a car-free link between Battersea Power Station and Vauxhall.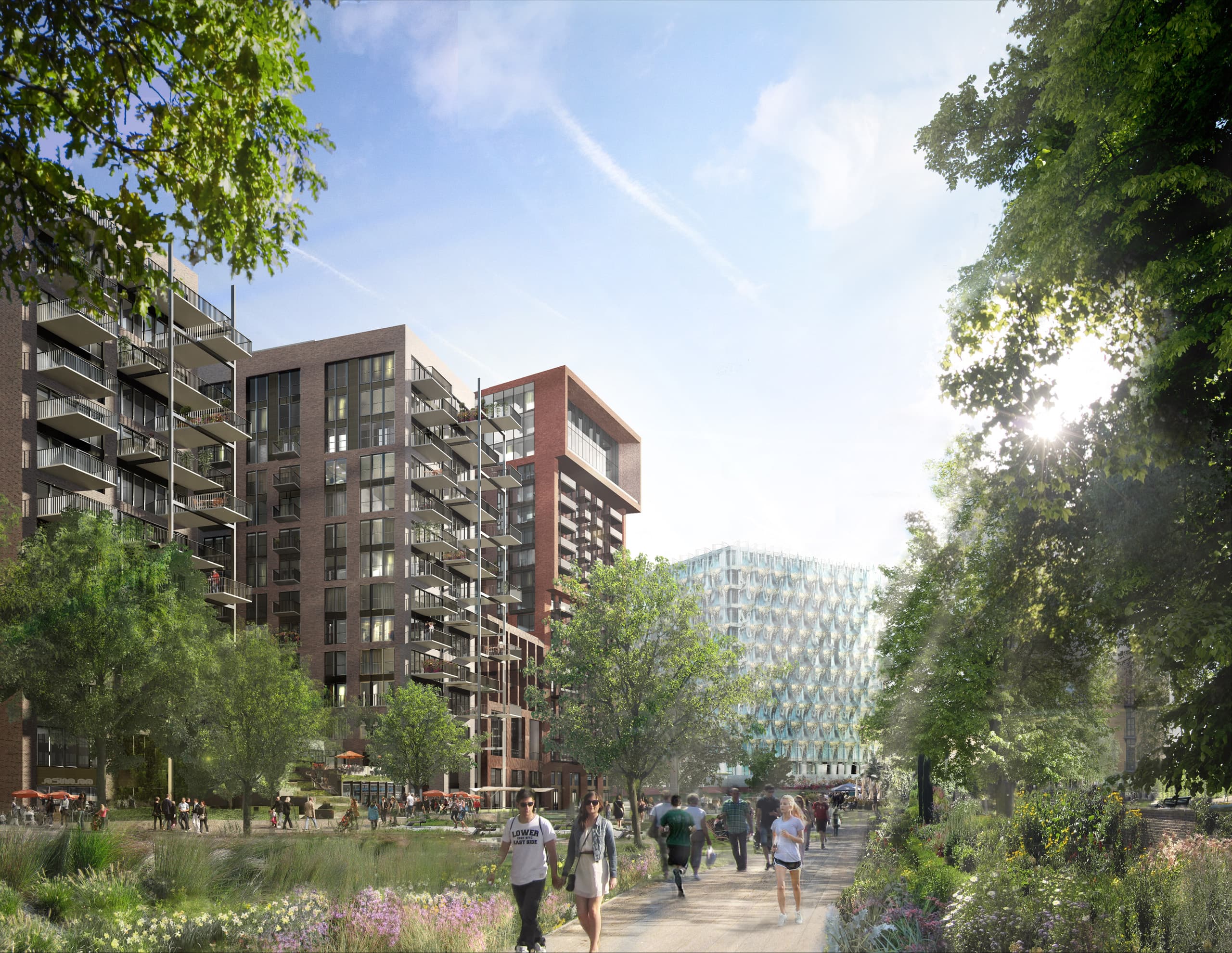 Above: Some of the new green space that will run throughout the Nine Elms development (image courtesy of Nine Elms on the South Bank / Nine Elms Vauxhall).
You would expect any project of this scale to have its controversies and Nine Elms is no different. Whilst the local economy and community is set to grow, that can be unsettling for many who have called the area home for their whole lives and who are understandably anxious about change.
There's also been significant debate around the amount of high-end residential properties formed across the site, as compared to the amount of affordable housing delivered, leading some to question how well it can really integrate into the existing community. The same debates swirled around the vast Hudson Yards development in New York and 432 Park Avenue; Manhattan's tallest new residential tower.
Disagreements aside, Nine Elms enjoys strong support and is set to make a profound social and economic impact on one of the world's largest cities. It preserves heritage and community whilst turning a derelict and under-utilised riverside district into a vibrant new destination. A truly iconic development that will shape London and the lives of its citizens for generations to come.
You can learn more about the Nine Elms development here.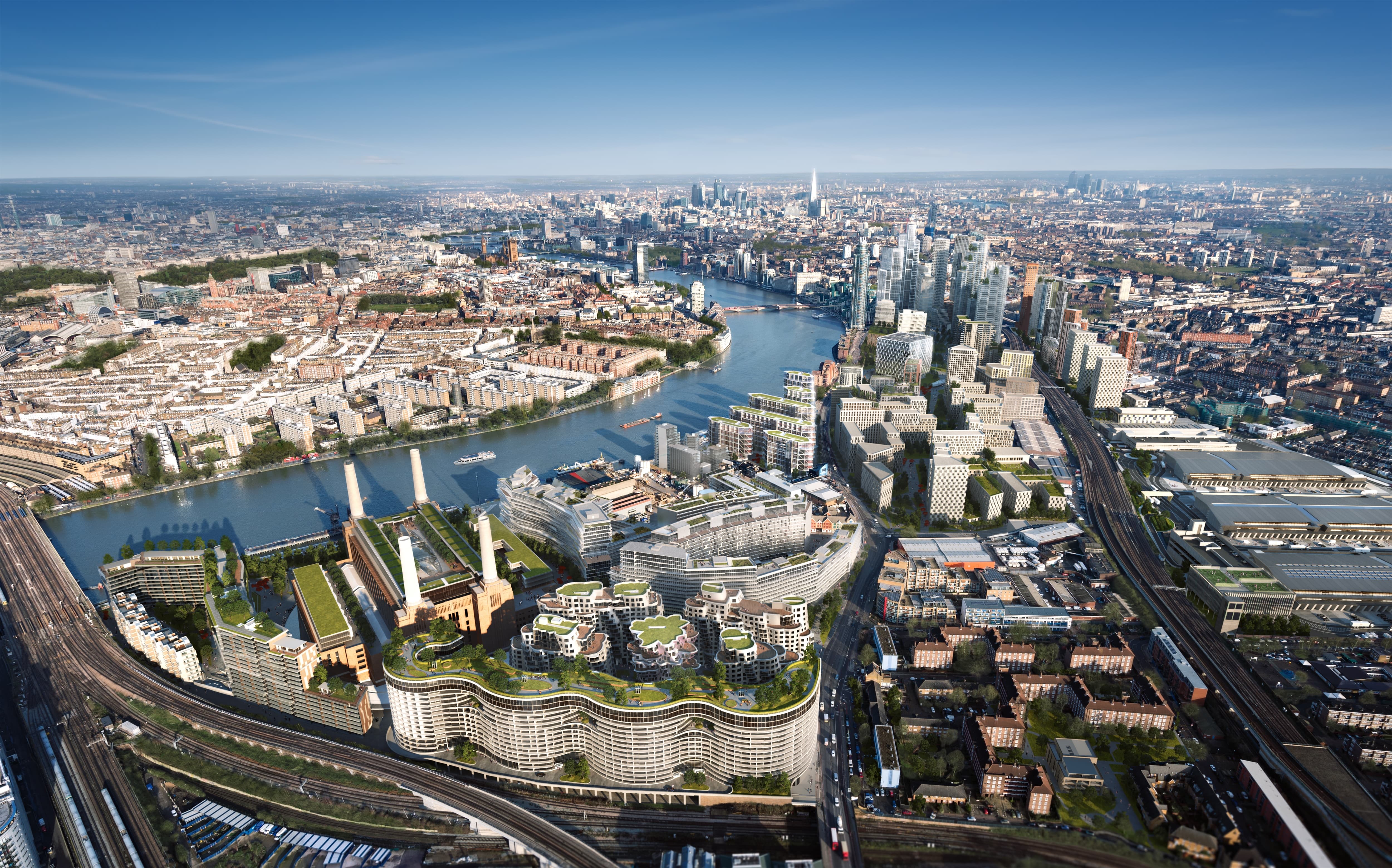 Above: An aerial view of the new Nine Elms development, showing the Battersea Power Station site front-left (image courtesy of Nine Elms on the South Bank / Nine Elms Vauxhall).

WATCH NEXT: TOP 5 TECH-GIANT CONSTRUCTION PROJECTS
This video was kindly powered by Viewpoint.
Images courtesy of Nine Elms on the South Bank (Nine Elms Vauxhall Partnership), Google Maps, US Embassy London, TFL, FLO Joint Venture, Bystrup, Robin Snell + Partners, Battersea Power Station Development Company, WilkinsonEyre, Foster + Partners, Gehry Partners, Kieran Timberlake, Ecoworld Ballymore, KPF, One Nine Elms, BDP, SOM, CIM Group and Macklowe Properties.
We welcome you sharing our content to inspire others, but please be nice and play by our rules.
Comments
---