Tech
Len Lye Centre: Building a Museum with BIM
Youtube Views

20,607

VIDEO VIEWS
LEN LYE was a famous kinetic artist. The Len Lye Centre is dedicated to his work and is New Zealand's first single-artist museum. Here we look at how building information modelling (BIM) helped to deliver this impressive facility.
The USD $8.3 million building – designed by Patterson Associates – integrates with the new art and cultural precinct in New Plymouth. It extends and merges with an existing heritage art gallery in a converted cinema to create new archives, new exhibition space, education studios, a new 62-seater cinema and a motor room to house Len Lye's kinetic works, all across 3,000 square meters of internal space.
"The building is renowned for its façade"
The building is renowned for its façade. It is formed by 20 pre-cast concrete columns standing 14-meters high and clad in polished stainless steel; one of the main material industries in New Zealand's Taranaki region, where New Plymouth is situated. Glazing is hidden within the deep-pocketed recesses.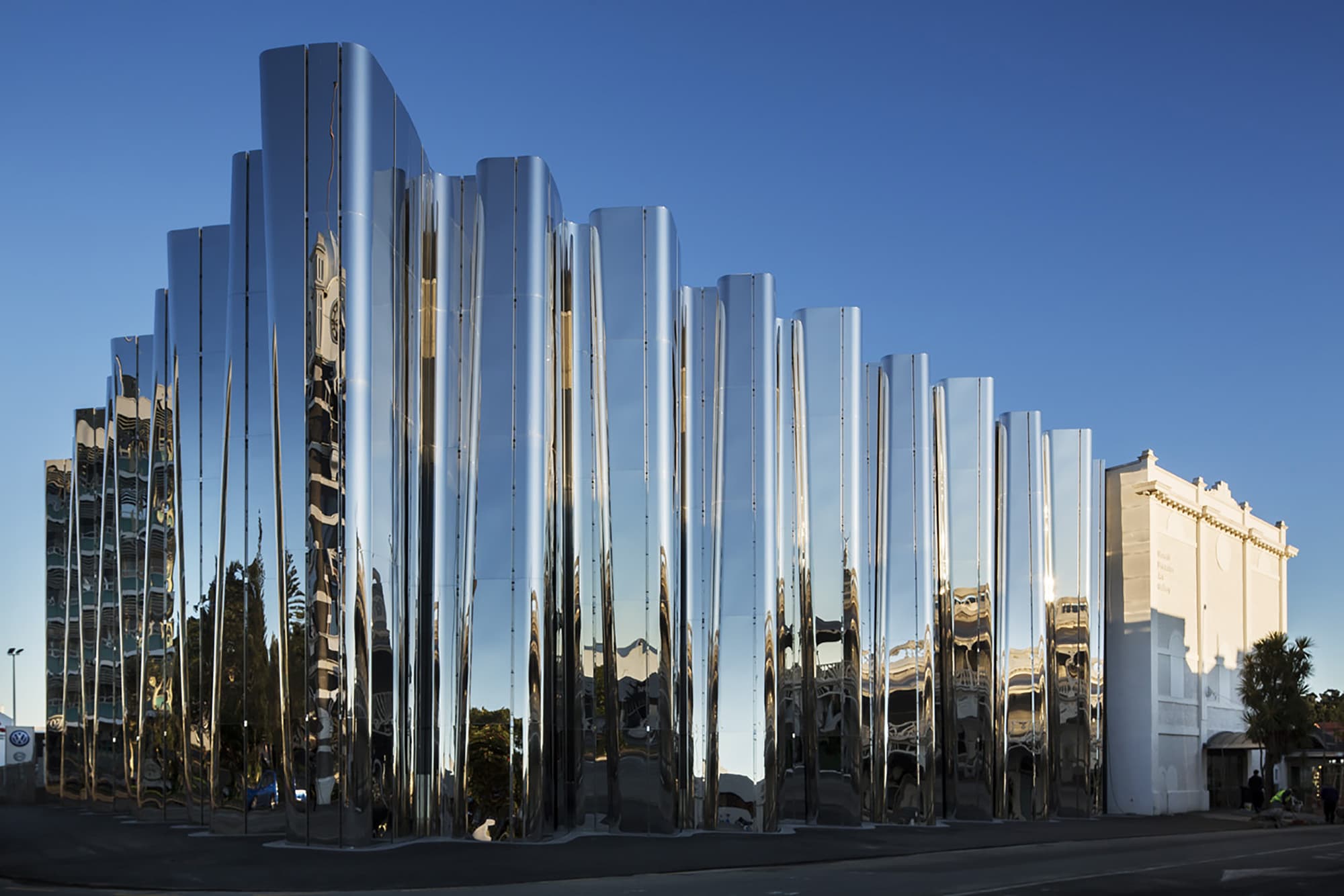 Above: The building's famous façade, and Below: natural light entering through glazing between the concrete forms (images courtesy of Patrick Reynolds).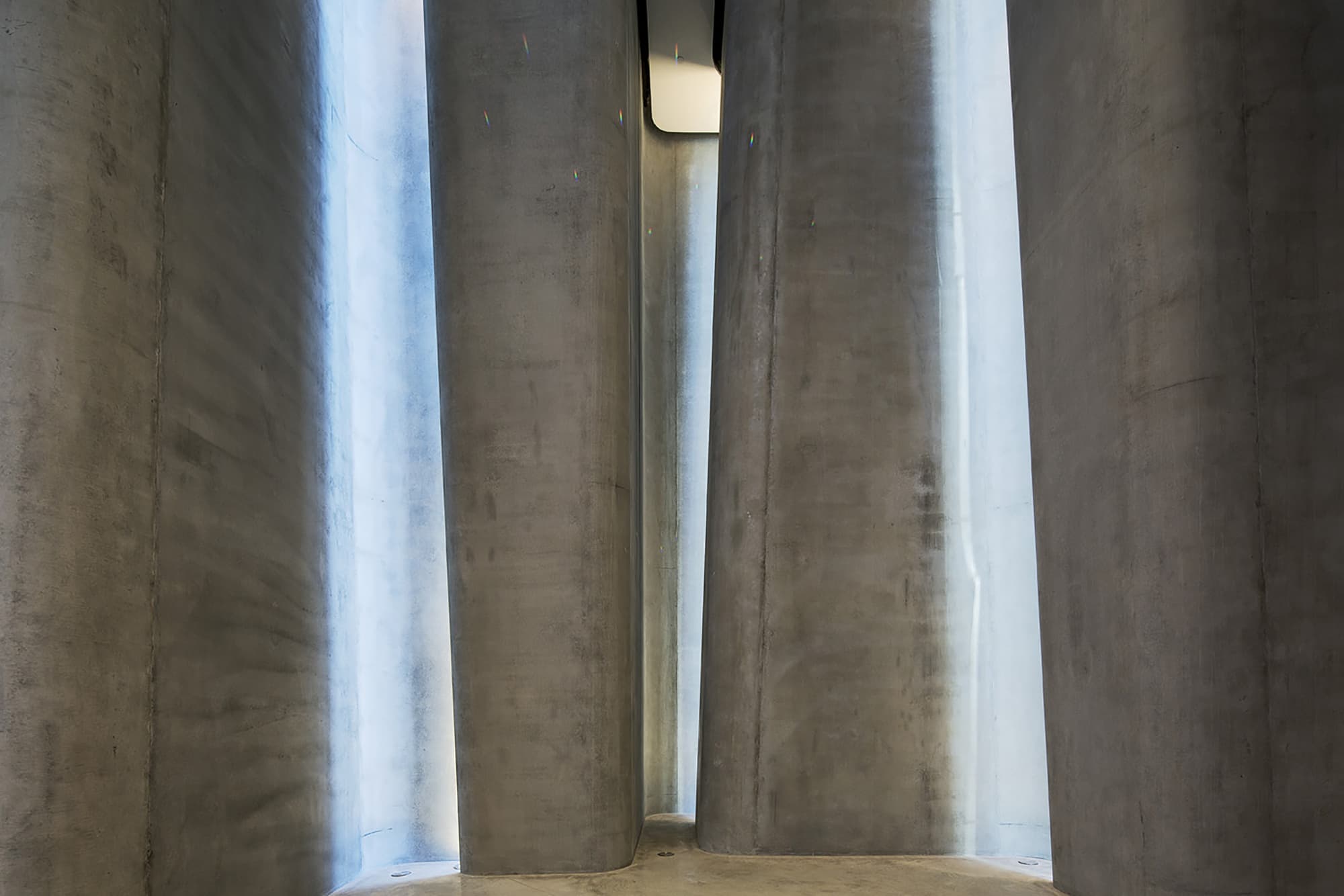 The façade is intended to link rather than divide the external and internal environments. The form of its columns creates a curtain that reflects natural light into the building during the day and artificial light back out at night; the images and reflections drawing people in. From above, the colonnade's top edges create a local Koru form, linking to the Museum's Polynesian influences.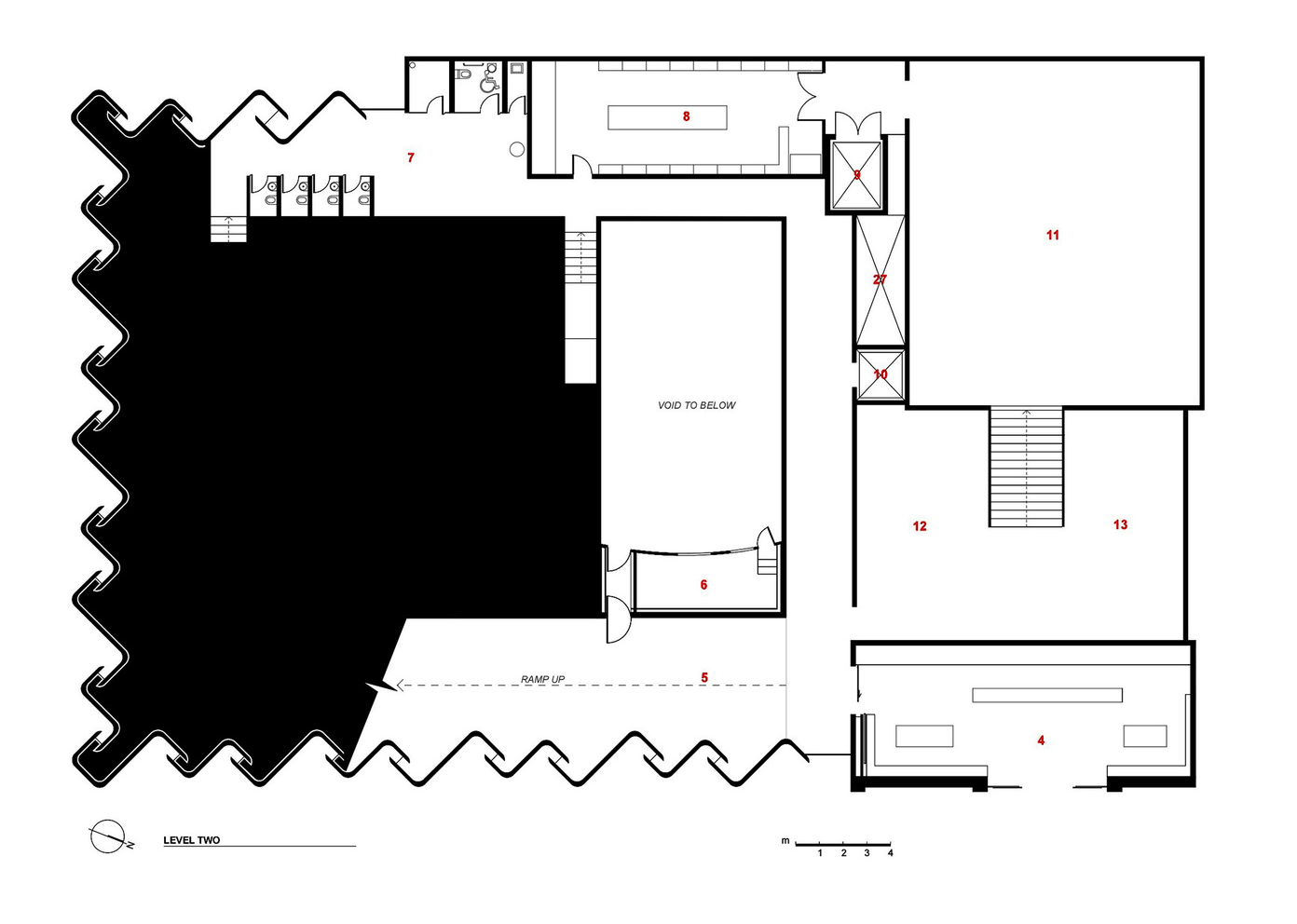 Above: The building's second floor plan showing the façade's interlocking configuration (plan reproduced courtesy of Patterson Associates).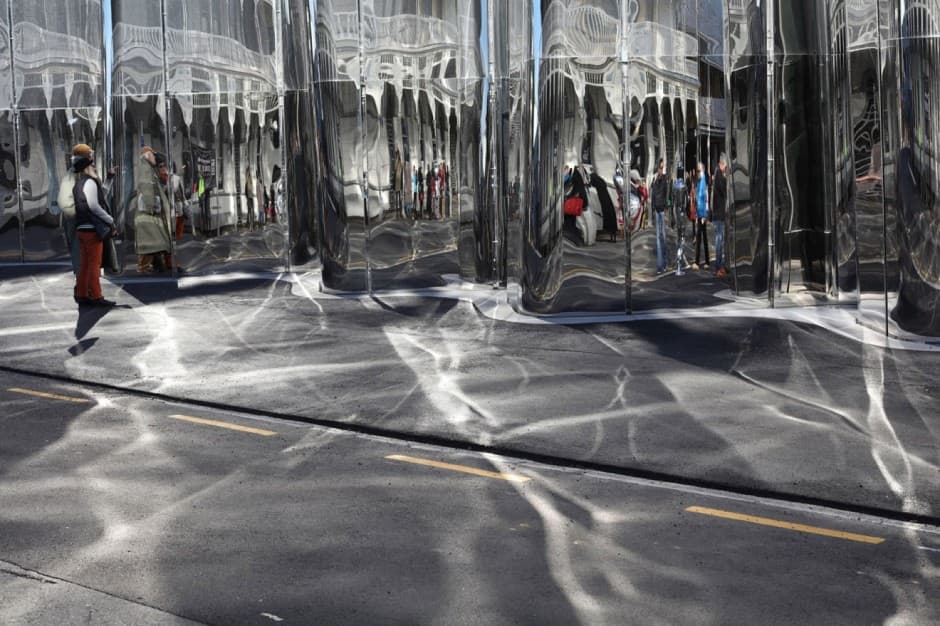 Above: Kinetic reflections from the façade (image courtesy of Patrick Reynolds).
BUILDING INFORMATION MODELLING
Strict international standards require the museum to operate within precise indoor climate criteria at all times. To realise an asset with such complex physical geometry – and with such a high performance requirement – the team worked within a BIM environment to ensure the best possible outcomes.
The project team shared their graphical and non-graphical data in a common data environment (CDE), acting as a single source of information for the scheme.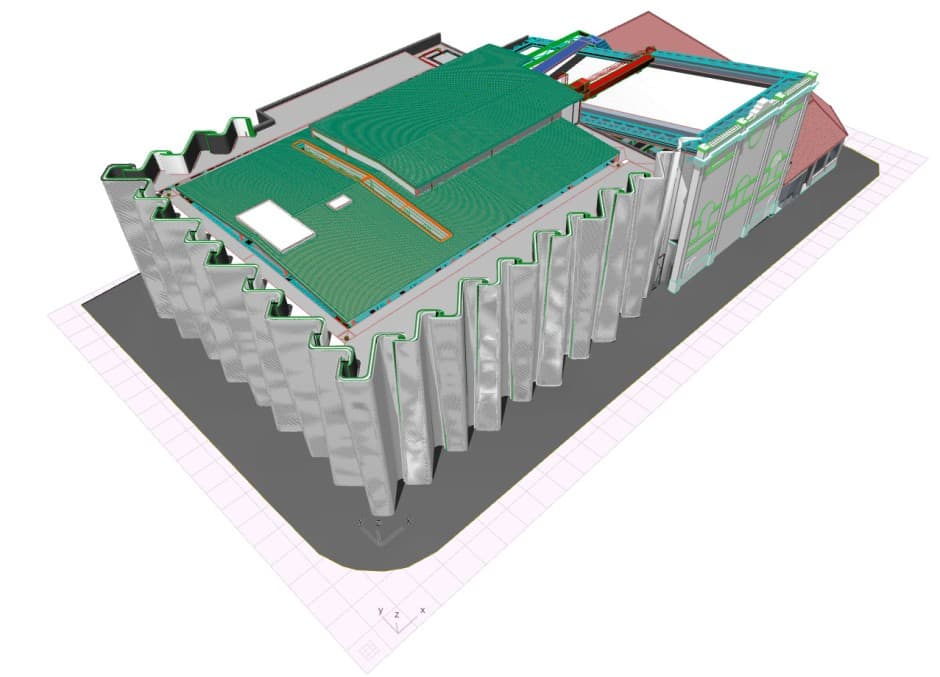 Above: Part of the Len Lye Centre building information model (shown in GRAPHISOFT ARCHICAD, image courtesy of Patterson Associates).
Working with different graphical authoring software, they exported their graphical information models into Industry Foundation Classes (IFC) format – an international open file standard that others can read – to improve interoperability. This was done in several demonstration scenarios to start with, to ensure that protocols were tested and agreed amongst the team from day one.
To co-ordinate the project's complex architectural and structural forms, and the advanced service systems, the project team continually developed and federated their models, effectively building the finished museum virtually at design-stage. This paid huge dividends with the façade and meant that the interlocking concrete forms were accurately positioned.
"The team effectively built the finished museum virtually at design stage"
Having a clear understanding of the building's systems and how they would perform in use, enabled the team to reduce the costs of their installation. Museums of this size typically require 2-3 plantrooms, but the team were able to plan the Len Lye Centre into just plant one space. They also co-ordinated with the HVAC (Heating Ventilation and Air Conditioning) engineers and sub-consultants to improve the route of ductwork runs through the building.
The information model was also used to simulate daylighting and sun paths across the façade, a critical aspect to get right.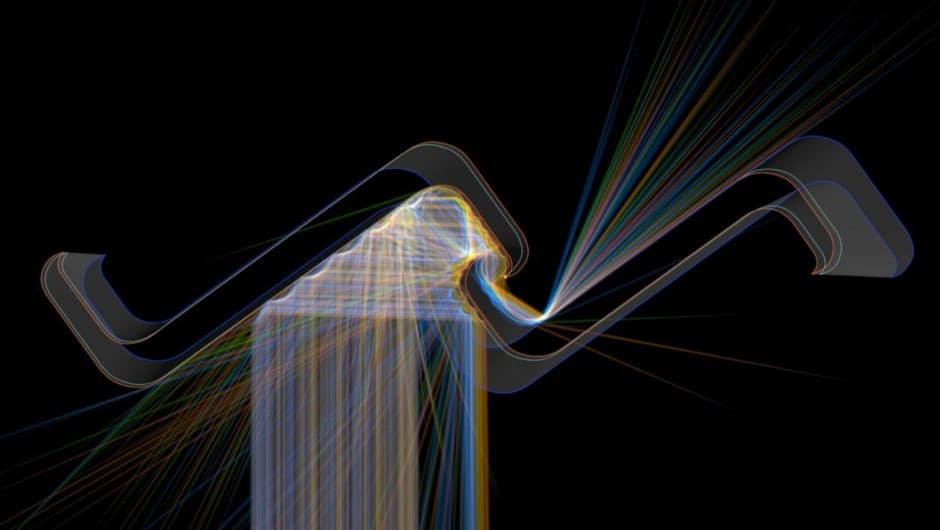 Above: Simulation of sunlight paths across the polished stainless steel façade (image courtesy of Patterson Associates).
It also enabled Len Lye staff to sign-off design proposals with greater ease and to test place artwork within the virtual building, forward planning exhibitions two years before the gallery actually opened.
BIM IN THE FIELD
As the project headed to site, data within the information model was extracted to provide construction-issue documentation and to inform programming and costing.
The architectural model of the façade columns was transferred directly to the pre-cast concrete manufacturers. This ensured accuracy and saved the time typically required to create separate fabrication plans.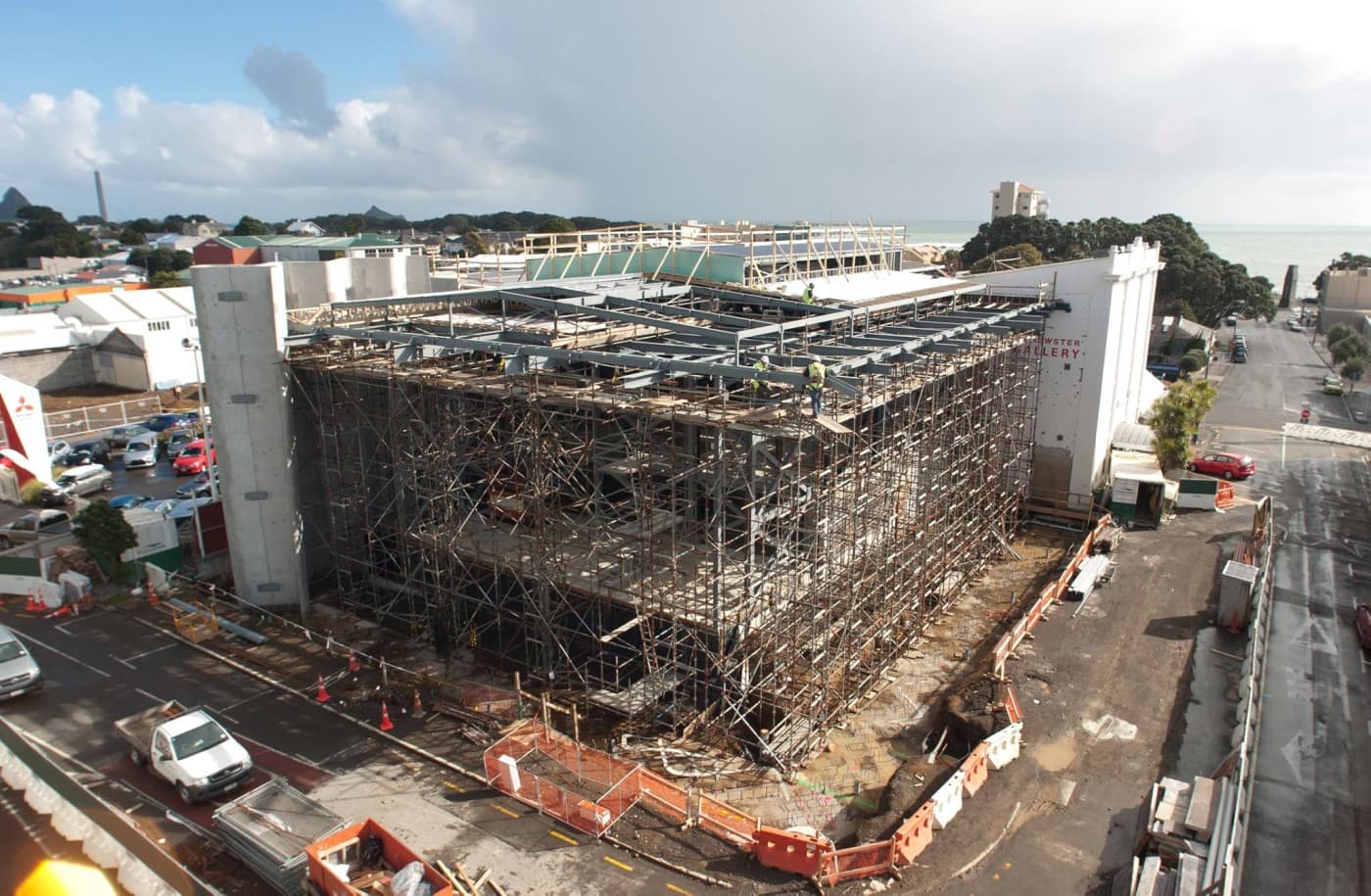 Above: The Len Lye Centre under construction (image courtesy of Patterson Associates).
Throughout the two-year construction period, contractors were able to access the information model and the 2D data generated from it on mobile tablets. This helped them to better understand and visualise proposals, avoiding rework and resolving issues much faster where they did arise.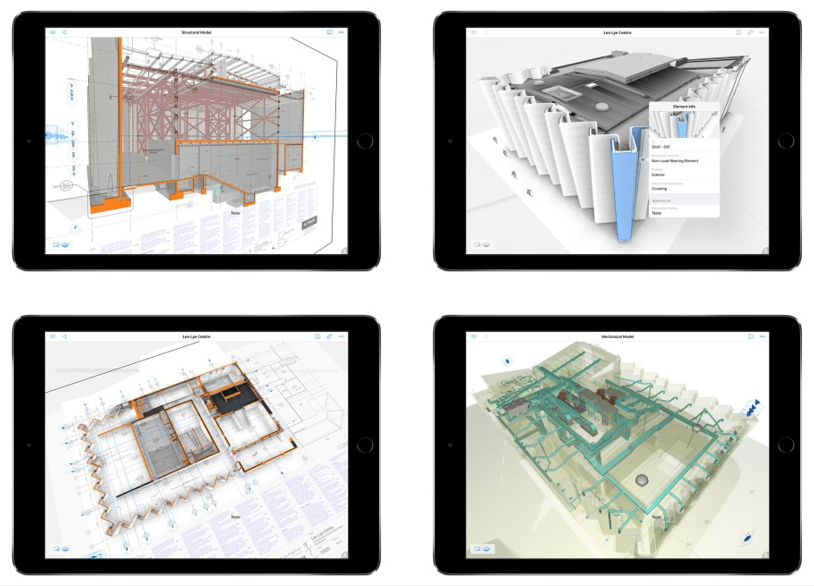 Above: The Len Lye Centre's information models on mobile tablets using BIMx PRO (images courtesy of Patterson Associates).
Completed in 2016, the Len Lye Centre is now one of New Zealand's leading BIM case studies; a shimmering monument to a key part of the country's heritage and an impressive step forward into its future.

Above: Part of the Len Lye Centre's high-polish stainless steel cladding, and Below: Part of the interior exhibition space (images courtesy of Patrick Reynolds).
Below: Len Lye (1901-1980), New Zealand's renowned kinetic artist.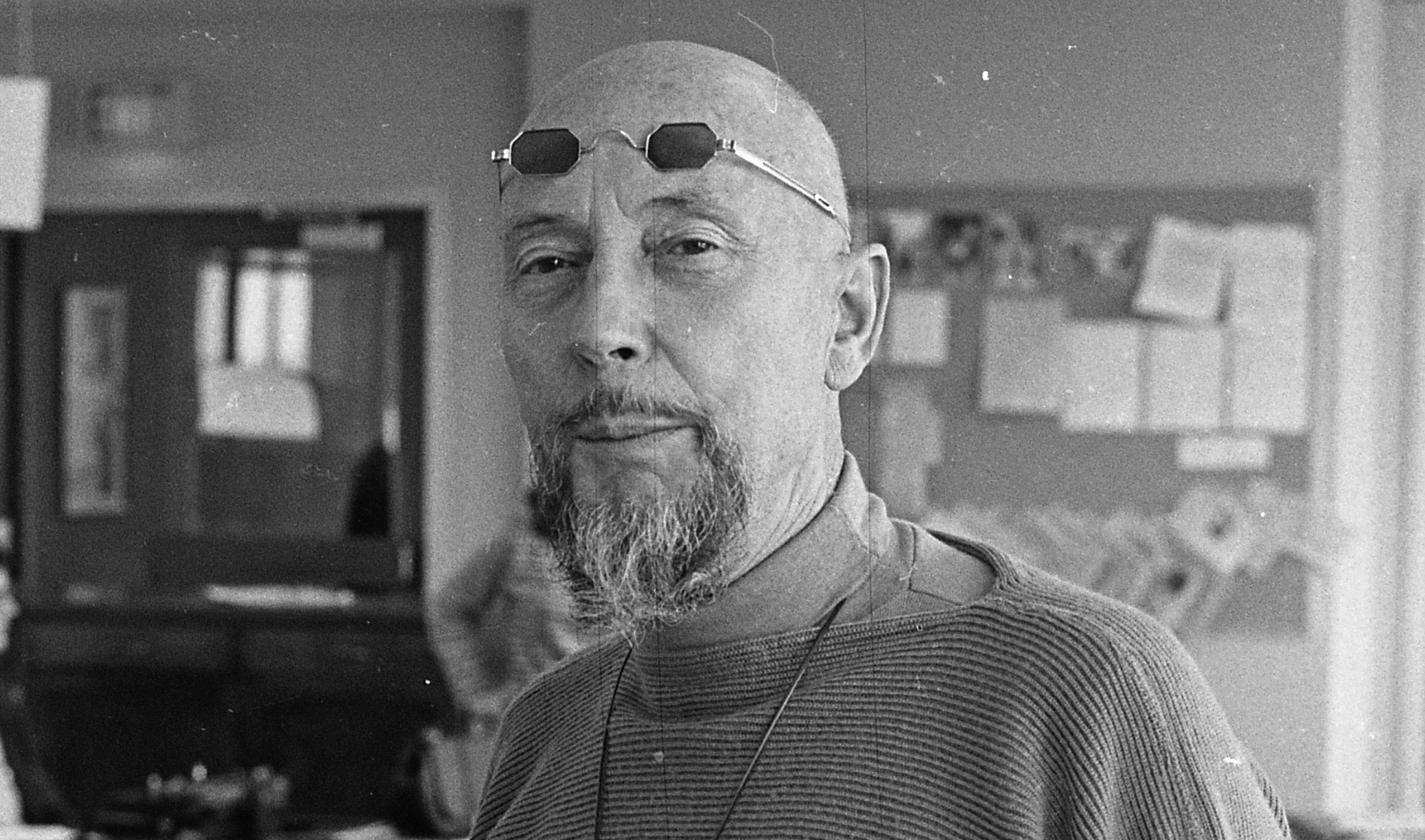 You can learn more about the Len Lye Centre and Govett Brewster Art Gallery here or discover more on the project's BIM journey from GRAPHISOFT. Further information on Len Lye's life and work can be found through the Len Lye Foundation.
This video was kindly powered by Viewpoint.
RELATED: EXPANDING ABU DHABI INTERNATIONAL AIRPORT WITH BIM

Images courtesy of the Len Lye Centre and Govett Brewster Art Gallery, Patterson Associates, Patrick Reynolds, Grant Sheehan, Sam Hartnett, Gregory Young, Davor Popadich and Leith Robertson.
Principal software used: GRAPHISOFT ARCHICAD, GRAPHISOFT BIMx, Revit Structures and Revit MEP. We welcome you sharing our content to inspire others, but please be nice and play by our rules.
Comments
---