Cities
Building the World's Last Megatall Skyscraper
Youtube Views

2,061,049

VIDEO VIEWS
Video hosted by Fred Mills.
THE COMPLETION of the Burj Khalifa in 2010 was a significant milestone for mankind. It marked the first time a habitable building had ever surpassed 600 metres in height and the structure become the world's first megatall skyscraper.
The excitement led many to declare that we had entered the "age of the megatall" and that by 2020, at least eight buildings would lay claim to this new title.
But from all the proposals put forward only a handful ever made it to construction. Six never completed, three were scaled back and only three actually made it to completion.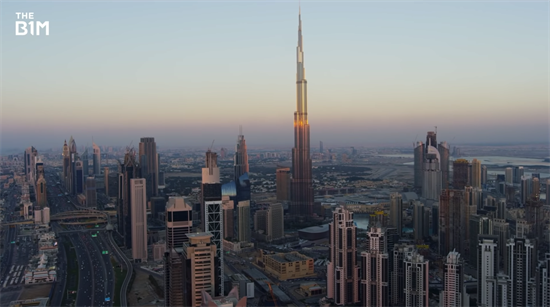 Above: The Burj Khalifa was the world's first megatall skyscraper and has only been joined by two others in the decade since its 2010 completion.
Of the only two megatalls classed as officially under construction at the moment by the Council on Tall Buildings and Urban Habitat, the status of each project couldn't be more different.
While the future of Saudi Arabia's Jeddah Tower is unclear - with no major works occurring since 2018, prospects for the other scheme look much more certain.
Set to become the world's second-tallest building when it completes in early 2022, and with the global economy now in a period of reduced growth, Malaysia's Merdeka PNB118 could well be the world's last megatall skyscraper.
Rising 644-metres, the 118-storey Merdeka PNB118 forms the centrepiece of a redevelopment at one of Malaysia's most historically important sites.
Consisting of multiple residential towers, a theatre, shopping mall and landscaped public boulevard, the area is set to become a destination in its own right.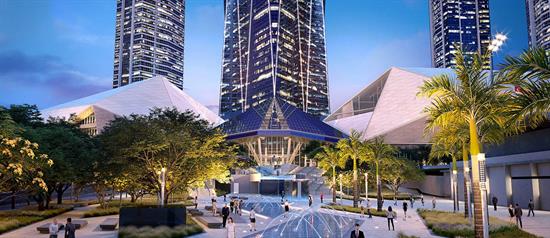 Above: Merdeka PNB118 forms the centrepiece of an entirely new precinct in Kuala Lumpur. Image courtesy of Fender Katsalidis Architects / PNB Merdeka Ventures.
The main tower - containing office space, a hotel, a 36-storey atrium, restaurant and observation decks - will stand as a monument for the country; with cultural symbolism reflected in nearly every element of its design.
Rising beside Merdeka Stadium, where the country declared independence in 1957, the crystalline facade is derived from a traditional songket pattern that's intended to reflect the diversity and legacy of Malaysia.
The building's 160-metre spire creates a silhouette emulating the iconic image of Malaysia's first Prime Minister as independence was declared, and the word "Merdeka" itself means "independent" in English.
Construction works first began in 2014. To support a building of such immense height and to preserve the structural integrity of surrounding landmarks and existing infrastructure, engineers had to take great care with the structure's foundations.
137 reinforced concrete piles - each measuring 2.2 metres in diameter and 60 metres in length - were cast in place to support the main tower, before an 800mm thick self-supporting circular retaining wall was built around the site.
This allowed for the excavation and construction of the five-level basement using the top-down method, an approach that minimised settlement and lateral movement of the surrounding earth.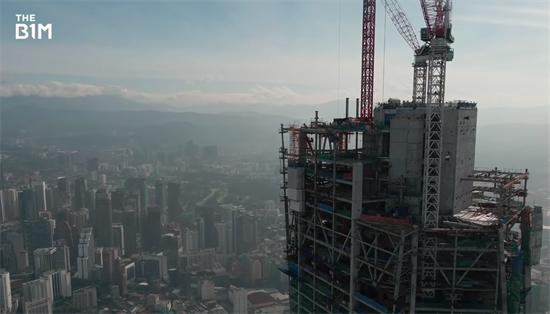 Above: Merdeka PNB118 topped out in mid-2020 after work was temporarily halted due to the pandemic. Image courtesy of Styfly Studios.
To maximise the amount of space on its valuable upper floors - which often reduce in size as a building rises, or become occupied by tuned mass dampers to ensure the stability of the structure - Merdeka PNB118 employs a series of ingenious engineering tricks.
Using 1.7-metre thick reinforced concrete walls, the core rises alongside eight mega-columns - each measuring 4.4 metres wide at their base - which are located around the perimeter of the building.
Reducing in size as they rise, these mega-columns are tied back to the core using a structural steel system that's made up of six belt trusses and three outrigger zones to create a rigid structure capable of resisting lateral and seismic forces.
Covering three storeys, the outrigger floors also form an important part of the building's transportation network; housing sky lobbies and transfer zones for the high-speed double-decker elevator system which will move 15,000 people a day when the skyscraper opens.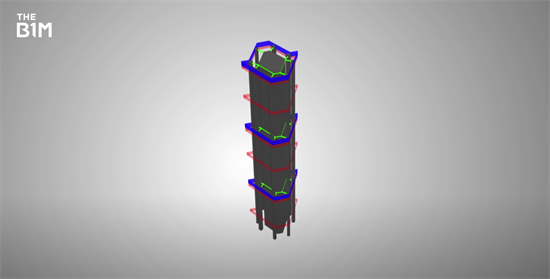 Above: The structural system used on Merdeka PNB118 allows its floors to remain largely unchanged throughout its height.
This structural system allowed architects Fender Katsalidis to keep the floorplates largely unchanged throughout and create highly efficient layouts for both the commercial and hotel components of the building.
After a largely event-free construction phase, work was temporarily halted in early 2020 pushing completion of the project back six months into early 2022.
While Merdeka PNB118 is a near certainty to complete - it's already structurally topped-out and its developer is set to occupy the majority of its commercial space - the building's journey to this point highlights one of the biggest challenges facing all megatall schemes.
Initially proposed in 2010 when the world was emerging from the global financial crisis, it took four years for the relevant approvals and financing to be obtained and a further six years of construction to complete the building.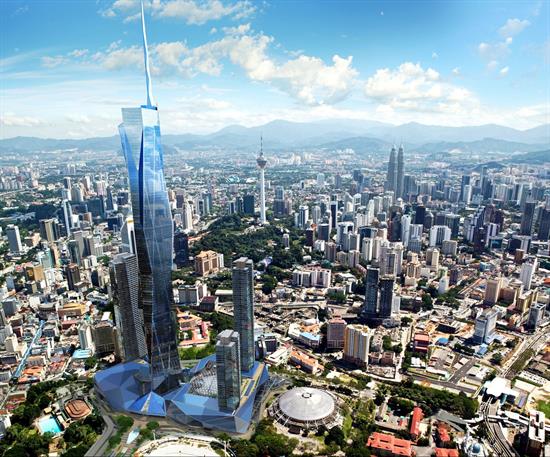 Above: With its structure topped-out, Merdeka PNB118 is a near certainty to complete and will dominate the skyline of Kuala Lumpur when it completes in early 2022. Image courtesy of Fender Katsalidis Architects / PNB Merdeka Ventures.
Though this is typical for a project of such scale, more than a decade of design and construction means that it's almost inevitable that something in that time will disrupt global markets and make any building not already occupied a burden for developers.
Such risk makes cancelling a project altogether and accepting a small loss more appealing than continuing to pour billions into something that might remain empty for years after its completion.
Alongside the potential for jeopardy - not exactly something developers go looking for - there's also little need for buildings of such extreme height, and they often serve more as status symbols than responses to a demand for commercial or residential space.
The ambitious, emerging centres in the UAE, Saudi Arabia and China now all have megatalls, while other major cities are already long-established on the world stage.
The extreme cost and patience needed to realise these structures means that it's often national governments rather than private developers that have to back them.
While it is of course possible for another megatall skyscraper to be built in the future, we'll likely need to make a quantum leap in the way we build these awe-inspiring structures before a fifth member joins the megatall club.
Narrated by Fred Mills. Footage and images courtesy of Syamoes, Southern Corridor Malaysia, Styfly Studios, IDIA. Design, Grand Land Canal, Kohn Pedersen Fox, bKL Architecture, CTUBH, Jeddah Economic Company, Adrian Smith + Gordon Gill Architecture, SRSSA, Woods Bagot, Nakheel Properties, Gensler / ECADI, Robert Bird Group, Thornton Tomasetti, Santiago Calatrava, Foster + Partners, Google Earth, Rescubika Studio, Eric Kuhne and Associates, Fender Katsalidis Architects and PNB Merdeka Ventures.
We welcome you sharing our content to inspire others, but please be nice and play by our rules.
Comments
---