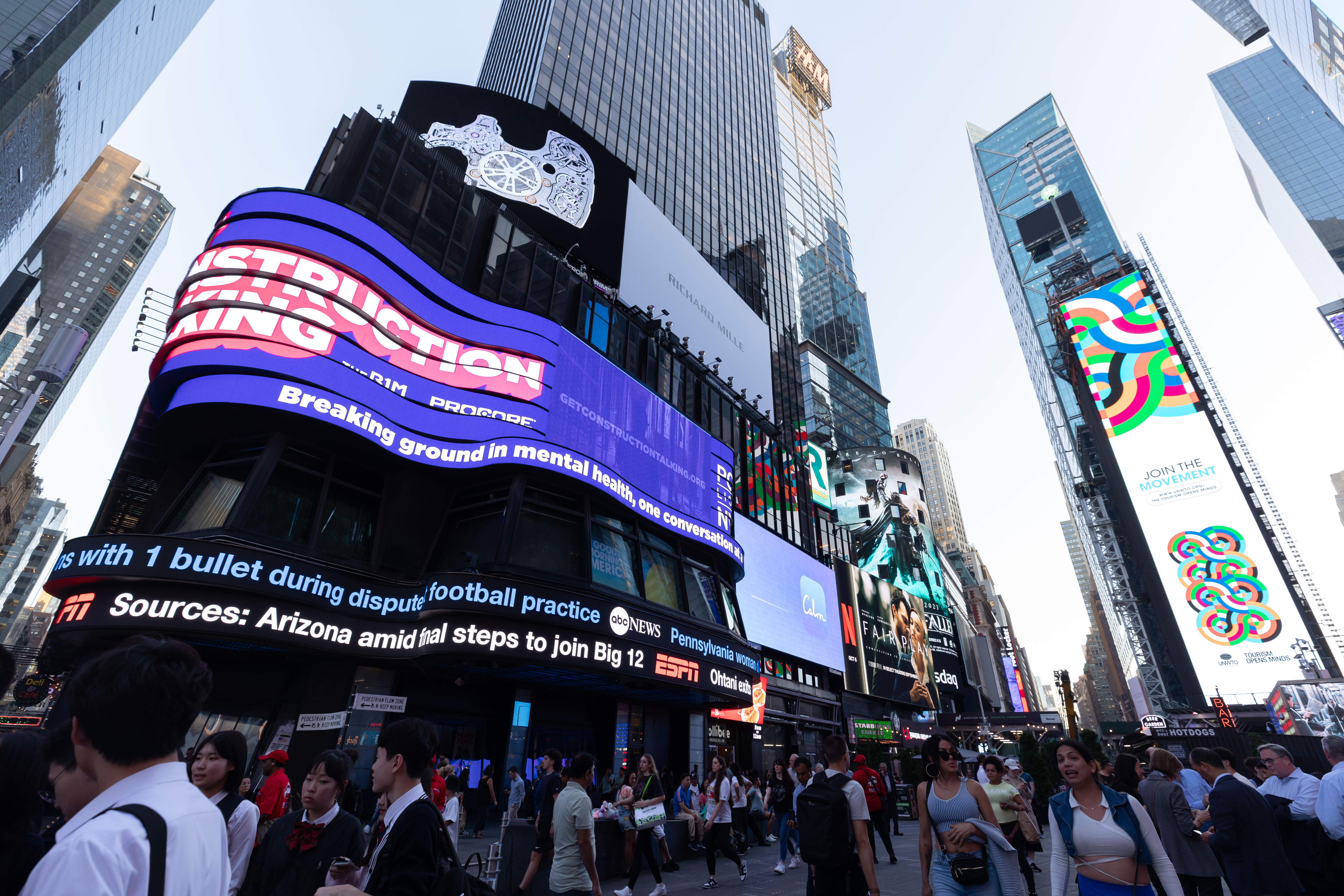 PRESS RELEASE | 03 November 2023
The B1M and Procore launch New York construction mental health awareness campaign
The B1M and Procore have launched a high-impact new campaign across New York's Times Square to raise awareness of mental health in construction.
The latest Get Construction Talking out-of-home campaign went live on a large screen above the Good Morning America studio in the heart of Times Square on World Mental Health Day.
It's now been extended to several digital screens across the Times Square subway station, including above the busy transit hall.
The New York initiative follows the first successful out-of-home campaign for Get Construction Talking which ran throughout the London Underground earlier this year. There have also been high-impact launch events for the initiative in London, Chicago and Sydney over the past three months.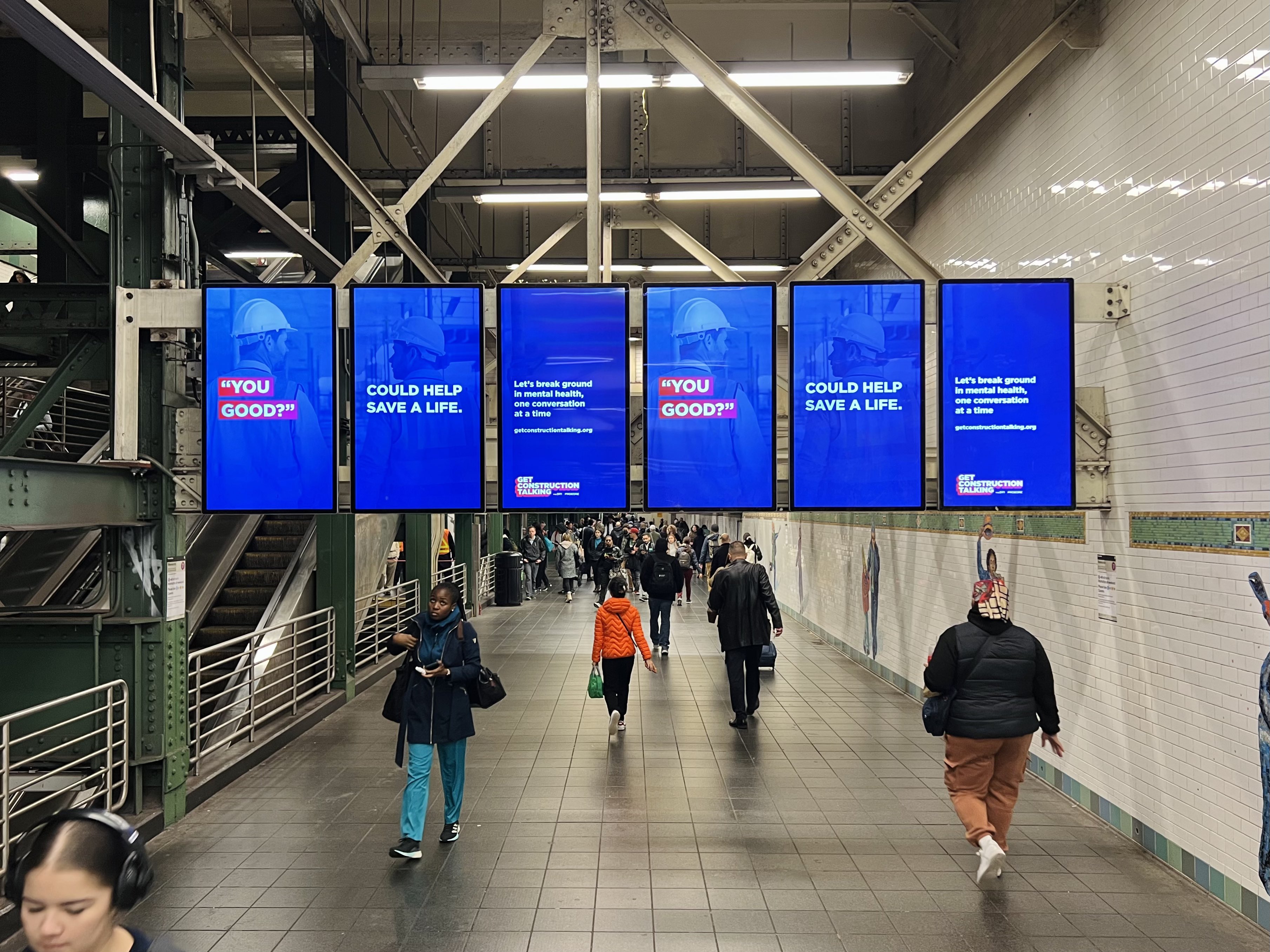 Above: The campaign on the New York subway. Below: The digital screen in Times Square. Images courtesy of Fred Mills.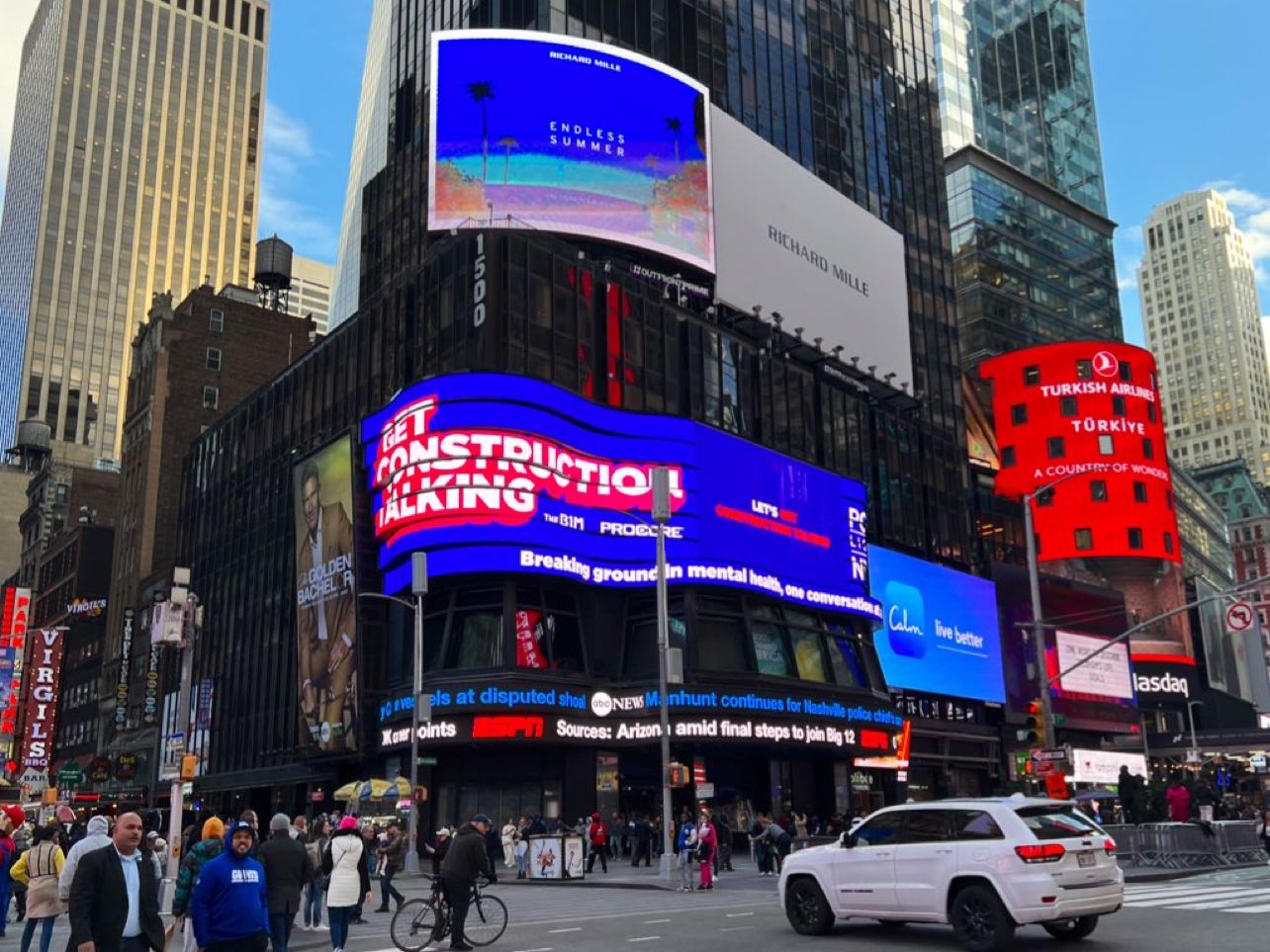 Research worldwide shows that the construction sector struggles with poor mental health more than almost any other industry, and that the issue is most prevalent among men.
Though of course nuanced and unique to individuals, it's understood that many factors contribute to the problem; including long working hours, excessive travel requirements, tough payment practices and a tendency for men in particular to put on a brave face and avoid sharing their feelings.
In a male-dominated industry, that culture has created something of a stigma around talking about mental health and recognising its seriousness.
Above: The B1M's two-part video series, lifting the lid on construction's battle with mental health.
Tackling this issue is complex, but one of the simplest things that we can all start doing today is talking.
If we can raise the profile of mental health, remove the stigma around talking about it, and be more alert to the signs in our colleagues and work mates that something might not be right then we can start to tackle this silent pandemic together.
Get Construction Talking is founded on that objective. It uses the combined power and reach of The B1M and Procore to raise the profile of mental health and help millions understand how they can start to help today, for free.
At the core of the initiative are free-to-access video, podcast and toolkit resources on a new central portal, along with an international events programme, links to support and guidance for both individuals and organisations on how to start making a difference.
The video resources have been published on The B1M's YouTube channel, putting the topic of construction mental health in front of its vast audience of more than 3M subscribers.
Above: The Get Construction Talking awareness campaign appears across the Times Square subway station. Image courtesy of Fred Mills.

Get Construction Talking is supported by leading construction mental health charities across the US, UK, Australia and New Zealand, including the Construction Industry Alliance for Suicide Prevention (CIASP), Lighthouse Charity, Mates in Mind, MATES in Construction and Construction Sport.
Together, The B1M and Procore are mobilising to raise $1M for construction's mental health charities through the Get Construction Talking campaign.
The B1M's founder Fred Mills was in New York to see the campaign go live:
"I am incredibly proud to see Get Construction Talking appearing across Times Square," Mills said. "Having struggled with my own mental health and seen how widespread mental health problems are in construction, I am determined to do whatever I can to raise awareness of this issue."
"If we can normalise conversations around mental health and look to spot the signs in our mates and colleagues that something might not be right, then we can collectively start to move the dial on this issue at the grassroots level."
"Procore's vision is to improve the lives of everyone in construction," said Procore CEO Tooey Courtemanche. "What has become increasingly clear is that in order to further that vision, we must address the mental health crisis in the construction industry, reduce stigma, and provide resources to those in need."
You can learn more, get support or make a donation to support construction's mental health charities at getconstructiontalking.org

Comments
---