Documentaries
Uncovering Construction's Biggest Killer
Youtube Views

197,468

VIDEO VIEWS
Video series hosted by Fred Mills.

THE CONSTRUCTION INDUSTRY is an incredible force that shapes our world with its awe-inspiring structures.
Without the immense skill, ambition, and determination of its workforce, we wouldn't have bridges spanning seas, canals bisecting continents or skyscrapers soaring hundreds of metres into the sky.
But alongside its achievements, the industry faces a significant challenge: construction has some of the worst mental health statistics globally of any sector.

In the United States, construction workers are five times more likely to die by suicide than from all other causes combined. In Australia, the industry loses a life to suicide every other day, while in the UK, on average two construction workers take die by suicide every day.
These statistics are shocking, but what's even more devastating is the lack of meaningful steps being taken to address the issue. Construction is grappling with a silent crisis, but there is hope.
Change can begin with small steps, which is why The B1M has teamed-up with Procore and founded Get Construction Talking - an initiative to try and move the dial.
Above and Below: The B1M's new two-part video series lifting the lid on mental health in construction.
We spoke with Logan Price, a construction manager and part of the next generation shaping this industry. Despite his love for the work, he experienced the toll that industry pressures can take:
"I think the overall balance of my life was probably wrong," he said. "I was doing far too much travelling. I was averaging about 1000 miles of driving a week."
The culture of "powering through" difficult times and the stigma surrounding mental health made it challenging for Logan to recognise the impact on his well-being. Fortunately, he found the courage to speak up and seek help.
"I think talking about your mental health when you're in the midst of struggling is one of the strongest things you can do. And it's something that takes immense courage to do in that moment."
Through speaking out, Logan discovered ways to manage his mental health and emerged even stronger. He later climbed Mont Blanc, raising £27,000 for charity.
Mental health can be likened to a building. Over its lifetime, a building endures various elements that can cause damage. Wind, rain, and sun all take their toll, and things can go wrong at the worst possible times. Some buildings seem to be able to endure more than others but regardless of this, no building can survive without care and maintenance.
People are just the same. We can't always control what's thrown at us, but just like a building, it's important to identify when damage has been caused and take steps to make things better.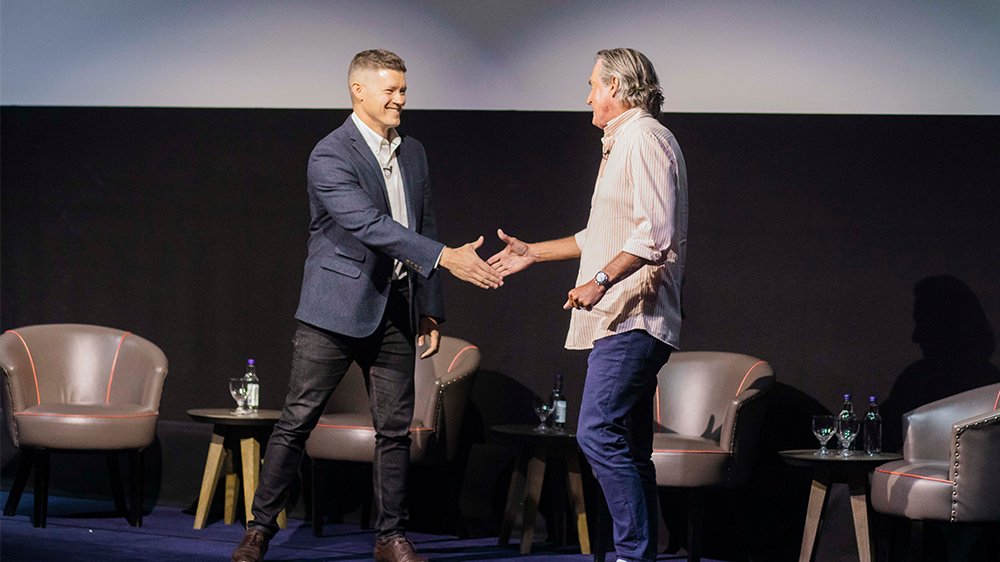 Above: The B1M founder Fred Mills and Procore CEO Tooey Courtemanche on stage at the Get Construction Talking launch event on 12 July. Image courtesy of Karla Lizethe Hunter.
Chris Lockwood is the CEO of Mates in Construction, a charity focusing on mental health improvement in the construction industries of Australia and New Zealand. He witnesses the impact of industry pressures on workers.
"There can be very long working hours, which can lead to direct hardships in terms of maintaining the social connections that normally keep us safe," he said.
"I often use the analogy of a city skyline if you think of a building and no building, building, no building ... That's almost like you've got periods of work, no work, work, no work, periods of money coming in and then not, which can lead to real trouble in terms of how you manage your household finances."
In high-pressure jobs, these factors can exacerbate a challenging situation, quickly reaching a breaking point. Griffith University in Australia found that 93 percent of people who died by suicide in construction did not seek formal services that could have helped them through their hardships.
To address this issue, Mates in Construction introduced the role of connectors: trained volunteers who support construction workers by connecting them with relevant services to alleviate the pressures leading to mental health crises.
Despite the challenges, Chris remains hopeful:
"The thing that I'm most optimistic about is the fact that workers keep stepping forward to take on the program, volunteers on-site who actually help people get the help they need when they need it."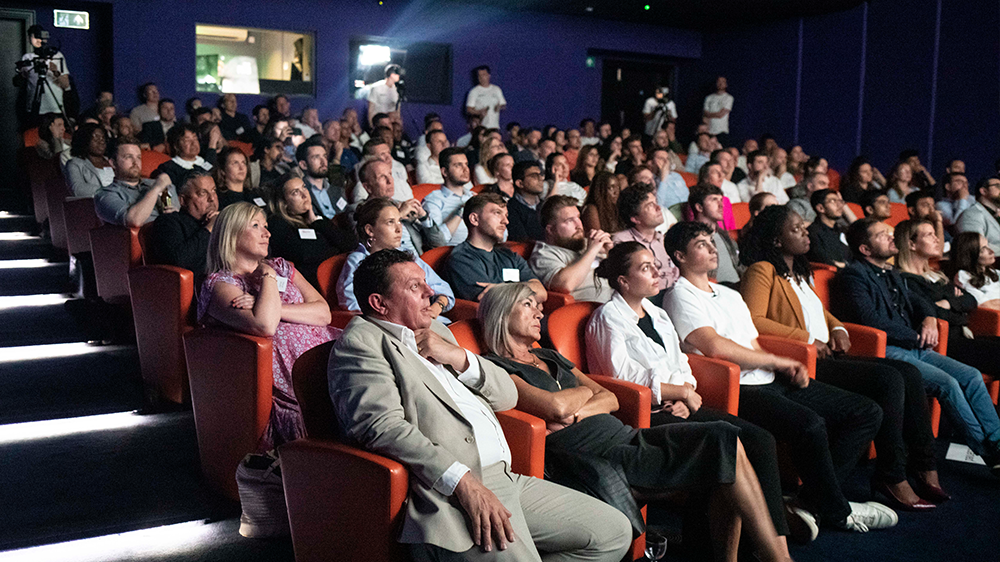 Above: The two-part documentary series was premiered at Ham Yard Theatre in London. Image courtesy of Karla Lizethe Hunter
Construction Sport, a UK charity, aims to rebuild the social connections lacking in the industry, often unavailable due to its demands.
"It's all about giving construction workers the opportunity to enjoy themselves, really. Let their hair down for the benefits of mental health," the charity's founder Steve Kerslake said.
Steve believes in the power of sports to improve the mental health of his fellow workers, and he is not alone:
"I'm a ground worker at heart, but we just want an opportunity to enjoy ourselves in an environment where people can let their guard down a bit. The military does it, fire brigades do it, the police service does it, ambulance service, the banking sector … They all have organisations overseeing sport. We're bigger than all of them, but we don't."
Whether it's connecting individuals to services or engaging in weekend sports activities, there are numerous ways to address mental health in the industry. However, the most crucial step is to start with a simple action: talking.
Starting conversations is something we can all do today, at no cost and without training. Looking out for a friend or colleague and asking, "Are you okay? You don't seem yourself," is one of the simplest yet most powerful steps we can take.
You can learn more about Get Construction Talking and DONATE to support the industry's mental health charities here.
Comments
---