Cities
The Shocking Story of New York's Strangest Tower
Youtube Views

4,464,134

VIDEO VIEWS
Video hosted by Fred Mills. This video and article contain paid promotion for Surfshark.
DESPITE standing just 22-storeys tall on an island full of massive skyscrapers, New York's Flatiron Building managed to endure as a cake-slice shaped icon of this city since 1902.
That unusual triangular shape has captured the eyes of photographers, tourists and directors for decades.
But in recent years, this world-famous structure has sat empty and under scaffolding only for a New York court to then order it be put up for grabs at auction in early 2023 – an auction that seems to have turned into a bit of a farce.
It's the latest uncertain chapter in the long story of this building – a building that's seen so much of New York's history unfold and endured so much already.
This is how one of the city's strangest towers came to be, how it went on to become iconic and why the current struggles around its sale will probably only make it more famous.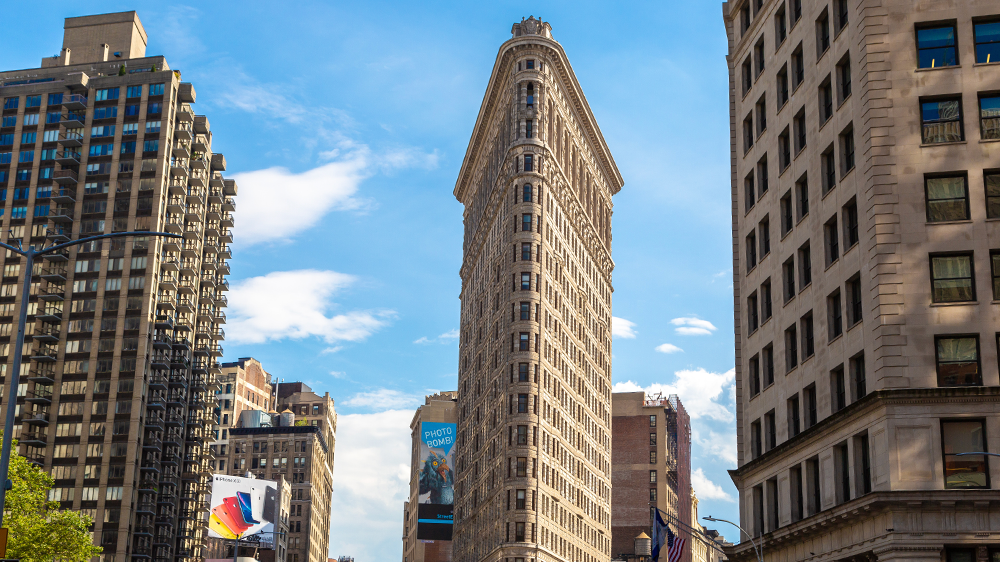 Above: The Flatiron Building is one of New York's most iconic buildings.
Manhattan's grid street layout is hard to miss. But cutting its own path through much of it is Broadway – and where that crosses Fifth Avenue a rather awkward plot of land gets created.

Now this city is famous for its ambition, and small awkward plots of land haven't stopped it yet – not even way back in 1901.
Purchasing the site in May of that year, the Fuller Company appointed Chicago's Daniel Burnham to design a new headquarters for the firm that maximised every inch of the available land.
He came back with an eye-catching and ornately detailed 22-storey slice of steel and stonework then known as the Fuller Building.
With the design approved and a number of shorter residential and commercial structures demolished,construction on the new tower started racing ahead; at times adding a new floor every week.
With an unusual footprint, hardly any site working space and busy New York streets on either side of them, construction teams had to be clever – and following a recent change in the city's fire codes that restricted it, this became one of earliest buildings in the city to shun load-bearing masonry and instead take advantage of steel for its structural frame.
More than 3,500 tonnes of it was prefabricated off site in Pennsylvania and dropped into place almost immediately when it arrived, minimising the need for storage.
Closely following the steel frame skywards was the building's then-revolutionary curtain wall cladding system: ornate terracotta and limestone stonework that was used to simply infill and enclose the structural steel work that carries the tower's weight.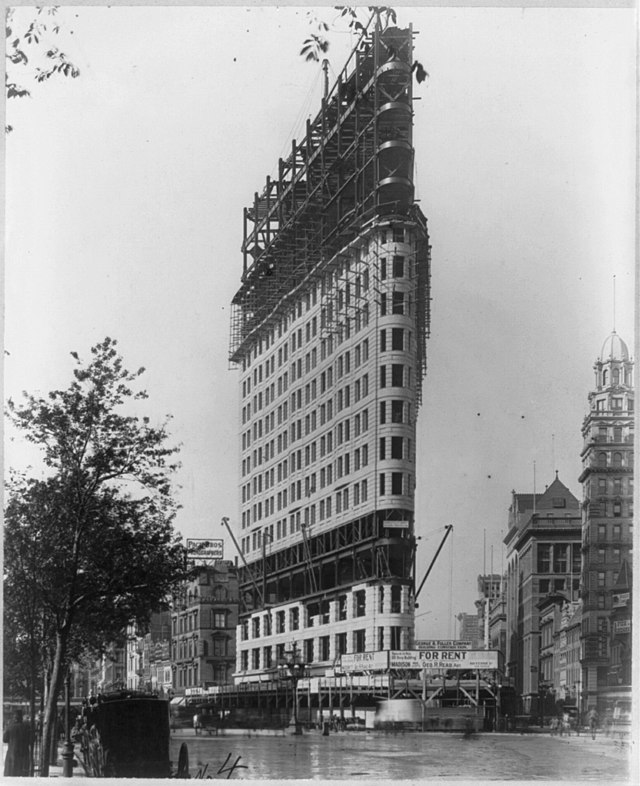 Above: The steel frame during construction of the Flatiron.
As the frame rose, onlookers often stopped to watch the spectacle.
Unlike many high-rise buildings that taper or step back as they rise, the Flatiron mimics a Greek column. Its top and bottom are slightly wider than its middle section.
That sharp top corner of the building is a mere two metres wide with an incredible angle of just 25 degrees.
Alice Sparberg Alexiou knows a thing or two about the Flatiron Building. In fact she wrote a whole book on it.
"It's all based on Beaux-Arts design, which came from Paris, from back in the day," Alexiou said.
"All these Chicago architects like Burnham, like Louis Sullivan, they all went to Beaux-Arts. And they studied this Beaux Arts design - which incorporates all these renaissance and classical elements into a modern, quote, modern structure, the skyscraper and took it to America and then adapted it to American cities."
With such sharp angles and large, open streets running down to it, engineers painstakingly considered the building's aerodynamics. The steel frame was built to withstand up to four times the expected wind loads acting on it. Still, gusts from the north would split around the sides of the building, creating a gusty experience for people on the street.
Perhaps unsurprisingly the interior layout created some design quirks too. Office space was tight and sometimes a challenge to furnish.
The elevators were powered by water-pressure and infamously slow, occasionally springing leaks and causing flooding. Still it was better than the alternative: a single 22-storey stair climb for those wanting to reach the top floor.
When it was completed in 1902 there weren't exactly jubilant celebrations. In fact, the unusual structure was met with consternation and became dubbed "Burnham's Folly".
Despite being sold at auction for a mere $100,000 during the Great Depression, the 121 years since the building's completion have largely proven the naysayers wrong.
The tower is now an iconic symbol of New York, drawing tourists from all over the world – and though the original site that the Fuller Company purchased back in 1902 had been loosely called the Flat Iron for a time, the name Flatiron Building has now formally stuck and even given its name to this district of Manhattan.
Over the years, it's been home to a variety of companies and retail tenants.
Back in 1966, it was designated as an official city landmark: a special status that means any renovations, construction, or demolition works must be approved in advance by a government commission.
Thankfully you'll find structures like Grand Central Terminal and the Empire State on the same list.
In 1989, the Flatiron was further elevated to National Historic Landmark status.
But if such classifications were meant to preserve a sense of reverence for this structure then you wouldn't really know it today. The Flatiron has sat empty ever since its last tenants, Macmillan Publishers, left in 2019 and renovation works began.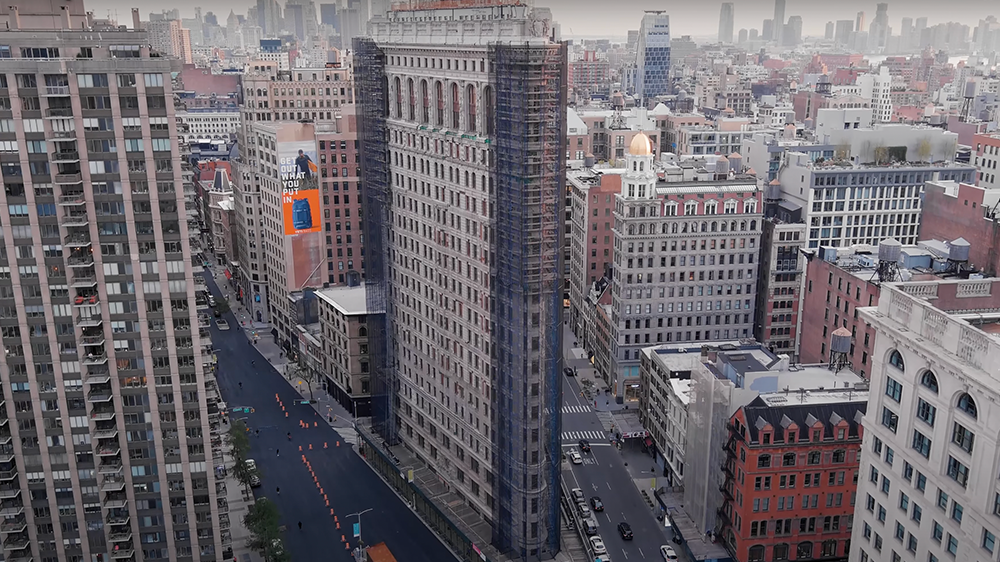 Above: The Flatiron Building has sat under scaffolding for years now. Image courtesy of The Dronalist.
The works, which have partly taken place through the pandemic, have triggered multiple disagreements among the building's current owners and future tenants. Things got so bad that the New York State Supreme Court ordered an auction on the building in 2023: the first of its kind in nearly 100 years.
"These other owners, who comprise 75% of the building, which they are, Jeff Gural, who's a big real estate person in New York, the Sorgente group, which is based in Rome, and a few others have 75% of the property," Alexiou said.
"Nathan Silverstein has 25%. So their intention was to buy it back at auction, and that was how they were going to get rid of Nathan."
The auction was held outside, on the footsteps of this courthouse with bids starting at $50M. Over the course of about 40 minutes things quickly escalated before an unexpected and unknown buyer called Jacob Garlick beat out Jeff Gural, the building's current majority interest holder, with a bid of $190M.
Now, given that the building's value reportedly decreased after the pandemic and was in need of more than $100M of renovations this was something of a surprising twist. But it's not where the story ends.
In yet another bizarre turn, Garlick disappeared. He failed to make the $19M down payment within the required time period and has yet to reply to multiple messages from the media.
So at this stage you're probably wondering how something like this is even possible. Surely you can't just roll up to a building auction, out-bid everyone and vanish?
Well according to court filings – bidders weren't required to pay a deposit of any sort to participate in the auction. It wasn't until after the event that a winner needed to provide any proof of funds. That's something that real estate experts say is a highly unusual practice and it seems to have led to well … just about anyone joining in.
Alexiou, who actually attended the auction, said she's heard speculations about Garlick and his relation to one of the building's former owners, Nathan Silverstein.
"There's something weird going on," Alexiou said. "Some people suspect that Nathan put him up to it so that they would up the he could keep upping the price and then Nathan would walk away with more money because he had lost the building."
For now, who Jacob Garlick is and what exactly he was doing remain unknown – and with no definitive owner right now, the future of this landmark building hangs in the balance. The Flatiron is slated to head back to auction on 23 May, 2023.
121 years is a long time in New York and this building has seen it all; from the initial opposition to its existence, through the Great Depression, a world war, the immense changes that the second half of the 20th Century brought and now a reshaping in how we use our cites. A headline-grabbing auction battle is the latest compelling twist in the amazing history of this icon. Far from being its downfall, it's likely to help make it even more legendary.

Get Surfshark VPN here and enter promo code B1M for an extra 3 months for free.
Video hosted by Fred Mills. Special thanks to Alice Sparberg Alexiou. Footage and images courtesy of The Dronalist, Library of Congress, Fox 5 New York, NY1 and New York Public Library
We welcome you sharing our content to inspire others, but please be nice and play by our rules.

Comments
---