Infrastructure
The Golden Gate Bridge is Preparing For 'The Big One'
Youtube Views

744,932

VIDEO VIEWS
Video hosted by Fred Mills. This video contains paid promotion for Masterworks.
IT'S the world's most recognisable bridge and an icon of America. Defying incredible odds during its four years of construction, the Golden Gate has stood for over 80 years, and remains a critical piece of infrastructure — not just a pretty sight.
Today, it's almost impossible to imagine San Francisco without this engineering marvel on its skyline. But that is now a very real possibility thanks to a threat that has loomed large over California for decades — a massive earthquake known as 'The Big One'.

The iconic Golden Gate Bridge may not survive this unless it's given some serious upgrades. Fortunately, that's just what it's getting with a huge seismic retrofit project that should see it stand for many more decades to come.
"It's vitally important that we protect this icon, not just so people can come and take photos, but so our region can continue to function after a major seismic event," Paolo Cosulich-Schwartz, director of public affairs for The Golden Gate Bridge, Highway and Transportation District, said.
This is the story of one of the world's greatest feats of engineering, of how the Golden Gate Bridge came to be, and how it's now preparing for The Big One.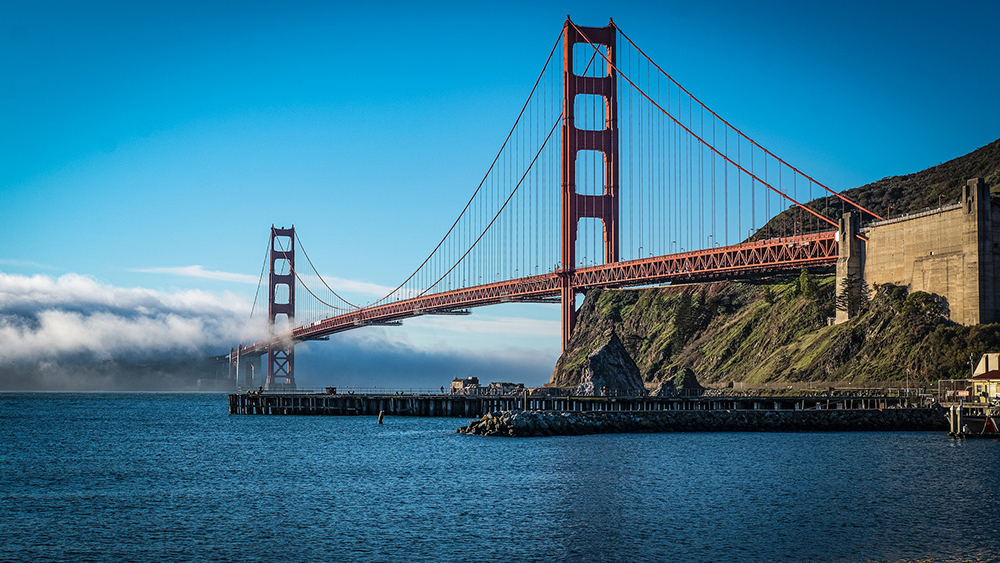 Above: There aren't many things more symbolic of America than this long stretch of steel that sits just north of San Francisco.
Many factors have contributed to this steel structure's iconic status — from its size, looks and location to its countless movie appearances — but what's often forgotten is the incredible tale of its construction.
Long before the bridge, the mile-long Golden Gate Strait divided two pieces of land at the entrance to San Francisco Bay.
It's incredibly wide and deep — at over 100 metres — and has fast-flowing waters. So back in the 1920s most people discounted building any kind of structure as a way to cross it.
The only way to get from one side to the other — unless you fancied a very long drive — was by ferry. But as car ownership took off in America, to the point where millions of vehicles were piling onto these boats every year, the service became far too congested.
Another way over the water was sorely needed and in the eyes of city officials, a bridge would do nicely. But turning such a bold and daring idea into reality wasn't going to be easy as the strait's geography presented extreme challenges.
To take on the task, the city appointed engineer Joseph Strauss. He had a great track record in bridges, but his ideas weren't always to everyone's taste. The Golden Gate was no exception.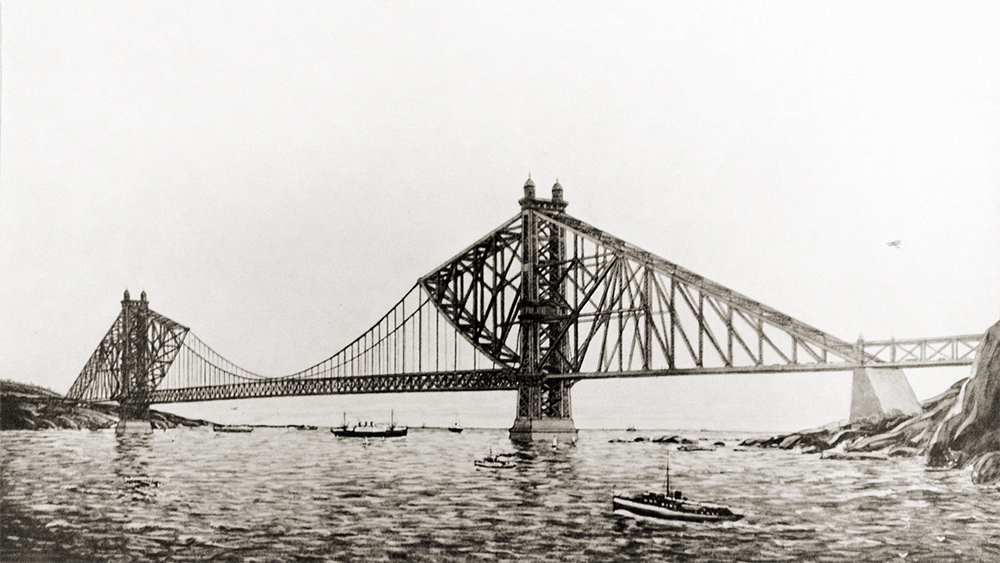 Above: Strauss' first design tabled in 1921 was widely criticised. Image courtesy of Golden Gate Bridge, Highway and Transportation District.
Reluctantly, he agreed to work with three other engineers and architects on a new iteration. This one was approved by both the government and the public and went on to become the bridge we all know and love.
By 1929 the vision was complete but for the Golden Gate Bridge, Highway and Transportation District — a company set up to build and operate the bridge — the challenges had only just begun.
The team was met with thousands of legal challenges from the firm that ran the ferries who wanted to stop the project.
On top of that, what was then called the US Department of War was concerned that the structure would become a sitting duck for enemy bombers and that the bridge wouldn't be visible enough in foggy conditions.
They even called for it to be painted yellow and black so you couldn't possibly miss it — a decision we're kinda glad got overruled.
Then came a huge financial crisis which brought in The Great Depression and wiped out all of the planned government funding.
To keep the project alive and in a remarkable demonstration of public support for the bridge, the people of San Francisco voted for a $35 million bond issue using their homes as collateral. At long last, construction could begin.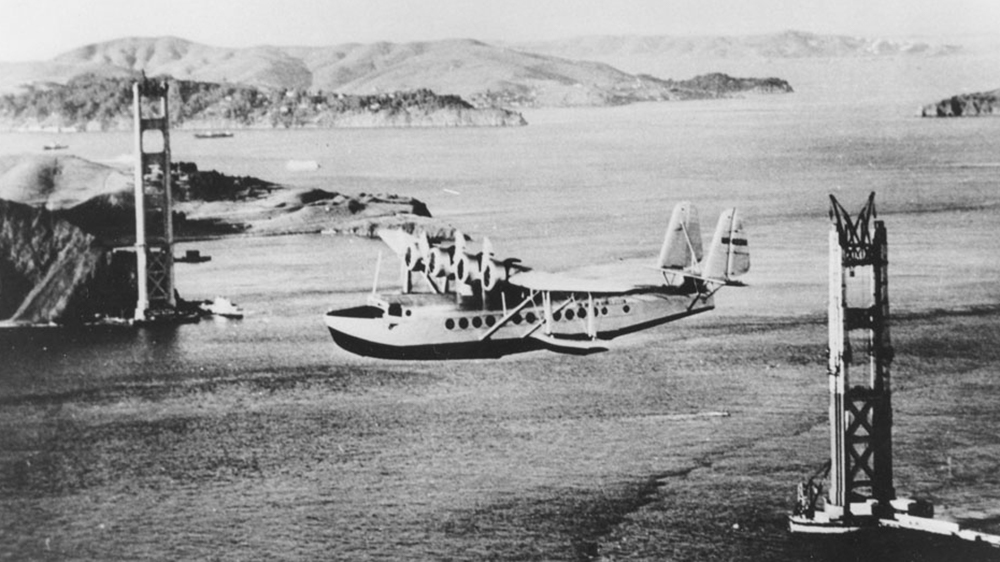 Above: Standing over 220-metres tall, these immense structures each required 40,000 metric tonnes of steel.
Things all started with the two main towers. Both were built in prefabricated sections shipped all the way from the East Coast via the Panama Canal.
The North Tower came first and was by far the easiest of the two to build — mostly because it sits on land. But the one on the south side of the strait was a lot trickier.
Building over 300 metres out in the sea, surrounded by water is not easy. First a large oval barrier was constructed at the end of a temporary pier, which would also act as the base.
Nicknamed the Bathtub it was done by pouring concrete into a wooden formwork through underwater tubes.
When it was set, the water inside was pumped out, allowing more concrete and steel reinforcement to be added inside before the tower itself could start to rise above.
At around the same time, the huge anchorages for the suspension cables that would lie on either side of the strait were built too. Altogether that took around three years to complete.
Once the massive towers were in place, the task of connecting them with cables could begin. With shipping lanes closed, a boat was used to pull the first wires across the strait, which were then lifted into the cradles at the top of each tower by crane.
Next, a platform was set up so the rest of the wire strands could be sent across the Strait and secured into those anchorages, before being passed back again. It's a very long and drawn out process known as spinning.
Just over six months later, over 27,000 individual wires had been spun with a combined length of around 80,000 miles and for the first time there was a physical, manmade link across the strait.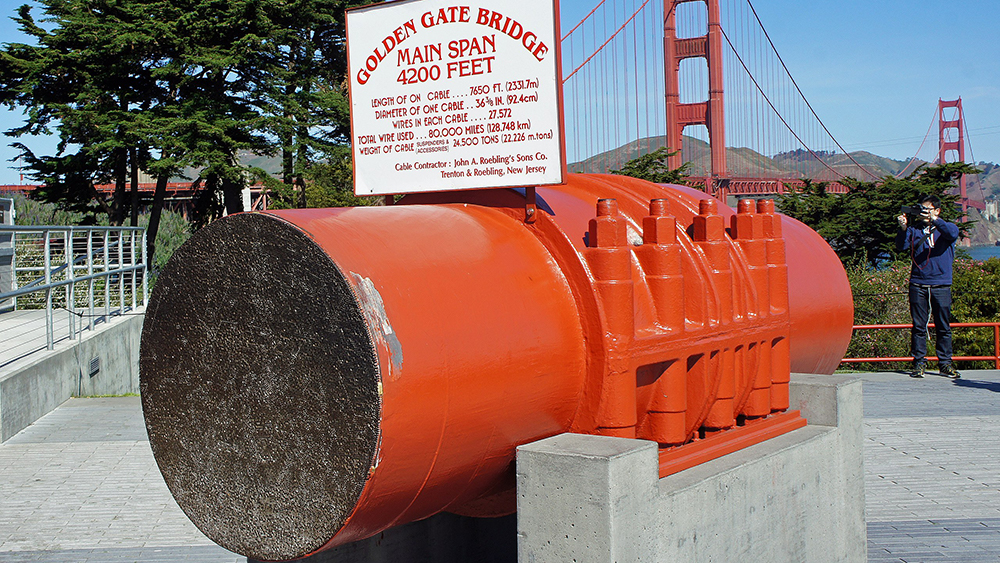 Above: Hydraulic presses had compacted them into single large cables. Image courtesy of Mario Roberto Durán Ortiz/CC BY-SA 4.0.
Then came the bridge deck. To build this, vertical cables were hung down from the main ones to support steel trusses. This was down right across the bridge until the two sides connected.
Concrete was then poured onto this base, creating the roadway — the last major piece of the puzzle.
Health and safety was a little more laid back than it is today. Those at the top of towers worked for months in 45mph winds, over 200 metres above the water – and there were many cases of workers falling from the bridge.
Despite multiple fatalities, the addition of a safety net did save many lives too, with survivors joining what became dubbed the "half-way to hell club".
Tragedy struck when a paving machine fell into the net taking a number of workers with it. The net collapsed under the weight of the machinery and 10 people were killed.
Finally, in 1937, the bridge that no one thought could ever be built was completed on budget and ahead of time, opening to much fanfare.
50 years later, the city held a similar pedestrian walk over to celebrate the bridge's anniversary. But in half a century, the Golden Gate had gained a lot more admirers. Serious overcrowding saw the typically arched bridge flattened under the immense weight of the crowd.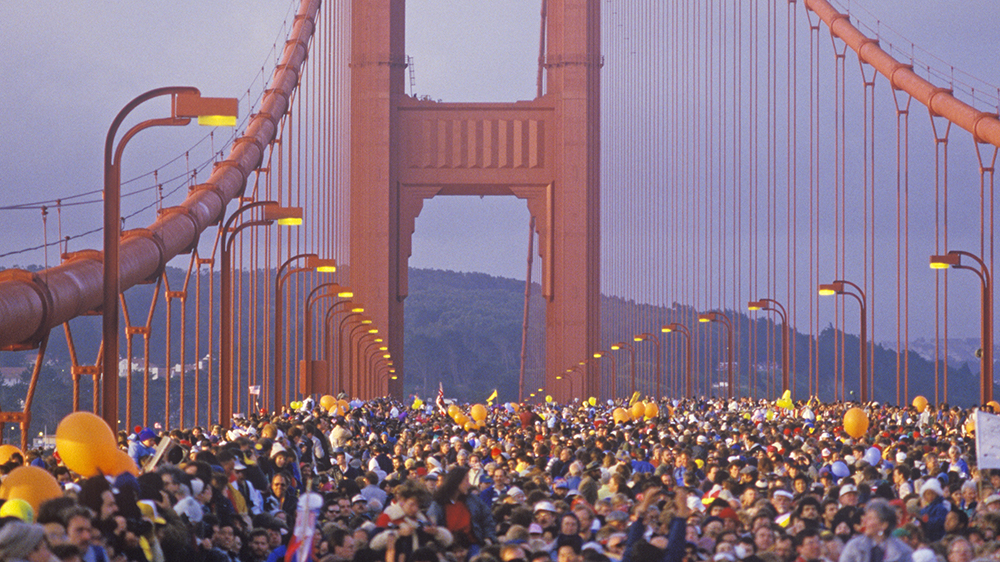 Above: The incident has led officials to commemorate anniversaries in different ways ever since. Image courtesy of Joseph Sohm/Shutterstock.com.

Today, the Golden Gate is as important as it was when it first opened. 37 million vehicles cross it every year, including half a million freight trucks, and it's used by huge numbers of pedestrians and cyclists too.
Clearly, it would leave a huge hole — both literally and figuratively — if anything bad were to happen to it.
And we already know what that would look like because we've seen it multiple times in the movies. It's been nuked, destroyed by a tsunami and, er, bitten in half by a giant shark — to give just a few examples.
Thankfully in the real world, it remains very much intact, but that doesn't mean there's nothing to worry about. It sits in the middle of an earthquake zone.
Back in 1989, the 7.1-magnitude Loma Prieta earthquake hit the region, causing 68 deaths, thousands of injuries and billions of dollars worth of damage.
Afterwards, the Golden Gate Bridge Highway and Transportation District conducted a vulnerability study of the structure.
It found that an earthquake of magnitude 7 or higher, with an epicentre close to the bridge, would cause severe damage to it.
And if an even bigger one hit — with a magnitude of at least 8 — the viaducts leading up to the bridge could be at risk of collapse.
Now while the bridge is still deemed safe today, with such grim findings the decision was made to carry out a full seismic retrofit of the historic infrastructure in four phases.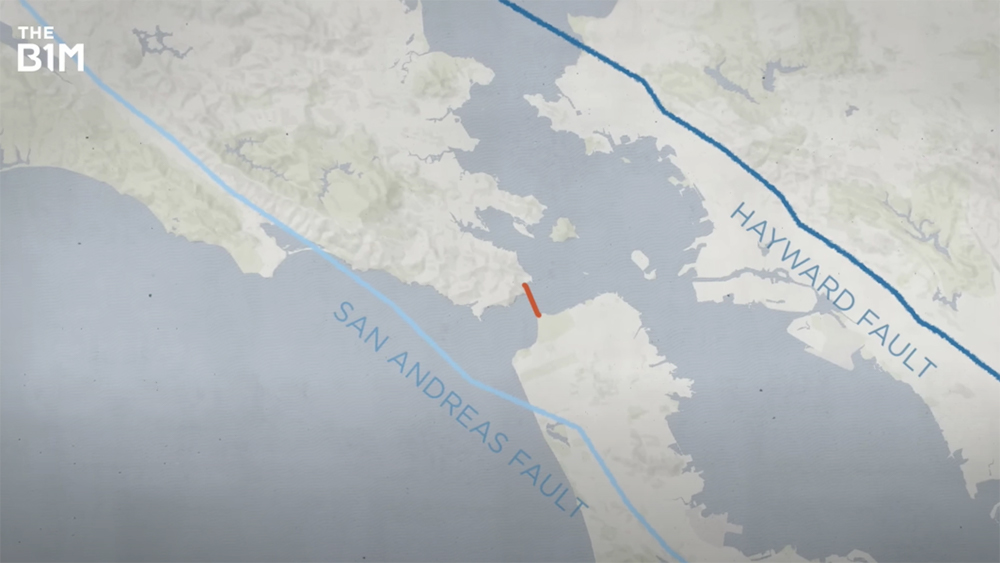 Above: The bridge was built right in between two fault lines.
The first one, which took place from 1997 to 2001, focused on the North Approach Viaduct, where the anchorage for the cables on the Marin side of the bridge is kept.
"That work included strengthening the foundations of the area, replacing four supporting steel towers and strengthening them, installing seismic expansion joints, installing isolator bearings that minimise the effects of ground motions on the structure and the trusses specifically," Cosulich-Schwartz explained.
These isolator bearings sit between the horizontal supports underneath the roadbed and the four vertical towers, reducing the amount of seismic energy transferred from the ground to the trusses.
They're made up of thin layers of rubber and steel with a lead core in the centre. This enables them to move laterally in the event of an earthquake while retaining high vertical stiffness, with the core deforming and acting as a damper.
Phase 2, from 2001 to 2008, saw a lot of the same work from Phase 1 repeated on the South side, but with a few notable exceptions.
The Southern end has the distinctive Fort Point Arch, which was upgraded with new bearings, energy dissipation devices and isolation joints.
Surrounding the arch are two massive concrete pylons, which were modified so they dampen seismic energy. It was achieved by expanding their foundations both above and below the surface, drilling holes deep into the bedrock and inserting pre-stressed steel tendons.
All of this means the pylons can now rock in the event of an earthquake, with the tendons pulling them back into place.
"The bridge is safe today after the second phase of the seismic retrofit was complete for an earthquake up to a low eight in magnitude. And so, once that phase was completed, we breathed a large sigh of relief. Our work is not fully done, as we embark on the last phase," Cosulich-Schwartz said.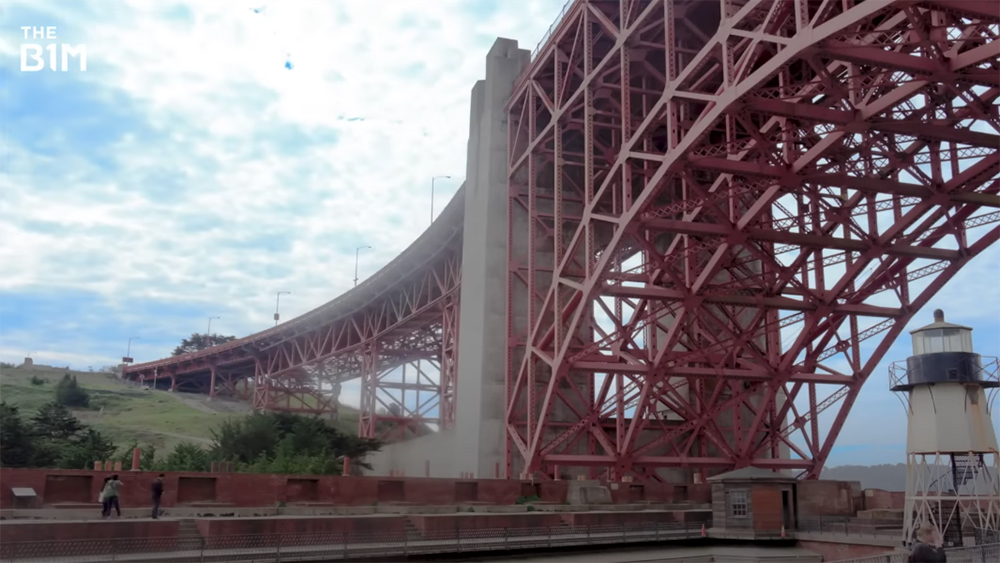 Above: Following the completion of Phase 2, the Fort Point Arch now acts as a giant energy damping element.
So, if a high-magnitude earthquake were to hit near the bridge today, there's still a chance this critical transport link would need to close afterwards — even after all that work.
But now, following the completion of Phase 3A in 2014, which focused on strengthening the anchorage on the north side, Phase 3B is almost ready to begin.
Back in December 2022, the bridge secured a $400 million federal grant as part of the $1.2TN Bipartisan Infrastructure Law. That's around half of the total needed for the final phase, with the rest coming from state funds and tolls.
It's a lot of money, but this last phase is the biggest part of all — retrofitting the main suspension element. This involves strengthening the span by replacing the top lateral bracing system, with over 250 floor beams and installing more seismic energy dissipation devices.
In an earthquake, special plates made from stainless steel and bronze will slide together, using a process called abrasive friction to limit seismic forces on the structural components.
The towers themselves are also being upgraded. The bases will be strengthened and equipped with steel plates, new structural steel is going in and they're getting a new lick of paint too.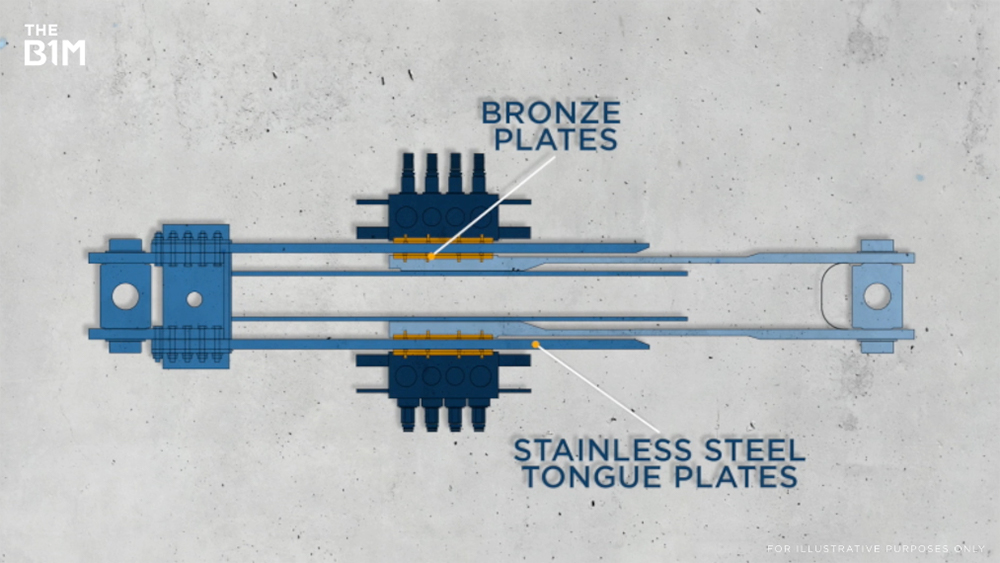 Above: Phase 3B will see the installation of seismic energy dissipation devices along the main bridge span.
There's a lot to do and it'll take over three decades and billions of dollars in total. But it simply has to happen, not just so we can keep admiring the famous bridge, but to keep this part of America moving.
In fact, right across the US there are similar cases of bridges that were built a long time ago urgently needing improvement, albeit for many different reasons.
They might not be in earthquake zones or have the same iconic status, but if nothing is done to these crumbling structures that so many of us depend on, the results could be equally catastrophic.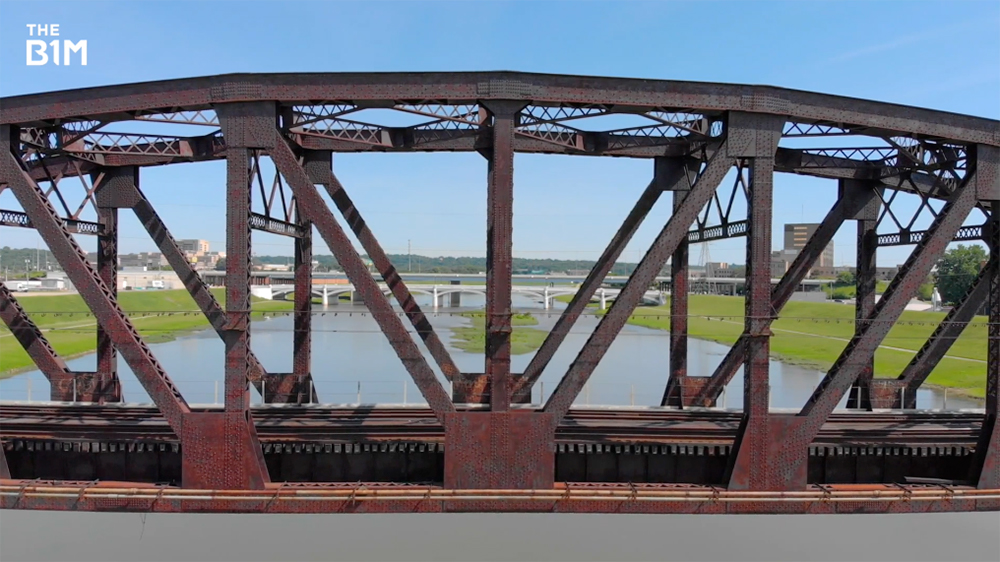 Above: Some 46,000 bridges around the US are considered structurally deficient.
As it steadily closes in on a century of service, the Golden Gate Bridge is as vital to the people and economy of California and the wider US as it was from day one.
Its construction proves what humanity is capable of when presented with a challenge, and the ongoing project to bolster its defences against the scariest of dangers truly keeps that spirit alive.
This remarkable structure remains one of the single most important pieces of road infrastructure in the US more than 80 years after its completion – a powerful reminder of how the construction sector shapes and enables our world and one of our most compelling sources of inspiration for our future engineers.
This video contains paid promotion for Masterworks.
Narrated and presented by Fred Mills. Special thanks to Golden Gate Bridge, Highway and Transportation District. Footage and images courtesy of ABC7 News Bay Area, ABC10, CBS, Columbia Pictures, Drone Snap, France24, Golden Gate Bridge Highway and Transportation District, Mario Roberto Durán Ortiz/CC BY-SA 4.0, Michael Rasmussen/CC BY-SA 3.0, NBC Bay Area, Paramount Pictures, Prelinger Archives, Rohit Adukia, San Francisco Examiner, Santa Rosa Republican, The Asylum, 20th Century Studios, Warner Bros and OpenStreetMap Contributers (https://www.openstreetmap.org/copyright).

We welcome you sharing our content to inspire others, but please be nice and play by our rules.
Comments
---