Cities
Tokyo Has Built an Earthquake-Resistant Supertall Skyscraper
Youtube Views

527,241

VIDEO VIEWS
Video hosted by Fred Mills. This video and article contain paid promotion for Masterworks.
TOKYO is the most populated city in the world, home to top-rated restaurants, beautiful temples and over 37M people.
Now it's adding another landmark to its list: a supertall skyscraper that's built to withstand earthquakes. At 330-metres, the excitingly-named Main Tower will be the tallest building ever constructed in the city.
While earthquake-resistant towers aren't new, Tokyo is one of the toughest places to build them. Disaster-proofing infrastructure here is quite literally a matter of life and death.

As Tokyo's buildings get taller, the challenge of ensuring their safety gets harder. The recent disaster in Turkey and Syria has been a horrific reminder of the devastation that can unfold when buildings collapse.
So what exactly goes into building the tallest skyscraper in a city where earthquakes are common? And what makes this new development different from all the rest?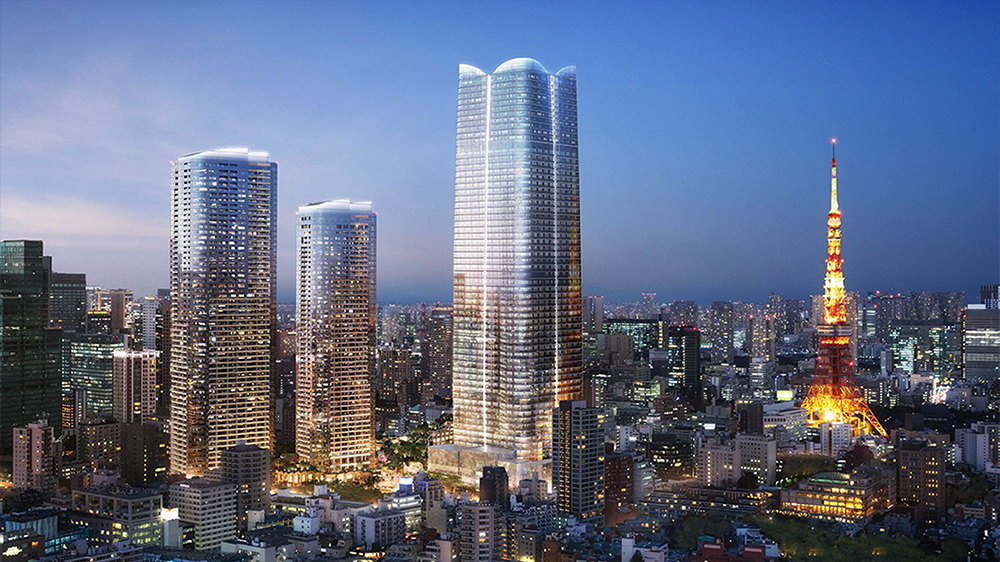 Above: The Main Tower in the new Azabudai Hills district. Image courtesy of DBOX for Mori Building Co.
Before we get onto this cool building, you need a bit of context. Japan may be known for its cuisine and bullet trains, but earthquakes are also one of its most common occurrences. In fact, thousands of minor quakes are recorded each year.
Most go unnoticed, but the fact is the country sits in one of the most seismically active zones in the world.
Tokyo itself sits right along what is known as the "Pacific Ring of Fire".
Scientifically speaking, the Ring of Fire is a zone where several of the earth's continental and oceanic plates meet. In very simple terms, when the plates collide, suddenly break or become displaced along these lines, an earthquake or volcanic activity occurs.
One of the strongest ever quakes in Japan happened back in 2011. The magnitude 9.0 event shook the region and later resulted in a tsunami. Both events destroyed thousands of buildings across the country and even a nuclear reactor.
With such frequent activity, Tokyo's buildings are all built to withstand earthquakes as best they can.
"It's very important to estimate the levels of motion. We don't actually design to a particular magnitude, we design to acceleration," Ziggy Lubkowski, associate director of seismic design at Arup said.

"You've got the mass of the building, you've got the acceleration of the earthquake, and that gives you the lateral load on the building. And that's a very simplistic way of looking at how we come up with a load to apply to the building. So we look at the level of acceleration we're going to get from the largest earthquakes in the region and use that in our calculations."
Since 2011 building codes and technology have been strengthened even further. Because of all this history and those recent regs, the city hasn't built many tall skyscrapers – and absolutely no supertalls, that is a building over 300 metres.
Now we are just talking about official skyscrapers here – not "structures" like the Skytree which is obviously much taller, but is classed differently to a building (more on skyscraper classifications here).
The current tallest building in Tokyo stands 255-metres above the city. But that's all about to change, because coming your way in 2023 is the Main Tower, which recently topped-out.
With four curved glass petals around its roof, the building is designed with a column-free, open floor-plan inside.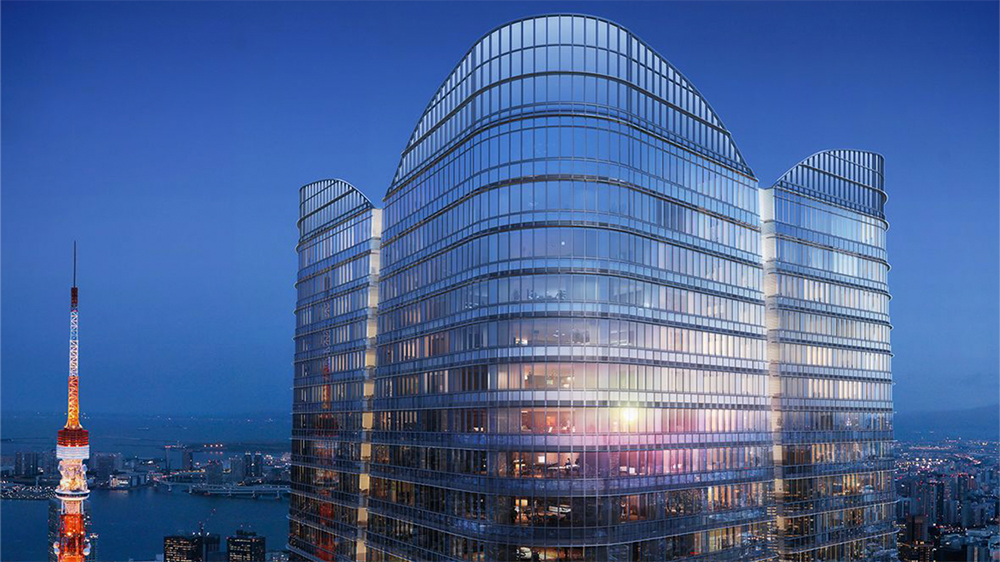 Above: The four-petal design at the top of the Main Tower. Image courtesy of DBOX for Mori Building Co.
It'll stand in a new urban development called the Toranomon-Azabudai Project, or officially the Azabudai Hills, along with two other buildings called the East and West Towers. Seriously, work on the naming.
The 8.1-hectare district includes ample green space, businesses, shops, and residential properties – and to remain sustainable, 100% of the supplied electricity will come from renewable sources.
In total, the project aims to create a kind of city within a city.
More importantly, the three main structures will be earthquake resistant and serve as a place where up to 3,600 residents can flee to during a major natural disaster. Even if a quake as strong as 2011 hits.
But it won't just be a temporary place of shelter. The development is structured so business and life can carry on in the event that other areas are destroyed. Now, it's a special kind of line manager that asks you to keep working through an earthquake … but you get the idea.
Building an area with this goal in mind would likely rattle most engineers. As the building gets taller, so do the stakes.
"A tall building - it needs a vertical system that can take the gravity weight of the building, and then it needs a secondary system that can accommodate the lateral loads and buildings all round the world," Lubkowski said.
"Be it in an earthquake zone or not an earthquake zone have to accommodate for wind loading. If we're in an earthquake zone, we then also additionally have a lateral load, but it's a cyclical load. So it's one that's going backwards and forwards. So we need to ensure that we're never in a situation where it will break and we can keep the vertical system working and ensuring that the building is doesn't collapse."
But Japan knows how to take on the challenge.
In all the towers, high strength steel and concrete components will be used throughout, along with efficiently located vibration control devices that help to reduce shaking. One of these is a weighted device called the 'Active Mass Damper' – it sits near the top of the building and will help reduce swaying due to high winds or shakes.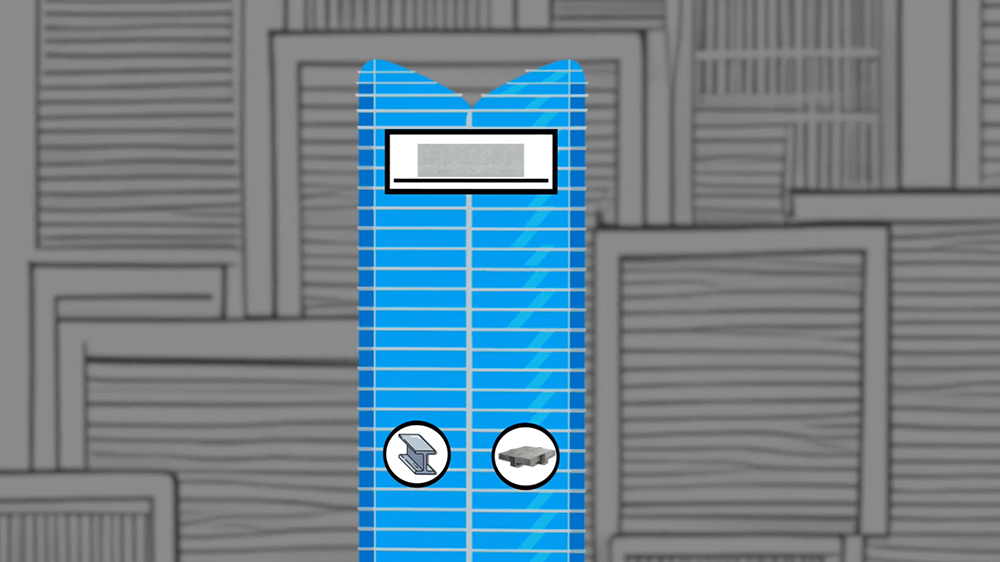 Above: A graphic of the active mass damper device at the top of The Main Tower.
But disaster-proofing a supertall takes more than just one giant damper. Other smaller components are also strategically placed throughout the building.
Here's how they'll work:
First-up we have oil dampers – mechanical devices that operate by using the fluid resistance of the substance to absorb vibrations.
Then there's viscous wall dampers. These use the resistance of a material with high viscosity – which in simple terms means how much a liquid or gas can resist changes to its shape – to absorb any movement.
Finally, there's unbonded brace dampers – pieces of stretchable steel that can absorb some of the energy from an earthquake.
Now, reducing vibration isn't the only thing engineers have to consider. While these measures will save people's lives during a seismic event…the aftermath matters too.
Because disasters tend to knock out power, the Toranomon-Azabudai Project has come up with a way to keep it running.
A cogeneration system will be installed in the basement of the Main Tower. It'll be resistant to any sort of disruption – allowing the tower to supply electricity to the entire development for up to 72 hours.
This could mean the daily lives of residents continuing with little interruption… and that's key because this whole project has been heavily designed around its occupants.
Architectural planning started by outlining the flow of people around a central square. Locations for the buildings were secondary.
And by building taller and more compact skyscrapers, the Toranomon-Azabudai Project is able to maximise green space and design necessities to be located within walkable distances. Its goal is to create spaces where residents can connect with each other easily.
Now, Japan has previously used compact cities like these outside of Tokyo as an attempt at economic revitalisation. Toyama pushed this concept by renovating public transport, revitalising its downtown and creating a walkable city.
The developers behind Toranomon-Azabudai say they're out to create a place that people can escape to rather than flee from.
And if their Main Tower is a success, then perhaps the wider country will continue to build taller in the years ahead.
The recent devastating events in Turkey and Syria are a powerful reminder of the faith we place in the engineers and construction teams who create our built environment everyday. Where things do go wrong it's important that we thoroughly investigate, establish the facts and learn for future developments.
We started producing this video before the Turkey-Syria earthquake struck, and our thoughts are with everyone affected by the disaster. We would encourage you to make a donation to Direct Relief at this link.
Skip the waitlist and invest in blue-chip art for the very first time by signing up for Masterworks.

Video narrated by Fred Mills. Special thanks to Ziggy Lubkowski. Additional footage and images courtesy of DBOX for Mori Building Co., NBC News, DW News and CNN. We welcome you sharing our content to inspire others, but please be nice and play by our rules.

Comments
---