Cities
Why It's So Hard to Build a Skyscraper Here
Youtube Views

514,303

VIDEO VIEWS
Video presented and narrated by Fred Mills. This video contains paid promotion for Established Titles.
TAKE a look at Mexico's cities and you might spot some similarities.
You'll see it's a country that clearly knows a thing or two about urban sprawl, with hardly a skyscraper in sight. But look closely and you'll find that skyscrapers do exist, just not really in any great numbers.
That's because it's one of the toughest places on Earth to build tall and engineers must grapple with the extremes of the elements, unforgiving ground conditions, congestion and the absence of some key resources.
Now though, after decades of building outwards instead of upwards, skyscrapers in Mexico are seriously on the rise and construction crews are managing to meet some immense challenges.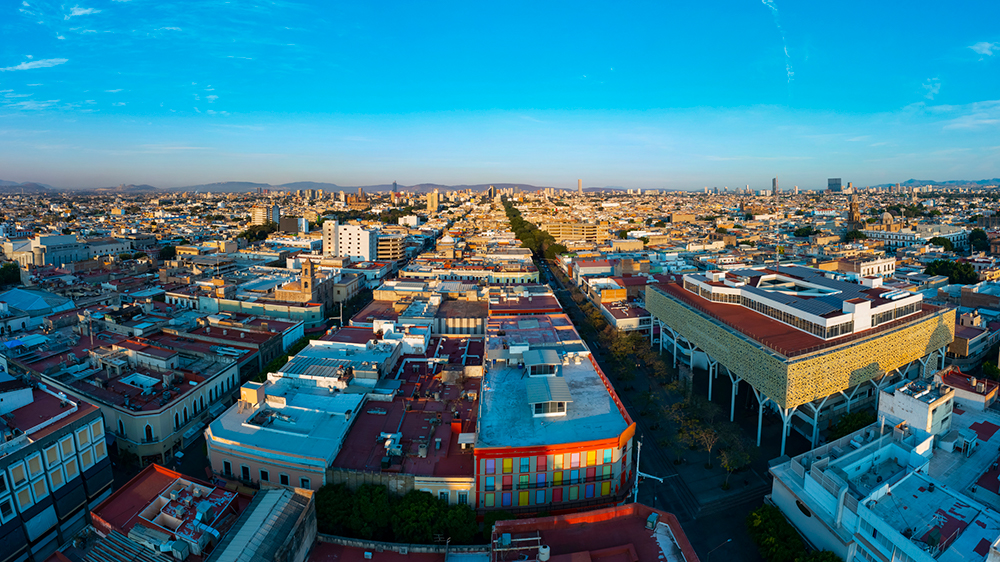 Above: Most of Mexico's cities have very few tall buildings.

You might wonder how cities can fall victim to urban sprawl — becoming an endless landscape of mostly low-rise buildings as far as the eye can see.
Well, in Mexico — a country that's home to around 130 million people — more than 80% of the population live in urban areas, and that means a lot of houses.
As for why they couldn't be placed in high-rises, well Mexico does have its reasons. There are around 30,000 earthquakes here every year so it's not a great place to put a tall building.
Many of those quakes are small, but they can occasionally be devastating – like the one that hit Mexico City in 1985. Thousands died and there were multiple building collapses.
In the aftermath, new construction codes were introduced to make structures more resistant to future disasters, and those rules have been steadily updated over time. It had to be done, of course, but it means that plans for any new skyscrapers here have involved some serious structural engineering.
Look around the capital and you'll see examples of it everywhere. The 225-metre Torre Mayor had to be fitted with a series of huge dampers, which dissipate seismic energy.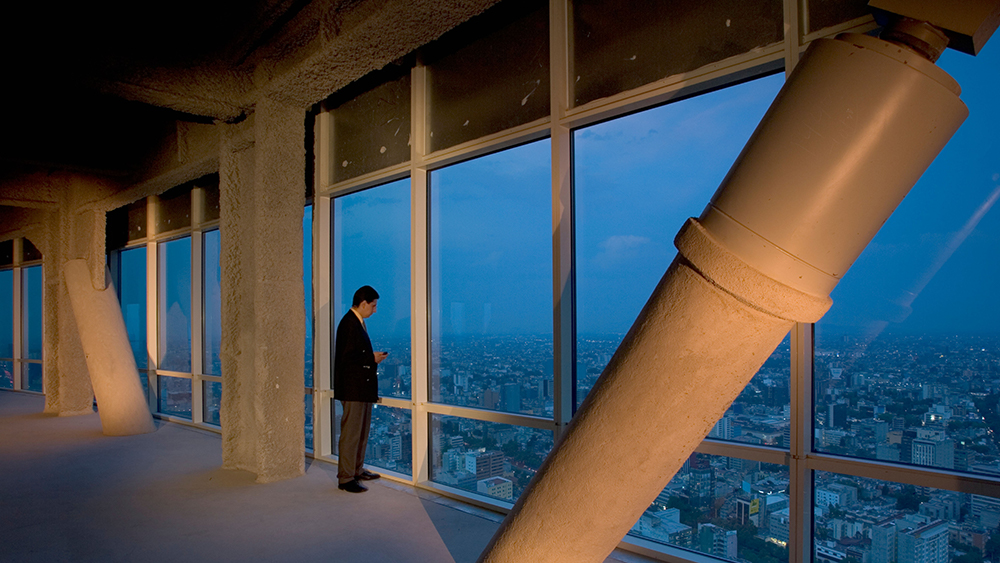 Above: The dampers at Torre Mayor work in a similar way to shock absorbers on a car.
It turns out they work pretty well. The tower came through a major earthquake in 2017 without taking any notable damage.
When it completed in 2016, the 246-metre Torre Reforma became the tallest building in the capital at the time. But to achieve this height in a seismic zone, engineering firm Arup had to equip it with pre-tensioned hangers, arranged in a double-V shape, which brace the facade.
Then there's the Torre BBVA Bancomer, with its braced megaframe system that gives it resistance against lateral forces.
Seismic links between the perimeter columns become ductile and elastic-like in the event of a large quake, and all the energy is absorbed by the building's unusually deep foundations.
Thanks to poor ground conditions, these supporting pillars had to go down 50 metres. That's over twice as deep as the ones at New York's One World Trade Center — a building more than double the height.
It's all because Mexico City is built on the site of an old lakebed that was filled with sediment.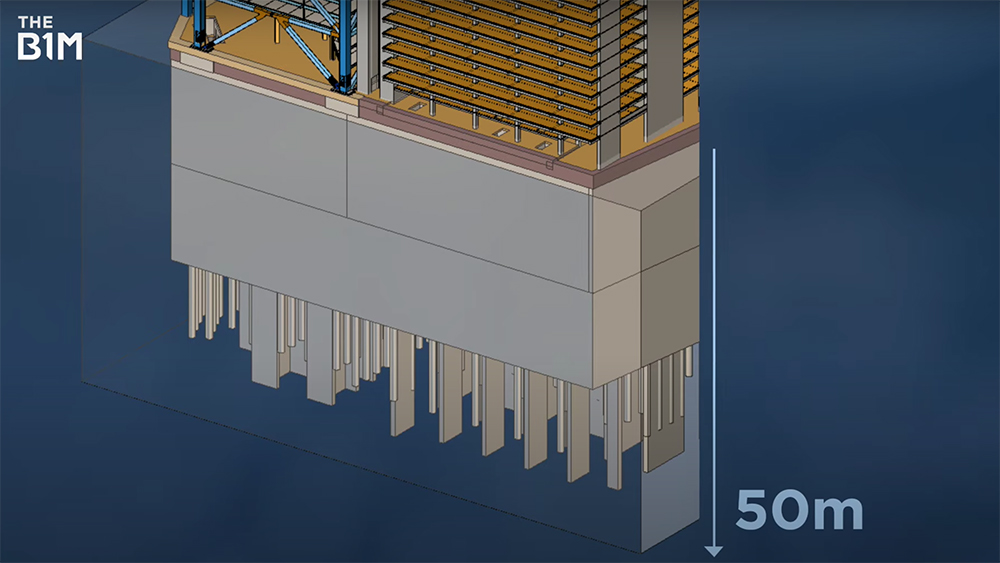 Above: To give yourself a solid base for a skyscraper here, you have to dig down quite a way. Image courtesy of Arup.
"In Mexico City the problem is the soil, especially in the places where we have more of these tall buildings — it's a very soft clay. So, the limitation that we have is the depth that we can go with the piles," Roberto Stark, director general at Mexico City-based structural engineering firm Stark + Ortiz, said.
Roberto pointed out that it's not just ground conditions that are a challenge in the capital. You need to actually find some ground to build on in the first place.
"It's due to the value of the land," Stark said. "Many of these buildings are the most expensive land value. So that's why we started to go vertical."
"Also, the city cannot go horizontal anymore because the lack of infrastructure or the cost of the infrastructure that we have to build in order to feed all these buildings are huge."
But Mexico's capital isn't actually where its tallest skyscrapers are. To see those, you have to head northeast to Monterrey, which has been going through a kind of skyscraper boom.
With a metropolitan area of around five million people, it's Mexico's industrial and business hub, boasting some of the country's biggest buildings.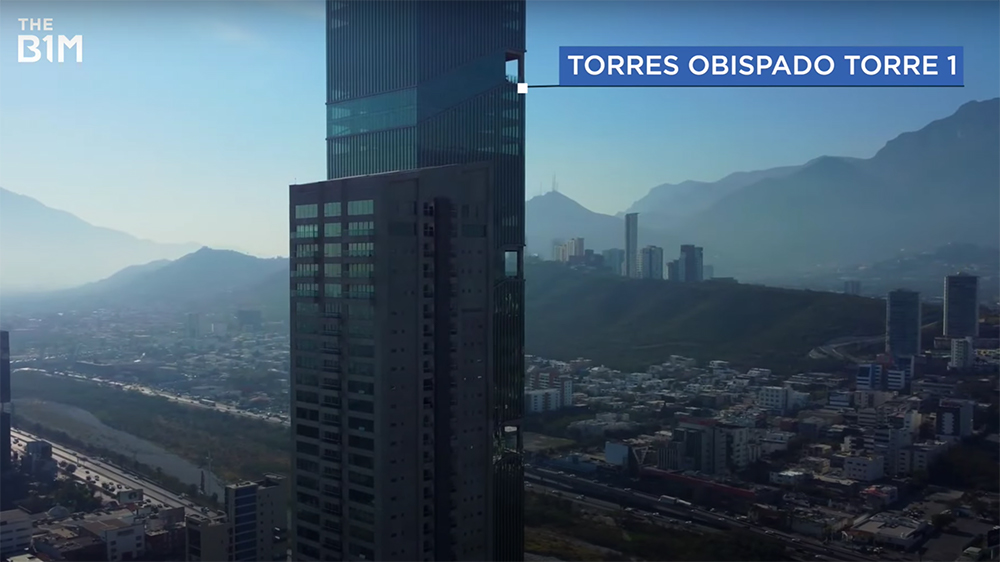 Above: Monterrey is home to the tallest building in Mexico — the 305-metre Torres Obispado Torre 1. Image courtesy of Israel Plata.
It's also the wealthiest city here, with higher incomes than anywhere else and on top of that the threat of earthquakes is far lower than in the capital.
Sounds like a much nicer and safer place to build, but here among the mountains, nature still has a way of making life difficult.
The state of Nuevo León, and its capital Monterrey, is prone to big tropical storms, so to build a skyscraper here you'll need to make sure it can stand up to high winds.
That was key for the team engineering of Torre KOI, a skyscraper that can withstand gusts of up to 300kph – more than the highest category of hurricane. There's earthquake resistance engineering here too, don't worry.
"Up to now they have been experiencing earthquakes of 2.5/3 magnitude, which is very, very low for these towers," Stark said. "But we say, what happens if there is a magnitude five in that building? And we checked that, actually — we checked and we proved that there is no risk."
Now to stop wind loads from causing noticeable movement in the building, a pair of concrete belt walls — each one storey in height — were added in.
Above: The belt walls connect the perimeter columns to the central core, and provide higher resistance to lateral loads. Image courtesy of Thornton Tomasetti.
Building an entirely concrete structure also helped to make the tower more rigid – but meant that an unusually large amount of concrete was needed throughout the construction works.
Back when it was constructed between 2013 and 2017 that wasn't a problem, but it could've been a different story if the works had happened in 2022.
Why? Well because one of the main ingredients of concrete is a substance that has become extremely scarce around here.
That's right, you need water to build skyscrapers and this city has been battling a severe water crisis because of Mexico's worst drought in 30 years.
In July, residents only had access to water for around six hours a day. Many had no running water at all for months and had to fill up containers from delivery trucks. For more than a year, there's been exceptionally low rainfall and the rate of construction happening hasn't helped.
That's because, over the last 40 years, Monterrey's population has nearly tripled, and there's been a race to give all those new residents a place to live and work.
The city's infrastructure hasn't really kept up and it still relies on the same water sources that it's used for decades.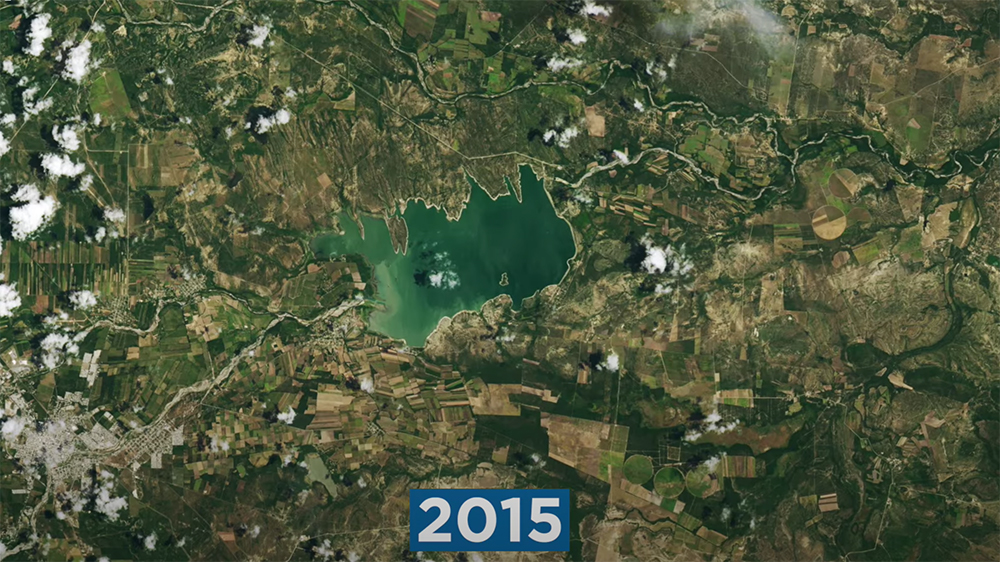 Above and below: One of the three reservoirs that supplies water to Monterrey almost dried up between 2015 and 2022. Images courtesy of NASA Earth Observatory.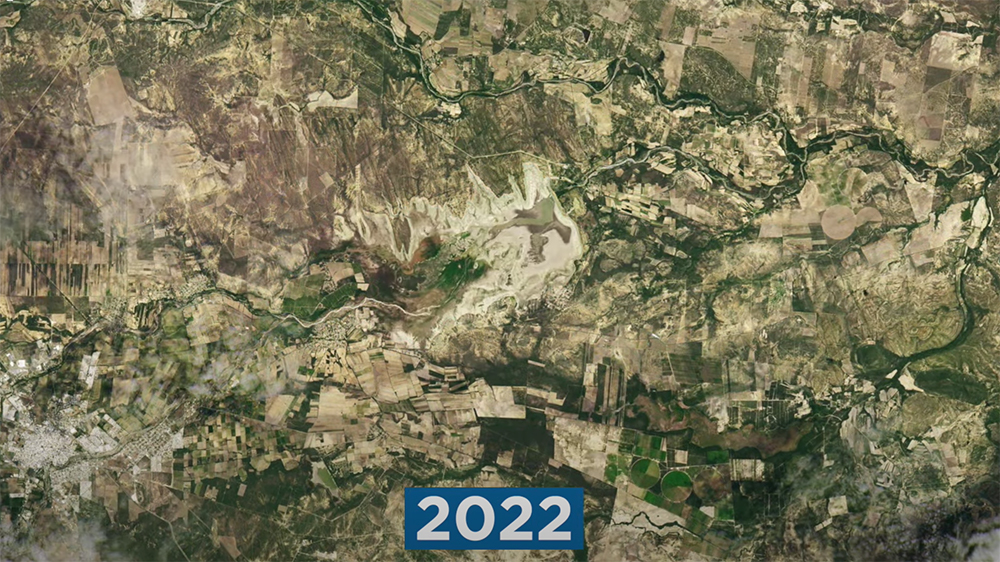 CEMEX is one of the world's leading manufacturers of cement and concrete and supplied it for Torre KOI. It has its headquarters near Monterrey and has also had to adapt to the water shortage.
In 2019 the firm carried out a study of its 1,500 sites worldwide and found that 16% were in areas of higher water stress, or scarcity, and nearly half of those were in Mexico.
Now, low water levels can lead to concrete becoming pricier, tighter regulations on access to land and water, and more competition between those who need water, which is kind of everyone.
But Monterrey is set to get a new water source soon. A new aqueduct is under construction and it'll transport water from the El Cuchillo dam east of Monterrey into the city.
According to the country's National Water Commission that could take as little as eight months, but will need ten construction companies to work day and night to get it done.
It all goes to show just how hard it really is to build tall in this country. Ground conditions, earthquakes, a lack of space, high winds and water shortages all mean that the teams building Mexican skyscrapers are pulling off some immense feats of engineering.
And with a skyscraper boom now emerging here, there'll be plenty of these feats to amaze us and inspire budding engineers in the years to come.
This video contains paid promotion for Established Titles. See how you can get your own piece of Scottish soil here.
Additional footage and imagery courtesy of Alfonso Merchand, Arup, Charlie Moreno/Perspectives From Above, Israel Plata, Thornton Tomasetti, Adam Jones/CC BY-SA 2.0, Al Jazeera, BBC News, CEMEX, Davis Arenas, Fernando Paleta, Fx Media, Kumar Appaiah/CC BY-SA 2.0, NASA Earth Observatory, NBC News, Notimex TV, Presidencia de la República Mexicana/CC BY 2.0, ProtoplasmaKid/CC BY-SA 4.0, Rick Gonzalez/CC BY 2.0, Rodrigo Ramos/TIF Digital, The Dronalist and WION.

We welcome you sharing our content to inspire others, but please be nice and play by our rules.
Comments
---