Cities
Dubai Has Built The World's Longest Cantilever
Youtube Views

1,248,681

VIDEO VIEWS
Video powered by HoloBuilder and narrated by Fred Mills. This video and article contain paid promotion for HoloBuilder.
DUBAI is home to some of our planet's most incredible feats of construction.
From the world's tallest building to staggering land reclamations, the city is known for constantly breaking new ground with its megaprojects.
Now on its latest landmark build, Dubai has quite literally raised the bar of what's possible - this time horizontally - and the results are once again amazing.
Hoisting a 100-metre-high skybridge between two skyscrapers, over a live roadway and all with the help of cutting-edge technology, this is how Dubai pulled off the world's longest cantilevered building.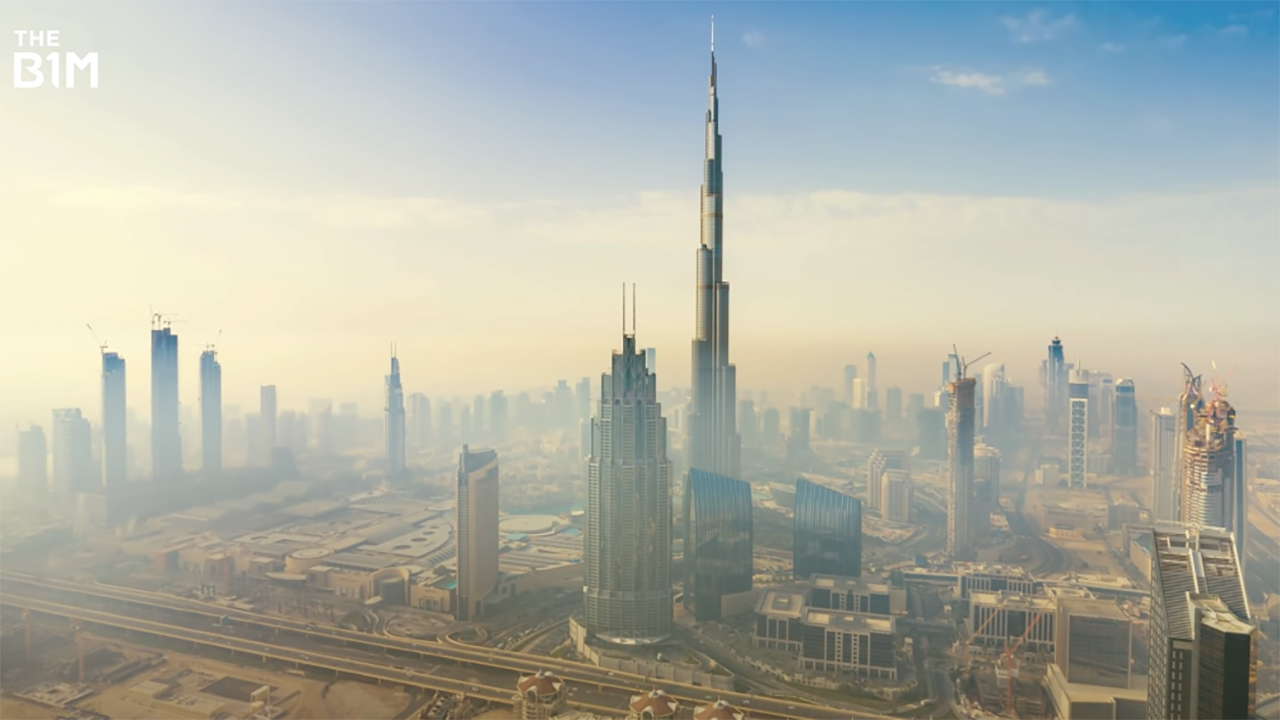 Above: In recent years there have arguably been more groundbreaking projects build in Dubai than anywhere else on Earth.
As well as having numerous wonders of construction to its name - with the Burj Khalifa as the centrepiece - Dubai also has a reputation for never standing still when it comes to big projects.
Forming a dramatic new entrance to the city centre, One Za'abeel is about to join Dubai's growing list of standout structures.
The mixed-use scheme consists of two towers built either side of a six-lane highway, with an enormous bridge called The Link joining the two together.
It's an incredible feat of engineering - and looks set to officially gain the title of 'World's Longest Cantilevered Building' once it becomes occupied.
Designed to offer high-end business, residential, retail and entertainment space all within the same development and close to the financial district and World Trade Centre, the project symbolises a new gateway to the heart of Dubai.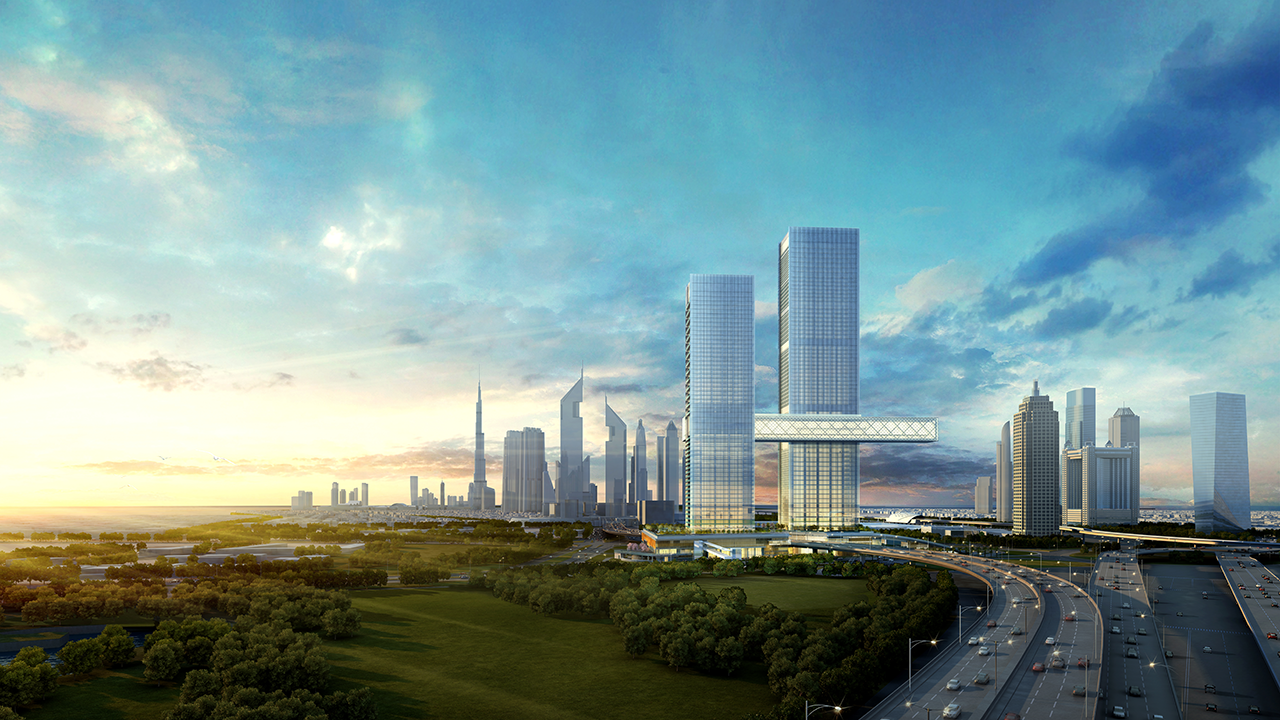 Above: One Za'abeel covers an area of more than half a million square metres. Image courtesy of Ithra Dubai.
This marvel of construction is being delivered by real estate developer Ithra Dubai. Main contractor ALEC Engineering is overseeing construction work on the ground with Mace International handling project management, Nikken Sekkei in charge of design and WSP Middle East as architect of the record.
Due to top out at 300 metres, Tower A will offer 67 floors of luxury, including a hotel, apartments, retail and offices, while the 235-metre Tower B will be mostly premium residential.
Both have seven basement and three podium levels, while sustainability features include state-of-the-art LED lighting, heat pumps and smart technologies for optimising utility systems.
Unusually large volumes of concrete, masonry, facades and formwork have been needed on the project, along with the use of specialised high-strength steel imported from Europe.
This is largely due to the complex challenges presented by The Link - the highlight of the project - which does much more than just connect the two towers.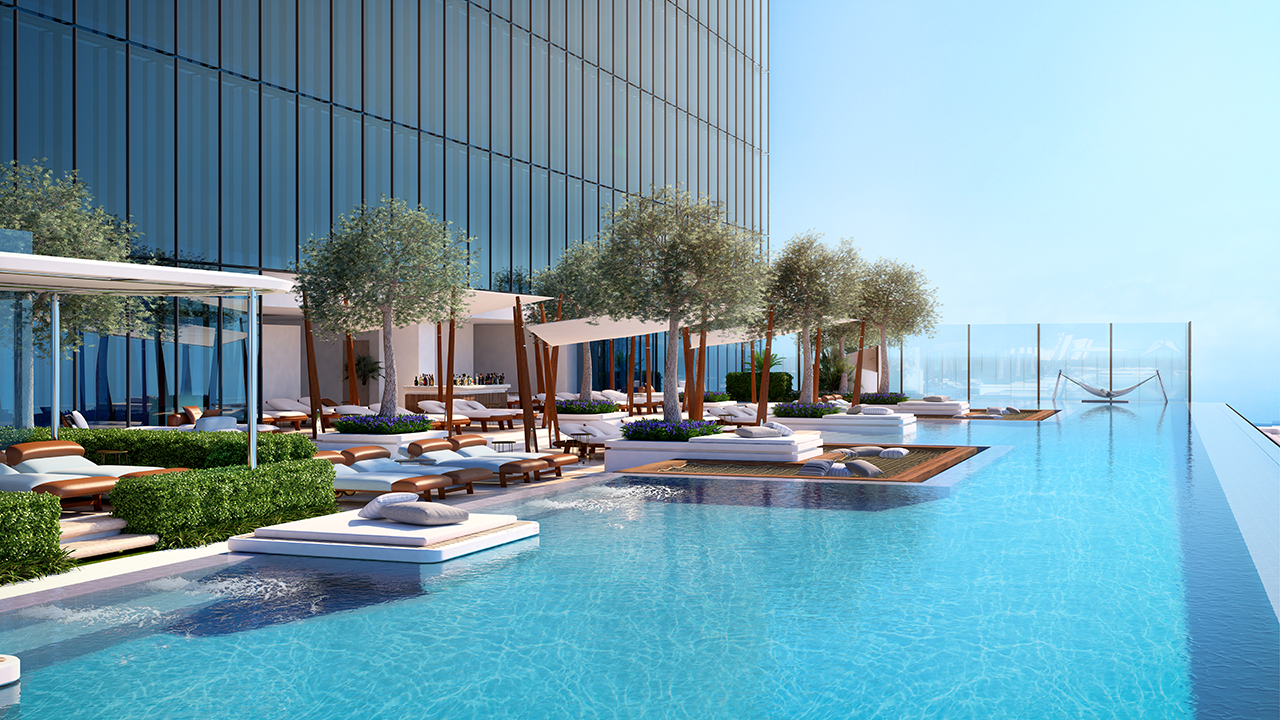 Above: The bridge will house bars and restaurants, an infinity pool, a banquet hall and a rooftop terrace offering 360-degree views of the city. Image courtesy of Ithra Dubai.
Although skybridges and cantilevers are nothing new, The Link's 226-metre length, 9,500-ton weight and 105-metre height above ground make it the most demanding one ever attempted.
It would be just about the same height as Tower B if placed vertically, and once it connects with Tower A it overhangs for an impossible-seeming distance without any additional support.
While Ithra Dubai is keeping the official length of the cantilevered section under wraps until opening, it looks set to be a record-breaking figure.
All of this presented the wider team with an extreme challenge - one requiring a combination of expert engineering and state-of-the-art technology.
Because of its immense size, the bridge had to be divided into eight sections and assembled piece by piece at podium level.
It was then gradually slid into place before lifting began, requiring several traffic closures on the highway below. Once fully across, the bridge was lifted in two stages.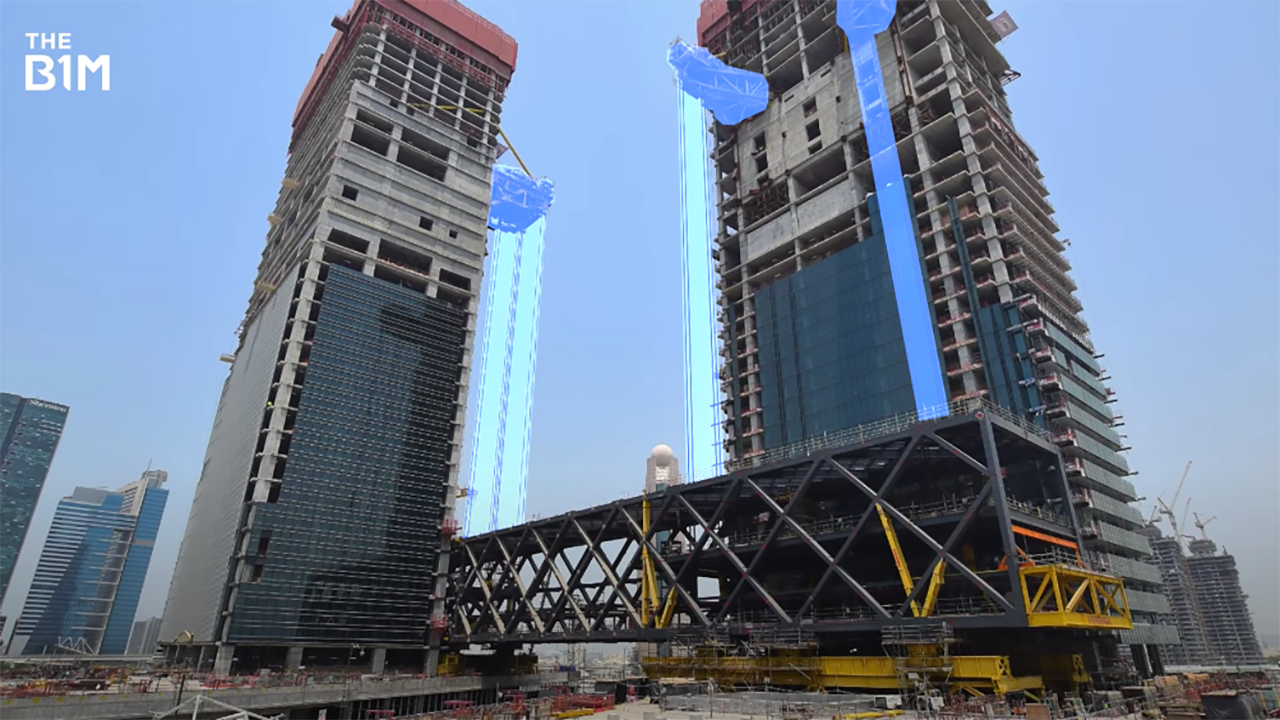 Above: Over 100 special jacks and heavy-duty strand jacks were used to complete one of the heaviest lifts ever attempted in the region. Image courtesy of ALEC Engineering and Contracting.
The first stage saw the main portion of the structure hoisted just 10cm off the ground.
This allowed engineers to assess how the bridge was responding to the huge forces before it was raised to its final height over the next 72 hours.
A special monitoring system was also installed, which took data from 200 devices to track factors such as bridge movement, tower displacement and the impact of weather conditions.
During lift two, the final 900-ton piece was brought up, which was then welded to the larger section while load transfer got underway - a process that took six weeks and completed in October 2020.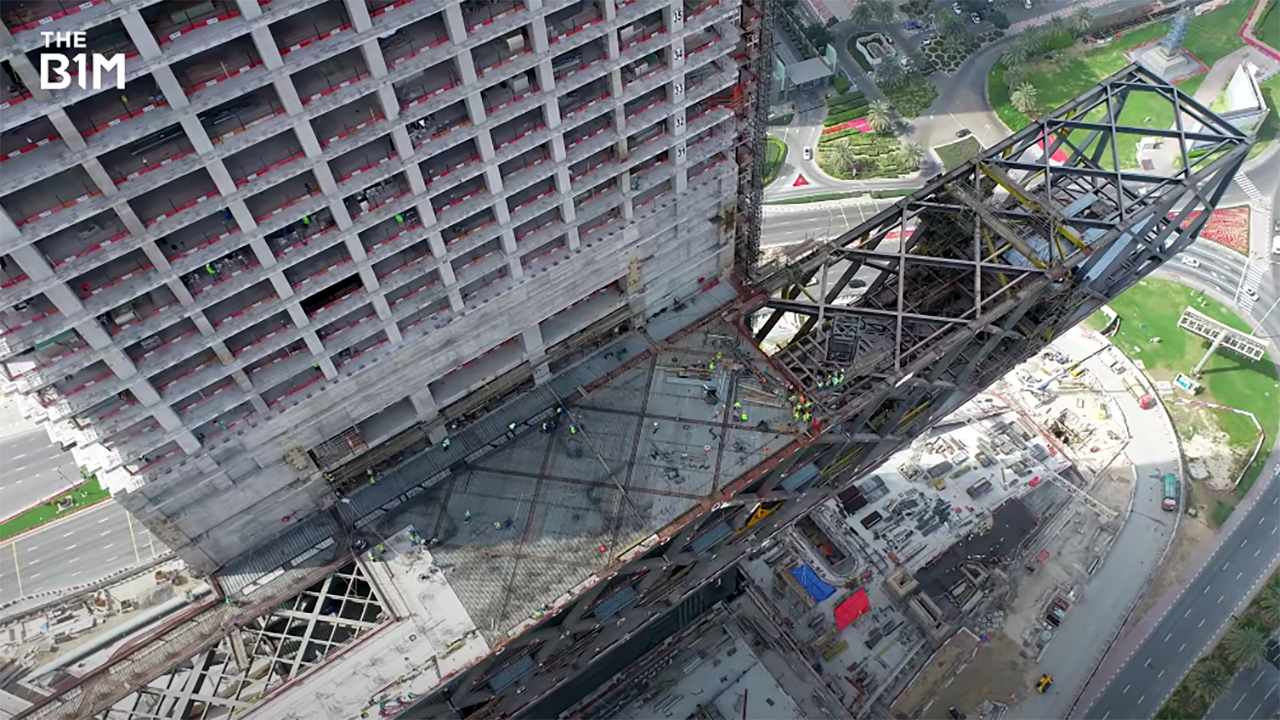 Above: Overall, 20 tons of welding material was needed to fix the bridge in place between Towers A and B - at 72 different points. Image courtesy of ALEC Engineering and Contracting.
As well as bulking up on materials to ensure the towers could take the weight of The Link, the two skyscrapers were built pre-cambered with a slight lean prior to the bridge's installation.
With the cantilever in place, the buildings were then able to deflect to their final, fully upright positions before work continued on the remaining floors above the bridge.
Working on such a large, busy site with unprecedented challenges going on around them, the team had to find the best possible way of capturing, tracking and managing their progress.
Requiring a solution for taking visual snapshots quickly, easily and in large quantities, technology from HoloBuilder proved to be the answer.
The company's software allows users to create 360-degree photos of a build over time, allowing stakeholders to gain remote access to a site throughout its various stages.
Initially used by just the planning department, HoloBuilder is now assisting the entire ALEC Engineering team, and Ithra Dubai, with several tasks.
These range from verifying progress and virtual site walks to enhancing reports and team meetings - all crucial when much of the work is being done remotely due to the pandemic.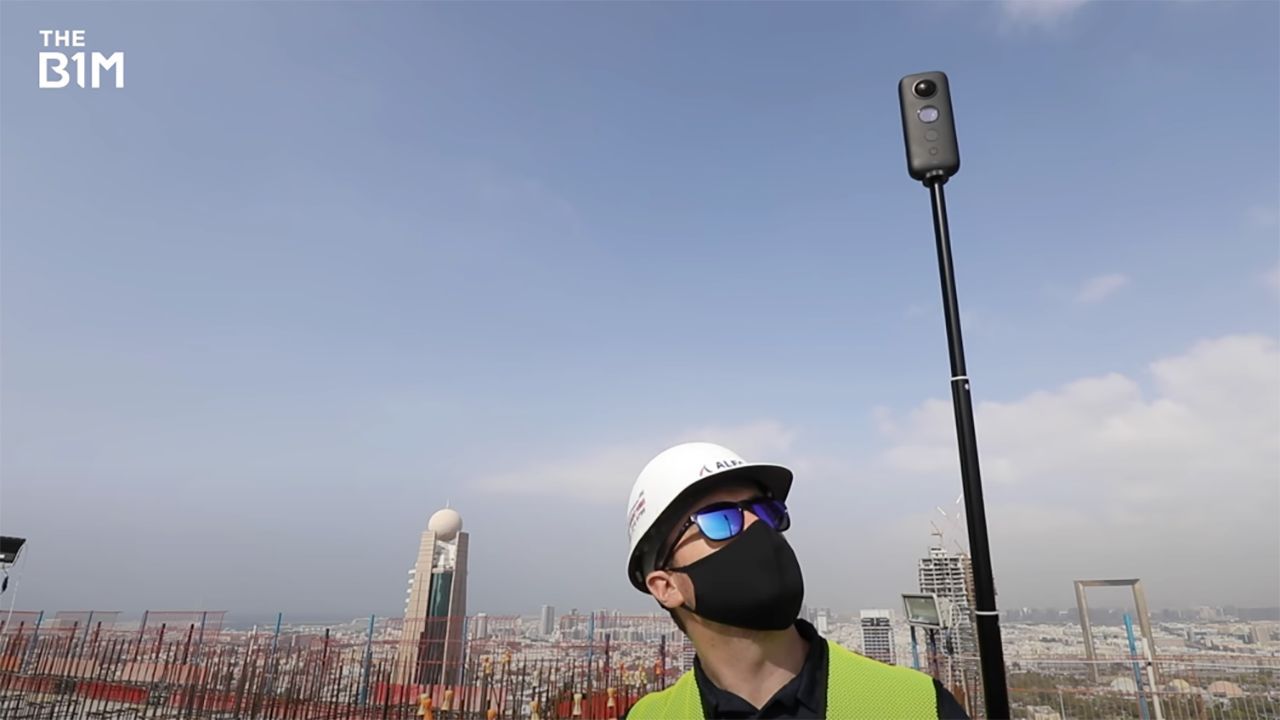 Above: HoloBuilder requires just a standard 360-degree camera and the company's JobWalk app to get started. Image courtesy of ALEC Engineering and Contracting.
ALEC's reliance on the technology is growing - having gone from 500 images a month in the beginning to over 8,000 at present.
It's now in operation across the whole development and has become a key part of the process as the team continues on the second half of the build.
Both towers are due to top out in April of 2021 with cladding due to be installed by November. Attention will then turn to the internal fit-out before the project begins completing in several stages.
One Za'abeel is yet another example of Dubai's ability to push the boundaries of construction.
Now holding several records that other cities would do well to match, the question is when - not if - it decides to try something else extraordinary, and what form it will take.
If it's anything like this project, it certainly won't be dull.
The One Za'abeel project team uses HoloBuilder. See more on the benefits of 360-degree site photos here.
Our thanks to HoloBuilder, ALEC Engineering and Contracting and Ithra Dubai.

Presented and narrated by Fred Mills. Additional footage and images courtesy of ALEC Engineering and Contracting, Ithra Dubai and Denniston.
We welcome you sharing our content to inspire others, but please be nice and play by our rules.
Comments
---