TECH
The World's First 3D Printed Steel Bridge
Youtube Views

176,065

VIDEO VIEWS
THE WORLD'S first 3D printed steel bridge is finally becoming reality, (almost) in front of our eyes in this video.
Unlike conventional additive manufacturing, where the scale of the object being printed is limited by the size of the 3D printer being used, this bridge is being manufactured using the "printing outside the box" principle. In this system, multi-axis industrial robots continually re-position themselves along the finished portions of the object, enabling them to operate beyond the conventional spatial constraints.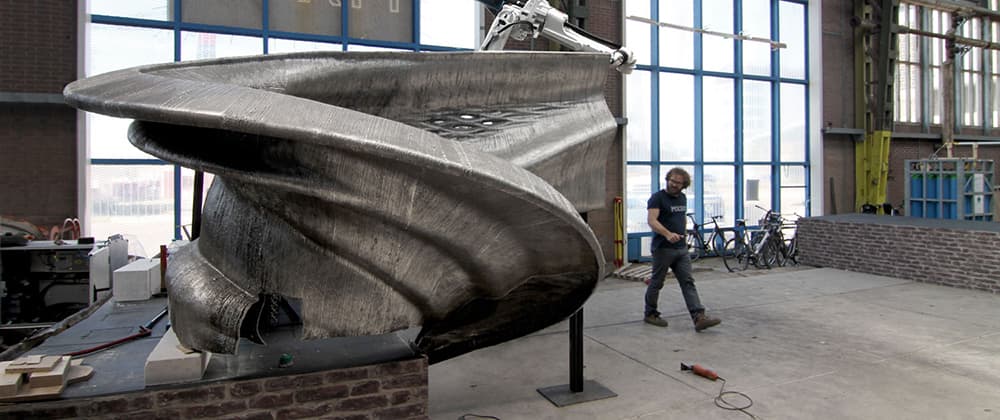 Above: Multi-axis industrial robots by ABB are mounted on the finished portion of the structure in order to continue fabrication ( image courtesy of MX3D).
Taking advantage of this freedom, the initial idea was to print the bridge on site - spanning one of the canals in Amsterdam's infamous Red Light District. However, practical considerations did not permit this. Instead the bridge is being fabricated off-site, and will replace an existing crossing in this location once completed. For now the team has set up in Amsterdam's harbour area, in an industrial space where visitors can come to learn more about the project and see the production process.
The project was first proposed by industrial designer Joris Laarman and his additive manufacturing start-up MX3D in 2015. "I strongly believe in the future of digital production. This bridge will show how 3D printing finally enters the world of large-scale, functional objects," Laarman says.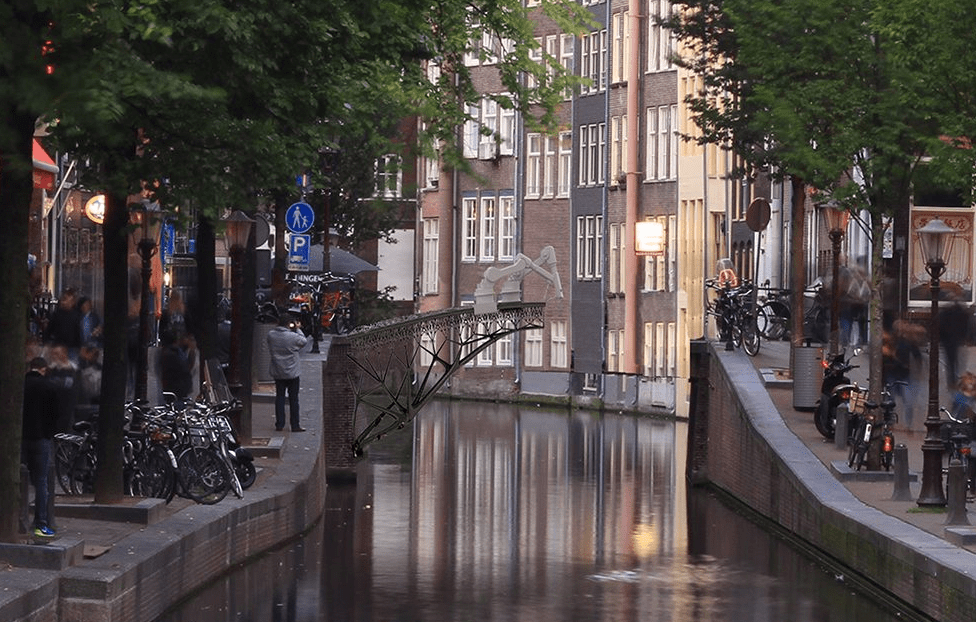 Above: The bridge was originally going to be printed in-situ. Below: A computer generated image of the final design ( images courtesy of MX3D).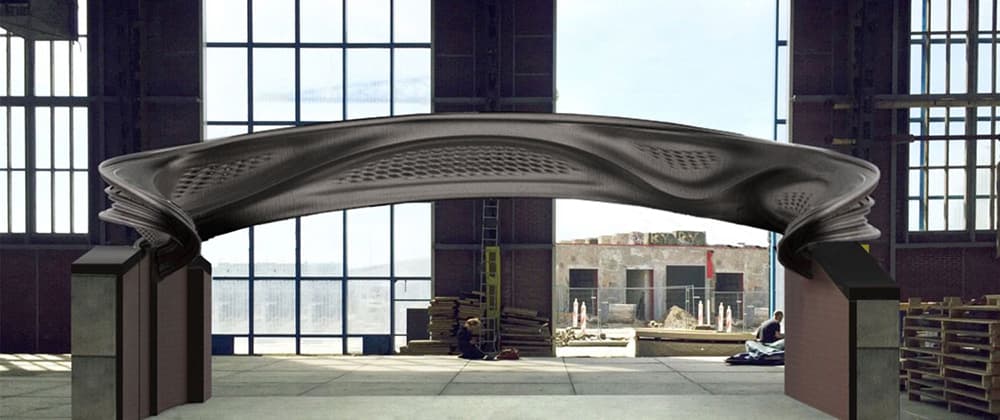 Since then Laarman and MX3D have had to make several changes to the bridge's design both to conform to Amsterdam's existing safety regulations and to make the bridge buildable.

"This bridge will show how 3D printing finally enters the world of large-scale, functional objects"
The initial engineering software MX3D were using to address safety and functional concerns could not handle the advanced calculations arising from the complex geometry. So aided by Arup, the team adopted a "sheet construction" approach, which simplified the calculations significantly. A 3D laser scan of the location revealed that the bridge heads were not entirely parallel, resulting in the markedly asymmetrical design.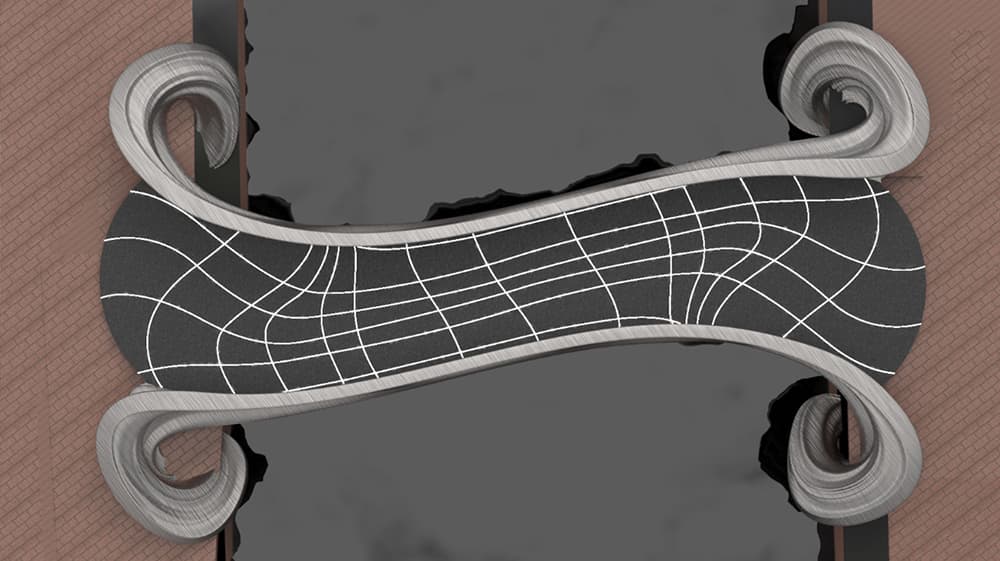 Above: The bridge's asymmetric design is derived from the geometry of the surrounding canal walls. Below: Fabrication in progress (images courtesy of MX3D).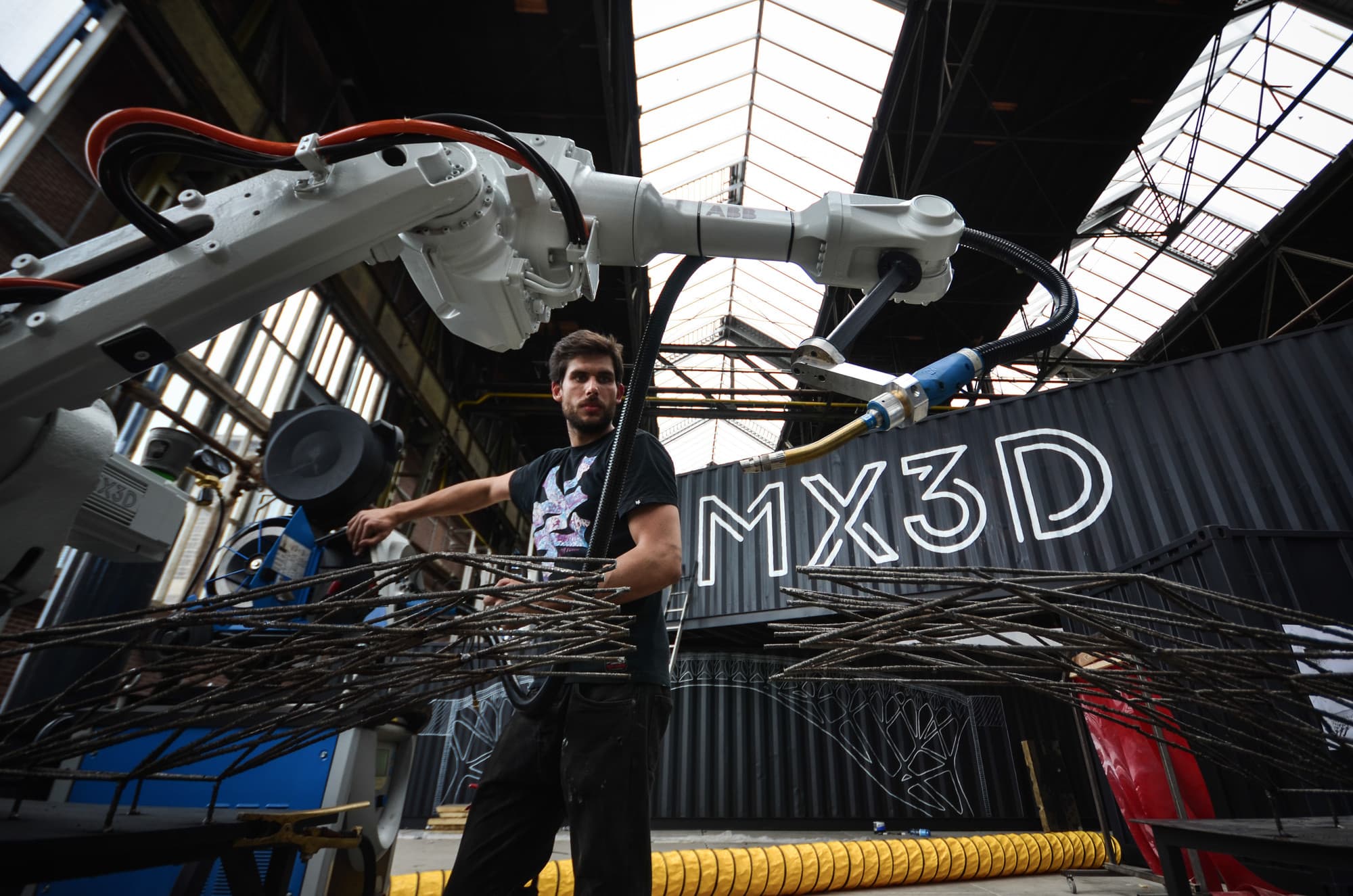 Following these setbacks, work is back on track and the industrial robot has now been installed onto the bridge's structure. If everything goes according to the plan, the fabrication should be finished early next year. Structural tests will follow, with the bridge set to welcome its first pedestrians and cyclists in June 2018.
You can learn more about the MX3D Bridge project and its progress here.
Comments
---