Tech
Why This 3D-Printed House Will Change The World
Youtube Views

3,103,763

VIDEO VIEWS
Video powered by PERI and presented by Fred Mills. This article and video contain paid promotion for PERI Formwork Systems.
The idea of 3D-printing our buildings is nothing new.
Faced with a desperate need to construct more homes, faster, and in a more efficient way - countless innovators have found themselves drawn by the idea of being able to quickly print a structure and have spent years trying to scale the technology.
But for all their efforts, that 3D-printed world has proven elusive and many impressive prototypes have struggled to become viable for mass-production.
But things have just taken a massive step forward in Germany, with the completion of the first-ever 3D-printed home to become fully certified under a national government's building regulations.
The impact of this moment for construction and for the buildings we all use could be huge.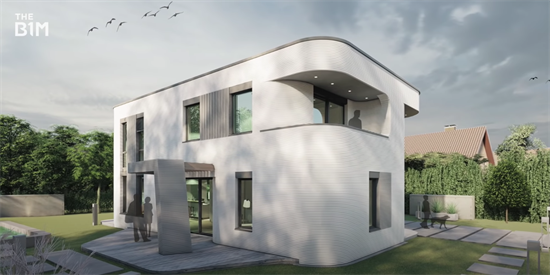 Above: The house offers 160 square metres of living space across its two storeys.
With the promise of cutting waste, reducing time on site and addressing labour shortages, some see 3D-printing as the answer to many of our world's challenges.
Originally used for small-scale prototypes, advances in 3D printing technology have led to the creation of full-scale structures like bridges and houses, and even proposals for mankind's first martian base.
But while 3D-printed structures have appeared around the world - from Canada and The Netherlands to Dubai; which wants to 3D-print a quarter of its new buildings by 2030 - the technology is yet to take off as a widespread building technique.
But the completion of this 3D-printed house in Beckum, Germany, is set to change everything.
Developed by leading formwork and scaffolding firm PERI, experts in its Disruptive Products and Technologies department and its project partners, the structure - a detached single-family property - is the first 3D-printed house in the country.
Critically, the structure is the first 3D-printed building in Germany to become certified with a national building accreditation, smashing a major barrier.
Above: The build has now paved the way for larger, more complex projects.
Located just outside the city of Ulm, PERI's team is now working on the largest 3D-printed multi-family house in Europe; with 380 square metres of living space, divided into five apartments across three levels.
The homes were both built with COBOD's modular BOD 2 printing system; a flexible platform that can be scaled to suit projects of varying size.
The printer needs just two operators and takes less than 48 hours to set-up on-site.
Once up and running, the system can print as fast as a metre per second using data from integrated design models.
When asked why 3D printing hasn't yet become widespread, Dr Fabian Meyer-Brötz, PERI's head of 3D construction printing, explains how the impact on processes such as planning and permitting creates a number of challenges. However, the industry is now starting to see a "steady increase in validity," with this project having to overcome a number of key hurdles, including adhering to Germany's strict building codes.
Above (L-R): PERI's Dr Fabian Meyer-Brötz talking to The B1M's co-founder Fred Mills.

Yannick Maciejewski, application engineer for 3D printing at PERI outlines the importance of including project partners such as construction firms and architects from the start - companies that want to do more than just another demo build.
PERI engaged a number of the core trades on these projects; a critical hurdle that few other 3D-printed buildings have attempted to cross.
With services and other works already coordinated with the structural design, errors on site have been almost completely eradicated - saving time, money and waste material.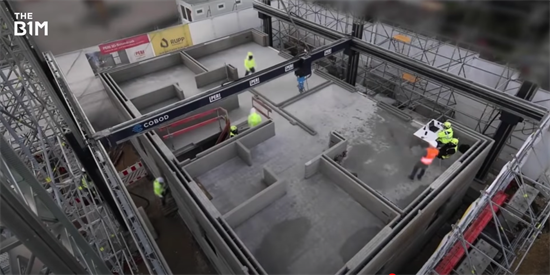 Above: While the savings may be modest here, they could soon add up across an entire estate or housing development.
"This integration of other trades has had a huge impact," says Meyer-Brötz. "We are saving a lot of labour in other trades because in the buildings we're executing there's not going to be a single slot that has to be cut; nobody's going to have to drill a hole for a power outlet."
Though the design of these buildings may feel relatively straight-forward when compared to some of today's architecture, the team are using the lessons learned to construct larger structures in a variety of forms.
With German building certifications now under their belt, the team are planning more projects using different materials and with a focus on further reducing waste.
But, while there is cause for optimism, we're still some way from the widespread uptake of 3D-printing and several challenges remain - not least breaking into a traditionally conservative industry.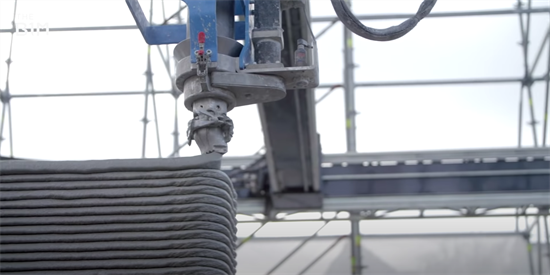 Above: Despite its advantages, uptake of 3D-printing in construction remains low.
For Meyer-Brötz, education is key. He says that the next step is to convince contractors and other traders that 3D printing is not something to feel threatened by; instead it's a process they stand to benefit from once they learn how it's done.
While the technology has had its challenges, the success of PERI's project in Germany marks a major step forward and will stand as a powerful case study for innovators - rekindling the determination to make this building technique viable at scale.
That 3D-printed world we've imagined has just moved one huge step closer to becoming real.
Learn more about PERI's 3D construction printing process here.
Narrated by Fred Mills. Additional footage and images courtesy of Apis Cor, COBOD, Hassell, MX3D, Project Milestone and Twente Additive Manufacturing.
We welcome you sharing our content to inspire others, but please be nice and play by our rules.
Comments
---