Tech
Inside Hyperloop's First Passenger Test
Youtube Views

930,899

VIDEO VIEWS
In a world exclusive interview, Sir Richard Branson spoke to The B1M's Fred Mills from Necker Island about the first-ever Virgin Hyperloop passenger test.
IT'S a concept that promised to revolutionise our world: put passengers in a pod and transport them through a sealed tube at extreme speed using electric propulsion and magnetic levitation.
With the prospect of transforming how we travel, billionaires, research teams and governments have been racing to advance the technology and open the first operational system in the face of growing scepticism.
But Virgin Hyperloop has just made a massive break-through with the first ever passenger test, deep in the Nevada Desert.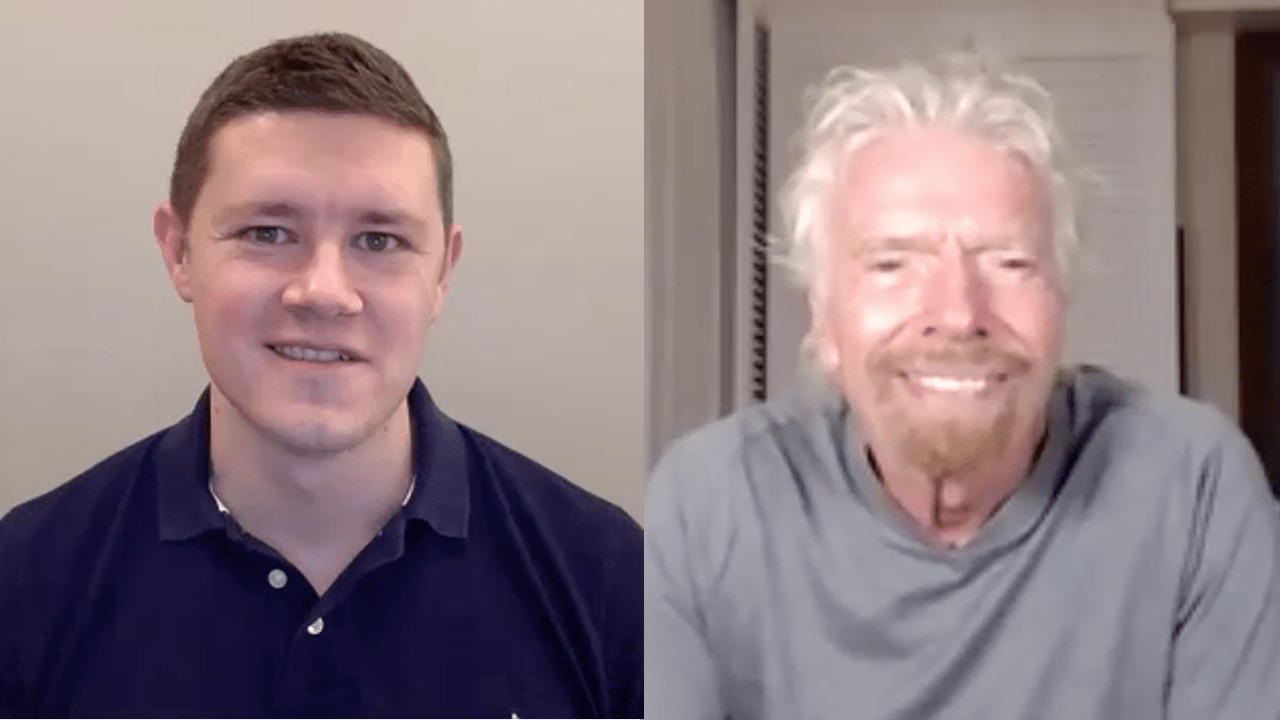 Above: The B1M's Fred Mills interviewing Sir Richard Branson from Necker Island. Below: Dawn in the Nevada desert on the morning of the test (image courtesy of Virgin Hyperloop).
What Virgin Hyperloop Founder Josh Giegel and Head of Passenger Experience Sara Luchian have just put themselves through, could end-up being historic.

They're the first people to ever climb into a hyperloop pod and travel through the pressurised environment at 107 miles an hour.
Speaking to The B1M from Nevada just after the test, Giegel described his experience:
"It was smooth acceleration, very quiet, I barely noticed any type of bumps at all. The only disappointment is that it ended."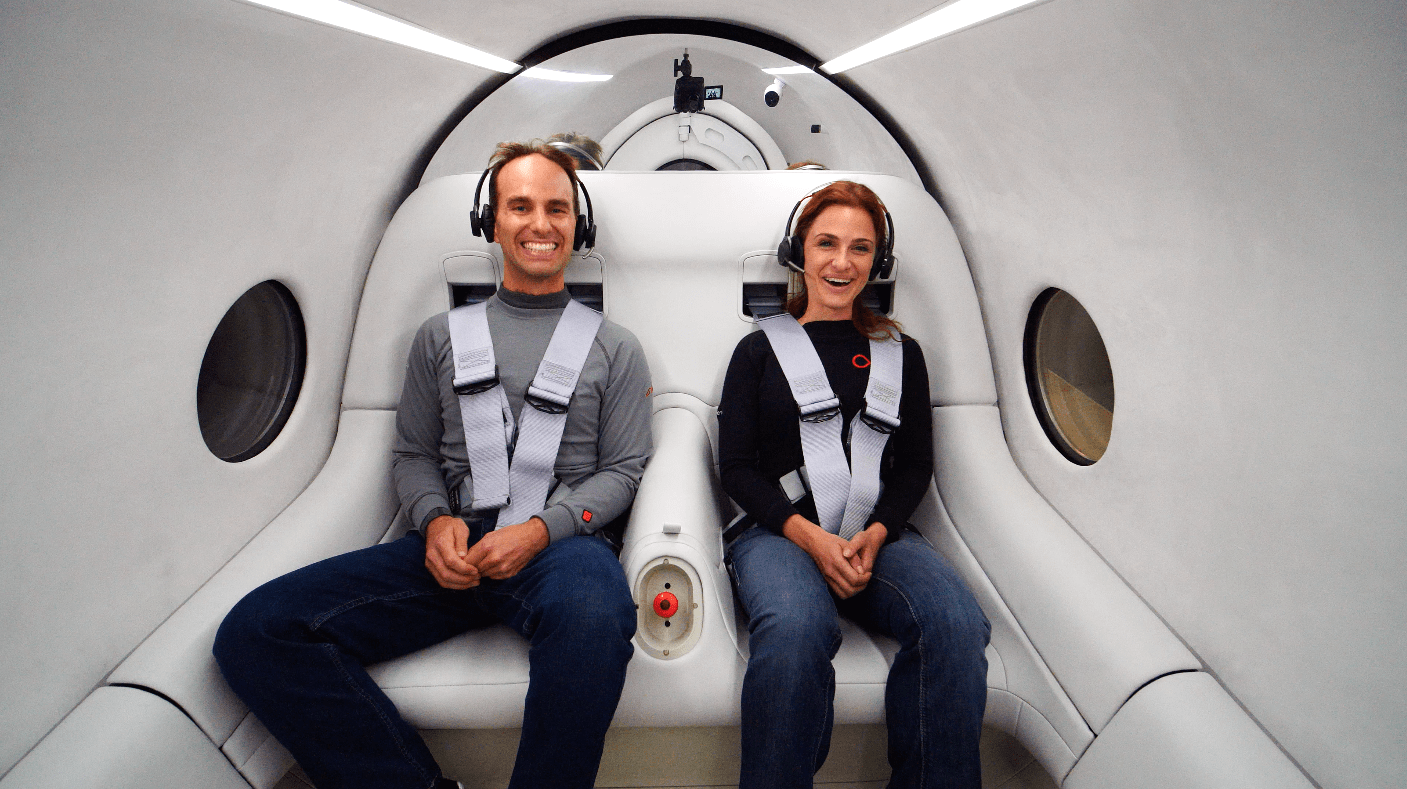 Above: Virgin Hyperloop Founder Josh Giegel (left) and Head of Passenger Experience Sara Luchian (right) were the first people to ride in a hyperloop pod (image courtesy of Virgin Hyperloop).
The test is a huge step in the technology's development, but whether or not this moment ends up being taught in schools alongside the first flight all hinges on what happens next.
Since it was conceived, the world-changing promise of hyperloop has sobered into the long journey of making the first system viable.
That's taken some extreme, never-before seen engineering, complex regulatory negotiations with national governments and a lot of money from some of the world's richest people.
In a world exclusive interview after the first passenger test, Sir Richard Branson spoke to me about the world of hyperloop.
A DARING LEAP
Hyperloop is the kind of crazy, bold and daring leap that only someone like Sir Richard Branson could make happen. The prize is huge, but getting there will take guts, left-field thinking and no shortage of money.
Branson's investment into what was then Hyperloop One in 2017 has seen the firm go on to lead the pack in hyperloop system development worldwide.
While Hyperloop Transportation Technologies (Hyperloop TT), Hardt Hyperloop and others are all making major strides, it's Virgin that's made the most headway; brokering regulatory frameworks with governments, commissioning certification centres, building test tracks and putting real people into pods.
This week's test in Nevada became viable because of all that progress.
With a pressurised vehicle developed, life support systems in place and countless live test runs already undertaken on the 500-metre track, the trial could go ahead with confidence.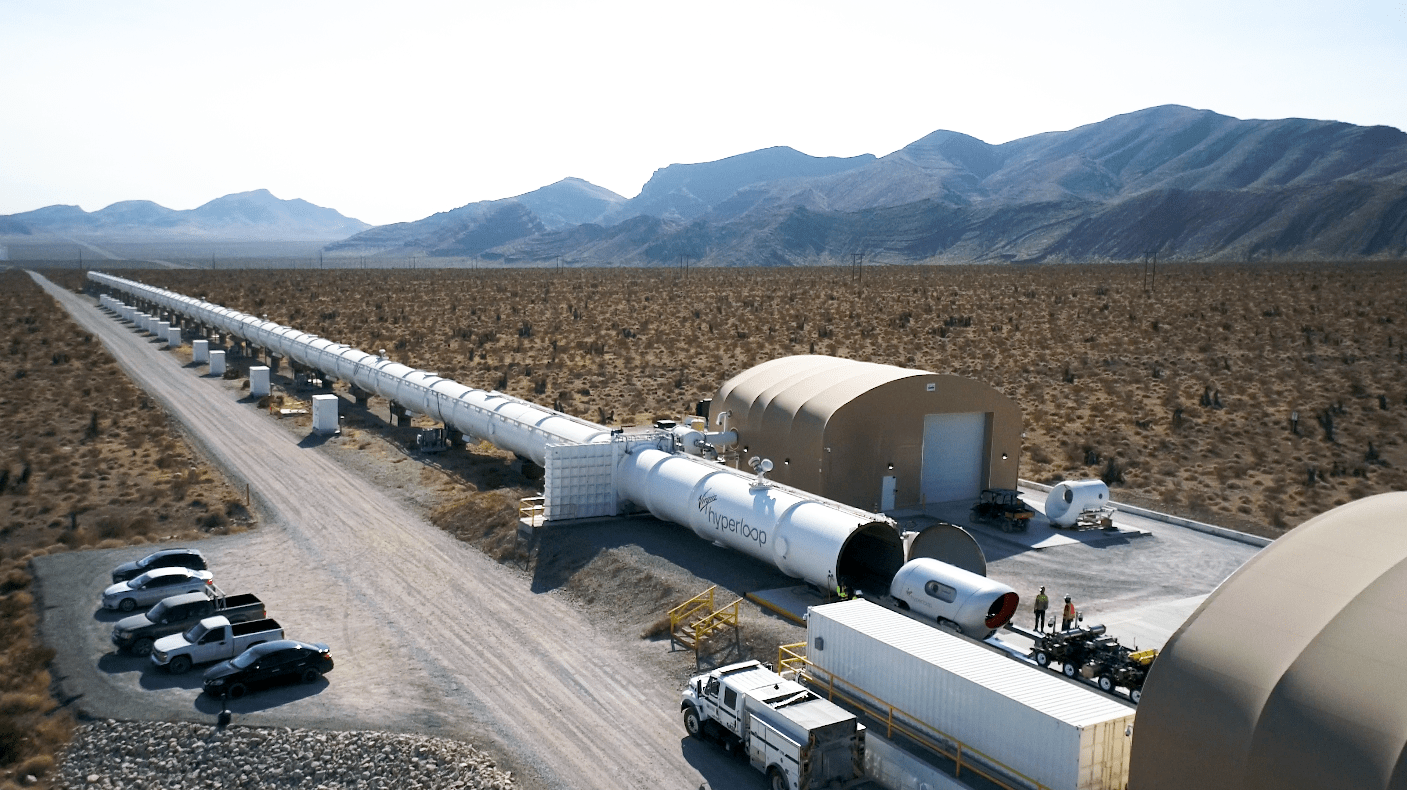 Above: Virgin Hyperloop's 500-metre development loop - or "DevLoop" - in the Nevada desert (image courtesy of Virgin Hyperloop).
While the success of this trial doesn't start an entirely new chapter in hyperloop's journey to becoming operational, it does inject new confidence and credibility into the process - not to mention giving its engineers a morale boost.
There'll now be further tests in Nevada while the Virgin team continue their work on regulatory approval and certification for the first system.
Progress has been made on regulation with the US Department of Transportation and the firm has committed to building its base for certifying all Virgin Hyperloop systems worldwide in West Virginia, a move it hopes will boost the state's economy and jobs market.
"This was a two-person vehicle, we have to go to 28" says Giegel. "We have to do that in a fleet of vehicles and continue to drive the costs of the system down – and more importantly get those first projects and get it certified"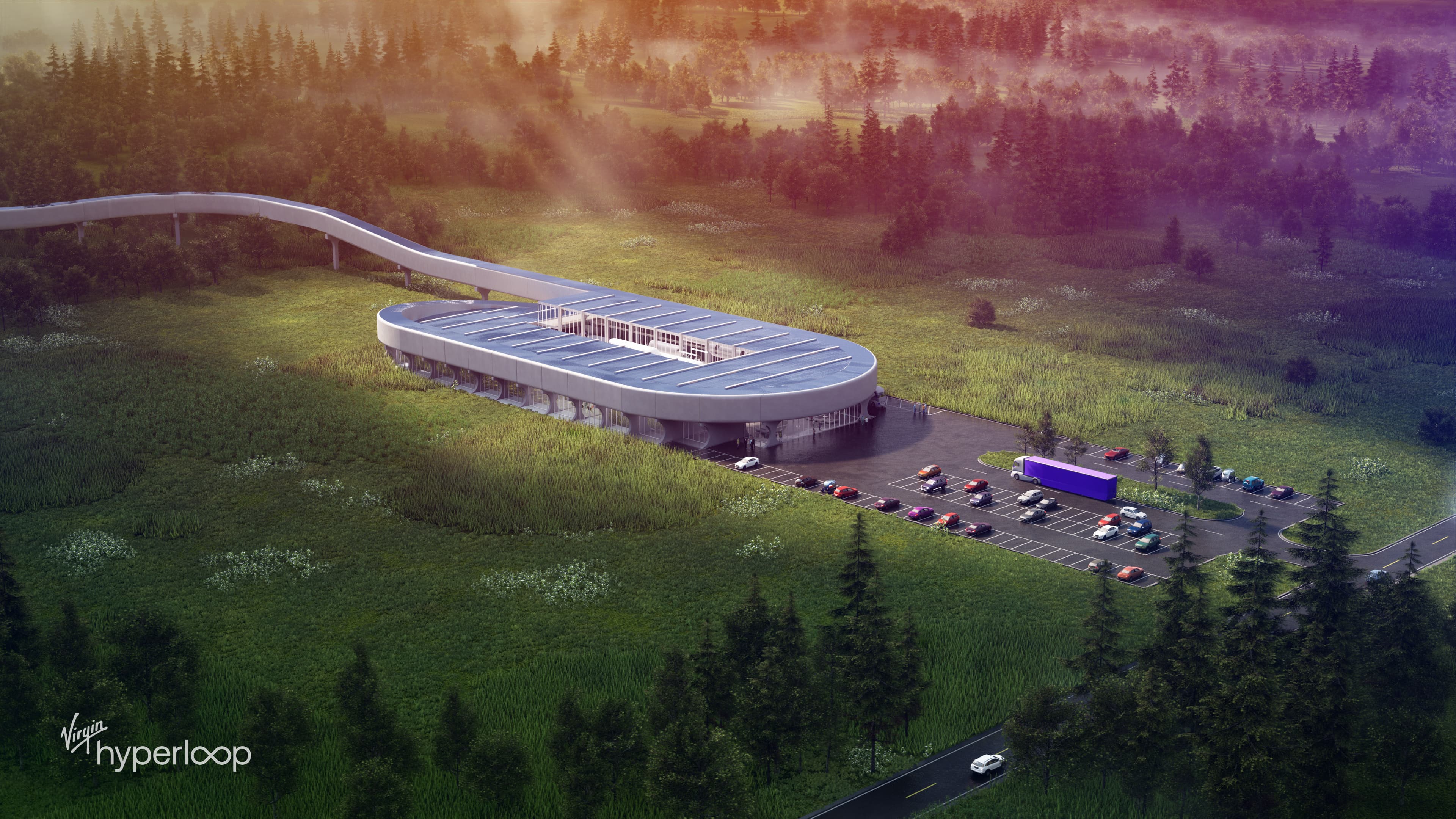 Above: Virgin Hyperloop has pledged to construct its global certification centre in West Virginia (image courtesy of Virgin Hyperloop). Below: Saudi Arabia could construct the first operational system.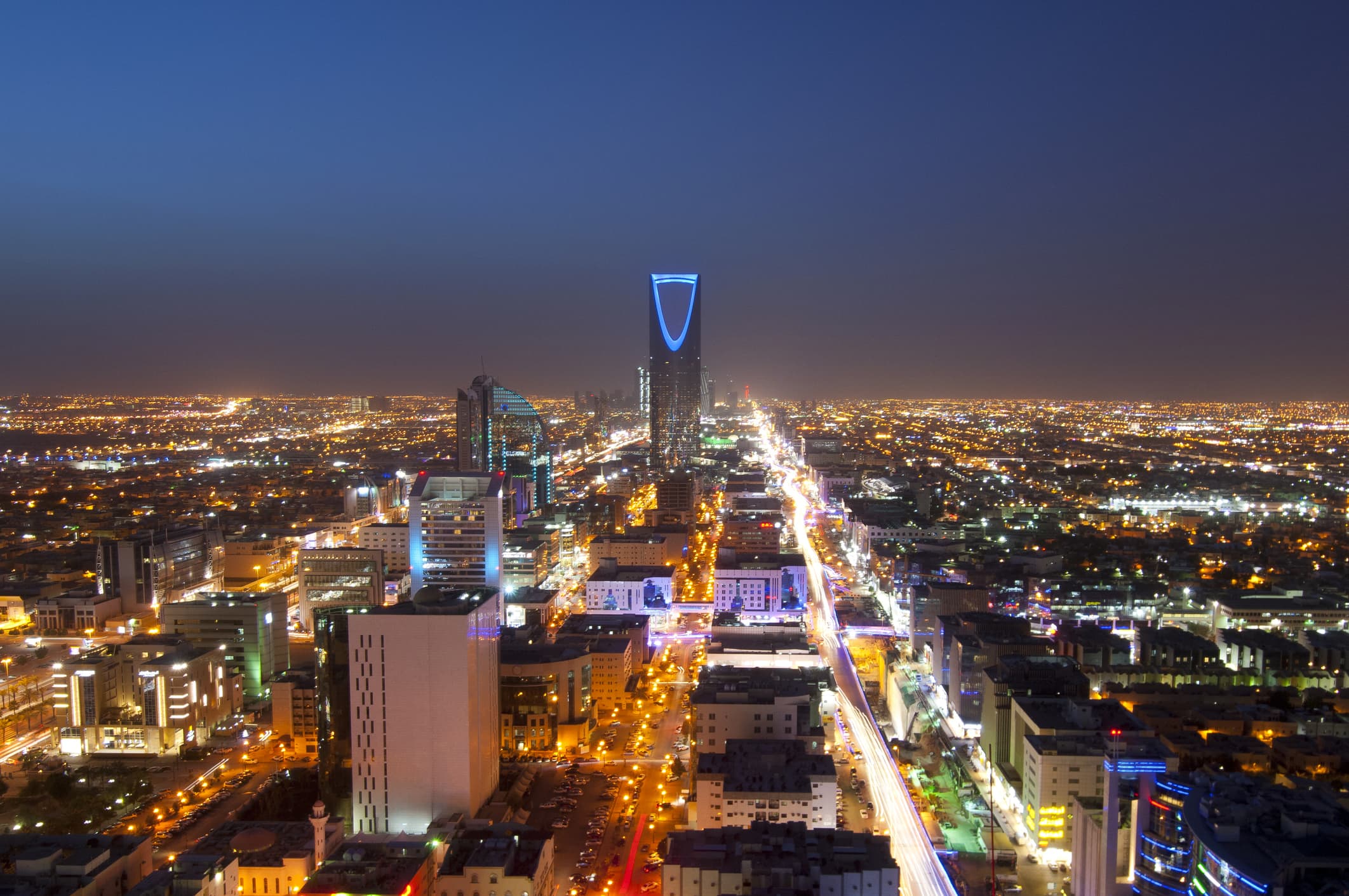 India and Saudi Arabia are both in talks with Virgin to develop the first system, drawn by the chance to dramatically cut journey times between major cities and boost economic growth.
Of course, going from a test track to a live route between cities is a huge task and work is going on to mature every aspect of the system, not least its passenger pod.
Those seats you see in the test, will look pretty different in the first system – all with the help of one of the world's most famous architects.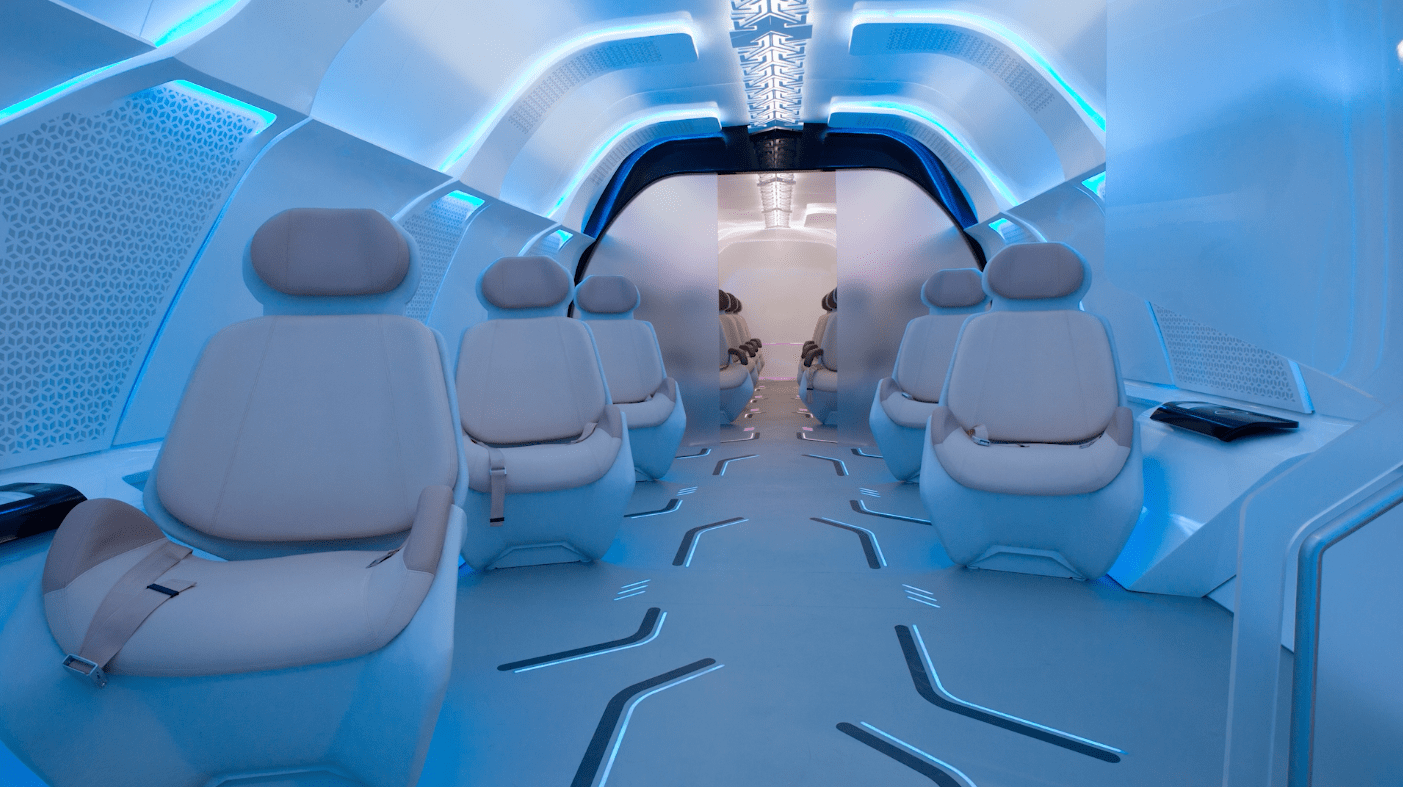 Above: How a Virgin Hyperloop passenger pod could appear in the future (image courtesy of Virgin Hyperloop).
Speaking to The B1M from Copenhagen, architect Bjarke Ingels, whose practice has partnered with Virgin Hyperloop to create the pods and stations described the design process:
"We're giving form to something that the world has not yet seen" explained Ingels.
"We were trying to create something that feels inviting and attractive and to a certain extent familiar, but not limited to a different version of something existing [such as a train or aircraft]. I really hope when people see the pod that they get a sense of something new and exciting around the corner"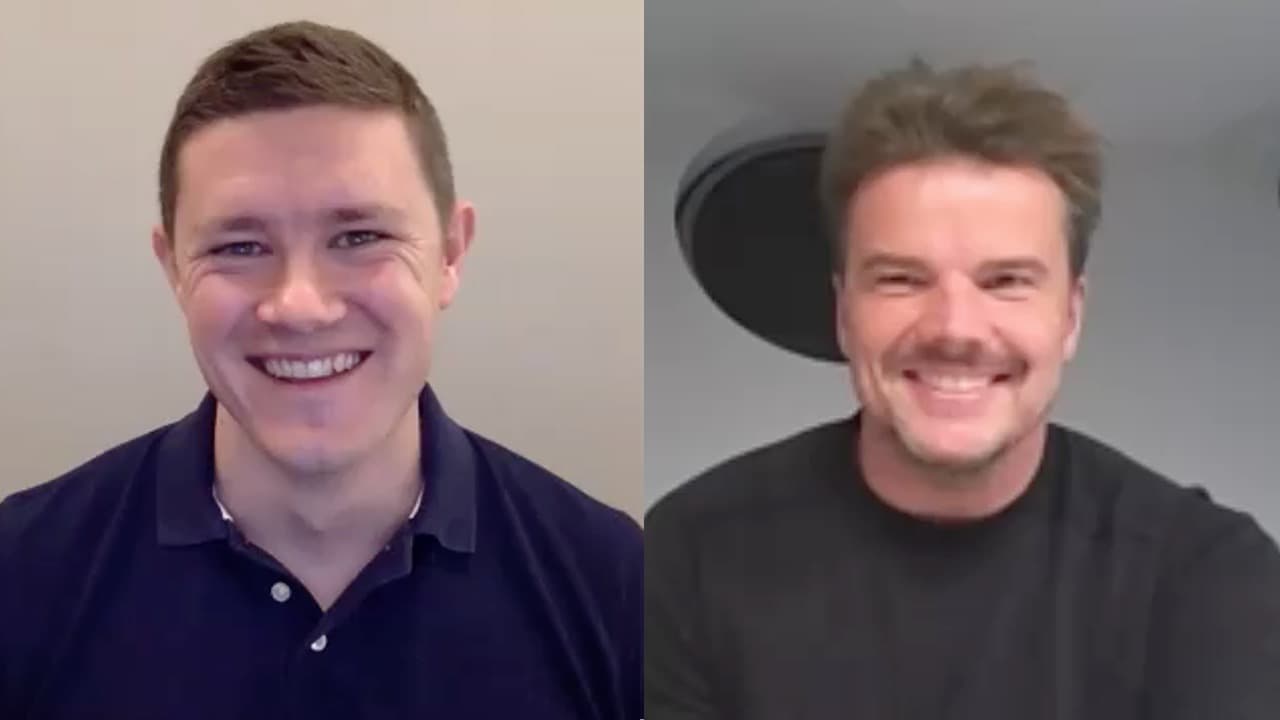 Above: The B1M's Fred Mills interviewing Bjarke Ingels.
GENIUS IDEA OR FANTASY?
Despite the excitement, hyperloop has encountered growing scepticism over recent years - particularly as the early rhetoric has met reality.
Those working on the system say they acknowledge this inevitable sway in opinion and are working to advance the technology, addressing many of the concerns that instinctively jump to most of our minds.
I wanted to ask Sir Richard about this.
As one of the world's most famously optimistic billionaires, what does he make of the naysayers and how does he distinguish between a genius idea and fantasy?
"They should go talk to somebody called Paul Griffiths who runs Dubai Airport," said Branson.
Griffiths plans to construct a new airport in Dubai and link the two sites with a hyperloop system, effectively creating one airport in terms of passenger processing and experience.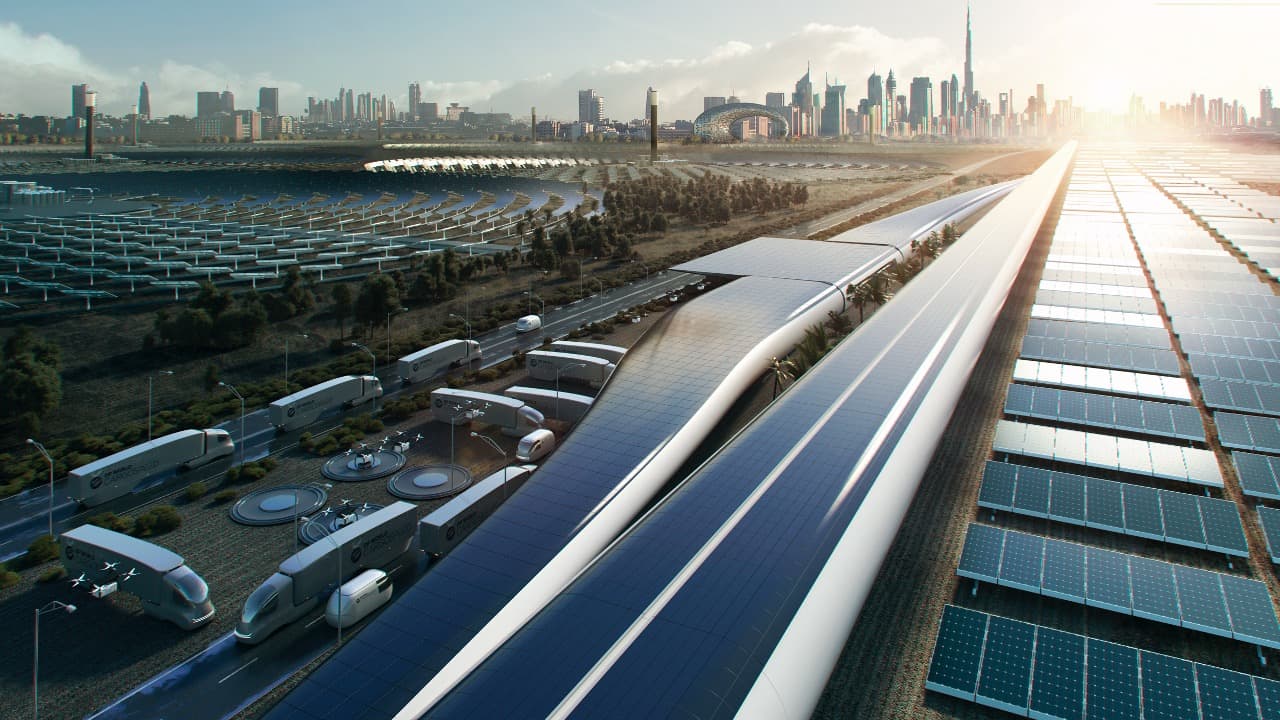 Branson also highlights the potential to connect major cities, citing Pune and Mumbai in India.
"It's a five and a half hour journey by road, the busiest route in India, littered with car accidents every day, long traffic jams - and the idea is just to run hyperloop along the side of the motorway. There'll be a lot of people sitting in cars who are going to be very, very jealous."
On telling the good ideas and flops apart, Branson is frank about the process of pioneering:
"I love creating things that are going to make a difference. Sometimes we fall flat on our face, sometimes we succeed. It's extremely exciting trying to break boundaries and push things forward"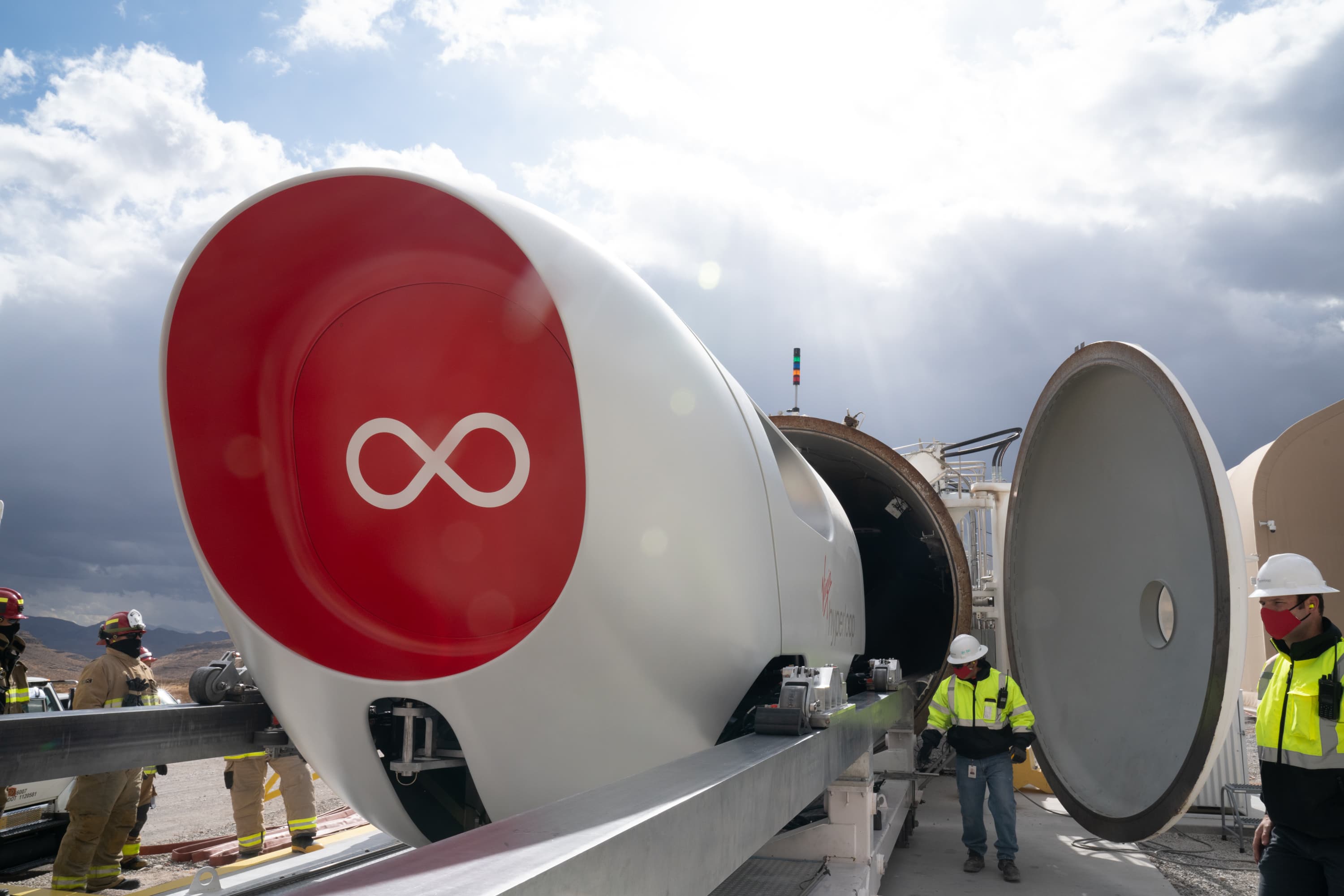 Above: Virgin Hyperloop's passenger pod entering the test tube in Nevada (image courtesy of Virgin Hyperloop).
Of course, only time can reveal if hyperloop was a great idea and whether or not the test that's just happened in Nevada will be reflected on as a quantum leap for human transportation.
Until then, we can only watch as hyperloop teams around the world move forward on their bold and daring journeys; pushing the very limits of engineering in their bid to transform our world.
Video presented by Fred Mills. Our thanks to Sir Richard Branson, Virgin Hyperloop and Bjarke Ingels Group (BIG).
Additional footage and images courtesy of Virgin Hyperloop, BIG, Hyperloop TT and Hardt Hyperloop.
We welcome you sharing our content but please be nice and play by our rules.
Comments
---