Cities
This City is the Next New York
Youtube Views

1,402,602

VIDEO VIEWS
Video narrated by Fred Mills. This video and article contain paid promotion for Autodesk Construction Cloud.
YOU might be surprised to learn that many of your favourite New York movies were actually filmed in Toronto.
That's right. Change a few street signs, add a few buses and Canada's biggest city does a great impression of the Big Apple. But that impression is about to get a whole lot better.
The city's already impressive skyline is now getting a massive makeover as a result of a skyscraper construction boom. This race for the skies, headlined by The One, will see the Canadian city overtake Chicago as the urban area with the second most skyscrapers in North America.
It's no wonder they're calling this the "Manhattanization" of Toronto.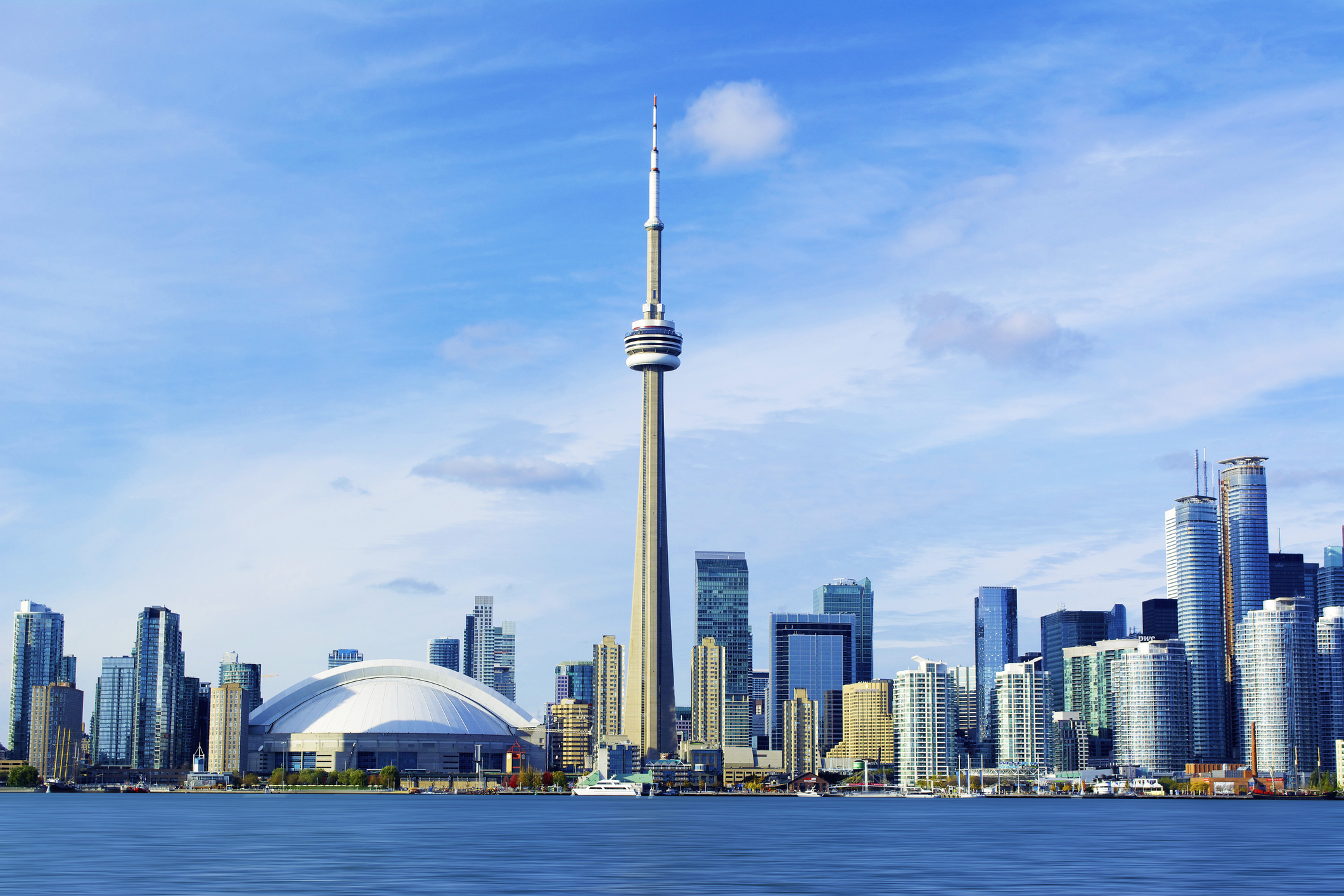 Above: Toronto's already-iconic skyline is being transformed.
Skyscrapers aren't exactly new to Toronto. The place is home to some of the tallest buildings in Canada and the trusty CN Tower has been a symbol of the city since the 1970s (that's a tower not a skyscraper by the way. We explain the difference here).
But lately things have gone into overdrive, turning Toronto into one of the biggest construction sites in North America.
Stephen Velasco, the guy behind the incredible Future Model Toronto, has the numbers:
"There are over 100 high rises under construction and more than 300 that are currently proposed. We also have more construction cranes than any other city in North America"
The explosion in construction has been brought on by the race to meet Toronto's huge demand for housing. The city is struggling to keep up with existing demand and with a population boom expected over the next 10 years, that's only going to get worse.
"Toronto's current development boom has been the result of three main catalysts" Velasco explains. "Those have been policy, immigration and investment. Over 100,000 people are coming to the Toronto region every year and simply put, we need to be building housing for these people."
90 percent of the new towers under construction are residential or contain residential units, but it's on the corner of Yonge and Bloor that the most exciting of those new skyscrapers is being built.
Designed by Foster + Partners, "The One" will rise 306-metres above the city to become Canada's first supertall building, offering apartments, commercial space and a hotel when it completes.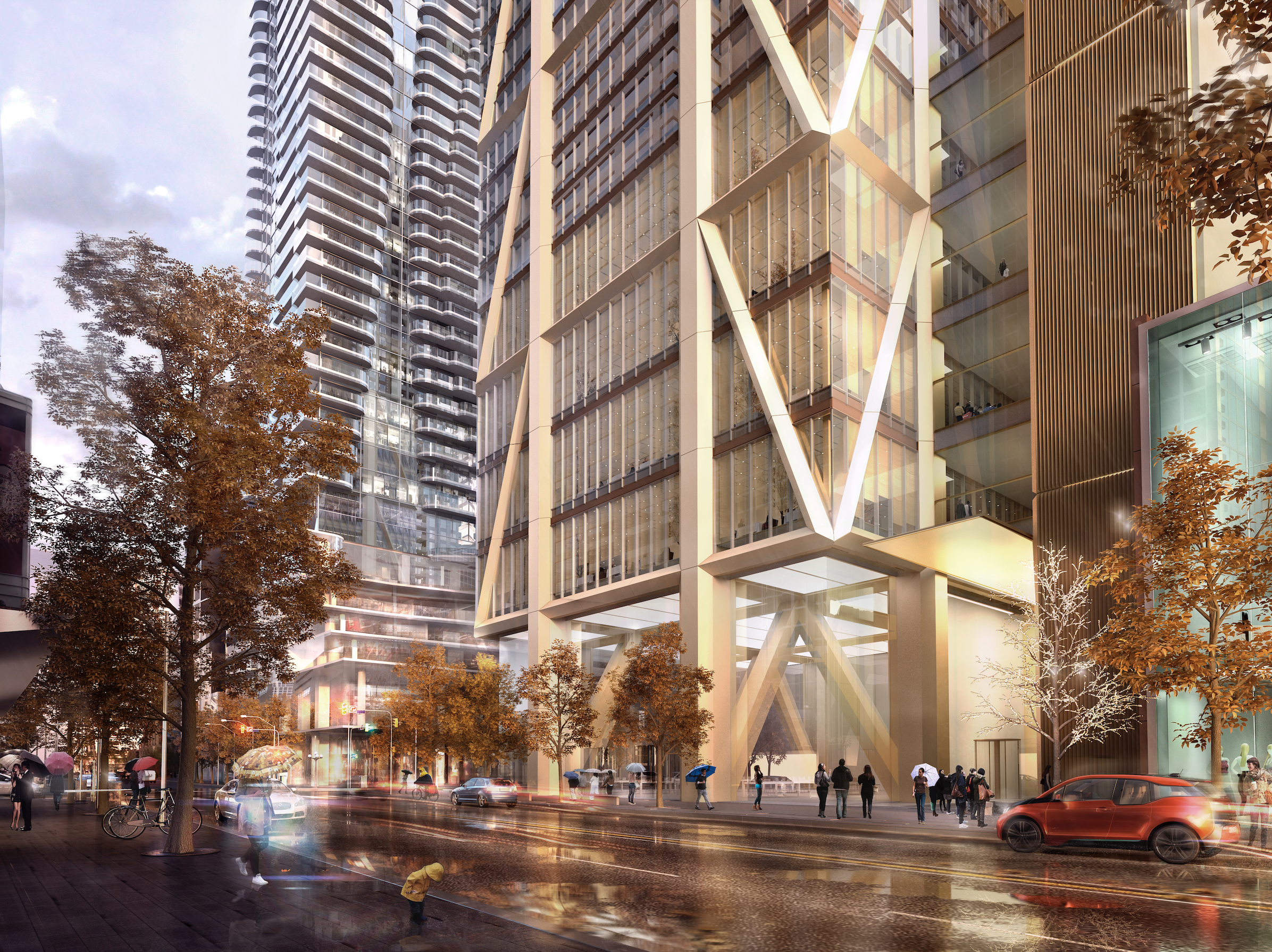 Above and Below: The One will become Canada's first supertall skyscraper. Images courtesy of Foster + Partners.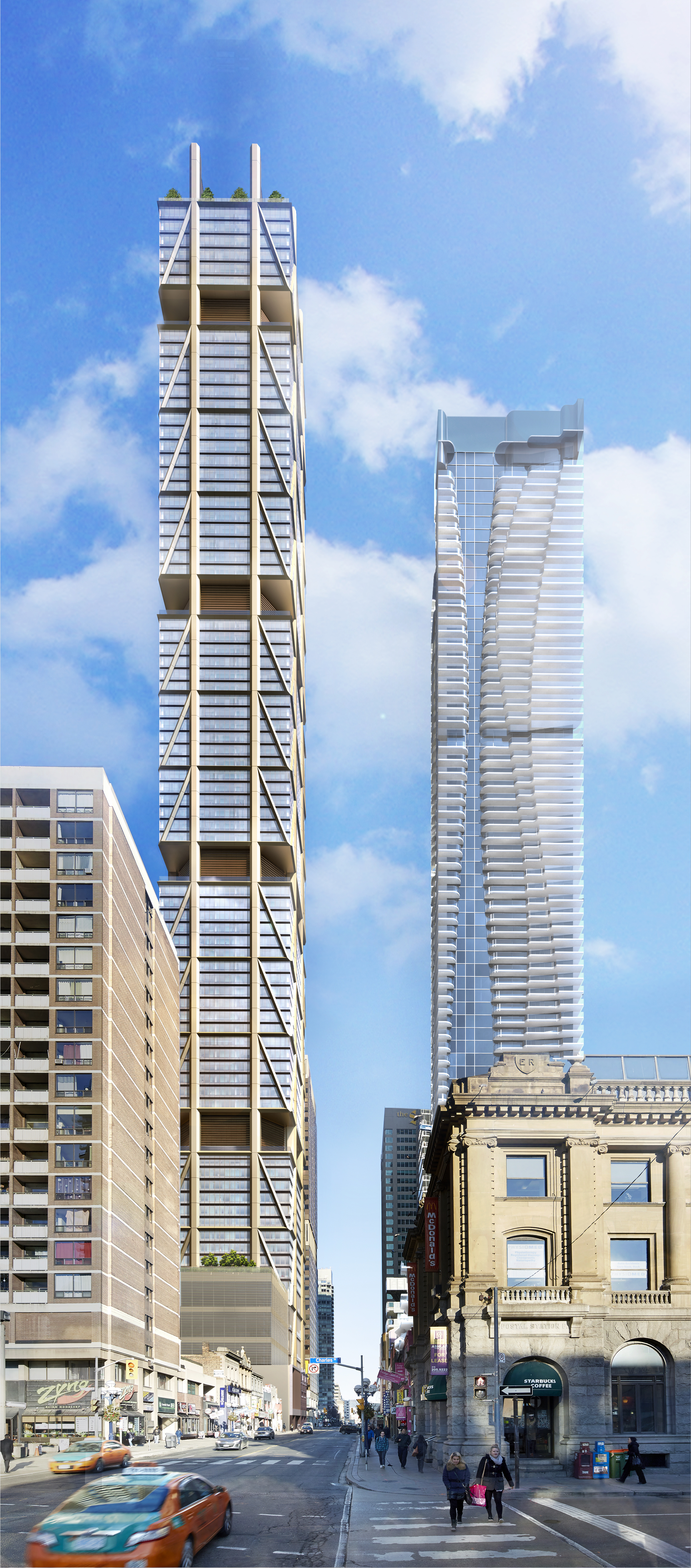 "The building is at such a pivotal point in the city we really felt that that ground plane on that very important corner should really be maximised in terms of its size and its volume." explains Giles Robinson, a senior partner at Foster + Partners.
"[At] the ground level in the first six floors of the lifts are removed to enable those spaces to operate and function for commercial activities."
To make the most of the space inside the building, weight is transferred to the giant exterior columns which stretch the whole height of the tower. The floors are then hung on this frame by the building's distinctive diagonal beams.
Designing Canada's tallest building inevitably presents challenge. Like any skyscraper it has to be strong enough to resist the wind, and that wind has got to go somewhere.
With so many tall buildings springing up across Toronto, the wind being blown down to street level is becoming an issue.
To get around this, the cutaways in the building's mechanical floors help to disrupt the flow of wind and prevent it blowing down to pedestrians below.
"In the analysis that was undertaken. It did demonstrate there's virtually no increase in wind speeds at the [street] level" adds Robinson.
If the thought of how these enormous, city defining projects are built leaves you scratching your head, then you're probably not the only one.
Megaprojects like The One need precise coordination and management across a varied range of disciplines - but with tools like Autodesk Build, managing a huge project like this becomes easier.
It creates a single platform where anyone working on a project can access the latest, most up-to-date information whenever they need it. Whether you're creating a 3D model in a ground floor office or topping off a building 300 metres in the air, Autodesk Build allows everyone to be kept in the loop with developments and seamlessly share documents.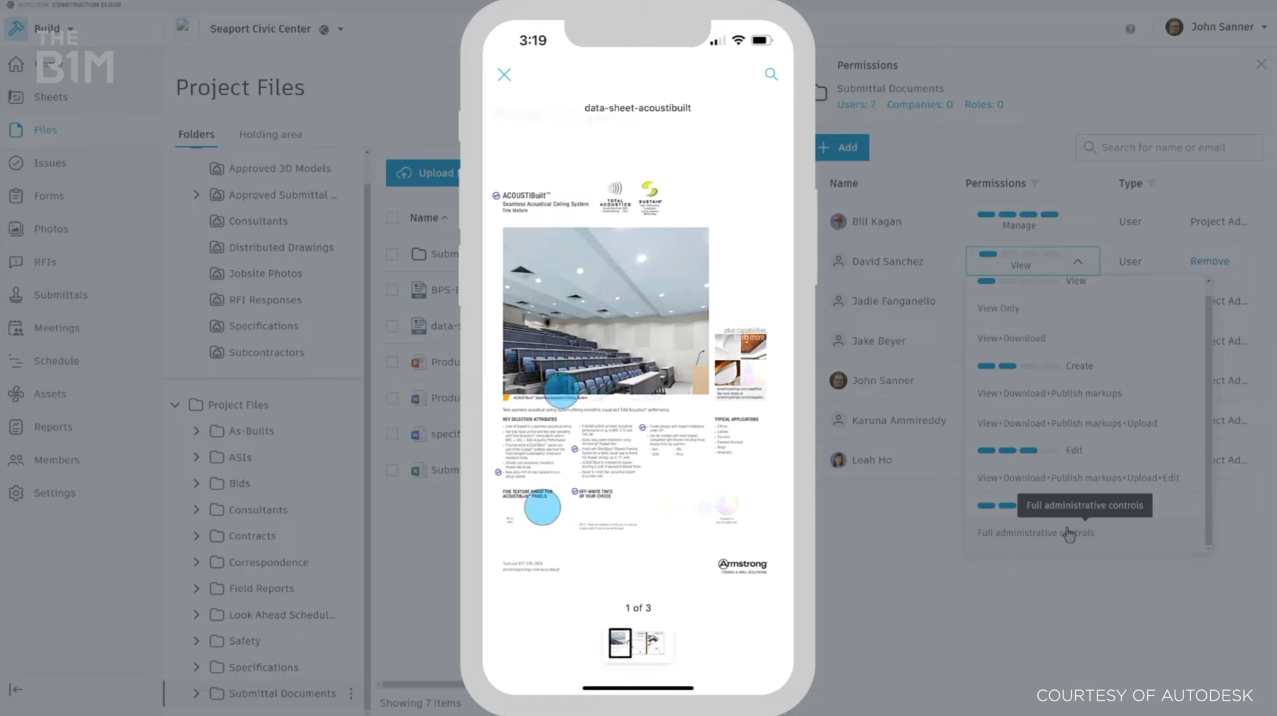 Above: Autodesk Build in action.
Toronto's construction boom shows no sign of slowing down and platforms like Autodesk Build will be essential in helping to deliver the hundreds of buildings set to Manhattanize the city.
But hold on a minute. Manhattan became America's skyscraper capital because of a lack of space — Toronto doesn't have that problem. So, why build upwards here and not out?
Velasco explains: "Toronto is quite a large city, but the vast majority of buildable land area is dominated by what's known locally as the yellow belt. These are neighbourhoods are dominated by low density, detached single-family housing"
In fact, some 75% of the buildable land in Toronto is reserved for low-rise development and it's that rule that is driving a surge in high rise building in areas where it is permitted.
Some are arguing for a change in planning policy that would allow more development in the Yellow Belt. That would spread the load over a wider area and not lead to such a dramatic transformation in the city's skyline.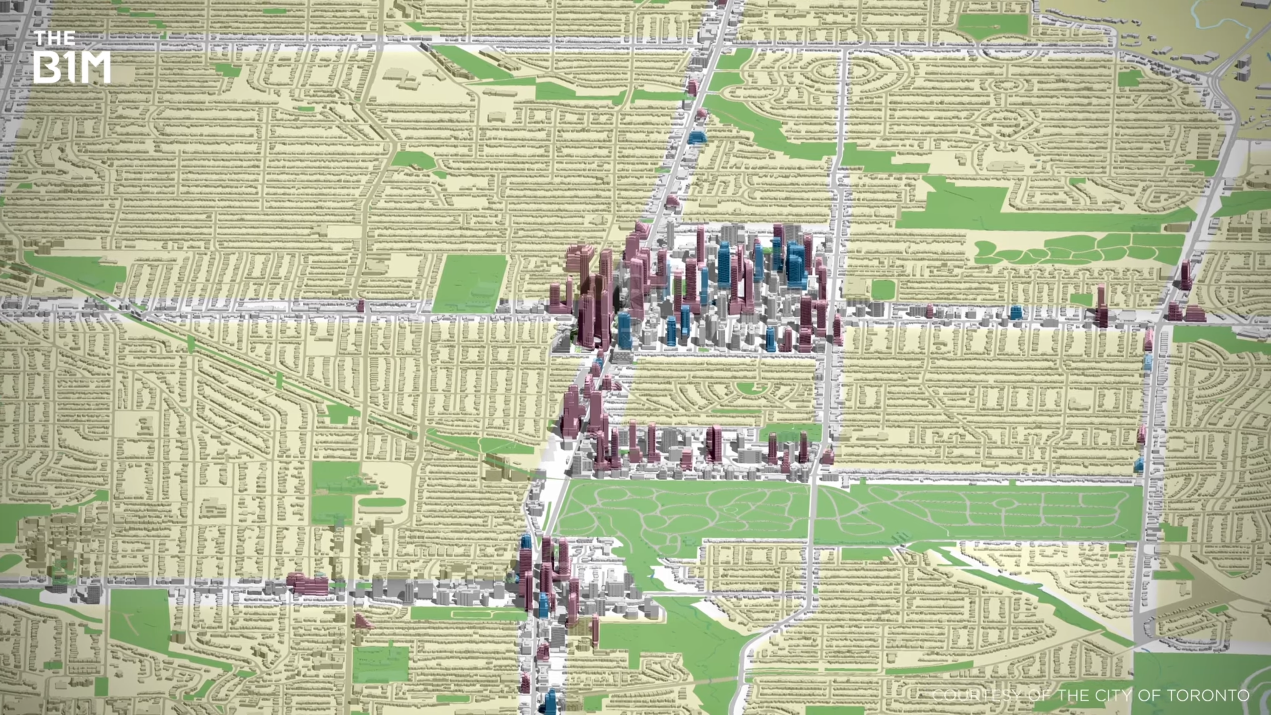 Above: Much of Toronto is reserved for low-rise development. Image courtesy of the City of Toronto.
Toronto certainly faces its challenges, but it's not all doom and gloom.
"People want to be in this city. There's a kind of a rebirth of urbanism in Canada, and Toronto has been the main example of that" explains journalist Christopher Hume.
Creating a denser downtown will go some way to combatting the city's suburban sprawl – but as Torontonians old and new begin to adopt a new way of living here, the move will have other positive side effects.
Torontonians have long depended on their cars to move about. Creating smaller neighbourhoods with more amenities is seen as a way to reduce traffic congestion and create a greener city.
Hume agrees: "Perhaps if we open up the city to more than cars, it will become more liveable in the sense that living in a 600 square foot condo won't be so feel like living in a cell because you'll have the city to use. The city will be your backyard and your dining room and your playground and all that kind of stuff. You won't have to have everything contained in your house. You'll be able to live and fully inhabit the city."
The eye watering price tag of apartments in The One hasn't stopped them getting snapped up, but it's also pretty obvious that prestige projects aren't going to do much to help Toronto's housing crisis.
Despite that, as the city becomes taller and denser buildings like The One will at least give the place some extra architectural cachet.
Just as the Chrysler Building and Empire State came to symbolise New York City, these structures could, in time, become icons of Canada's very own Manhattan.
You can learn about Toronto's skyscraper boom and the engineering behind The One in our free deep dive with its expert project team.
See how Autodesk Build enables city defining projects like this.
We welcome you sharing our content to inspire others but please be nice and play by our rules.
Comments
---