DOCUMENTARIES
Why America Is Tearing Down Its Highways
Youtube Views

1,358,778

VIDEO VIEWS
Video hosted by Fred Mills.
THE Federal-Aid Highway Act of the 1950s laid the groundwork for the backbone of American transportation today.
But if you zoom in a little closer, you'll find towns and cities across the country that were divided and whole neighbourhoods displaced by the new highways.
Half a century later, many of those freeways are ageing and degraded. And cities are grappling with the question — do we repair the highway or do we tear it down? And what do we put in its place?
"We've got a grand narrative of the achievements of the interstate highway system, there is not as prominent a reflection of the costs of the interstate highway system," associate professor at Virginia Tech LaDale Winling said.
"Historians call the Interstate Highway System the greatest public works project in American history, potentially even in world history," Winling said.
He's working to map the effects of the interstate highway system across America.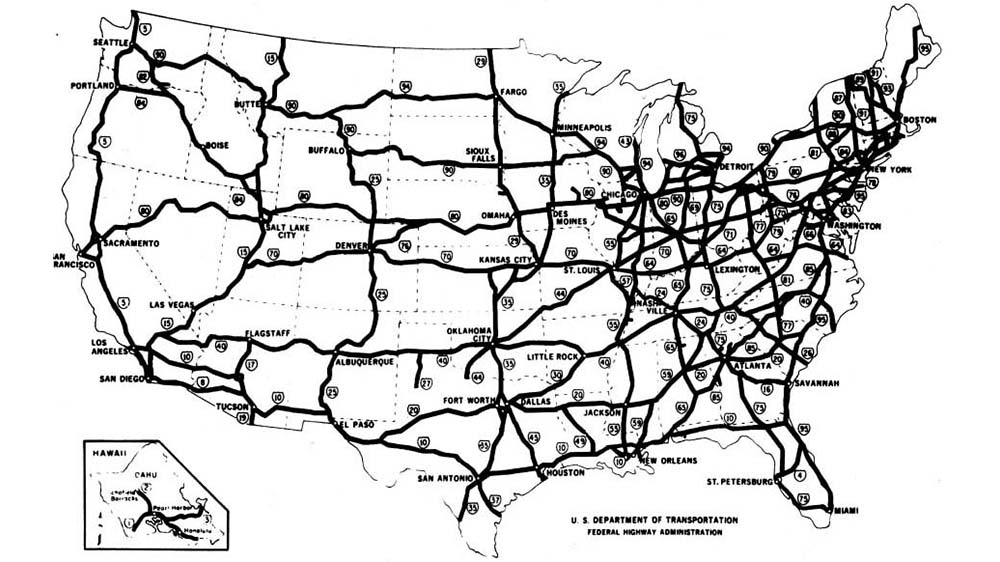 Above: The US Interstate Highway Map. Image courtesy of US Department of Transportation.

To say the Interstate Highway System was a massive undertaking is probably underselling it. Over 48,000 miles of highways were constructed across desert sands, farmland, mountains and cities. And roughly $500BN worth of investments put construction and labour contractors to work across the country.
The sheer scale and ambition of the project is astounding, and the impact it had on American society is undeniable.
Moving from state to state, city to city, and to and from rural areas became a whole lot easier. Travel, job opportunities and trade routes all opened up because of the highway system. And America's love affair with the automobile got a whole lot stronger.
Today, most American towns and cities are still designed to prioritise cars, rather than pedestrians.
"The way that the public understands the legacy and the impacts of the interstate highway system is changing," Winling said.
As the Interstate Highway program expanded into major cities, highway revolts began popping up across the country, protesting the construction of new roads through urban areas.
In some cases, highway building was used as a tool to reinforce racial segregation and transport people around and out of city centres. According to the US Department of Transportation, more than 1 million people were displaced from their homes in the first 30 years of highway construction.
Half a century later, the effects of highway construction, like environmental and noise pollution, are unequally felt by those who live near them.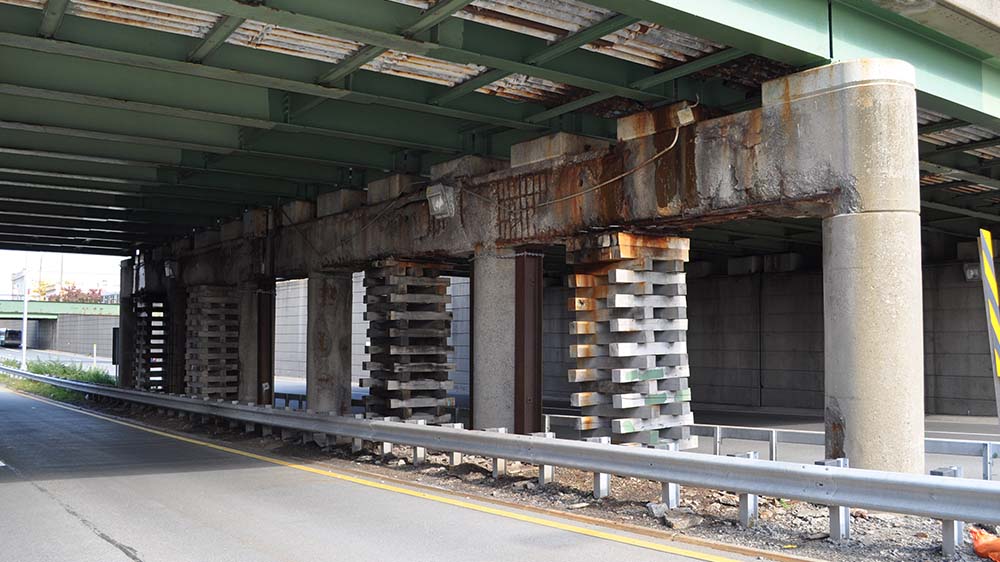 Above: The Inner Loop highway in Rochester, New York. Image courtesy of Stantec.
One of those communities split by a highway was Rochester, New York. Now, they're taking that highway down.

Rochester's 2.68-mile Inner Loop was proposed in 1947, and constructed from 1952 to 1965. It wraps around Rochester's downtown area and distributes traffic around the downtown's core. Some residents have come to know it as a moat that's divided the city.
"It cut off many neighbourhoods, particularly the neighbourhood where I grew up," Rochester resident and activist Shawn Dunwoody said.
"And so you had this great divide. So we lost our resources, lost our connections to what we did have in the neighbourhood. And that creates a decline."

Ideas for the removal of the Inner Loop have been proposed since 1991. Taking down part of the highway would give the city an opportunity to prioritise walkability and development for all the neighbourhoods around the downtown area. Still, the Inner Loop had become a part of the fabric of daily life in Rochester.
But by the 2010s, the highway was in bad shape. Its bridge crossings needed continuous investment to keep them functional. And the East section of the Inner Loop was operating below capacity, carrying just about 2,000 vehicles a day per lane.
So instead of fixing it, the city decided to take part of it down and replace it with a two to three lane roadway with on street parking, wide sidewalks and protected two way bicycle lanes.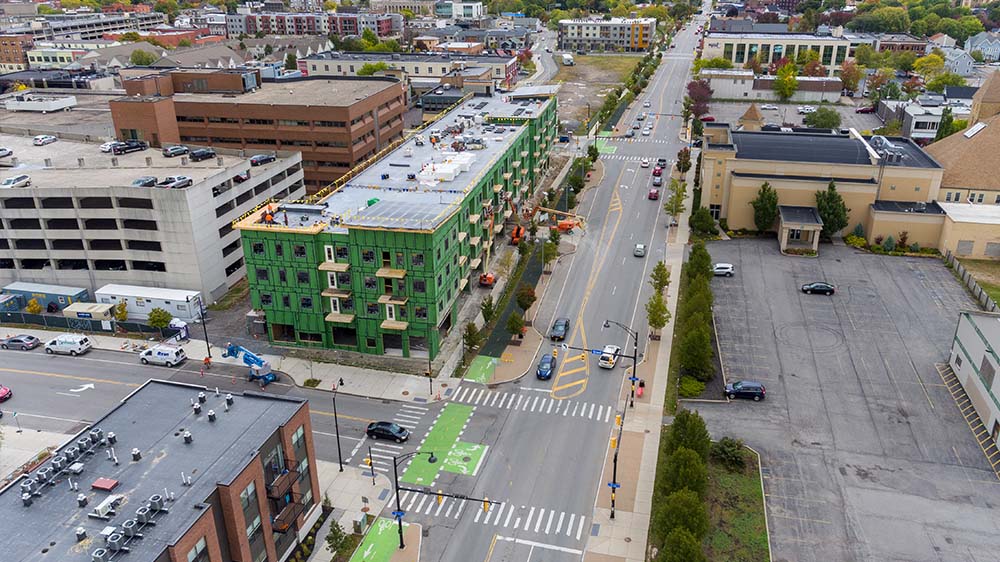 Above: The Inner Loop East Removal Project has prompted new development in Rochester. Image courtesy of Stantec.
"Pre-pandemic we saw a more than a more than doubling of bicycle and pedestrian traffic in this area, and that's prior to most of the housing and other development taking place," Inner Loop East removal project manager for the city of Rochester Erik Frisch said.
"So we know just by removing this highway, by providing an environment that people would want to be and people are coming. You can see it, and it's bringing new life and vitality to this part of town."
The Inner Loop East Transformation Project was one of the first highway removal projects in the country. And the project managers said people's travel time has only gone up by a matter of minutes.
It cost roughly $20 million to pull off, and the project got most of its funding from an Obama-era federal grant program. It took the engineering firm Stantec nine months to remove 4,400 feet of 4- to 6-lane expressway and three bridges and clear out 6 acres of land for development.
Now, the empty land is being redeveloped to add new bike lanes, businesses and large residential blocks.
The Inner Loop East project has been so successful that the city wants to do it all again and remove the remainder of the highway, called Inner Loop North. This time around, the project is bigger, more technically ambitious and more complicated.
The city is proposing to take down a longer stretch of highway, creating 20 acres of land for redevelopment with a budget closer to $90 million.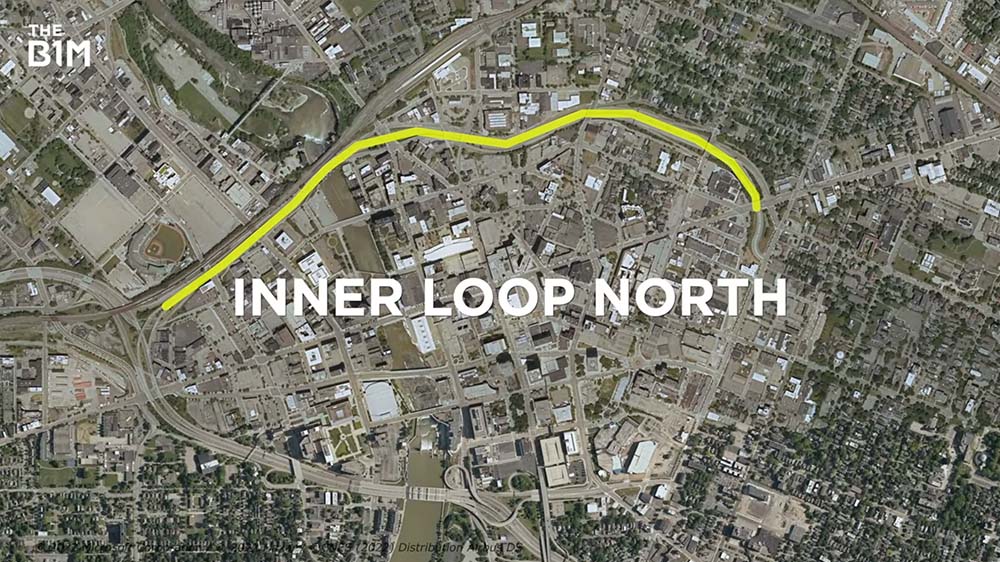 Above: The City of Rochester has proposed removing the north section of the Inner Loop.
But of course, fixing the damage that's been done by a piece of infrastructure like this is more complicated than just removing a road and building something in its place. There's always the risk of redeveloping an area and pricing out the residents who were already there.
"Currently on opposite sides of that Inner Loop, 500 feet across from one another, you have one group that's predominantly Black and brown," Dunwoody said.
"Most home sales are between $65,000 to $80,000. And on that other side you have mostly older Caucasians, and home sales over there are $500,000 to $750,000. So you've got to figure out, how do you mend this and bring progress together?"
Shawn formed a community group called Hinge Neighbors with the residents in the neighbourhood across the highway to discuss what they want to go in the highway's place.
Their focus is smaller developments that can support single-family homes for local residents, rather than the big megablock developments that are popping up in place of Inner Loop East.
"We can actually physically try to design and create once again connected neighbourhoods and help facilitate homeownership, help facilitate community wealth building," Dunwoody said.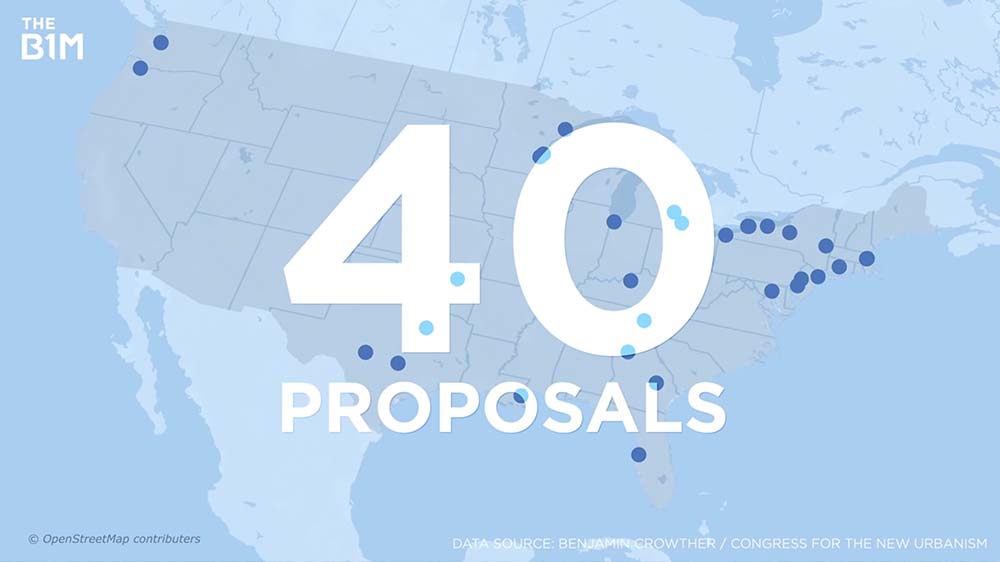 Above: The Congress for New Urbanism has tracked more than 40 highway removal proposals across the US.
Rochester isn't the only city tearing down its highways. Congress for the New Urbanism has tracked at least 40 highway removal proposals across the US. And while highway teardowns have been talked about by local communities for years, the idea has gained more traction in Washington DC in recent years.
In an earlier draft of the US infrastructure bill, Democrats set aside $15BN to fund projects like this through the Reconnecting Communities Act. In the bipartisan bill that was ultimately passed, that funding was cut down to just $1BN.
For context, one highway removal that's being proposed in Syracuse, New York is expected to cost close to $2BN.
"It's going to be it's going to be the catchphrase for the next couple of years, you know, reconnecting communities and rebuilding families," Dunwoody said. "That's why it takes folks across the country to keep putting a hammer to nail and saying, Hey, you said this, you've got to adhere to this, you've got to adhere to this. And that's that's important."

The next chapter in Rochester shows both the potential success and nuance involved in removing legacy infrastructure.
Highway removals aren't a silver bullet for a city's problems, but Rochester's Inner Loop projects can serve as a sort of test case for other cities as they decide what to do with their ageing infrastructure.
Each city's situation is unique. But highway teardowns also point to a bigger shift in how city planners are viewing the role of cars.

"We can serve the car, but it doesn't need to be the driving force, if you will," Frisch said. "We can create urban communities that you can drive in, but that are much more focused on people."
The Interstate Highway System forever reshaped America in ways that are still felt today, the good, the bad and the ugly. The highway teardowns that are happening today are a powerful reminder of how we learn from the past to build a better future.
Video presented and narrated by Fred Mills. Special thanks to Shawn Dunwoody, Erik Frisch, LaDale Winling, the City of Rochester and Stantec. Additional footage and images courtesy of United Artists, Universal Pictures, Warner Bros. Pictures, Metro-Goldwyn Mayer, Columbia Pictures, Bob Keck, USDOTFHWA, Fox 13 Tampa Bay, WMAR 2 News, CSPAN, DC Public Library, San Francisco History Center, US National Archives and Records Administration, Bergmann, Hinge Neighbors, Google Earth and OpenStreetMaps.
We welcome you sharing our content to inspire others, but please be nice and play by our rules.

Comments
---