Infrastructure
The $140BN Plan to Change a Nation with Infrastructure
Youtube Views

715,986

VIDEO VIEWS
Video powered by Bluebeam and hosted by Fred Mills. This video and article contain paid promotion for Bluebeam.

In the middle of a pandemic, the UK laid out a bold vision for its future - and its fate lies in the hands of construction and infrastructure.
"Over the past few decades, we've failed to invest enough in the United Kingdom, which has meant that the quality of our infrastructure has fallen behind that of other countries," chief executive officer of the UK's Infrastructure and Projects Authority (IPA) Nick Smallwood said.
The country's 100-page new National Infrastructure Strategy may look dull, and to be honest it is.
But if you can get past the government catch phrases, like "build back better," you'll actually find an incredibly ambitious plan - one that bets on economic equality, climate change and a fragmented society all being partly solved by construction.
From massive high-speed railways to super-sewers, tunnels under ancient landmarks and fibre-optic broadband, these huge, complex, and often controversial megaprojects could change the nation.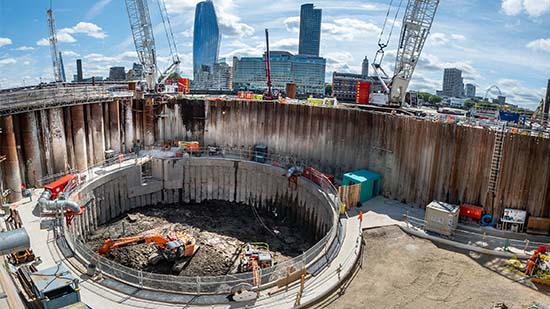 Above: The $5.5BN super-sewer that's being built in London. Image courtesy of Tideway.
The UK's infrastructure goals aren't necessarily unique. Countries around the world are trying to better connect their residents and reduce their carbon footprints.
But the nation is the first major economy to announce a net-zero emissions target by 2050.
"The UK is probably one of the most proactive countries globally having official governmental commitment on carbon emissions," senior lecturer at Imperial College London Dr. Ana Mijic said.
"Will that be enough? I think that that's a really interesting question."
With economies reeling from the pandemic, the UK government is betting that strategic infrastructure investment can help create jobs and promote spending on materials.
"Well, I always refer to the national infrastructure strategy as a once in a generation transformation," Smallwood said. "It's a really long term commitment and it quite literally is an ambition to build back the country. It's backed by hundreds of billions of pounds."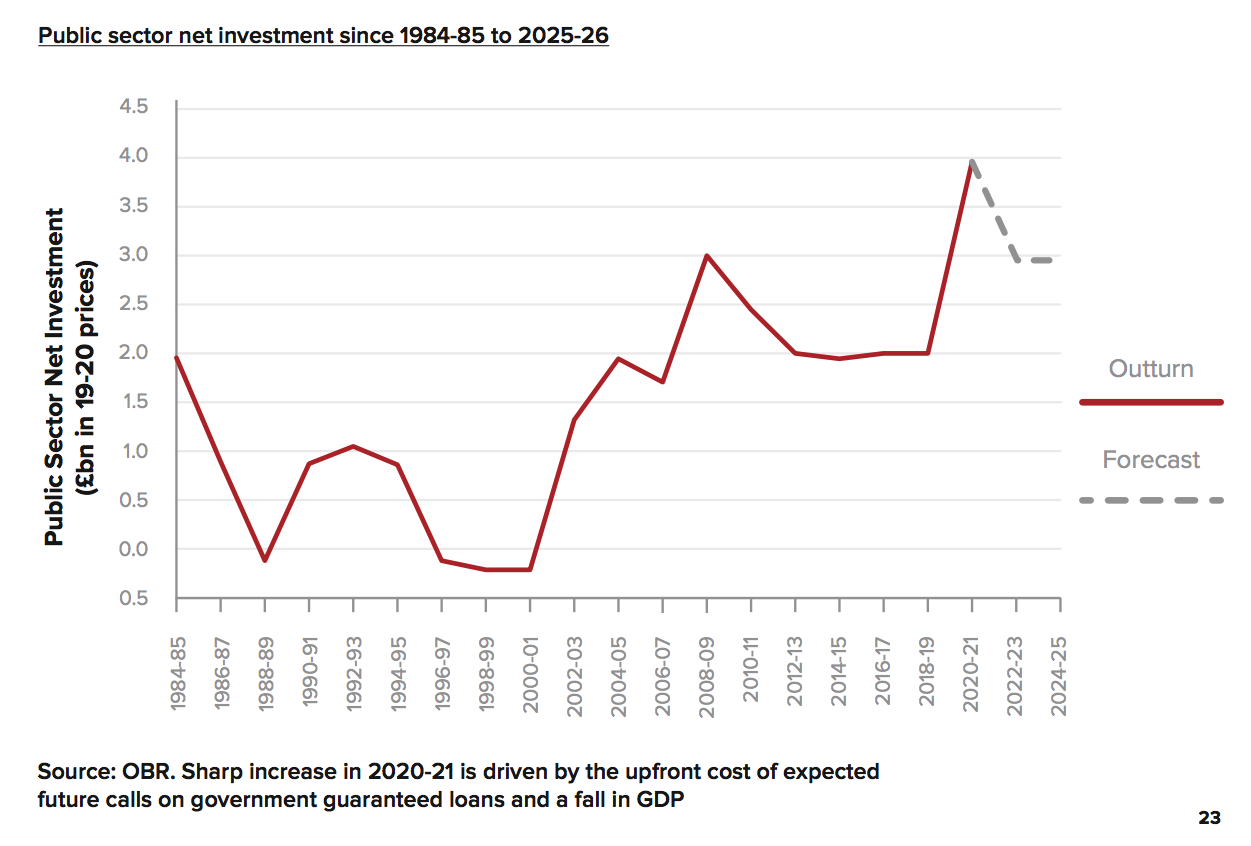 Above: UK public sector net investment between 1984-85 and 2025-26. Image courtesy of HM Treasury (National Infrastructure Strategy).

In fact, the UK is investing the highest levels of public funds since the late 1970s, and it's set up a new Infrastructure Bank to co-invest in projects alongside the private sector.
"I think it's a great opportunity for us to redesign the existing infrastructure and build new infrastructure in the way that it really works with the environment, which will require a bit of a mindset change, but we have lots of tools and skills that we can work with," Dr. Mijic said.
Infrastructure funding will be spread out across the country, with perhaps the biggest undertaking being HS2.
The 530-kilometre high-speed railway is currently Europe's largest infrastructure project, and it's set to be a pretty critical plank in the UK's transport system when it eventually connects the Midlands to the South.
HS2 is aiming to run 18 trains an hour to and from London at speeds of up to 360 kilometres per hour. It means constructing some 300 bridges, 70 viaducts and six new train stations.
The goal is to create a more reliable and efficient train network that boosts economic growth.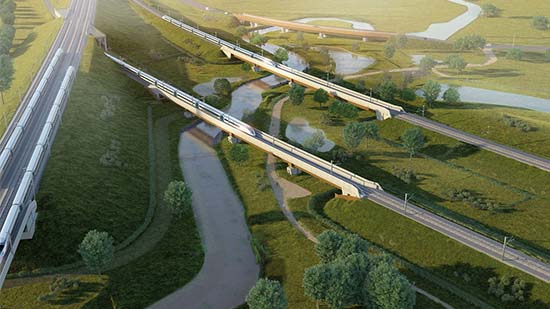 Above: A rendering of a proposed HS2 route. Image courtesy of HS2.

But HS2 has faced criticism for its impact on the country's landscape and the relocation of families and businesses that live in the railway's path. It's also been dubbed the world's most expensive railway: cost estimates have ballooned from the initial USD $27BN to more than USD $147BN.
It'll also be a while before it's complete - the current projection for Phase 1 puts it somewhere between 2029 and 2033.
"It's an important infrastructure," Dr. Mijic said. "It will help with mobility. It will help with connectivity. Will it solve all the problems in the UK? Probably not."
There's also a desire to better connect the South West, an area long-lacking in decent infrastructure that could be unlocked by the somewhat controversial Stonehenge Tunnel.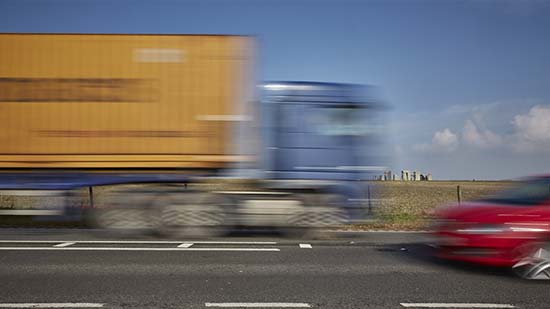 Above: Traffic on the current A303 route near Stonehenge. Image courtesy of Highways England.
To cut traffic from the notorious bottleneck on the A303 road that passes Stonehenge - where everyone slows to look at the landmark - the $2.3 billion tunnel would run directly under the prehistoric site, placing a 3.3-kilometre new stretch of dual carriageway below ground.
Proponents say it would reduce air, light and noise pollution outside the World Heritage Site.
But legal battles have played out over whether the project would cause irreparable damage to the landscape around Stonehenge and Unesco has said the site's status could be in jeopardy over the plans. The project has been on again and then off again, for decades.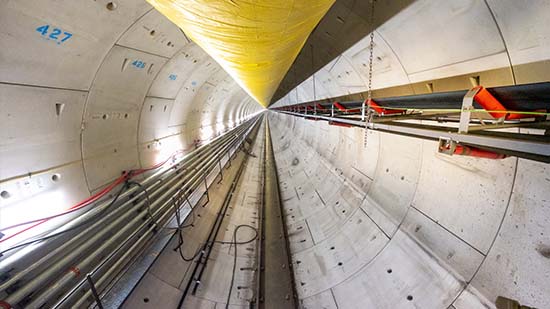 Above: Thames Tideway tunnel beneath central London. Image courtesy of Tideway.

Hold your nose and journey just beneath the surface of the UK's capital and you'll find a $5.5BN super-sewer under construction.
Sewage in London typically flows through a system of tunnels to a treatment facility, but when it rains the current Victorian system overflows and raw sewage spills into the Thames.
To solve this, the city is constructing a 15-mile long underwater tunnel that's the width of three London buses. The idea is that when the current system overflows, the most polluting sewage will be rerouted to the new tunnel up to 65 metres below ground.
The project is being paid for by customers' water bills, and is expected to prevent millions of tonnes of sewage from polluting the Thames.
The UK is also investing in flood defences across the nation, something that's particularly pressing as streets and train stations have flooded in recent months.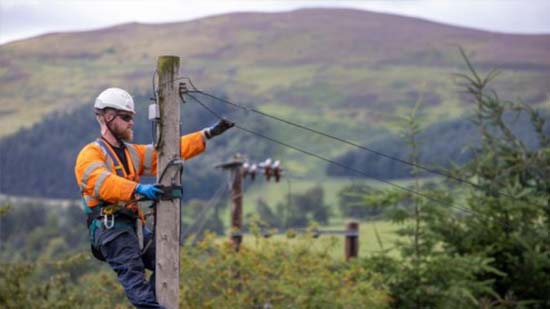 Above: Broadband installation in the UK. Image courtesy of Openreach.
Another urgent infrastructure challenge is getting everyone reliable internet.
The UK's gigabit broadband coverage lags behind other countries. And providing the entire nation with high-speed broadband will require enough cabling to wrap around the Earth more than 10 times.
The government is aiming to get 85% of the UK gigabit capable coverage by 2025.
80% of the total work is expected to be done by private companies like CityFibre, Openreach and Virgin Media. The other 20% will be covered by the government, which is investing nearly USD $7BN to address harder to reach places.
Beyond broadband, the government has been pushing for a digital revolution within the construction industry itself and when it comes to tech adoption, the infrastructure sector tends to lag behind.
That's because it deals with big, complicated projects that often take decades to complete. That means lots of site visits, handovers, contracts and of course, paperwork. But this new infrastructure strategy might just be the push it needs to finally go fully digital.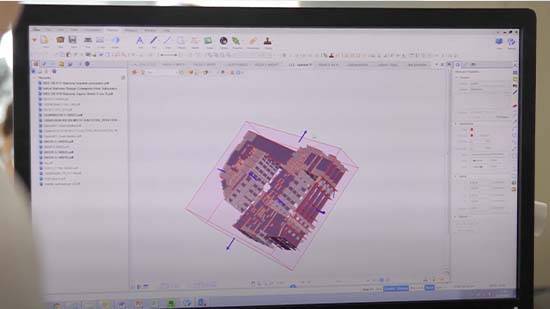 Above: Bluebeam's Revu software. Image courtesy of Bluebeam.
"It's an industry in particular that is steeped in history and tradition in the way of doing things," Bluebeam's regional director James Chambers said.
That's now steadily changing as teams shift and embrace digital collaboration. The pandemic has upended the way we work, but in a way also accelerated the infrastructure sector to become more efficient, flexible and sustainable.
With fewer people working on-sites, digital collaboration tools like Bluebeam's Revu have enabled construction on major infrastructure projects to keep going - often in a much more efficient and paperless way.
"I think it's now exposed that this is a must, people can't go back to doing things the old way," Chambers said.
"The mere fact that we've seen projects continue through lockdown and through a pandemic in the last year and a half, I think is evident that if they didn't adopt new technologies and digital approaches, they wouldn't be able to do any of these things."
Building infrastructure is hard. It takes billions of dollars, decades of planning, construction and maintenance. But if it's done right, it has the potential to better the lives of millions of people.
"I think the impact of this strategy will be a nation that is fairer, faster at delivering major projects and greener," Smallwood said.
As the UK seeks to set itself apart from the rest of Europe, this plan might just be the opportunity construction needs to reinvent itself as a more sustainable, digital industry.

Digital collaboration is key to the effective delivery of infrastructure projects. See how Bluebeam's digital construction solutions can help.
Video narrated by Fred Mills. Our thanks to Dr. Ana Mijic, Nick Smallwood and James Chambers. Additional footage and images courtesy of HS2, Highways England, Openreach, Thames Tideway, Channel 4, JessicaGirvan, Paul Adrian Emery, Bluebeam and OpenStreetMaps.
We welcome you sharing our content to inspire others, but please be nice and play by our rules.
Comments
---