Infrastructure
What Went Wrong With California's High-Speed Railway
Youtube Views

1,203,958

VIDEO VIEWS
Video hosted by Fred Mills.
IF you live in San Francisco and you want to get to LA, you kind of only have two options: a six-hour drive, or a journey out of the city to the airport, followed by the journey through the airport to a plane, followed by a 50-minute flight, then a journey through LA airport and then a drive to wherever you're headed.
It's not exactly easy. That's where the incredibly sensible plan for a high speed rail line comes in. It would better connect cities, boost the economy, cut emissions and help bring the world's only superpower into the high-speed club that's currently dominated by China.
But work on the line has been nowhere near as fast and efficient as the trains it one day hopes to run. Plagued by difficulties, and battling America's cultural preference for flying and driving, the massive building project hasn't delivered much at all - and some now think it may never be fully completed.
This is a look inside California's long, tumultuous and somewhat unbelievable struggle to build America's first high-speed rail line.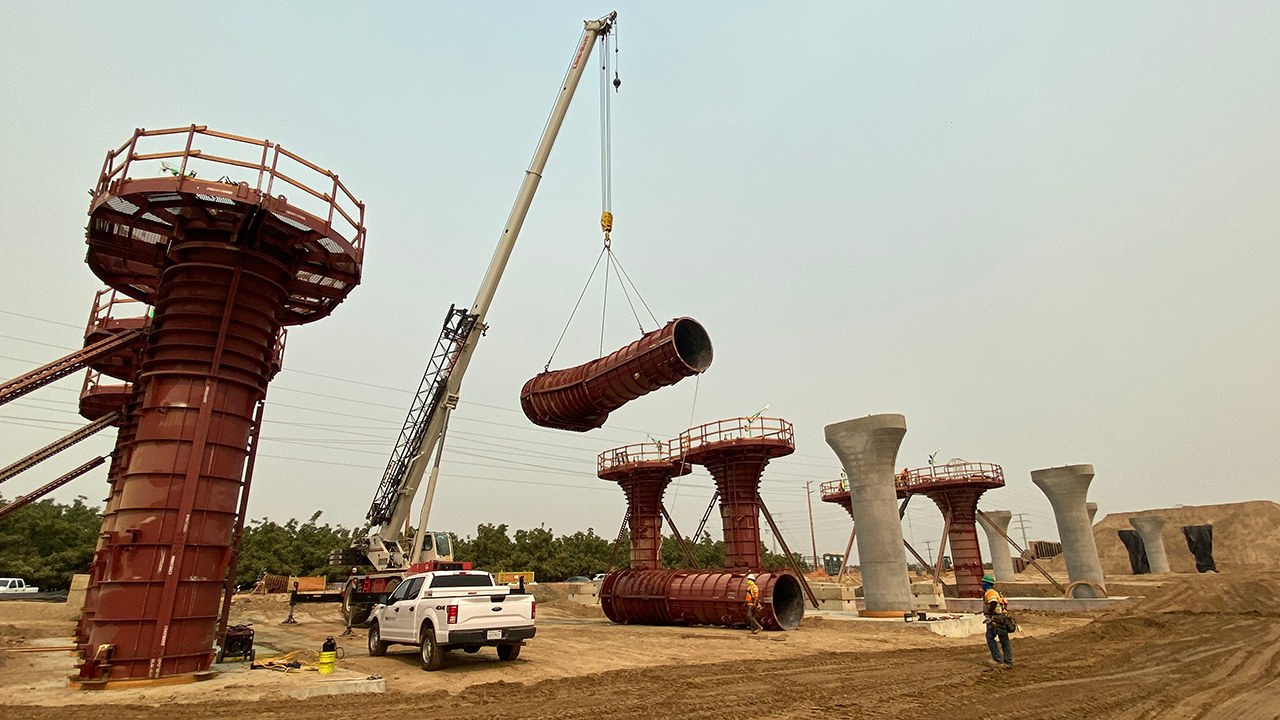 Above: Despite being put forward over 20 years ago, the project is nowhere near finished. Image courtesy of California High-Speed Rail Authority.
America doesn't really build high-speed railways. It's current fastest line between Washington DC and Boston runs trains at 150mph - but many would argue that's not high speed.
Instead the country is plane and car travel centric - home to some of the world's busiest and most congested roads and airports.
That's what makes California's plan for a 220mph high-speed rail line stand out and feel almost revolutionary. The plan is to link the regions of Southern California, Sacramento San Joaquin Valley and San Francisco Bay - providing a faster and cleaner way to travel between them, boosting the local economy and limiting the disruption to agricultural and protected lands along the route.
Getting between these areas has always been a headache. It's a problem that originally sparked Elon Musk's idea for hyperloop, though that system's journey to becoming reality is a whole other video and the first system is now likely to become operational in the 2030s outside of the US.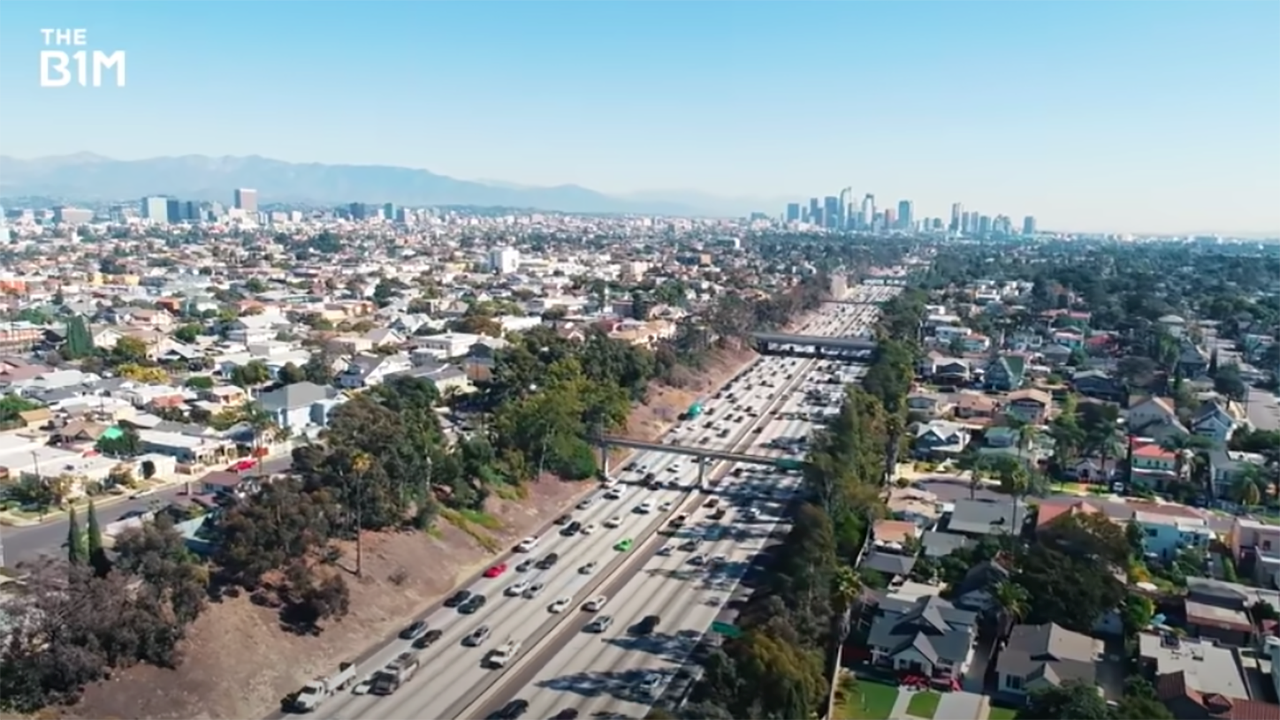 Above: Currently, the only way to get from San Francisco to LA is to fly or take a long car journey.
The project is being led by the state-run California High Speed Rail Authority (CHSRA) - and though that was set-up in 1996 it wasn't until 2008 that the plan for the high-speed network, Proposition 1A, was approved by voters.
Then almost USD $10BN in bonds were issued for the planning and construction of the network which is set to extend over 800 miles.
Phase One involves building that line from San Francisco to LA via the Central Valley, which then carries on to Anaheim. Phase Two will go from LA to San Diego, with another offshoot running from Merced to Sacramento.
Construction is currently underway on the midway section - a 119-mile corridor linking Madera to Bakersfield, with 35 different sites currently active.
One recent piece of news is the completion of the San Joaquin River Viaduct superstructure - it's a bridge on the border of Fresno and Madera County.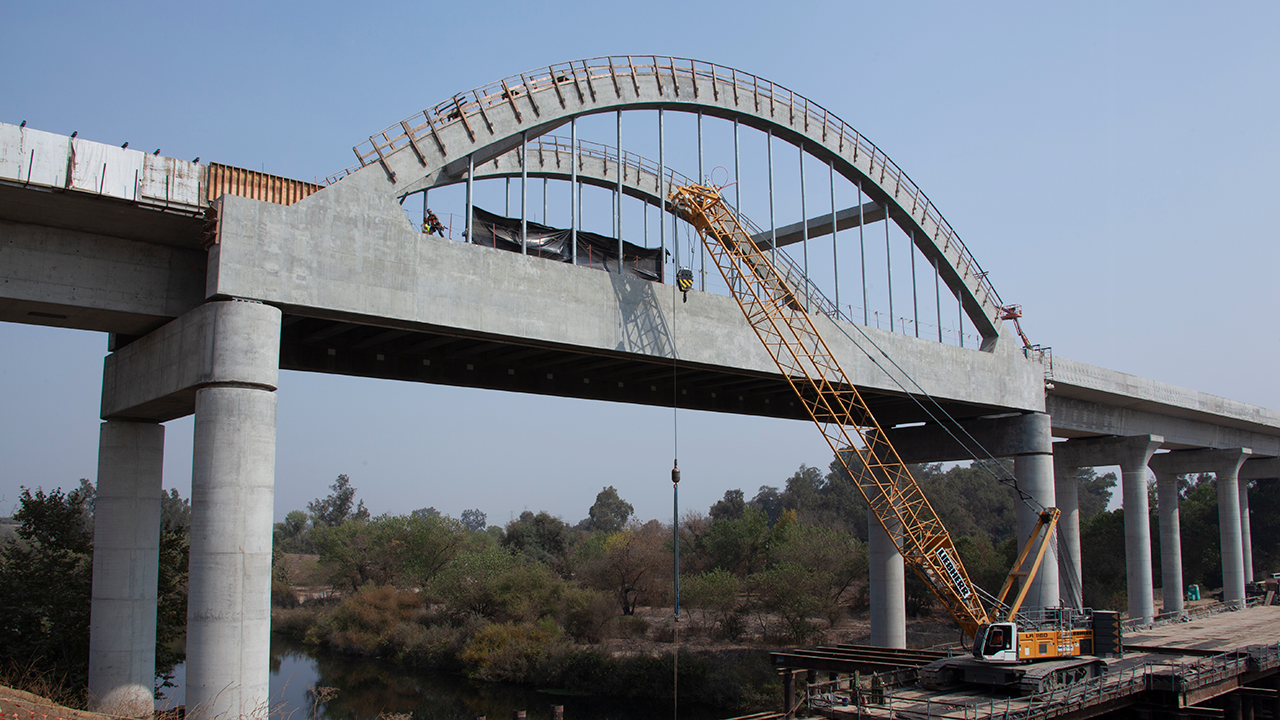 Above: The San Joaquin River Viaduct will act as a new gateway into the Central Valley. Image courtesy of California High-Speed Rail Authority.
But while there has been some progress, it doesn't exactly make up for the countless setbacks that continue to force delays and push up costs.
Originally priced at $33BN in 2008 with services due to start in 2020, the final figure is now estimated at over $100BN and it won't be ready until at least 2029 - and that's just the first section in the middle.
Like so many things in life, it all comes down to money. That $10BN bond was never meant to cover the whole project - the rest was due to come from private investors and the federal government.
But those dollars have been hard to come by, and many potential backers have been unconvinced that Americans would choose to stop flying between the two cities and take the train instead.
Keeping hold of cash has also been a battle. In 2019, the Trump Administration withdrew almost $1BN in federal funding due to the lack of progress being made.
Now with a new government in place, the CHSRA is pushing to get this hefty chunk of funding back into its bank account.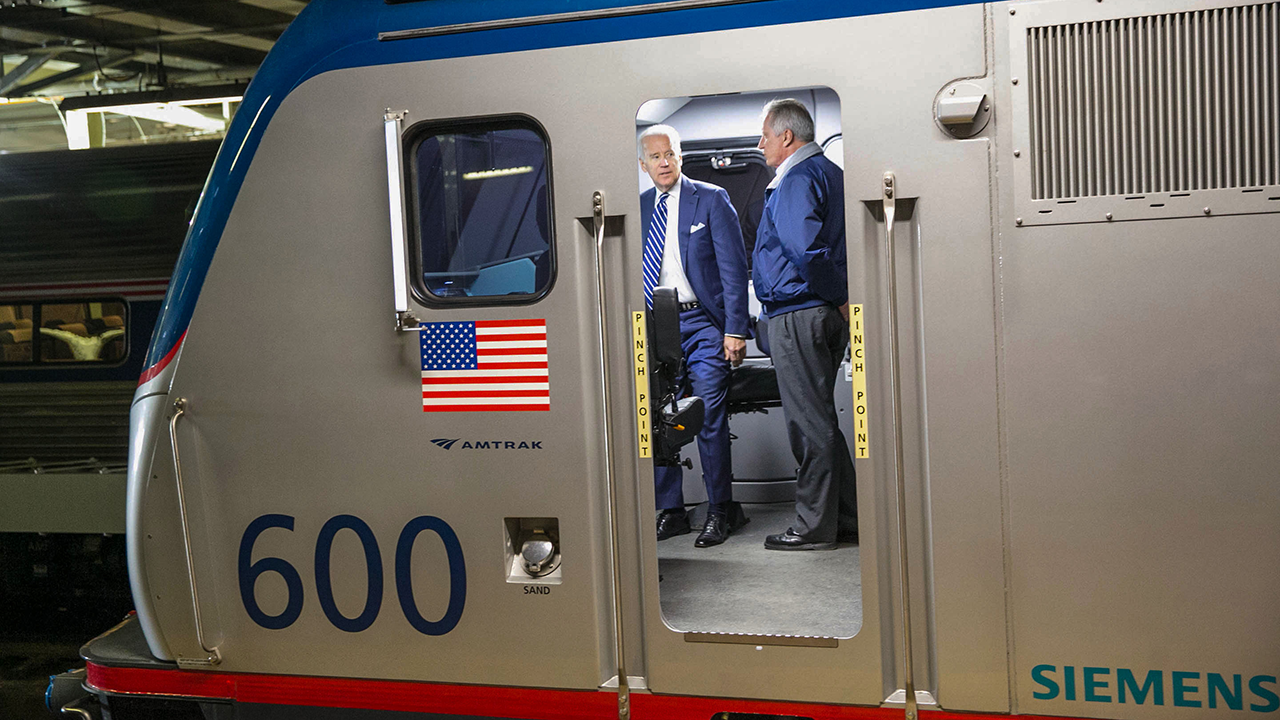 Above: President Joe Biden is famously train-friendly. Image courtesy of Siemens AG.
Land acquisition has also been a total nightmare. There are still hundreds of parcels of land needed to secure a 65-mile section in Kings County near Fresno. That's after construction has already begun on the route, which isn't exactly ideal.
Even once the Central Valley line is finished that'll represent just a fraction of the full system. The crucial connections to LA and San Francisco not even close to starting.
Those segments are currently stuck in the dreaded "environmental review" stage, and there's no real indication of how long that process will take or whether it will even lead to full approval.
And then if the green light is eventually given there's the small issue of raising all that extra cash to make it happen.
It's led some to label the project a "train to nowhere" - a system that ends up only serving the Central Valley.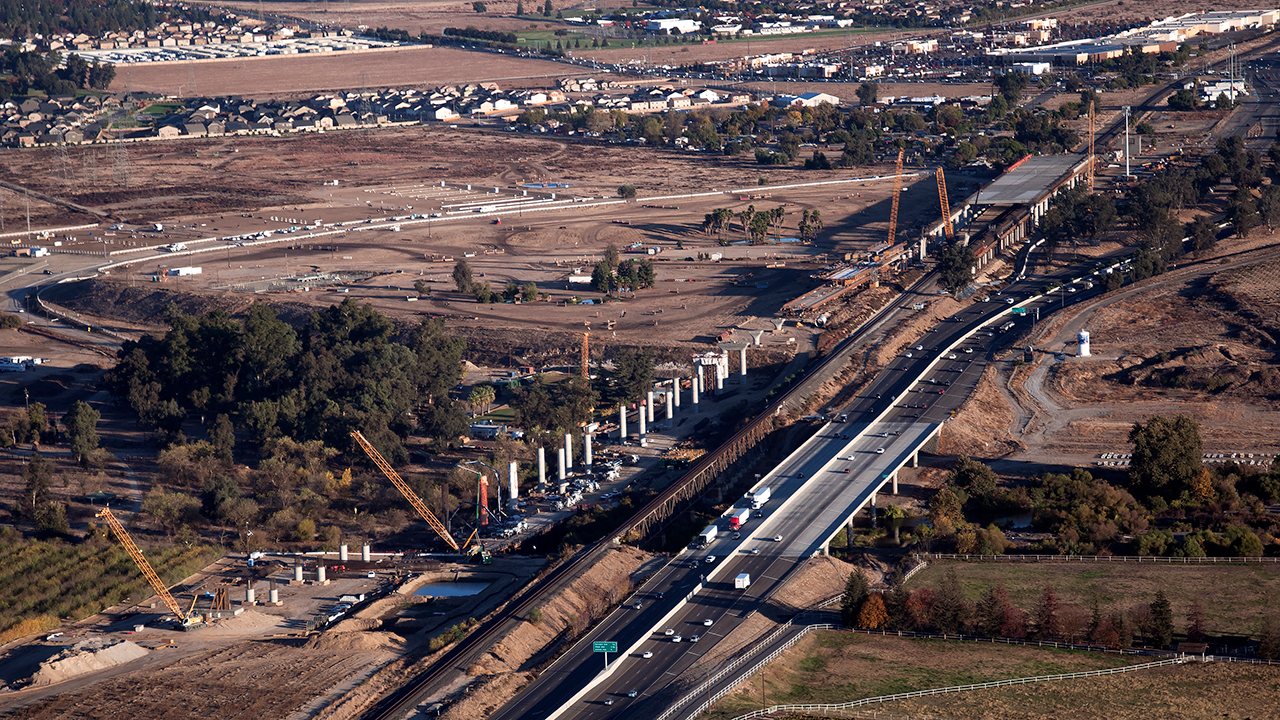 Above: Construction work is currently only being done in the Central Valley section. Image courtesy of California High-Speed Rail Authority.
Even California Governor Gavin Newsom criticised plans for the overall project in 2019, saying it would cost too much and take too long, blaming a lack of oversight and transparency.
He said: "Right now there isn't a path to get from Sacramento to San Diego, let along from San Francisco to LA. I wish there were."
The decision to appoint certain contractors has been called into question as well. According to the Los Angeles Times, one firm that promised $300M in savings by altering designs for the Kings County section ended up costing the project $800M in overruns, and those proposed changes have now been largely scrapped.
Despite all this - and with progress being closer to the pace of a snail than a bullet train - it's hard to ignore the benefits this project would bring if it is eventually finished.
It's not just about speed and efficiency - getting people out of their cars will be crucial to the US achieving the climate change targets set out by the Biden administration.
With the passing of a USD $1.7TN infrastructure plan, that has around $20BN earmarked for intercity rail, there is now cautious optimism about the future of high-speed projects across the US.
Although California's was the first to get going, it is not the only high-speed route that's planned, and it might not even be the first to finish. A high-speed line between Dallas and Houston could be up and running by 2026.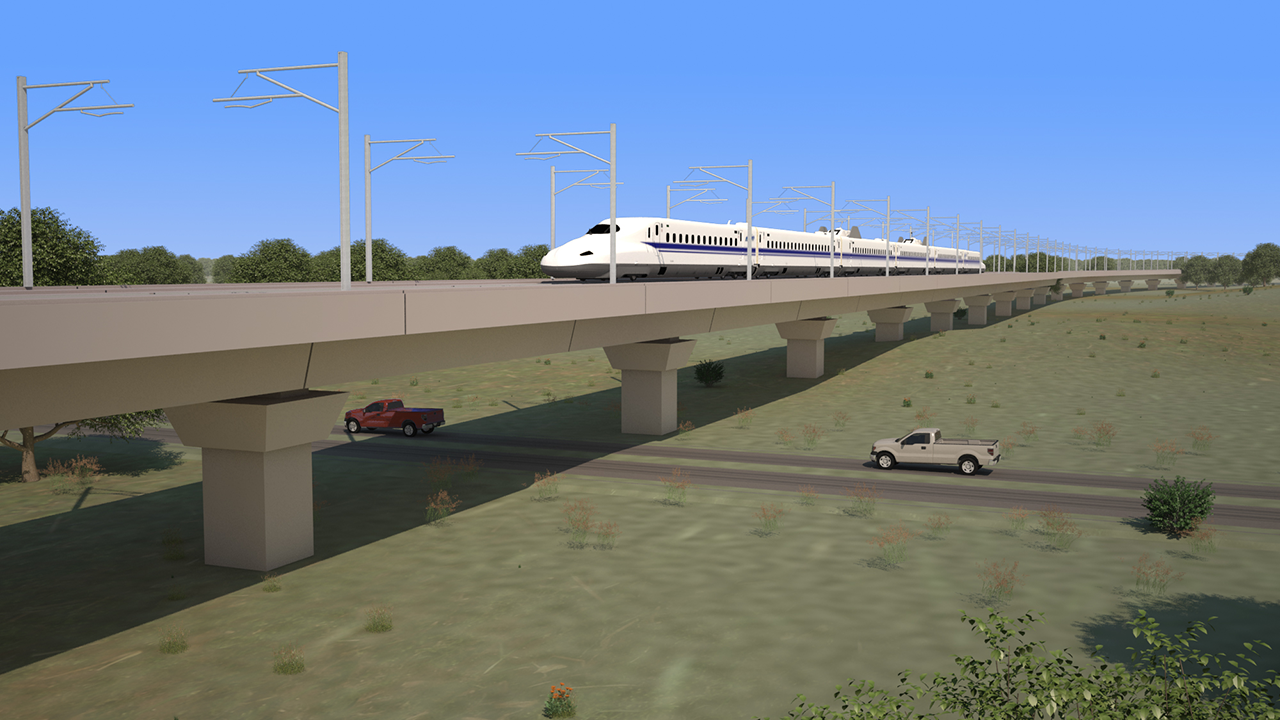 Above: Texas Central is one of several other US high-speed rail projects also being planned. Image courtesy of Texas Central.
There's also Brightline West - a fast connection between Victorville and Las Vegas, which is due to break ground in 2021 and would eventually join up with the Californian network. And private investors are also eyeing-up potential projects in Florida and Maryland.
Whichever comes first, and even if there are no further delays, America's first high-speed rail line is still years away - a stark contrast to what's happening in competing nations like China, albeit in a very different culture and political system.
Two thirds of the world's combined network can be found here and the Europeans aren't too bad at it either, outside of the UK.
While the US may have little hope of catching the others in this particular race, the completion of California's high-speed line – in whatever form it takes – would at least set the wheels in motion.
Narrated by Fred Mills. Footage and images courtesy of California High-Speed Rail Authority, Gage Skidmore/CC BY-SA 2.0, Google Earth, J. Stephen Conn/CC BY-NC 2.0, Lisa Ferdinando/U.S. Secretary of Defense/CC BY 2.0, National Railroad Passenger Corporation, Siemens AG, TTCI, Virgin Hyperloop and OpenStreetMap Contributers (https://www.openstreetmap.org/copyright).
We welcome you sharing our content to inspire others, but please be nice and play by our rules.
Comments
---