Infrastructure
How Atlanta is Tackling its Traffic Crisis
Youtube Views

321,649

VIDEO VIEWS
Video powered by Bluebeam and narrated by Fred Mills. This article and video contain paid promotion for Bluebeam.
IN 2019, drivers around Atlanta spent more than 80 hours stuck in traffic; generating pollution and frustration, while costing each of them over USD $1,200 on average.
The nightmare is typical of cities across the US, a country that's seen infrastructure investment as a share of GDP steadily fall, despite its population growing.
In the absence of a federal plan, Georgia's capital is now embarking on a multi-billion dollar push to fix its challenges.
But with a city to keep moving, a deep-rooted culture of driving, huge sites spread over several miles and the world's busiest airport on its doorstep - the task is not exactly straightforward.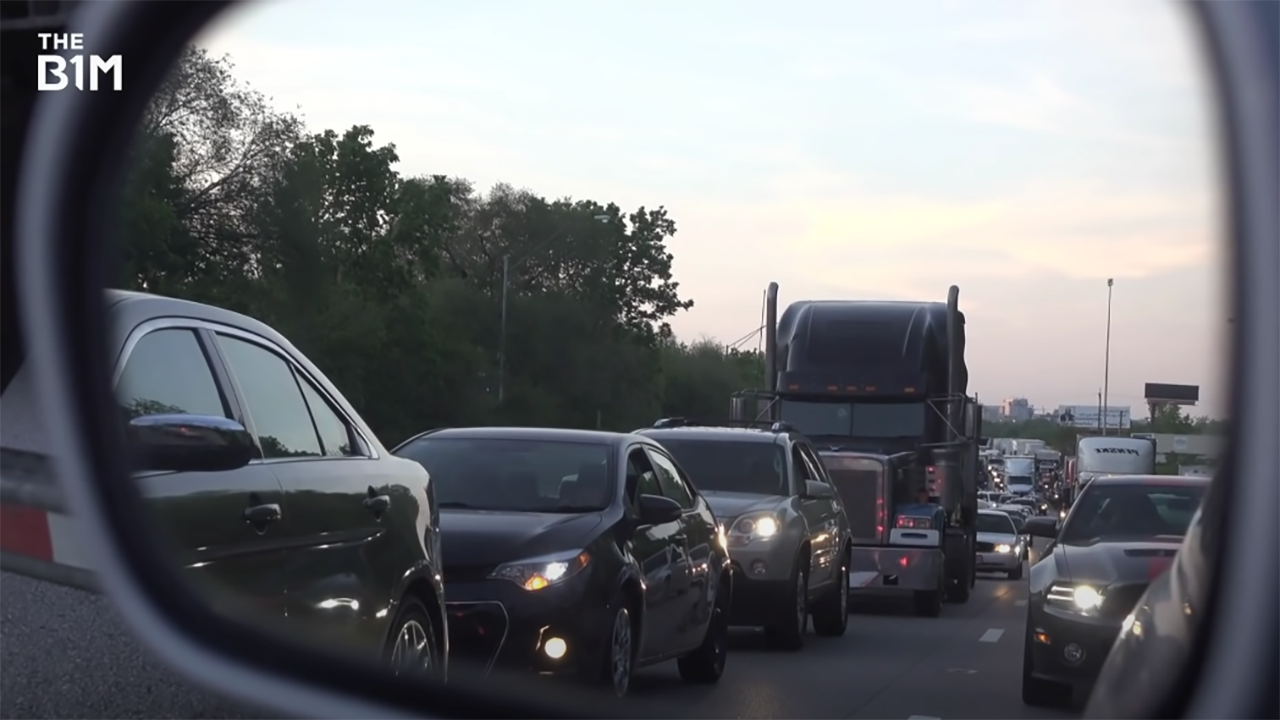 Above: Atlanta is one of the most congested cities in the US.
Right around the US, infrastructure is creaking.
Ageing airports, dams, rail lines and energy networks are in urgent need of upgrading or replacing altogether. Years of neglect have left some bridges on the verge of collapse while some outdated water systems are putting public health at risk.
22% of the country's roads are in poor condition and urban traffic congestion costs US cities billions of dollars each year.
Atlanta is one of the hardest hit centres and, with the city's population set to rise by three million people over the next 30 years, a new Regional Transportation Plan has been developed.
Investing over USD $170BN through 2050, the plan includes expanding the Streetcar network and building new rail lines while investing in cycling and walking routes.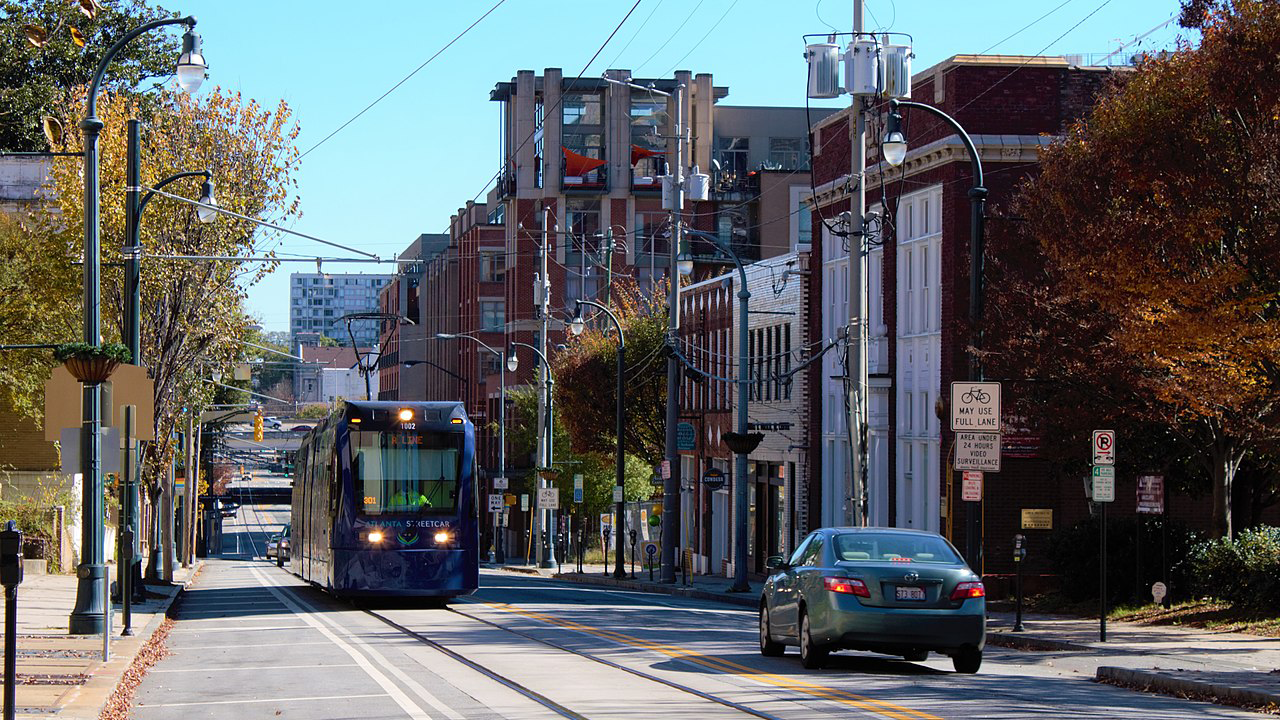 Above: Atlanta's new Regional Transportation Plan aims to give commuters more travel options than driving.
But many of these long-term projects are still awaiting funding or public support, so their effects won't be felt for years.
In the meantime, upgrades to some of Atlanta's heaviest traffic hotspots are alleviating some of the strain.
One of the biggest projects is an improvement to a northbound stretch of Interstate 75 - notorious for collisions - as it joins Interstate 285 south of downtown.
Sitting next to Hartsfield-Jackson, the world's busiest airport, the roadway is a key connection linking with the huge perimeter highway that surrounds the city centre.
General contractor Archer Western, part of The Walsh Group, is now midway through the USD $76M expansion, which involves widening and reconstructing parts of the busy section.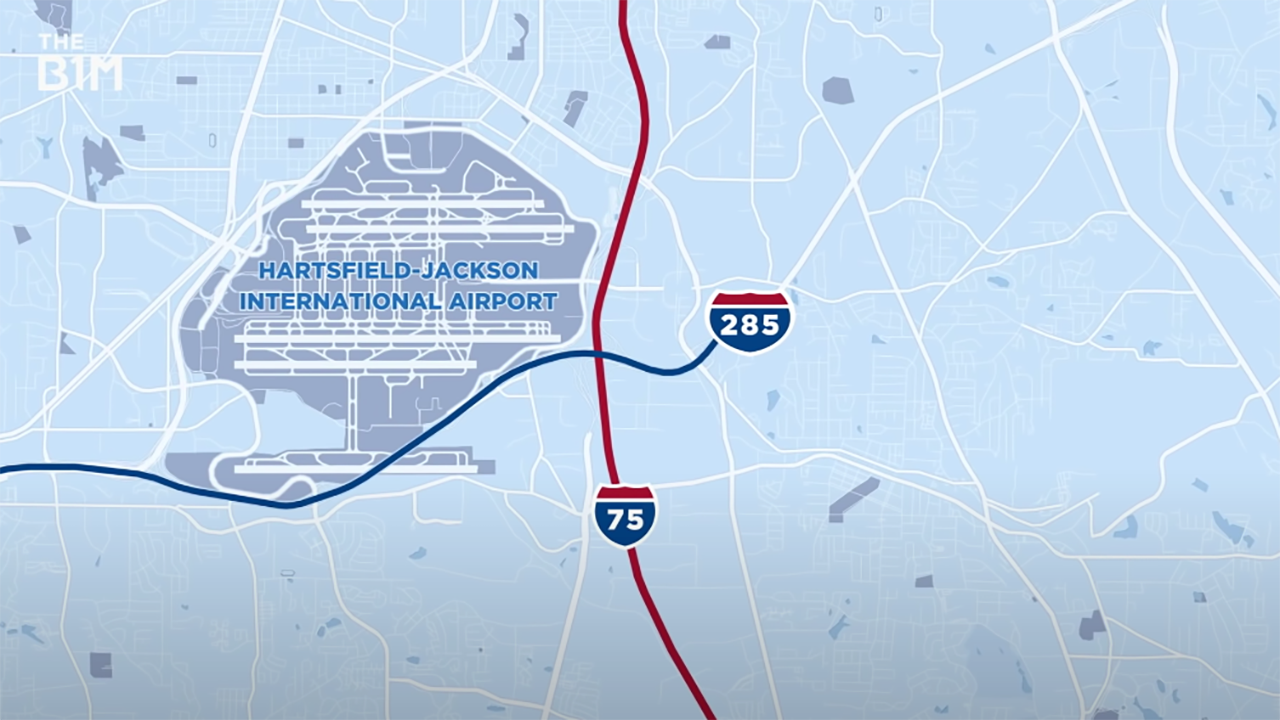 Above: The point where the two interstates meet has been a problem area for years. Image courtesy of OpenStreetMap Contributors.
"This particular stretch of road, and that interchange in particular, has long been an issue but obviously with massive population growth in Atlanta over the last 20 to 30 years it has become exponentially worse, truthfully," says Rob Bird, program manager at The Walsh Group.
"It's just gotten to a point where operationally it's severely outdated and needed this upgrade."
Heavy traffic is the norm around the intersection, mainly caused by vehicles weaving between lanes.
To fix this, new collector-distributor or "C-D" lanes are being put in, pushing these movements back from the junction.
Other changes include a new tunnel bridge and reconfigured ramps for joining traffic.
"This is several different kinds of retaining walls, we've got some subgraded foundation reinforcements we've got to do that are unique to this project because there's a lot of groundwater in this area," Bird explains.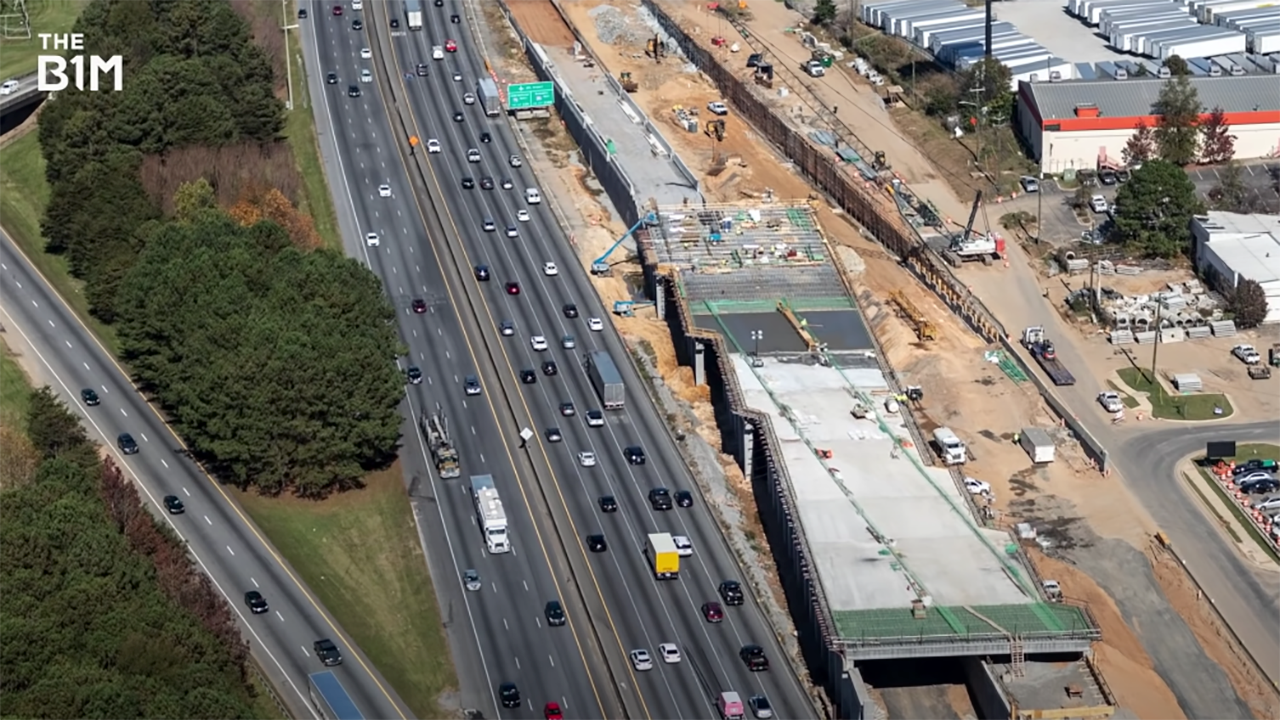 Above: The project's tunnel bridge. Image courtesy of Aerial Innovations Southeast.
"The actual bridge beams themselves are oriented perpendicular to the traffic. Typically they're put in parallel and the decks put on top but this one's kind of reverse."
All of this is happening on a site that's spread over several miles, and with the intersection in near-constant use throughout.
Even when road closures are possible, the team has to work to tight deadlines.
One ramp had to be entirely rebuilt in place over just one weekend so it was ready to reopen for rush hour traffic on Monday morning.
The project overall is being built to a much shorter schedule than normal, with no space for an on-site office. the team is forced to collaborate over huge distances.
Above: The team is forced to collaborate across huge distances. Image courtesy of Pablo Giraldo.
But digital technology is making a big difference.
Traditionally, plans would have been physically printed out and carried across the site - taking time, costing thousands of dollars in printing and running the risk of people building from the wrong information.
"Every superintendent probably would've had a stack five or six inches deep of paper in the back seat of their truck and then having to get them out on the hood or the tailgate, and then people from the office printing out new pages with any revisions," states Michael Gantt, project manager for The Walsh Group. "We've really eliminated all of this out of the field."
The team has done this by introducing a tablet-based system, built around Bluebeam Revu.
The software has made the team more productive, allowing superintendents and engineers to manage and mark up their documents on the move - instantly sharing comments and changes with a team spread over several miles.
"As a project manager my biggest fear is always having the incorrect set or the not most up to date set of plans out in the field and be building off of those, so using the Bluebeam platform we've really been able to mitigate those issues," claims Gantt.
I-75 is not the only job where The Walsh Group is going digital. The team at Miami's USD $800M Signature Bridge is using Bluebeam for document tracking and control, and the technology is supporting countless other transport projects across the US.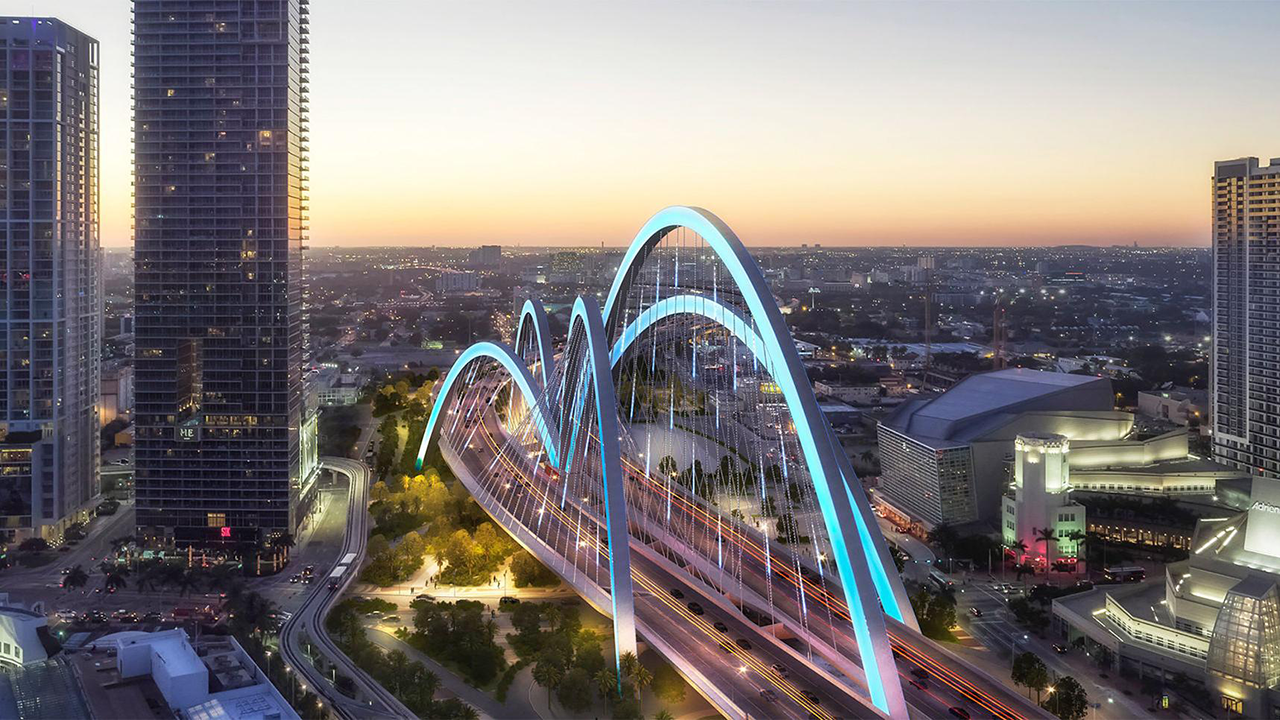 Above: The Signature Bridge in Miami will feature 100-metre tall illuminated arches. Image courtesy of Archer Western - DeMoya.
The challenge of upgrading America's infrastructure is now immense. With a repair bill estimated in the trillions, and difficult decisions to make about priorities, the country's new administration has its work cut out with this particular issue.
While the project in Atlanta might seem small in comparison, it's typical of the challenge that's about to be played out on vast sites across the US - and the approach of this expert team, using technology to plan and keep the city moving against the odds, is a powerful case study for us all.
See how Bluebeam is supporting the Walsh Group with Revu.
Narrated by Fred Mills. Our thanks to Bluebeam and The Walsh Group. Additional footage and images courtesy of Pablo Giraldo, The Walsh Group, Aerial Innovations Southeast, Alans1948/ CC BY 2.0, Archer Western - DeMoya and OpenStreetMap Contributors .

We welcome you sharing our content to inspire others, but please be nice and play by our rules.
Comments
---