Infrastructure
Mumbai's $1.7BN Coastal Road Explained
Youtube Views

1,329,996

VIDEO VIEWS
Video hosted by Fred Mills.
MUMBAI is one of the world's most congested cities.
A simple commute here can mean spending hours stuck in traffic or on overcrowded trains. To tackle this, India is taking on one of its most ambitious infrastructure projects yet.
To build a new eight-lane highway along the coast, Mumbai is reclaiming land from the sea, digging underwater tunnels and constructing a roadway on stilts.
"These are intended to be spectacles, monumental achievements that residents can take pride in and identify with," University of Pennsylvania Professor Nikhil Anand said.
But for all its ambition, the project has faced just as much criticism, protest and legal challenges.
This is the USD $1.7BN highway that's transforming Mumbai's coastline.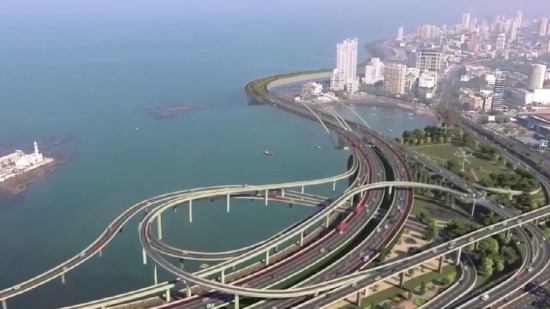 Above: A rendering of the Coastal Road Project. Image courtesy of Municipal Corporation of Greater Mumbai.
From a population of just 3 million in 1950, Mumbai has exploded. It's now home to more than 20 million people and the city's infrastructure is struggling to keep up.
Today, its suburban rail system is one of the busiest yet deadliest in the world. Roads can get so bogged down with cars, bikes and buses that it can take hours to commute from South Mumbai to the Western suburbs.
In 2011, an Indian politician revived an idea that was originally explored by American consultants in the 1960s – build a road in the sea along the coast of Mumbai.
Plans for the cleverly named "Mumbai Coastal Road" have faced opposition from the start. Environmental activists say the construction will cause ecological damage to marine life. And local fisherfolk have raised concerns that the highway will impact fishing activity and their livelihoods.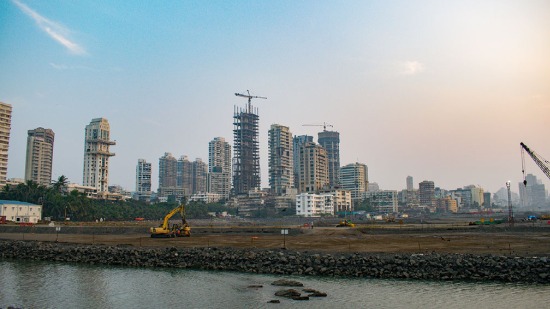 Above: Land reclamation on Mumbai's coast. Image courtesy of sajeev_here
Still, the proposal was officially approved in 2015 and construction began three years later in 2018. Despite legal battles and a temporary halting of work, construction has pushed on and Phase One is now expected to be complete in 2023.
In all, the road will stretch 29 kilometres from Marine Drive in the South to Kandivali in the North.
The first phase of the project will span 10 kilometres beginning at the promenade of Marine drive to the Bandra-Worli Sea Link.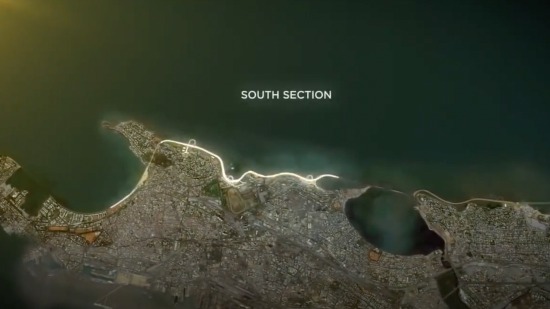 Above: The planned route for the first phase of the Coastal Road Project. Image courtesy of Municipal Corporation of Greater Mumbai.
In this section, Mumbai is building 111 hectares of new land in the Arabian Sea – a tactic that's been used to build the city for centuries.
"It first started with reclamation by the British when they were given Mumbai by the Portuguese some many hundred years ago, and so much of the city's central regions have been made dry through reclamation projects conducted historically over time over the last two or three centuries," Professor Anand said.
In 1991, regulations were put in place that actually prohibited any new reclamation, but the government amended the rules for this project.
Now, it's Mumbai's largest reclamation effort in the last 50 years.
Turning ocean into land is typically done by filling the water along the coastline with heavy rocks or cement then filling the space between with clay and soil.
As of July 2021, about 90% of the land reclamation work for the coastal road was complete.
Now in any location, coastal construction is a risky process that disrupts natural habitats - but in Mumbai, a city already plagued by heavy rainfall and floodwaters, the risk may be even higher.
"There is a concern that in the absence of studies to look at the interaction between rain infrastructure and sea level rise that the city is setting up, setting up the conditions for natural disaster in the present and in the near future," Professor Anand said.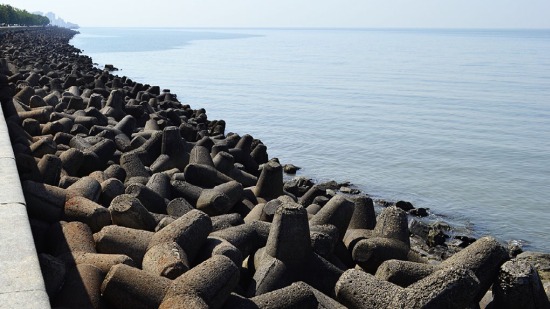 Above: Concrete tetrapods used along the coast to help protect the land from waves . Image courtesy of Vitalii Karas.
As the project progressed, the municipality said it needed to reclaim more land than originally proposed in order to build a 7.5 kilometre long sea wall that will help protect the new road from sea waves, floods and erosion.
The government says the sea wall is being built with eco-concrete technology from Israel, which will preserve marine biodiversity and create protection from coastal erosion. The city is also placing concrete tetrapods along the coastline to help protect it from waves.
Still, in 2019 a big portion of the newly reclaimed land was washed away during a cyclone. According to The Indian Express, on-site engineers are still working to rebuild it.
If the project weren't complicated enough, a set of twin tunnels is also being dug out beneath some of Mumbai's most expensive real estate.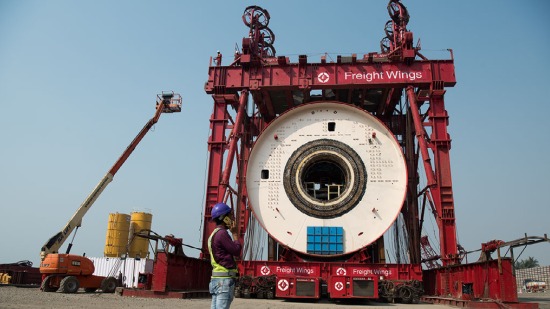 Above: The tunnel boring machine being used on the project is India's largest. Image courtesy of Manoej Paateel
That's all made possible by Mavala - a 2,300 tonne, 12 metre wide tunnel boring machine that was manufactured in China and is the largest bit of kit of its kind in India.
When complete, the tunnel will run for just over two kilometres, with roughly a kilometre running underwater before connecting to a road overland. That road will then eventually link to a new interchange at Haji Ali, one of 13 interchanges planned for the route.
There's also a 2,100 metre long bridge that's built on 176 single pillars using a mono-pile system. Typically four pillars are built as a group, but officials say using single large columns will save money and interfere with less of the seabed.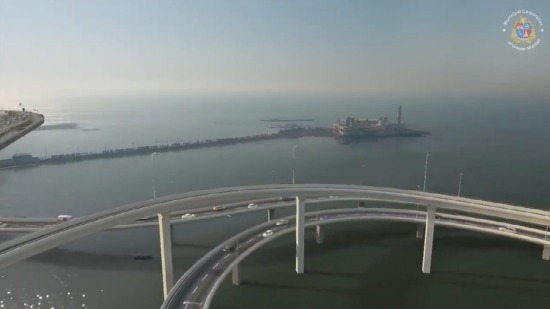 Above: A rendering of the elevated roadway above the water. Image courtesy of Municipal Corporation of Greater Mumbai.
Phase one also includes underground car parking and 70 hectares of green area with pedestrian walkways, parks and promenades – much of it on the newly reclaimed land.
Officials project the new highway will be used by 130,000 cars a day, and that it will reduce travel time from more than 2 hours to just 40 minutes. But Professor Anand says the project will serve just 3% of the population, as most people tend to use public transit or walk.
Mumbai's municipality has so far not responded to our request for comment on criticisms of the project.
While the Mumbai Coastal Road Project is India's most ambitious highway project to date – it's far from the last. The country actually has at least 23 new expressway and highway projects set to complete by 2025.

But as India continues to develop, it'll need to invest in more than just roads and sea links.
"There's a power of these symbols and dreams of modernity, of high speed, of flow," Professor Anand said.
"Mumbai simply does not have the space for everyone to drive fast in a car, no matter what the city does. But to get the dream, powers develop real estate and infrastructure and construction in such a way to make some semblance of the dream real for some, at great cost for many others."
Mumbai's Coastal Road project is a bold show of what India is capable of when it comes to construction but also of the challenges and debate that surrounds complex projects like this in congested cities around the world.
Building a road in the ocean was never going to be easy, but once again engineers in this remarkable industry are making the seemingly impossible happen.
Narrated by Fred Mills. Special thanks to Professor Nikhil Anand and The DomRunner. Additional footage and images courtesy of Mumbai Coastal Road Project, Brihanmumbai Municipal Corporation, Sara Anand, Save Our Coast, sajeev_here, Manoej Paateel, yvasa, Vitalii Karas and OpenStreetMaps.

We welcome you sharing our content to inspire others, but please be nice and play by our rules.
Comments
---