CITIES
India's $90BN Infrastructure Project
Youtube Views

395,801

VIDEO VIEWS
THE Delhi-Mumbai Industrial Corridor (DMIC) Project may not be something you have heard of before, but this infrastructure development is projected to change the way India does business, and put the world's second most populous country on the map for reasons other than its colossal number of inhabitants.
This development is expected to cost USD $90 billion and will be the largest infrastructure project in Indian history. The nucleus of the concept is the Western Dedicated Freight Corridor, multiple train lines which will run from India's capital Delhi through six regions of the country up to the blossoming financial hub, Mumbai. Transit time between the two mega cities will be reduced from 60 to 36 hours once the corridor is up and running.
Inspired by the only country in the world with a higher popular, China, India wants to radicalise its poor and underdeveloped communities and transform them into bustling cities renowned for their manufacturing prowess. India has a lot of people within it, and now the Government want to prove how talented these people are.
The 1,483km corridor will be implemented by Delhi-Mumbai Industrial Corridor Development Corporation, a group made up of the private sector and the government. A close-knit venture like this will keep both the government and business sector happy, whilst creating 100 million jobs, with the plan being to get those in poverty into skilled work.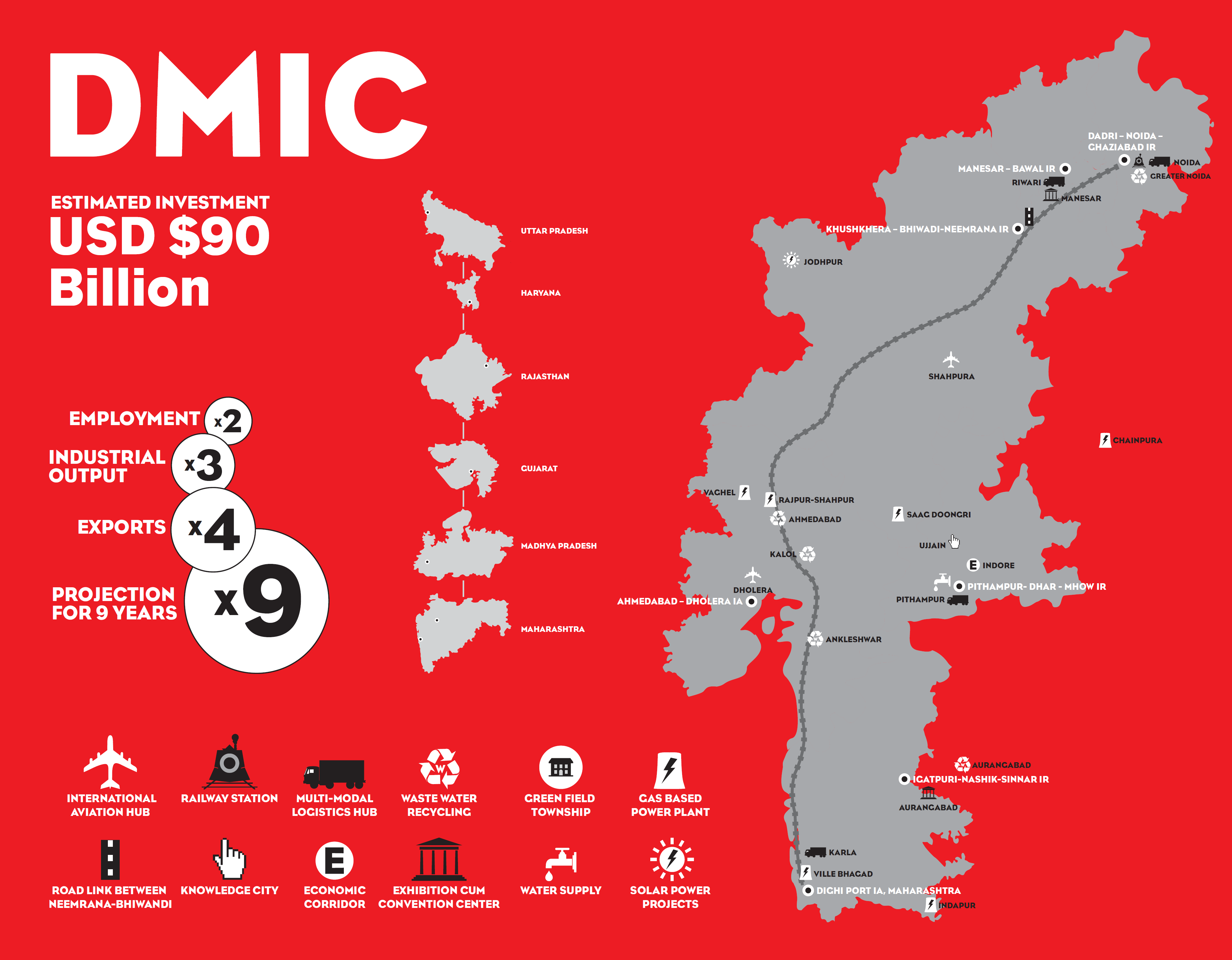 Above: This infographic demonstrates the extent of construction works and the intended outcomes of the Delhi-Mumbai Industrial Corridor (graphic courtesy of DMIC).
25 tonne High Axel Load Wagons will venture up and down the rail links, stopping off at 24 'nodes', areas currently in development. These nodes may be new industrial areas or completely brand new cities that will occupy some 350 million people who are predicted to transition to city life within the next 10 years. The Gujarat region will house more nodes than any other, with 5 and is predicted to specialise in manufacturing chemicals and textiles.
BIM has been mandated by the government for the construction of one of the cities that will service the corridor; Dholera. Named after the town that currently sits within the development region, the BIM work carried out so far has been nominated in Bentley's Be Inspired Awards.
Above: A major new "smart city" is set to be constructed at Dholera (image courtesy of DMIC).
In addition to the development of manufacturing metropolises and a game-changing rail network, a new water and sewage treatment system will be developed with help from Singaporean experts, nine new ports (6 air and 3 sea) will be created to send India's produce to market, an abundance of new highways will be laid down to connect cities old and new, and a 4000 MW power plant will ensure the country has enough resources to propel itself towards global success. No pressure to get this right, then.
The Delhi-Mumbai Industrial Corridor Project looks to double the number of citizens in employment, triple industrial output, and quadruple exports from the region, all within five years.
"The project looks to double the number of citizens in employment, triple industrial output, and quadruple exports from the region within five years"
An idea born from within a leader the people believe in, backed by other nations who see its potential, this infrastructure beast may not be something you have heard of until now, but come 2019, everyone will recognise its importance as India advances within the global business ranks.
Learn more about this project, including its backing from Japan, in The Daily Conversation's video above.
WATCH NEXT: EXPANDING ABU DHABI INTERNATIONAL AIRPORT WITH BIM
Do you have a great video to share or original footage that you would like us to publish? Submit here.
We welcome you sharing our content to inspire others, but please be nice and play by our rules.
Comments
---