CITIES
Seattle's $54BN plan to save its public transit
Youtube Views

1,076,223

VIDEO VIEWS
Video powered by Autodesk and hosted by Fred Mills. This video and article contain paid promotion for Autodesk.

SEATTLE has become one of the most attractive cities in the United States.
The tech boom has helped bring in some 1,000 new residents every week. Of course, all those new Seattleites need a way to get around, and things are getting crowded.
In response, the city has been expanding its rail system, and fast. The latest project, Sound Transit 3, will invest $54BN over the next 25 years to expand the network five-fold.
With the passage of the $1.2 trillion Bipartisan Infrastructure Bill, American cities are getting a chance to rethink their public transit systems with fresh infrastructure funding.
And Seattle's expansion might be the country's most ambitious project yet.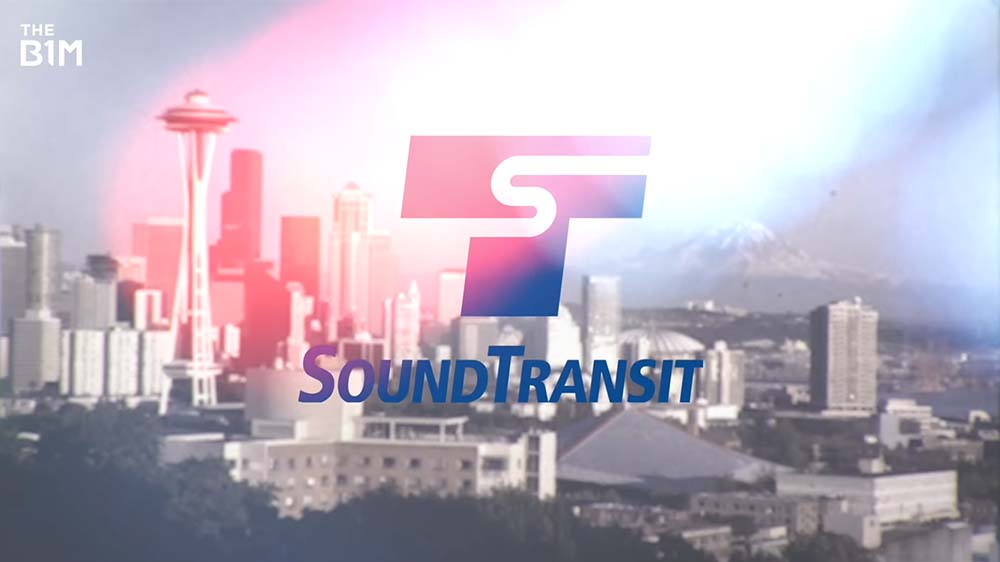 Above: Sound Transit is the public transit agency responsible for Seattle's light rail.

Seattle is home to some of the biggest companies in the US — from Amazon to Microsoft and Starbucks. And its population is growing fast.
Between 2010 and 2020, Seattle's population went up by 21 percent, making it one of the fastest growing cities in the country. By 2040, another 800,000 people are expected to join the city.
That's been good for Seattle's economy, but progress like this also comes with growing pains. Before the pandemic, Seattle's traffic congestion had become some of the worst in the country. And as the population has grown, housing prices have been rising too.
That's made it hard to find construction workers that aren't already building new housing. And the workers that private firms can find face the challenge of getting their own affordable place to live in the city.
"Seattle is growing really, really rapidly, it's one of the fastest growing cities in the country," Eno Center for Transportation policy director Paul Lewis said.
"Tremendous population gains put pressure on existing housing supply. And so that is both an opportunity for transit, but also a challenge."
Enter Sound Transit. Established in 1993, the regional transit authority has been building out Seattle's public transport system for decades.
The first phase of the long-term vision, called Sound Move, was approved by voters in 1996.
Then in 2008, voters approved a new 15-year, 36 mile expansion called Sound Transit 2.
Most recently in 2016, a 25-year expansion and upgrade plan called Sound Transit 3 got the go-ahead — and some of that campaign's largest donors were Microsoft, Expedia and Amazon.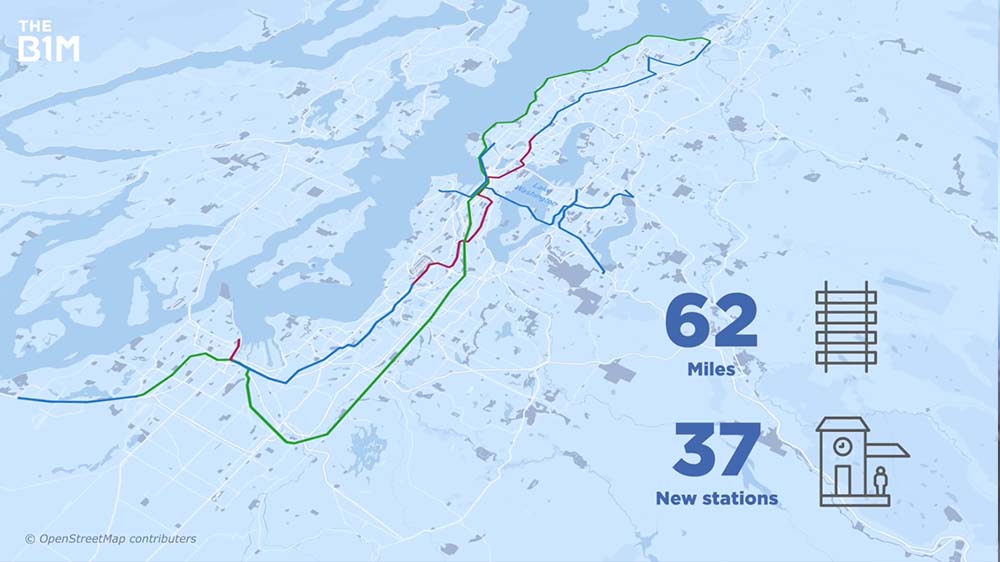 Above: Seattle's ST3 expansion is among the most ambitious in the US.

Stretching across the greater Seattle region, ST3 will add 62 miles of new tracks and 37 new stations, with new services opening every few years. When it's fully complete, the current rail network will be five times its current size, making it comparable to those over in Chicago and Washington DC.
It's going to take a huge team of construction and engineering professionals to make this a reality. Sound Transit estimates ST3 will require 43 million hours of labour through 2041.
Seattle is full of lakes, mountains, sea and forests. All great things if you want to spend time outdoors, but not so great if you're trying to build a train line. While some tracks are on ground level, the expansion will have engineers tunnelling through complex soils and constructing elevated tracks and water crossings.
Like over this giant lake. Sound Transit is installing a light rail line on top of a floating, moving bridge. Engineers are adapting the tracks to the bridge's movement, and ensuring that its steel anchors will be protected from corrosion by the water.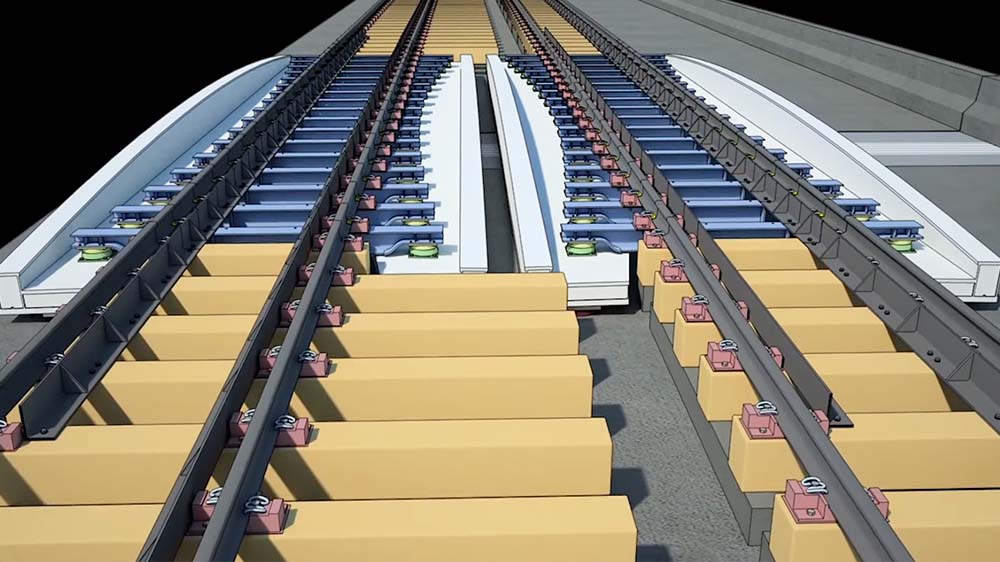 Above: Sound Transit is building light rail tracks atop a floating, moving bridge. Image courtesy of Sound Transit.

In areas with a higher risk of earthquakes, the elevated tracks will have to be built to a higher standard to meet rigorous safety codes.
Now, all those new tracks will require a lot of new trains, and Sound Transit is working with German manufacturer Siemens to triple its light rail fleet by 2024.
All of which comes at a cost. Typically in America, public transit is paid for by a mix of federal, state and local funding and revenue from local taxes.
Seattle is somewhat unique in that some of its past transit projects have come in under budget and ahead of schedule. But Sound Transit 3 is happening at this wonderful moment in history where it'll face rising construction costs, a labour shortage and of course the pandemic.
The original plan called for a nearly $54 billion budget, roughly half of which would come from new local taxes. Sound Transit said that would cost the typical adult about $14 a month.
"There's always going to be a risk on the revenue side, but there's also risk with pretty much any tax that you put on," Lewis said.
"There's a lot of different approaches. And so you kind of have to pick the one that has the most political appeal and move forward with that."
Since the project's approval, the pandemic has caused local tax revenue to fall, denting the overall budget. On top of that, rising land values have made it more expensive to acquire space for new tracks and stations, eating into the money even further.
By summer 2021, Sound Transit was facing a $6.5BN budget deficit, so it came up with a new realignment plan that delayed some projects by 2-5 years.

Above: Autodesk Build helps keep projects like this one on track. Image courtesy of Autodesk.
With taxpayers and major corporations counting on the success of this project, staying organised across multiple generations of stakeholders is going to be key.
That's where tools like Autodesk Build come in. It's an end-to-end construction management tool that's intuitive and easy to use.
For long-term projects like ST3, something like this isn't just nice to have, it's essential.
Autodesk Build is accessible from anywhere. You can download project plans to your device to access information while away from Wi-Fi and cell coverage.So teams in the office can be working off the same plans as the teams tunnelling deep underground.
As more and more cities start undertaking projects funded by the US infrastructure bill — and try to minimise the disruption to the lives of their citizens as they do it — cloud-based platforms like this are only going to become more important.
The new bill sets aside $39BN for public transit. It's an historic investment in transit, but it's not enough to fix all of the country's issues.The American Society of Civil Engineers estimates there's currently a $176BN transit backlog.

Building public transit, especially rail, in the US is expensive. Eno Center for Transportation found that the US pays more and takes longer to complete rail transit projects than its international counterparts.
"I feel like we have to make some big changes," Lewis said.
"The costs of transit in this country have frankly become a little unsustainable. And when we're faced with this huge economic and environmental and social equity crisis on three fronts. Transit is a huge element and addresses all three of those things."
Of course, federal funding alone isn't enough. And there's no simple fix to making public transit more efficient and affordable in the US. It'll take a mix of changes to planning, governance, standards and focusing on the long-term public benefit to get the most out of transit projects.
Sound Transit gives Seattle a chance to rethink the way we build transport and set an example for other cities across America at this critical moment.
This video contains paid promotion for Autodesk. Teams use tools like Autodesk Build to streamline projects like this, see how.
Video presented and narrated by Fred Mills. Special thanks to Paul Lewis and Eno Center for Transportation. Additional footage and images courtesy of Sound Transit and CSPAN.
We welcome you sharing our content to inspire others, but please be nice and play by our rules.
Comments
---