Cities
Grand Central's $11BN Underground Expansion
Youtube Views

1,328,456

VIDEO VIEWS
Video powered by Bluebeam and hosted by Fred Mills. This video and article contain paid promotion for Bluebeam.
IT'S HARD TO tell if you're walking by, but one of the largest transportation projects in the US has been happening 14 storeys below Manhattan's Park Avenue.
For the last 15 years, construction crews have been blasting, boring and building an entirely new concourse beneath the iconic Grand Central Terminal, all without shutting down service.
The East Side Access Project is the largest new train terminal to be built in the US since the 1950s, with eight miles of tunnelling and 40 miles of new tracks.
Constructed in the middle of the city that never sleeps, the USD $11BN megaproject's challenges, and price tag, have been immense.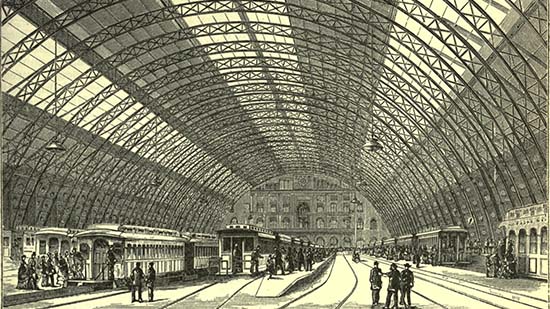 Above: Grand Central Depot in 1879. Image courtesy of The American Cyclopædia.
When Grand Central Depot first opened in 1871, it served just three rail lines. A number of renovations later, Grand Central Terminal is now home to 44 platforms with 67 tracks, and an 88,000 square foot concourse that hosts the occasional movie set.
The idea for the East Side Access Project, connecting the Long Island Railroad to Grand Central, first came about in the 1960s.
In 1969, construction began on a four-track double decker tunnel connecting Queens and Manhattan. The top level was eventually used for a subway line, but the bottom level has sat dormant for three decades just waiting for the East Side Access project's completion.
After a lifetime of delays and now billions over budget, major construction work on the project is finally complete and the grand opening is planned for 2022.
162,000 people are expected to use the new terminal every day, reducing commutes by up to 40 minutes. That's on top of – or technically below – the 750,000 who normally visit Grand Central each day, in pre-pandemic times.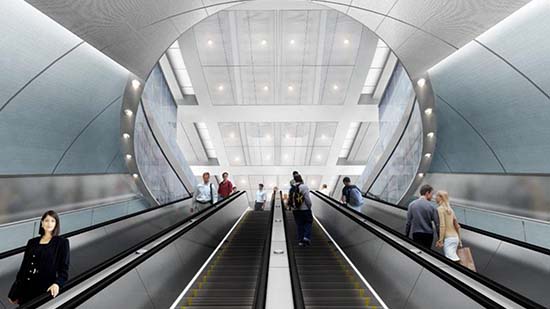 Above: A rendering of the new escalator wellway. Image courtesy of the Metropolitan Transportation Authority (MTA).

"I was here when there was nothing created underground, there was no space available, there was just virgin rock, and now there's a city underground," AECOM Project Executive Michael Pujdak said.
Pujdak has worked on the East Side Access Project for 19 years, and he's seen firsthand how complicated it is to build under some of New York's most expensive real estate.
One strategy they used is to build straight under the middle of Park Avenue to avoid the foundation of existing buildings.
"So all the work in the underground that we built and these networks of tunnels are about one hundred and fifty feet below Park Avenue," Pujdak said.
"We're down below the existing foundation, along the alignment and we're also down below any of the active New York City transit structures that we have."
Roughly 3,000 blasts were done beneath the terminal to make space for the new caverns. At first the crew worked around the train schedules at night, scheduling blasts anywhere from 1-3am.
Eventually the crew was allowed to blast during the day while trains continued to run above.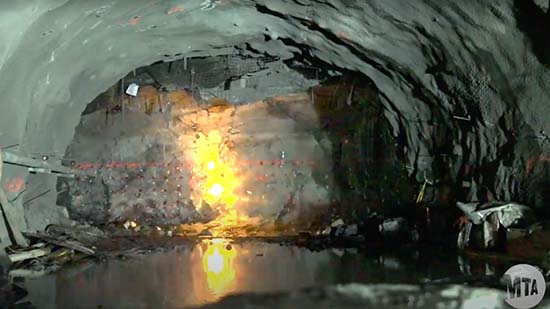 Above: A production blast to make space for the new station caverns. Image courtesy of MTA Construction and Development.

But because Grand Central Terminal is so busy, they couldn't bring their materials in through the street, so they travelled into the site via rail lines from the Bronx and Queens.
Because the geology of the tunnelling points were so different, two different types of tunnel boring techniques were used to create the double-decker twin tunnels.
"In Manhattan you had the challenges of hard rock, some shear zones that you had to mine through, as well as the blasting coordination," Pujdak said.
"On the Queens side you had ground treatment that had to be done, and you're mining underneath an active railroad."
Since there was no exit point for the TBM, they actually pulled the machine back out the way it came and backfilled part of the tunnel with concrete.
In the end, 1.5 million yards of rock was cleared out of the tunnels back to Queens. That's enough to cover the entirety of Central Park and then some.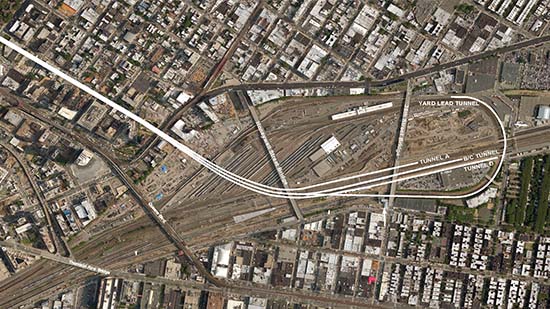 Above: A map of tunnelling work through Harold Interlocking. Image courtesy of A Modern LI.

Perhaps the most complicated part of the project was expanding Harold Interlocking, the busiest railroad junction in the country.
More than 700 trains pass through here everyday, and a series of switches enables them to move from one track to another.
To give the Long Island Railroad trains access to the new terminal, an entirely new interlocking needed to be built to add a third track into the mix – again, all without disrupting service.
When it opens to the public in 2022, Grand Central's newest terminal will feature eight new tracks, four passenger platforms, mezzanines, a 350,000 square foot passenger concourse and 25,000 square feet of new retail space.
"We're going to step away from this program where we're going to have enhanced a landmark like Grand Central," Pujdak said.
"We built a whole city below ground that had never existed, that's pretty rewarding."

The East Side Access Project has been a long time in the making. And as with building anything in New York, it's often just as much of a political feat as it is a logistical one.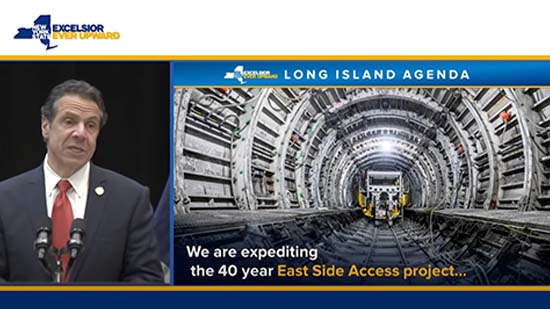 Above: New York Governor Andrew Cuomo speaking about the East Side Access Project in 2019. Image courtesy of the office of Governor Andrew M. Cuomo.
At a press conference back in 2019, New York Governor Andrew Cuomo said, "we're going to finish this if I have to go down there with a shovel myself, we are going to get this done so help me, God."
Throughout the decades, people have questioned why the project has taken so much time and money. A recent Vox analysis found that the US has some of the highest costs in the world when it comes to rapid-rail transit.
But in New York those costs are even higher. At one point, one of the East Side Access tunnels cost $1 million per foot.
By the end, the budget had ballooned from early estimates of $2.2BN in the late 90s, to $11BN.
New York's Metropolitan Transportation Authority (MTA) has said its high construction costs can be explained in part because of ageing utilities, expensive land, strict regulations and a high density.
Rail work in New York City is far from over.
The $11.6BN Hudson Tunnel project on the other side of Manhattan has been trying to get off the ground - or rather, through the ground - for years.
And the subway system is in need of repair across the network.
We're not sure this new terminal will be as iconic as the one upstairs, but building an entirely massive new bit of infrastructure like this under one of the world's busiest cities is no small accomplishment.
And if you ever find yourself strolling down Park Avenue through the rows of luxury buildings, just know the most expensive property might actually be below your feet.
This video was kindly powered by Bluebeam. See how Bluebeam is helping teams upgrade America's infrastructure.
Narrated by Fred Mills. Special thanks to Michael Pujdak and the Metropolitan Transportation Authority (MTA). Additional footage and images courtesy of A Modern LI, MTA Construction and Development, the Office of Governor Andrew M. Cuomo and Amtrak.
We welcome you sharing our content to inspire others, but please be nice and play by our rules.
Comments
---