Infrastructure
Nord Stream 2: The $11BN Megaproject That's Dividing Europe
Youtube Views

1,526,952

VIDEO VIEWS
Video hosted by Fred Mills.
IF YOU'RE based in Europe then you might have noticed your heating bills going up by quite a bit lately.
The continent is in the grip of an energy crisis caused by rising demand, gas supplies that are lower than normal and a shortage of renewable power.
But there's hope. One huge construction project has just completed which could, in theory, help solve the issue straight away.
This is no ordinary energy scheme. It's not a power plant or hydroelectric dam; instead, it's something that at first glance seems a little more basic. And yet it's one that is impacting millions of people, creating tensions between some of the world's most powerful countries and continuing to make global headlines.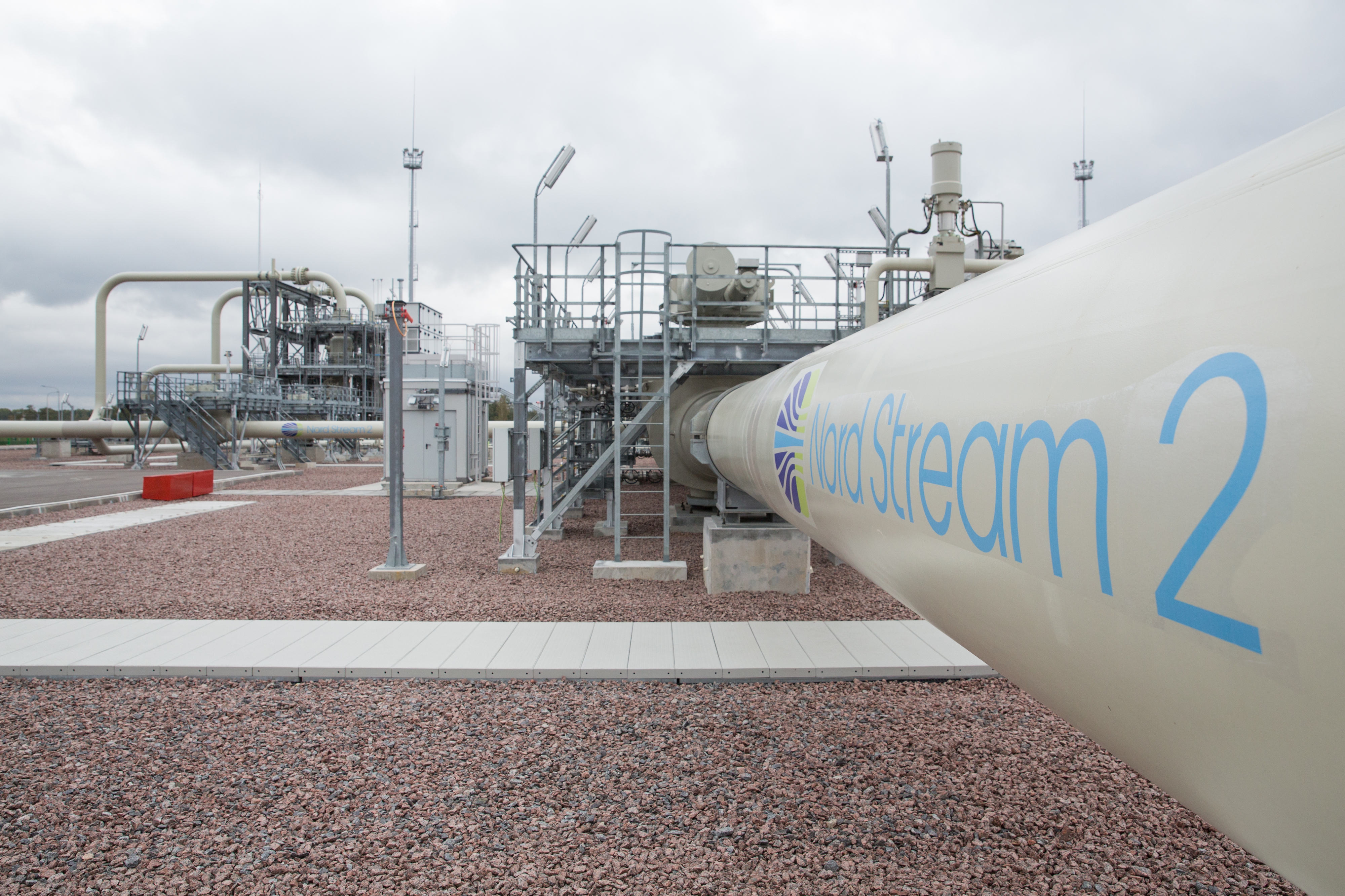 Above: The Nord Stream 2 project has made global headlines. Image courtesy of Nord Stream 2/Nikolai Ryutin.
Now, we know what you're thinking - why has The B1M done a video on a pipe? Well, there's quite a bit more to it than that.
Nord Stream 2 is a brand new pipeline that will bring an additional source of natural gas from Russia to mainland Europe via Germany.
Having another supply of this fuel at a time when it's becoming ever-more scarce sounds ideal, but there's a problem.
It's all built and fully plumbed in, but they've had a bit of trouble turning the tap on, so to speak. Before we get into the details, let's rewind a bit.
Running parallel to the original Nord Stream line built almost a decade ago, the $11BN Nord Stream 2 stretches over 1,200-kilometres and crosses the economic zones of five countries.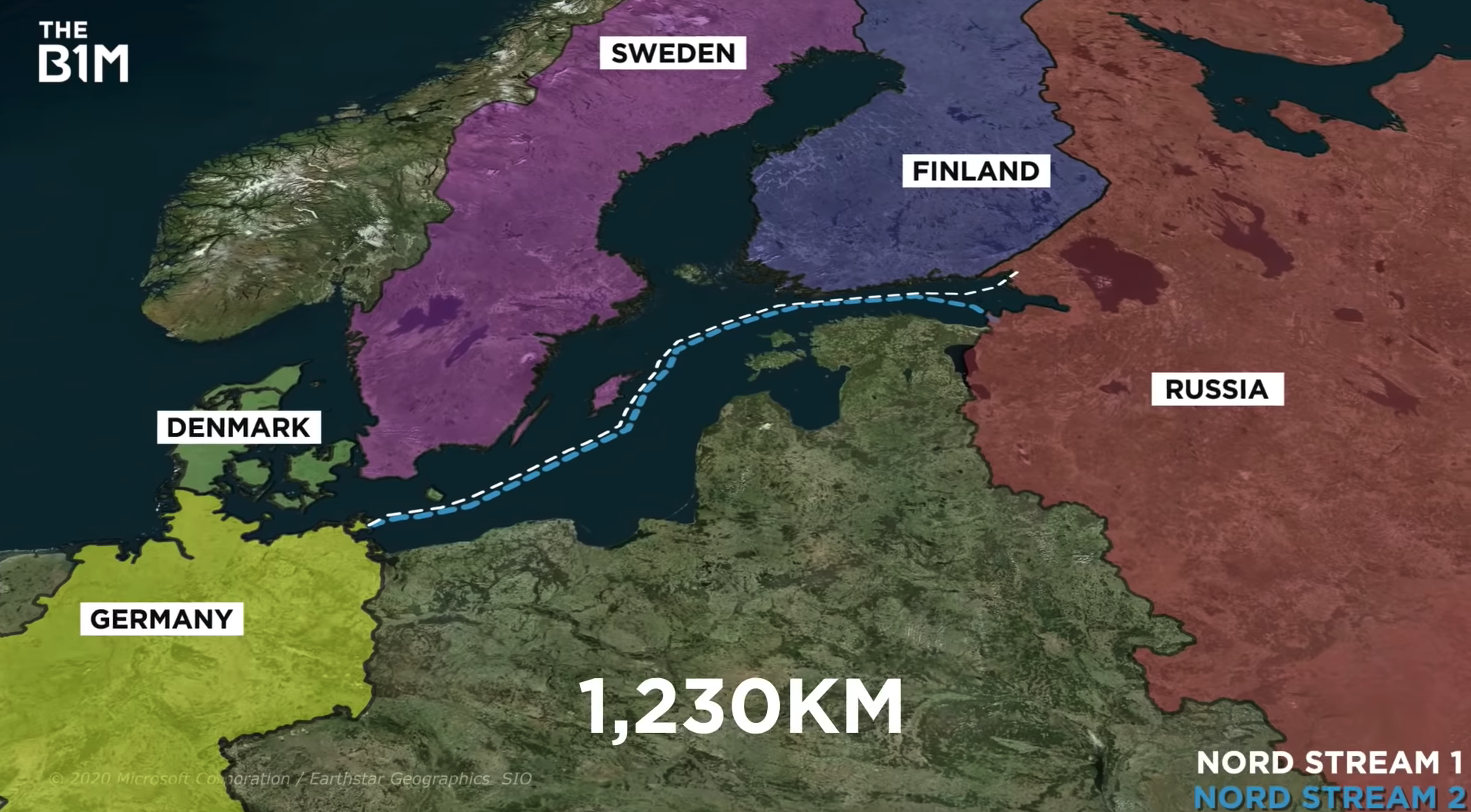 Above: Nord Stream 2 is one of the longest offshore pipelines in the world.
It's formed from around 100,000 pieces in total - each weighing 24 tonnes. Oh, and there are two of them - it's a twin line.
When operational it'll provide 55BN cubic metres of gas per year - enough for 26 million homes - with the capacity to handle around a third of the EU's future import needs.
Construction started in 2018 and by late 2019 it was almost done. Using the world's largest construction ship, Pioneering Spirit, the crew was laying up to three kilometres of piping every day.
Sections were welded and tested on board before being added to the main pipe and then lowered to the seabed.
It was also built in stages, which meant several connections had to be made at sea. To avoid water flooding into the pipe, some sections had to be lifted back out and connected on the surface in a process that's imaginatively called an 'above water tie-in'.
Some of the most impressive work, though, was done back on land - particularly at the German end. Here, two microtunnels were constructed, connecting the receiving station to the pipeline as it nears the shore.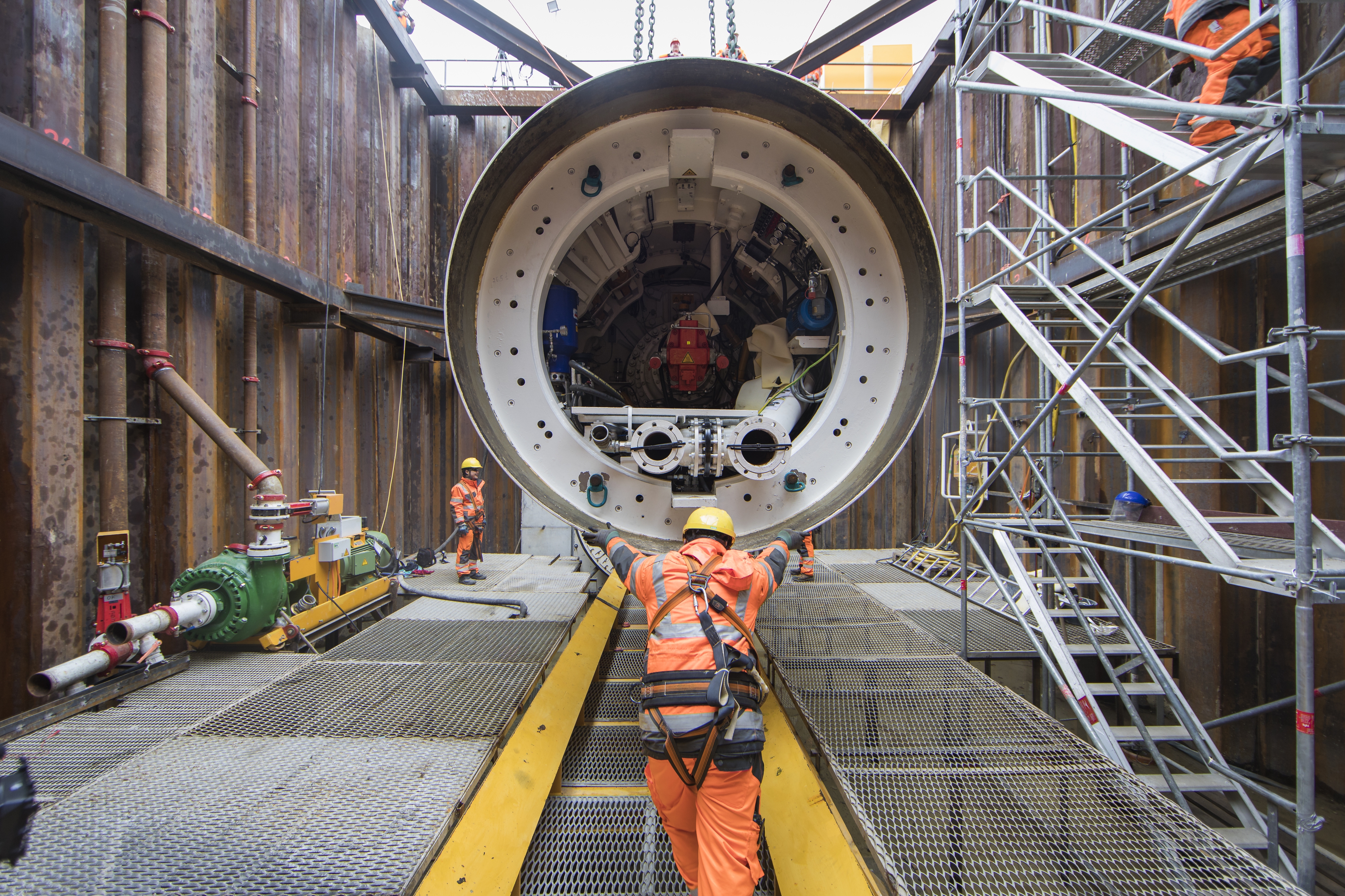 Above: Each microtunnel is around 700 metres long. Image courtesy of Axel Schmidt.
This involved digging an entry shaft at the station and dropping a tunnel boring machine inside. That then burrowed towards the water, laying pieces of pipe as it went.
Once under the seabed the machine was dug out and removed before the land and sea pipe sections were connected.
Over on the Russian side, Nord Stream 2 only had to go a few kilometres inland to connect to an existing pipeline that brings in gas from the Arctic Yamal fields.
This makes Nord Stream 2 considerably shorter overall than the current pipeline that goes from Russia to Germany through Ukraine and the so-called Central Corridor.
It's the new route though, where all the controversy is. It might be a shortcut, but it also bypasses Ukraine, a country that has been in conflict with Russia since 2014, relies a lot on current pipelines for income and is set to lose out under the new scheme if Nord Stream 2 becomes a priority line.
Since 2016, deliveries via Ukraine have decreased substantially, while gas coming through Nord Stream 1 has increased.
There are also fears this will give Russia too much power and even control over the European energy system.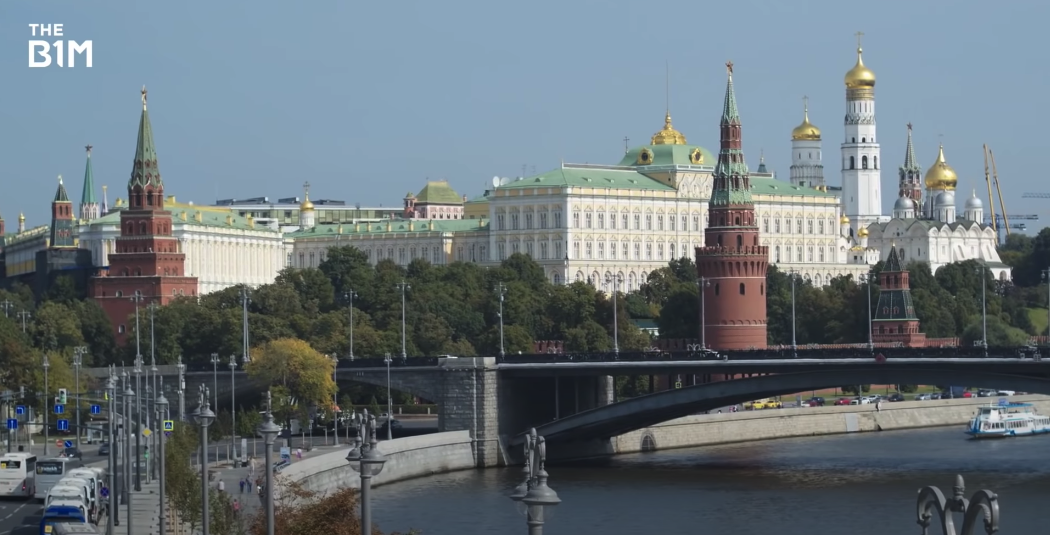 Above: Once operational, Nord Stream 2 will help Russia double its gas exports to Germany and wider Europe.
Some critics have warned that it could be used as a "geopolitical weapon," a suggestion that Russia has denied. Already, over a third of the continent's gas comes from Russia, which is financing half of the scheme through state-owned Gazprom, with five European energy firms covering the rest.
Concerns about Europe becoming too dependent on Russian gas is what caused the two-year delay between late 2019 and 2021, with the US threatening sanctions. Other opponents of Nord Stream 2 have included Poland and other eastern EU countries.
However, an agreement was made between the US and Germany in July 2021 that allowed construction to finish, but in November the certification process required for the pipeline to open was halted by the German regulator. Due to this unexpected setback, gas prices went up even more.
A new German arm of the operating company now has to be set up before final approvals are given. All the while, those worries about the scale of Russia's influence haven't gone away.
Whatever happens now, and despite the understandable opposition, Nord Stream 2 is still an impressive feat of engineering that underlines the impact construction can have on so many people's lives.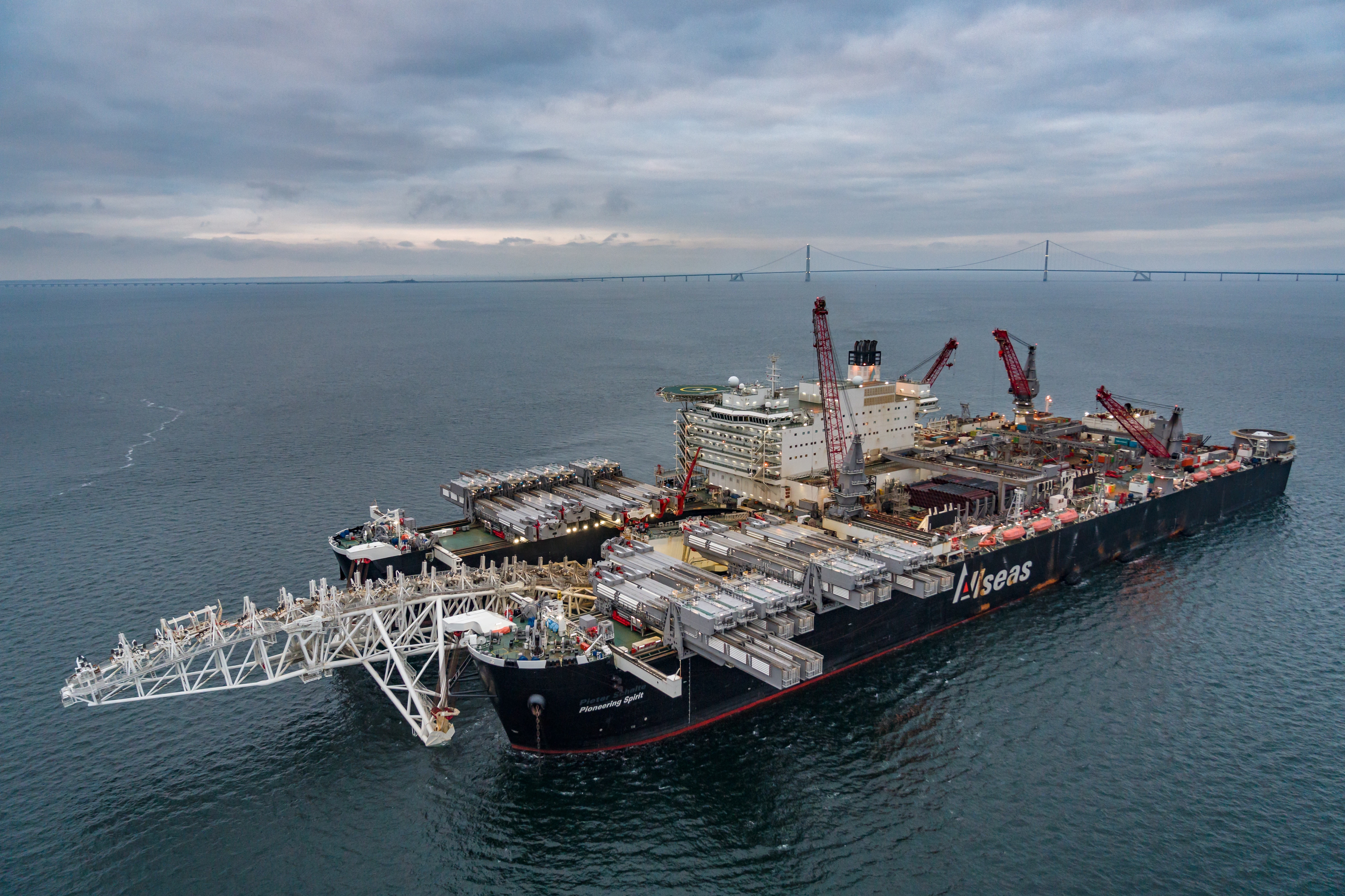 Above: Pioneering Spirit, one of the vessels used to lay the pipeline, is almost 400m long. Image courtesy of Nord Stream 2/Wolfram Scheible.
Of course, many countries are currently investing in renewable energy and making big commitments to go green over the coming decades, all of which will reduce the influence of Russian fossil fuels.
But until we can switch off the gas for good, with demand still increasing, we're kind of stuck with it for now.
It might not be the solution everyone wants but others say it's what Europe needs for the time being - once the flame is actually lit.
Video narrated by Fred Mills. Additional footage and images courtesy of Nord Stream 2, Axel Schmidt, Nordisch Filmproduction Anderson + Team GmbH, ABC, Agiteco, Channel 4, DW, France 24, Google Earth, Kracher Grafik Service, mc-quadrat OHG, Microsoft Corporation, Nikolai Ryutin and Nord Stream AG.
We welcome you sharing our content to inspire others, but please be nice and play by our rules.
Comments
---