Cities
Malaysia's $9BN City Within a City
Youtube Views

643,154

VIDEO VIEWS
Video narrated by Fred Mills and powered by Bluebeam. This video and article contain paid promotion for Bluebeam.
WHAT IS Kuala Lumpur known for? Beautiful temples, vibrant markets and 400-million-year-old caves. Oh yeah, and it has a few skyscrapers too.
The Petronas Towers held the title of world's tallest buildings between 1998 and 2004 and it's currently adding Merdeka PNB 118 – the world's second tallest building – to its skyline.
It's also one of the fastest-growing metropolitan regions in Southeast Asia, having transformed from a small tin mining town in the 1800s to a thriving centre of culture and commerce.
Now, KL (as the locals call it) is evolving again. But this new chapter is about more than just sky-high structures, although building tall is still a part of the plan. Malaysia's capital is going big in a different direction – building sprawling mega developments that could help it become the new Asian superpower it's long aspired to be.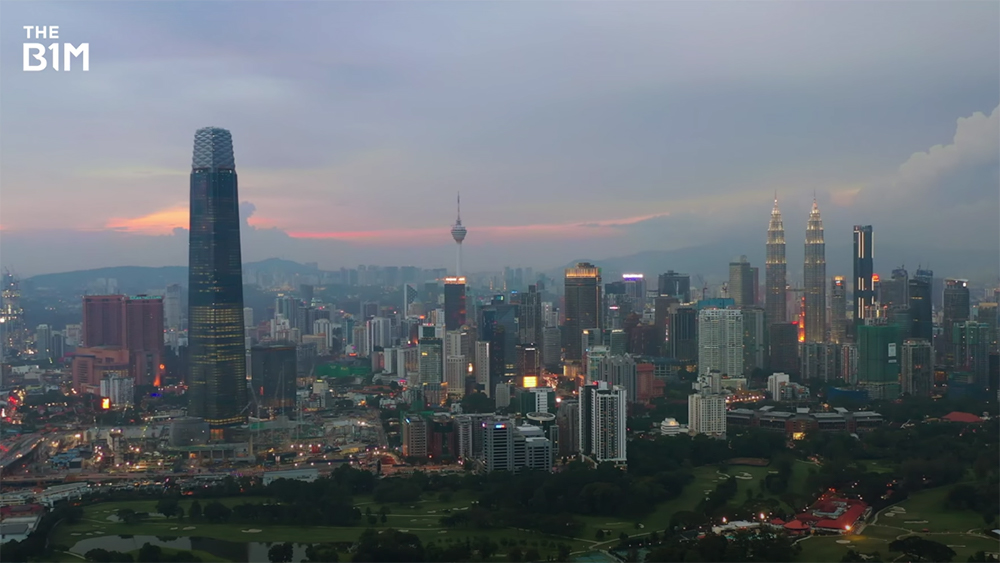 Above: Malaysia has come a long way over the past few decades.
Since gaining independence from Britain in the 1950s, Malaysia has been on a remarkable journey.
Modernising its economy and becoming a key hub for trade and investment, the country has brought us some of the world's most impressive buildings, boosting its international reputation.
In the 1980s and '90s, Malaysia had one of the fastest growing economies in the world, and although that has slowed, it still has big ambitions for growth.
Its goal is to become a high-income nation and a fully developed country by 2025 – five years earlier than previously planned.
One way the government intends to do this is by turning Kuala Lumpur into one of this planet's most liveable cities, while giving the country its first international finance centre – one that it hopes could rival London, Hong Kong and Singapore.
The city now has some seriously big developments underway that will help it meet these objectives, with much of the work happening across one enormous site.
Above: The 70-acre Tun Razak Exchange is now under construction in the heart of Kuala Lumpur. Image courtesy of Tun Razak Exchange.
Meet the new Tun Razak Exchange, or TRX for short. It's set to become Kuala Lumpur's new central business district all on its own. Think of it as a city within a city.
There's a lot going on – some 30 buildings are being constructed here, with a combined gross floor area of over 2.2 million square metres. That all gives TRX an estimated gross value of 40 billion Malaysian ringgit, or $9BN USD.
On the finance side, things have started strong. Some of the biggest names in banking, like HSBC and Prudential have already set up new headquarters here.
But there's more to it than business people in expensive suits. It'll be packed with high-end residences and retail, leisure facilities, cultural centres and almost a quarter of the new land will be green space; one thing this city has a real lack of.
The project takes its name from the second Prime Minister of Malaysia, Tun Abdul Razak Hussein, and its position next to Jalan Tun Razak – one of the city's busiest highways.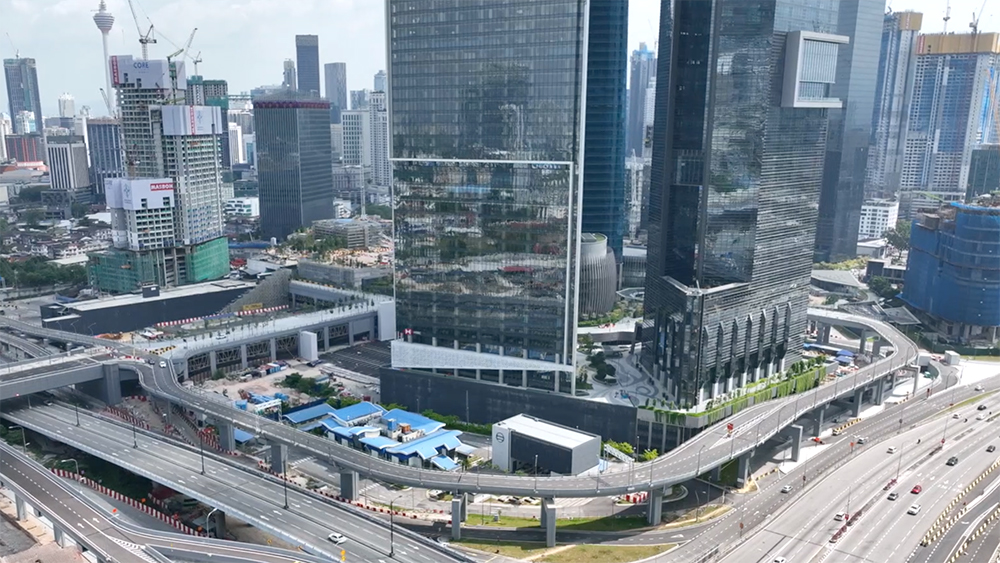 Above: The TRX site with its numerous road connections. Image courtesy of Tun Razak Exchange.
Taking up a large part of it is The Exchange TRX, also known as the Lifestyle Quarter.
That's right – The Exchange TRX, part of the Tun Razak Exchange, which is shortened to TRX. If you're a little confused by the names, we don't blame you.
It's a joint partnership between Lendlease and master developer TRX City, which is wholly owned by the Malaysian Ministry of Finance.
The 17-acre complex includes six residential towers, an office building, retail mall, hotel and a ten-acre park.
Now, most major cities would struggle to find space in their centres for a park that size, and Kuala Lumpur is no different.
Which is why planners decided to put it on the roof, with lush greenery that cascades downwards, spreading into other public spaces around the quarter.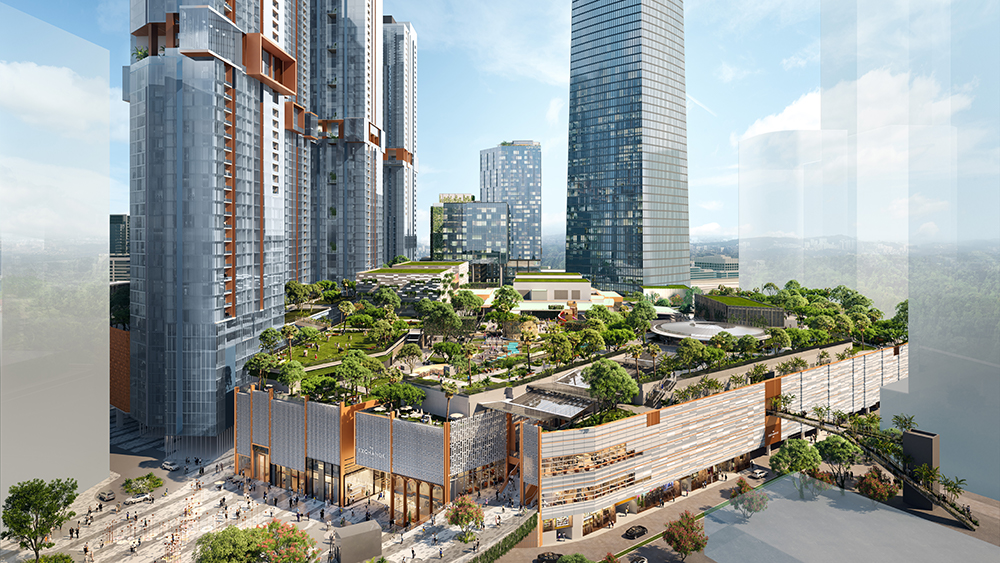 Above: The new development will offer a ten-acre rooftop park. Image courtesy of Tun Razak Exchange.
Its green credentials don't end there – sustainability has been central to a lot of the design and construction work going on across the district.
There's an onsite facility for treating and recycling wastewater – the first of its kind in Southeast Asia.
TRX predicts it will reduce its water consumption by around 500 million litres each year compared to a typical development of this size. That's about 200 Olympic swimming pools.
A lot of the construction materials used in the Financial Quarter were recycled or sourced locally, and many surfaces have been treated so less heat from the sun gets into buildings. That means less energy that needs to be spent cooling them.
Today, the site is buzzing with high-rise activity, but it's been like this for years already. One very noticeable feature has been finished for a while – a structure that quite literally stands out above the rest.
It's called The Exchange 106 – now Malaysia's third tallest building. It was one of the first buildings to open its doors here in 2019 and features a 48-metre glass crown sitting above 95 storeys of office space and a retail podium.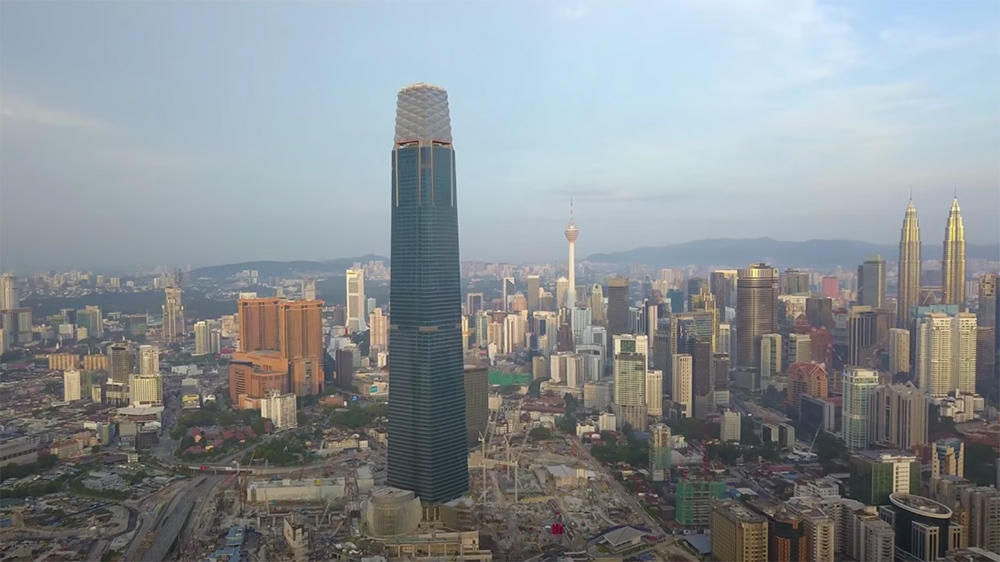 Above: The supertall Exchange 106 comes in just short of the nearby Petronas Towers, at 446-metres high.

The project took just three years – quick for a building this size – with China State Construction Engineering handling the build.
Thanks to its column-free floor plate, the building offers some of the largest space in Malaysia, as well as unusually flexible layouts and open plan interiors.
Now, having all of this here in one place wouldn't really work without good transport links.
As well as being easy to get to by car and bus – there are six major roads and highways linking to it – TRX is well connected by rail too.
Everywhere on the site is within five minutes' walk of Kuala Lumpur's biggest and deepest mass rapid transit station, and the only interchange on the entire network.
Despite there still being plenty to do before the whole thing completes over the next decade, 99% of the main infrastructure is already finished.
New roads have been built, existing ones upgraded, and pedestrian links added in and around the development.
This includes a new road bridge that had to be built over one of those highways, connecting the main district to the Urban Quarter, where many of the residences are.
During its construction, four trusses had to be lifted in place using a crawler crane. These lifts – the heaviest on the project – required all surrounding roads to be closed and had to take place at night.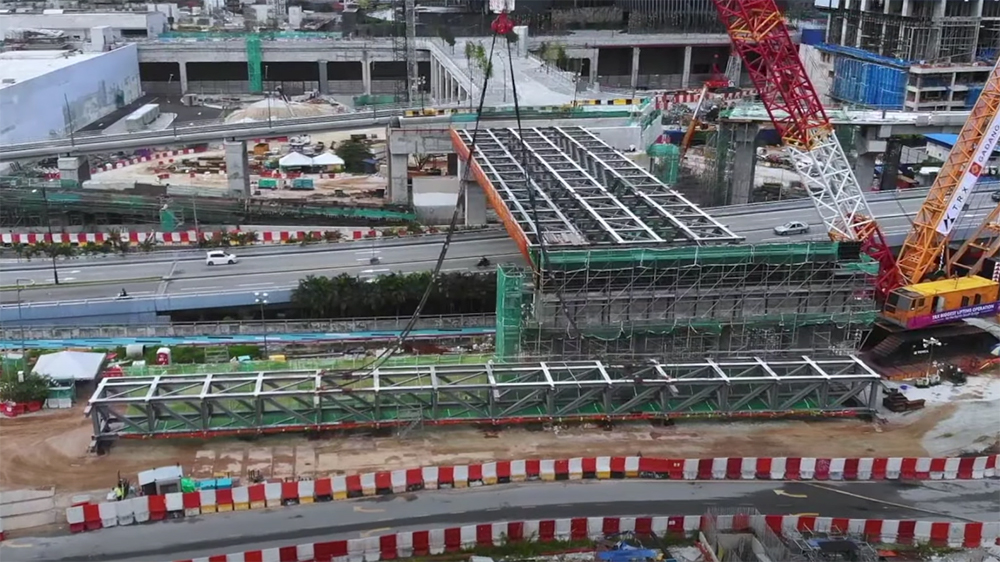 Above: The trusses are 66 metres long and weigh over 200 tonnes. Image courtesy of Tun Razak Exchange.

It's all coming together quite nicely, but this wasn't always the case. Back in 2015, TRX became embroiled in a major scandal that almost saw construction grind to a halt.
1MDB, a sovereign wealth fund that was one of its main sources of capital, was found to have misappropriated around USD $4.5BN, diverting it to government officials and bankers.
The news caused outrage nationwide and saw its former prime minister, Najib Razak, jailed for 12 years.
Instead of leaving the project with a huge compensation bill and an abandoned skyscraper in the middle of the city, the government put up the missing cash, allowing TRX to continue.
Today, work is back in full swing – there's kind of more construction happening in one spot than you'd expect across a whole city.
And yet this isn't the only place in Kuala Lumpur where a massive new development is taking shape.
Towards the Northwest of the city centre lies another huge hotbed of construction – KL Metropolis.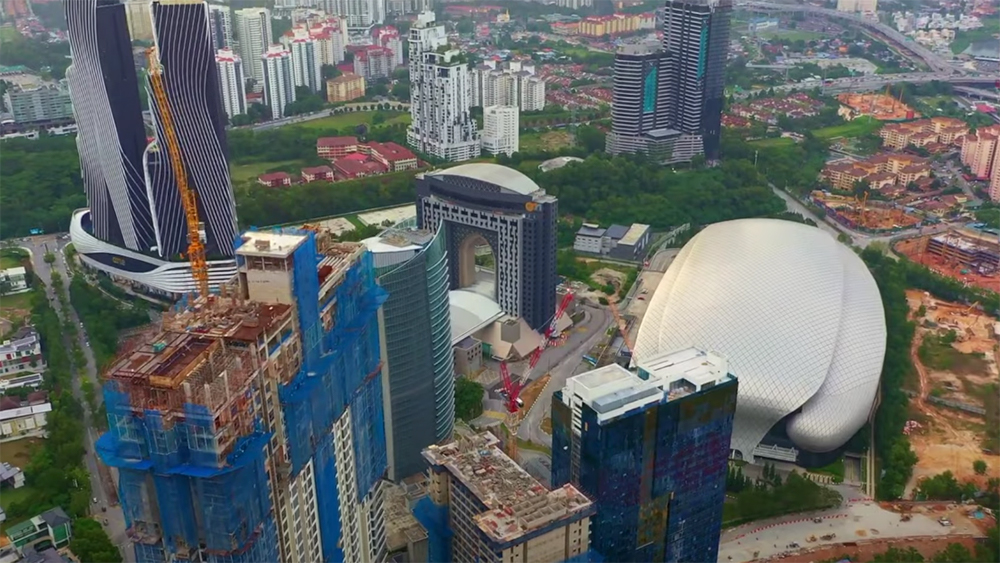 Above: The KL Metropolis site will be a new hub for international trade. Image courtesy of STYFLYSTUDIO.
Like the Tun Razak Exchange it's a mixed-use development of just over 70 acres that's being built in stages over two decades.
It's divided into nine huge parcels that include high-rise office towers, residences, and retail spaces.
Again, similar to TRX, there's a supertall skyscraper being planned for the site – the 100-storey NAZA Signature Tower.
Rising over 400 metres, it would be built on the same plot as a five-star hotel, a mall and luxury condos.
And yet this immense structure is not going to be the centrepiece – that honour goes to the International Trade and Exhibition Centre, which has been here since 2017.
The idea is that once all the buildings going up around it are finished, KL can position itself as one of the world's most attractive destinations for conferences and other large events.
And that would be more good news for this capital of a country whose economy is on the rise again.
These projects are just some examples of how important construction is to the growth of developing nations.
They can be a huge catalyst for change, and for Malaysia, might be just what it needs to begin its long-awaited new chapter.
30 years ago, it was on track to become the fifth so-called 'Asian Tiger' – joining Hong Kong, Singapore, South Korea and Taiwan as a high-growth, developed East Asian economy.
That never quite came to be, but with these projects coming to fruition over the next few years it could be on course to join that prestigious club at last.
This video was powered by Bluebeam. See how Bluebeam Revu helps construction teams build massive projects like these.
Video narrated by Fred Mills. Additional footage and imagery courtesy of Tun Razak Exchange, MITEC, NAZA TTDI, flyviz, Google Earth, STYFLYSTUDIO, Al Jazeera, CNA, The Star and OpenStreetMap Contributors (https://www.openstreetmap.org/copyright).
We welcome you sharing our content to inspire others but please be nice and play by our rules.
Comments
---