Infrastructure
Malaysia's $100BN Smart Island City
Youtube Views

2,044,192

VIDEO VIEWS
Video hosted by Fred Mills.
CITIES and urban areas are the engines of our global economy.
Standing at the intersection of commerce, culture, manufacturing, innovation and transport, the most successful metropolitan areas can increase the well-being of existing residents and newcomers alike, while significantly driving economic growth across the broader region.
In an effort to further boost its economy and leverage its unique position on the doorstep of Singapore, Malaysia are raising four artificial islands from the waters of the Johor Strait and constructing a USD $100BN smart city from scratch.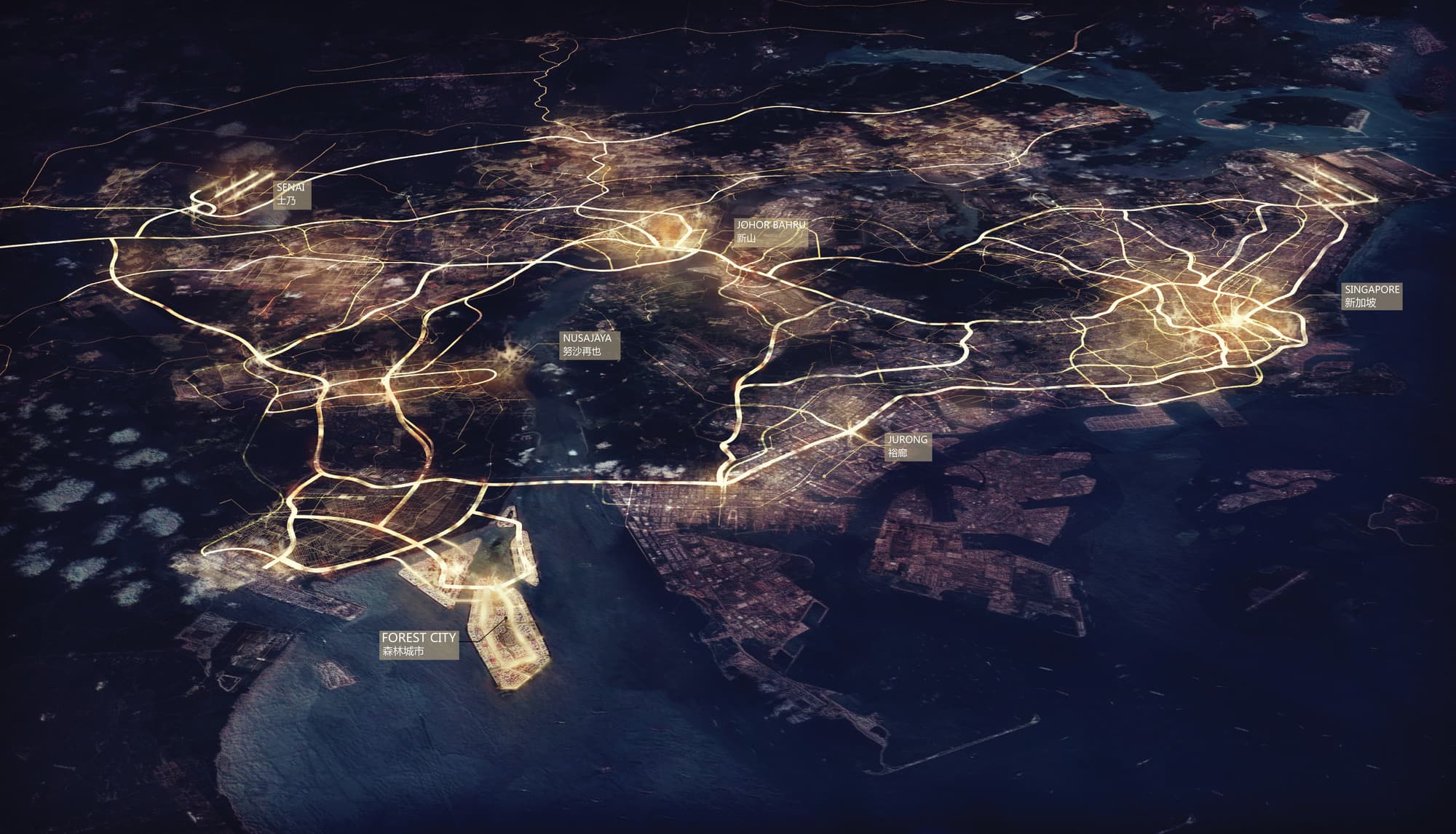 Above: Forest City is located off the coast of Malaysia, close to Singapore (image courtesy of Sasaki Associates).
Malaysia is a prosperous South East Asian country, whose successive governments have consistently invested in infrastructure and industry, allowing them to construct iconic buildings like the Petronas Towers.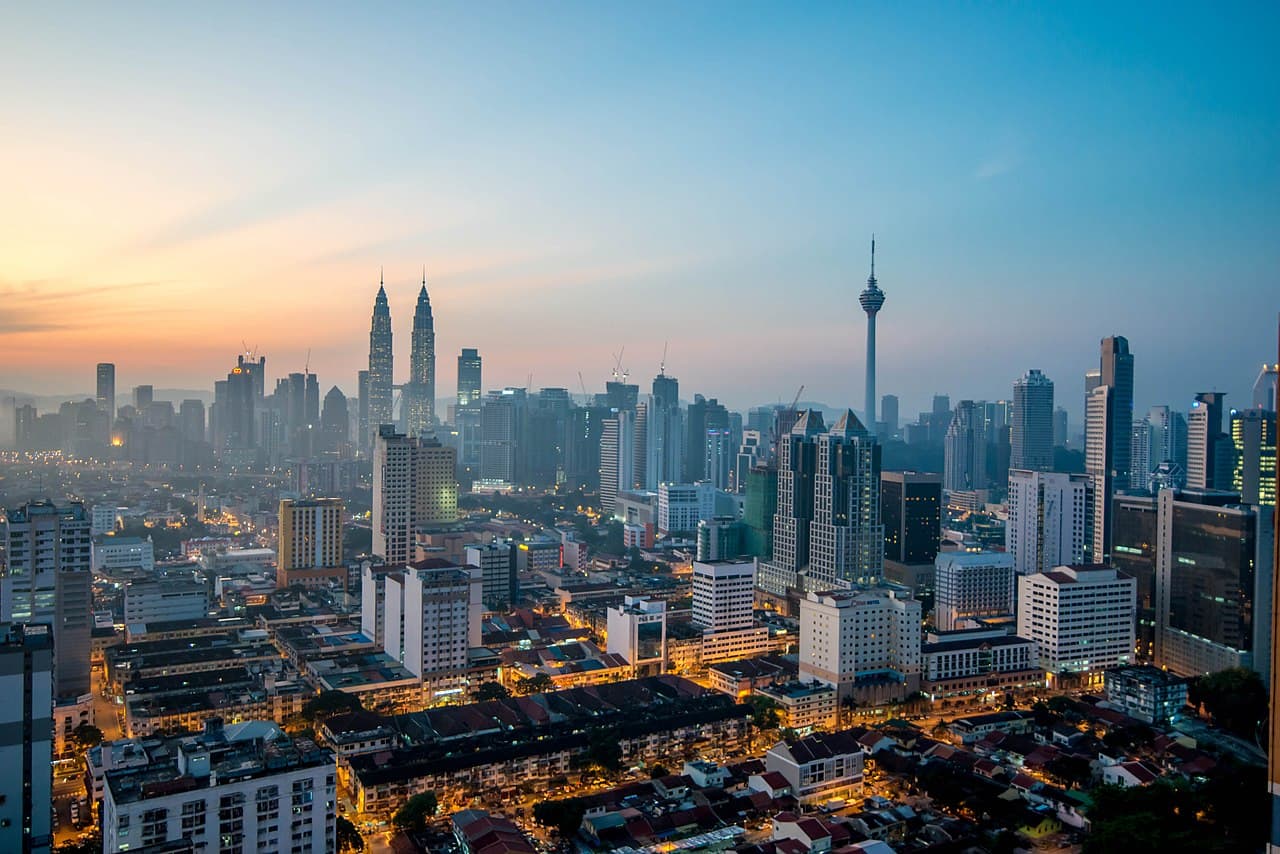 Above: Malaysia's capital city Kuala Lumpur shows the dynamism of the country's economy (image courtesy of Jorge Láscar)
While Malaysia has capitalised on its natural resources of timber, petroleum and natural gas to build a thriving economy, there is a further source of growth it has tapped into: Singapore.
Singapore is renowned for its high living standards of living, technological innovation, and burgeoning port, which has been used to transport raw materials from Malaysia since the 19th Century.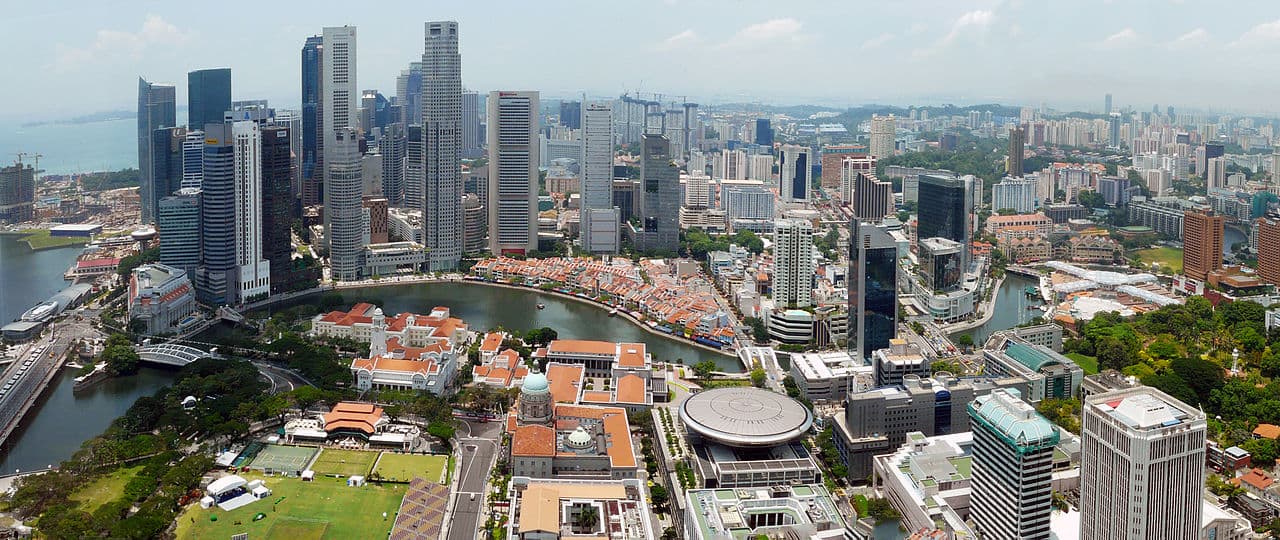 Above: Singapore - a prosperous city state located at Malaysia's southern border (image courtesy of Chen Siyuan).
This extremely prosperous business hub is an independent city state separated from Malaysia by the kilometre wide Strait of Johor.
In 2006, Malaysia established "Iskandar Malaysia", a special 2,217 square kilometre economic zone bordering Singapore.
In 2019, the economic area was more than doubled in size and now stands at 4,749 square kilometres.
The country's government hoped to mirror the success of Shenzhen - a former fishing village which became China's first special economic zone in 1980, and that is now home to nearly 13 million people.
Above: China's Shenzhen, now home to more than 13 million people, was established across the border from Hong Kong in 1980.
Iskandar has proven highly successful. Between 2016 and 2018 alone, almost USD $69BN have been invested into the region, with 62% coming from domestic investors.
Furthermore, Malaysia is one of the countries included in China's "Belt and Road Initiative" launched in 2013, a USD $900BN portfolio of strategic infrastructure investments to better connect China with its surrounding markets.
Above: Iskandar and Forest City (orange) were conceived to take advantage of their proximity to Singapore (image courtesy of Sasaki Associates).
Now, the region is embarking upon one of the most ambitious construction projects that the world has ever known: the vast Forest City.
Built across four newly created artificial islands, Forest City has been planned by Sasaki Associates and is being financed by one of China's largest residential developers, Country Garden.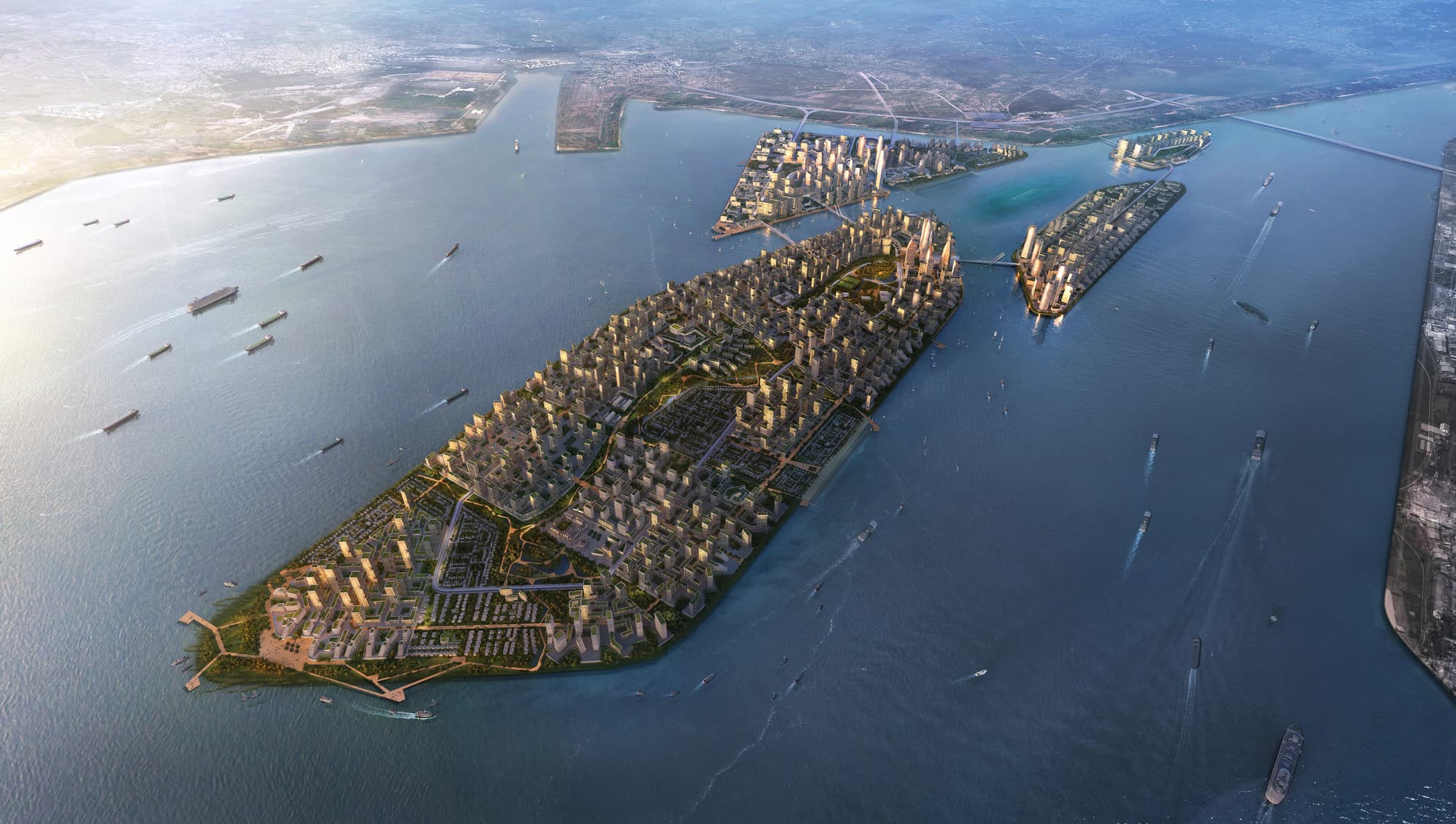 Above: A render showing how the completed Forest City could appear (image courtesy of Sasaki Associates).
According to the developer, the scheme's location is the result of wanting to protect agricultural land as well as the region's coastal mangrove forests.
When it completes in the mid 2030s, the USD $100BN new city will become home to 700,000 people and over 200,000 jobs.
Each of the new city's four islands is designed around its own special theme, creating a sense of differentiation and identity.
The first 979 acre island is planned as the high tech industrial zone and will include an office district and IT industrial park alongside residential neighbourhoods, shopping malls and a beach resort.
Construction of this first island began in 2014 and the first 482 households received the keys to their new homes at the end of 2018.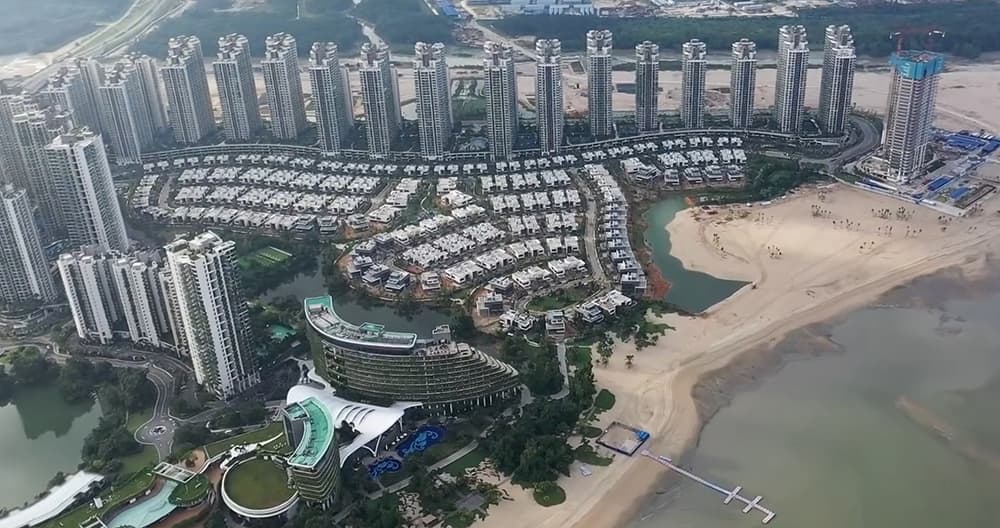 Above: The first phase of the first island was completed in December 2018 (image courtesy of Southern Corridor Malaysia).
The second, much larger island was planned to cover 1,978 acres and become home to the central business district and tourism zone of Forest City.
However, due to environmental concerns around its impact on neighbouring mangrove forests, the original plans were scaled back to 1,386 acres, and the island will now mostly comprise of housing.
The 405 acre third island is set to become the city's financial and economic district, while the final and smallest island will be home to a congress and convention centre across its 145 acres.
SMART, GREEN, MODULAR
Forest City has been designed as a greener, smarter alternative to many of our existing urban centres.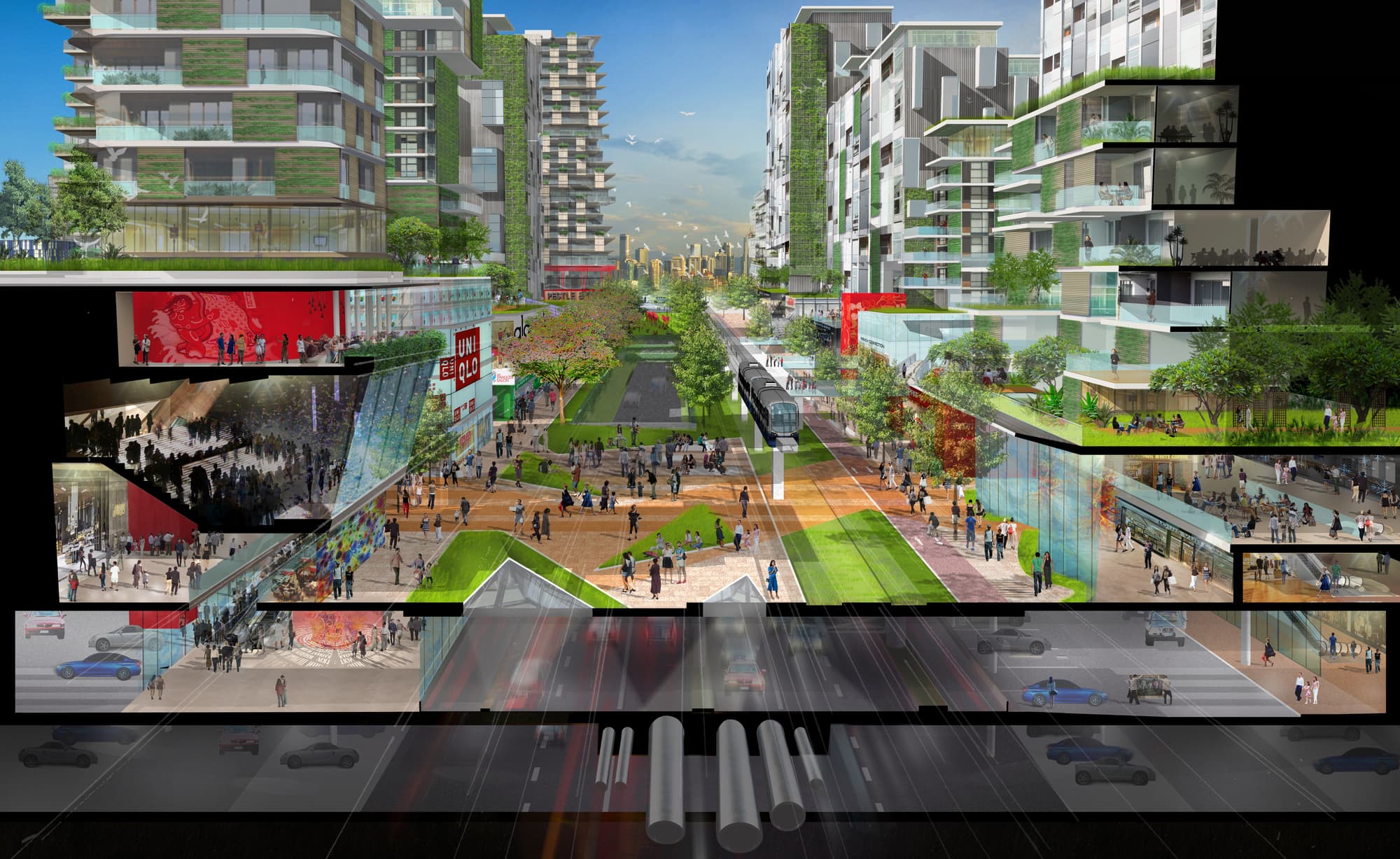 Above: A diagram showing the Forest City's 3D multi-layered concept (image courtesy of Sasaki Associates).
In what developers are describing as the "world's most advanced 3D multi-layered concept", large scale infrastructure, parking spaces and main roads will be covered by a green deck in the central districts of the city, providing a completely safe and unobstructed ground level for pedestrians and cyclists.
An elevated rapid transit line will connect the islands between each other, while also creating a link to the Malaysian mainland and to Singapore.
Once fully completed and operational, residents will never be more than a 5-10 minute walk away from public transport.
Smart technologies will extensively support the management of the city's public spaces and resident services, while all buildings will be designed according to the highest residential standards.
Some of the larger residential projects are set to integrate a significant amount of trees and plants within their balconies and communal terraces.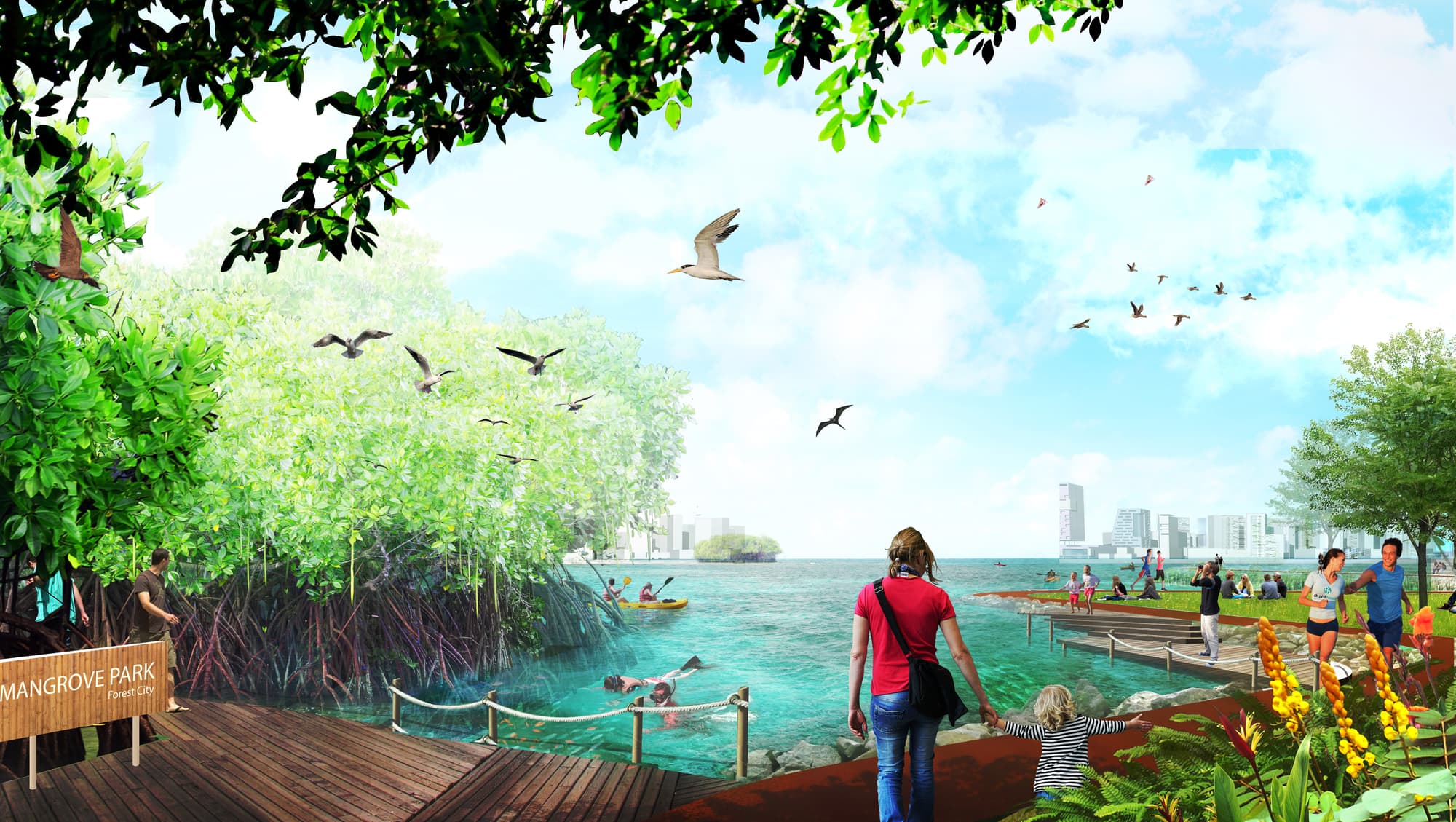 Above: The developer will re-provide lost habitats and create new ones (image courtesy of Sasaki Associates).
The area in which Forest City is being constructed is well known for its seagrass and 30 different species of seaweed that provide a habitat to endangered dugongs and sea-turtles.
As such, many hold concerns around the environmental impact of the project.
In addition to reducing the planned size of the second island, developers Country Garden will be planting a 250-hectare seagrass plantation, 9 kilometres of mangroves and 10 kilometres of shallow coves and mudflats to help support the region's shell fisheries.
During the land reclamation works, screens have been installed in the sea to reduce sand and silt from spreading and causing murkiness that can block light and reduce the growth of marine flora.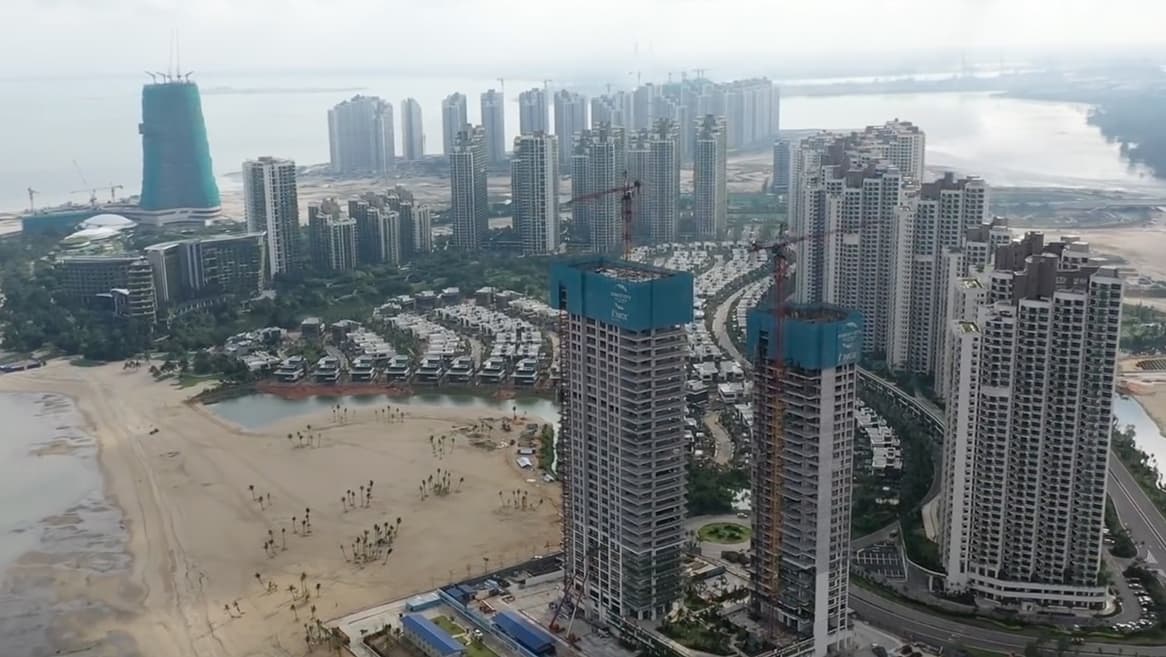 Above: Many elements for the city are produced using off-site construction methods (image courtesy of Southern Corridor Malaysia).
In another effort to cut waste and to increase the quality and affordability of new buildings, Country Garden has invested in a new industrialised building systems plant in Malaysia, some 10 kilometres from the city.
Employing over 300 people, it is the biggest such facility in the region and already produces over 13 different components for the Forest City scheme; including staircases, balconies and columns.
A CITY FOR EVERYONE?
While property in Forest City is affordable by Western standards, there are increasing concerns that many local people will not be able to afford to live there.
Despite a two bedroom apartment reportedly costing around USD $175,000 - a mere fifth of what it would cost in Singapore - property remains unattainable for many locals.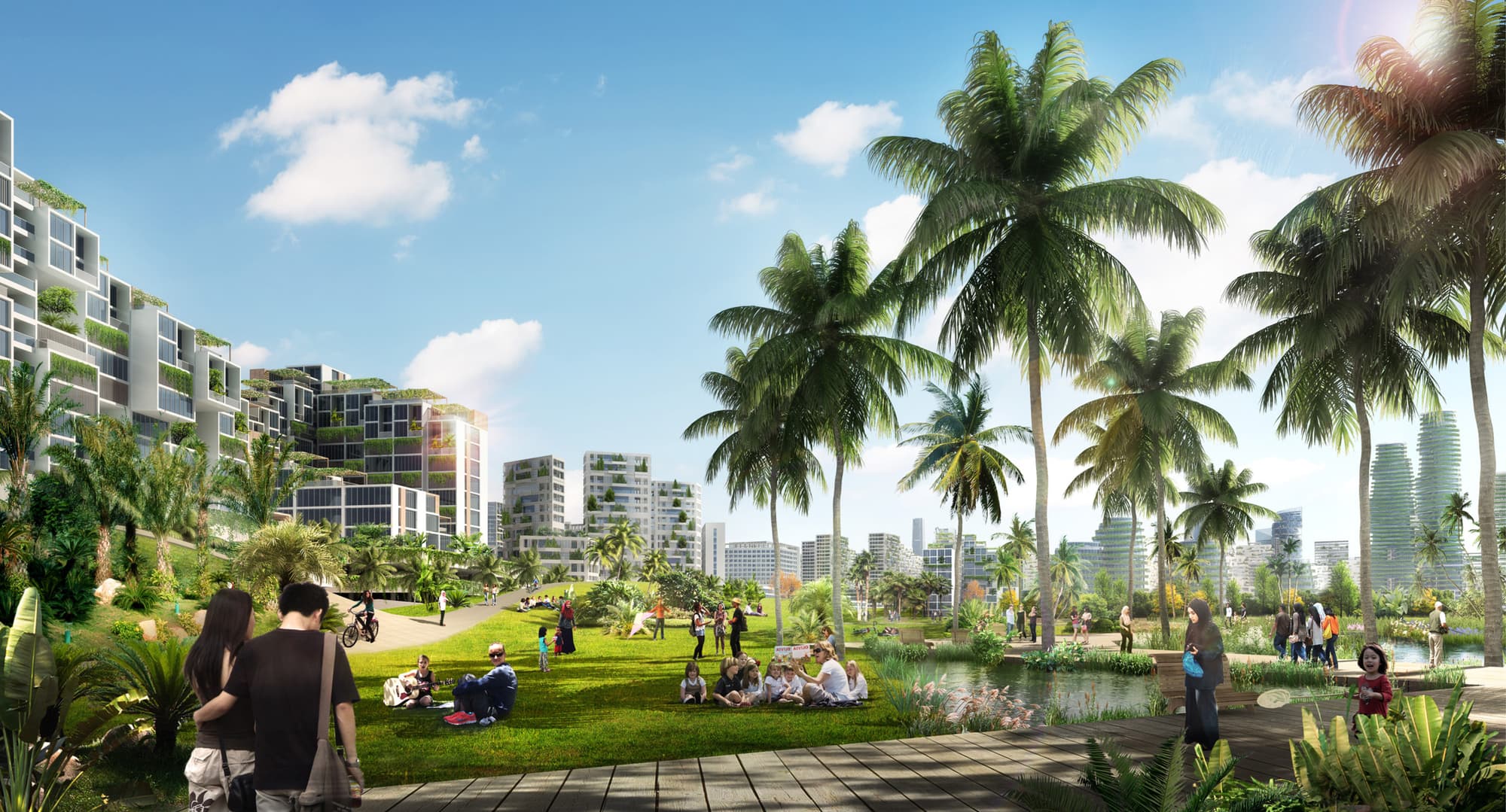 Above: Concerns have been raised about Forest City's affordability for local people (image courtesy of Sasaki Associates).
70% of the 18,000 residential units that have been sold so far have been purchased by Chinese nationals, who are attracted to Forest City by its green setting and proximity to Singapore. Just 20% are local Malaysian buyers.
In response, the new Malaysian Prime Minister announced in August 2018 that foreign nationals would no longer be able to buy property in the country.
His position was clarified the following month - that foreign nationals would be able to buy property, but would no longer get an automatic visa if they did so.
The developer has also promised to provide more affordable homes tailored to local requirements within the next three years pending government recommendation, as well as diversify its sales strategy to appeal to local people.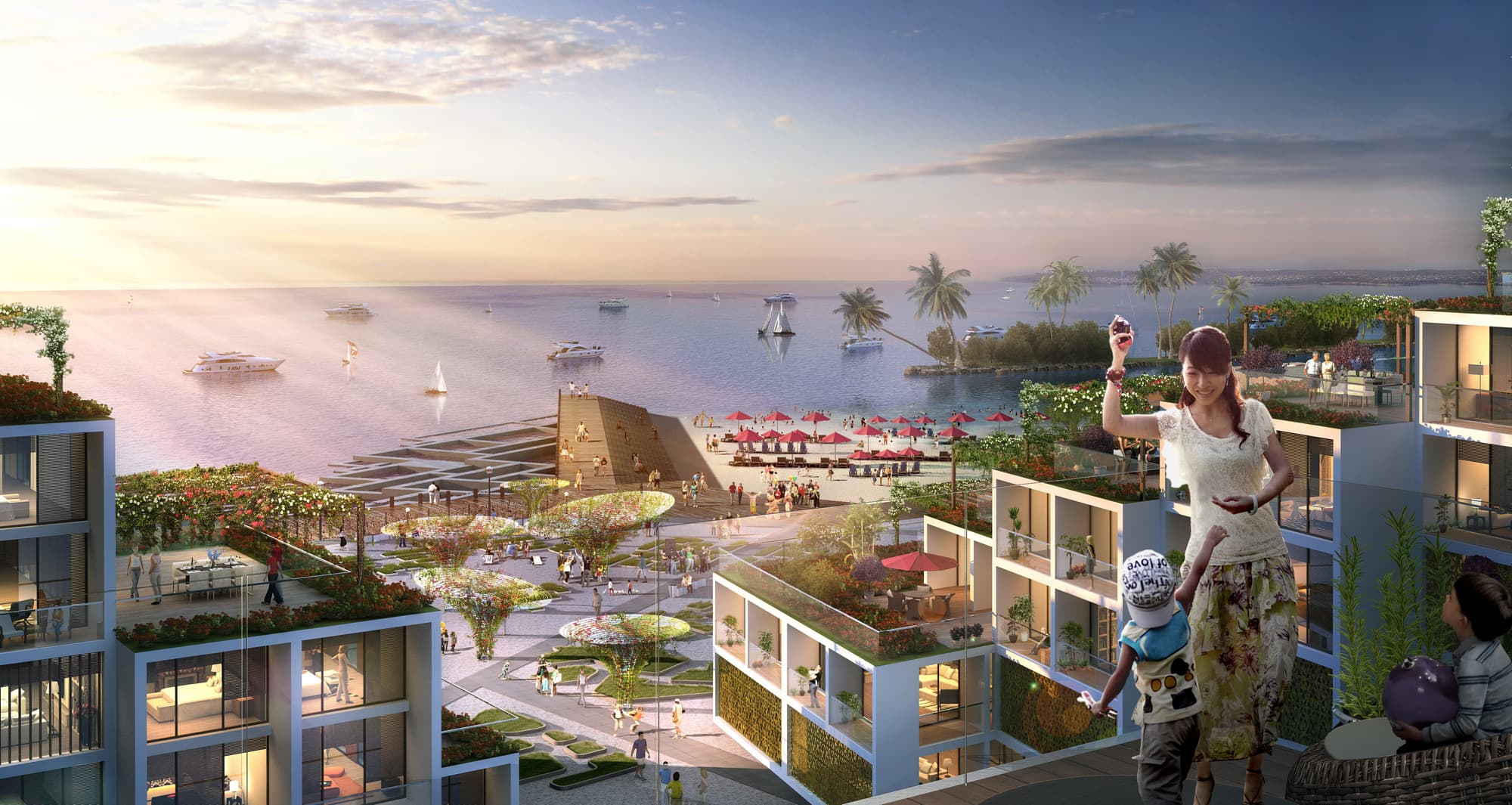 Above: The developers of Forest City promised to deliver a more diverse community (image courtesy of Sasaki Associates).
Malaysia is currently questioning the broader role of Chinese investment within its economy and many Chinese-backed projects have been temporarily interrupted or postponed - including a high-speed rail link between Kuala Lumpur and Singapore and a new railway connecting the east and western coasts of the country.
However, the current expectation is that most of these projects, especially those where investors have been willing to listen to local concerns will be able to continue.
The result at Forest City will be a vast new urban district. Malaysia's first, ground-up smart metropolis, that stands ready to meet the challenges of the 21st century and beyond.
Additional footage and images courtesy of Southern Corridor Malaysia, Sasaki Associates, Country Garden, Google Earth, Chen Siyuan, Jorge Láscar.
We welcome you sharing our content to inspire others but please be nice and play by our rules.
Comments
---