Cities
The Story Behind China's 600-Metre Abandoned Skyscraper
Youtube Views

3,414,159

VIDEO VIEWS
Video hosted by Fred Mills.

It's a record China never wanted to hold.
When construction began 13 years ago, Goldin Finance 117 in Tianjin was going to be the fifth tallest skyscraper ever built – today, it's probably most well known as that building those daredevils on YouTube climbed.
Despite reaching its full height of 597 metres in 2015, the site was suddenly deserted shortly afterwards, and the project remains unfinished to this day.
With communication drying up in 2018 and no official word on when – or even if – the project will ever be completed, many have come to wonder how one of the world's strongest economies with the fastest rate of urbanisation in history – become home to the World's Tallest Ghostscraper?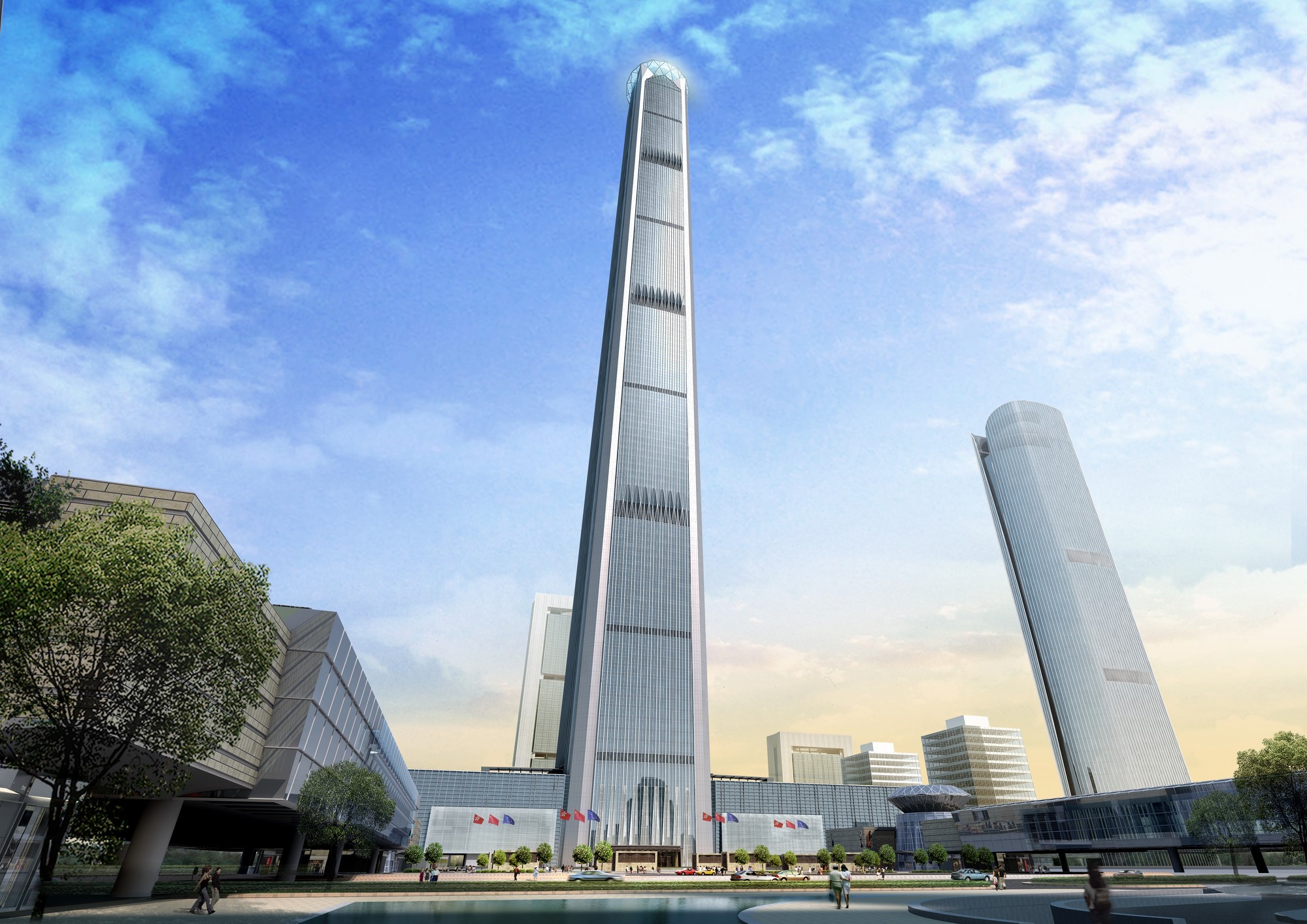 Above: Goldin Finance 117 would have been the fifth tallest skyscraper ever built. Image courtesy of Goldin Properties Holdings.
Proposed back in 2008, when cities across China were vying for their place on the world stage, Goldin Finance 117 was to be the centrepiece of billionaire Pat Sutong's, "Goldin Metropolitan" scheme – a 1.8 square kilometre high-end residential and central business district about eight kilometres from downtown Tianjin.
With multiple residential and commercial towers, French and Italian style manors, a wine museum, extensive gardens and even a polo club, the scheme was aimed at the super-rich, with the landmark skyscraper viewed as the jewel in its crown.
We mean this literally, the building was to be topped with a three-storey diamond-shaped atrium which would have housed the world's highest observation deck, swimming pool, restaurant and sky bar.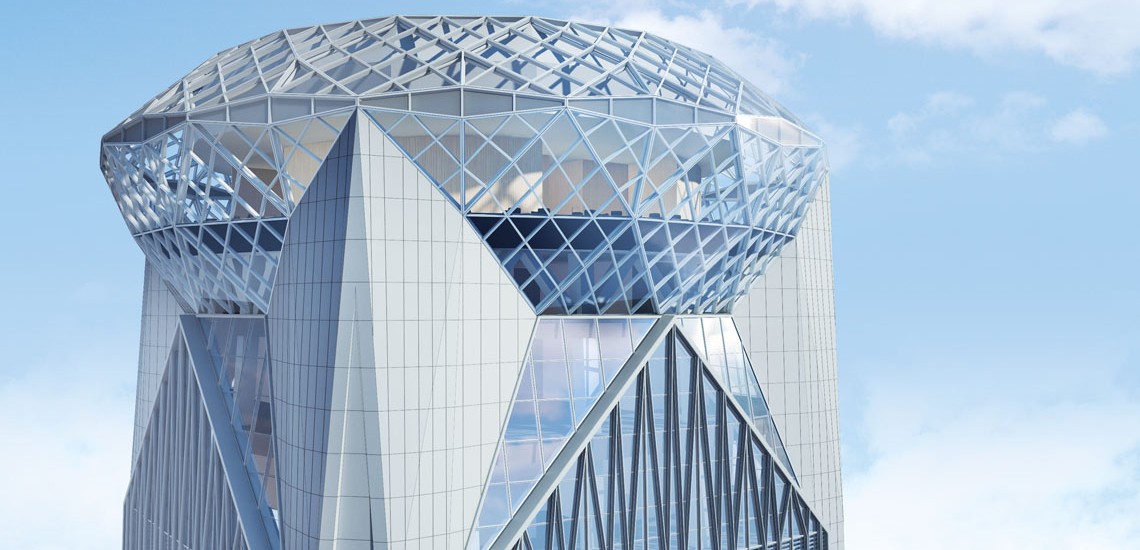 Above: Goldin Finance 117 was to be topped by a three-storey diamond-shaped atrium. Image courtesy of Goldin Properties Holdings.

Likened to a walking stick the mixed-use tower would contain 128 floors above ground with 117 of them housing hotel and commercial space - as well as providing the ingenious source of the building's name - 11 dedicated to mechanical and operational services and a further four levels underground.
Unique among many of the world's tallest buildings, Goldin Finance 117 was to be habitable up to its highest point, foregoing the addition of any vanity height that seems to have become commonplace among many of today's tallest skyscrapers.
In fact, when comparing it with other structures purely on the highest habitable floor, the building would have been second only to the Burj Khalifa - with just half a metre in it.
Lacking any major setbacks to disrupt wind loads and with its height-to-width ratio of 9.5:1 exceeding the limit set by China's seismic code, Goldin Finance 117 should have been highly susceptible to lateral forces - and given a logical reason for its abandonment - but the building was designed in such a way to resist these forces.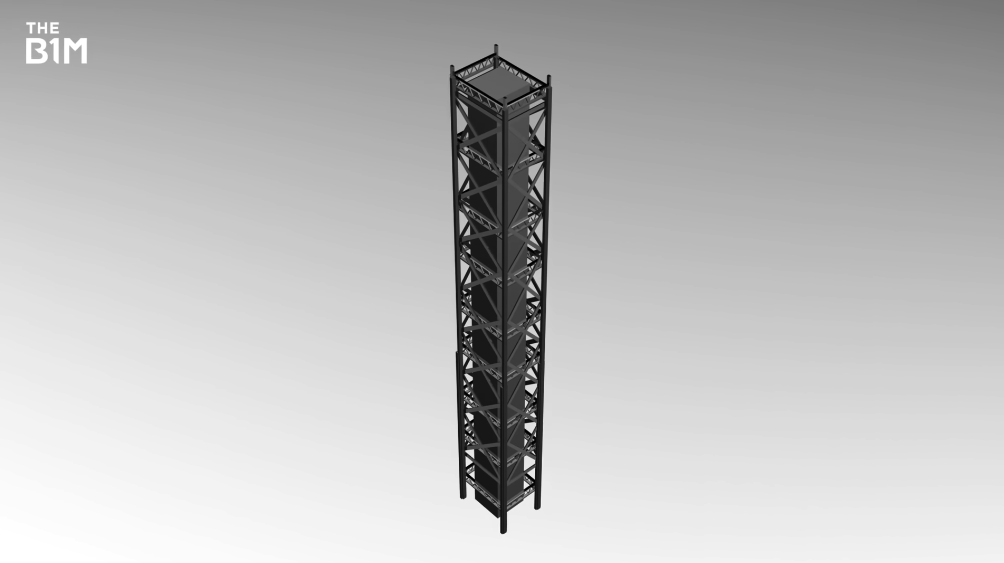 Above: Mega columns, mega trusses and mega braces give the build immense resistance e against lateral forces.
Not unlike the structural system used at Malaysia's Merdeka PNB118, Goldin Finance 117 was designed with a perimeter frame consisting of tapering mega columns, mega braces and transfer trusses, all supported by - and tied back to - a full height reinforced concrete core creating a near immovable structure.
But while on the surface the skyscraper appeared no different to many of the others rising across China at the time, underneath it seems like the cards were stacked against the project from the beginning.
To maintain the integrity of the Chinese property market, new developers aren't permitted to start pre-sales on their schemes until authorities have inspected and signed off on the finished product, with exemptions typically only granted to established and usually state-owned firms.
At the time, Goldin Properties was a publicly listed, Hong Kong-based company and a relatively new player in the mainland Chinese market. It had to fully self-finance the entire USD $10BN master plan and wouldn't be able to begin recouping its investment until each building was completed.
This put the entire scheme in a precarious situation from the beginning, but if the developer was able to put up the capital investment and there were no major disruptions to markets during construction, the rewards would be worth it. They went ahead and construction began on 18 August 2008.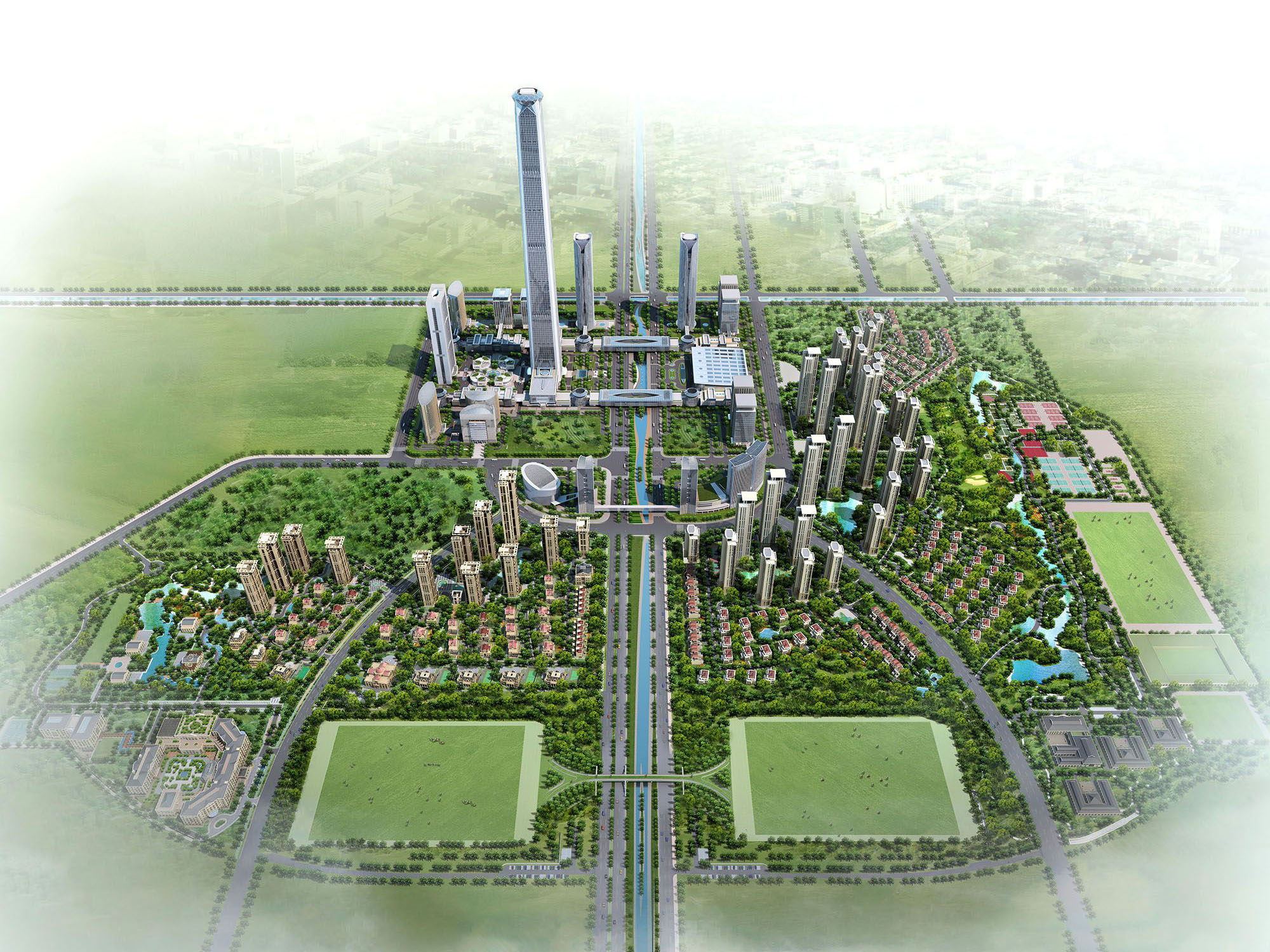 Above: Goldin Finance 117 would be the centre of the Goldin Metropolitan scheme. Image courtesy of Goldin Properties Holdings.
While the Global Financial Crisis didn't topple China's economy it did make it wobble. Goldin feared the cooling Chinese property markets and with substantial investments across Europe and the United States to worry about as well, construction at Goldin Finance 117 was halted in January 2010.
The property market regained its footing by 2011 and with an asset-to-liability ratio at the time of roughly 4:1, the company decided to continue work on the tower with an expectation that it could be completed and ready to start sales as the market reached its next natural peak.
The project marched skyward, but the slow recovery of international markets compared to China put the Goldin Group in a particularly vulnerable situation.
With its asset-to-liability ratio reduced to almost 1:1, the company was effectively all-in on Goldin Finance 117 and desperately needed to complete the project before the next economic hit.
Like something out of a movie, after staving off the worst of the Global Financial Crisis, June 2015 saw China's stock bubble burst, wiping a third off the Shanghai Stock Exchange's value in a month - and the market volatility persisted until early 2016.
While not a full-blown crisis, the damage was already done. With nothing left in reserves to ride out the turbulent period, Goldin's own share price on the Hong Kong Stock Exchange plummeted and company chairman Pan Sutong – with a 64% stake in the business – reportedly lost an eye-watering USD $13BN of his own fortune.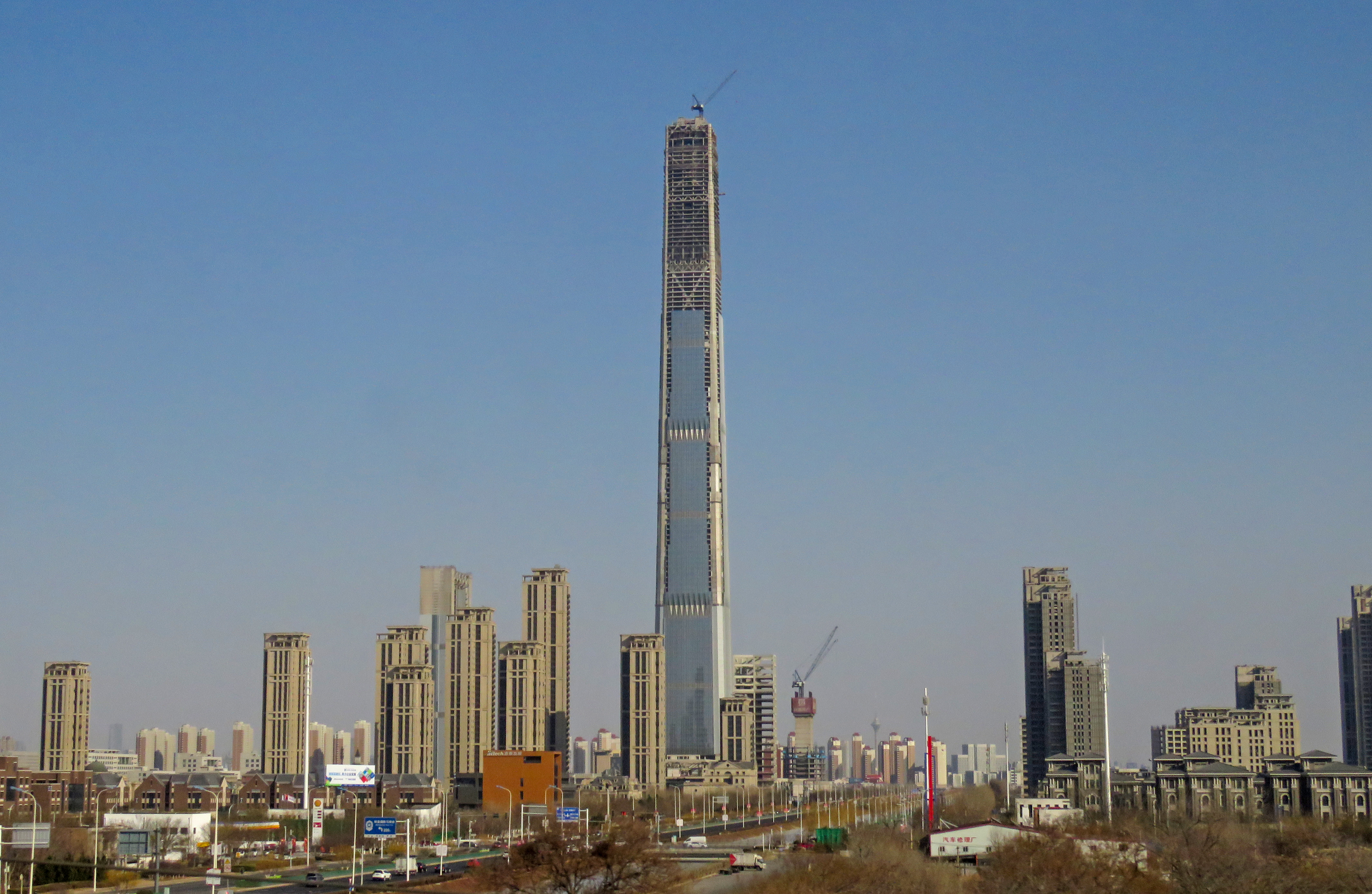 Above: Work was halted in the wake of China's 2015 stock market turbulence. Image courtesy of N509FZ.
The topping-out ceremony in September was meant to reignite confidence in the project but by December 2015 all work had ceased.
In 2018 it seemed to restart and hopes began to rise, but the China State Construction Engineering Corporation then left again, taking all of its company signage with it.
On the surface, it appears that Goldin Finance 117 failed because of a series of unfortunate events and a market that tends to favour state-owned companies, but even when it was put up for sale with a handful of other Goldin Metropolitan assets, it didn't attract much attention and no attempt was made to resurrect it.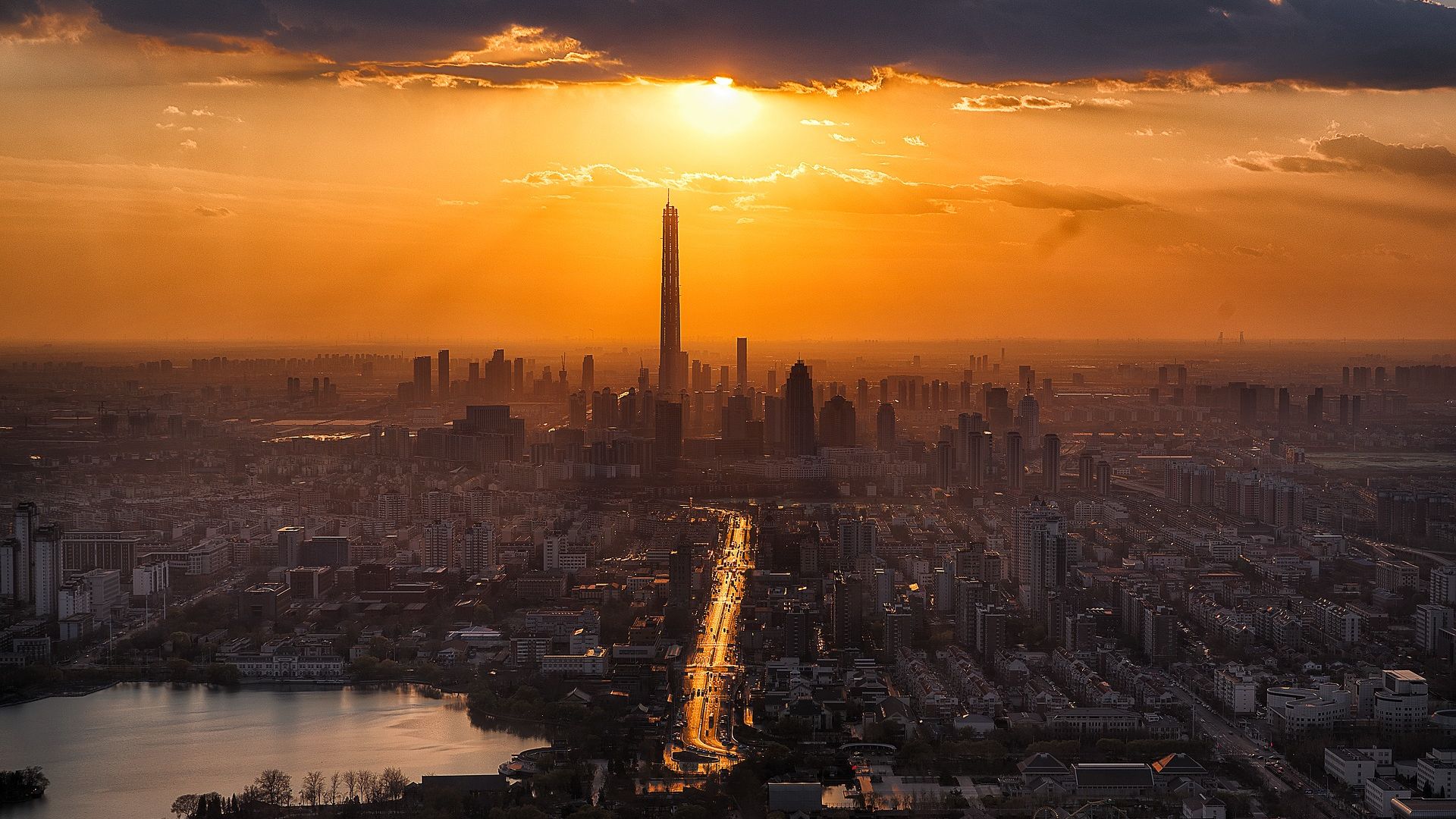 Above: Goldin Finance 117 remains unfinished to this day.
It had all the makings of a high-end development aimed at the super-rich, but the project's location on former industrial land on the outskirts of one of China's second-tier cities meant that the appeal for those that could actually afford it simply wasn't there - it was like attempting to build New York's Hudson Yards on the outskirts of Philadelphia.
It's like Goldin tried to get in early on a city is expected to later thrive. It relied heavily on China's continued growth, favourable market conditions and the "build it and they will come" philosophy. The firm took a gamble on an ambitious scheme and lost.
Like the Ryugyong Hotel in Pyongyang, Goldin Finance 117 looks set to stand not as a beacon for an emerging city, but as a monument and cautionary tale of hubris and over-ambition - and with the Chinese Government issuing a decree in 2020 to significantly limit the scale and number of skyscrapers being built across the country, it seems this time, we all agree.
Narrated by Fred Mills, additional footage and images courtesy of Goldin Properties Holdings Limited, Gringo, Alexander Kaunas, N509FZ, Google Earth, Styfly Studios, SkyscraperPage, UncleTV and Muxuan1983.
We welcome you sharing our content to inspire others, but please be nice and play by our rules.
Comments
---