Tech
10 Hyperloops That Will Change The World
Youtube Views

1,944,254

VIDEO VIEWS
Video hosted by Fred Mills.
WITH hyperloop research and development advancing like never before, the first system is on the cusp of becoming a reality.

Despite routes being proposed in the United States, United Arab Emirates, India, Scandinavia and Mexico, at the time of publication, no scheme has received the full the commitment of a national government or private corporation.
However, with hyperloop technology maturing at a rapid rate and the concept set to have a revolutionary impact, we have theorised 10 routes could change our world.
OUR CRITERIA
Before we begin, it is important to explain the criteria that we have used to determine these concepts.
While routes from New York to London or from Cairo to Cape Town are impressive (and fun) to theorise, the technology, logistics and economics required to make them happen often render them unviable.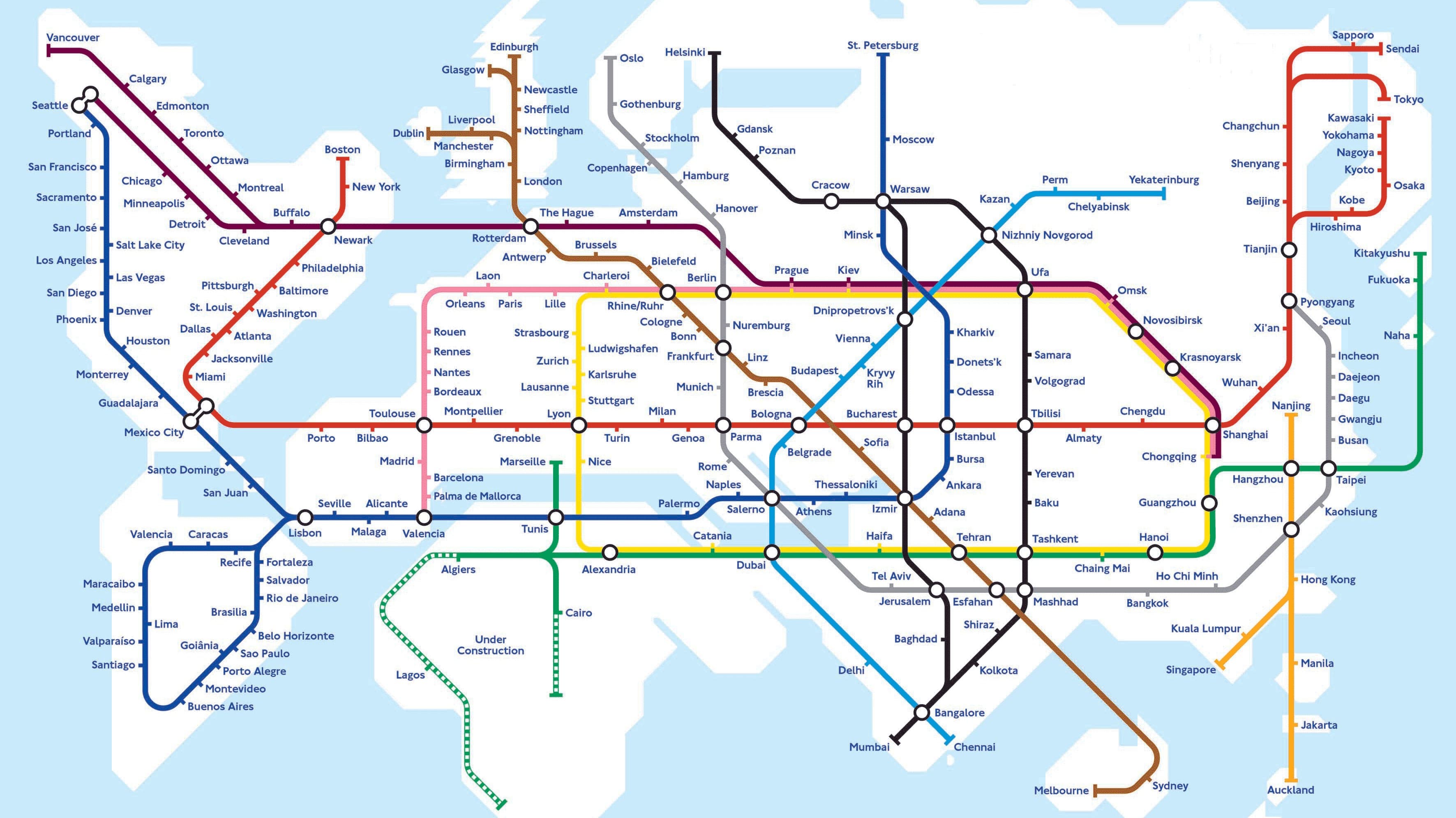 Above: A tongue-in-cheek concept of how hyperloop could connect the world (image courtesy of Mark Ovenden).
To determine the most credible proposals, we considered five elements:
Capacity– considering the number of people that each route has the potential to connect.

Influence– the importance or influence of each city to its respective region.

Connectivity– the existing connections and the demand for routes between cities.

Geological– the consideration of natural barriers like oceans, forests or mountain ranges that can make routes impractical.

Geopolitical – considering the movement of people across borders, the ability to finance such a hyperloop system and the degree of cooperation between countries.

1 - AUSTRALIA: MELBOURNE TO BRISBANE
First up we have a route that could revolutionise the east coast of Australia.
With 80% of the country's population residing in the eastern states, linking the major economic centres of the nation's largest cities to more affordable regional areas would bring access to new employment and housing opportunities, creating a mega-region along the Pacific coast.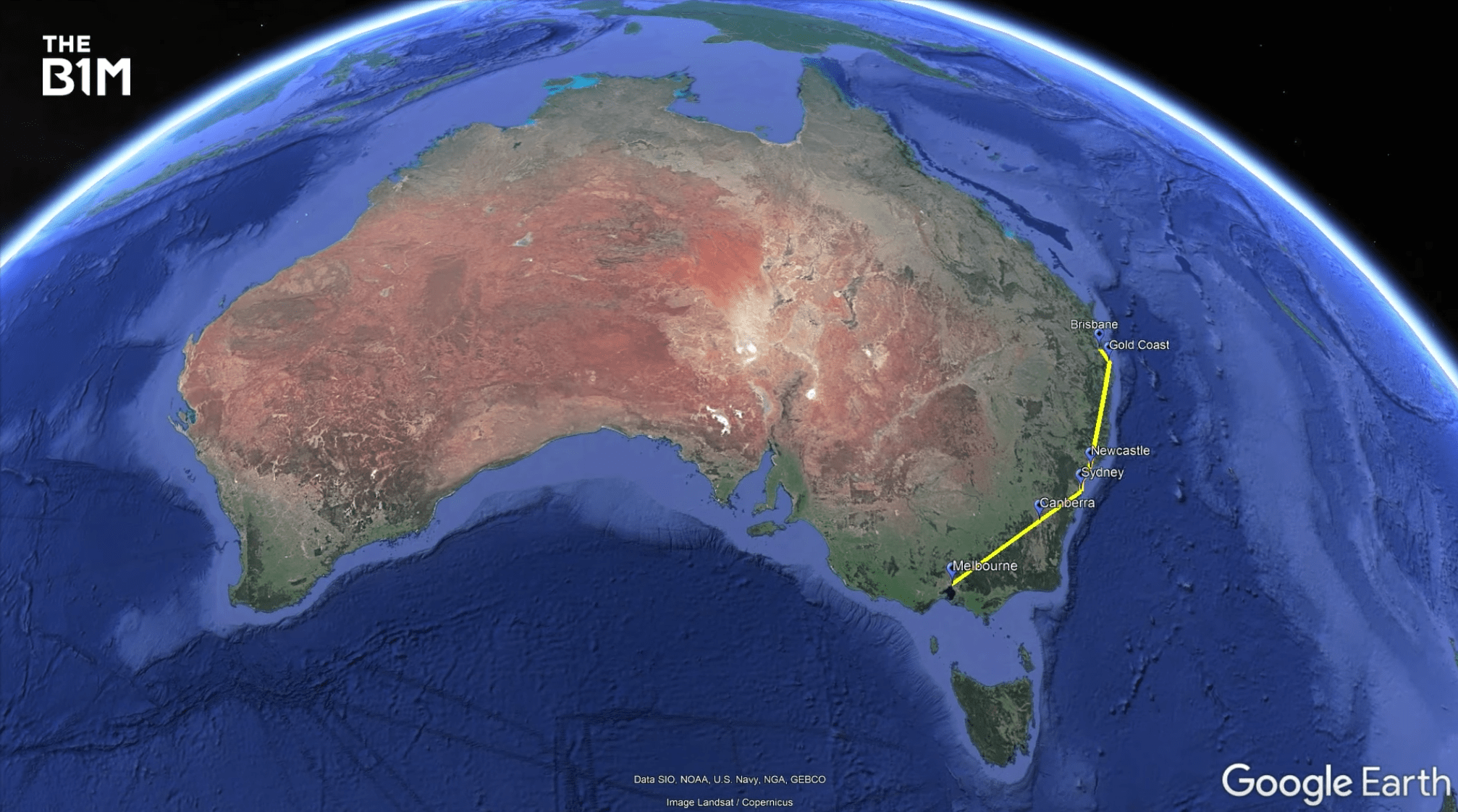 Above: A hyperloop system in Eastern Australia would unite 60% of the country's population (image courtesy of Google Earth).
The route would link Melbourne to Brisbane, a distance of 1,500 kilometres in less than two hours.

Along the way, the "East Australian Hyperloop" would connect to the nation's capital Canberra, Australia's largest city, Sydney, and the regional cities of Newcastle and the Gold Coast.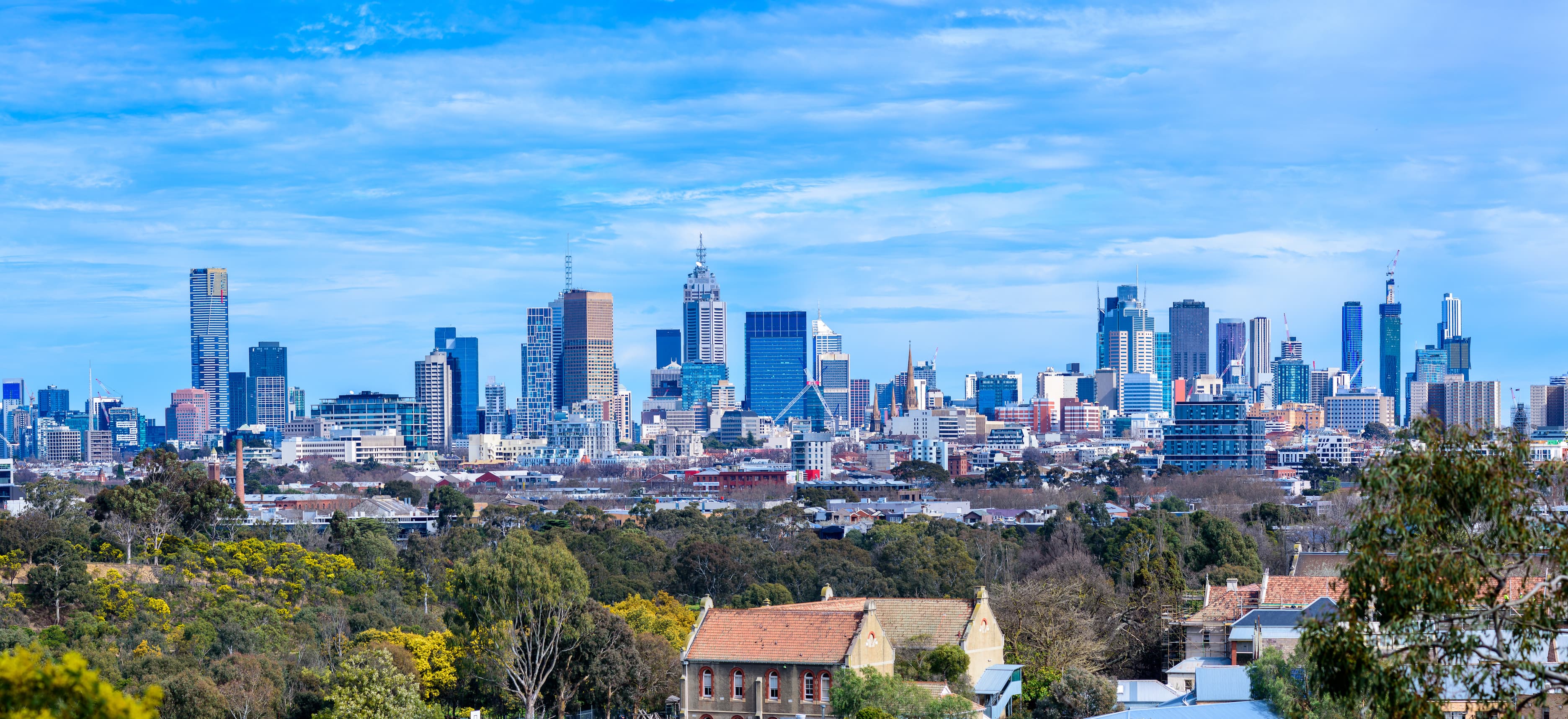 Above: Melbourne would be the starting point for the East Australian hyperloop.
This route would have a catchment of over 14 million people – which is around 60% of Australia's entire population. Other towns and cities along the route could link to the system as demand rose.
With Australia currently laying claim to the second and eighth busiest flight routes in the world, with 54,000 flights between Melbourne and Sydney each year and Sydney to Brisbane seeing 33,000 flights each year, the demand to link these cities and eliminate the time wasted in airports makes a significant case for investing in hyperloop.
2 - JAPAN: TOKYO TO KOBE
Renowned for embracing the latest technology and with a densely populated mainland, Japan is a prime candidate for hyperloop.
Despite being an archipelago with mountainous terrain, six of the countries seven largest cities lie in relatively close proximity to one another on the main island of Honshu.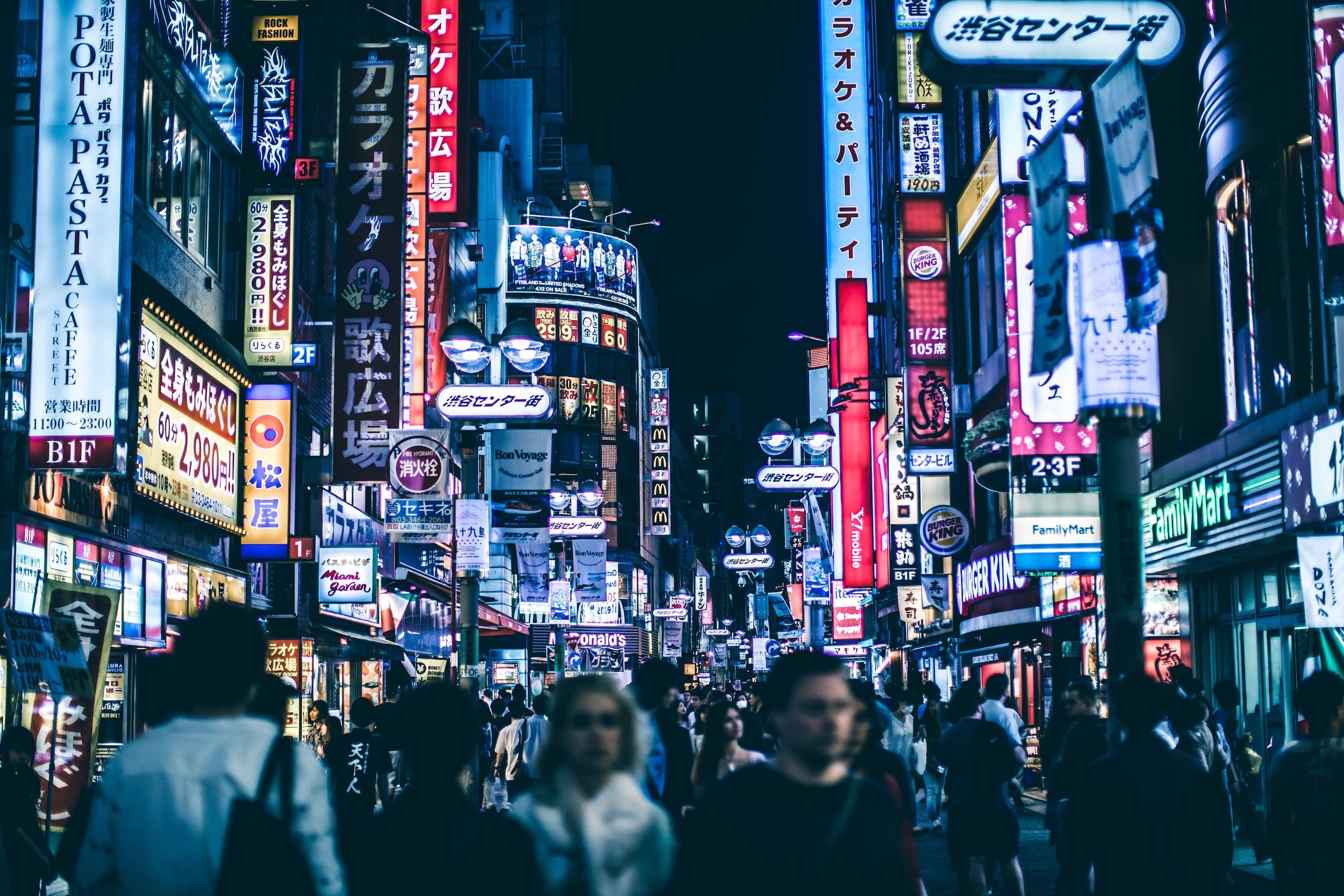 Above: Japan has always been early to adopt new technology.
A hyperloop from Tokyo to the city of Kobe via Yokohama, Nagoya, Kyoto and Osaka would unite a region of more than 65 million people and that has a combined GDP of more than USD $2.8 trillion.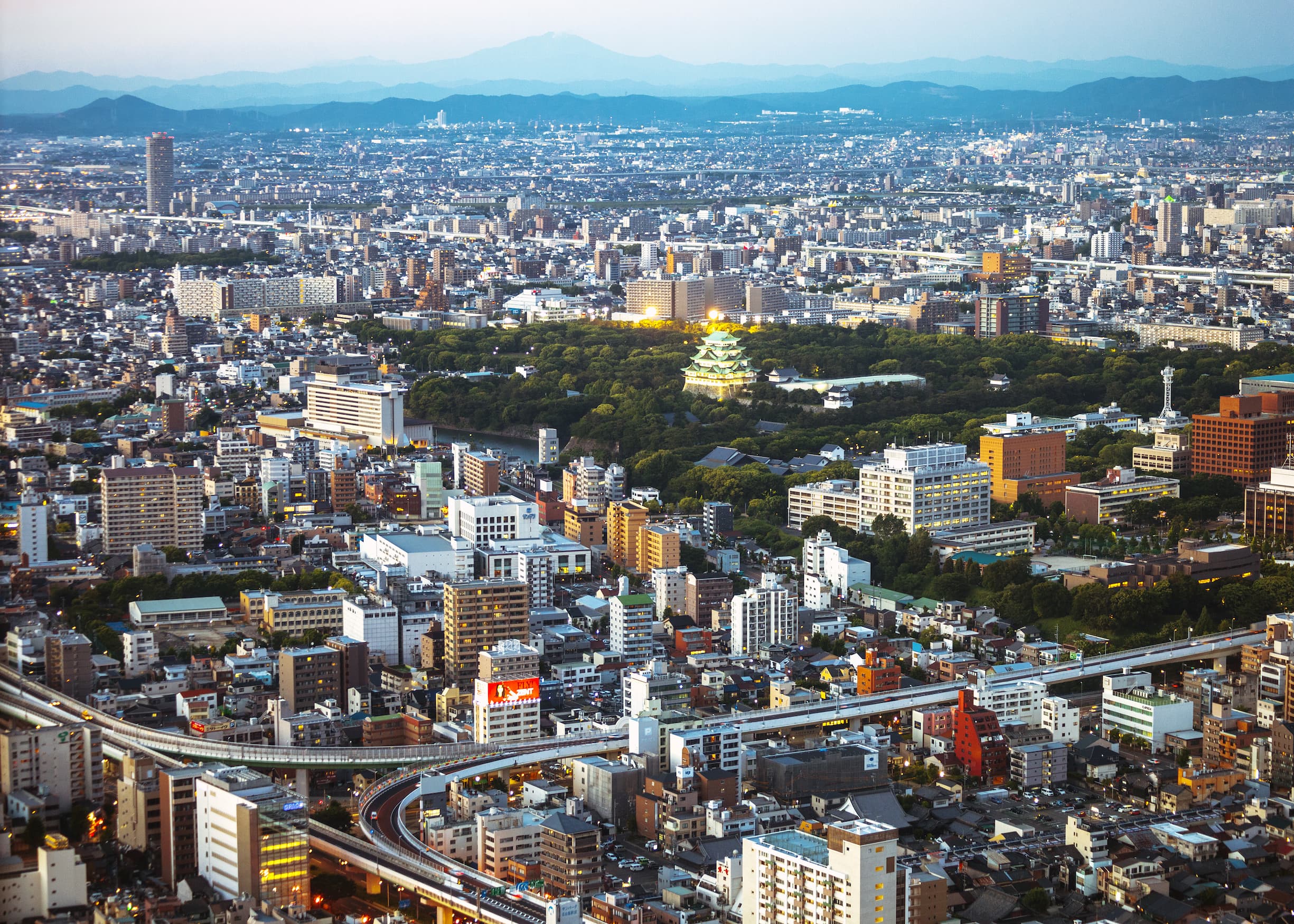 Above: Living in Nagoya and commuting to Kobe or Tokyo would be possible with hyperloop.
While Japan has long been a champion of high-speed rail, hyperloop is expected to travel at twice the rate of the country's bullet trains.
This would make the entire trip, end-to-end, less than 35 minutes – compared to the current two and a half hours by bullet train – and open the possibility of working in Tokyo or Kyoto while living in Nagoya where the cost of living is much more reasonable.
3 - CHINA: HONG KONG TO SHANGHAI
With China's urban population booming, linking cities more effectively would allow its economy to continue to grow while taking pressure off housing in some of the country's most densely occupied megacities.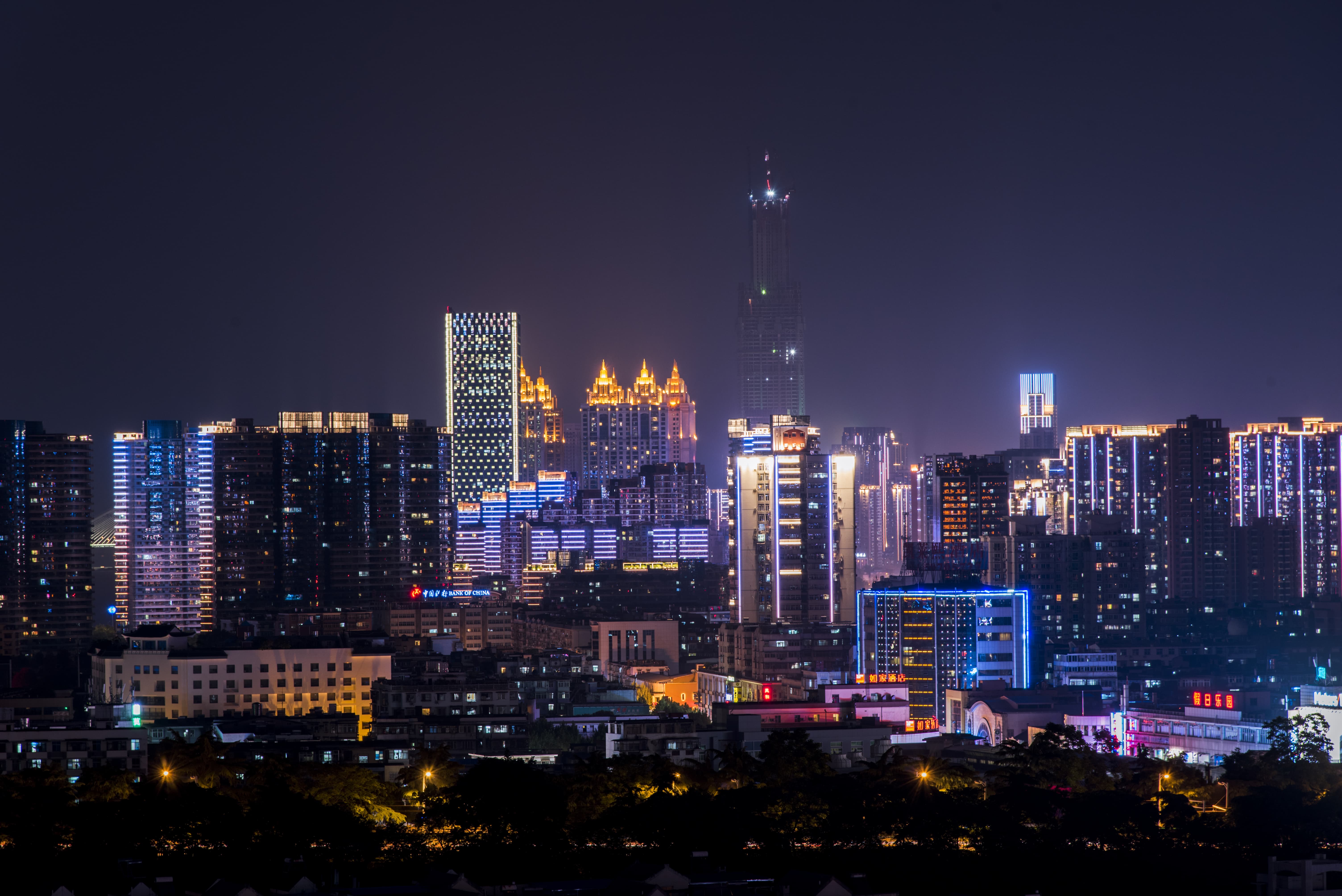 Above: Wuhan would be just one hour commute from Shanghai and Hong Kong.
Hong Kong and Shanghai are both at the centre of two of China's most important mega regions; the Pearl and Yangtze River Deltas.
While China has invested heavily in transport links between these cities, the efficiency of the hyperloop system is almost impossible to compete with.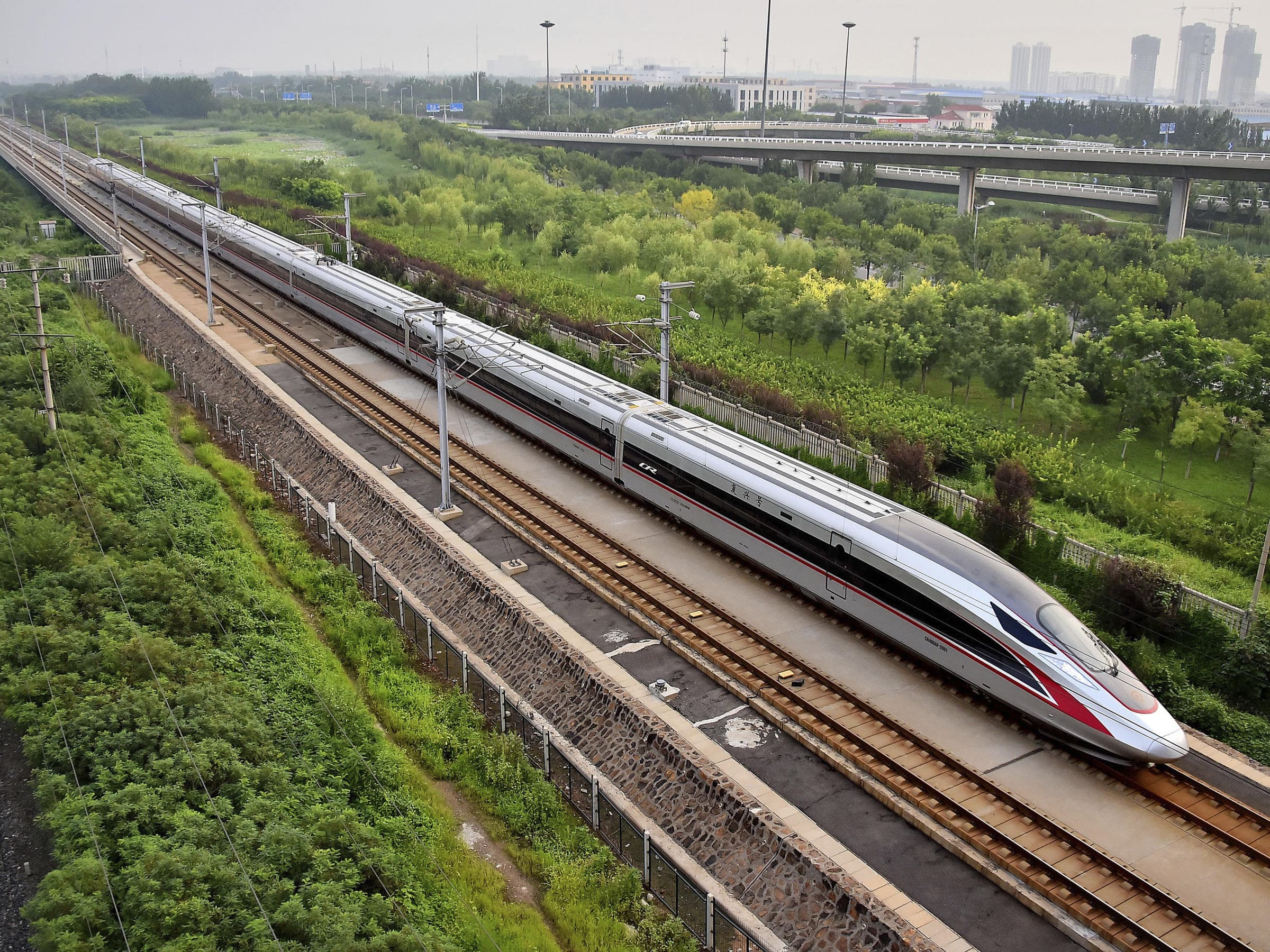 Above: Despite its high level of intercity transport investment, hyperloop speeds would render China's high-speed rail obsolete ( image courtesy of Yang Baosen).
Covering 1,700 kilometres in a cross-country arch, the entire route would get you from Hong Kong to Shanghai in less than two and half hours.
This route has the potential to make inland cities like Wuhan and Changsha much more influential, sitting at the heart of a route just over an hour from the economic hubs that make up 40% of the Chinese economy.
4 - INDIA: "THE GOLDEN TRIANGLE"
Set to become the world's most populated country by 2025, India is extremely well placed to benefit from an end-to-end hyperloop route.
With the number of flights between Delhi and Mumbai reaching 47,000 in 2017, it is little wonder this region is the first in a series of major industrial corridors that are planned for the country.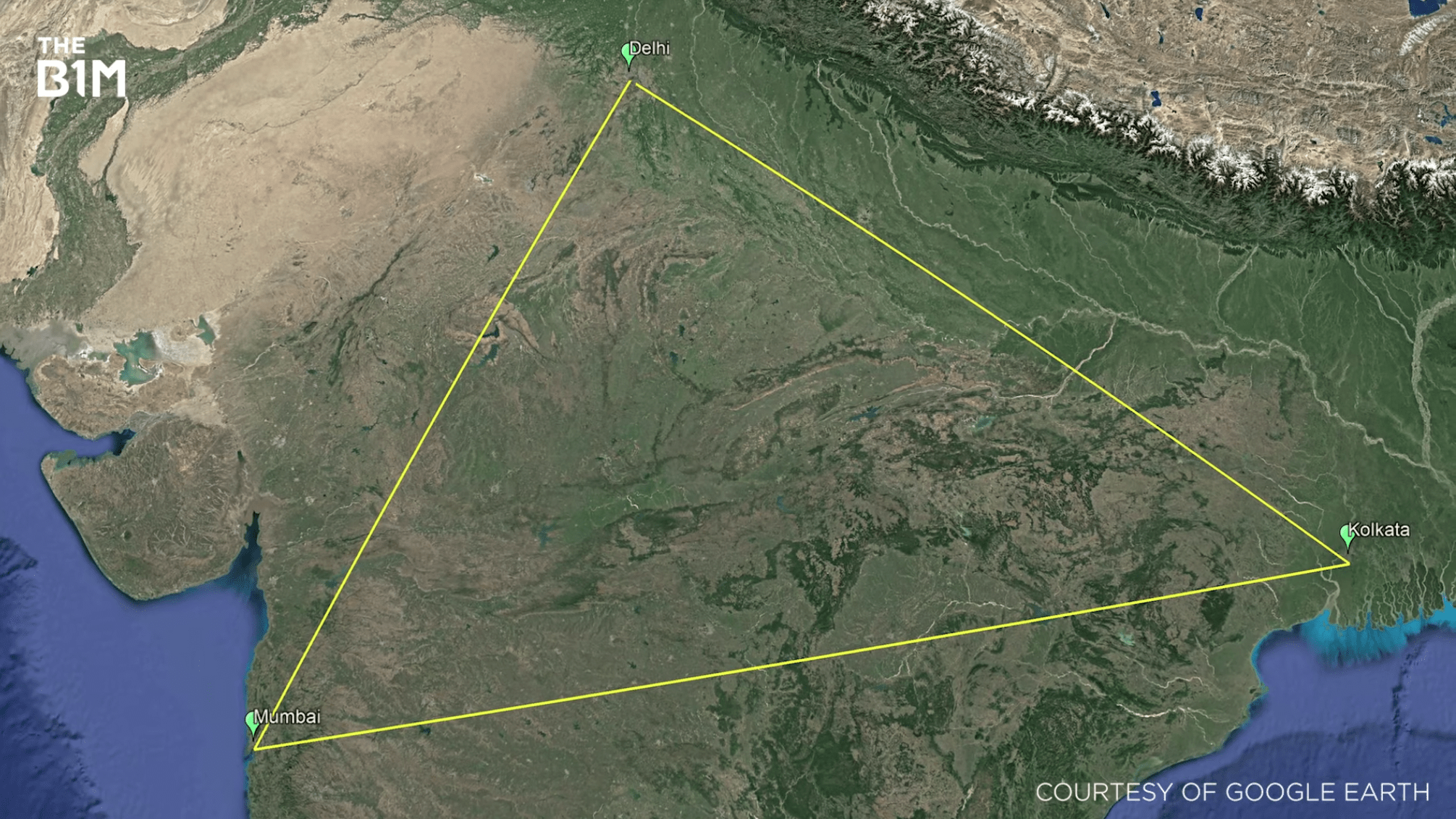 Above: With populations expected to more than 50 million each by 2100 the "Golden Triangle" hyperloop would give India a huge economic boost ( image courtesy of Google Earth).
The USD $100BN Delhi-Mumbai Industrial Corridor – or DMIC – is one of the world's largest infrastructure projects.
Its objective is to link India's major cities, allowing them to draw on one another's manufacturing, logistical and human resources and helping the nation become a world leader in manufacturing.
Above: Mumbai would be within two hours of Delhi and Kolkata with an end to end hyperloop.
With Mumbai, Delhi and Kolkata each expected to have populations in excess of 50 million by 2100, an end to end hyperloop system would have a catchment area of over 200 million people.
At 4,000 kilometres in length, this route would put all three centres less than two hours apart in either direction, greatly boosting the region.
5 - EUROPEAN UNION: "EUROLOOP"
When it comes to international routes for hyperloop, one of the most important elements to consider is financial cooperation to fund the project and the ease at which people can move between countries. The fundamentals of the European Union (EU) address these criteria very directly.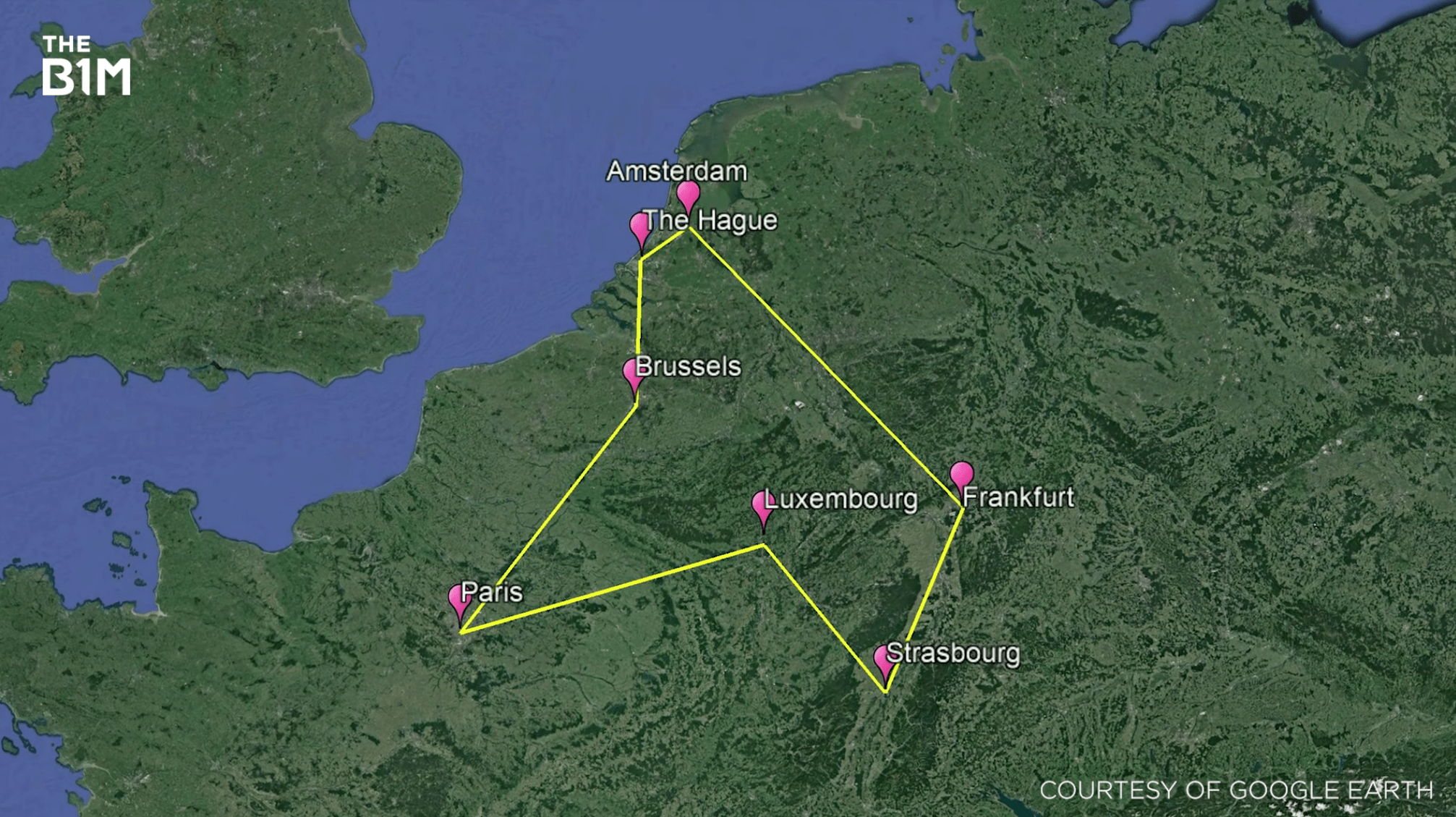 Above: Uniting the far-flung government agencies of the EU with major economic centres along the route would significantly boost the Union (image courtesy of Google Earth).
While Brussels is widely accepted as the "capital" of the EU, administrative functions and branches also sit in Strasbourg and Luxembourg.
Combine this with the European Central Bank located in Frankfurt and Europol in The Hague and the process of moving politicians and government officials between these five centres can present a logistical headache for bureaucrats.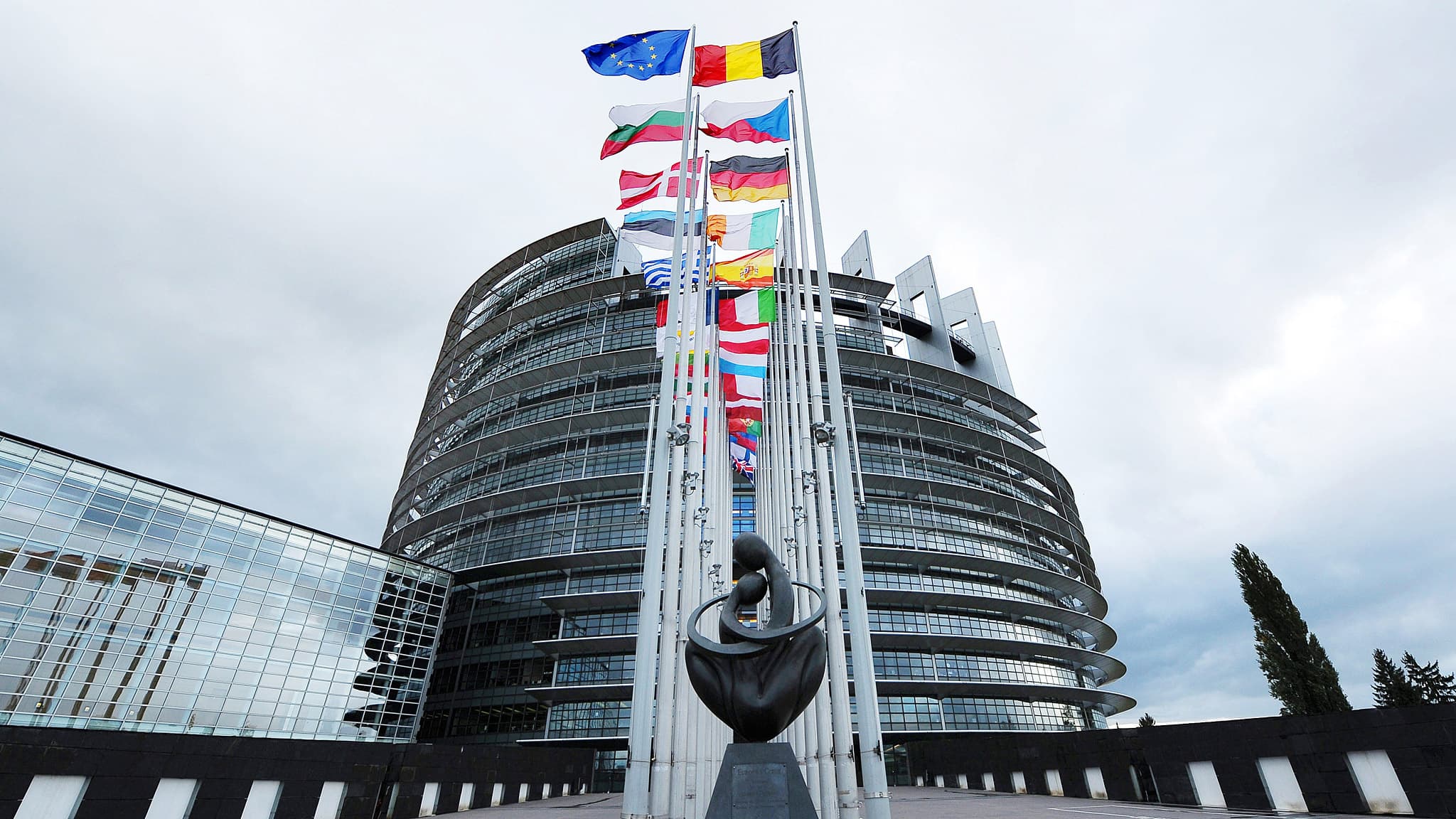 Above: The free movement principles of the EU make it ideal for an international hyperloop (image courtesy of Frederick Florin).
Linking these administrative regions with economic centres along the route like Antwerp, Rotterdam, Amsterdam, Düsseldorf, Cologne and Paris, would create a loop that connects over 25 million people and puts each city less than an hour from the others.
6 - UNITED KINGDOM: LONDON TO EDINBURGH
The United Kingdom's (UK) thriving capital has living costs far above the national average, house prices that are unattainable for most and an infrastructure system that is continually playing catch up.
While other cities offer a more affordable option, the draw of big business to London means that many people have little choice but to work there.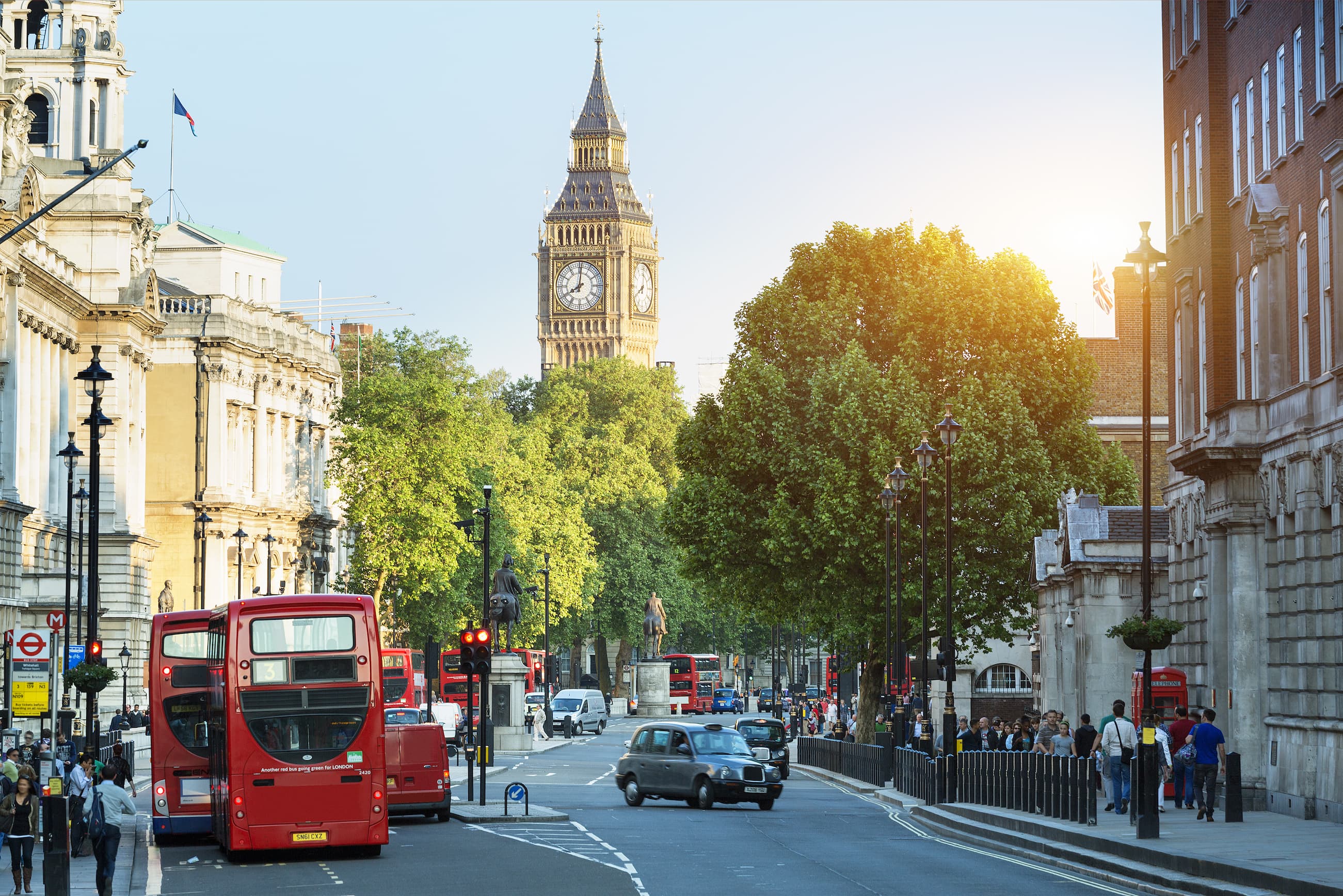 Above: Connecting more affordable regional centres to the high paying jobs of London would greatly benefit the UK.
By connecting the high paying jobs of the capital to the more affordable economic and manufacturing centres in the midlands and northern regions, the UK could address issues like housing, the pay squeeze and infrastructure spending.


Above: Hyperloop would connect cities faster and further apart than even HS2 currently under construction (image courtesy of HS2 LTD).
While high-speed rail projects to connect the south-east and the Midlands are already under development, a hyperloop between Edinburgh and London would bring the cities within 45 minutes of each other and connect four of the country's largest urban areas.
7 - SOUTH AMERICA: RIO DE JANEIRO TO MONTEVIDEO
While not as well-known as the EU, the countries of Brazil, Argentina, Paraguay and Uruguay are all members of a trade bloc known as Mercosur, or the Southern Common Market.
This "proto-union" currently exists as a customs union with aims to promote, free trade, freedom of movement and eventually a single currency.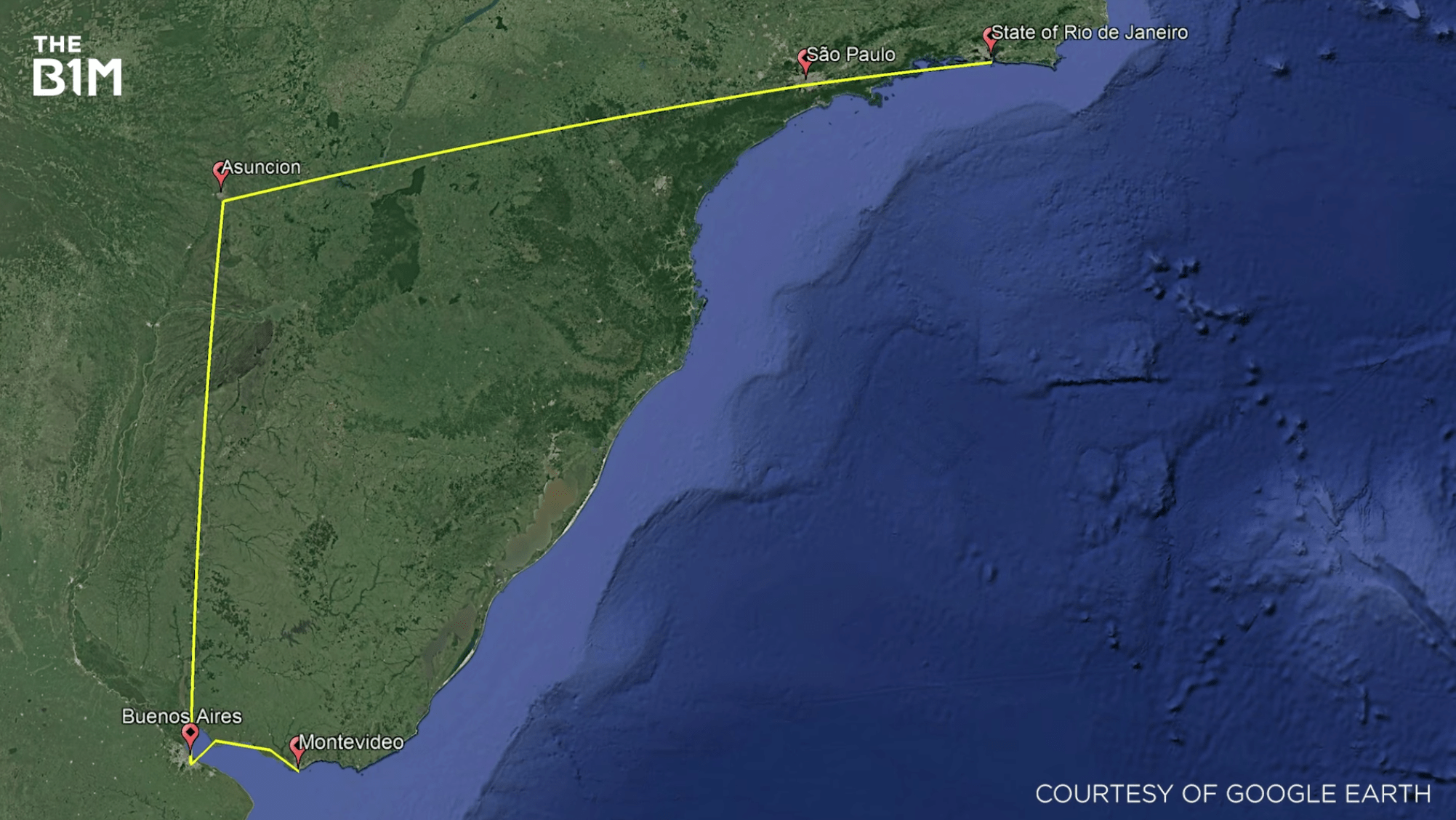 Above: Uniting the largest cities in Mercosur would create the largest economic and political entity in South America ( image courtesy of Google Earth).
Like the EU, the inter-cooperation between these countries makes this region of South America a prime candidate for hyperloop.

Linking the largest cities in all four countries, this hyperloop would create South America's largest political and economic entity consisting of over 50 million people.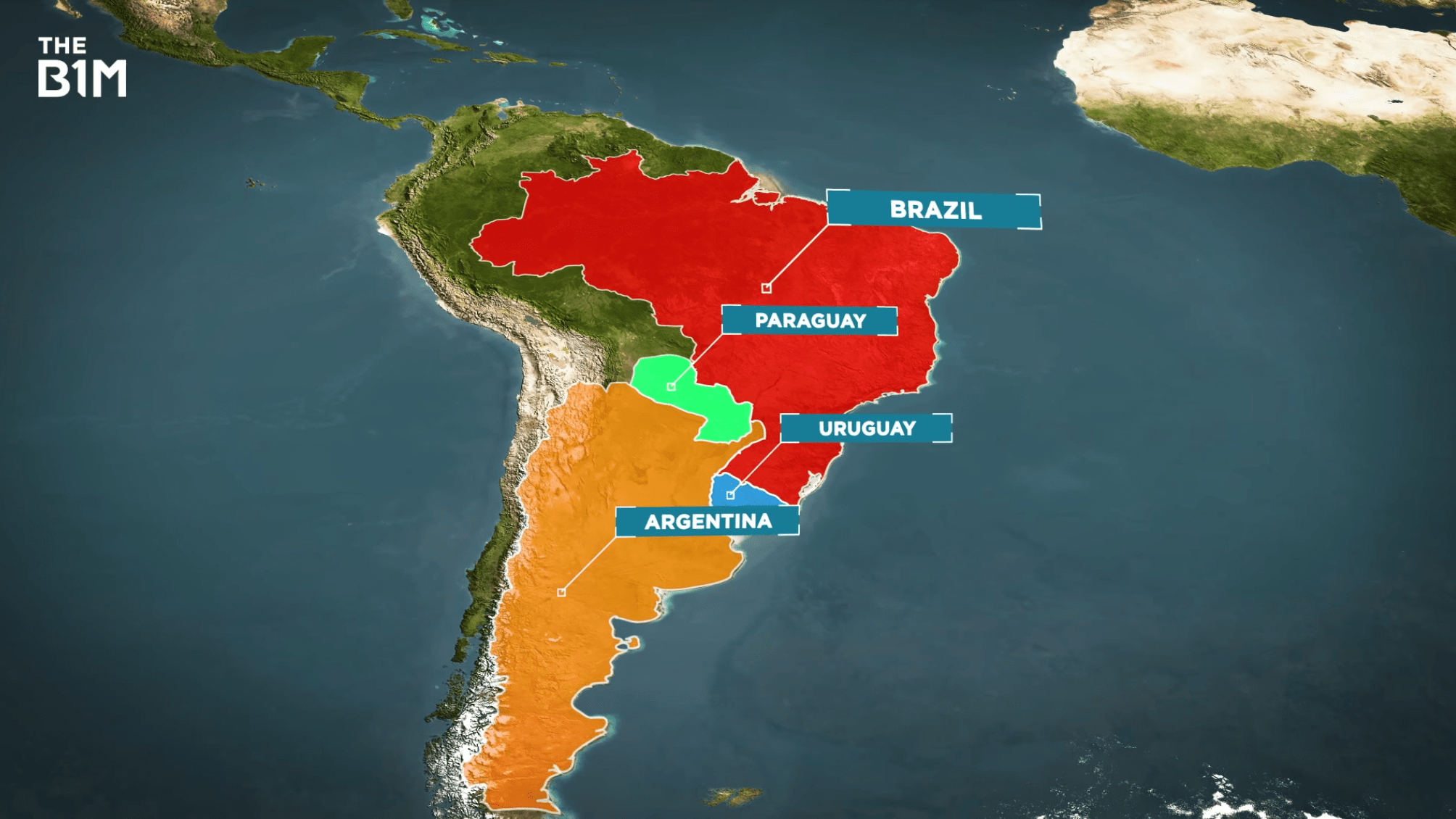 Above: With aims of further integration and co-operation, the nations of Mercosur would benefit greatly from a hyperloop system.
While the entire 2,700-kilometre route would take three hours to travel – significantly faster than the five hours required to check in and fly – the main beneficiaries would be Sao Paulo and Rio who currently lay claim to the 5th busiest flight routes in the world.
8 - UNITED STATES: BOSTON TO WASHINGTON
Known as the BosWash agglomeration, the North Eastern United States (US) is the most densely populated region of North America.
Consisting primarily of Boston, New York, Philadelphia, Baltimore and Washington D.C., these cities form a near-unbroken urban link running for over 630 kilometres.
Above: The BosWash agglomeration in the Northeastern US (image courtesy of NASA and the ISS).
With more than 40 million people in the catchment area, this hyperloop could connect the nation's capital with its largest city and beyond in under 50 minutes.
9 - UNITED STATES: "THE TEXAS TRIANGLE"
Texas is America's second largest state in both size and population but, unlike the dense Northeast, its economic centres are spread further apart, placing limits on where people can live and work.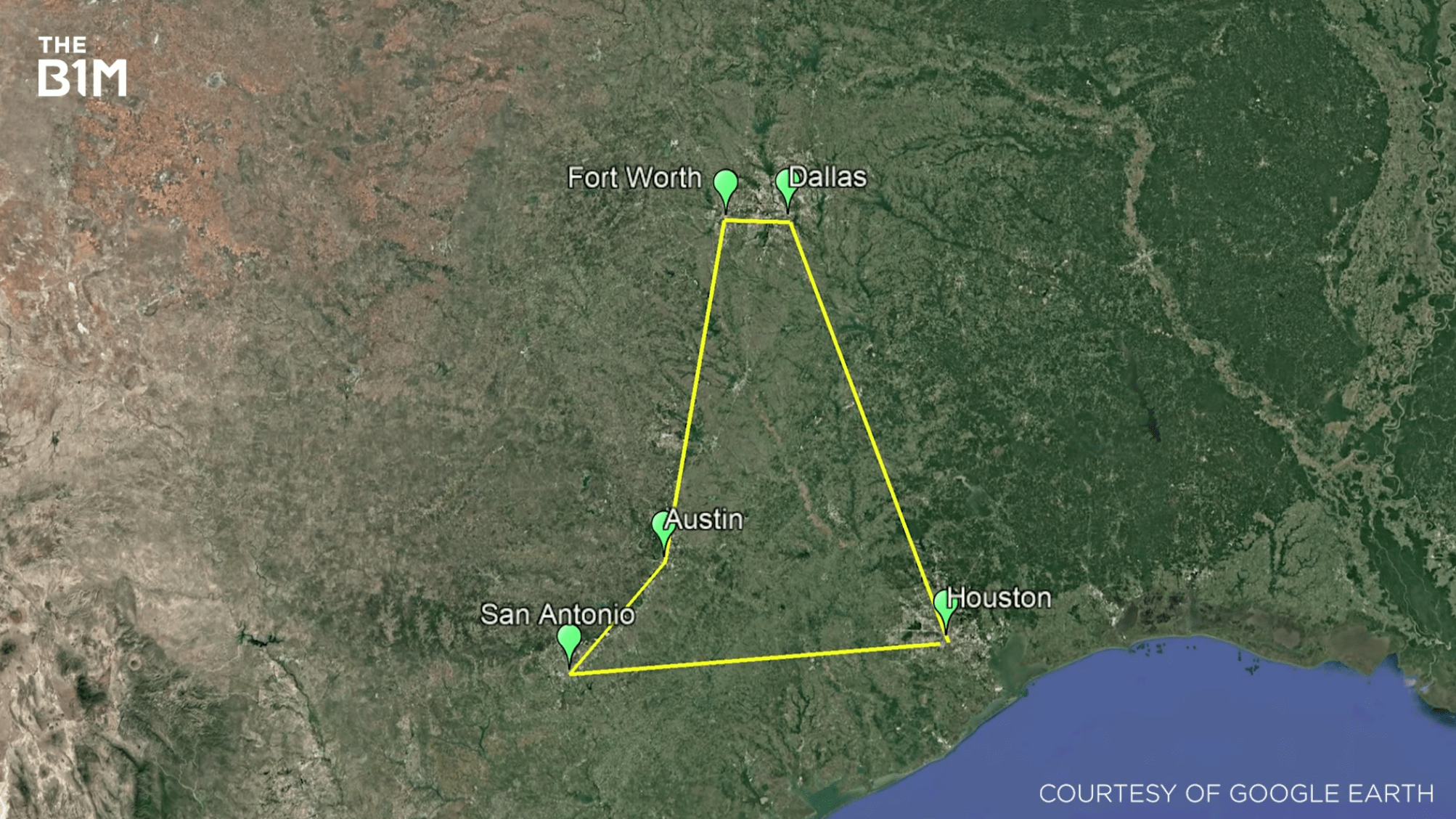 Above: A united Texas Triangle would be an economic powerhouse within the United States (image courtesy of Google Earth).
Houston, San Antonio and Dallas are the state's largest cities and three of the largest in the US forming a region that has become known as the Texas Triangle.
Linking these cities and broadening their economic reach would further diversify their economies while providing more employment and housing opportunities for Texans across the state.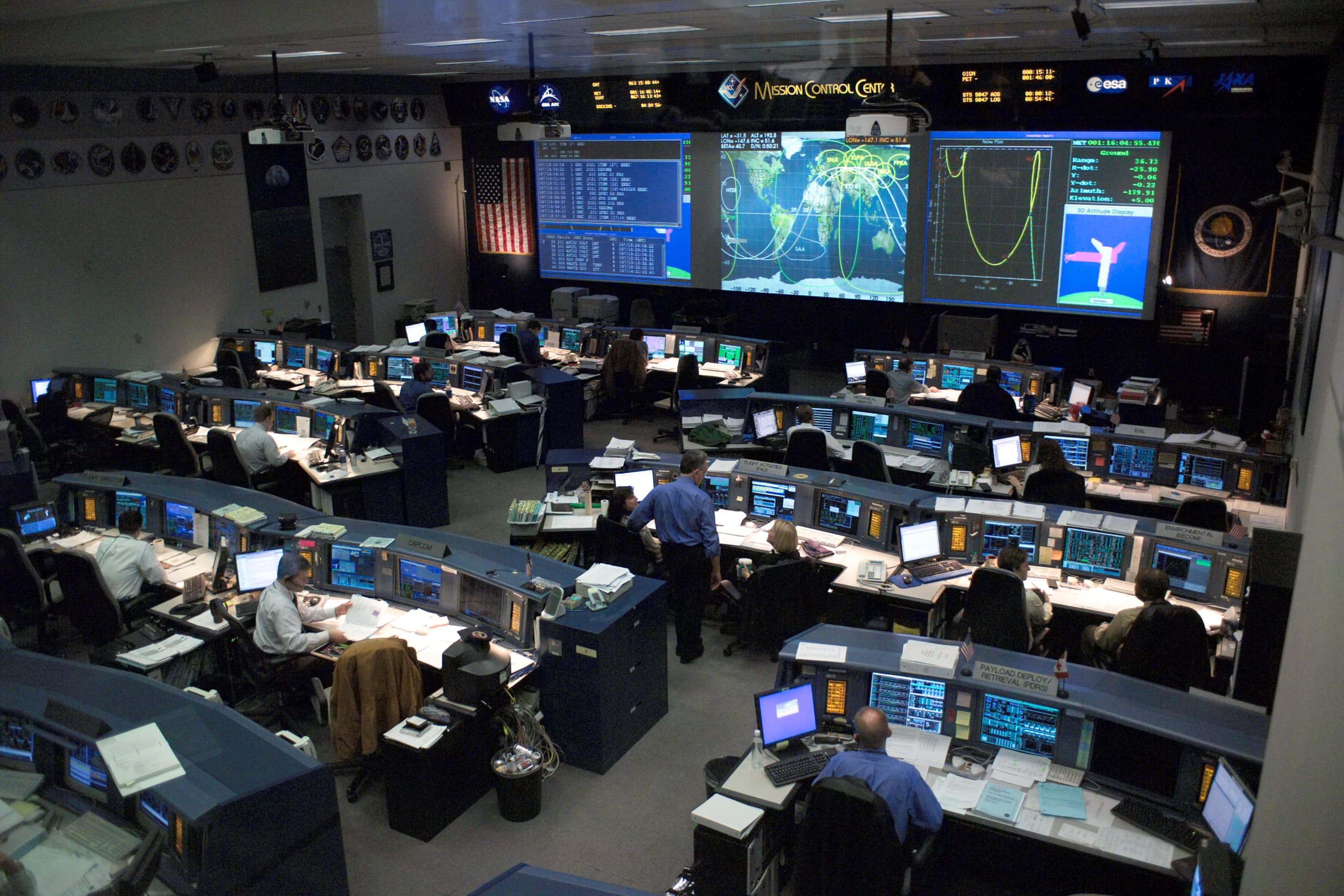 Above: With an efficient hyperloop system people all over Texas could work at NASA's Houston facility (image courtesy of NASA).
The state capital of Austin, as well as Fort Worth, would also be added to the loop creating an economic region of over 18 million people with access to jobs in the state government, space agencies, oil, telecommunications and aviation sectors – all in under 30 minutes from any direction.
10 - UNITED STATES: SAN DIEGO TO SACRAMENTO
Much like Texas, California is a large and populous state with far spread economic centres.
Distinct economies have formed in cities across the state – like entertainment in Los Angeles, technology in the San Francisco Bay area and manufacturing in San Diego.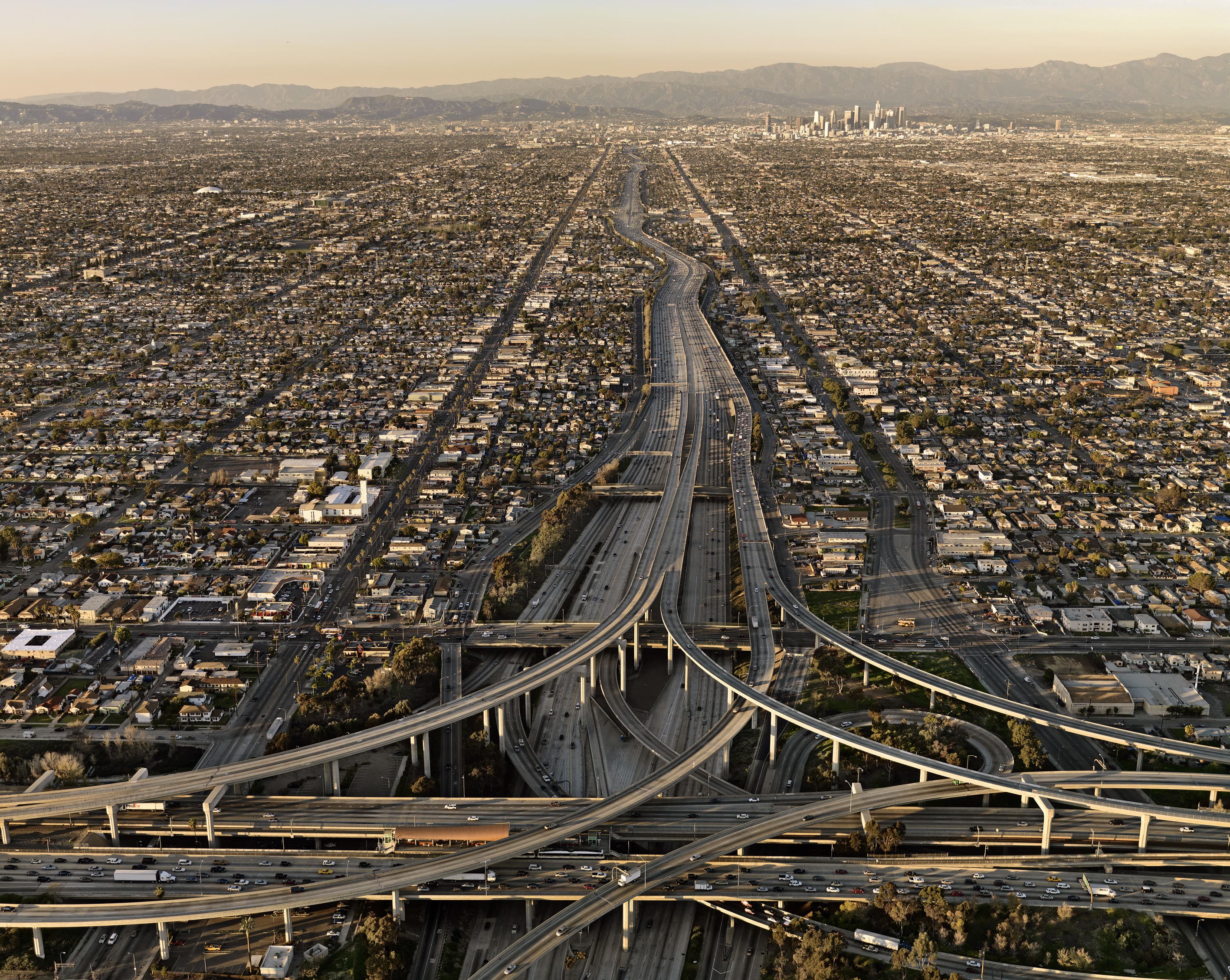 Above: The cost of living in Californian cities has lead to unsustainable levels of urban sprawl (image courtesy of Edward Burtynsky).
While this concentration of specific industries is good for jobs, the cost of living in these cities has risen to levels that most people simply cannot afford.
With San Francisco, Oakland, San Jose, San Diego and Los Angeles making up five of the 10 most expensive cities in the US, connecting these centres to more affordable regions would open up a range of housing options, addressing the critical challenges of affordability and lagging infrastructure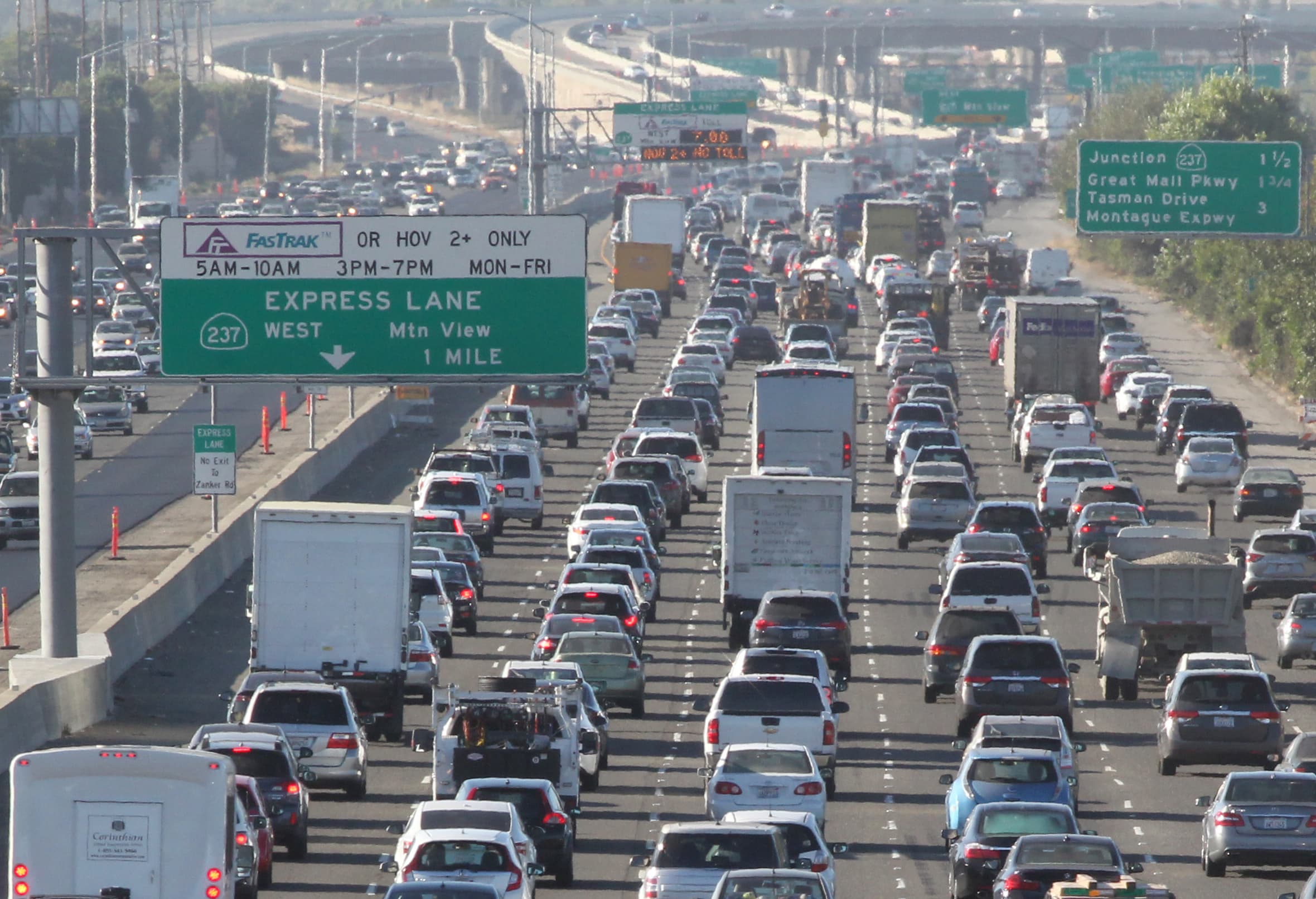 Above: Hyperloop in California would significantly reduce intercity gridlock on the state's major highways (image courtesy of Anda Chu).
The Californian hyperloop could begin in San Diego and head north through Los Angeles before connecting the regional cities of Bakersfield and Fresno to San Jose, San Francisco, Oakland and finally the states capitol Sacramento
Including the more affordable Fresno and Bakersfield at the midpoint on this 900-kilometre journey, puts them less than 30 minutes from any portal along the route, and would make commuting to any of California's economic hubs significantly easier.
You can learn about the hyperloop concept in our acclaimed documentary:

Footage and images courtesy of Virgin Hyperloop One, Mid-Ohio Regional Planning Commission, Hyperloop Transportation Technologies (Hyperloop TT), FR-EE, Mark Ovenden, Patrick Gruban, Australian Bureau of Statistics, Toby Toblerone, Mark McIntosh, Andrea Bens, Google Earth, Yang Baosen, Council of The European Union, Toyoaki Fujiwara, EU Observer, Frederick Florin, Daniel Roland, Oseveno, HS2 LTD, Roberto-Stuckert-Filho, Juan Mabromata, NASA and ISS, NOAA, Earl McGehee, Heidi Okla, Caleb George, Daniel L. Lu, Edward Burtynsky, Anda Chu, Bobak Ha'Eri, Transpod, Foster and Partners and DP World.

We welcome you sharing our content to inspire others, but please be nice and play by our rules.
Comments
---