Tech
The Town That Facebook Built
Youtube Views

1,531,219

VIDEO VIEWS
Video hosted by Fred Mills.
THIS quiet corner of Menlo Park in California, is home to the largest social network on earth.
With an extensive campus, free food and drink, arcade games, ball pits, the world's largest open plan office, on site doctors and even free dry-cleaning, the home of Facebook is unlike any other commercial headquarters.
But what drove the development of this entire new district and how did the social network's HQ go from a Harvard dorm room to the vast site it occupies today?
From the original site going live in Mark Zuckerberg's Harvard dorm room in February 2004, Facebook has grown at an astonishing rate, gaining thousands of users within just a few weeks of its launch, and now serving 1.4 billion active users every day.
The site's headquarters has resided in a number of locations over the years. Dominating Zuckerberg's Harvard room in its first few months, he and his co-founders Eduardo Saverin, Dustin Moskovitz and Chris Hughes rented a small house in Palo Alto California over the summer of 2004 with the intention of returning to Harvard for the next semester.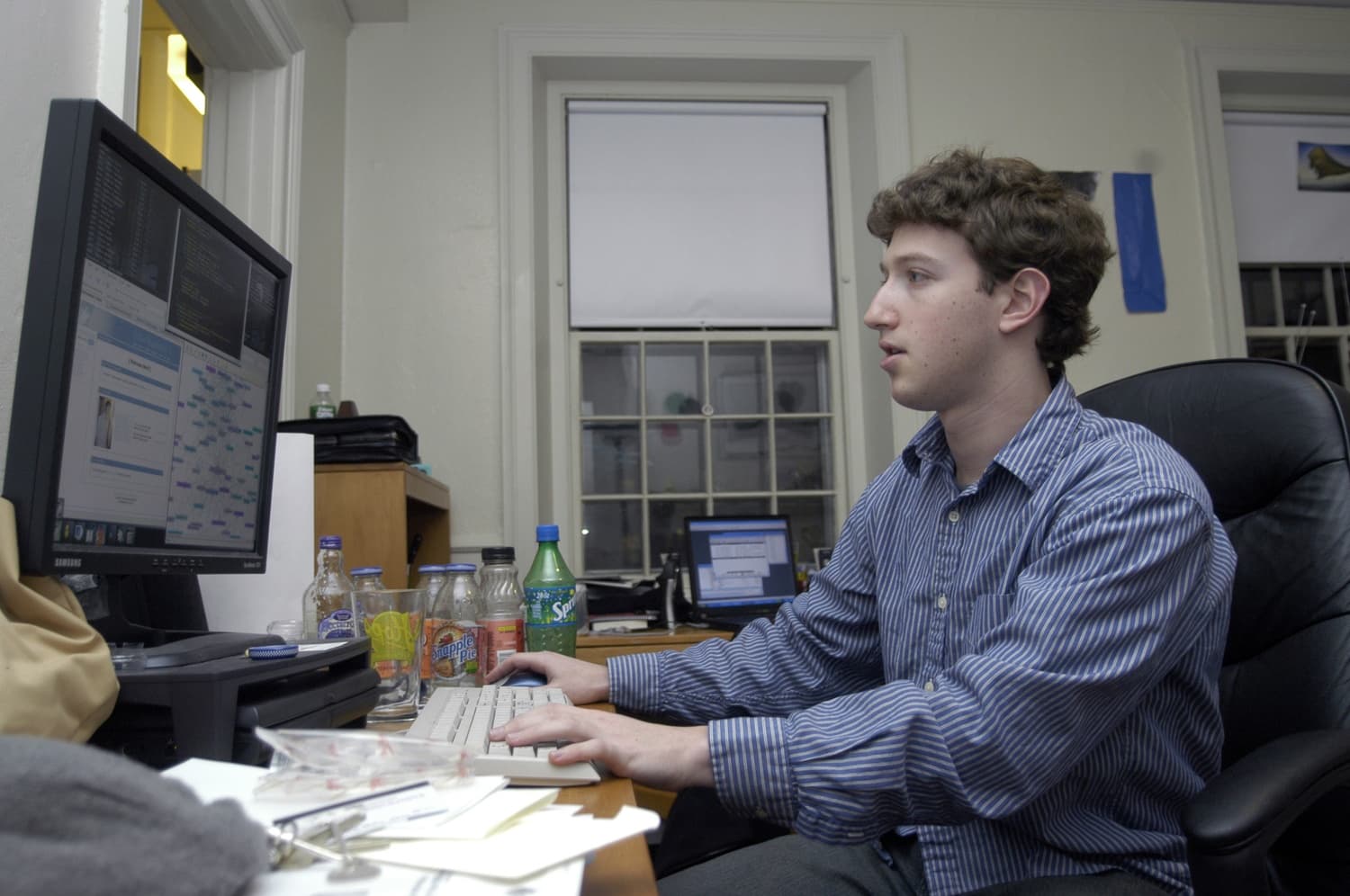 Above: Facebook HQ has changed significantly since its origins in Mark Zuckerberg's Harvard dorm room (image courtesy of The Harvard Crimson).
But a significant investment from Peter Thiel saw Facebook move into their first official office on Emerson Street in downtown Palo Alto that same summer and enter a rapid new phase of growth.
From there, the firm resided in a number of different locations across Palo Alto, eventually consolidating into a large base at 1601 South California Avenue in 2009.
Around the turn of the decade, Facebook began evolving from a social network used primarily by young people at schools, colleges and universities into a truly global platform with over 500 million users of all ages, across society.
With its impact growing, 2010 saw the firm open an engineering office in Seattle and break-ground on its first custom-built data centre in Oregon.
For its headquarters, Facebook eyed the former Sun Microsystems campus in the Menlo Park region of Palo Alto.
MENLO PARK
In December 2011, 2,000 Facebook employees moved into 10 revamped buildings on the Sun Microsystems site, which is now known as the firm's East Campus.
In designing the new work environment, Facebook focused on how employee wellbeing could improve creative thinking, drive innovation and increase productivity.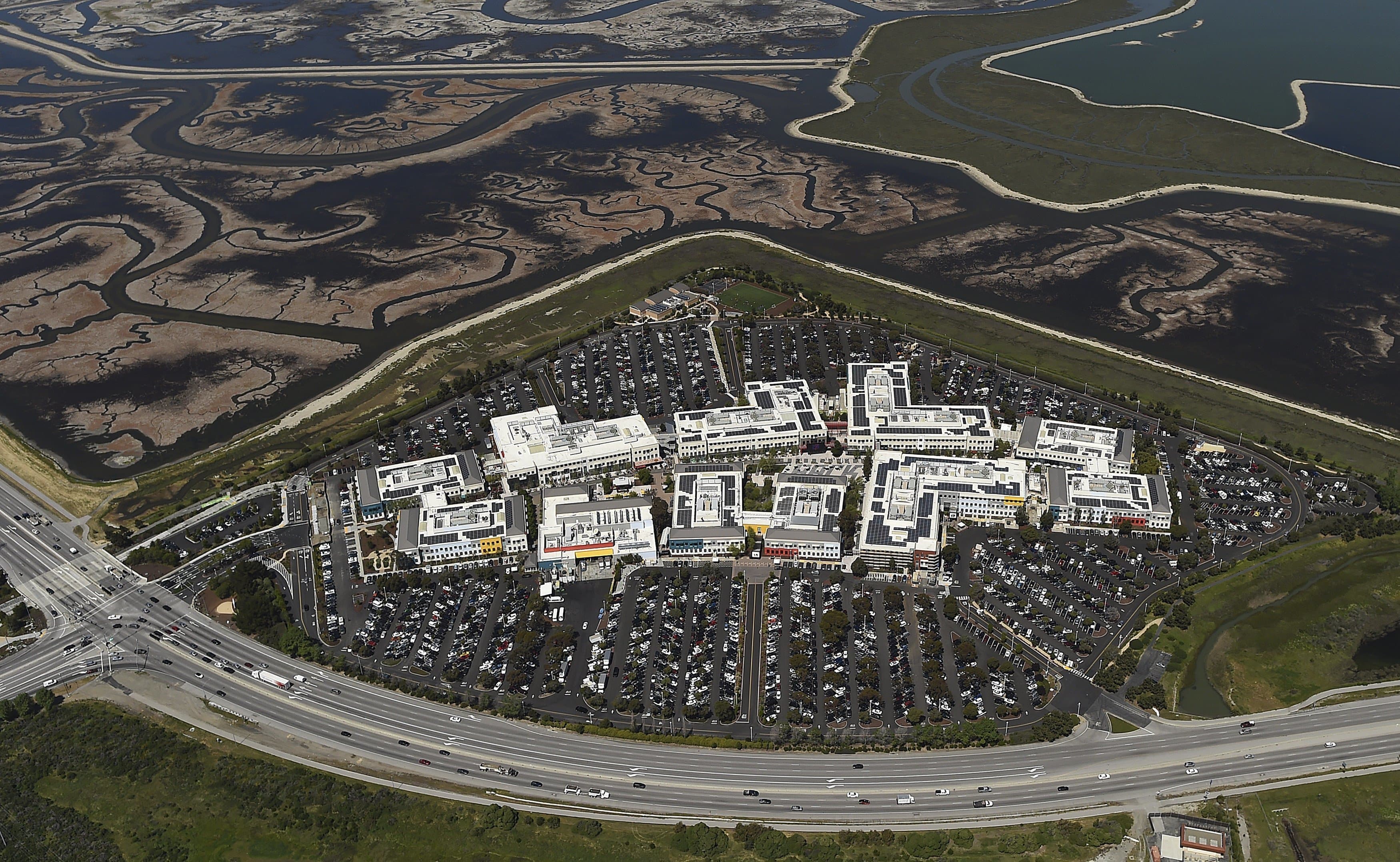 Above: Facebook's East Campus (image courtesy of Noah Berger).
Gone was the top-down structure of corporations with the CEO based on the top floor of a skyscraper. The flat, spread out campus at Facebook's HQ made everyone feel equal.

The private offices and cubicles that had defined corporate workplaces since the 1920s were replaced with open plan offices, high ceilings, communal break-out areas that fostered collaboration and a central courtyard linking all of the campus buildings, encouraging movement throughout the day.
The design of the campus – with buildings enclosing a secure central courtyard – made it easy to collaborate and feel part of a community once you were on the inside. Externally the facility was surrounded by car parking and was arguably less inviting.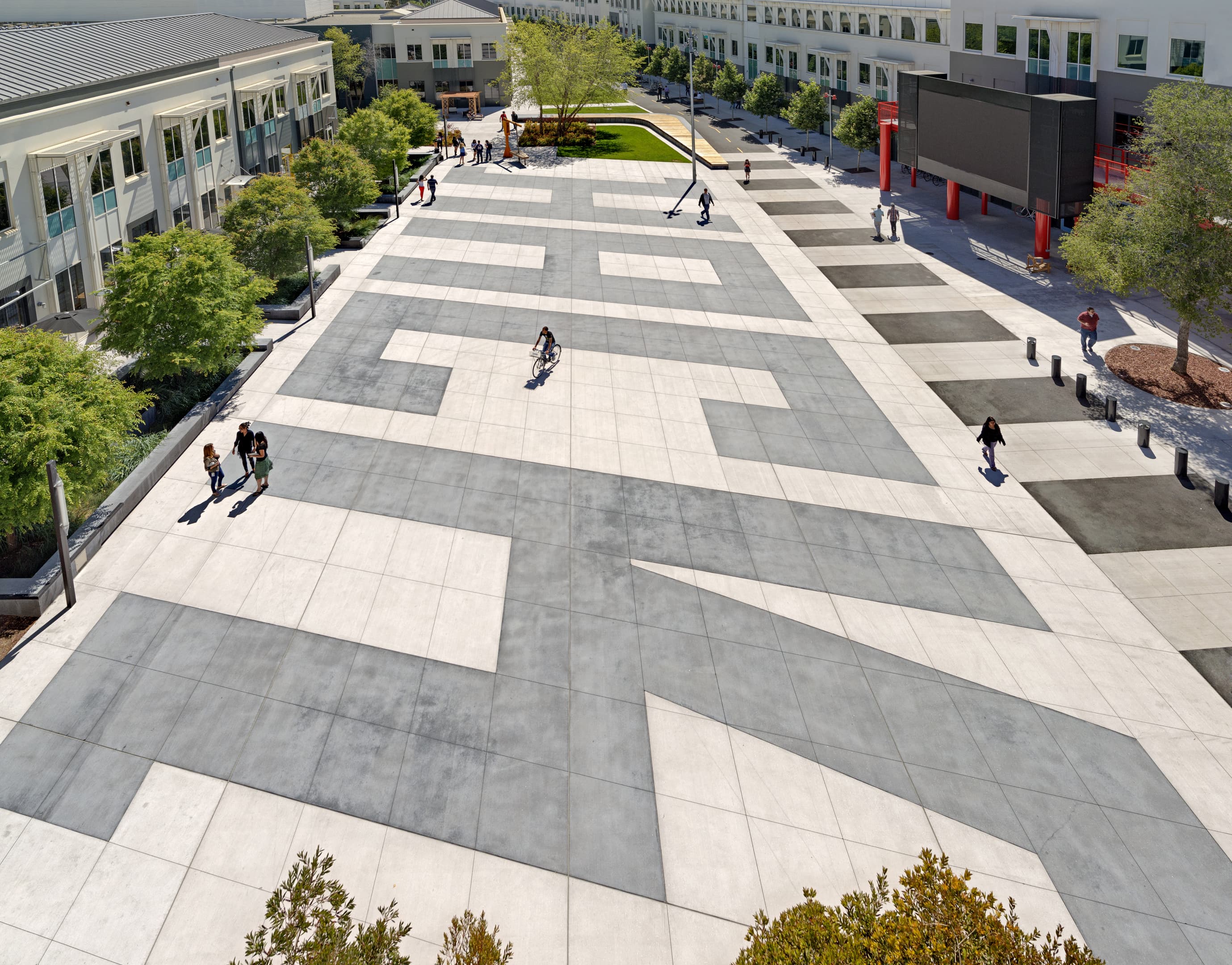 Above: The courtyard at the heart of Facebook's East Campus gives a community feel to the workplace (image courtesy of Facebook).
With its unprecedented growth rate, together with the acquisition of Instagram and WhatsApp indicating that Facebook would soon out grow even this site, plans were developed for a further expansion across Highway 84 on what would become known as West Campus.

MPK-20
Designed by Frank Gehry, the first stage of Facebook's USD $1BN headquarter expansion was the 433,000 square foot, 40,000 square metre, MPK-20 which opened in March 2015.
Located adjacent to the original campus and just to the south of Highway 84, the expansion houses a further 2,800 employees while an underground tunnel back to the East Campus encourages movement and a feeling of community among staff.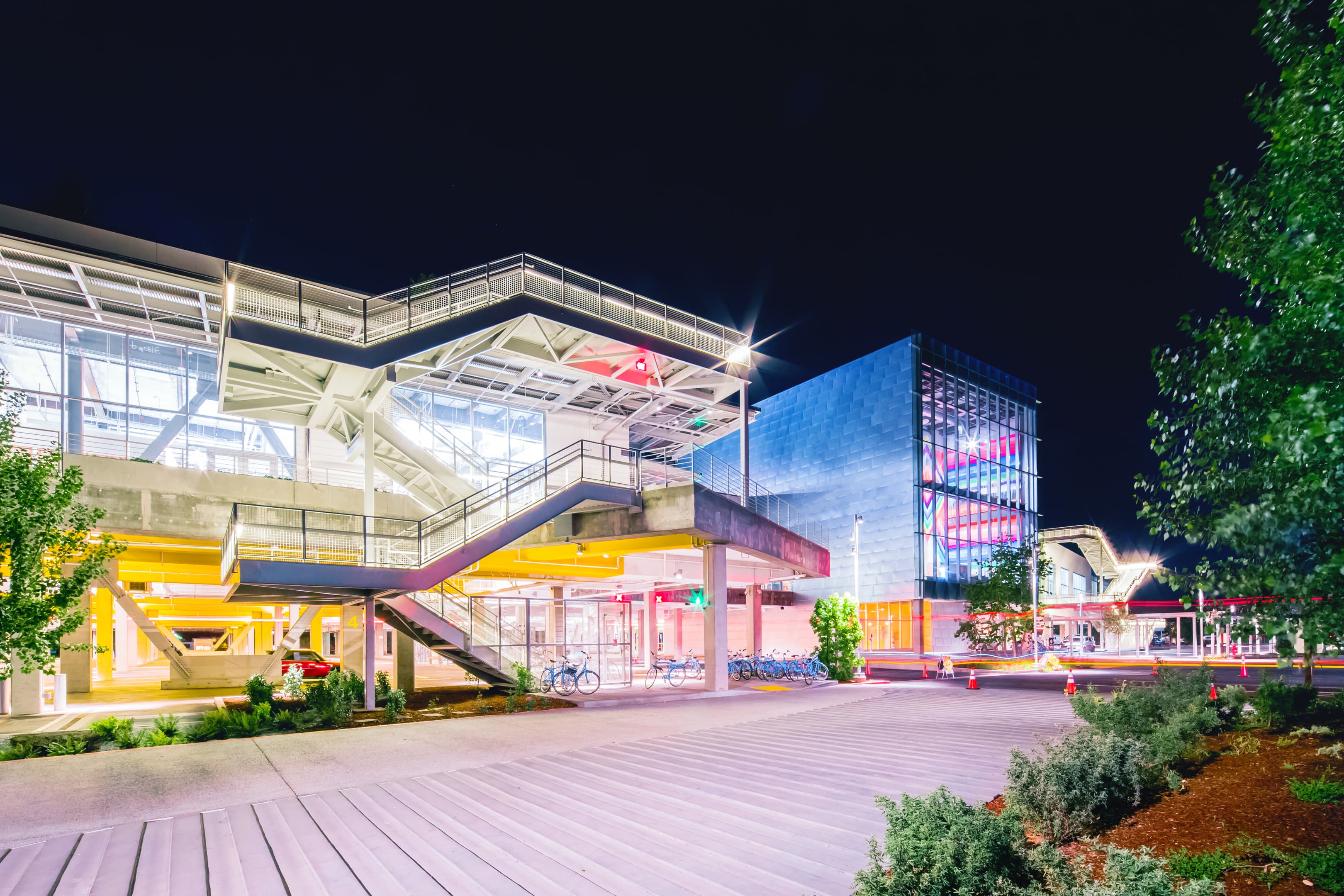 Above: MPK-20 was Facebook's first expansion since it moved to Menlo Park (image courtesy of Facebook).
Following the East Campus philosophy, the focus of MPK-20 was to create an eco-friendly environment that brings people together.
When first completed, the building was home to the world's largest open-plan office; allowing Facebook to drive connections between its team, as well as online.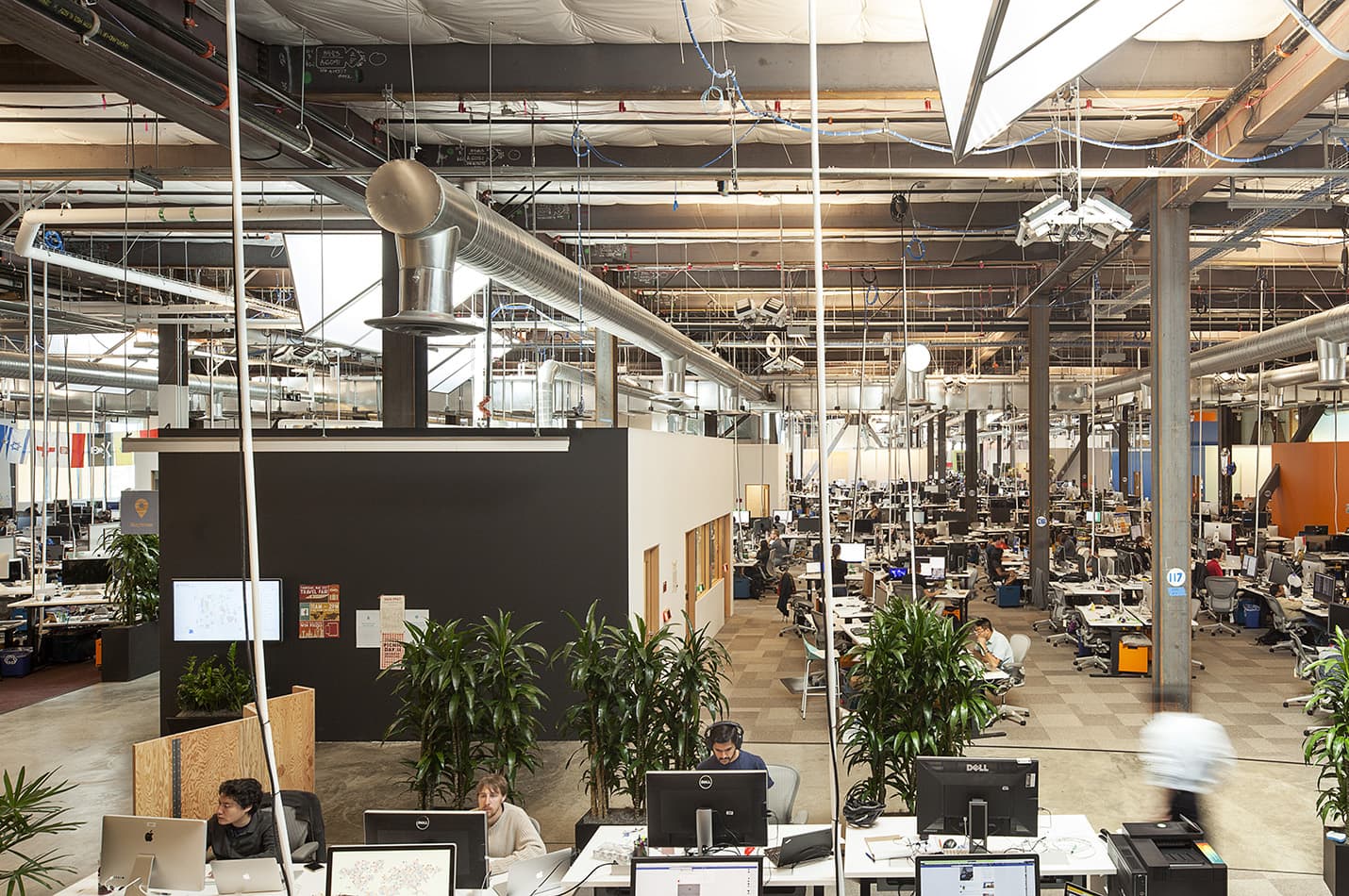 Above: The open office of MPK-20 was the largest in the world upon completion (image courtesy of Facebook).
The LEED Gold-certified building exceeds the requirements of California's strict energy code by 25%. All 1,499 parking spaces are located at ground level, beneath the office, making effective use of space whilst preventing the car park's surface from accumulating heat.
The building is topped by a nine-acre, 36,000 square metre green roof containing some 400 mature trees and over 100,000 native plants which insulate the building; reducing overall heating and cooling costs.
Recognising the effect that trees and the natural environment have on productivity, employees are encouraged to work outdoors and the rooftop is equipped with WIFI, whiteboards and unique working spaces.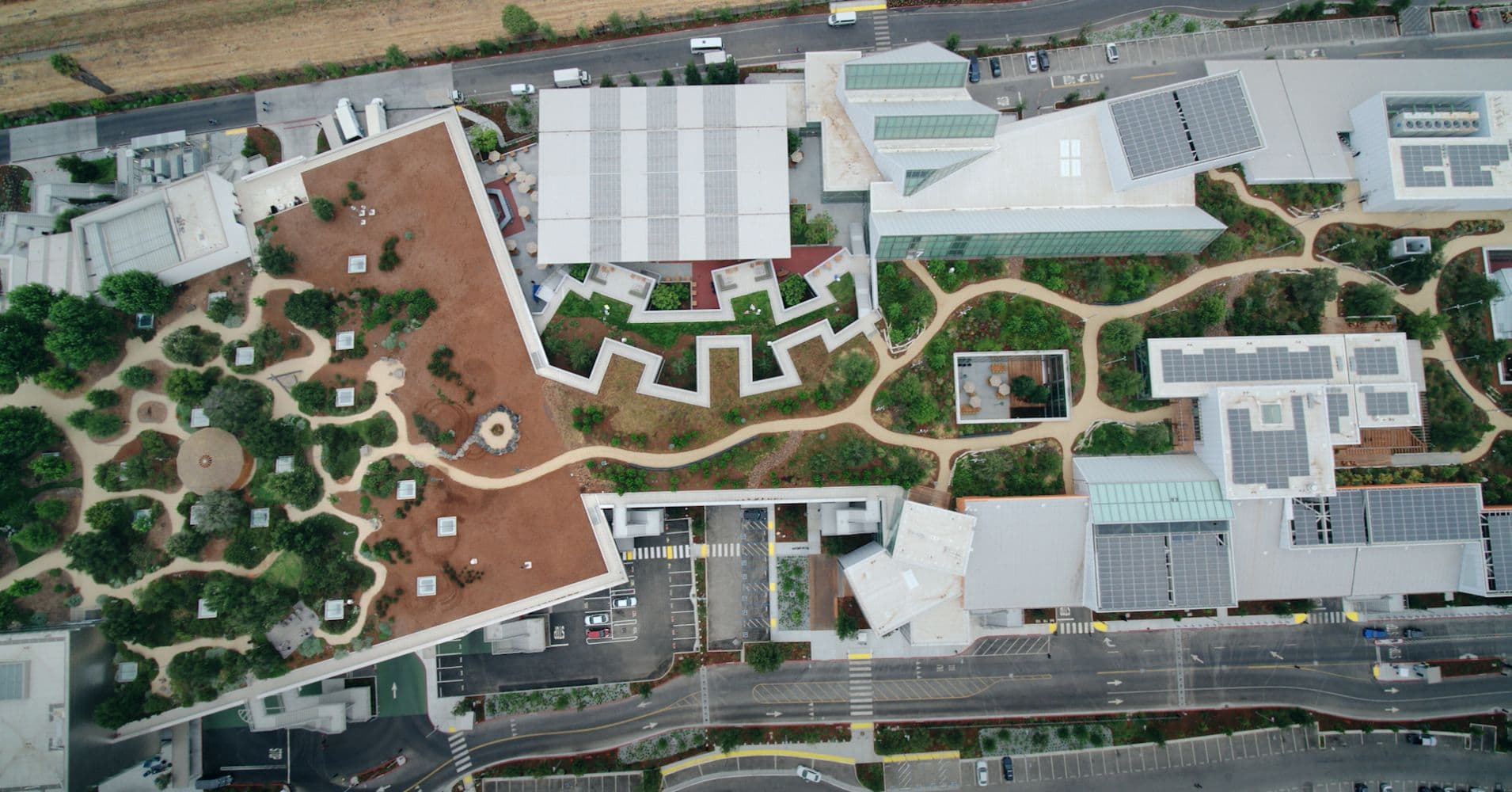 Above: Employees in MPK-20 are encouraged to work outdoors to improve wellbeing. (image courtesy of Facebook).
Zuckerberg himself is known to enjoy walking meetings and has given interviews to journalists whilst strolling across the expansive rooftop park.
MPK-21
In more recent times, Facebook has matured to become an intrinsic part of our social fabric.
Its team are now pioneering new ways to build communities and connect people around the world whilst addressing numerous challenges that didn't exist before it was launched – such as the rise of fake news and the effects of excessive social media use on psychological wellbeing.
With an expanding team, Facebook completed its second headquarter expansion in June 2018.
MPK-21, also designed by Gehry, connects to the original MPK-20 via "The Bowl" a vast landscaped open space designed to further encourage interaction and collaboration amongst employees.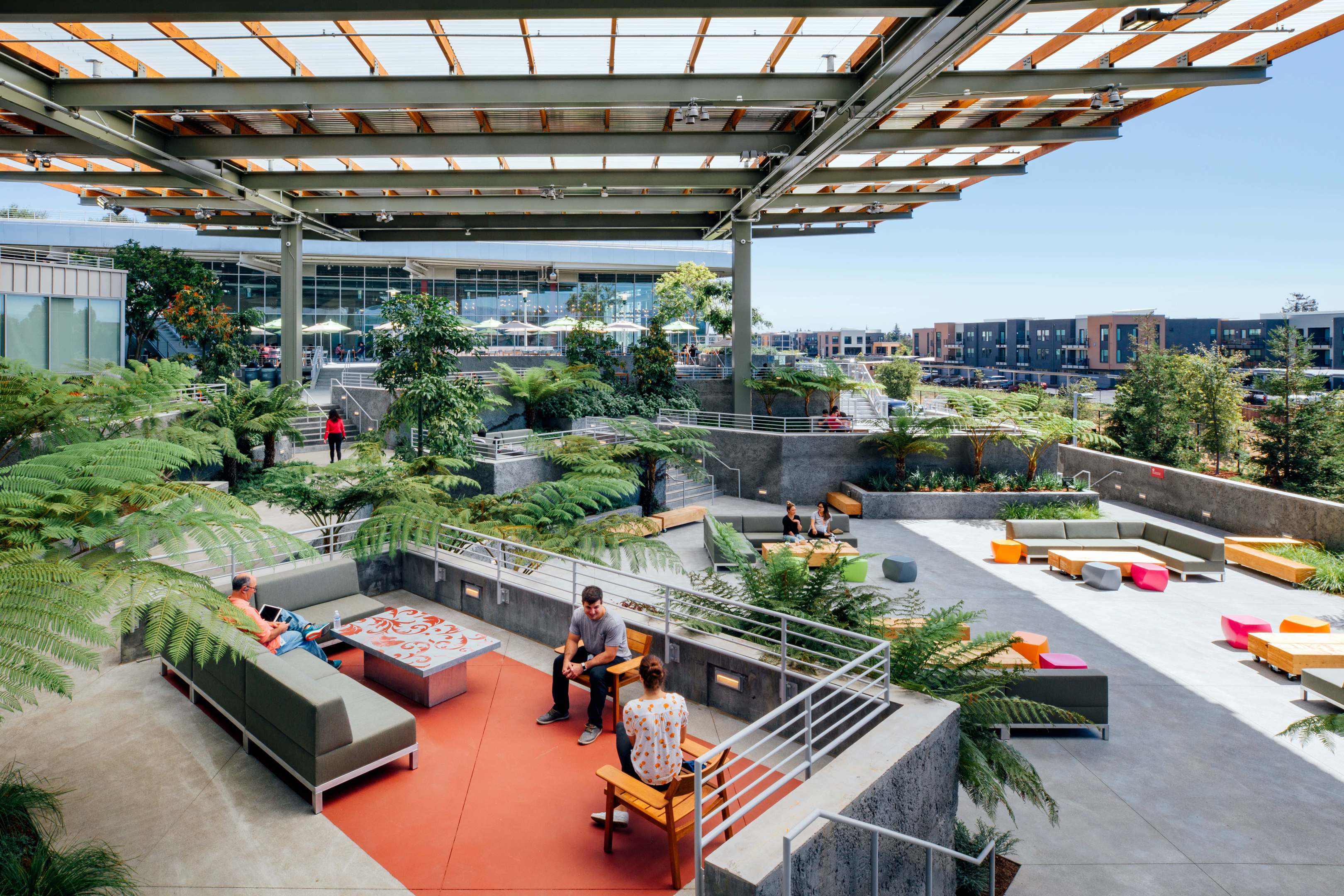 Above: "The Bowl" links MPK-20 and MPK-21 and further encourages collaboration and working outdoors (image courtesy of Facebook).
At 524,000 square feet (48,000 square metres) this latest expansion is even bigger than the record-breaking MPK-20 and was built in just 17 months, compared with the 22-month programme for MPK-20.
Designed to achieve a LEED Gold-certification, MPK-21 features many of the features of its neighbour together with a reclaimed water system that saves over 77 million litres of water annually and 1.4 MW of solar panels across its green roof.
Containing a 2,000 person event space and a simple single pathway traversing the length of the building, everything in MPK-21 takes interaction and collaboration to the next level.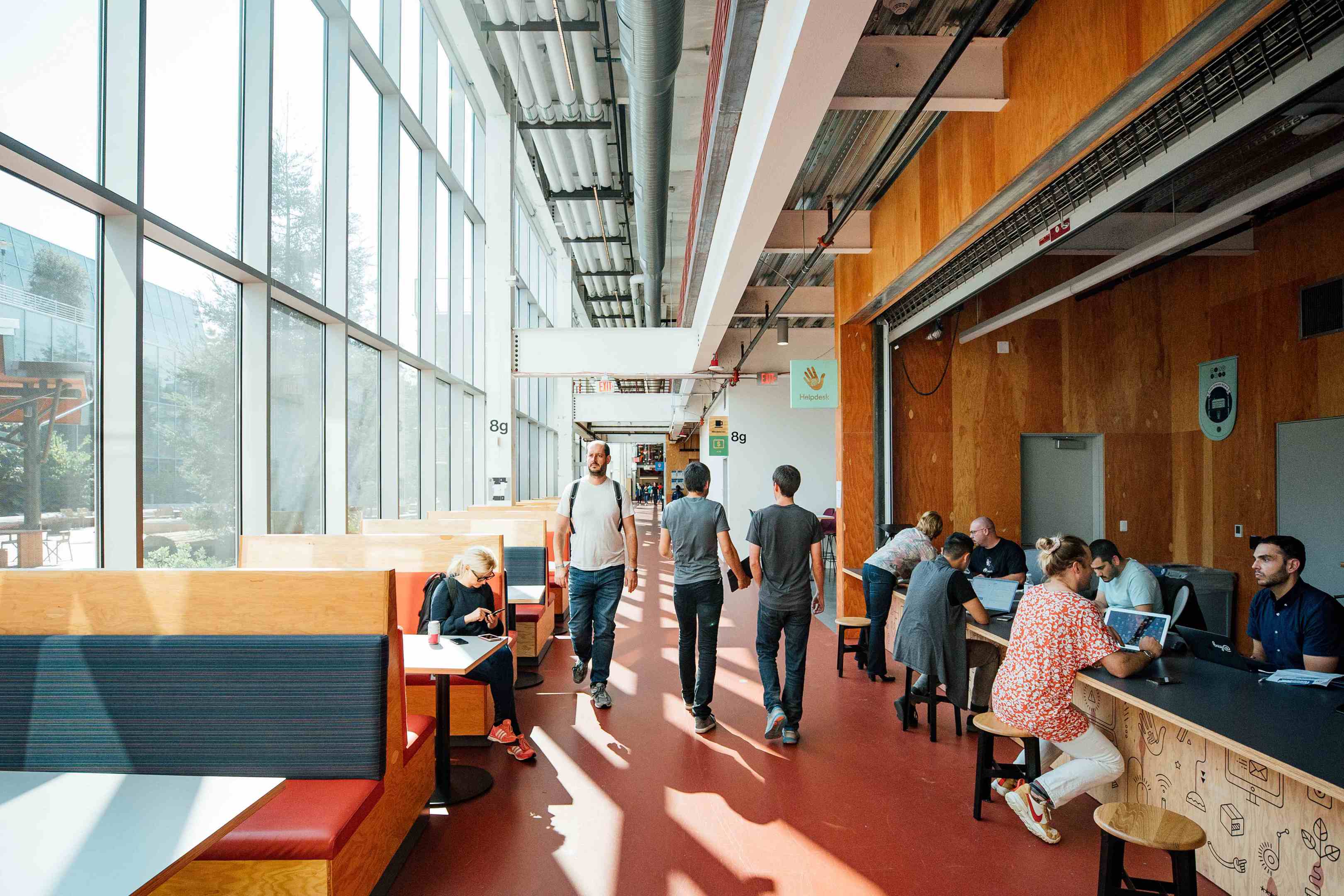 Above: MPK-21 is transversed by a single pathway running the length of the building (image courtesy of Facebook).
With a planned pedestrian bridge over Highway 84 connecting the campus to the parks of the nearby Bay Trail and an additional two-acre park and plaza for Facebook festivals, the health and wellbeing of staff seemingly remains at the forefront of Facebook's facility plans.
Indeed as the number of people working on the vast campus approaches 10,000, Facebook is now developing plans to turn their corporate headquarters into a fully-fledged community.
THE WILLOW CAMPUS
Unveiled in 2017, plans for a vast community project known as the Willow Campus are set to radically change the face of the wider Menlo Park area.
While Facebook has never shied away from large-scale projects, its Willow Campus takes things up a gear yet again.
Working with OMA in New York, Facebook is planning more than 1.75 million square feet of office space, 125,000 square feet of retail, 1,500 housing units – of which 15% will be sold below market value – a grocery and a pharmacy as part of the expansion.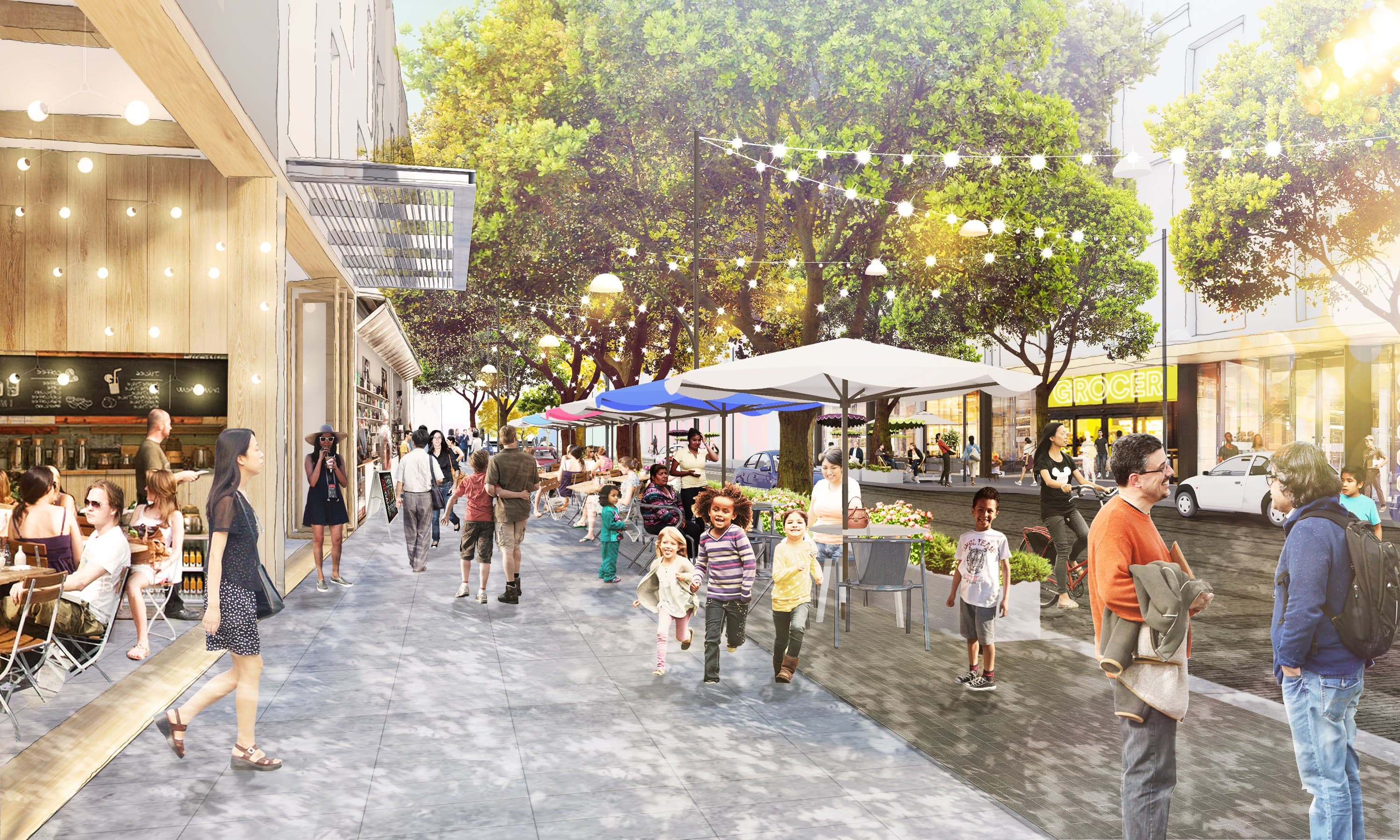 Above: Facebook are building an entire new community next to their headquarters (image courtesy of OMA).
Their goal is to create a vibrant and integrated mixed-use village that will provide much-needed services, not only for Facebook's growing workforce, but for the surrounding local community as well.
Set to be developed in phases, the initial office, housing and retail elements are set to open in 2021, and will be followed by subsequent expansions through to 2023.
By investing heavily in the area, Facebook aims to improve transport links which have fallen well behind what is required for growth in the region.
In addition to its headquarter site, the firm continues to custom-build its own data centres (such as this one cooled by Arctic air in Sweden) alongside a network of offices in major cities around the world.
From its continued expansions, it is clear that people are at the centre of Facebook's working culture and that the social network is challenging the established conventions of what a workplace should be.
Above: Facebook is consistently challenging the norms when it comes to its working environment (image courtesy of Facebook).
With the wealth of many tech-giants now exceeding that of entire countries, the role they play in giving back to societies is under increasing focus.
While Facebook is the first to admit that they are far from perfect – and even reflect this is some of the unfinished feel of their office fit-outs - their headquarter campus in California demonstrates their desire to care for their people and address their impact on the surrounding community.
Footage and images courtesy of Facebook, Level 10 Construction, Gehry Partners, Statista, The Harvard Crimson, Cool Caesar, Michael Pechuk, Noah Berger, Jitze Couperus, Fred Mills, Google Earth, CMG Landscape Architecture, MG McRath, City of Menlo Park, OMA and IMF/Kleiner Perkins Caufield and Byers Internet Trends Report 2018.
We welcome you sharing our content to inspire others, but please be nice and play by our rules.
Comments
---