Cities
3 Cool Ways to Cool Our Cities
Youtube Views

246,201

VIDEO VIEWS
Video hosted by Fred Mills.
WHILE cities occupy just 2% of the land available on our planet, more than 54% of us currently live in them.
By 2030, these dense urban areas will be home to over 60% of the human population.

While the environmental impact of millions of people living in close proximity to each other can be clearly seen in pollution levels, increased demand on water, and high consumption of electricity - the "Urban Heat Island" effect is a more subtle impact that cities can have on their inhabitants and immediate surroundings.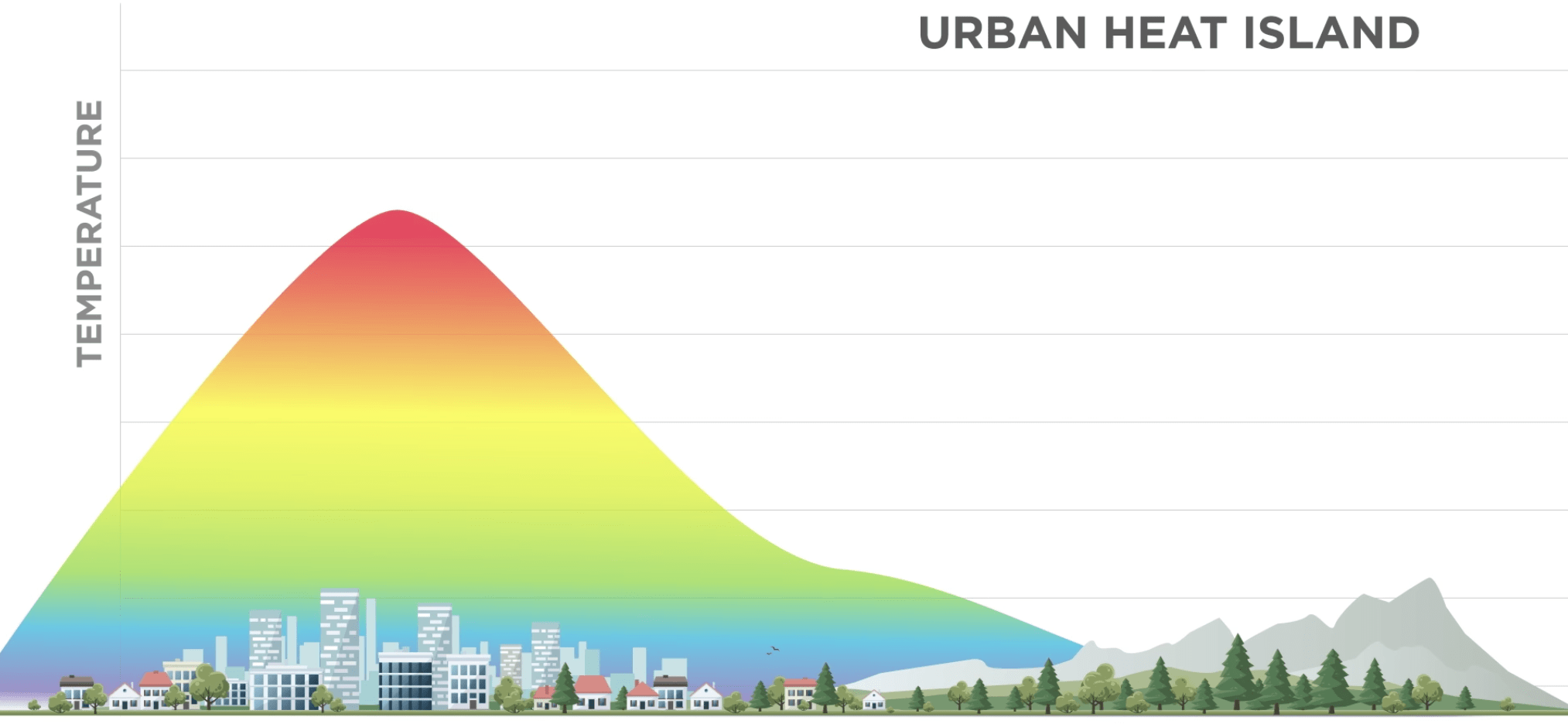 Above: The Urban Heat Island phenomenon results in urban areas being significantly hotter than surrounding rural regions.
The term Urban Heat Island refers to the higher temperatures recorded in built-up urban areas as compared to their surrounding rural landscape.
London for example has recorded temperatures up to 6 degrees Celsius warmer than its surrounding counties. The effect is only further compounded for cities located in very hot climates.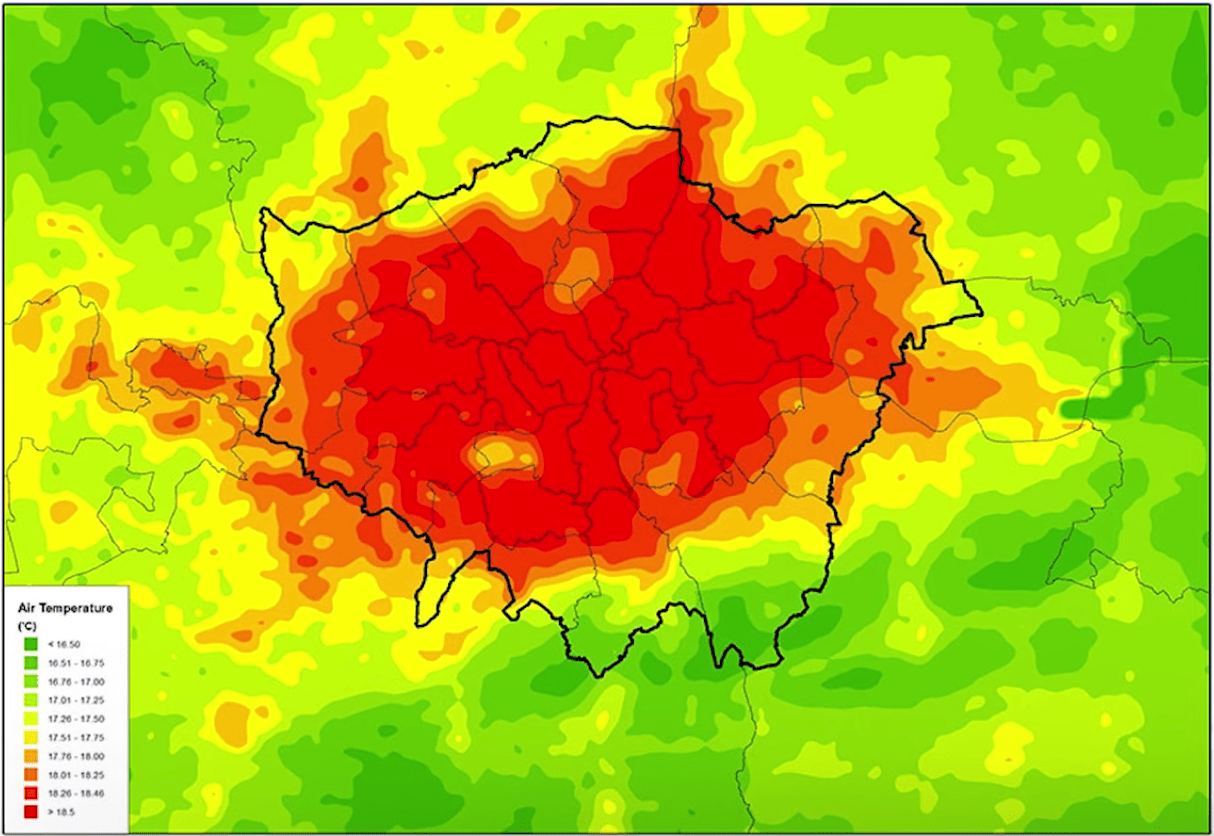 Above: London often has higher temperatures than its surrounding counties (image courtesy of the UK Space Agency, University College London and Arup).
With intensive development in urban areas and the impacts of global warming becoming ever more apparent, numerous cities around the world are now taking steps to reduce their temperatures and develop a more sustainable urban environment.
One of the most practical ways to reduce a city's temperature is to design and construct buildings that require less energy to run and that employ a passive means of climate control.
However, despite many countries amending building regulations to drive sustainable urban development, it is likely to be several decades before these steps make a significant impact on our overall building stock.
In the meantime, numerous other solutions are being explored.
BLACK AND WHITE SOLUTIONS
Among the largest contributors to the Urban Heat Island effect are the many dark surfaces within our cities that absorb and then release heat.
Widely used construction materials such as concrete and asphalt are dark in colour and their dense nature makes them extremely efficient at storing heat.
The heat absorbed by these surfaces is released back into the surrounding environment during cooler times of day and overnight, maintaining high temperatures around the clock.
In an attempt to combat this phenomenon, authorities in Los Angeles (LA) have launched the "Cool Pavement Pilot Project" - an initiative which could see the city's extensive road network transformed.
The scheme sees stretches of roadway painted with a white asphalt emulsion to help them reflect, rather than absorb heat from the sun.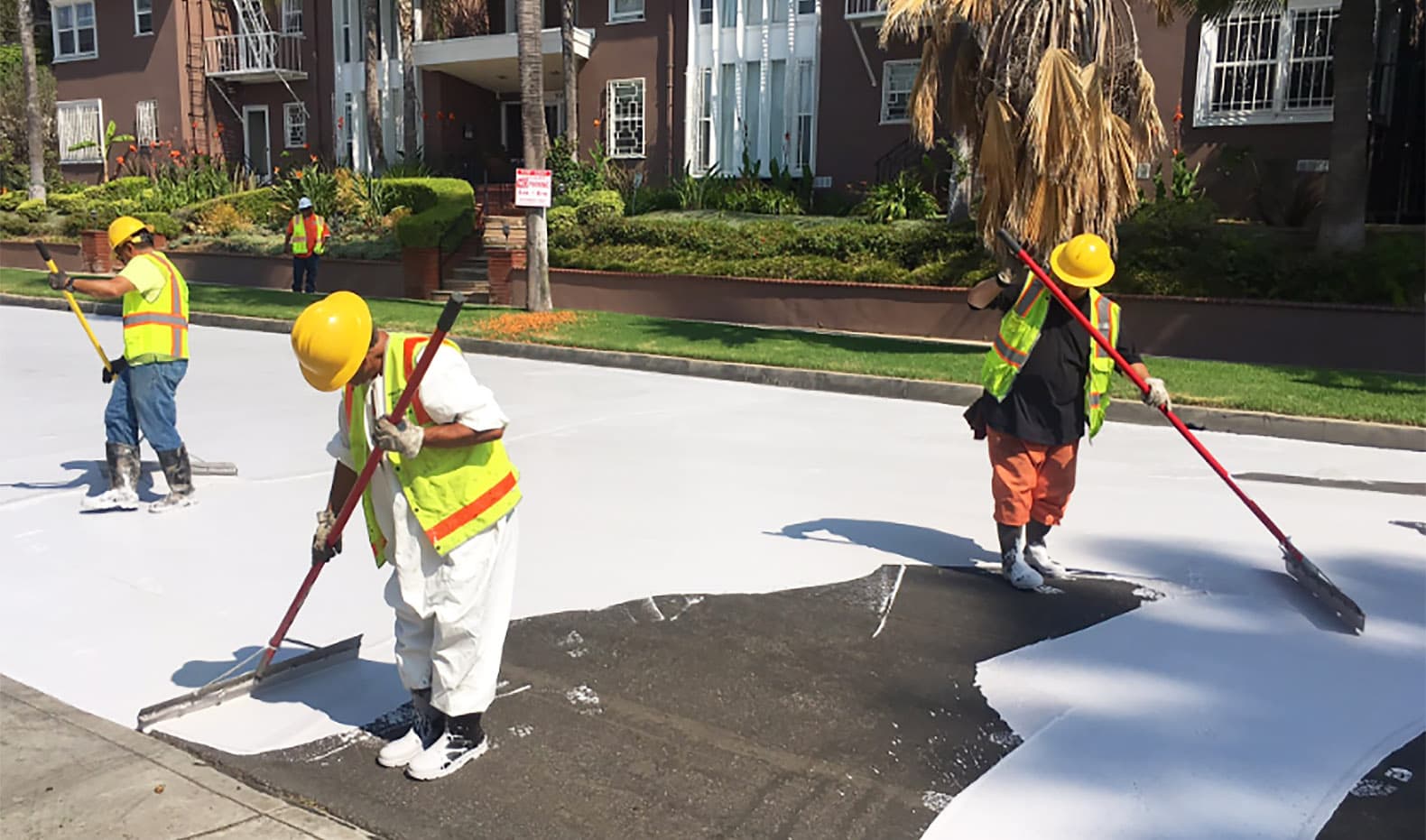 Above: Resurfacing dark areas to reflect rather than absorb heat can lower temperatures (image courtesy of City of Los Angeles Bureau of Street Services).
While the cost of applying this coating to roadways is currently very high - around USD $40,000 per mile - test sites have recorded temperature drops of 5.6 degrees Celsius in the immediate vicinity.
A study by the US Environmental Protection Agency (EPA) found that extensive application to just one third of LA's road network could reduce the city's overall average temperature by up to 1 degree Celsius.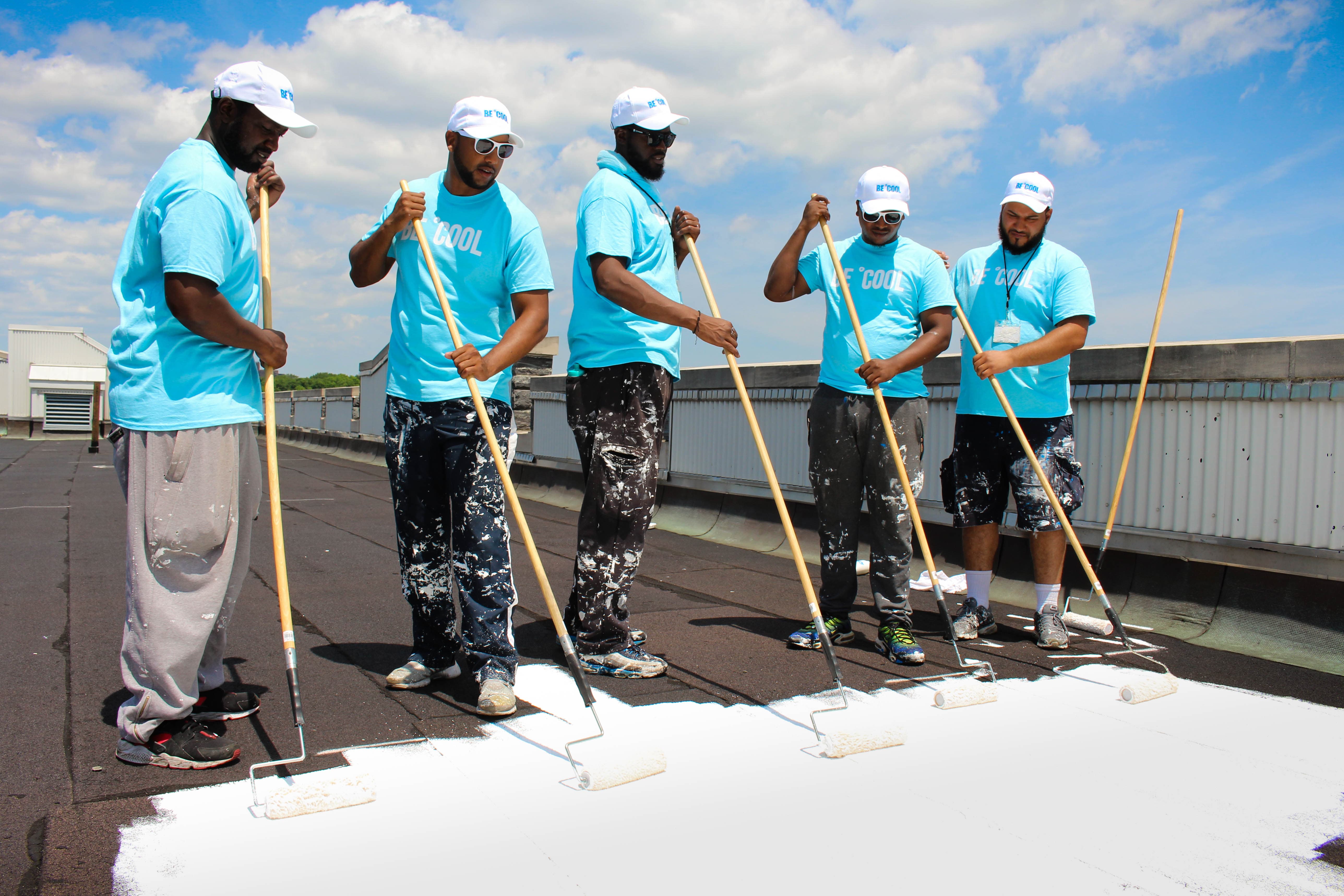 Above: New York is turning its many dark roofs white in an effort to combat higher temperatures (image courtesy of Andrew Seger).
Similar programs are being trialled in Chicago and Seattle - where sidewalks are being repaved with light coloured concrete - and New York City's "CoolRoof" Program has coated over 500,000 square meters of asphalt roof top in light coloured coatings since 2010.
GREENING THE CONCRETE JUNGLE
Beyond changing the colour of surfaces, other cities are transforming their under-utilised rooftops into impressive urban gardens.
In 2001, Chicago City Hall installed a green roof in a bid to combat the city's growing urban heat island effect.
When the city was mapped with thermal cameras in 2007, the surface temperature of City Hall's roof was found to be 21 degrees Celsius lower than that of neighbouring buildings.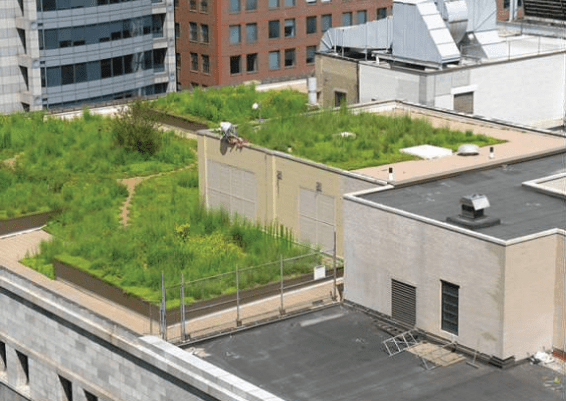 Above and Below: The green roof of Chicago City Hall has reduced surface temperatures significantly as compared to neighbouring buildings ( images courtesy of the United States Environmental Protection Agency).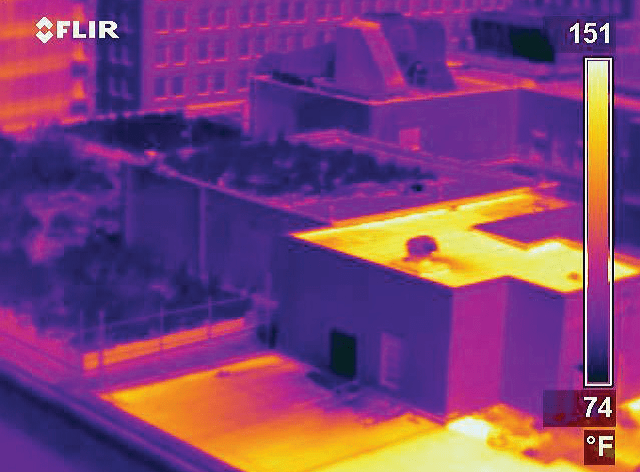 Following this success, Chicago implemented its Climate Action Plan with a goal to create 6,000 green roofs across the city by 2020.
In 2010, Toronto became the first North American city to pass legislation requiring green roofs on all new developments over 2,000 square metres in size. Since then, over 111,000 square metres of green space has been added to the cityscape.
San Francisco and Denver passed similar legislation in 2016 and 2017 respectively.
For some time, architects and engineers have been steadily taking this concept further and incorporating entire trees into built structures. Milan's Bosco Verticale or "vertical forest" contains hundreds of trees and plants across its levels, regulating the building's temperature whilst helping to combat the city's pollution.
Above: Incorporating trees into buildings can help clean the air and regulate temperatures (image courtesy of Stefano Boeri Architetti).
While this pioneering structure required extensive testing and incurred additional construction costs, its beneficial impact has driven the development of several similar schemes around the world.
While retrofitting roofs in this way can be complex, costly and time-consuming, increasing a city's urban canopy through parks, green spaces and the planting of more trees along streetscapes is one way that authorities can have a significant impact bringing temperatures down.
A BREATH OF FRESH AIR
Careful planning can also play a role in reducing the temperature of our urban areas.
Located in the United Arab Emirates (UAE), Masdar City is a purpose-built prototype urban centre developed as a blueprint for smart city design.
With no cars permitted, buildings are able to be located closer together, shading public walkways and streets from the intense desert sun.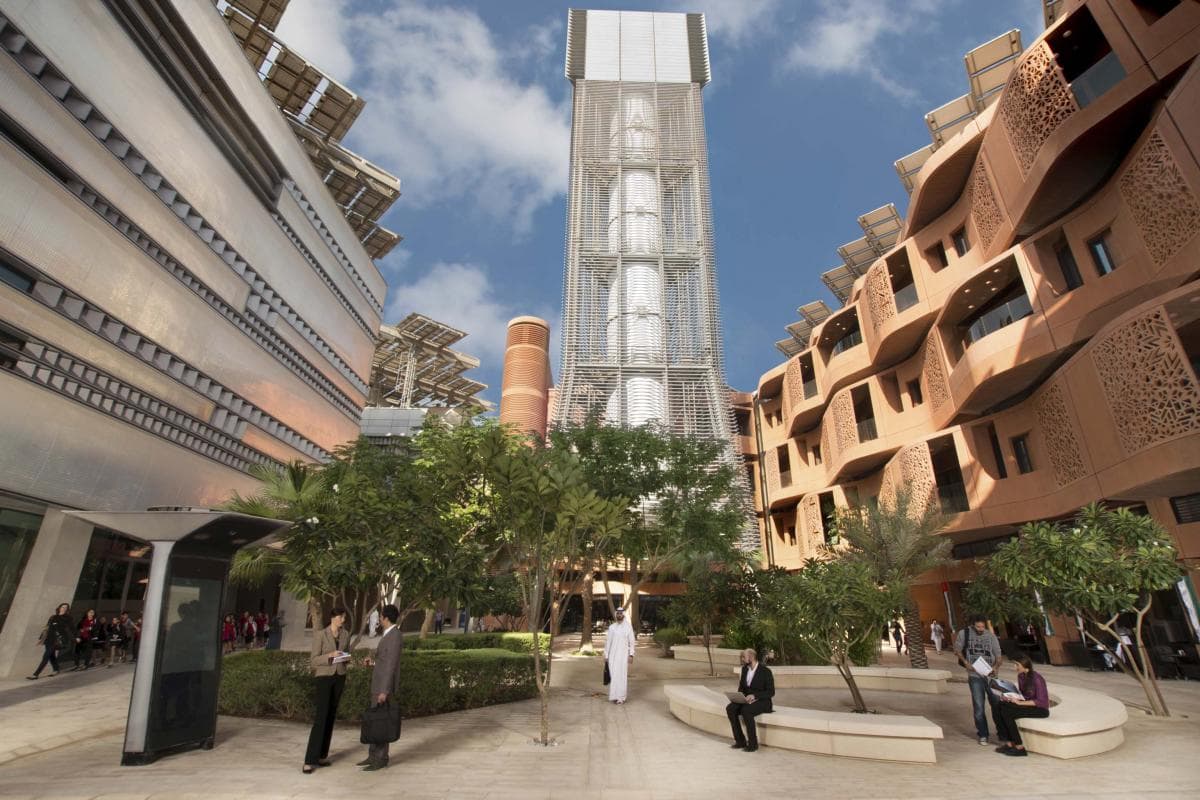 Above: The tower at the centre of Masdar City pulls cool air down to street level, reducing temperatures (image courtesy of Masdar).
When combined with the 45 metre tall "Wind Tower" at its centre which pulls cool air down and through the city, the temperature in Masdar is up to 15 degrees Celsius cooler than the surrounding desert - a result which could be described as an "Urban Cool Island" effect.
While this degree of urban planning is something of a luxury and simply not feasible for many established cities, Germany's Stuttgart has begun to employ a similar principle.
Located in a valley, the heavily industrialised city has become a victim of its surrounding topography and frequently suffered from trapped heat and smog.
City planners are now fighting back with urban planning regulations that prohibit the construction of obstacles - like very large buildings - which could impede natural air flow.
By clearing the way and creating green ventilation corridors, clean cool air can flow through the city unimpeded, helping to regulate its temperature and air quality.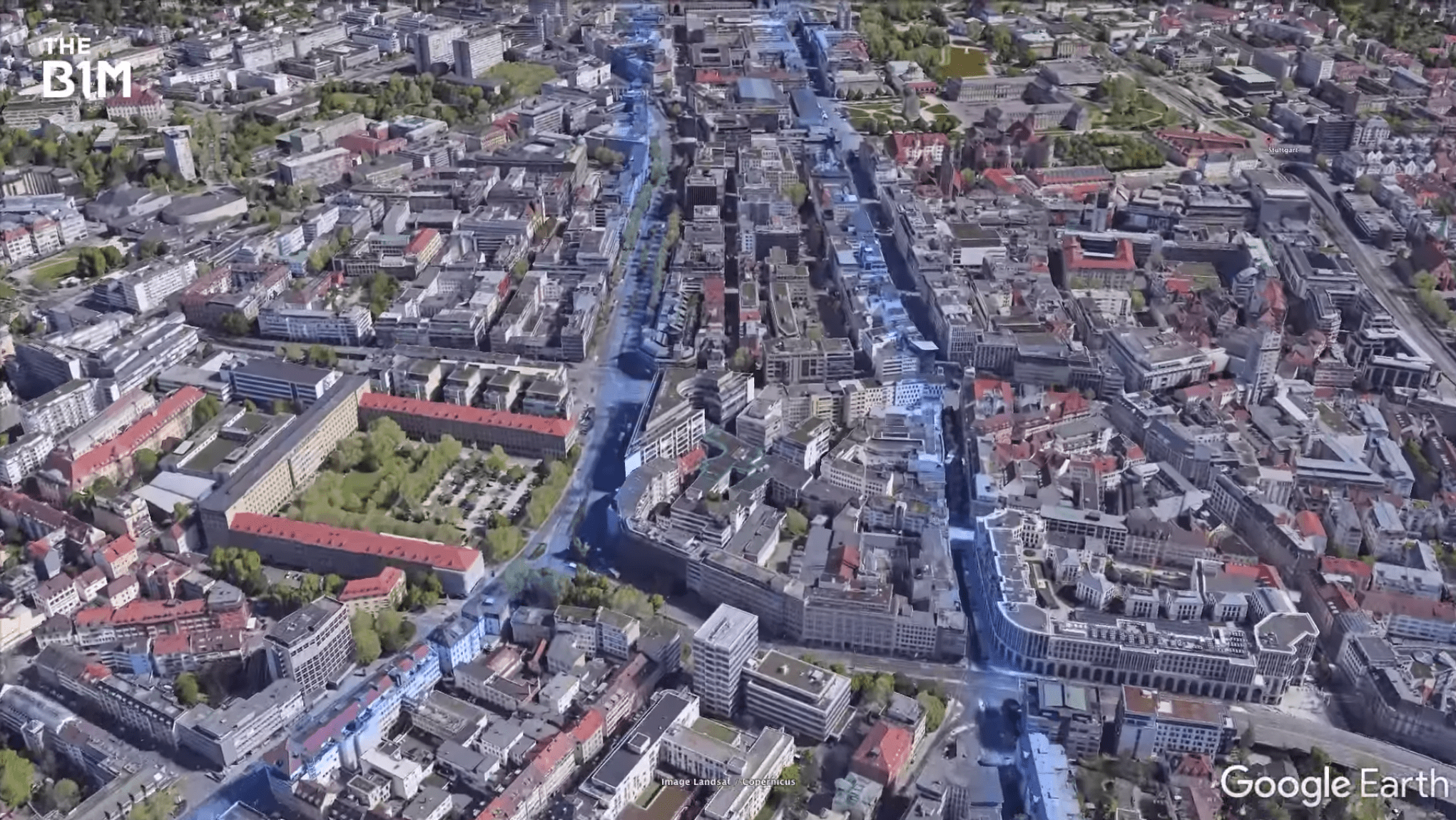 Above: By planning the city to have a direct path for air to flow through, Stuttgart is able to reduce temperatures while improving air quality in the process (background image courtesy of Google Earth).
To date, this smart planning approach has proved highly effective and has not gone unnoticed by others facing their own battles for clean air.

In China's capital Beijing, authorities have unveiled a similar urban strategy; connecting parks and rivers to aid ventilation and help combat smog.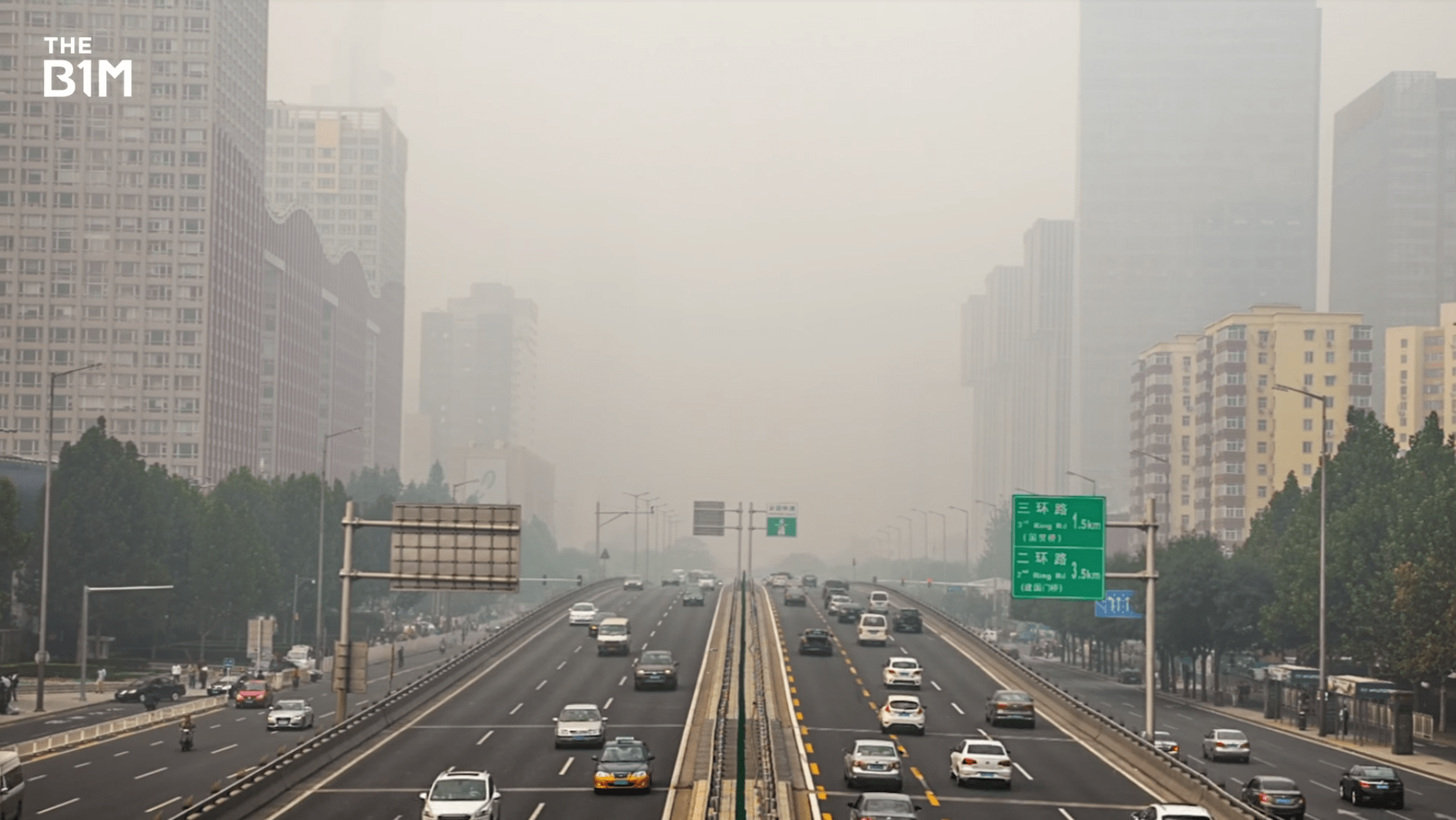 Above: Pollution and rising temperatures are key challenges that cities are facing in the 21st Century.
While each of these initiatives might appear complex to implement and relatively insignificant in the global context of climate change, their combined effects could significantly alter the impact of our built environment on the natural world.
If each of us set out to implement a cooling solution on the property or building we live in, the result could be profound.
Images courtesy of the UK Space Agency and University College London (UCL), Arup, City of Los Angeles Bureau of Street Services, Andrew Serger, Alyson Hurt, Conservation Design Forum, Raeki, United States Environmental Protection Agency (EPA), Plant Architects, Stefano Boeri Architetti, Jorge Ayllon Garcia, Tyler Caine, Google, Masdar, Foster and Partners, Google Earth and the City of Melbourne.
We welcome you sharing our content to inspire others, but please be nice and play by our rules.
Comments
---