Documentaries
The Middle East's Forgotten Skyscraper Capital
Youtube Views

223,197

VIDEO VIEWS
Video hosted by Fred Mills. This article and video contain paid promotion for BIMSearch.
THERE'S a country in the Middle East that's been embarking on a massive construction spree. But we're not talking about the UAE, Qatar or Saudi Arabia.
This is Israel, where half-built high-rises have been popping up and dominating the skyline for years. Now a global hub for innovation — from start-ups to tech giants like Microsoft — and home to a growing population, demand for bigger buildings and infrastructure is on the rise.
Getting the industry to adapt to a larger workload hasn't been easy, but technology is leading the way. This is how construction in Israel is gathering serious speed.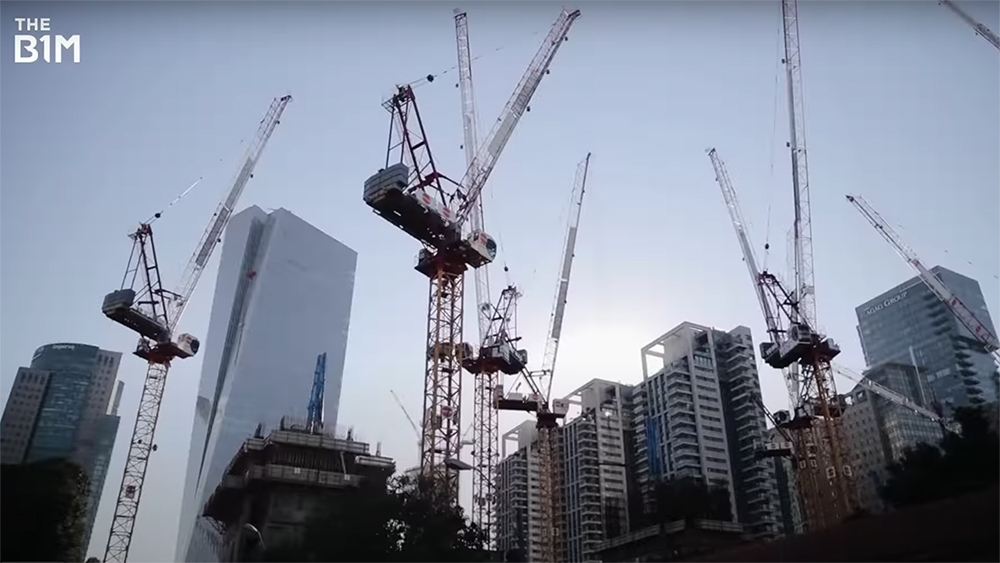 Above: Skylines full of construction are becoming a nationwide trend in Israel.
If you've been to Tel Aviv in the last few years, chances are you would've seen a lot of building work going on.
Cranes sprouting up in all directions is now a common sight right across the country, and that's because there's been a lot to do.
Between July 2021 and June 2022 more than 72,000 homes began construction across Israel. That's the highest figure since the 1990s, when it experienced a wave of immigration from the former Soviet Union.
Around 30 years later, the reasons for this new construction push are fairly similar. Israel's population is soaring, meaning a lot more homes are needed, as well as new infrastructure to support them.
At the end of 2022 the country reached almost 9.7 million residents — an increase of two million in just over a decade.
There's not much space in the main cities, so a lot of the new housing is being delivered as high-rises. Although Israel has fewer actual skyscrapers than other countries in the region, there is one building in the works that will break its current height record — and by some distance.
The Azrieli Spiral Tower in Tel Aviv is set to become the country's first supertall skyscraper when it completes in 2026, with a planned height of 350 metres.
Designed by Kohn Pederson Fox, it's the very definition of a mixed-use building. Above the base that's dedicated to retail there'll be offices followed by residences and a hotel.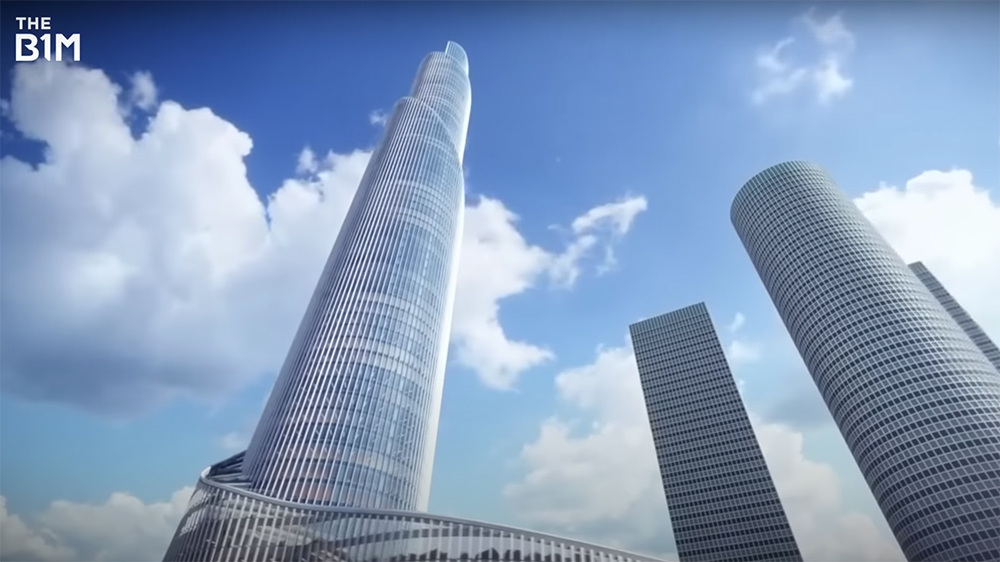 Above: The floor plates of the Azrieli Spiral Tower will gradually narrow as the tower rises. Image courtesy of Azrieli Group.
On the infrastructure side there's a lot going on too, but by far the biggest task of all is Tel Aviv's new mass transit system.
Described as the largest and most complex transport project in Israel's history, it consists of three light rail and three metro lines, with the first due to open in April 2023.
24 km long, the route will run from Bat Yam in the south to several smaller cities on the outskirts of Tel Aviv, like Bnei Brak.
Here, the built environment is a lot more low-rise, but it is beginning to change thanks to new schemes like the one called HYP.
A joint project between Amot Investments and Allied Real Estate, the 52-storey building will offer 85,000 square metres of office and commercial space.
"Now we can see in Israel a lot of projects designed for high tech companies, young companies. Green buildings are also very important," Eliav Tuval, design manager for Amot Investments, said. "All the new buildings of Amot are LEED Platinum and the greenest the building can be."
This tower is just one example of how buildings across Israel aren't just increasing in number and getting taller, they're becoming more complex too.
Over in Jerusalem, construction of the Consulate Towers is being carried out in an area with unusually difficult terrain.
And in Herzliya, near Tel Aviv, a new auditorium for Reichman University is proving challenging. To get the finished result looking like this, contractor Sade Projects is having to work with high ceilings, beams that weigh over 50 tonnes and a glass facade — all features that are potentially problematic.
Surely, then, this has made things more difficult for the construction industry here, right?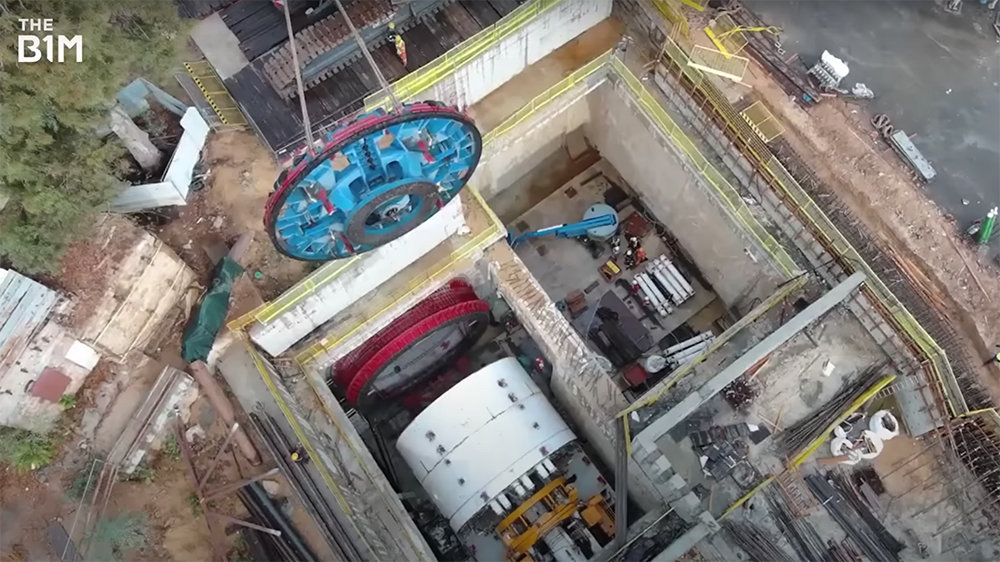 Above: The companies responsible for delivering all these new projects are now having to step up their efforts. Image courtesy of NTA Metropolitan Mass Transit System Ltd.
Well, in a place known for innovating it's unsurprising that tech is helping Israel's industry rise to the challenge — particularly the use of building information modelling, or BIM.
Now, that's a lot more than just 3D modelling — it's a data-rich digital working environment that allows construction teams to collaboratively organise and coordinate a project's key information. That all works to boost speed and efficiency while minimising errors and cutting waste.
Although the country was at first slow to adopt BIM as compared to elsewhere, that all changed when the Ministry of Defense made it mandatory – convincing much of the country's market to do the same.
"This is what we've seen in Israel in the past few years — BIM is the starting point of all the big projects," Tuval said. "I don't think there is one big megaproject that is not managing in BIM now in 2023."
The tech may have taken off, but for many, extracting the right data from the coordinated graphical information models that are produced in a BIM environment remains difficult.
It can be hard to find what you want, whether you're a design manager like Eliav or someone who's less familiar with digital tools – especially on complex projects.
But that's where today's sponsor comes in. BIMSearch is an easy-to-use project management platform that connects directly to models saved on Autodesk BIM 360 and ACC.
By doing their job directly on the model, users can effectively calculate quantities in seconds, order materials and even manage invoices.
Then there's the ability to easily catch design errors and ensure that subcontractors know what they need to do.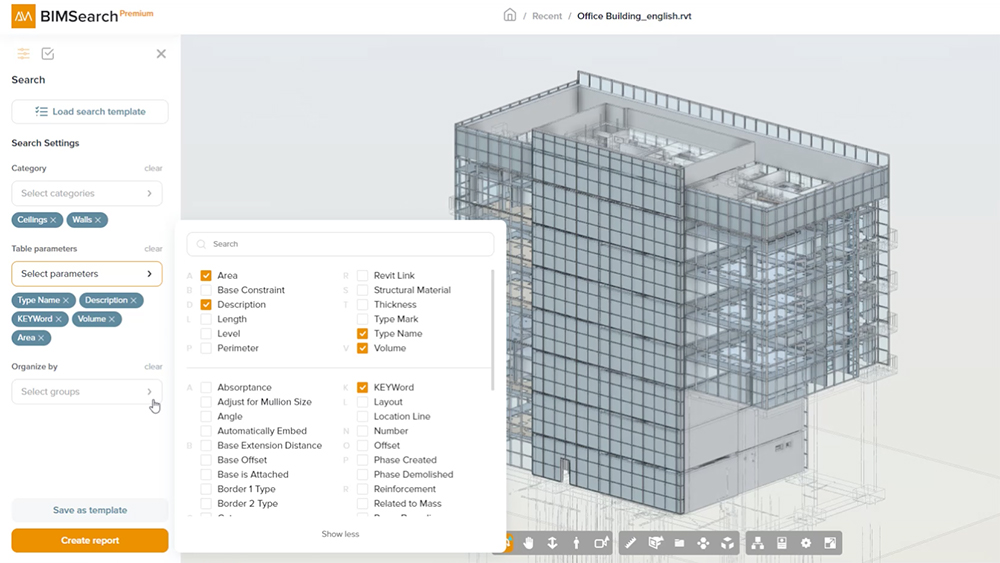 Above: Users of BIMSearch do not need to have a lot of experience with complex BIM modelling software. Image courtesy of BIMSearch.
"I like to review my work and I like to review it according to real numbers. So BIMSearch can give you the real numbers that you need in one click," Tuval said.
BIMSearch is helping teams save time on projects all across Israel, from the Mediterranean to the capital.
Getting projects completed faster is always going to be something to aim for, no matter where you are in the world. Here though, the construction sector is coming under particularly heavy pressure. To keep hitting its targets, Israel needs to keep building around 70,000 homes every year.
Although they have their work cut out, Israel's construction companies are in a much better position than they were, and there's little doubt that new tech has had a part to play.
Sights of widespread building may turn out to be temporary in other places, but you can't help but feel that this wave of activity has only just begun.
Discover how BIMSearch makes the most of BIM data here.
Video hosted by Fred Mills. Additional footage and images courtesy of BIMSearch, Amot Investments/Allied Group, Azrieli Group, Eyal Be, Google Earth Pro, GSARCH/AIKO, i24 News, NTA Metropolitan Mass Transit System Ltd, Samir Smier, Sela Binui and Ted Eytan/CC BY-SA 2.0.

We welcome you sharing our content to inspire others, but please be nice and play by our rules.
Comments
---